Small bedroom ideas – 20 ways to max out your space and style ambitions
Use these small bedroom ideas to make the most out of your tiny space and to create a practical but relaxing room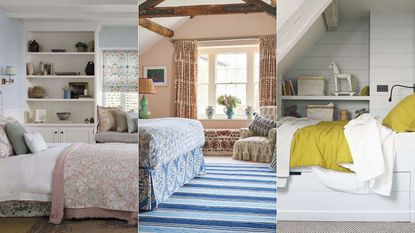 (Image credit: Morris & Co / Jeremy Philips / Carolyn Barber / Future)
Small bedroom ideas can be big on ambition. 'Small bedrooms actually present us with an opportunity to be really clever and inventive with space,' says Homes & Gardens' Editor in Chief Lucy Searle. 'It can be challenging, particularly around creating enough storage, but with clever design, you can plan a cozy, if small, space.'
Our curated selection of the best small bedroom ideas can turn even a tiny bedroom into a warm, welcoming retreat.
With practical storage solutions, curated color choices and enviable interior design schemes, these bedroom ideas are bound to inspire your next bedroom remodel.
Small bedroom ideas to enhance a tiny space
Key to the success of a compact space is layout: your small bedroom layout ideas have to be spot on to make the space as efficient as possible.
Next: small bedroom storage ideas have to be super versatile but good looking. Then you need to investigate the best beds for small rooms. These small bedroom ideas come with plenty of useful interior design advice so that your bedroom revamp can be as successful as possible.
We've covered everything from flooring to bedroom lighting and color schemes – and refresh our favorites regularly, so do keep checking back for more.
1. Make a small bedroom window do double duty
'In a small bedroom, you have to really make the area around the window work hard,' says Lucy Searle, Homes & Gardens' Editor in Chief.
'This means ensuring you don't hang heavy drapery that blocks out light, nor bulky drapery that takes up visual space. You should also look to boost storage and seating by researching window seat ideas with lift-up lid (and a cushion on top) so that out-of-season clothes, bedding or shoes can be hidden away.
'I love how in this bedroom the shelving unit forms the frame to the window seat. The result is cohesive, smart and practical.'
Lucy Searle has written about interiors, property and gardens since 1990, working her way around the interiors departments of women's magazines before switching to interiors-only titles in the mid-nineties. Lucy was Associate Editor on Ideal Home, and Launch Editor of 4Homes magazine, before moving into digital in 2007, launching Channel4.com/4homes. In 2018, she took on the role of Global Editor in Chief for Realhomes.com, and was asked to edit Homes & Gardens. Lucy is a serial renovator and also own rental properties, so brings first-hand knowledge to the subjects I oversee. .
2. Save space with wall-hung bedside lights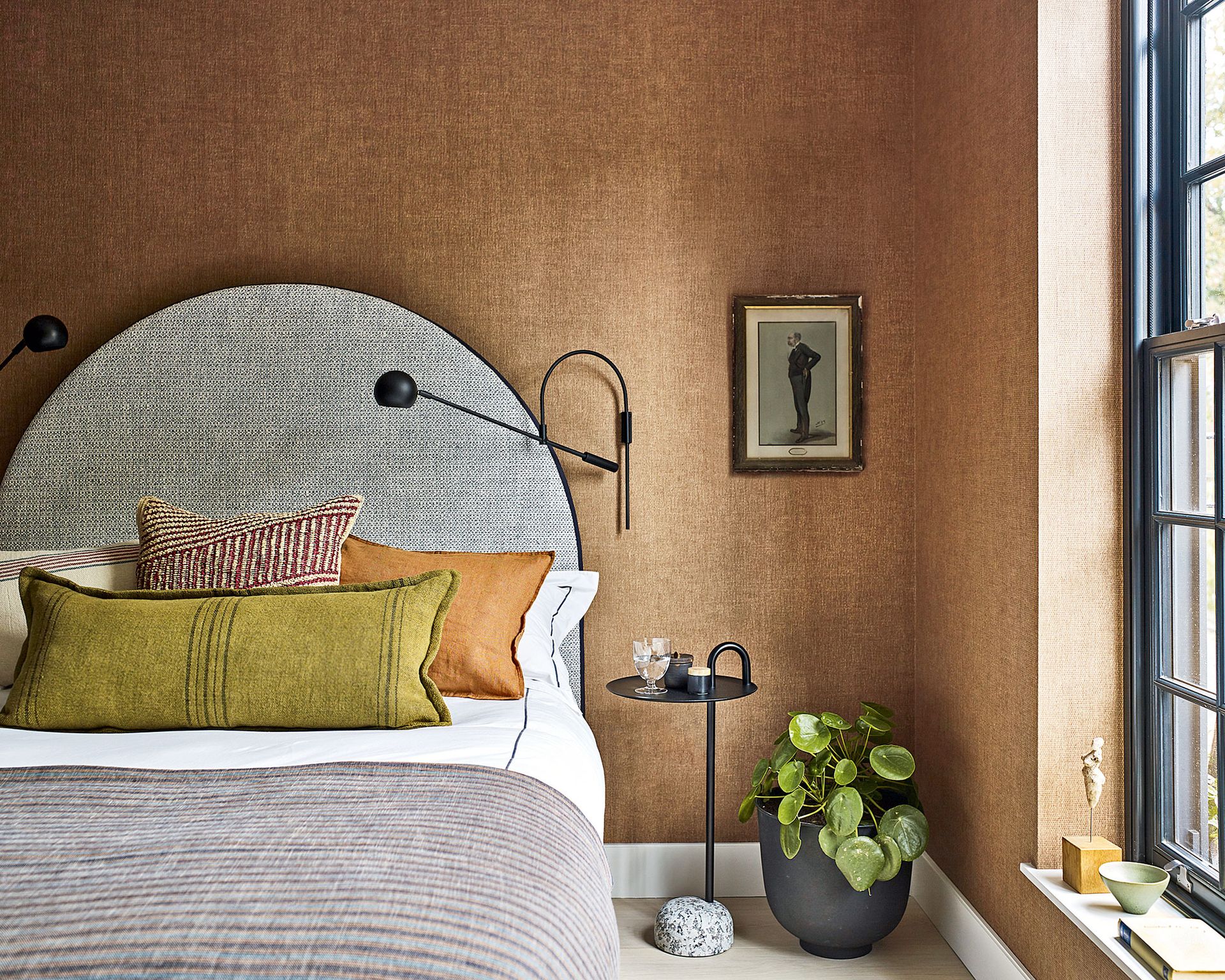 Small bedroom lighting can be used to both enhance space and to make it feel cozier. Either way, it needs to be well-thought out. Don't rely on overhead lighting, and be clever with bedside lighting ideas.
'In small bedrooms I really like using wall lights as opposed to table lamps for bedside lighting,' says Irene Gunter, founder and creative director, Gunter & Co.
'Smaller rooms inevitably call for smaller bedside tables and when the full surface is taken up by a table lamp it just seems to defeat the object. There's such a wealth of amazing wall light options available, whether wired or plug in – they really allow us to add a statement to the space as well as maximize the surface available for the bits and bobs we like to store beside the bed.'
Interior Designer
Interior Designer
Irene Gunter
Irene studied Art History before training at the prestigious Inchbald School of Interior Design. As Creative Director of Gunter & Co, Irene oversees the design for every project alongside her team of designers who manage the day-to-day implementation. Inspiration for each project comes from a myriad of sources: from historical architectural details to contemporary building materials or vintage furniture to contemporary sculptures. She centers her designs around the tension between organic forms and regular repetition to create spaces that catch the eye, are thought provoking and packed with interesting talking points.
3. Create visual tricks with bedroom flooring
Whether you choose hardwood flooring or are considering bedroom carpet ideas or simple bedroom rug ideas, always bear in mind that some patterns created by them will be more successful in small bedrooms than others.
'Any bedroom flooring ideas that have stripes – either the subtle lines between floorboards or more overt ones on carpet or rugs – will direct the eye along their length. This means that you can exaggerate a small bedroom's length of width, which is really useful if you want to correct its proportions somewhat,' advises Jennifer Ebert, Homes & Gardens' Deputy Editor (Digital).
Jen Ebert is the Deputy Editor (Digital) of Homes & Gardens. Jen has completed various interior design courses at KLC Design School, and has worked across many interiors' magazines including Ideal Home, LivingEtc, 25 Beautiful Homes and Country Homes & Interiors as an interiors writer. Jen oversees all the articles on our website and writes many of them herself, bringing her keen eye for a beautiful interior and her succinct, practical advice to our readers every week.
4. Get the bed size right, and in the right place
Wondering where a bed should be placed in a room? If you choose a bed size in proportion to your space, you will certainly have more choice, but know that a central position is always better than, for example, against a wall.
'The perfect bedroom is poised between a tranquil aesthetic and pragmatic design,' says interior designer Emma Sims Hilditch of Sims Hilditch. 'A good place to start is by designing around a central focal point,' she adds.
'Symmetry in interior design provides balance within a room and it often starts from the focal point, whether that be the placement of the bed or the headboard in a bedroom. It brings a sense of comfort and rhythm to a space which is an integral part of our design approach.'
Interior Designer
Interior Designer
Emma Sims-Hilditch
Founded in 2009, the Sims Hilditch design practice has become one of the most trusted and respected in the industry. Its couture approach combines interior architecture, interior design and procurement management within one concept-to-completion, fully bespoke service. Creative Founder, Emma Sims-Hilditch is passionate about her belief that good design can transform not only how people live but also how they feel. By creating characterful, beautiful and intelligent interiors, Emma and the Sims Hilditch team empowers clients to radically improve the quality of their lives.
5. Combine a desk / dressing table in an alcove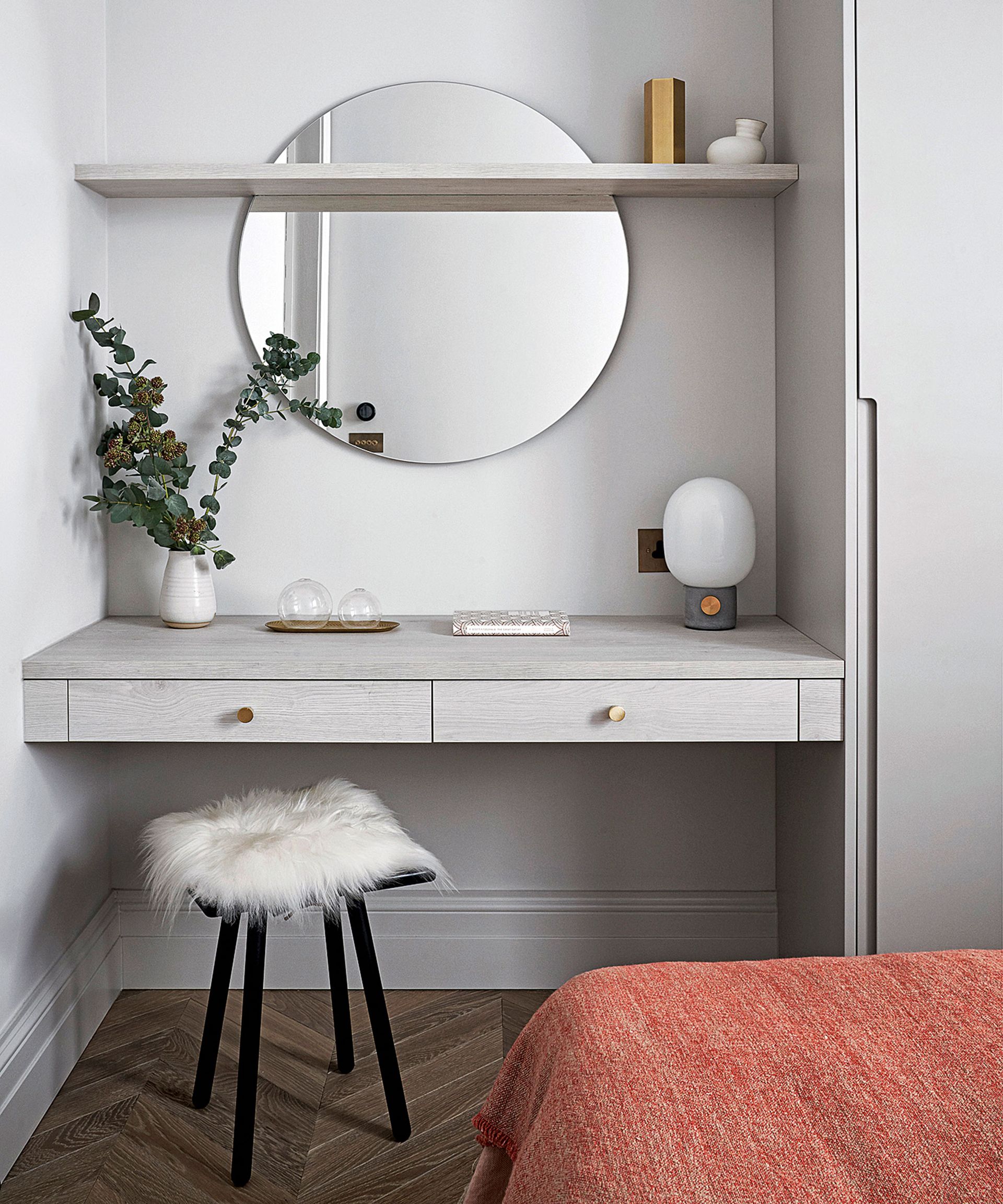 Whether you are working from home or are looking for small bedroom office combo ideas or small bedroom ideas for kids who need to do their schoolwork in their rooms, there's always a need for a dedicated bedroom office space. It needn't be imposing, so it's a good idea to make the most of an unused bedroom corner or alcove.
We love how this bedroom layout idea with desk doubles dressing table ideas with a sleek round bedroom mirror, and the design doesn't take up any unnecessary floorspace while still providing plenty of room to work. Soften up the space with a lamp, flowers and a suitable chair or stool that fits in with the rest of your room's existing décor.
6. Use a mural to make a small bedroom impactful
Small room ideas are rife for color and pattern opportunities, and it pays to experiment with scale in interior design by exploring wall mural ideas, which will add a touch of drama.
You don't have to put your artistic nature to the test when it comes to bedroom accent walls. There are plenty of wallpapers that are designed to do just that with trompe l'oeil illustrations that can quickly add an extra dimension even in small bedrooms.
For a relaxing scheme, turn to images of escapism, like this tropical pictorial wallpaper that evokes the memory of faraway shores. Complete the look by choosing furniture, bedding and cushions in earthy ochre and a pinch of ginger for a fully immersive design.
7. Be bold with deep, warm colors to maximize coziness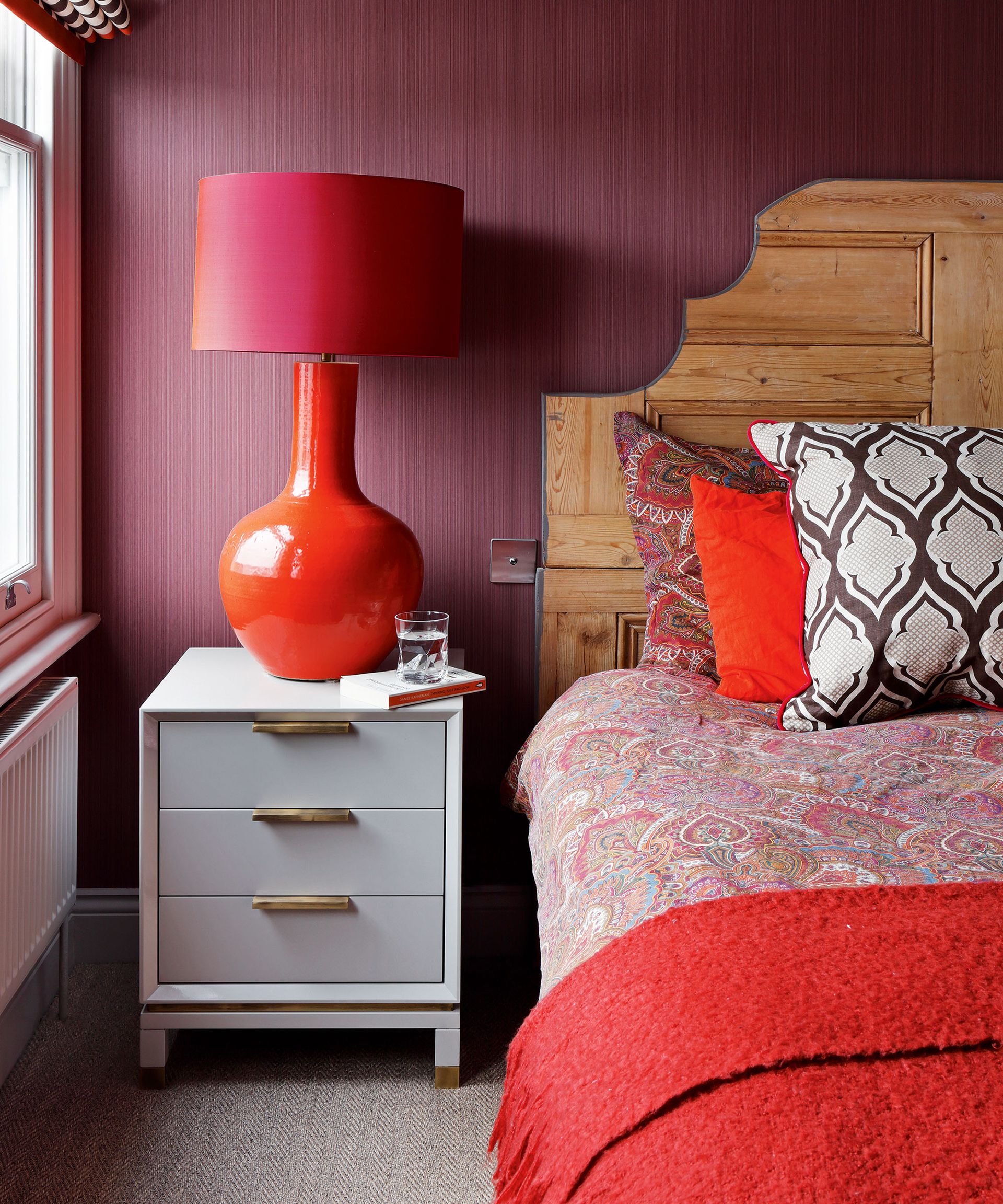 When it comes to box room ideas, sometimes it's best to embrace the size and coziness of a small space.
'If it's small and dark, don't try to change it – painting it white will make it look cold, so opt for a cozy feel instead,' says Mary Barber-Fray of Mary Barber-Fray Interior Design. 'And don't be afraid to place a large piece of furniture – or an oversized accessory – in a small space. It will look much better than a number of smaller pieces.'
8. Use vertical stripes to exaggerate ceiling height
Never really out of fashion, the classic stripe is having a particular moment right now and it's less about the country ticking look and more about adding personality. Vertical stripes are also one of the tricks interior designers use to make a bedroom ceiling seem higher.
'Decorating with stripes brings order and structure to a space and have the ability to redirect the eye. When incorporated into a small bedroom scheme, they inject a dose of understated elegance and sophistication.
'I'm drawn to layering when designing an interior scheme, and incorporating stripes into the design provides the perfect structure that can then be contrasted with other designs, pattern and color,' says Roselind Wilson, founder of Roselind Wilson Design.
9. Reimagine the layout with a nook bed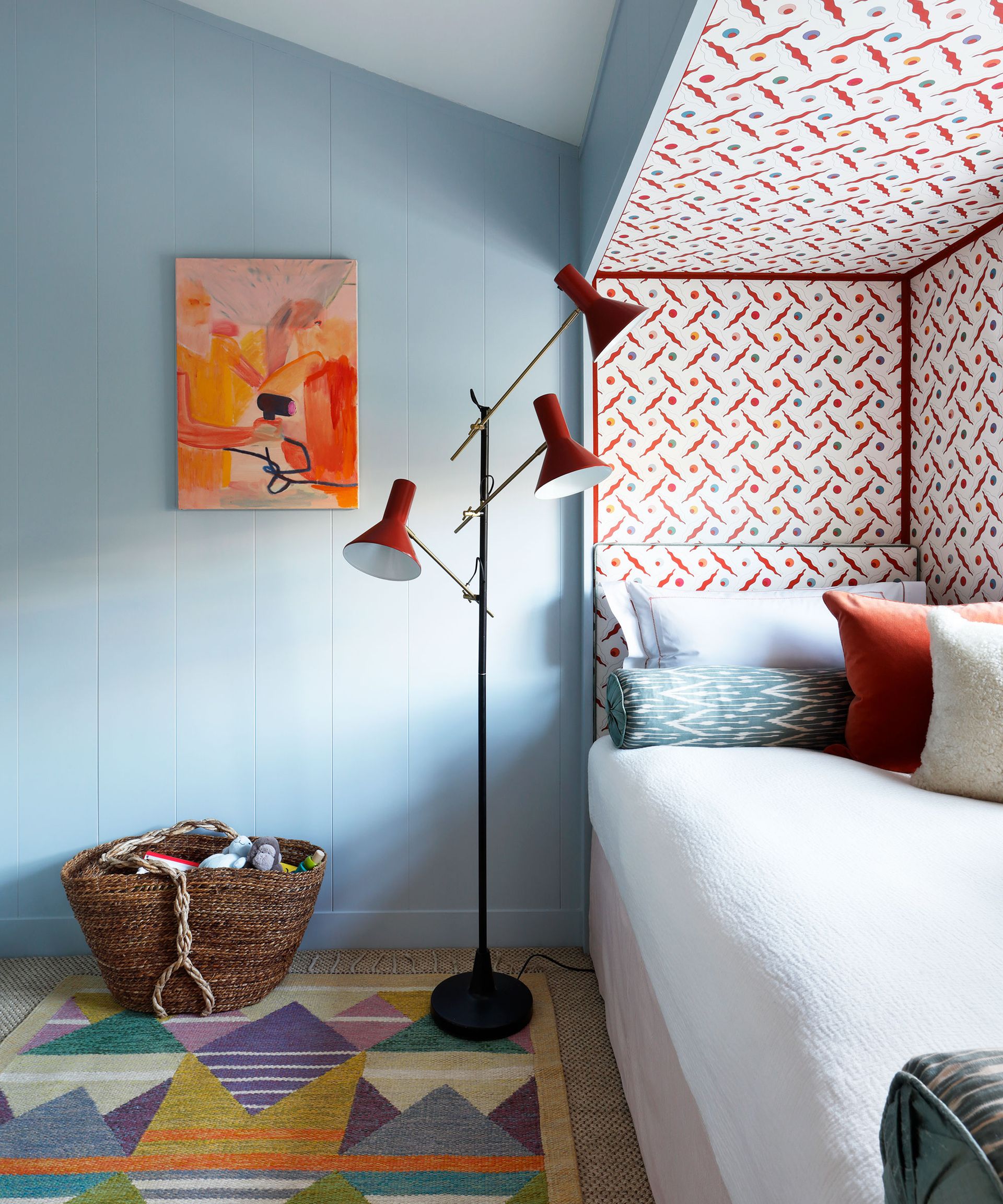 Nook beds help you rethink the layout of a small bedroom because they allow you to build a framework to put the bed in front of the window, freeing up floor space elsewhere in the room.
'In this tiniest of bedrooms, to make the most of the space, I created a bed nook on the side of the room where the sloped ceiling became very low,' says Sarah Peake, founder and creative director, Studio Peake. 'I then filled it with a lively pattern to set it apart from the rest of the room, although the bedroom colors used in the fabric, cushions, wallpaper and furniture subtly echo each other to give a sense of structure to the space.'
It may seem unconventional to wallpaper the ceiling in a small bedroom, but as shone through this cozy bed nook, can work wonderfully to zone the space, great for bedroom ceiling ideas.
10. Use deep colors that embrace a small bedroom
'We would usually lean towards quieter palette combinations, but darker shades can work really well within smaller spaces,' says James Thurstan Waterworth, founder, Thurstan. 'They create a perception of depth and lend a cozy, cocoon-like feel – welcome in every small bedroom.'
'For the walls, we suggest a deep midnight blue or a petrol green, then lift this by layering careful accents of color, perhaps a burnt orange or a similar earth-toned hue – ochre, terracotta or a softer peach.'
11. Fit slim lighting and dimmer switches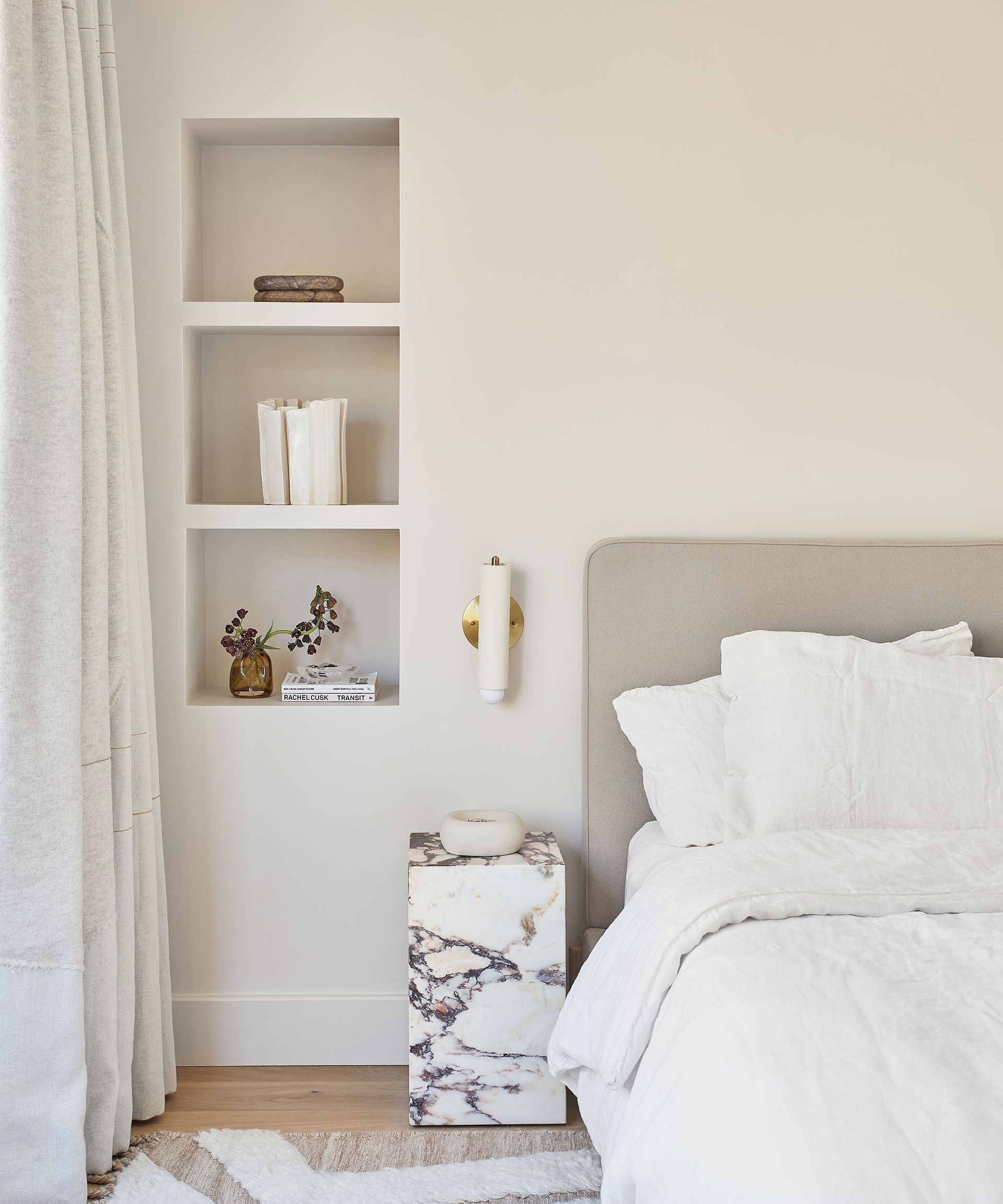 Good bedroom wall lighting ideas are one of the most important elements, particularly in a bedroom. 'A small bedroom can be incredibly inviting and considered lighting can take a room from feeling stark and pokey to sweet and cozy,' says Sheena Murphy, partner, Nune.
'Our number one rule is to add dimmers to all light switches so you can adjust the mood, and having one decorative light overhead (no recessed lighting) and two bedside lamps – if space permits – is preferred, so again, you can amp up or soften the ambience, according to how you feel.'
12. Introduce limited pattern behind a headboard
Too much pattern in a small bedroom can be overwhelming, but the perfect opportunity to add one is behind the bed. If there is no space for a headboard, then get creative with your wall decor for the bedroom and wallpaper or paint a panel on the wall behind the bed.
The elaborate botanical print fabric hanging behind the headboard above, draws the eye to the outer edge of the room, enhancing this elegant, muted pale green scheme.
'Don't be afraid to go tall with this panel as that can raise the ceiling visually,' says Lucy Searle, Homes & Gardens' Editor in Chief. 'However, if your small bedroom has a tall ceiling, creating a squatter panel that encompasses the wall behind your bedside tables can help rebalance its proportions.'
13. Introduce storage above and below the bed
Clever small bedroom storage is key to your room's success, so use every inch available, majoring especially on over- and underbed storage ideas that are often overlooked. Drawers, storage boxes and vacuum bags are all your friend here.
Organizing a small bedroom is key to making it feel larger than it is, so choose bedside tables with multiple drawers either side, too.
14. Go floor-to-ceiling with mirrored storage
Bespoke fitted furniture is a good option for a small space or apartment bedroom ideas. Maximize this storage by installing floor-to-ceiling, made-to-measure pieces that don't waste an inch, and if you can put a mirror on the front of a door, do, because it will save you wall space elsewhere and make a small bedroom look bigger.
'Note, too, the one-tone decor of this small bedroom,' says Lucy Searle. 'This approach helps make the room feel larger because there are no jarring changes of tempo.'
15. Create a focal point with artwork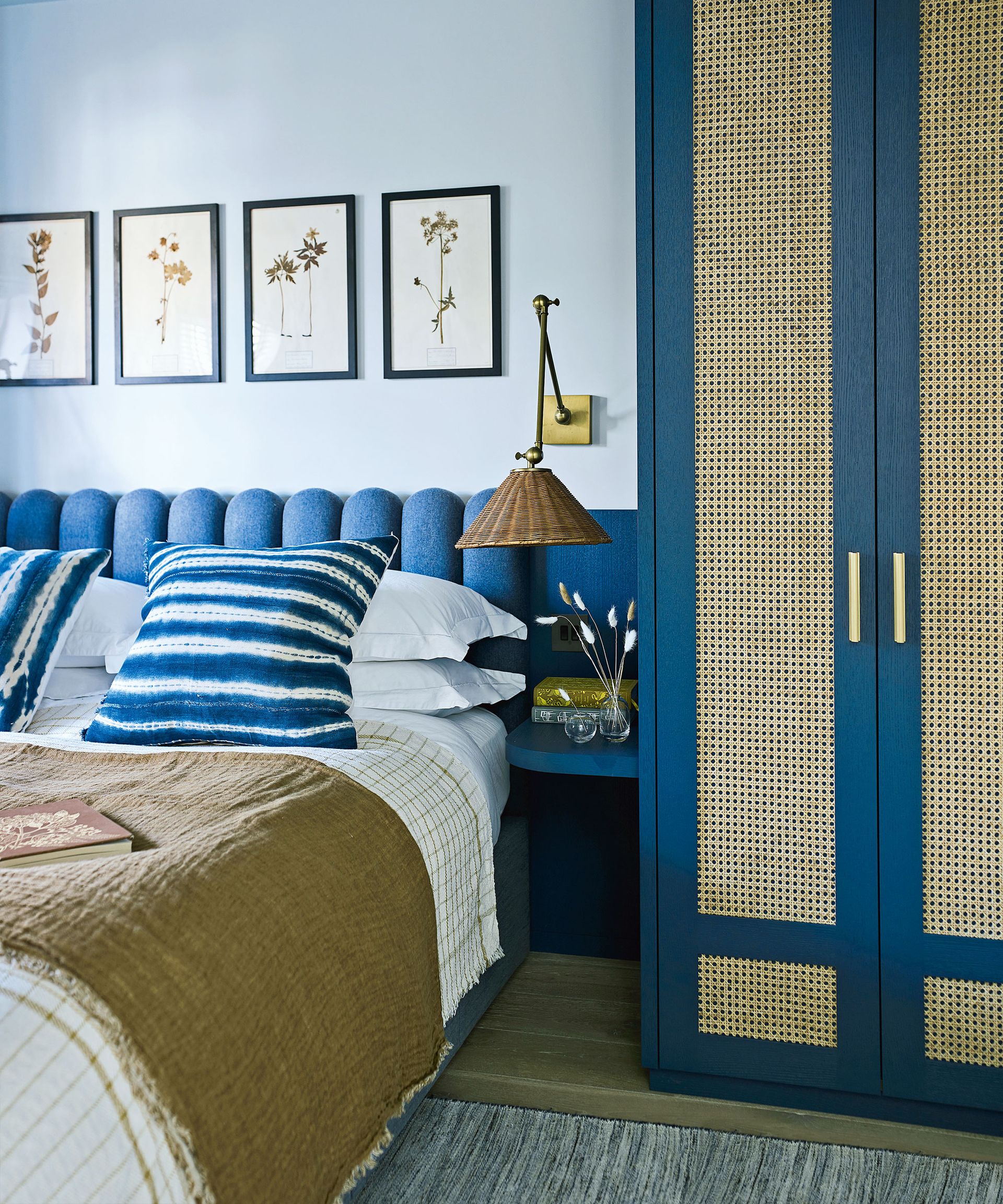 Provide one or two key focal points to draw the eye to the outer spaces of the room, for example a striking piece of artwork, patterned wallpaper or headboard covered in stunning fabric.
It only takes one wall to give small bedrooms the wow factor. Generally your feature wall will be the one you see first when entering a room but you could choose a bedroom accent wall behind a key piece of furniture, such as behind the bed or sofa.
16. Paint a small bedroom in white to bounce light
Decorating schemes will never tire of white, but all-white bedrooms can make a real statement. Glamorous yet relaxed, mix up different tones of white for a fresh and airy feel.
Avoid the clinical look by make sure that there are some elements of natural materials in the room – perhaps wooden furniture or wicker storage baskets.
17. Convert an attic into an extra bedroom
Attic bedroom ideas can be one of the most straightforward ways to introduce extra space into your home. There are an array of cozy bedroom ideas to prove just how inviting these spaces can be.
Given the right attic space, the addition of another bedroom, office or just extra storage will make all the difference, and can mean you're able to stay on in a house that you may have thought was too small – plus it will add value to your home, too.
18. Make a tiny bedroom feel more luxurious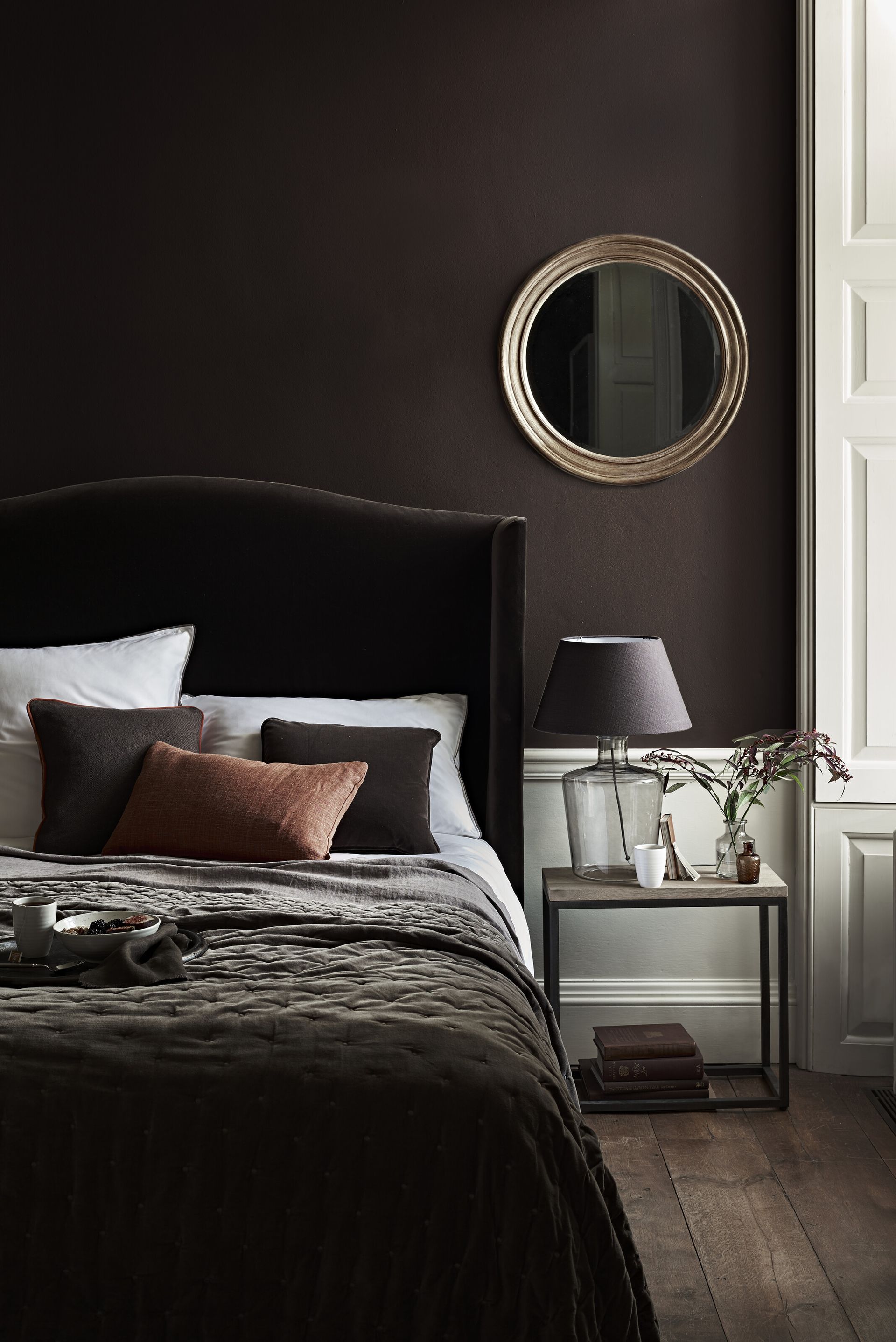 Small bedrooms can really benefit from rich, luxurious soft furnishings. Your bedroom should be a haven of peace and it should reflect your true self.
Simple pattern, subtle textures and soothing colors are all luxury bedroom ideas that will create the perfect refuge from the stress of a long day.
19. Think about doors in a compact space
Think about the entrance door too of a small bedroom.
'If you can't re-hang it so that it opens away from the room rather than into it, consider sliding pocket doors that neatly slide out of view when open and don't eat in to the usable space,' says Mary Barber-Fray.
20. Choose modular units with sliding doors
As we have already said, built-in bedroom furniture, using the full height of the room, will maximize floor space. The clever small bedroom clothes storage idea does so with a multi-purpose shelving unit.
'Note the sliding doors,' says Homes & Gardens' Editor in Chief Lucy Searle. 'Any door that slides will save floor space, which can really boost the practicality of a small bedroom.'
FAQs
How do I arrange my small bedroom?
Arranging a small bedroom often calls for compromise. Like any small space, the key to successful small bedroom ideas is to create adequate storage within a functional layout.
Often when decorating a guest bedroom, a couple of large, hard-working pieces of furniture will create a less cluttered look than several small pieces.
Consider how the space can serve more than one function, such a doubling up as a workstation too. When square footage is at a premium, try incorporating a wall bed instead of a traditional sofa bed. It takes a standard mattress, offering greater comfort, and can fold away to look like a wardrobe or cabinet, freeing up valuable floor space for a desk and chair.
Ensure that the surrounding furniture is lightweight so that it can easily be moved to accommodate a pull-down bed. If you have adequate ceiling height, look at bespoke options, such as a simple mezzanine incorporating a sleeping area on a raised platform with a wardrobe or shelving below.
What are the best colors for a small bedroom?
The best color for small bedroom ideas is white. If you want to know how to make a small bedroom look bigger then look no further than an all-white scheme.
Although all-white schemes can make a real statement, why not experiment by combining different white hues to create a light and breezy feel.
Not all whites match but it's ok to layer up different tones including buttermilk, cream, nearly-taupe, soft white and pure white as long as you feel they blend. The variety of tones will add a depth to your scheme.
So, it's clear that cleverly thought-out storage is key to the success of a small bedroom, though color and visual tricks with pattern play a part too. Our biggest takeaway? Cut down on clutter, organize and put away everything from clothing to jewelry, and keep the decor scheme simple.
Sign up to the Homes & Gardens newsletter
Decor Ideas. Project Inspiration. Expert Advice. Delivered to your inbox.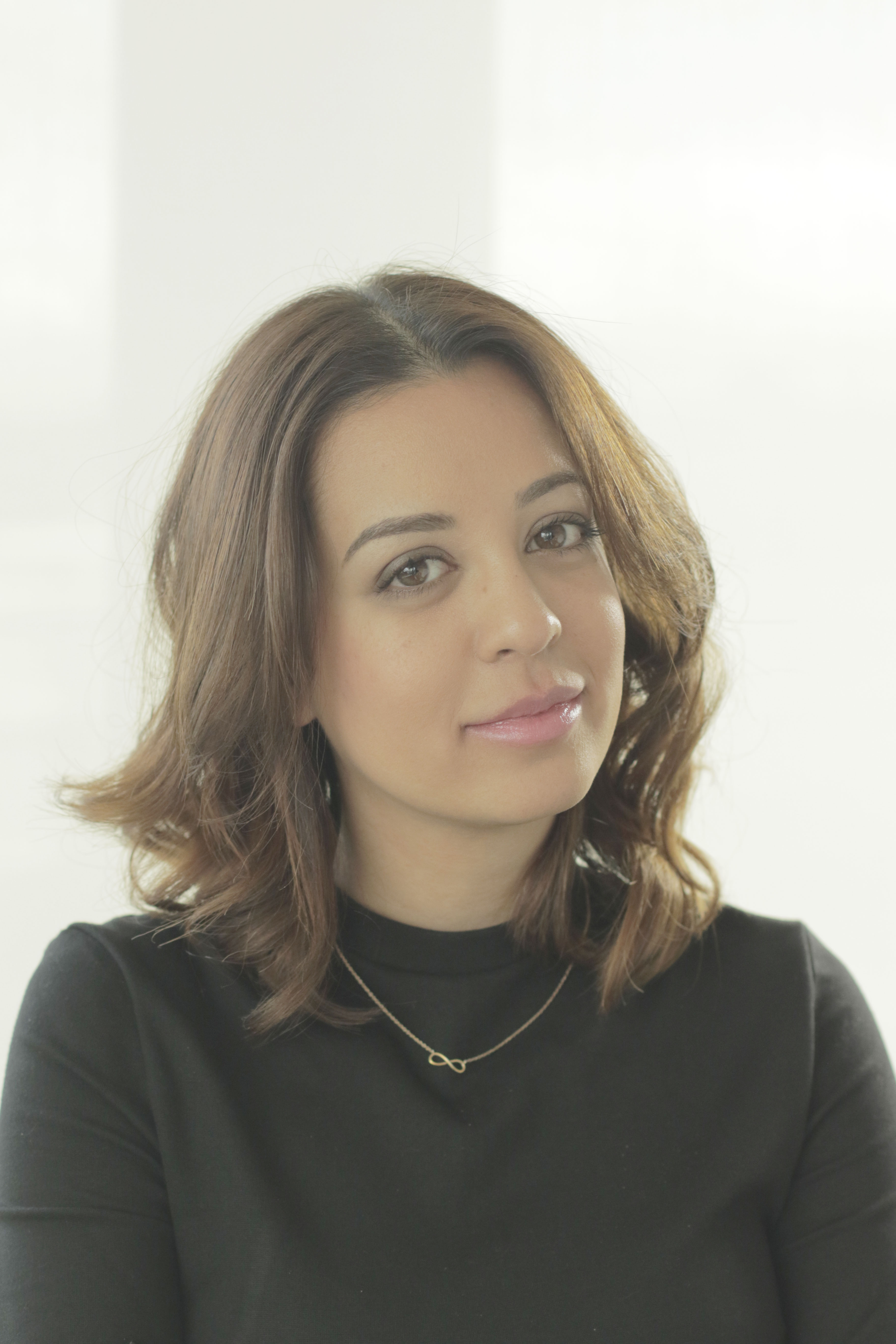 Jennifer is the Digital Editor at Homes & Gardens. Having worked in the interiors industry for a number of years, spanning many publications, she now hones her digital prowess on the 'best interiors website' in the world. Multi-skilled, Jennifer has worked in PR and marketing, and the occasional dabble in the social media, commercial and e-commerce space. Over the years, she has written about every area of the home, from compiling design houses from some of the best interior designers in the world to sourcing celebrity homes, reviewing appliances and even the odd news story or two.