Bring the outside in
Beautiful bespoke designed glass rooms, verandas and awnings can bring an extra dimension to modern and rural homes alike, so, with glinting verandas, retractable awnings and glass rooms supplying all the light and space you need, who needs to move?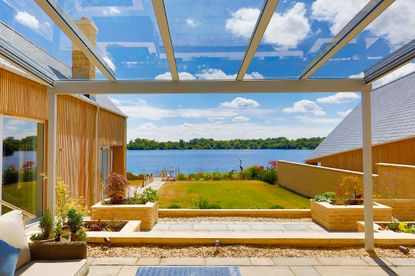 (Image credit: Eden Verandas)
Our love affair with indoor-outdoor living can be traced back to the botany-mad Victorians, who would retire to their 'glasshouses' to cultivate rare and exotic plants. Since those days, design, technology and engineering have come a long way, making the once-traditional glass room one of most enjoyable areas in the modern-day home. With state of the art electronics to control efficient infrared heating, lighting, blinds and undershades you will be able to enjoy your garden all year round.
Perfect the art of outdoor living indoors
Glass rooms are a great way to add space with a sparkle to a home, whether they're used for lounging, dining or simply enjoying the view. The contemporary style also works extremely well on period properties, with the minimal use of high quality powder coated aluminium frames allowing the maximum use of glass which will not detract from the original building. On a warm sunny day just slide the doors back and bring the outside in.
Verandas will provide your home with an elegant indoor-outdoor space allowing you to shelter from the elements and enjoy your garden come rain or shine. Most verandas can also have glass doors retro fitted to convert into a glass room should you so wish.
Awnings can give your property that added touch of luxury and style with a wide choice of fabrics and finishes available to compliment your home. Awnings offer protection from the sun and harmful UV rays and come with the option of energy efficient heating and lighting all controlled at the touch of a button. The awnings are easily opened and closed with a hand held remote control allowing you free to enjoy a wonderful alfresco lifestyle.
Why choose a glass room, veranda or awning?
Thanks to advances in technology, contemporary glass rooms, verandas and awnings are now a fabulous option as a link between your living space and garden, blurring the boundaries between inside and out.
Glass facades have been used commercially for many years and are becoming popular in residential projects due to the natural light and minimal obstruction of views that they provide.
When it comes to siting and constructing a modern glass room or veranda, the sky's the limit. Glass designs suit virtually all types of property whether a modern or period home. They are unobtrusive and will give you extra space without detracting from the original building or its features.
Sleek glass rooms, retractable awnings and wraparound verandas, like the ones from Eden Verandas, are sure to add a striking dimension to your home.
Why choose Eden Verandas?
If you're looking for a service that offers you a top quality bespoke manufactured product, then Eden Verandas could be just what you need. This privately owned family run company prides itself on the wealth of experience they've built up over 10 years in the business.
What's more, with Eden Verandas' Buy Now Pay Later scheme you can spread the cost, allowing you to enjoy indoor-outdoor living now. One of the many reasons for investing in an Eden structure is the superior quality, stylish design options and stringent production controls. Incorporating the very latest technology every Eden product is designed to make alfresco living that much more relaxing and enjoyable.
A striking addition that can dramatically improve your lifestyle – and the value of your home. Whether you're based in the town or country, there's a solution to suit every property.
Order a brochure from edenverandas.co.uk or call 0800 107 2727 to find out more. You're just moments away from your dream outdoor living space.
Sign up to the Homes & Gardens newsletter
Decor Ideas. Project Inspiration. Expert Advice. Delivered to your inbox.
As the UK's first-ever home interest magazine, Homes & Gardens has been shaping British style for 100 years. Our core pillars are inspirational interiors, stylish decorating, beautiful gardens and fascinating stories. With the values of timeless style and considered elegance at our heart, we show an affection for heritage whilst also championing the future, from emerging designers to latest trends. The Homes & Gardens website brings all our beautiful content online, with a focus on stunning room ideas, expert advice from interior designers, architects and design professionals, and more practical expertise, too, on caring for and improving your home. Our website is updated and added to daily and we're delighted to welcome more than 6 million readers monthly. Of course, we've assembled a cracking team of experts in their fields to deliver all this stunning inspiration to you, and we'd love to introduce them. Their contact details are below, too.