Best non-toxic air fryers 2023: our safest tested options
After speaking to medical experts, our team selected the best non-toxic air fryers on the market based on our expert testing.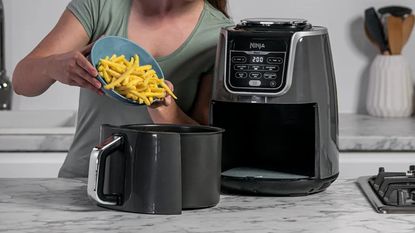 (Image credit: Ninja)
Lots of people are worried that air fryers are toxic after viral claims on TikTok. When I consulted experts, their responses were incredibly reassuring. Used correctly, air fryers aren't toxic, but the experts suggested that we can take measures to mitigate some of our most immediate concerns.
Many air fryers use non-stick materials such as Teflon. It's very unlikely, but these non-stick surfaces use chemicals which can be harmful if you ingest them. The only way that this can happen is If your air fryer is chipped or damaged. If you're at all worried, however, medical experts advise that you buy air fryers that use stainless steel or ceramic.
Fortunately, our team of air fryer experts have tested the best air fryers on the market and found that plenty of them are non-toxic. These range from single-function and compact models to multi-functional air fryer ovens. Different models will suit different households, but they all set our minds at ease.
Are Air Fryers Toxic?
When I covered 'are air fryers toxic?' I found that air fryers can be toxic in certain limited situations. Medical experts suggest that there are two main ways in which air fryers could be potentially harmful. The first is that we might ingest some of the non-stick coating. Nonstick air fryers that use materials like Teflon have chemicals that can be associated with health risks. However, experts say that you can only be exposed to these chemicals if your air fryer is damaged. It's best to choose an air fryer made without non-stick chemicals, such as ceramic or stainless steel.
The other risk is how hot they get. This is not exclusive to air fryers, but heating starchy foods to high temperatures can cause potentially carcinogenic chemicals to form. However, this is a risk with all kinds of frying. In these ways, air fryers can be toxic, but they aren't innately toxic, and the risk is relatively low.
Best non-toxic air fryers 2023
You can trust Homes & Gardens. Our expert reviewers spend hours testing and comparing the latest products, helping you choose the best for you. Find out more about how we test.
Best ceramic air fryer
Best ceramic air fryer
Specifications
Capacity: 6 quart
Cooking modes: air fry, roast, reheat, and dehydrate
Temperature: 90-400°F
Size : 15.11 x 12.1 x 13.07 inches
Weight: 14 pounds
Power: 1,700 watts
Reasons to buy
+
Under $100
+
Attractive design
+
Good capacity
+
Dishwasher safe
Reasons to avoid
-
Doesn't feel ultra premium
Our team described this as 'the best budget air fryer in the world' and they aren't wrong. It comes in a range of beautiful (as the name suggests) colors. Even though this is a budget-friendly option, it can dehydrate, roast, air fry, and reheat with a smart touchscreen. The basket is good, capable of cooking food well, and is made with ceramic coating that is PTFE, PFOA, and PFOS-free. Essentially, it's got none of the risks involved. When you're done, everything can be put into the dishwasher, requiring minimal fuss.

Camryn, our expert, thought that this felt a little cheap. However, she did concede that this is not exclusive to the Beautiful air fryer. Generally, these plastic appliances tend to feel a bit cheap.
You can read more in our full review of the Beautiful Six Quart air fryer.
Best stainless steel air fryer
Best stainless steel air fryer
Specifications
Power: 1,500 watts
Dimensions: 13.4 x 15.4 x 15.5 inches
Capacity: 6.5 quart
Modes: pressure cook, steam, slow cook, warm, air fry, roast, broil, bake, dehydrate
Reasons to buy
+
Compact, one-pot cooking
+
13 functions
+
Easy to use
+
Stainless steel basket
Reasons to avoid
-
Not the easiest to clean
This is our number one best instant pot, and its excellent air fryer mode means it's no surprise that this is also in our roundup of best air fryers. It's compact and versatile and helped our expert, Helen McCue, to create one of the best macaroni cheeses she's ever cooked.
The pressure cooking function automatically releases steam, making it super easy to handle. With 13 different types of cooking, from broil to bake to rehydrating, it goes far beyond just air frying. As a one-pot option, even cleaning up is easy.

We love stainless steel as a quality alternative to non-stick coatings, but it needs a little more effort than normal to clean. The best way to clean this is to leave the pot to soak and soften for a little.
You can read more in our full review of the Instant Pot Duo Crisp with Ultimate Lid air fryer.
Best non-toxic air fryer toaster oven
Best oven with air fry function
Specifications
Size: 16 x 17 x 11.3 inches
Temperature ranfe: 80-450°F
Weight: 21 pounds
Power : 1800 watts
Cord length: 2.6 ft
Reasons to buy
+
Versatile
+
Stainless steel air fry basket
+
Easy to use
+
Generous capacity
+
No-flip air frying
Reasons to avoid
-
Exterior gets hot
-
Alerts are quite quiet
This is the pick for one of the best toaster ovens on the market because it can perform so many different functions so well - dehydrate, proof, bagel, boast, bake, broil, warm, and, of course, air fry.
It looks smart on the countertop, so, even though you'll probably need to have it on show, it will look good. The air frying basket is generously sized, doesn't require a mid-fry flip, and didn't pool grease when we cooked turkey bacon, fries, tater tots, or fried chicken. Rather than use non-stick chemicals, the air fry basket is made from stainless steel.

This can get hot to touch quite quickly, which isn't ideal in a kitchen. As with the Instant Pot, stainless steel isn't the easiest to clean and can't go in the dishwasher. As a result, you'll need to handle the whole process carefully to avoid the oven overheating or your food overcooking and causing a mess on your stainless steel.
You can read more in our full review of the KitchenAid Countertop Oven.
Fastest ceramic air fryer
Fastest ceramic air fryer
Specifications
Capacity: 5.5 quarts
Modes: Air fry, max crisp, air roast, air broil, bake, reheat, dehydrate
Temperature: 105°F–450°F
Size : 14 x 11 x 14.75 inches
Weight: 11.7 pounds
Power : 1750 watts
Cord length : 2.6 ft
Reasons to buy
+
Compact
+
Dishwasher safe
+
Feels sturdy
+
Ceramic coated basket
Reasons to avoid
-
Less effective at lower temperatures
Ceramic is one of the best alternatives to non-stick chemicals, so the fact that this basket is ceramic coated was a relief to us. We already loved this air fryer for its compact, lightweight frame which makes it easy to store. The 5.5 quart storage is the perfect size for two portions and, because it's smaller, it's a lot quicker at air frying foods.
Even though this is a compact appliance, the Ninja can perform a range of tasks from air frying, to roasting, baking, reheating and dehydrating. Our expert tester liked that it could be paused too.

This is a lightning-fast air fryer, but when we tried it on slower cooks and lower temperatures, it was less effective.
You can read more in our full review of the Ninja Max XL air fryer.
Best presets on a ceramic air fryer
Best presets on a ceramic air fryer
Specifications
Dimensions: 9.6 x 16.8 x 12.8 inches
Capacity: 5.3 quarts
Weight: 8.6 lbs
Power: 1200 watts
Presets: 8 with additional manual controls
Reasons to buy
+
Inexpensive
+
Powerful
+
Compact
+
Viewing window with light
+
Ceramic, non-stick plate
Reasons to avoid
-
Small capacity
-
Limited functions
-
Presets overcook
One of the best basic appliances we tested, the Paris Rhône surprised us with how much it could do, especially for the price and size. We tested it on a range of foods and were pleased with the results.
The air fryer is pre-programmed with powerful settings, but you can manually override them and check on your food using the useful viewing window and interior light. It's low-maintenance and the basket is ceramic coated, avoiding any non-stick concerns.

Although the presets are very hands-off, they consistently overcooked food. As with the Ninja, this is one to be cautious about, because it's one of the key concerns for air fryers' toxicity. Make sure to check on your food a few minutes before the suggested time. The 5.3 quart. capacity might also limit your cooking if you are a big household.
You can read more in our full review of the Paris Rhône air fryer.
How we test
There's more detail of how we test air fryers on our dedicated page. However, generally, we assess each appliance on key factors. We think about how noisy they are, how quick they are, how obtrusive they are on the countertop, and how easy they are to clean. If an air fryer can nail these basics, it's a winner for us.
We make sure to test each appliance ourselves so that we are attuned to the day-to-day features and niggles that you might face in your own kitchen. Our experts have tested all of the market-leading appliances, so are well-placed to compare and contrast them.
FAQs
How do I stop my air fryer from being toxic?
Based on medical advice, try not to overcook or overheat starchy foods. They shouldn't go above a golden yellow. If your non-stick is damaged, stop using the appliance. Even better, use an air fryer which doesn't use non-stick chemicals at all.
What is the best non-toxic air fryer?
This list explores the best non-toxic air fryers on the market. My top pick would be the Beautiful by Drew Barrymore, because it has a reasonable capacity, air fries exceptionally well, and it isn't too big on the countertop.
How much should my air fryer cost?
This depends on what you are looking for. On average, air fryers will cost between $80 and $200. If you're paying more money, you should expect smarter features and a better capacity. We like large-capacity baskets that are easy to use.
How big should my air fryer be?
We would suggest a five-quart air fryer for most people. If you are cooking for yourself, or just one other, you might not need as much space and the same applies if you are trying to feed a family.
Would a deep fryer be less toxic?
We have compared the deep fryer against an air fryer in our tests. Whilst deep fryers don't use the non-stick, which is one of the main concerns facing air fryers, they do engage with the other concern for overcooking food. They also require more oil to cook your foods too.
Why is ceramic good for air fryers?
Ceramic-based air fryers are good because ceramic doesn't have the 'forever chemicals' associated with non-stick air fryers. Ceramic is also much harder to scratch or damage than non-stick materials like Teflon, so it's easier to maintain and will probably last longer.
How do I stop my air fryer from being toxic?
if your air fryer is damaged or broken in any way, you should stop using it. If you are concerned about the non-stick chemicals in your air fryer, maintain them as well as possible to avoid the chemicals getting into your food. The best way to stop your air fryer from being toxic is to buy a ceramic or metal-based air fryer.
Final Thoughts
In spite of medical reassurance, I'm a cautious person. If there's a chance that I could be ingesting non-stick, I would rather not risk it. That's why I was so pleased with the range of air fryers that are using ceramic or stainless steel in place of 'forever chemicals' and plastics. If in doubt, ceramic and stainless steel are the way to go.
Laura is our eCommerce editor. Before Homes & Gardens she studied English at Oxford University. Alongside her studies, she qualified as a barista and trained as a master perfumer. This makes her our certified expert for all things coffee, candles, and fragrance. Laura has worked for luxury retail brands, reinforcing the importance of quality and style over quantity and fads. She looks for products which have been designed with thoughtful finishes.