Best Dyson alternatives 2023: tested vacuums at lower prices
Our expert opinion on which vacuums deliver Dyson-quality results without the price tag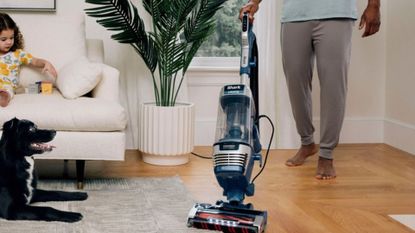 (Image credit: SharkNinja)
Contributions from
There's a lot to love about Dyson vacuums, except for the price tag. Alternative vacuum brands often claim high-quality, premium design, and useful features. However, without testing them for yourself, it seems like paying a little less comes with a large compromise on quality.
After our roundup of the best vacuums on the market, we called on our team of experts to assemble the strongest alternatives to Dysons.
From cordless to handheld, we tried, tested, and assessed each vacuum for suction power, noise levels, dust bin capacity, run time and how they work for pet hair and allergies.
Best Dyson alternatives 2023
You can trust Homes & Gardens. Our expert reviewers spend hours testing and comparing the latest products, helping you choose the best for you. Find out more about how we test.
Whether you're a pet owner, robot geek, or looking for an ergonomic alternative, we've selected the strongest Dyson rivals which boast reasonable prices, too.
Best cordless alternative
Best cordless alternative
Specifications
Cord or battery powered?: Cordless
Dust bin capacity: 1qt.
Weight: 8.82lb
Dimensions: 10.24" L X 14.7" W X 46.5" H
Battery life: Up to 60 minutes
RRP: $479.99
Reasons to buy
+
Easy to fold down for storage, and compacts down to less than 3 feet for closet storage
+
Super lightweight
+
Easy to remove dust cup
+
Does not require a charging hub
+
Charges through a removable battery
+
Anti-allergen seal traps dust and allergens
Reasons to avoid
-
Cumbersome to unfurl back up from storage mode
-
Top-heavy
Why you should buy it
Unrivalled in suction power, but it's still compact and easy to use.
Why we love it
The Shark Cordless is the perfect example that lower prices don't mean worse quality. A preeminent feature of Shark vacuums is their remarkable suction power and the Cordless is no exception. With a DuoClean head and PowerFins technology, users can expect a deep clean of carpets and hard floors. With vast amounts of dust collected, the Shark Cordless needs a large dustbin capacity. At one quarter gallon, slightly bigger than Dyson V15 Detect's relative 0.2 gallon capacity, this cordless needs emptying much less often, even though it's picking up lots of dust from the floor.
The nimble, lightweight body is a match for Dyson's V15 and certainly much smoother to use than upright vacuums. The additional Multi-Flex head means that moving around and accessing those hard-to-reach areas is effortless with the Shark. Moreover, it features a HEPA filter and Anti-Allergen Seal, to offer pet owners and allergy sufferers more effective protection from rogue dust and dirt particles.
Good to know
Due to the larger dust bin, the Shark weighs a little more than Dyson's V15 Detect. The Shark claims to have a 60 minute battery life, as opposed to the Dyson which can run for an extra ten minutes (70 minutes in total). The Multi-Flex head makes for easy storage, but isn't the easiest to handle, especially when unfurling the vacuum back up to full height.
Our Shark Vertex Pro review has more detail.
Best upright alternative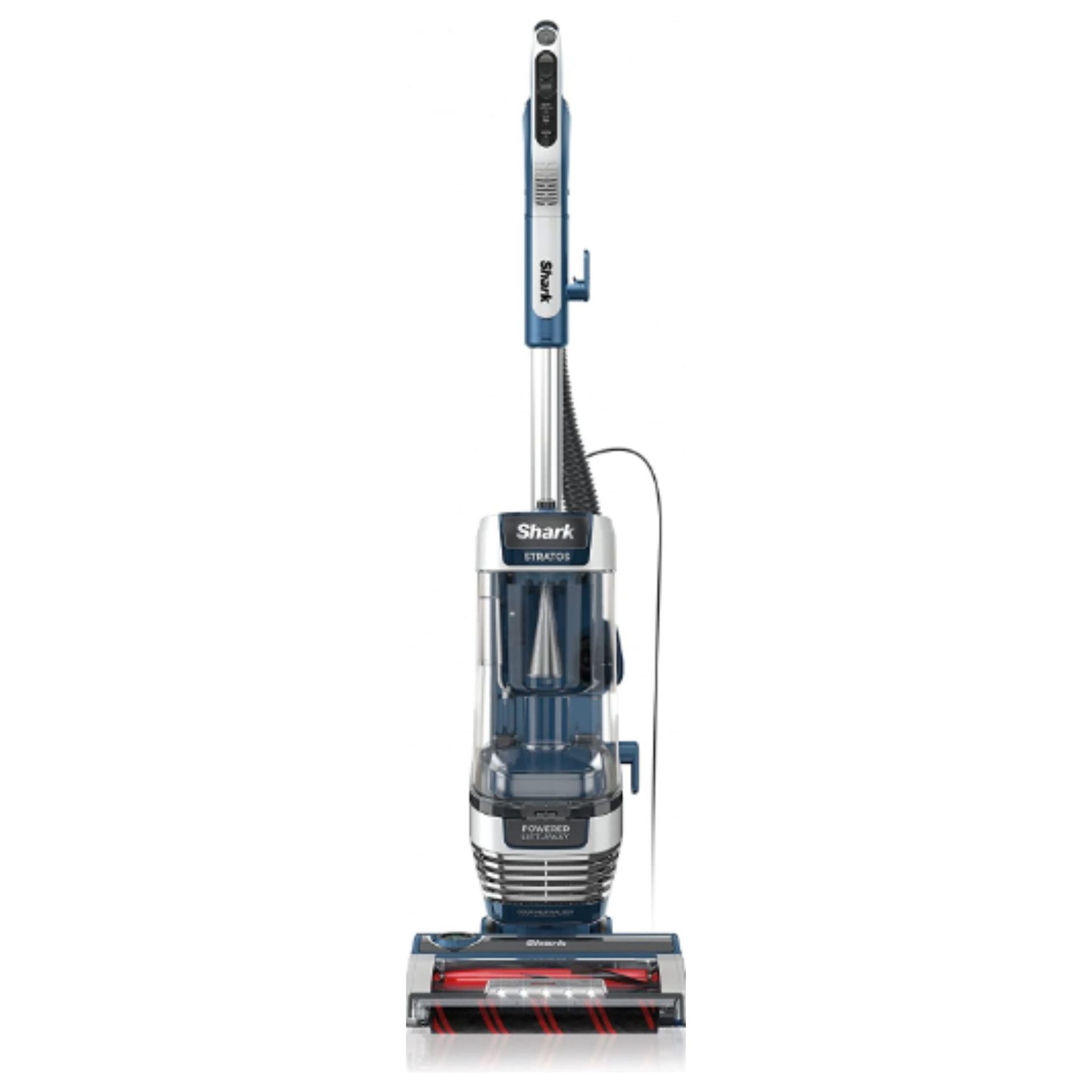 Best upright alternative
Specifications
Type: Upright
Power: 1344W
Dust bin: 1.48 quart
Weight: 17.2lb
Max dB: Not disclosed
Reasons to buy
+
Powerful suction
+
Versatile design
+
Easy to maneuver
+
Odor-neutralizing cartridge
+
Self-cleaning brushroll
Reasons to avoid
-
Quite bulky
-
Small dust bin
Why you should buy it
A powerful essential for busy homes, pet fur, and varied surfaces
Why we love it
A classic model, Shark's upright vacuum is well suited to larger areas, especially those with furry friends. As with the Cordless Shark, the suction on this product is exceptional, effortlessly lifting dust and debris from carpets and hard floors alike.
The suction power more than stands up to Dyson's Ball Animal 3, especially when both are used in more agile ways. Our expert reviewer, Camryn Rabideau, found that the Dyson came up short when using the extension hose. The Shark Stratos, however, comes with a Powered Lift-Away feature which converts into a much smaller and more agile device. Camryn used this on her stairs, in the same way that she tried the Dyson, and found it 'more compact and lightweight…and the suction power is much stronger than my cordless vacuum meaning it picked up more dust and hair with each pass'.
It's also worth shouting out the unique Odor Neutralizer Technology, an innovation which makes this vacuum a must-have for pet owners. As you vacuum, a light and fresh scent is released into the room, enhancing that 'freshly-cleaned' atmosphere.
Good to know
The smaller bin capacity of the Shark means that it'll need emptying more often. However, at 1.4l, Shark still has a considerable amount of storage. The Shark is only 0.1lbs lighter than the Dyson Ball Animal 3, so if you have mobility problems, neither model is ideal.
Our Shark Stratos Upright review has more detail.
Best robot alternative
Best robot alternative
Specifications
Navigation: Camera and sensors
Dust bin size: .42 gallons
Dimensions: 13." W x 3.4" H
Noise level: N/A
Compatability: Alexa/Google/Applie-Siri
Reasons to buy
+
Self-emptying
+
Superb cleaning
+
Accurate Obstacle Detection
+
Intelligently maps and shows where it cleans
+
Beautiful design
Reasons to avoid
-
Expensive
-
Replacement bags cost extra
-
Can't set Keep Out Zones until after a map is completed
Why you should buy it
A sleek, smart, and effortless cleaning companion
Why we love it
Whoever said don't judge a book by its cover clearly hadn't seen this vacuum. Sitting on the lounge floor, this Roomba looks smart. In fact, thanks to innovative software and technology, it is very smart.
There isn't much to compete with as Dyson have discontinued their robot vacuums in the US. You could only get your hands on one in the UK and our expert tester, Alex David, recommends that you don't. He says that 'it isn't very good, with weak pickup and poor room mapping'.
The Roomba is a great choice, with its Precision Vision Navigation: a detection feature which recognises cables, pet waste and toys, avoiding collision, tears, and time spent cleaning up.
It's compact and has a reasonably sized bin and self-emptying function. Compared to other vacuums, it is low maintenance and more independent. The HEPA filter is a bonus for allergies and pet-owners, too.
Good to know
Regardless of price, we prefer the iRobot Roomba JZ+ to Dyson's discontinued robot vacuum. However, it's worth noting that our expert tester Jaclyn found the app a little slow. She also spotted that it wasn't perfect at cleaning edges and needed hair to be untangled from the axles in the Multi-Surface brushes.
Our iRobot Roomba review has more detail.
Best pet hair alternative
Best alternative for pet hair and allergies
Specifications
Dust bin capacity: 0.4ltrs
Weight: 7lb.
Noise: 81dB
Battery life: 50 minutes
Warranty: 3 years
Reasons to buy
+
Headlights useful for cleaning under sofa
+
Best performance on hard floors
+
Tangle-free brushes
+
Wall bracket for charging
+
Impressive design details
Reasons to avoid
-
Heavier to use than some others
-
Edge cleaning could be better
Why you should buy it
A powerful vacuum for allergies and pet owners
Why we love it
A favorite with allergy sufferers and pet owners, the Bissell ICONPet is designed thoughtfully. With strong suction power and a SmartSeal Allergen System, our expert tester Courtney Irwin was more than pleased with the performance of the Bissell IconPet. She said 'pet hair is snarky, but the Bissell's LED lights show no mercy. Pet dander lingers, but it's nothing the Motorized TurbroBrush can't handle, Behind my fridge? I'll spare you the details, but it was ugly. Dust for days, and it was swept away in two passes'.
It's nearly a pound lighter than the Dyson Outsize +, a relief for longer vacuuming chores and has a quiet mode for minimal disturbance. A grievance with Dyson's Outsize + is hair getting tangled in the head, which Bissel has solved with anti-hair wrap technology, relieving you of the gross task of unpicking hair.
Good to know
Our experts found both Bissell and the similar Dyson product to be quite top heavy, so it's not the lightest for long vacuum sessions. Bissell also has a significantly smaller dust bin size, at 0.4l compared to Dyson's 1.9l capacity. It's also worth noting that, although Bissell doesn't need as long to charge, its battery life is less than half of the Dyson's, so be ready to re-charge often.
Our Bissell ICONPet review has more detail.
How we tested
At Homes & Gardens we will only review those vacuums with which we have personal, hands-on experience. You can learn more about the process in our guide to how we test products. We want to vouch for every product we feature, so that you can trust us to be truthful and critical, where necessary.
We rigorously test each vacuum on different floors and household challenges over a number of weeks, sometimes months. This means that we can pick up on quirks, extra features and the longevity and durability of each product. We want to know about the practicalities: how easy it is to maneuver around small spaces, how long it runs for, and how easy it is to empty.
We also understand that experts need to take into account other users, so we look out for what people are saying online and make sure we thoroughly assess their feedback too.
FAQs
Why do people still buy Dyson?
Dyson is an iconic and trusted brand. Don't get me wrong, we still love Dyson vacuums. They're number one in a number of our guides for a reason, as they produce innovative and top-quality products. It's still worth considering Dyson, because, as you will have seen, they might have longer battery lives, better power, more ergonomic looks, or more useful features. We have collated a list of alternatives, because Dysons can cost up to a thousand dollars and not everybody is ready or able to spend that money.
What to consider before buying a vacuum
Sometimes, choosing which vacuum to buy can feel like you're being spun around inside one. Here are the important things to consider:
Design and structure
Every vacuum is different and specialized for different tasks. Here are some of the most common types you might come across:
Dust bin
This is the part where dust collects. It comes bagged or bagless, ranging in capacity. Bagged bins seal in dirt and debris, great for pet owners and allergy sufferers, but replacing bags is an ongoing cost. Bagless designs are often easy to track for fullness and can be emptied into the garbage, but don't guarantee neat emptying. You will need to consider how often you want to empty your vacuum when looking at capacity.
Weight
A lighter vacuum will be easier to use and move around the house. An appropriate vacuum weight is around 10lbs. In some instances, heavier vacuums will be more powerful, so you will need to find a balance between the two.
Floor Type
Some vacuums are made to cover a range of terrain, but if you have a specific and consistent type of flooring, be it hard floors or carpets, you can select a vacuum which is specialized to handle the surface.
Cord Length
How many plugs you have and how willing you are to switch around will affect the length of the cord. Generally, vacuums which have cords between 25 and 30 feet are fine to use without frustration. If you don't want to deal with cords at all, then go for cordless.
Run Time
If you read cord length and decided that cords aren't for you, then you'll need to consider cordless designs. After testing, we have decided that 45 to 60 minutes is an adequate amount of time for cleaning. Runtime depends on power and what you're doing. Often, more powerful vacuums will be more expensive.
Extra Features
Manufacturers are always innovating and adding extra features. For pet owners, there's anti hair wrapping technologies and HEPA hair filtrations. This might not be in the special features of a vacuum, as brands like Shark and Bissel are known for their pet-friendly vacuums.
---
Our final verdict - are alternatives as good as Dyson?
It sounds noncommittal, but yes and no. As an example, we've compared Dyson vs Shark before and felt Shark was better value with better suction, but Dyson was more powerful. If you're looking to save money, work out your non-negotiables and there's bound to be a Dyson alternative that can still deliver for a fraction of the price.
Meet the team
Written by
Laura is our eCommerce editor and has previously worked for luxury retail brands, reinforcing the importance of quality and style over quantity and fads. She's a cleaning enthusiast, with experience using lots of different vacuums, so is well placed to offer critical and considered perspectives for Homes & Gardens.
Tested by
Camryn Rabideau is a freelance writer and product reviewer who has been testing home goods, including cleaning tools, for several years. She tested the Dyson Ball Animal 3 Vacuum from her small homestead in Rhode Island. As the owner of two dogs and a cat, she's always looking for the best products to help keep her home (at least somewhat) free of pet hair.
Alex is Head of eCommerce at Homes & Gardens and spends his days trawling the internet for the latest product launches and deals, as well as testing homes products in our specialised test facility. Before H&G, his first ever job in consumer journalism was testing the best vacuums, so he has thousands of hours of vacuuming under his belt.
Tested by
Midwestern product tester and writer Courtney Irwin is a working mom of three who loves nothing more than a good deal. Courtney has spent years curating home renovation and appliance content, and has tested a range of products for Homes & Gardens, including various vacuums.
Tested by
Jaclyn was the US eCommerce editor for Homes & Gardens. She tested a number of vacuums, including Dyson and their competitors. She's well-placed for direct comparisons between Dyson, Shark, and the other names in this list.
Laura is our eCommerce editor. Before Homes & Gardens she studied English at Oxford University. Alongside her studies, she qualified as a barista and trained as a master perfumer. This makes her our certified expert for all things coffee, candles, and fragrance. Laura has worked for luxury retail brands, reinforcing the importance of quality and style over quantity and fads. She looks for products which have been designed with thoughtful finishes.