How we test vacuums: Homes & Gardens' expert process
We've thoroughly researched, tested, and reviewed the best vacuums on the market. Here's how we do it.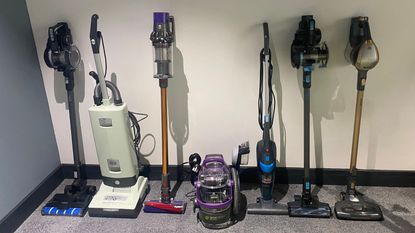 (Image credit: Future)
The best vacuums transform a boring chore into effortless cleaning – as long as you pick the right one. Our team of experts have years of vacuum testing experience, so they are well-placed to offer trustworthy advice on the best vacuums.
We test every vacuum in our dedicated test center. Before testing, we thoroughly research the special features and claims of the vacuums. With these notes, we test the vacuums on a range of floor types and debris, so that we have reliable evidence of how each vacuum can cope with daily life. We scatter everything from hair to cereal on linoleum, carpet, and hardwood floors.
These tests are standardized, so we can compare every vacuum directly. Even our most budget model and our luxurious spend are put through the same process. As a result, we have hands-on experience and can be certain in our convictions of which vacuum is best suited to which house. We have an overview of the best vacuums on the market in our buying guides for cordless, pet hair, robot, and overall vacuums.
How we test vacuums
How we choose vacuums to test
With years of vacuuming experience and expertise, our testers have their fingers on the pulse. We keep an eye on updates to household names, but are always speaking to experts and listening to the market. If there is a new vacuum from a small brand that is performing well, we make sure to give them a fair test.
We know that different homes require different appliances, so ensure that we are testing a range of price points and features. We test upright, cordless, robot, smart, compact, and specialized pet hair vacuums. This means that we know the strengths and weaknesses of a range of vacuums. We also have some of the vacuums tested in homes, to see how well they perform outside of ideal conditions in our test center. This is especially important in our tests of the best vacuums for pet hair, which need testing on real dog and cat fur.
We make a point of being editorially independent. If a vacuum doesn't perform, no money or gifts from public relations teams will convince us that it's good. We only tell the truth and will let you know which vacuums are genuinely good.
The Floor Types On Test
We test on the three most common types of flooring, so we know how every vacuum performs in every home. Each test is repeated across linoleum, carpet, and wood flooring. Linoleum is easy to clean but shows dirt quickly, so it's an unforgiving surface when testing vacuums. Carpet is much trickier to clean, as the fibers wrap around dirt and make it hard to vacuum away. It also shows us how a vacuum might perform on an area rug or a car footwell. Wood floors are similar to linoleum, but are much trickier to clean thanks to gaps between the floorboards that can easily trap dust and hair. Wood also reveals if the wheels on a vacuum scratch your flooring.
These tests let us see which vacuums are suited to which households. It might be the case - as in our review of the Dyson Ball Animal 3 - that a vacuum that excels on carpet is poor on linoleum. It can show us that a vacuum like Bissell ICONPet will have a small apartment with laminate floors spotless in minutes, but struggle to clean a big, carpeted home.
Test 1: flour and sugar
We scatter flour and sugar across linoleum, hardwood, and carpet floors. Not only are these common messes on the kitchen floor, they're also a good proxy for dust and dead skin. If a vacuum can handle this, it'll be good for light use. Flour is a good visual test for every vacuum, because we can see when it gets stuck in the wheels, left behind on the floor, stuck in the gaps, or skipped over completely.
Test 2: the pantry test
Using large cereal shapes we can see how vacuums cope with larger pieces of debris like crumbs and small stones. Some vacuums push the cereal around, crush it up, or simply can't cope, so this is a good hurdle for a vacuum to jump over.
Test 3: hair and fur
Hair and pet fur can be the greatest challenge for a number of vacuums. They're either missed entirely, or get tangled in the rollers. Clearing out tangled hair is never a pleasant job. We scatter hair extensions across linoleum, hard floor, and carpets. Some vacuums need a lot of help collecting the hair, others need only a little. When we test, it's easy to see which is the best, because it's the one we will reach for to clean up the mess that the others cannot.
Specialist pet hair vacuums often have removable rollers or parts of the floorhead. After vacuuming, we test how well these rollers can be removed and how much better that makes the hair removal process.
How We Test Special Features
Where there's a special setting, we have a special test. Some vacuums have extra features, tools, and settings and we want to ensure that these aren't marketing gimmicks. We'll use these appropriately on different floor types and scenarios and gauge how well they perform.
How We Test Cleaning And Storage
Vacuums are every cleaner's best friend, until you have to clean or empty the vacuum yourself. This is the tipping point: your vacuum could redistribute all of the mess that you've carefully cleaned up, or it might effortlessly empty away.
Some vacuum cleaners have bags, which seal and filter dust, helping those who suffer from allergies. Bagless vacuums can be a little more messy, so we are careful to test the bin emptying aspect. At this point, we will also think about storage. It's great to have lots of accessories, but if that makes the vacuum fiddly to store, you'd want to know. Equally, some vacuum cleaners can be disassembled and stowed away, whereas others will need a big cupboard or wall mount to store as a pre-assembled vacuum.
How We Test Value For Money
We take the entire vacuum cleaning experience and weigh that against the cost and warranty of the vacuum. If it's affordable and impressive, it's sure to be on our best vacuums roundup. If a vacuum has a short guarantee, is expensive, or doesn't deliver on promises, we will take that into account. If a vacuum is cheap, but suffers in power, performance, and capacity as a result, it will be marked down too.
How We Give Our Verdict
Our team of testers is well acquainted with all the good, the bad, and the ugly (but sometimes brilliant) vacuums on the market. At this point, we draw on this knowledge network and try to take an objective step back. However, it's also an opportunity for us to weigh in and offer you some personal experience and insight. It's at this point that we will tell you who this vacuum would suit, who it wouldn't, and we might send you in the direction of another appliance. For example, here's where we might make a call on which best between Shark vs Dyson,
Laura is our eCommerce editor. Before Homes & Gardens she studied English at Oxford University. Alongside her studies, she qualified as a barista and trained as a master perfumer. This makes her our certified expert for all things coffee, candles, and fragrance. Laura has worked for luxury retail brands, reinforcing the importance of quality and style over quantity and fads. She looks for products which have been designed with thoughtful finishes.