Best mattress 2023: tried and tested beds for all sleep styles and budgets
Find the best that best suits your sleep position, budget, and needs with this list of the top mattress – reviewed and ranked by our expert testers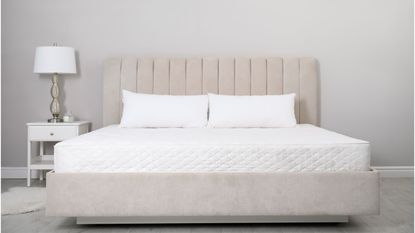 (Image credit: Getty / Credit: Liudmila Chernetska Creative #:1468540022)
Buying the best mattress for you is truly essential to a great night's sleep. Most mattresses are now made with specific sleep needs in mind. The right bed will rid you of aches and pains, keep you cool and help you stay comfy all night long. But with so many mattress types, models and choices, finding the bed of your dreams isn't as easy as it seems.
Our team of expert testers have reviewed a wide range of mattress to suit every sleeper. Our favorite of all time remains the Saatva Classic Hybrid, but we've also found great performance from Nectar, Casper, and Tempur-Pedic, as well as some brands that are new to the scene. We've found the best mattress for back pain, side-sleepers and those that get hot in the night, so there's a mattress to suit all preferences and budgets.
With 90-365-night sleep trials, warranties and returns up for grabs too, you can invest in a new bed without worry of getting it wrong. If your current mattress is in good condition, but just isn't as comfortable as you'd like it, you should look the best mattress toppers instead. Below you'll find the best mattresses – tried and tested – and a handy guide to help you navigate the mattress market.
Best mattress 2023
Best mattress overall
Why you should buy it
The most comfortable mattress on test, that provides the perfect balance between comfort and support – suitable for all sleepers.
Why we love it
The Saatva Classic mattress is our pick for the best mattress on the market. Our tester Jaclyn found that the built-in Euro-top adds immediate cushion and plushness for a luxury feel that had her drifting off to sleep very quickly. She slept most comfortably on her back and side, though a strict stomach sleeper will likely prefer something firmer.
This hybrid combines traditional pocket spring coils with a memory foam layer for comfort and all-around sturdiness. The double layers of steel springs add support for aching limbs by cradling pressure points and contributing to better motion isolation. It also has an organic cotton cover, recycled steel coils, and CertiPUR-US foam. The coil construction creates good airflow, perfect for those who get hot at night, and it also offers excellent edge support, some of the best of any mattresses we've reviewed. It comes in three firmnesses – Plush Soft, Luxury Firm, and Firm – and two thicknesses. There's no difference in feel between the 11" and 14" depths, so it's a matter of preference.
Good to know
Most opt for the Luxury Firm, which is what Jaclyn tried. It's a medium-firm design that suits side, front, and back sleepers alike, but if you like extremely soft mattresses, Plush Soft might be a better option. While it features organic components, it's not fully organic, so Saatva's more expensive latex hybrid might be a better choice. There is also a $99 return fee if you don't like the mattress.
Jaclyn's Saatva Classic Mattress review goes into more detail.
Best mattress for back pain
Why you should buy it
If you wake up with back pain, this Nectar memory foam will cradle you to tackle any aches.
Why we love it
Our tester Casey found that this mattress gets more and more comfortable as you break it in. Thanks to a responsive design that keeps you in a neutral position, it's a highly-rated choice for those who suffer from back ache.
The five-layer foam construction utilizes gel memory foam for comfort, pressure-relieving dynamic foam, and a seven-inch base layer for support— all wrapped below the outer cooling cover which is breathable and moisture-wicking ensuring that even the most feverish sleepers will stay cool all night. It also had no motion transfer, so it's great for couples.
It's slightly on the firmer side of medium-firm – with the website ranking as a 6.5 on a firmness scale of 1-10, making it a top choice for front and back sleepers but probably not best for those that prefer a mattress you can really sink into.
Good to know
A mattress can alleviate back pain, but it can't cure it. You should always discuss back pain with a doctor. It did leave something to be desired when it comes to edge support, but not enough that it affected how our tester slept.
Casey's Nectar Memory foam mattress review goes into more detail.
Best mattress for side sleepers
Why you should buy it
If you strictly sleep on your side, this mattress will keep you the most comfortable.
Why we love it
Leesa's Original Memory Foam mattress has a high 'sink in' factor, will contour around your body, and offer lots of forgiving support beneath achy joints, as identified by our reviewer. It'll keep your knees from overlapping, and your spine from twisting when sleeping on your side, making it the best bed for side sleepers. The top comfort foam provides extra airflow to keep you cool, the pressure-relieving memory foam contours gently to your body and the dense 6" core adds support and durability for joints.
A big draw to the Leesa mattress is Leesa's risk-free 100-night trial, free delivery, and their charitable contribution of donating one mattress per ten sold. So far, they've donated nearly 40,000 mattresses.
Good to know
The mattress initially feels quite firm but becomes more giving as it warms to your body temperature. Front sleepers may find it too firm, and some note, including our tester, found the edge support and motion isolation to not be as good as on other mattresses.
Our Leesa Original Memory Foam Mattress review goes into more detail.
Best mattress in a box
Why you should buy it
The Emma is the best box mattress at a fair price if convenience and comfort are your priorities.
Why we love it
This mattress 'instantly impressed' our tester Chiana Dickson, who found that even just sitting on this box bed was comfortable. A medium-firm bed, it gently cushions you without the sinking feeling of some memory foam mattresses. It's springy and responsive, bouncing back to form, and always feels stable and secure.
This is a truly comfortable mattress, helping reduce Chiana's joint pain. She was very impressed with the motion isolation and edge support, and though they could be better, it's a good performance at this price point. Though it retails for $1399 for a queen bed, it's often on sale for around $699. Combined with a 100-night sleep trial and a 10-year warranty, it's excellent value.
Good to know
There's a chance that this mattress might not work for hot sleepers. Our tester Chiana tested it over February and March, and while they weren't uncomfortable, both she and her partner noted that the Emma Original sleeps much hotter than their previous mattress. We'll update this review in summer when we know how it sleeps in hotter months. It's also quite plush compared to most memory foams, so if you know you like a firmer sleep surface, or are on the heavier side, you may want to look at a hybrid instead.
Chiana's full Emma Original Mattress review has all the detail.
Best hybrid mattress
Why you should buy it
Most hybrid options lose the softness that's best for pressure relief, this hybrid from Tempur is just the right amount of plush.
Why we love it
You can personalize this mattress with soft, medium, firm, and medium-hybrid designs. Our tester loved the hybrid benefits of contouring foam and extra support from the individually wrapped coils. These responsive coils add increased mobility to change positions in bed and get out of bed, as well as increased breathability.
The ProAdapt cushions your pressure points, helping your shoulders, hips, and knees to stay aligned, no matter your sleep style. Our tester described feeling completely weightless. You might experience a slight sinking feeling as the foam adjusts to your body, but you'll never feel stuck. This mattress is firm where you need it, and soft where you want it. It has good motion isolation, so you won't be woken by your partner moving in the night, and if you tend to sleep hot there's a washable cooling cover.
Good to know
Our only criticisms are the high price point and weight. The relatively high price is one thing, but this mattress is hard to move. In fairness, Tempur-Pedic offers an in-room setup, and the mattress doesn't need to be rotated or flipped.
Our Tempur-Pedic ProAdapt Medium Hybrid mattress review goes into more detail.
Best luxury mattress
Why you should buy it
Customizable latex design and completely organic materials make this the best luxury mattress for five-star sleep.
Why we love it
Naturally cooling and with a bouncy, responsive feel and excellent pressure relief, the PlushBeds Botanical Bliss is one of the most customizable mattresses you can buy. You can choose size, depth, and firmness to fit your body and bedframe exactly. The layers of this mattress are also interchangeable, so it can be made to fit all sleep styles and adapt for those unsure about which mattress firmness to choose.
The Botanical Bliss is the most comfortable bed on test, offering a buoyant feeling that gently cradles the hard points your knees, hips, and elbows. It's soft but you'll never feel like you're sinking. Our reviewer Alex said, 'My body did not require any adjustment to the PlushBeds Botanical Bliss Organic Latex mattress. I fell into a deep, hard sleep and didn't move much each night that I tested the mattress.'
While the RRP looks expensive, this mattress is sometimes on sale, so you can catch it at around $1600 for a queen-sized bed. If you're lucky enough to get a deal, it can present remarkable value for a bespoke mattress.
Good to know
As the bed is latex, it's heavy and can be a bit cumbersome to put the bed together. You might also experience some motion transfer. While we love this mattress, it's expensive. If you can nab it on sale, you'll save a little money, but if not it will cost you $3000 for a queen. When you consider the value of the Saatva above, we couldn't justify putting it in first place.
Alex's Plushbeds Botanical Bliss Mattress review goes into more detail.
Best value mattress
Why you should buy it
For the relatively small price tag, this mattress has a lot to offer.
Why we love it
At a stately 14 inches, this sumptuous hybrid offers five layers of bliss. The cashmere-topped cover stays cozy and cool, while the quilted memory foam offers just the right amount of comfort with a layer of gel foam just beneath for pressure relief and a cooling effect. The individually wrapped coils give customized support as it yields to the shape of your body and promotes better airflow throughout the mattress.
Our reviewer Camyrn found the mattress firmer than described, with just a tinge of plush. She says it 'offers enough 'give' to relieve pressure when sleeping on your side, but it's also 'sufficiently supportive for back or stomach sleepers'. Camryn found it was mostly well-suited to both her and her husband, who have drastically different sleeping preferences.
The best thing about this mattress is its value for money. DreamCloud often has sales and this mattress is routinely under $800. DreamCloud also offers an entire year to trial whether the mattress is for you, and it's backed by a lifetime warranty, so it's a safe investment too.
Good to know
Despite the depth, this isn't the plushest mattress. If you still want good value but a plush mattress, you could try the DreamCloud Premier, which has extra pressure relief and a decadent pillowtop. The motion isolation could also be better, so while it's well suited for couples with different sleep styles, you might notice if your partner turns over the night.
Camryn's DreamCloud Luxury Hybrid Review goes into more detail.
Best mattress for hot sleepers
Why you should buy it
If you struggle with overheating at night, this is the best cooling mattress on test.
Why we love it
The Casper Wave Hybrid Snow features Casper's most advanced cooling upgrade, with big claims that it'll keep you cool for at least 12 hours. Jaclyn immediately noticed the cooling sensation, and it kept her cool throughout the night. Casper's AirScape layers have tiny holes in the foam that let body heat and humidity flow out and away from the mattress. It was very welcome in a steamy Georgia summer.
This Snow technology is an add-on to the Wave Hybrid Mattress, which offers the most support of any Casper mattress. There are 3 different zones to keep your spine aligned, with slightly softer foam toward the top to gently sink shoulders and a denser foam in the middle that cradles the waist and lower back. It also uses gel pods under your waist and lower back that add further support. To finish off the design, individually wrapped coils add the right amount of lift, airflow, and support for the ultimate in sleep.
Good to know
Cooling and comfort aside, Jaclyn's really picky about her edge support, and this mattress should have much better edge support for the price. That $3395 price tag is also keeping this mattress out of the top spot, as many of us can't afford to drop that kind of cash in one go.
Jaclyn's Casper Wave Hybrid Snow review goes into more detail.
Best mattress for all sleep positions
Why you should buy it
With a balance of firmness and feel, this mattress will keep both sides of the bed comfortable.
Why we love it
The Helix Midnight is a hybrid mattress that uses hundreds of coils and memory foam in tandem to guarantee a better night's sleep. This mattress was tested by our reviewer Jamie and her partner. Where Jamie prefers a 'firmer feel' and doesn't like to sink in, her partner is partial to a 'softer mattress' that might ease his back pain. Thankfully, Jamie found that the Midnight is 'a good choice for couples with very different sleep preferences.' It worked well for them both and even helped her husband alleviate some of his back pain.
You don't just have to take our word for it, either; Jamie's big into using a sleep tracker to monitor her sleep hygiene, and one night in this bed produced her best-ever sleep score. Of course, there are lots that goes into a good night's sleep, so we can't entirely pin that on the mattress, but Jamie also found that her average sleep score has improved across the month of testing.
Good to know
The edge support and motion isolation in this mattress arent to be desired. It didn't disturb Jamie's sleep, so it might not be a problem, but very light sleepers may want a different bed, perhaps the Tempur model below. This mattress also came with two complimentary Dream Pillows, but Jamie was very unimpressed with these, and after trialing them for a few nights swapped them out for her usual set.
Jamie's full Helix Midnight Mattress review covers all the detail.
Best organic mattress
Why you should buy it
A latex bed with the feel of memory foam
What we loved on test
Latex beds tend to be heavy, thick, and firm, but the clever latex foam construction of this bed marries eco-friendly materials and hypoallergenic qualities with some of the sink-in factor of memory foam. In fact, it's even better than lots of memory foams - our tests found that this sleeps cooler and molds to your body faster.
It's well suited to stomach and back sleepers, towards the firm end of the scale. However, we found excellent pressure relief, with enough yield on the hard points of your joints to offer excellent pressure relief.
Good to know
This bed has a long-lasting off-gassing smell, and while Essentia claims it sleeps cool, it's average at sleeping cool. The 10" thickness is a little lacking for those who need a higher bed.
Our full Essentia REM5 Organic Mattress review has more detail.
How we test the best mattresses
There's more detail in our explainer of how we test mattresses, and for more general insight into our hands-on review process, refer to our how we test review guidelines.
Our mattress reviews are based on the first-hand experience of using these products at home. Testers sleep on each featured mattress for at least a month and will often return to their reviews months later to keep you up-to-date with how a mattress fares in the long term.
All of the mattresses on this best list with rankings have been personally reviewed by members of our team, who take into account value for the money, construction, comfort, and support, with various tests to consider factors like edge support, and motion transfer, and spinal alignment. You can meet our team of expert testers below:
How to choose the best mattress for you
You deserve a great night's sleep, and choosing the best mattress for you will guarantee comfier sleep. To navigate the mattress world, these are the three things you should consider:
Mattress material: There are four main mattress types, innerspring, memory foam, latex, and hybrid mattresses. Traditional innerspring mattresses use a steel coil support system with natural or man-made fillings and covers. Foam mattresses, will contour to the body, isolate motion and offer different comfort, feel, and heat dissipation features. Latex Mattresses offer similar qualities to foam but are usually described as bouncier and more breathable. All-natural latex is considered to be more environmentally friendly too. Hybrid mattresses are a combination of foam or latex with coils and offer the best of both qualities with the right amount of firmness and support.
Sleep style + firmness rating: To find the right level of comfort, you first need to consider your primary sleep position. As a general rule, stomach sleepers and those carrying more weight will find firmer mattresses better. Side and back sleepers need some support but of a slightly softer kind, so should opt for a medium or medium-firm. Lighter and some side sleepers will be best suited to something a little more cloud-like.
Additional needs: If you have particular issues with muscle aches and joint pains, a mattress that is zoned with varying levels of firmness to help different areas of the body may be the better choice. And if you suffer from overheating at night, you should opt for a hybrid mattress with cooling properties – memory foam mattresses tend to sleep hot.
Budget: Mattresses can get expensive, that's why it's good to keep a budget in mind. There are lots of affordable beds, with mattress-in-a-box types typically being the cheapest, as well as luxury options for those who can invest.
Mattress FAQs
What's the difference between mattress firmness vs. support?
A mattress's firmness is referring to the immediate feeling you get when climbing into a bed, while support refers to a mattress's ability to offer an even surface and provide proper spinal alignment. A soft bed will feel soft to the touch and respond to your body as you move, while a firmer one will offer less give and feel harder.
Meanwhile, depending on your sleep preferences, a soft mattress can offer the same amount of support as a firmer one. For instance, side sleepers will want a softer mattress that can cradle and cushion their side, whereas back sleepers will seek out a mattress that wouldn't sag as they sleep to keep their bodies in a neutral position that minimizes any tension.
How do I care for my mattress?
You need a good mattress protector as added insurance against spills, stains, and dreaded dust mites, even if your mattress's cover is removable or washable. Most offer easy care instructions, and the best designs should not disrupt any special cooling features your mattress may have or even be noticeable.
When you do need to clean your mattress, and from time to time you will, even with a protector you'll want to spot clean any visible stains or odors and leave plenty of time for it to air dry. A good vacuuming with an upholstery attachment is also beneficial for pulling out dust mites, dead skin, and other allergens.
---
Experts advise that the lifespan of a mattress is about seven to 10 years. Though adding one of the best mattress toppers can help customize a too-hard or too-soft bed without having to completely replace your existing mattress, if it's nearing that threshold, or simply lumpy and unsupportive, the time to replace and upgrade your mattress is now.
Louise is your eCommerce Editor and sleep specialist to help you wind down well. A connoisseur of the mattress world, Louise previously covered sleep and wellness (as well as the occasional organizational buy) at Real Homes, and has tried, tested, and reviewed some of the buys for your bedroom. With an MA in International Journalism and PR experience, Louise brings bags of bedding expertise and enjoys nothing more than helping readers find solutions and products that best suit their sleep needs.