The extra-forgiving Leesa Memory Foam Mattress scores for side sleepers
Our review of the Leesa Original Memory Foam Mattress revealed some pretty mixed experiences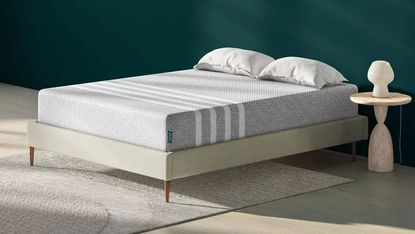 (Image credit: Leesa)
This extremely squishable mattress is great for side sleepers with hip pain, but others might have concerns
Reasons to buy
+

Sophisticated, quilted mattress cover

+

Highly supportive for those with hip issues

+

Ideal for side sleepers or back sleepers
Reasons to avoid
-

The edges give way easily if you are sitting on the side

-

High motion transferability

-

Sink-in feeling

-

Not supportive enough for heavy people
You can trust Homes & Gardens. Our expert reviewers spend hours testing and comparing the latest products, helping you choose the best for you. Find out more about how we test.
My expectations were high when I decided to try Leesa's highly popular memory foam mattress — it seemed to look and feel like a high-quality mattress, and one that would withstand the challenges my four young sons would surely unleash on it. But within minutes, it became obvious that Leesa has some major downsides, and might only be the perfect fit for a few specific types of sleepers.
Leesa Mattress At A Glance
Firmness: Relaxed Firm
Type: Foam
Construction materials: Knit cover, contouring memory foam, and foam base
Sizes: Twin, Twin XL, Full, Queen, King, Cal King
Thickness: 10"
RRP: $849-$1,599
The Leesa Original memory foam mattress is marketed as the fan favorite, featuring all foam, with a breathable cover and a cooling top layer, in addition to memory foam and deep support below the memory foam for a more supportive feel. Available in all sizes from twin to California King, the three-level construction seems to be everything we could hope for in a mattress. But it didn't live up to the hype.
Upon opening the curled-up mattress to let it "air out" and "rise" to its full size and potential, we were met with a strong odor that sent multiple kids running from the room. It left me, as a parent, wondering what chemicals we were currently breathing causing that stench. Within a few hours, the smell largely dissipated as the website advises, but remnants still lingered for a few days. So, I wrapped it in a full front and back zip-in type mattress cover for the remainder of testing. Not a great impression for what I thought would be one of the best mattress experiences yet.
Throughout testing, I continued to be a bit disappointed with main features such as the sturdiness of the bed edges, transferability of motion, and just how far you sink when you lay on it (hint: very far). However, with a 10-year full replacement limited mattress warranty, it might still be worth a try for some. Others might also be drawn to Leesa's risk-free 100-night trial, free delivery, or their charitable contribution of donating one mattress per ten sold. So far, the Certified B Corporation donated nearly 40,000 mattresses.
About this review
About this review
Alex Frost
Alex is a 35-year-old mom, wife, and journalist in Cincinnati with four sons under 7, an old, achy, back, and a passion for product reviewing. She tested this product for more than a month before writing about it and continues to admire its quality. She has been allowed to keep the product for continued testing and hopes to be able to report back that it has stood the test of time in years to come. As a strict stomach sleeper who doesn't use a pillow, she struggles with insomnia thanks to bad back pain.
Who will the Leesa Original Mattress suit?
Those who want to sink deeply into their mattress: If your worst case scenario is falling into bed at night but feeling like you are on a super firm "rock" like mattress, this might be great for you. The Leesa original has a high "sink in" factor, and will contour around your body with lots of soft coziness.
Solo sleepers: You will notice (and even maybe be rolled out of your position) if your partner or dog moves around while you are sleeping. Motion transfers easily on this bed, making it ideal for solo sleepers.
Side and back sleepers, especially with hip pain: Thanks to the mushier, contouring feel of the foam, this is not ideal for stomach sleepers, as they'd experience a pretty intense arch in their back. Side and back sleepers might like the all over soft support and contouring foam. As someone who has suffered hip and pelvic pain periodically in my life, this would have been an ideal mattress for those painful periods of time, as there is lots of forgiving support beneath achy joints.
Hot sleepers who want breathability: The cooling layers and breathability on this mattress make it an excellent choice for those who run hot while they sleep. The knitted top layer is cozy enough to sleep right on it, without a fitted sheet, if you really wanted to.
Setting up the Leesa Original Mattress
Leesa explains to customers that their made-to-order mattresses might take a little extra time to arrive, but not too much longer — 3-5 days is the norm. They also offer in-home delivery and set up, but might need a week to schedule. Once your box arrives, including your compressed mattress in a tall, slender rectangular package, it's advised to take it to the room where the mattress will be used before unpacking.
Once we did this and opened the box (be careful not to slice the mattress itself while you open it, as it sure is stuffed in there), it will unfurl and start to grow. It's easy to remove the packaging, but beware of that smell I warned you about. Then, there is some wait time to account for — one hour to expand, and then multiple days to become fully firm. This is something to consider if you are hoping to buy and use a new mattress quickly, and also if you have limited space in which to have another mattress sitting around expanding.
What is the Leesa Original Mattress like to sleep on?
We kept these factors in mind while sleeping on the Leesa, with an eye towards comfort and a long-lasting product.
Firmness and Comfort
This is not by any means a firm mattress. In fact, it's quite squishy, mushy, and malleable. When you get out of bed, there's an imprint for a bit of where your body was, for both kids and adults. These are all pros for anyone who prefers more give to their mattresses, such as side sleepers and some back sleepers, or those who have sensitive joints that would be aggravated by tougher or firmer mattresses. Anyone who loves the idea of a foam mattress forming around the curves of their body would enjoy this mattress.
Pressure relief
Your spine will only stay aligned if you are a side sleeper on this mattress. Otherwise, stomach sleepers will have an arch in their spine, and back sleepers might have a curve as well. So, if spinal issues are a concern, make sure you are only opting for this mattress if you mostly sleep on your side. In that position, you are well supported once you sink down a bit, and you might have pain relief if your hips and back.
Edge Support
If you plan to sit on the edge of this bed to tie your shoes, plan on sliding down a bit. It doesn't have strong edge support, as the mattress' whole selling point is this contouring foam that forms to your body. So, you'll find yourself sinking way down if you are perching on the edge of the bed.
Breathability and Cooling
The Leesa has integrated cooling materials to ensure a breezier sleep, which is a plus for anyone who has night sweats or feels hot while sleeping. It's a breathable mattress and the cooling feature is worth trying if you fall into this camp, although it can be offset a bit by just how far you sink into the material, which can feel hot at times.
Motion isolation
My over 200-pound husband lying next to me in this bed is a problem — when he moves, it impacts me. The high motion transferability of this material is something to note and might impact sleep for those who sleep with another person, especially one who moves around a lot at night.
During our "cup test," in which we moved around on the bed (including my 4-year-old jumping around) to see if the cup would spill. It did spill easily, and most of the water left the cup within seconds, which doesn't hold up well to other mattresses we've tested with lower motion transfer.
Another point of view
Another point of view
Lucy Searle
"I'm a side sleeper who really suffers on mattresses with no give. My own mattress at home is a hybrid, which gives me plenty of support, yet is forgiving enough that I don't wake up in the morning with hip and shoulder ache, and find that it keeps my back aligned comfortably. So, I was interested to test out the Leesa, which I did for a couple of weeks. I found it ideal for me - there were no uncomfortable pressure points, which meant I slept well and woke up with no aches or pains. Another bugbear for me is motion isolation - my husband isn't a big fidget, but I am a light sleeper, so I do get disturbed easily. The Leesa wasn't as good as my mattress at home for this but it was better than the average mattress. In all, I found it comfortable for me, and slept well on it."
Leesa Mattress Construction and Design
If you are leaning towards a memory foam mattress, this one has a solid construction and design, with soft and contouring top layers and more structured and supportive bottom layers. The three layer design makes sense for anyone dealing with hip or other joint issues, and you aren't likely to be tossing and turning from side to side to avoid achy joints with this mattress.
Leesa is also CERTIPUR-US Certified, meaning it's made without ozone depleters, PBDE flame retardants, heavy metals such as lead, formaldehyde, phthalates, and low VOC. It's also GREENGUARD certified, meaning that it's low in chemical emissions and maintains healthy indoor air quality. This is ideal for those who might have breathing issues, allergies, or young kids.
Finally, this is one of the most visually appealing mattresses, with an alternating gray and white lined design on half the mattress, and solid corresponding gray on the other half. This is more likely to hide small stains than an all-white mattress, and makes for a cozy feel to the topper.
Ordering and Delivery
Ordering your mattress initiates original mattress construction, and as the website says, there aren't a bunch of these sitting around in warehouses ready to ship. So, don't expect your mattress to arrive overnight, though it will ship in a reasonable amount of time of 3-5 days. Customers can also check out this product at their local West Elm, Pottery Barn, or Macy's store, depending on availability, to lay on it before purchasing. As a perk, two down-alternative pillows are included in your purchase.
Trial and Warranty
If the mattress does not meet your expectations, the Leesa includes a 100-night trial with free returns, and a 10-year full replacement limited mattress warranty.
How does the Leesa Original Mattress rate online?
Leesa users who commented on their website had a much more favorable experience than I did, rating the mattress at 4.5 stars, with over 20,000 reviews. The more rave reviews point to reduction in hip and sciatica pain, with one review saying "Saving me money on chiropractor visits." Another says it gives them a "cozy feeling," and the website itself rates the mattress as "relaxed-firm," about halfway between soft and firm, which I highly disagree with based on the multiple inches I sunk down upon laying on it.
Is the Leesa original mattress worth it?
If you have joint problems, absolutely yes, buy this mattress. If you are a stomach sleeper on the other hand, stay far away from it, as it's much too malleable to have enough support for you. Matching your specific needs to your mattress purchasing decision process is essential to getting the right product for you. So, if your extra large husband is rolling around beside you, you might also be moving along with him if you get this. Otherwise, it could be your coziest solo sleep yet.
Sign up to the Homes & Gardens newsletter
Decor Ideas. Project Inspiration. Expert Advice. Delivered to your inbox.
Alex Frost is a Cincinnati-based journalist and content marketing writer who specializes in medical/health, mental health and wellness, parenting and relationships, education, trends, business, and lifestyle writing. You can find Alex's work in Huffington Post, The Washington Post, Glamour, Parents, Women's Health, Reader's Digest, Popular Science, and Today's Parent, among other publications.