Nectar Memory Foam Mattress review
The Nectar Memory Foam mattress was a game changer for my Fibromyalgia. See how it curbed any back pain and created restorative sleep in our review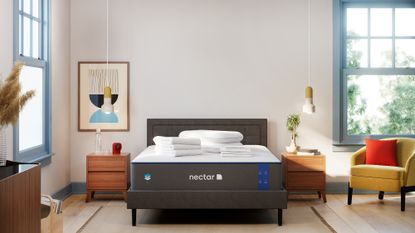 (Image credit: Nectar)
The medium-firm Nectar lent itself well to someone who needs a decent amount of support but also likes to sink into bed after a long day. The motion isolation properties are pristine for those light sleepers and the mattress itself is plush for ultimate comfort. For those who want an extremely firm mattress and solid edge support, you might want to take a rain check on this.
Reasons to buy
+

Not too soft, but not too hard - an even combination

+

Easy to assemble; comes in a box (no movers required)

+

Alleviates back and muscle aches

+

Solid motion isolation; good for partners

+

Lifetime Warranty
Reasons to avoid
-

Weak edge support

-

Easily forms impressions
You can trust Homes & Gardens. Our expert reviewers spend hours testing and comparing the latest products, helping you choose the best for you. Find out more about how we test.
Sign up to the Homes & Gardens newsletter
Decor Ideas. Project Inspiration. Expert Advice. Delivered to your inbox.
Thank you for signing up to Homes & Gardens. You will receive a verification email shortly.
There was a problem. Please refresh the page and try again.
We sleep approximately a third of our lives. If you don't have a comfortable mattress, then you're letting yourself suffer unnecessarily for such a long time (at least a good seven years until it's time to change it up.) Sleep is meant to relax, restore and rejuvenate the body, and one of the best ways to do that is with a mattress that supports your body. Now, depending on needs and wants, my mattress preference might look different from yours. However, at the end of the day, comfort and support are two factors that everyone's looking for. With that said, I decided to take my sleep issues into my own hands and try the Nectar Memory Foam Mattress.
Nectar Memory Foam Mattress At A Glance
Firmness: Medium-firm
Type: Memory Foam
Construction materials: quilted poly-blend cover with polyethylene, gel memory foam, soft transition foam, supportive base layer foam. All of the foams used in the Nectar mattress are CertiPUR-US® certified.
Sizes: Twin, Twin XL, Full, Queen, King, Cal King; Split King
Height: 12"
MSRP: $339-$1,198
I slept on a memory foam mattress as a child, so naturally, that's what I gravitated towards on my hunt for a new bed. Additionally, I wanted my new bed to help alleviate muscle pain and keep me cool which is what Nectar advertised this mattress would do for me. For some background, I have fibromyalgia so I'm constantly in pain, and a heat intolerance so the night sweats are real for this girl.
Without further ado, keep on reading to find out more about this memory foam mattress that upgraded my sleep routine from drab to fab. Not sure if this mattress is right for you? Check out this list of some of the other best mattresses on the internet for securing a peaceful night's sleep.
Who will the Nectar Memory Foam Mattress suit?
This memory foam mattress was made to suit those looking for a bed that's comfortable, relatively firm, and cool. These three elements are what this mattress scores big on when it comes down to it.
Setting up the Nectar Memory Foam Mattress
The mattress arrived at my doorstep in a big blue box. At a whopping 55 pounds, I could barely lift the box but I was able to kick it into my living room. Due to the weight of the mattress, I was surprised the box didn't have much wear and tear. The lower corners were a bit uneven, but that was my own doing trying to get it into my house. Otherwise, everything was fine. When I took the mattress out of the box, it was compressed and wrapped up in plastic. After about 10 minutes of unrolling the plastic, the mattress was ready to be laid out. I put it on the floor and watched it come to life. Setting up the mattress required nothing on my end aside from unwrapping it and placing it in a large enough area. The brand suggests waiting between 24-72 hours for the mattress to fully expand which is exactly what I did. The mattress was pretty well set after two hours, but I wanted to give myself the "ultimate" experience by going by the book. If I had slept on it the same day, I'm sure my verdict would still be the same, but I can't say with certainty.
Before I laid down, I put on the Nectar Mattress Protector, a thin and invisible layer designed to protect the mattress from dirt, spills, and pet dander. It went on just like a fitted sheet and had a barely-there feel. If it gets dirty, it can get tossed in the washing machine and easily cleaned which is a perk. However, the price point ($99-$119) is a hefty amount considering it's essentially a standard sheet, but in almost every instance, Nectar offers gifts with purchase, including a mattress protector.
My first impression of the mattress was that it was super soft and comfortable. I laid down on it and just closed my eyes to get an initial feel. Those few seconds turned into a few minutes, so the bed was comfortable, to say the least.
What's the Nectar Memory Foam Mattress like to sleep on?
I wanted a mattress that was firm enough to support my body, but also soft enough to be comfortable. Due to my fibromyalgia, I do wake up with some sore bones every once in a while; for the most part, there's no pain I can directly relate to the mattress. I think the mattress fits that sweet spot of not being too firm or soft.
Nectar states the mattress offers medium-firm support and I agree with that rating. It's definitely nothing like sleeping on a coffee table or a cloud, but a hybrid of both. I appreciated how the mattress sank underneath my chest area when I laid on my front allowing for some breathing room in that department, and when on my back, I felt like my body was in perfect alignment.
While I prefer a semi-firm mattress, I had my family members lay on it and share their thoughts. My sister, who likes soft mattresses, thought this bed was way too firm. However, my parents who like firm mattresses, loved how it kept them supported, but also left some room for comfort.
Weight Test
To showcase a visual indicator of the mattress's firmness, I used weights to showcase sinkage. I found there was more sinkage with the dumbbell than my own body. There was a ¾ inch of sinkage which isn't too much at all. The mattress did sink under the weight of my body, but it wasn't too deep - it was more of an impression than anything else (similar to many other foam mattresses.). As soon as I got up, the foam would perk up again and resume to its normal state. After sleeping on this mattress for over a month, it still looks good as new with no indications of more stubborn imprints.
Breathability and cooling
As someone who runs hot, having a mattress with cooling properties was a necessity. I will preface that I think it's safe to say that any mattress probably won't be cool enough for me, but that's more of a me problem and nothing to do with the mattress.
The first layer of the mattress is a poly-blend quilted cover that features heat-wicking and cooling technology. While this mattress was cooler than others I've had in the past, I still did wake up in sweaty on most nights. Yes, that's even with a fan blowing on me at full speed.
Motion Isolation
For those couples and partners, motion isolation is super important because if one of you moves, it could disturb the other and that's not fun. To test the motion isolation, I filled a cup with water and left it on the edge of the mattress as I rolled around. To my surprise, the cup didn't move at all. I was convinced that there was going to be some major spillage, but there wasn't at all. Even as I put my hands directly around the cup, there was no motion.
Edge Support
However, when it came to the edges, that's where it went south. While the brand says the matters have consistent and firm edge support, I didn't experience that. The edges really sunk under the weight and did not hold up. I don't think the edges were that unsupportive to the point where one would roll off the bed, I don't think it was comfortable sitting directly at the edge of the bed.
Nectar Memory Foam Mattress design and construction
This mattress features five layers: a quilted poly-blend cover with polyethylene, (which provides that cool-to-the-touch sensation); 3 inches of gel memory foam to aid in pressure relief, 2 inches of soft transition foam to bounce back after prolonged use, and 7 inches of supportive base layer foam to keep the other layers intact and performing optimally. All of the foams used in the Nectar mattress are CertiPUR-US® certified.
The brand's adaptive memory foam (used in the second layer) is designed to relieve pressure points beneath the shoulders, hips, and legs and encourages optimal spinal alignment.
When it comes time to clean the mattress, Nectar suggests you vacuum it and then spot clean to remove any stains and then sprinkle baking soda on it. You'll also want to be sure to turn it over and wash the mattress protector if you have one.
Ordering and delivery
Nectar is available through its own website, as well as a number of retailers that carry mattresses including Amazon, Macy's and Mattress Firm. Despite its roots as a direct-to-consumer brand, Nectar mattresses are also available to see in person at over 4,000 locations nationwide if experiencing them in person before you make your decision offers you better peace of mind.
When you purchase from Nectar directly, you'll often find yourself rewarded with free gifts including pillows, a mattress protector, and sheets.
In terms of shipping, the brand ships to the contiguous United States not including Puerto Rico, and the mainland United Kingdom. Shipping is always free within the US when purchasing or returning a Nectar mattress. For shipping to Alaska and Hawaii, an additional $150 is required.
In the United States, Nectar offers a White Glove Delivery Service for $149 where they will set up your mattress and remove your old one. In the UK, for an extra £25, couriers can carry it in and place it in your room of choice but do not unbox it.
Once an order is placed, the mattress will ship 3-5 business days later. From there, it could take an additional 2-5 business days to get to your doorstep.
Nectar warranty and trial period
Nectar is one of a handful of mattress companies that offer a lengthy one-year mattress trial for you to get acquainted with your mattress. Nectar gives customers ample time to make sure the mattress is right for them. If you're indecisive like me, this can provide a great source of anxiety relief. If you do decide you'd like to make a return, a return request for an opened mattress can be made after 30 days and a full refund can be issued in the form of the original payment. Unopened mattresses are eligible for return and refund after delivery, but products must be in a condition where they can be donated.
Nectar's Forever Warranty has you covered if something goes wrong with your mattress, This lifetime guarantee extends to all mattresses purchased through the company website or authorized retailers so you can sleep soundly knowing that your warranty doesn't expire in 10 to 20 years like many other brands. It does, however, only apply to the original purchaser.
How does the Nectar Memory Foam Mattress rate online?
On Nectar's website, there are over 43,000 reviews of this memory foam mattress which has a near-perfect rating of 4.5 stars. Similar to myself, many reviewers like Bryan D. praise the mattress for its pain-relieving properties. "I enjoy the firmness of the bed and have noticed my back doesn't hurt any longer when I wake up," he says.
Another five-star reviewer says, "With my old mattress I woke up with back pain regularly. Now I sleep comfortably and wake up feeling good as new."
There are many reviews that say the mattress is either too soft or too firm, so it's safe to say that's subjective and pretty dependent upon every individual.
Is the Nectar Memory Foam Mattress worth it?
The Nectar gave me a new perspective on sleep. I no longer dreaded waking up in excruciating pain and actually wanted to go to sleep. I can't say it was much cooler than the other mattresses I've tried, but it was cool to the touch which I liked. If you definitely need a cooling mattress and/or firm edge support, this mattress most likely won't be suitable for you. However, only you can be the judge of that.
In terms of price, as someone who works tirelessly to make well-informed purchases, I'd say this mattress is worth the cost. I think if one were to add upgrades like added cooling technology and a bed frame, it could easily become more expensive. However, considering how important sleep is, I think investing in a mattress like this is worth it.
Where to buy
About our review – and our reviewer
Casey's Sleep Stats
Sleep position: Side
Insomnia? Yes
Sleep problems: Sweating and body aches
Average sleep time: 8 hours/night
Casey Clark is a freelance writer from NYC who specializes in beauty, fashion, and lifestyle. As someone who spends a lot of time in bed for both sleep and work, she prioritizes a mattress that'll suit those long hours and even a few more. She was sent this mattress from Nectar to review which she tested for a month before writing this review. She was able to keep the mattress and now has a new full-size Nectar Memory Foam Mattress in her bedroom.
Sign up to the Homes & Gardens newsletter
Decor Ideas. Project Inspiration. Expert Advice. Delivered to your inbox.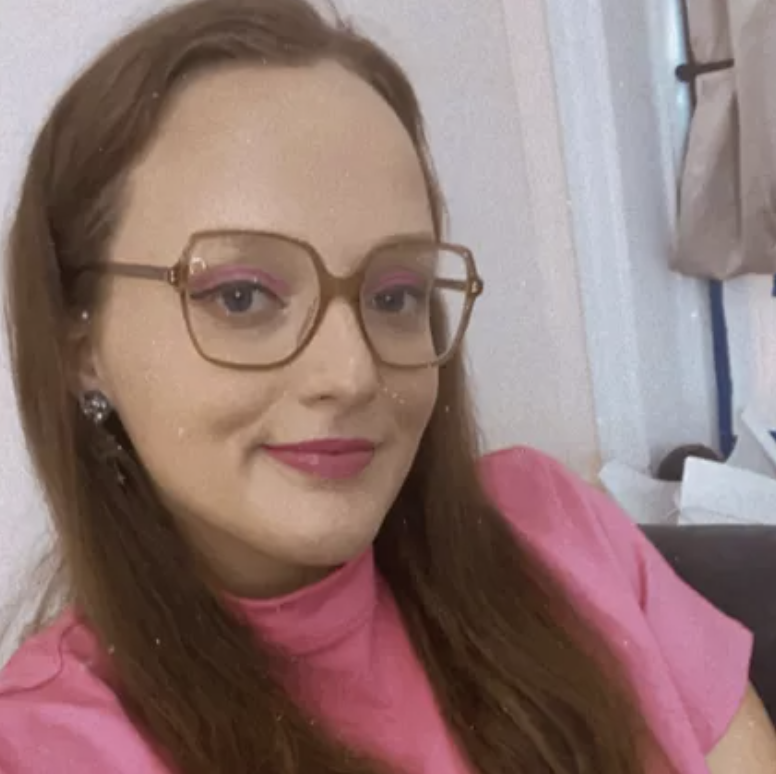 Casey Clark is a freelance writer who covers beauty and style. She has been a writer for nearly three years and has been featured in Tom's Guide, Real Simple, Taste of Home, Forbes, and Insider. She graduated from Hofstra University magna cum laude with a journalism degree and minors in public relations and creative writing.