Nectar vs Casper 2023: which mattress is best on test?
We set put Nectar vs Casper head-to-head to see which mattress wins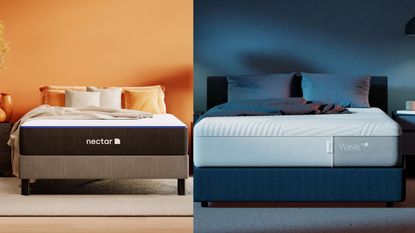 (Image credit: Nectar; Casper)
Nectar and Casper are some of the biggest names in sleep. Whether you're shopping for an adjustable bed frame or a foundation, cooling sheets or a cozy throw, you'll find it at one of these specialist stores.
These brands also make some of the best mattresses on the market. Each store sells responsive innersprings, thick and squishy memory foams, as well as hybrid mattresses that bring the best of both worlds. We decided to pit Nectar and Casper against each other and see which brand came out on top.
In the interests of a fair fight, we wanted to test the best mattress from each store. We settled on the Nectar Memory Foam and the Casper Wave Hybrid Snow Mattress. Both claim to strike the perfect balance between comfort and support. Since each mattress boasts thousands of five-star ratings, it can be tough to split the difference.
That's where we come in. Our experts slept on these mattresses for months, if not years, to monitor their performance over time. Casey tested the Nectar, while Jaclyn tried the Casper, and found that these mattresses suit different sorts of sleepers. The short answer is that the Casper is better, but it's so expensive that the Nectar is worth considering in its place.
I've aid out the pros and cons so that you can decide for yourself. We've assessed each mattress on the basis of comfort, cooling properties, edge and weight support, and motion isolation, as well as sustainability and the all-important price.
Nectar vs Casper − Overall
The Nectar is cool, firm, and comfortable. It comes in every size, from Twin to California King, without surpassing the thousand-dollar mark. This memory foam mattress arrives as a bed in a box and takes between 24 and 72 hours to fully inflate.
The Casper also comes in a box. All you need to do is unwrap your mattress, set it on a slatted frame or a bed foundation, and wait. With 48 hours, your mattress should fully inflate. The Casper comes in most sizes, apart from Twin and Split King. This mattress might be less suitable for tweens and teens, as well as couples who share a bed, but not a sleep style.
Nectar Memory Foam Mattress
Sizes: Twin, Twin XL, Full, Queen, King, Cal King, Split King
Materials: Polyethylene and polyester foams.
Height: 12"
Firmness: Medium-firm
MSRP: $359-$1078
For
Not too soft, but not too hard - an even combination
Easy to assemble; comes in a box (no movers required)
Alleviates back and muscle aches
Solid motion isolation; good for partners
Lifetime Warranty
Against
Weak edge support
Easily forms impressions
Sizes: Twin XL, Full, Queen, King, Cal King
Materials: polyurethane foam and natural latex
Height: 13"
Firmness: Medium-firm
MSRP: $2476 - $3356
For
Incorporates cool technology
Zoned support aligns spine
Memory foam feel
Supportive springs
Superior edge support
Against
On the more expensive side
Standard warranty/sleep trial
Nectar vs Casper – which is more comfortable?
WINNER: Casper
Although both of these mattresses have a medium-firm feel, the Casper features a far more sophisticated support system, known as Zoned Support Max. The Casper mattress is split into ergonomic zones which offer specialized support to different parts of your body. It lets your shoulders sink to align with your spine, while lifting your hips and lower back for optimum lumbar support.
The Nectar also offers medium-firm support. Since our tester, Casey, suffers from fibromyalgia, she needs a mattress that cushions her body to alleviate aches and pains. As a stomach sleeper, she found a lot of comfort in the Nectar. The mattress sank under her chest to make a little breathing room, while maintaining the natural alignment of her spine.
Nectar vs Casper − which is better for keeping cool?
WINNER: Casper
The Casper Wave Hybrid Snow was made to keep you cool. Our tester, Jaclyn, trialled this mattress in the middle of a steamy Georgia heatwave and she was seriously impressed. The Casper incorporates AirScape technology to boost airflow through your mattress. There are thousands of precision-drilled perforations in the foam, designed to wick away heat and moisture. Really hot sleepers will appreciate the HeatDelete Bands, made from flexible graphite, which send heat away from your body and out of the mattress. Think of them as thermal highways. The whole thing is encased in a QuickCool cover and infused with a layer of cooling gel.
The Nectar, by contrast, sleeps pretty hot. This mattress is made from thick layers of dense foam which tend to trap heat. It's wrapped in a poly-blend quilted cover, which is meant to resist heat and moisture, but it's ineffectual: Casey woke up some nights in a hot sweat, even with her fan on full blast.
Nectar vs Casper – which offers better edge support?
WINNER: Casper
Neither mattress particularly excels in this area, but the Casper is the best of a bad bunch. There's a lot less support round the sides of this mattress than in the middle, where the Zoned Support Max is most effective. Still, at least the Casper sides are consistently unsupportive. Casey found that the Nectar edges sank further over time. She couldn't even sit on the side of the bed to tie her sneakers.
Nectar vs Casper − which offers better motion isolation?
WINNER: Nectar
It's no contest. The Nectar Memory Foam Mattress is made from five layers of foam, including a three-inch-thick transition layer that's designed to minimize motion transfer, as well as a seven-inch-thick ActiveSupport bed base for stability. When Casey set a full glass of water on the bed, and tossed and turned beside it, she didn't spill a drop.
The Casper offers decent motion isolation, too. Jaclyn's glass of water didn't teeter until she came a lot closer. When she was around four inches away, the glass began to topple. Let's put her findings into sleep terms. If Jaclyn shared a bed with a partner who came too close, she'd feel their every move, all night long. That's why I wouldn't recommend the Casper for light sleepers.
Nectar vs Casper − which is better at bearing weight?
WINNER: Casper
Though she felt supported by the Casper, Jaclyn sought some hard data to support her experience. That's why she set a 50lb kettlebell in the center of the bed. The mattress sank about five inches and sprang right back once the weight was removed. If you're looking for a mattress to cushion your body and relieve pressure from your joints, you can't go far wrong with the Casper.
Casey had a much smaller weight to hand: the sort of 10-pound dumbbell you'd find in your average home gym. When she set her weight in the center of the bed, the Nectar sank by three quarters of an inch. The kettlebell left an impression, rather than an imprint, on the Nectar. This is standard for the best memory foam mattresses: they contour to the curves of your body, then spring right back into shape.
Nectar vs Casper − which is more sustainable?
WINNER: Casper
Both of these mattresses are designed to minimize emissions. The Nectar and the Casper are filled with CertiPUR-US certified foams, which are made without ozone-depleting chemicals. The Casper foams feature fewer volatile organic compounds to help you breathe cleaner air inside your home.
Nectar vs Casper − which should I buy?
The Casper Wave Hybrid Snow beat the Nectar Memory Foam in almost all of our categories. We think it's the best cooling mattress, but it might be out of budget for the average American. A queen-sized Casper Wave Hybrid Snow costs close to $3000. If you really suffer from night sweats or hot flushes, it might be worth the money. If you just run a little hot, you might want to invest in some of the best cooling sheets, instead. They'll keep you cool and dry for a fraction of the price.
The Nectar is far more affordable. A queen-sized Memory Foam Mattress costs just $659. You can grab a bedding bundle, including pillows, a mattress protector, and a sheet set, without hitting the thousand-dollar mark. The Nectar mattress comes with a 365-day sleep trial, as well as a lifetime warranty, while the Casper warranty expires after just 10 years. The Nectar Memory Foam is the best affordable mattress on the market, but you do get what you pay for: a firmer mattress with inferior edge support. If you sleep on your sides or your stomach, I'd look for a mattress with a little more give.
How we test
We've written an entire article about how we test mattresses. It's not all about sleeping on the job. If you don't have time to read the whole thing, here are the headlines.
Our expert testers sleep on mattresses for months, if not years, to monitor their performance over time. We sleep through summers and winters, with pets and partners, noting whether the mattress keeps us cool and how often we wake in the night.
To assess the firmness of a mattress, we set a weight in the center of the bed. We tend to use an ordinary dumbbell, the sort you'd find in any home gym. The further the weight dips, the softer the mattress. From there, we work out which sort of sleeper this mattress would best support. Front sleepers should opt for the best firm mattress to stop their hips and spine from sinking in. Side and back sleepers might prefer a slightly softer surface that cushions their neck and shoulders.
Our motion isolation test is a fun one. We fill a glass with water and set it on one side of the mattress. Then, we toss and turn across the bed to see if any water spills. The more water spills, the poorer the motion isolation. To test the edge support of a mattress, we just sit on the edge of the bed and think.
We record all of the materials in each mattress in the search for eco-friendly fabrics. Finally, we consider the upfront cost, as well as any warranties, sleep trials, and free returns, to determine value for money.
Meet the team
Casey is a freelance writer who covers all things beauty, style, and sleep. You can find her work in Tom's Guide, Real Simple, Taste of Home, Forbes, and Insider, among other publications. For this article, Casey tested the Nectar Memory Foam mattress.
Jaclyn is one of our former sleep editors. In her time at Homes & Gardens, she covered all things mattresses and bedding. You can also find her work in Real Homes, Livingetc., Apartment Therapy, MyDomaine, and The Spruce. For this article, Jaclyn tested the Casper Wave Hybrid Snow mattress.
Emilia is our resident sleep writer at Homes & Gardens. By day, she searches the web for the best bedding deals: by night, she tests the best bed sheets, comforters, and mattresses on the market.
Nectar vs Casper FAQs
Are these the best mattresses Nectar and Casper make?
Not necessarily: it depends what you're looking for. For our money, the Nectar Memory Foam Mattress is the best mattress for back pain. But if you sleep on your stomach or your sides, you might prefer the Nectar Premier. It's thicker to support your neck and shoulders, with an extra layer of therapeutic gel to optimize pressure and pain relief.
The Casper Wave Hybrid Snow is the best cooling mattress on test, but it's pretty expensive. If you're looking to upgrade your sleep for less, you might like the Casper Mattress. It incorporates AirScape Technology to channel away heat and humidity, keeping you cool for hundreds, rather than thousands, of dollars.
How should I choose a mattress?
We've written an entire feature on how to choose a mattress. It all comes down to three key factors.
Size
Consider how much space you need to sleep. A twin-sized mattress might be suitable for kids and teens, while a Twin XL could accommodate a shorter adult in a smaller space. Most single sleepers could fit in a full-sized bed, though couples might be more comfortable in a Queen. A king-sized bed could fit you, your partner, and your pets, though taller sleepers might prefer a California King, which is slightly longer. This point might seem obvious, but it bears repeating: the price of your mattress will increase with the size.
Firmness
The best mattress will offer a balance of comfort and support. With that said, certain mattresses are better equipped to support different sleepers. Front sleepers should opt for a firmer mattress to keep their hips and spine aligned. If you sleep on your side, you might prefer a softer mattress that supports your neck and shoulders. But back sleepers should steer clear of softer surfaces, or they'll sink in while they sleep.
Cooling properties
Whether you live in a warmer climate, suffer from hot flushes, or simply tend to sleep hot, you'll appreciate a mattress that can keep you cool and dry. Many of the best cooling mattresses are infused with cooling gels or supported by springs to promote airflow. Just make sure to avoid memory foam: this dense material tends to hold heat.
Final thoughts
If you know you need a new mattress, but you aren't too fussed about brand names, take a look through our best mattress guide. From plush memory foams to responsive innersprings, we've found a mattress to suit every sort of sleeper.
If you don't have thousands of dollars to drop on a brand new mattress, I'd recommend getting one of the best mattress toppers to upgrade your sleep for less.