About Homes & Gardens: who we are, what we do, and how to contact us
Everything you need to know about Homes & Gardens online and magazine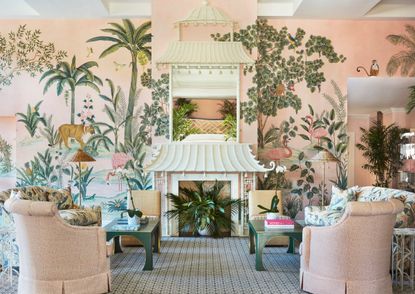 (Image credit: de Gournay)
As the UK's first-ever home interest magazine, Homes & Gardens has been shaping style for 100 years. In 2022, we were voted Best Online Brand: Consumer at the Digital Publishing Awards.
Our core pillars are inspirational interiors, stylish decorating, beautiful gardens and fascinating stories. With the values of timeless style and considered elegance at our heart, we show an affection for heritage whilst also championing the future, from emerging designers to latest trends. Homes & Gardens' Wikipedia page covers some of our history. You can also you can join our social community for the latest news, moments of seasonal beauty and a glimpse behind the scenes; follow us on Twitter, Facebook and Instagram.
Every month, the print edition features fabulous houses, seasonal ideas, desirable products, designer sources and insider insight. You can subscribe to Homes & Gardens to have it delivered to your door every month.
The Homes & Gardens website brings all our beautiful content online, with a focus on stunning room ideas, expert advice from interior designers, architects and design professionals, and more practical expertise, too, on caring for and improving your home. Our website is updated and added to daily and we're delighted to welcome more than 6 million readers monthly.
Of course, we've assembled a cracking team of experts in their fields to deliver all this stunning inspiration to you, and we'd love to introduce them. Their contact details are below, too.
Leadership team
I am the Editor (Digital) of Homes & Gardens online. Before starting this position, I had completed various interior design courses at KLC Design School, as well as working across Ideal Home, LivingEtc, 25 Beautiful Homes and Country Homes & Interiors as an interiors writer. When the opportunity to work on such a prestigious, influential brand came up, I just couldn't pass up on the offer. I have long admired Homes & Gardens, and to me, this brand epitomizes luxury and beauty at its finest. My perfect space would be a grand Georgian property – it is an architectural style that I admire greatly – though my style varies wildly from anywhere between classic design to modern rustic simplicity. If I could pick one interior designer to remodel my home, it would be Jake Arnold. His California-cool interior choices are unparalleled.
I am Editorial Director of Future's Homes network, and I am very proud to run the brilliant media brands Homes & Gardens (including its sister print magazines Country Homes and Period Living) and Livingetc. I've been writing and editing interiors, design, decorating and lifestyle content for my whole career and I am utterly passionate about it. It spills into my home life, too, as I renovate projects with my husband George. Style-wise I am most comfortable in pared-back spaces, where a curated selection of pieces have room to breathe. I love raw linen, textured plaster, weathered wood and luscious marble. I then also try to mix in an imaginative or surprising touch - like a bespoke cornice (we recently did a fun bobbin design), an accent chair with a frill or a stand-out pattern in a small entryway. It's all about the detail.
I have written about interiors, property and gardens since 1990, working my way around the interiors departments of women's magazines before switching to interiors-only titles in the mid-nineties. I was Associate Editor on Ideal Home, and Launch Editor of 4Homes magazine, before moving into digital in 2007, launching Channel 4's flagship website, Channel4.com/4homes. In 2018, I took on the role of Global Editor in Chief for Realhomes.com, taking the site from a small magazine add-on to a global success. I was asked to repeat that success at Homes & Gardens, where I have also taken on the editorship of the magazine. I am a serial renovator and also own rental properties, so bring first-hand knowledge to the subjects I oversee. I have many design heroes, but if forced to pick two, they would be Jake Arnold and Irene Gunter – both create beautiful homes that are inviting and practical.
I made my first foray into writing about homes 10 years ago when I joined the Homebuilding & Renovating team as web editor. In 2015 I was asked to also look after Real Homes' predecessor Realhomesmagazine.co.uk and the Period Living website which has now found a new home on Homesandgardens.com. In 2020 I began overseeing product content for them all. When I bought my first house seven years ago my love of interiors suddenly became a lot more hands on. It is an ongoing project but I have put our advice to good use, tiling a bathroom wall and converting my attic.
I'm Head of eCommerce at Homes & Gardens. Before I joined Future in 2022, I got my start in reviewing at the iconic Good Housekeeping Institute, testing and reviewing a wide range of household products and appliances - everything from vacuums to washing machines to dog toys to exercise bikes. I also worked on content for Prima, Red, Mens' Health and Womens' Health. I then moved to BBC Gardeners' World Magazine, assessing gardening tools, machinery, and wildlife products, and worked on content for BBC Good Food and Radio Times. Outside of obsessing over product reviews, I love a good bit of mid-century modern design and coming up with ways of rewilding gardens and outdoor spaces.
I am Head of Gardens at Homes & Gardens. My editorial career began 15 years ago on Country Living magazine, sparking a love of container gardening and wild planting. After more than a decade writing for and editing a range of consumer, business and special interest titles, I became editor of a floral art magazine. I then trained and worked as a floral designer and stylist in London for six years, creating floral installations at iconic venues and styling for some amazing interiors brands. My love of gardening has endured throughout, and I now grow an abundance of vegetables and flowers on our rambling Yorkshire plot. I am particularly interested in sustainable gardening methods and growing flowers for wellbeing.
I am the Head of Interiors at Homes & Gardens; I have a background in lifestyle and interior journalism and a passion for renovating small spaces. You'll usually find me attempting DIY, whether it's spray painting my whole kitchen, don't try that at home, or ever-changing the wallpaper in my entryway. Homes & Gardens has been such a huge inspiration and has influenced my style since I moved into my first rental and finally had a small amount of control over the decor and now I love being able to help others make decisions when decorating their own homes.
I am Editor of Homes & Gardens magazine. Before joining Future Plc, I worked as an interior stylist and set designer, specializing in editorial and commercial photo shoots as well as installations, exhibitions and events. My background within this field means I have a particular interest in the creative ways to make a house a home, as well as hunting down the best places to source beautiful things.
I'm a homes writer and editor with more than 20 years' experience in publishing. I have worked across many titles, including Ideal Home and, of course, Homes & Gardens. My day job is as Chief Group Sub Editor across the homes and interiors titles in the group. This has given me broad experience in interiors advice on just about every subject. I'm obsessed with interiors and delighted to be part of the Homes & Gardens team.
Interiors team
I joined Homes & Gardens in February 2022 as a Content Editor. After studying English Literature at University, I have worked as an Ecommerce Website Editor, Content Writer and Buying Intern at multiple independent businesses within the luxury retail and lifestyle sectors. My role at Homes & Gardens unites my love, experience and passion for the world of design and desire to create inspiring written content. In terms of my own personal style, I'm a huge lover of color and pattern, I especially love a pastel color scheme. I also enjoy nothing more than discovering new trends, brands and products, whether that be in fashion, interior design or lifestyle – my wish list of new things to buy is never-ending.
I am a News Writer at Homes & Gardens, focusing mainly on interior design content. I studied Fashion Communication at university and prior to joining H&G in 2023 worked in various PR and marketing roles, as well as writing for a Scandinavian-based lifestyle publication. I am inspired by all things design and in interiors I'm most drawn to timeless mid-century design, regularly sourcing vintage furniture pieces for my home in Cambridge.
Gardens team
I started working as a journalist back in 2008 after gaining my National Council for the Training of Journalists qualifications. I wrote news and features for online news agencies and content providers, as well as spending time as Assistant Editor for trade newspapers and magazines. Gardening piqued my interest, however, and I studied for a Level 3 Horticulture qualification. This opened up the chance to work as a professional gardener for several years.
Since then I've worked at the world famous arts and crafts garden Hidcote Manor Garden in the UK, and also spent several years at Hanbury Hall gardens in the UK. During my gardening career I also specialized as a kitchen gardener for the likes of Soho Farmhouse, and also produced year-round vegetables, microgreens, fruit and herbs for chefs at a prestigious restaurant.
Throughout my time working outdoors I continued to write and also ran a blog called Perennial Nerd for many years, talking about my life working in gardens. My passion for gardening and a love for inspiring others to grow led me to write how-to growing guides and professional tips for clients and websites in the horticultural sector, and I'm now bringing that same expertise and passion to Homes & Gardens.
I was part of a team that launched Easy Gardens magazine, and continued to edit for several years. As a gardens editor, I am lucky enough to see and write about gardening across all sizes, budgets and abilities. What I am most passionate about when it comes to gardening are the positive effects it has on our mental health to grow and care for plants. Keeping our patches alive with greenery is great for the environment too and help provide food and shelter for wildlife.
The garden has always a big part of my life growing up. My appreciation for the great outdoors has only grown since then; over the years, I've been an allotment keeper, a professional gardener, and a botanical illustrator. Having worked for Gardeningetc.com for two years, I now write about plants and outdoor living for Homes & Gardens. I have a particular interest in houseplants (of which I have an ever-growing collection), garden design, and the benefits of gardening for mental health.
I've been writing about gardens since 2015. As well as Homes & Gardens, I've written for Gardeningetc.com, Livingetc, Easy Gardens and Modern Gardens magazines. My first job on glossy magazines was at Elle, during which time a visit to the legendary La Colombe d'Or in St-Paul-de-Vence, France, led to an interest in all things gardening. Later as lifestyle editor at Country Homes & Interiors magazine the real pull was the run of captivating country gardens that were featured. Having studied introductory garden and landscape design as well as a course in floristry, I am currently putting the skills learned to good use in my own garden where the dream is establishing a cutting garden.
I am Senior Content Editor on Homes & Gardens and write and commission garden content for the magazine, website and sister titles Period Living and Country Homes & Interiors magazines. I was previously Content Editor on Period Living for 10 years, and before that freelanced for many years, working across a range of content pillars and covering a plethora of topics ranging from interiors, gardening, history and arts and crafts, to wildlife. I love the variety of my work and the fact I learn something new every day. Gardening, in particular, is a lifelong journey of discovery, and nature has a wonderful way of acting in new and unexpected ways when you thought you could predict it!
I am the gardening editor of Amateur Gardening magazine and I'm horticulturally trained, with a qualification from the Royal Horticultural Society. My work for Homes & Gardens and Amateur Gardening, the world's oldest weekly gardening publication, involves matching gardening tasks with each season, covering everything from sowing and planting, to pruning, taking cuttings, dealing with pests and diseases and keeping houseplants healthy. I also spend time testing many of the new products that arrive on the gardening market. My main interests are gardening for wildlife and organic gardening, as I firmly believes you don't need to 'nuke' pests and problems with toxic chemicals, nor use peat composts to produce the garden of your dreams.
My gardening passion was fostered from an early age, when my amazing mum had me deadheading hydrangeas, mulching roses, and propagating strawberry plants from runners for school open days. City living has generally meant doing without a conventional outdoor space, but I am slowly transforming my thimble-sized abode into a haven of vertical vegetation. I've also taken part in lots of conservation and rewilding projects for the RHS and TCV as a way of exploring my horticultural horizons whilst helping to create and maintain beautiful spaces for others. In the future I dream of having a Victorian conservatory, some proper old-fashioned cold frames and bell cloches, and a better system for storing all my seed packets.
Ecomms team
I've been writing for Homes & Gardens since the beginning of 2021, covering all things product-related. A lover of al fresco dining, I'm always on the hunt for the best barbecues and pizza ovens for entertaining friends and family. I'm also a firm believer that everyone should have their own herb garden, and can often be found taming my over-zealous rosemary plant.
As an appliance aficionado and lover of language, Laura is most at home when eCommerce editing. She trained as a barista whilst studying at Oxford University and has since tested over thirty of the best coffee makers on the market. Before she joined us, she worked for a luxury perfume house and was trained to be a Master Perfumer over five years ago. She's tested all the leading brands (and some more niche ones which you might not know) so knows candles and home fragrance instinctively and intuitively.
With a background in luxury, she's an advocate for quality and style over quantity and fads. The secret to her heart is simplicity in products, in style and, of course, in your homes and gardens.
Before I joined Homes & Gardens, I studied English at the University of Oxford, where I sharpened my critical writing skills. I have also worked on the other side of the aisle writing press releases for regional newspapers and crafting copy for Sky. I love being able to combine my business savvy with my creative flair as H&G's eCommerce Editor, connecting you with the products you'll love. When I am not in the office, you'll find me entertaining friends al fresco or out in the country.
Solved team
I am the Solved section editor at Homes & Gardens, overseeing the practical, 'how to' content, which provides readers with useful advice for their homes, from painting and cleaning to organizing and decluttering. I have been working in digital journalism for six years, having worked in SEO for News UK in both New York and London as well as contributing to a number of lifestyle and homes brands. I studied French & Italian at UCL and am currently completing an interior design diploma.
I am the junior writer for Homes & Gardens online. I joined the brand in June 2022 after completing my degree in English Literature and interning as a sustainability writer. My role at Homes & Gardens allows me to unite my passion for interiors and the outside world with my love of writing. My personal style is influenced by dark, earthy color schemes and I am an advocate for cozy homes you can escape the world in. Outside of work there is nothing I like more than taking life slowly and pottering around my kitchen baking.
Intern and Psychology Student
Intern and Psychology Student
Lola Houlton
I am a news writer for Homes & Gardens, working in the solved section. I have been writing content for Future PLC for the past five years, in particular Homes & Gardens, Real Homes and GardeningEtc. I write on a broad range of subjects, including organization, decluttering, 'how to' and 'when to' articles, balancing functionality and aesthetics in the home. I am a graduate student from the University of Sussex, and have a degree in Psychology. I also spent some time working at the BBC. My hobbies include netball and photography. My favorite interior designers include Jake Arnold, Kelly Wearstler, Annie Sloan, Lauren Nelson Design and Studio Giancarlo Valle.
News team
I am the News and Trends Editor at Homes & Gardens. I first joined Future Plc as a News Writer across their interiors titles, including Livingetc and Real Homes. As the News Editor, I often focus on emerging microtrends, sleep and wellbeing stories, and celebrity-focused pieces. Before joining Future, I worked as a News Explainer at The Telegraph, following my MA in International Journalism at the University of Leeds. During my BA in English Literature and Creative Writing, I gained writing experience in the US while studying in New York. I also focused on travel writing during my time living in Paris, where I produced content for a French travel site. I currently live in London with my antique typewriter and an expansive collection of houseplants.
I joined the Homes & Gardens team as a News Writer in the summer of 2023. My writing focuses on celebrity homes and emerging trends as well as the psychology behind design decisions. I am fascinated by the ways that interior design is a reflection of our larger culture, why people gravitate towards particular styles, and how this affects us. Before joining Future, I worked as the head of content for a luxury linens and interiors brand. My own home is a bright and colorful oasis, filled to the brim with artfully combined pattern, texture, and material.
Social media team
I'm the Social Media Editor at Homes & Gardens, joining the team in the summer of 2023 to take over the running of our many social media platforms. I started my career in magazines working at Wallpaper* in 2018 with a huge passion for interiors, and evolving my love of social media into a job. You can always find me with at least one phone in hand, taking pictures and staying in touch with our wonderful online community, and I'm constantly on the hunt for the perfect pieces for my future home.
Contributing editors
Florist
Philippa Craddock launched her flower business from home in 2009. It has grown to become one of the world's most renowned and highly respected design studios and floral brands. Working with aspirational clients around the world, including Vogue, BAFTA, Christian Dior and the Victoria & Albert Museum, as well as an array of private clients. Philippa's style is inimitable and was placed on the world stage in 2018, with the cascading floral archways, decorating the façade and interior of St George's Chapel in Windsor, for the wedding of The Duke and Duchess of Sussex. Philippa now shares everything she has learnt, supporting others with a desire to create their own unique, sustainable and successful flower business.