About Homes & Gardens: who we are, what we do, and how to contact us
Everything you need to know about Homes & Gardens online and magazine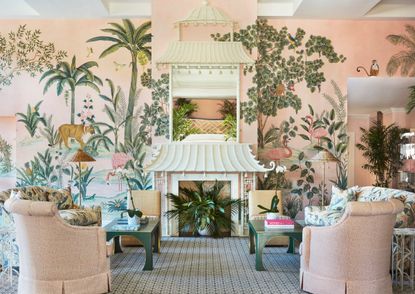 (Image credit: de Gournay)
As the UK's first-ever home interest magazine, Homes & Gardens has been shaping British style for 100 years. In 2022, we were voted Best Online Brand: Consumer at the Digital Publishing Awards.
Our core pillars are inspirational interiors, stylish decorating, beautiful gardens and fascinating stories. With the values of timeless style and considered elegance at our heart, we show an affection for heritage whilst also championing the future, from emerging designers to latest trends. Homes & Gardens' Wikipedia page (opens in new tab) covers some of our history. You can also you can join our social community for the latest news, moments of seasonal beauty and a glimpse behind the scenes; follow us on Twitter (opens in new tab), Facebook (opens in new tab) and Instagram (opens in new tab).
Every month, the print edition features fabulous houses, seasonal ideas, desirable products, designer sources and insider insight. You can subscribe to Homes & Gardens (opens in new tab) to have it delivered to your door every month.
Jump to category:
The Homes & Gardens website brings all our beautiful content online, with a focus on stunning room ideas, expert advice from interior designers, architects and design professionals, and more practical expertise, too, on caring for and improving your home. Our website is updated and added to daily and we're delighted to welcome more than 6 million readers monthly.
Of course, we've assembled a cracking team of experts in their fields to deliver all this stunning inspiration to you, and we'd love to introduce them. Their contact details are below, too.
Leadership team
I have written about interiors, property and gardens since 1990, working my way around the interiors departments of women's magazines before switching to interiors-only titles in the mid-nineties. I was Associate Editor on Ideal Home, and Launch Editor of 4Homes magazine, before moving into digital in 2007, launching Channel 4's flagship website, Channel4.com/4homes. In 2018, I took on the role of Global Editor in Chief for Realhomes.com, taking the site from a small magazine add-on to a global success. I was asked to repeat that success at Homes & Gardens, where I have also taken on the editorship of the magazine. I am a serial renovator and also own rental properties, so bring first-hand knowledge to the subjects I oversee. I have many design heroes, but if forced to pick two, they would be Jake Arnold and Irene Gunter – both create beautiful homes that are inviting and practical.
I am Editorial Director of Future's Homes network, and I am very proud to run the brilliant media brands Homes & Gardens (including its sister print magazines Country Homes and Period Living) and Livingetc. I've been writing and editing interiors, design, decorating and lifestyle content for my whole career and I am utterly passionate about it. It spills into my home life, too, as I renovate projects with my husband George. Style-wise I am most comfortable in pared-back spaces, where a curated selection of pieces have room to breathe. I love raw linen, textured plaster, weathered wood and luscious marble. I then also try to mix in an imaginative or surprising touch - like a bespoke cornice (we recently did a fun bobbin design), an accent chair with a frill or a stand-out pattern in a small entryway. It's all about the detail.
I am the Deputy Editor (Digital) of Homes & Gardens online. Before starting this position, I had completed various interior design courses at KLC Design School, as well as working across Ideal Home, LivingEtc, 25 Beautiful Homes and Country Homes & Interiors as an interiors writer. When the opportunity to work on such a prestigious, influential brand came up, I just couldn't pass up on the offer. I had long admired Homes & Gardens, and to me, this brand epitomizes luxury and beauty at its finest. My perfect space would be a grand Georgian property – it is an architectural style that I admire greatly – though my style varies wildly from anywhere between classic design to modern farmhouse simplicity. If I could pick one interior designer to remodel my home, it would be Beata Heuman. Her classic yet quirky interior choices are unparalleled.
I joined the Homes & Gardens team in February 2022. Previously I was Editor in Chief at RealHomes.com, a team I joined in March 2020 ahead of the US launch. I've written about homes, renovations and decor for more than 10 years, including for brands and publishers like Architectural Digest, Martha Stewart Living, Refinery29, Modern Luxury Interiors, Wayfair, New England Home, Amazon, The Design Network, and many more. I consider design to be a passion of mine, and when I'm not working, I'm usually redecorating a room in my house or convincing my husband to pick up my purchases at various antique shops. Style-wise, I love a fresh-traditional look and layered aesthetics. Anything too perfect or well-defined in style feels boring, and I hold a firm stance that every room needs something vintage. I currently live in Connecticut with my husband, two sons, one daughter, and a black lab, where I'm usually trying to keep them all from spilling on the white sofas.
I am Deputy Editor of Homes & Gardens magazine. Before joining Future Plc, I worked as an interior stylist and set designer, specializing in editorial and commercial photo shoots as well as installations, exhibitions and events. My background within this field means I have a particular interest in the creative ways to make a house a home, as well as hunting down the best places to source beautiful things.
En route to joining Homes & Gardens, I was a newspaper reporter, Editor of a regional magazine, and Editorial Manager for a travel company. I started at Real Homes in 2015 as Deputy Editor and then become Editor before taking on my current position, which focuses on video and events across all our brands, including Homes & Gardens. I love the textures and pared-back palette of Scandi interiors, but also like to experiment with colors inspired by nature, especially sea blues, foliage greens and sky greys. I think the secret to great style is investing in classic pieces of furniture and then adding color and personality through artwork and accessories, but I won't be achieving that until the children leave home sometime in their mid twenties.
I'm Amy, Editor in Chief of Audience across Future's Homes portfolio. I've been working with Homes & Gardens since 2019, overseeing its migration to a shiny new platform and building a content strategy that has seen the site grow from a small-but-perfectly-formed interiors site into a global success story. Homes is truly my home: I've worked almost exclusively on interiors magazines and websites since 2002, on brands such as Ideal Home, Livingetc, Real Homes, 25 Beautiful Homes and Gardeningetc. I've always been a bit of a 'techspert', and although I've retired my alter ego, Girl About Tech, I still love to write about (and test) the latest gadgets and gizmos. I'm also a landlady, and though I tend to keep my rental properties sleek, chic and neutral, my own home is a riot of color and pattern...
As editor of Period Living, Britain's best-selling period homes magazine, and H&G's sister title, I love the charm of older properties. I live in a rural village, so am lucky to be surrounded by beautiful homes and countryside, where I enjoy exploring. As well as editing Period Living, I also write weekly features on restoration and gardening for Homes & Gardens. In my previous roles, I have worked on Real Homes and Homebuilding & Renovating, writing about modern design and architecture, so my experience is broad – but my heart belongs to period homes. My other passion is my garden, and I am slowly building up my planting knowledge, and becoming more confident at experimenting with growing my own.
With over 30 years of working in journalism on women's home and lifestyle media brands, I am the Editorial Director, Homes Content, at Future. I am the Team Content Lead for the UK's leading homes and gardens portfolio including Homes & Gardens, Country Homes & Interiors, Livingetc, Ideal Home, Style at Home, Woman & Home, 25 Beautiful Homes, Amateur Gardening and Easy Gardens. My team comprises best-in-the-business editors, writers and stylists that plan and produce content from print to digital, syndication to commercial.
I'm a homes writer and editor with more than 20 years' experience in publishing. I have worked across many titles, including Ideal Home and, of course, Homes & Gardens. My day job is as Chief Group Sub Editor across the homes and interiors titles in the group. This has given me broad experience in interiors advice on just about every subject. I'm obsessed with interiors and delighted to be part of the Homes & Gardens team.
Interiors team
I am the Style Editor at Homes & Gardens and Livingetc magazines, looking after the decorating features. Before joining Homes & Gardens in 2014, I worked for over 20 years mainly as a freelance interior stylist and art director producing photo shoots for many editorial titles and commercial clients, including Elle Decoration, Livingetc (I worked on the launch issue back in 1998!), Habitat and The White Company, to name but a few. As well as overseeing and art directing the original photography we produce, I also lead on many of the design ideas you see in print and online.
Interiors have always been my passion. After studying English at university, my first jobs were at the Financial Times, followed by Radio Times. I did an interior design course and then landed a job on Homes & Gardens, before working on other mags such as Country Living, House Beautiful, Country Homes & Interiors and Ideal Home. I've always loved reader homes and got a thrill from spotting an amazing house that I knew would be perfect for a magazine (I have been known to knock on the doors of houses with curb appeal!), so I moved from being a chief sub editor to a role as a houses editor, combining my writing and editing skills with styling and art directing on shoots. I returned to Homes & Gardens in 2019, when I took on the houses editor role.
I'm houses editor for Homes & Gardens online, and homes editor for Period Living and Country Homes & Interiors magazines. I've been writing and editing features on interiors and gardens for nearly 30 years, starting out at Ideal Home magazine. I've also moved house quite a few times – totting up 10 homes in 12 years during a particularly nomadic time in my life. I like to think that makes me quite the homes expert, or at least very experienced and with a clear idea of what I like and don't like in a home. I love visiting and writing about old houses for Period Living and featuring rural properties for Country Homes & Interiors, and working with photographers to capture all kinds of historic homes.
I joined Homes & Gardens in February 2022 as a Content Editor. After studying English Literature at University, I have worked as an Ecommerce Website Editor, Content Writer and Buying Intern at multiple independent businesses within the luxury retail and lifestyle sectors. My role at Homes & Gardens unites my love, experience and passion for the world of design and desire to create inspiring written content. In terms of my own personal style, I'm a huge lover of color and pattern, I especially love a pastel color scheme. I also enjoy nothing more than discovering new trends, brands and products, whether that be in fashion, interior design or lifestyle – my wish list of new things to buy is never-ending.
Lover of all things vintage, floral and country, I have been working in interiors media for 10 years. A graduate of Art History, and former Style Editor for Period Living magazine, I then became a contributing editor to H&G, writing many interiors and ideas features. I also contribute to Period Living and Country Homes & Interiors magazines. I am a nostalgic soul who is passionate about historic architecture and traditional craftsmanship. When I'm not writing about homes and gardens you'll find me pottering on my allotment, where I grows flower for styling my own home and interiors shoots.
Having graduated with a degree in English Literature, I started my career as a features writer and sub-editor at Period Living magazine, H&G's sister title. Over the past six years, I have been learning all the intricacies of owning and caring for a period home from designing a luxury bathroom through to choosing the right windows for your old property. From here, I have honed my writing, developing interest in traditional interior design, especially kitchens. Writing for the Homes & Gardens website as a content editor, alongside Period Living and Country Homes & Interiors magazines, has also enabled me to write content focused around my interests, gardening and nature. There's nothing I love more than getting out in the garden and adding new plants to my ever growing collection.
I'm the Associate Editor across the homes titles at Future and have worked for the majority of Britain's monthly interiors titles, such as Ideal Home, Country Homes & Interiors and Livingetc, as well as for websites HomesandGardens.com and Gardeningetc.com. I've written about every area of the home, indoors and out, from shopping and decorating, appliances and home tech, wallpaper and fabric, kitchens and bathrooms, even extensions and conversions.
Gardens team