Best cold press juicer 2023: tested by our appliance experts
We've trialled the best cold press juicers so you can pick from Ninja, NutriBullet, Hurom, Kuvings and more with confidence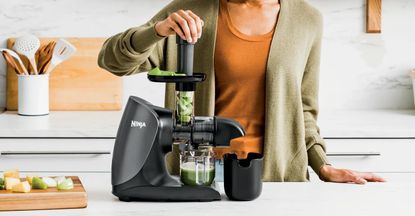 (Image credit: SharkNinja)
The best cold press juicer is a delicious and refreshing way to pack your diet full of nutrients. Designed to squeeze the flavorful juices out of fruits and vegetables, cold press juicers (also known as masticating juicers or slow juicers) are the healthiest way to juice.
This is because the slow juicing process mimics chewing to gently extract the juice from fruit while retaining nutritious pulp and fiber. While you'll find centrifugal juicers in our guide to the best juicers, they work a lot more like a blender to slice through vegetables in record time. This means that the juice isn't as healthy as slow juicers.
I personally tested most of these slow juicers, with some extra help from our expert product testing team. We have hands-on experience of each one, putting them through their paces with a variety of ingredients and monitoring the quality of results. We also rated them by ease of use and cleaning, price and - of course - looks.
Best cold press juicer 2023
You can trust Homes & Gardens. Our expert reviewers spend hours testing and comparing the latest products, helping you choose the best for you. Find out more about how we test.
The best cold press juicer you can buy
Specifications
Power: 240W
Capacity: 13.5 oz
Feeding tube size: 3.22in
RRP: $699.99
Reasons to buy
+
Powerful
+
Easy to use
+
Multi-purpose
+
Two-way feed chute
Reasons to avoid
-
Tall and may not fit under counters
Why you should buy it: It may be a little pricey, but the quality, functionality and juicing results are second to none.
Why we love it:
'This juicer was a consistently high-performer, with enough power to make smoothies, nut milk and more,' says our product tester Camryn. She loved how the wide two-way feed chute made preparation easy and quick, how it squeezed as much juice as possible out of each ingredient and noted how almonds turned out like powder once they went through the auger.
For added versatility, you can also use the included sorbet and smoothie strainers when you use the Kuvings Whole Slow Juicer EVO820. It works at 60 revolutions per minute, and leaves plenty of time to extract antioxidants. 'I was impressed with the speed with which juice was produced; it was faster than masticating juicers I've tested in the past,' reports Camryn, who also loved the cleaning tool that was provided the make clean up easier.
The Kuvings Whole Slow Juicer EVO820 is a more expensive option, but if you want the smartest and most convenient slow juicer on the market, we think the choice is clear. It's also covered by a 10-year warranty.
Our full Kuvings Whole Slow Juicer EVO820 review has more details.
The best cold press juicer, runner up
Specifications
Power: 150W
Capacity: 11.8oz
Feeding tube size: 2in
RRP: $379
Reasons to buy
+
Cute design
+
A mid-price slow juicer
+
Compact and easy to store
Why you should buy it: Cute design and compact build; great for personal juicing.
Why we love it:
'I loved how compact his Hurom juicer is (97.6in x 6.9in x 15.5in to be specific),' says staff product tester Jaclyn. 'It's easy to stash away when not in use, though small capacity means it's best suited to personal juicing.'
The 43 RPM replicates the slow juicing you'd get from hand squeezing but with a lot less mess. 'It's able to extract plenty of juice and pushes mostly dry pulp out of the second tube, while the main chute pours smooth and delicious concoctions including orange juice, apple juice, and even strawberry. I was very impressed by extraction in testing,' reports Jaclyn.
'While it's a slow juicer I also felt that my juice was ready in no time at all. There is only one-speed setting and you just drop your fruit or vegetables into the (narrow) feeding chute to get started. So easy to use.
'Other bonus features include the fact it can make nut milk from soaked nuts. There are two strainers included so you can choose how pulpy you would like your drink to be. All in all, it's an excellent all-rounder.
Good to know:
The downsides? 'The feeding chute on the HP is quite small, and you'll also want to allow extra time for cleanup,' says Jaclyn.
Our Hurom HP Slow Juicer review has more details.
The best small slow juicer for easy storage
Specifications
Power: 150W
Capacity: 24oz
Feeding tube size: 3"
RRP: $199.95
Reasons to buy
+
High juice output
+
Dishwasher-safe parts
+
A quiet choice
Reasons to avoid
-
Auger is tricky to remove
Why you should buy it: Quality design; easy to clean.
Why we love it:
Our tester Courtney was impressed by the steel-tipped auger, which is durable enough to work through whole fruits and vegetables. 'The motor is nice and gentle, which is perfect for those who want as much health benefit as possible,' she says.
The juicer comes with a 24-oz juice cup and a generous pulp container. There is also a no-drip spout. It's also worth noting that the 7in X 6.25in X 17in dimensions will make this very easy to store.
'You can remove most parts and put them through the dishwasher, which makes cleaning up a real breeze,' says Courtney. 'I thought the assembly was relatively straightforward, and compared to a lot of cold press juicers it was also easy to take apart after I was done'.
Good to know:
Courtney found that the auger was 'a little tricky to remove, not one for those who aren't able to put their back into pulling it away from the machine.'
Our NutriBullet Slow Juicer review has more details.
The best cold press juicer for value
Specifications
Power: 200W
Capacity: 16 oz.
Feeding tube size: 1.5in x 2.5in
RRP: $129.99
Reasons to buy
+
Dishwasher-safe parts
+
Easy to assemble
+
Budget-friendly
Reasons to avoid
-
It doesn't extract the most juice
-
Lots of fruit prep required
Why you should buy it: Great price point; easy-clean design.
Why we love it:
I loved the three different filters which are color-coded and easy to switch out. They allowed me to adjust the pulp level, which meant I could make morning shots with lots of pulp or a fine juice of orange or apple.
All removable parts can also go in the dishwasher, which is rare for many of the best cold press juicers. All things considered, I think this is the best budget-friendly cold press juicer on the market.
Good to know:
It struggles when compared to more expensive models when it comes to juicing though. The chute is somewhat small, and I had to chop our fruit quite finely to get an easy output.
It's also easier if you remove the skin from your apples before using this juicer, which can be annoying, but results in a very fibrous and nutritious juice.
Our Ninja Cold Press Pro review has more details
The best premium cold press juicer
Specifications
Power: 150W
Capacity: 16.9oz
Feeding tube size: 2"
RRP: $439
Reasons to buy
+
Great design
+
Good quality juice
+
Quick cleaning
Reasons to avoid
-
Smaller capacity compared to competitors
-
Ejection chute can clog
Why you should buy it: Streamlined design; lightweight; versatile.
Why we love it:
What our reviewer Camryn loved about this juicer was the handy set of interchangeable strainers, which allowed her to make ice cream or tofu, or add in ingredients like nuts or seeds to her juices.
'The 150-watt motor (almost) silently,' reports Camryn. 'It performs wonderfully at just 43 RPM to mimic hand squeezing. In my trials, I got every last bit of goodness out of my fruit and veg, and I was impressed at how dry the resulting pulp felt.
'Clean-up is pretty quick thanks to easy disassembly (and re-assembly for that matter) as well as a convenient drying rack. The inner spinning brush helps to stay on top of things, rotating during juicing to clean the chamber and strainer simultaneously. This ultimately reduces clogging and increases juicing efficiency. If you plan to juice later, you can simply run some water through it to clean it through, and wash it through at the end of the day.'
Good to know:
The one downside to keeping such a small footprint is that the H-AA's capacity is small compared to the competition, meaning output isn't as great as you might find elsewhere. Camryn also found the chute a little small. 'In fact, I did notice that the ejection chute can clog up quite easily, so be on standby to clean it out as you juice'.
Our Hurom H-AA Slow Juicer review has more details
6. Breville Big Squeeze Slow Juicer
The best cold press juicer for smaller spaces
Specifications
Power:: 240W
Capacity: N/A
Feeding tube size:: 3in
RRP: $399.95
Reasons to buy
+
Small footprint for compact spaces
+
Large feeding chute
+
Easy assembly
Reasons to avoid
-
Fruit needs to be chopped up
Why you should buy it: Space smart, stronger-than-average motor and a wide feeding chute.
There are two-speed settings, both of which are on the slow side. However, it helps make it really easy to use, so you can be juicing within minutes of unpacking it.
It's pretty compact, so won't take up much space on your countertop. The three-inch feeding chute can fit whole apples in theory, but the instructions specify that you need to remove seeds before juicing.
Most parts of the Breville Big Squeeze Slow Juicer cannot go in the dishwasher. That said, even when hand washing, it's pretty easy to clean and dry, without too many places for debris to collect.
This cold press juicer is on our test wait list; these are our first thoughts.
7. Omega Juice Extractor and Nutrition Center NC900HDC
The best cold press juicer if you are looking to make more than just juices
Specifications
Power: 150W
Capacity: Not listed
Feeding tube size: Not listed
RRP: $459.95
Reasons to buy
+
Great versatility
+
Good juice yield
+
Easy to use
+
Industry-leading warranty
Reasons to avoid
-
Feeding chute isn't as generous as others so more food preparation is needed
-
Other juicers have more powerful motors at this level
Why you should buy it: Incredibly versatile; powerful motor.
Offering 80 rotations per minute under a 150W motor, it's an absolute workhorse, all without getting overheated or noisy in the process.
It offers five adjustable settings to maximize its performance to what it is you're juicing with a range to make citrus juice, green juice, and nut butter, as well as grind coffee or mush-down baby food. Despite all its settings, it's simple enough to use, though its horizontal design does mean it takes up a little more space on the kitchen counter.
Its standout chrome finish looks lovely, if you can make the space though, and has been treated to stand up against the acidity of citrus juices that can cause tarnishing.
It's a considerable investment, but considering Omega's industry-leading 15-year warranty, you can at least buy in confidence.
This cold press juicer is on our test wait list; these are our first thoughts.
8. Kuvings Whole Slow Juicer Elite C7000S
The best cold press juicer if you are looking to invest
Specifications
Power: 240W
Capacity: 13.5oz
Feeding tube size: 3in
RRP: $449.95
Reasons to buy
+
Customizable sieve system
+
Handy reverse function for removing clogs
+
Attractive design
+
Powerful
Why you should buy it: Does it all and then some
The Kuvings is powered by a 240-watt motor capable of a silent 60RPM, which balances efficiency and juice quality perfectly.
As well as a juicer, the C7000S can do its bit as a standard processor too, thanks to a number of different strainers that come in the box. This allows you to make things like smoothies and sorbets, plus there's an extra-fine strainer for chomping through wheatgrass and keeping pulp to a minimum.
If that sounds messy, the three included cleaning tools should help facilitate getting it all washed up and ready to go again. It isn't dishwasher safe though, so something to bear in mind if time is of the essence.
The chrome accents on the machine are anti-corrosive to protect against citrus juice, while the main body is available in an attractive choice of red, silver or gold. It stands tall too, meaning it takes up minimal space on your countertop.
This cold press juicer is on our test wait list; these are our first thoughts.
Where to buy cold press juicers
How we test and review the best cold press juicers
We have reviewed the majority of the cold press juicers in our guide, with any not yet fully tested on our wait list. We've included a rating out of five for every model we've tested hands-on, and for most of them, you can also click through to a complete review that goes into our experience of each model in more detail.
For the models we weren't able to try just yet, we also took into account online information such as the specs, price, and publicly listed, verified reviews. We used these to identify any common complaints or issues in the products or to identify who they would be best suited to.
For more insight into our hands-on review process, refer to our Homes & Gardens review guidelines.
Our testing panel includes:
Millie is the Small Appliances expert at Homes & Gardens, and spends her time reviewing new and exciting product launches, as well as recommending her favorite products in buying guides. She is a true cooking enthusiast, with the knowledge needed to help you find the best juicer for your space.
Camryn is a freelance writer and product reviewer specializing in home, kitchen, and pet products. In her five years as a product tester, she's tested hundreds of items first-hand. Camryn does her product testing from her small homestead in beautiful Rhode Island. For this guide, Camryn reviewed three juicers: a Hurom, Kuvings and Breville.
Jaclyn is the US eCommerce editor across the homes titles at Future, including Homes & Gardens. She spends her days tracking the latest buzzworthy releases and testing a variety of products to determine whether they are worth bringing into your home. For this guide, Jaclyn tested the Hurom HP Slow Juicer.
Midwestern product tester and writer Courtney Irwin is a working mom of three who loves nothing more than a good deal. Equal parts entrepreneur and family-gal, Courtney has spent years curating home renovation and testing products. For this guide, she reviewed the Nutribullet Slow Juicer.
What is the best cold press juicer?
If money was no object, models from Kuvings like the Kuvings EVO820 Whole Slow Juicer and its slightly less expensive sister model Kuvings Whole Slow Juicer Elite C7000S deliver some of the freshest juice we've tasted. The EVO820 is a newer model and has a unique flip-gate chute that drops ingredients into the chute, eliminating the need for a safety fin or a pusher. The feed chute is also wider and the model comes with a smoothie strainer. The C7000 is slightly shorter making it easier to store and utilizes a hopper and strainer, though you will need to make use of a pusher.
We're also a big fan of Hurom products, testing both the compact Hurom HP Slow Juicer and its more supped-up Hurom H-AA Slow Juicer. Both operate at 43rpm and yield delicious, well-extracted juice, but operate according to different technologies. The H-AA uses new Alpha technology for optimized juicing, easier cleaning, and the ability to make ice cream while the second-gen technology still makes great juice. The HP is designed to be more compact and is better for smaller portions, making it slightly more affordable.
Meanwhile, if you're new to slow juicers and looking for value, The Nutribullet Slow Juicer was pretty easy to store and delivered fairly decent results but cleaning was a bit tricky and we had a hard time removing the auger. Comparably, the Ninja Cold Press Pro lets you adjust the amount of pulp that is extracted into your drinking and has dishwasher-safe parts but could have been better at juice extraction.
How to choose the best cold press juicer
Design: Think about how much space you have to house or store a juicer in your kitchen, as well as what you'd like your machine to look like. You can get ones that sit upright or are more horizontal, others that focus on being compact and others that are unashamedly large. So do think about what will work best for your space.
Juice Type: you need to consider the kind of juice you want to make. If you want to juice leafy vegetables, look for a slow juicer with at least 400 watts of power so you get the most efficient yield. You can also consider speed settings - some only offer one, but having two gives you more power to get through tougher skins when required.
Feeder Tube Size: Do consider how much chopping and dicing you are prepared to do, and look at the size of the feeder tube to see how big it is. Generally, slow juicers are smaller than that fast juicers but there is still a variance. If you don't want to do too much prep, look for larger feeder tubes.
Warranty: You want your juicer to last, so make sure your manufacturer's warranty is suitable - the very best slow juicer brands will offer 10 years plus on the motor and five years plus on parts.
Fast vs slow juicers: Which is best?
Fast juicers are the most popular on the market for several reasons. As their name would suggest, they are able to produce large amounts of juice (although you will get a lot of foam) in a quicker amount of time, they cost less, are easier to clean and they eliminate pulp. Fast juicers have the same mechanisms you'll find in the best blenders, shredding fruit and vegetables and then straining them to extract the juice. They're great for people on the go who don't have lots of time to wait, but they are louder and, as we mentioned above, some research suggests that they can destroy some of the nutrients through the heat they produce in use.
The best cold press juicer, on the other hand, will prepare a slightly more pulpy, natural juice, as fruit and veg are crushed rather than ground down through a mesh. It means it can process some things that fast juicers can't, like leafy greens, sprouts and kale, and herbs, giving you more options, and overall the juice is of a better quality with no foam and less waste. They're also much quieter.
They do cost a little more, are trickier to clean due to having more parts, and are of course slower in operation, but if the reported difference in nutrients is a concern to you, then it's a good option to choose.
Is a masticating juicer the same as cold press?
Yes, cold press and masticating juicers are the same in terms of how they process the juice, without the use of heat. You may find some extra features on individual machines but the way the juice is made is the same, so don't be pulled in by extra features you don't require.
How much does a cold press juicer cost?
As always, it all depends on your budget and what you're buying it for. If you're wanting to just try it out, then by all means spend a little less to see how you get on.
However, on the whole, cheaper machines can be more hassle than they're worth, and if you then decide to use it long term, you may need to invest again. Spend a little bit more in the first place and your juicer will last longer, juice more efficiently and probably come with a longer warranty to boot.
A mid-range slow juicer will cost anywhere between $200-$350. They will also likely offer a high yield for your fruit and vegetables compared with cheaper machines, so you'll get more juice for your buck.
What does 'cold press juicer' mean?
'Cold press juicer' means that the juice has been pressed without heat; in doing so, it is able to extract higher quality juice that is more favorful, more nutritious and packed with fiber.
What does a cold press juicer do?
A cold press juicer extracts juice from fruit and veg with a lower RPM than traditional juicers. It mimics hand juicing more and in doing so is able to product juice that is more nutritious and fiber-packed.
Millie Fender is Head of Reviews on the Homes and Gardens Ecommerce team. She specializes in cooking appliances, such as the best kettles, and also reviews outdoor grills and pizza ovens. Millie loves to bake, so she will take any excuse to review stand mixers and other baking essentials. When she's not putting products through their paces in our dedicated testing kitchen, Millie's reviews are conducted at home, meaning she uses these products in her own day-to-day life.