Best cold press juicer 2023: tested by our appliance experts
For flavorful, nutrient-rich juice, you need the best cold press juicer.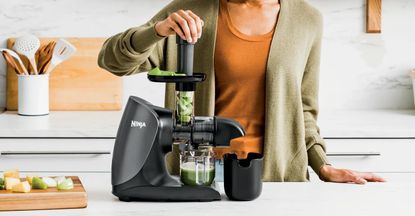 (Image credit: SharkNinja)
Best cold press juicer 2023: Jump Menu
If you like juice, and you want to get the most out of your fresh produce, you might appreciate a cold press juicer. Also known as a slow juicer or a masticating juicer, these machines squeeze all the goodness out of your groceries to make juice that's rich in fiber and packed with flavor.
A cute and compact cold press would fit right into a smaller kitchen, since it's designed to fit beneath lower cabinets. Taller models often feature more capacious pitchers to make multiple servings of juice at once. There are premium machines for large households of juice lovers, as well as smaller models that are budget- and beginner-friendly. In fact, there are so many kinds of cold press juicer that it can be difficult to know where to start.
That's where we come in. Our expert testers have reviewed all the best juicers, so they know what makes a great cold press. We've tested almost every machine on this list. Where we haven't been able to get our hands on a product, we've scoured the specifications and read countless customer reviews, instead.
We've ranked each of these cold press juicers based on power, capacity, appearance, and the all-important price.
Best cold press juicer deals
If you're shopping for the best cold press on the market, and you'd like to save a little money, you should take advantage of these deals.
Kuvings Whole Juicer| Was $499, now $392.84 at Amazon
This isn't the cheapest cold press juicer, but it's the best. Our tester Camryn described it as 'a powerful, effective, taste-sensation must-have'. You can save $100 in buying it at Amazon.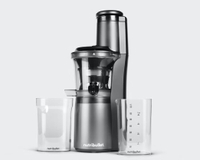 Nutribullet Slow Juicer | Was $199.99, now $142.49 at Amazon
I've found that the Nutribullet Slow Juicer is a great option if you're working in a small kitchen and want a juicer that won't take up space. It's a great price at Amazon too.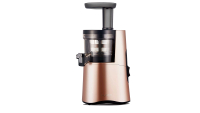 Hurom H-AA juicer | Was $399.00, now $339.00 at Hurom
This compact, premium masticating juicer is one of our favorites. It takes up hardly any space on the countertop and you can also use it to make nut milks and frozen treats. This deal will save you $60 on the attractive rose gold colorway.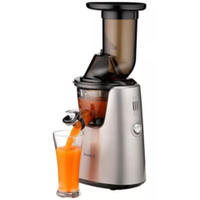 Kuvings Whole Slow Juicer Elite | was $549.95, now $449.95 at Amazon
The perfect balance of efficiency and quality, this juicer can do it all and then some. If you fancy a smoothie, sorbet, or need to strain wheatgrass and plulp, this is the juicer for you.
The quick list
We'll get into the specifics in a minute. For now, these are the best cold press juicers at a glance.
Load the next 3 products ↴
Best large
This machine has the largest feed chute of any slow juicer on the market, so it can juice whole fruits and vegetables at once.
Best multifunctional
8. Omega Juice Extractor and Nutrition Center
When you use the Nutrition Center attachments, you can turn this juicer into a mincer, a homogeniser, or a pasta maker.
Best for cleaning
9. Kuvings Whole Slow Juicer Elite
This juicer is totally dishwasher-safe. If you prefer to wash by hand, you'll appreciate Kuvings' cleaning accessories which fit into the pitcher's nooks and crannies.
Best cold press juicer 2023
You can trust Homes & Gardens. Our expert reviewers spend hours testing and comparing the latest products, helping you choose the best for you. Find out more about how we test.
The best cold press juicer overall
The best cold press juicer you can buy
Specifications
Power: 240W
Dimensions: 8 x 9.5 x 19"
Capacity: 13.5 oz
Chute size: 3.22"
Reasons to buy
+
Powerful
+
Easy to use
+
Multifunctional
Reasons to avoid
-
Too tall to fit under low cabinets
Buy it if:
✅ You like to work with larger ingredients: this juicer has an extra-wide feed chute which can fit whole apples, stalk and core included.
✅ You're sensitive to noise: unlike most juicers, this machine doesn't whir too much while it works.
✅ You want a versatile machine: the Kuvings EVO820 can make juices, smoothies, frozen desserts, and even nut milk.
Don't buy it if:
❌ You have low cabinets: you might struggle to store this tall juicer in your cabinets or on your countertops.
❌ You hate washing up: since the Kuvings EVO820 is not dishwasher-safe, you'll have to wash each part by hand. ❌ You're on a budget: this is one of the most expensive blenders on the market, and the most expensive Kuvings model overall.
The bottom line
🔎 Kuvings EVO820 Whole Slow Juicer was the best cold press juicer on test. It's a heavy-duty machine, designed to juice tough ingredients and produce multiple servings at once.
The Kuvings EVO820 is the best slow juicer in the world. It's pretty expensive, but the quality and functionality are second to none. This cold press can handle soft and firm produce alike, making fine powder out of hard almonds.
This Kuvings machine impressed on test, producing juices as well as creamy smoothie bowls and sorbets. This versatile appliance features an extra-wide feed chute with a flip gate that works to let fruit in and keep fingers out.
The biggest problem with this machine is the height. Standing 19 inches tall, this slow juicer won't fit beneath standard kitchen cabinets. You'll have to display it on a kitchen island or store it in parts.
It isn't cheap, either. This is one of the most expensive juicers on the market. Though the Kuvings EVO820 produces clear, clean juice every time, you can definitely find a decent alternative for less.
You can find more detail in our Kuvings Whole Slow Juicer EVO820 review.
Swipe to scroll horizontally
Test results
Attribute
Notes
Rating
Power
Excellent extraction power
★★★★★
Capacity
On the smaller side
★★★
A