Best juicer 2021 – for juicing everything from oranges to celery
Find the best juicer for 2021, with centrifugal and masticating slow juicers from Kuvings, Omega, Smeg, Breville and more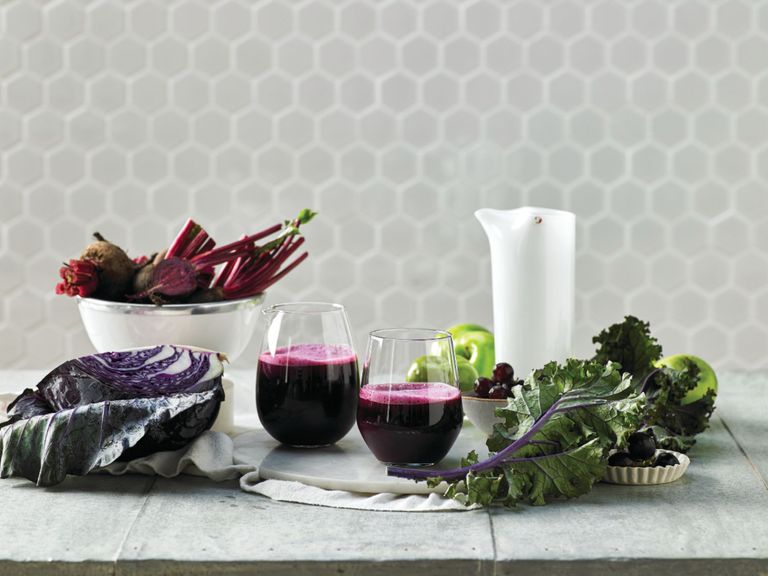 (Image credit: Breville)
Whether you want freshly juiced oranges to elevate your weekend brunch, or a green juice to cleanse your system every morning, the best juicer will have your back. We have rounded up the best blenders you can buy from Kuvings, Smeg, Breville, Omega and more to bring you our very top picks, including reviews of some of the top blenders on the market. 
There is a difference between centrifugal and masticating juicers (also known as slow juicers). Centrifugal options act fast and shred fruit and vegetables to make smooth drinks from apples, carrots, cucumber and about anything else you throw at them. Slow juicers are known for extracting more nutrients from fruit, but they will take far longer to do so, meaning they're not a top choice if you're in a hurry. 
Our guide also features citrus juicers, which are often smaller and easier to clean than other options but can only be used for juicing oranges, grapefruit, lemons and other citrus fruits. For the best juicer for your home, keep reading our full guide. 
What should I look for when buying a juicer?
A juicer is the best way to extract juice and nutrients from a variety of fruits and vegetables. Unlike blenders, which mash everything together, juicers are designed to separate the pulp from the juice, giving a smoother, more drink-like result.
The two main things to look at when choosing a juicer are capacity and the ingredients that can be used. Capacity shows you how much juice you can make in one go, with larger capacity machines ideal for large homes or for creating batches of juice and storing the results in the fridge.
Look for the ingredients that a juicer can cope with, too. While all juicers can cope with soft fruits, if you want to add harder fruit and veg, such as carrots, or leafy greens into the mix, then you'll need a juicer that can cope with these tougher ingredients.
Large capacity machines tend to be a lot bigger, so make sure that you have the room to store a juicer and its accessories before you buy.
Best juicers 2021
1. Kuvings EVO820
Best juicer for juice quality
Specifications
Juicer type: Masticating
Power: 240W
Capacity: 13.5 oz
Feeding tube size: 3.22in
Reasons to buy
+Excellent juice extraction+Sorbet and smoothie option+Extra-wide chute+Extremely powerful+Easy to use
Reasons to avoid
-Expensive
One of the big problems with masticating juicers is that you have to cut fruit into small chunks. The Kuvings Whole Slow Juicer EVO820 aims to solve that with its wider 3.22in feeding chute.
While you still need to cut fruit and remove seeds, you can put bigger chunks in, so get results faster, which is great news, particularly if you're making drinks for multiple people. As with all masticating juicers, operation is really easy: turn the machine on and push fruit through the machine.
What sets this machine apart from the competition is its juice quality. With the standard strainer, this juicer operates at 60rpm and produces the cleanest, purest juice. Even better, it can easily handle soft and hard fruits alike.
You also get smoothie and sorbet strainers in the box, expanding what this machine is capable of. 
Water can be run through the machine for a quick rinse between drinks, but the parts otherwise have to be disassembled (an easy job) and hand-washed.
Price is the main issue for this juicer, but if you want the absolute best-quality juice, the Kuvings Whole Slow Juicer EVO820 is for you.
2. Breville Juice Fountain Compact
Best juicer for space-saving
Specifications
Juicer type: Centrifugal
Power: 700W
Capacity: 25oz
Feeding tube size: 3in
Reasons to buy
+Well priced+Easy to store+Simple assembly+Powerful fruit juice extraction
Reasons to avoid
-Single speed-Doesn't handle leafy greens well
If you don't make juice very often or don't have that much room, a smaller juicer, such as the Breville Juice Fountain Compact is a great choice.
Small and well-built, this compact juicer doesn't take up much space at all, and has few components making assembly easy.
There's a single on/off switch, with the 700W motor running at a constant speed for all fruit and veg. Thanks to its 3in-wide chute, you shouldn't need to cut most vegetables.
Juice extraction is generally good, although a touch frothy, and leafy greans can get pulled through the system without any juice extraction. 
With a 25oz jug, you can feed enough fruit through to make drinks for a few people, or just make extra to store in the fridge.
Most parts are dishwasher safe, although hand washing will prolong their life. Just be prepared to give the filter a good scrubbing to get it clean.
You can get juicers with more features and better juice extraction, but given the price and small size, the Breville Juice Fountain Compact is excellent value.
3. Smeg Citrus Juicer
Best juicer for citrus fruits
Specifications
Juicer type: Citrus
Power: 80W
Capacity: N/A
Feeding tube size: N/A
Reasons to buy
+Easy to operate+Efficiently extracts juice from citrus fruits+Small+Dishwasher-safe components
Reasons to avoid
-Relatively slow-Only works with citrus fruit
If you're primarily after a juicer to deal with oranges or other citrus fruit, the Smeg Citrus Juicer is an elegant and well-priced solution.
Available in black, red and a range of pastel colors, the juicer has Smeg's well-known 50s styling, making it a style icon that you'd proudly have on display. As well as looking great, it feels tough and robust, and doesn't take up much counter space.
There's very little juice storage onboard, with the machine designed to be operated with the spout pointing down directly into a cup.
Smeg has made it super-easy to operate this machine. Just cut your fruit in half and press each part onto the reamer, and the 80W motor kicks into action. There's plenty of torque to extract juice, although it's more of a slow-and-steady approach, so making multiple drinks could take some time.
Juice quality is very good, with the strainer removing most of the pulp and stopping seeds spilling out. 
Once finished, the reamer, cover, filter and juice collector can all be easily removed and washed in the dishwasher, making this a quick juicer to clean up. 
Simple to operate, the Smeg Citrus Juicer is a great choice for anyone that wants simple, fresh orange juice every day.
4. Breville Juice Fountain Cold Plus
Best for large amounts of juice
Specifications
Juicer type: Centrifugal
Power: 850W
Capacity: 70oz
Feeding tube size: 3.5in
Reasons to buy
+Huge capacity+Fast extraction+Wide feeding chute+Handles soft and hard fruits well
Reasons to avoid
-Very large-Juice can be frothy
If you're making a lot of juice for more than one person, the Breville the Juice Fountain Cold Plus could well be for you. With its 70oz jug, this machine can produce a lot of juice that you can share or store in the fridge.
It can get through fruit quickly, too, thanks to the Juice Fountain's 3.5in feeding chute, which should mean that most fruits can be dropped in without cutting.
There are two speed settings on the side, with 'High' for harder fruits and vegetables (carrots, mango, and so on) and 'Low' for softer fruits.
With the pulp container at the rear, this juicer isn't too wide, but it's long and still takes up a lot of counter or cupboard space.
The 'Cold' part in the name refers to design of the blade, which increases the fruit temperature by no more than 2ºF. Juice quality is generally very good, although a touch on the frothy side and not as clean as from a masticating juicer.
Although the majority of parts are dishwasher safe, there's quite a few components to disassemble. Still, with the large capacity, you probably won't have to make juice that often.
For those into batch processing or with larger families to feed, the Breville Juice Fountain Cold Plus is a great choice.
5. Omega VSJ843QS Vertical Slow Masticating Juicer
Best for soft fruits
Specifications
Juicer type: Masticating juicer
Power: 150W
Capacity: 16 fl. oz
Feeding tube size: 2.25 x 1.5in
Reasons to buy
+Excellent juice extraction+High build quality+Long warranty+Easy to clean
Reasons to avoid
-Relatively small capacity-Better with soft fruit
With a staggering 15-year warranty, there's clearly has a high degree of confidence in the Omega VSJ843QS Vertical Slow Masticating Juicer. Justly so, as the juicer is praised for its quality components and feel.
A masticating juicer, the VSJ843QS uses a dual-edged auger to crush and squeeze fruit at a low speed of 43rpm. This slow action is designed to extract the maximum amount of juice while retaining the maximum amount of pulp. It's a system that works well, with only the dried remains of fruit being pushed out into the pulp container at the rear, leaving fresh and near-perfect juice.
This is an easy juicer to operate, with a single on/off switch. Fruit has to be cut to fit through the relatively small feeding tube and pressed down with the provided pusher. Soft fruits work better, and you may need to cut hard vegetables, such as carrots, into smaller chunks to avoid blocking.
A relatively small 16oz capacity means that making drinks for multiple people may take a while, although a juice plug means that you can make juice and dispense later. 
You can run water through the juicer to clean between drinks, but the Omega VSJ843QS comes apart easily for hand-washing once you're finished.
For those that like their soft fruits, the quality, power and juice extraction of the VSJ843QS make it a top choice.
6. Hamilton Beach Big Mouth Pro
Best juicer for budget buyers
Specifications
Juicer type: Centrifugal
Power: 800W
Capacity: 20 fluid ounces
Feeding tube size: 3in
Reasons to buy
+Great price+Easy to use+Wide feeding chute+Powerful juice extraction
Reasons to avoid
-Not so good for hard fruits and vegetables-Slightly fiddly to assemble
Who said that juicers had to be expensive to be good? At a fraction of the price of its rivals, the Hamilton Beach Big Mouth Pro is a great entry-level juicer for those just getting started.
The lower price point than other juicers on this list means that this model feels a touch cheaper than the competition. It's also a little harder to assemble, with two retaining clips to push down rather than a single locking arm.
The 'Big Mouth' part of the name refers to the wide 3in feeding chute, which means that most fruits should go through without having to be cut; however, you will need to cut apples in half. 
There's a single on/off button that turns on the motor, after which you can press fruit through the juicer, with pulp separated into a dedicated container.
Juice extraction from the Big Mouth Pro was very good, although a fair amount of pulp makes it through in the process. And, this is a juicer better suited to softer fruits and those that routinely use harder fruits and vegetables should look elsewhere on this list.
A touch fiddly to disassemble, the juicer's plastic parts can be put in the dishwasher, but the remainder must be hand-washed.
Still, for those on a tighter budget looking for a small but powerful juicer, the Hamilton Beach Big Mouth Pro is a great option.
Which juicer is better: masticating or centrifugal?
There are two main types of general-purpose juicer: masticating and centrifugal. Both work in different ways, and have their own benefits.
Centrifugal juicers tend to be cheaper and use a fast-spinning blade to chop up fruit and vegetables, using fine mesh filters to separate the juice from the pulp. The main benefit of this type of machine is that you can throw in whole fruits, giving you quick results with little preparation.
Look for a machine that has multiple speed controls, so that you can adjust how fast the blades move to suit different types of produce: slow for soft fruits and faster for hard.
The downside is that these juicers aren't as efficient, so some juice gets passed out with the pulp. With the air and heat that's introduced, juice can be frothy and may not last as long when stored.
These types of juices also aren't as good when it comes to some ingredients, such as leafy greens and herbs.
Masticating juicers are generally more expensive and use a crushing, squeezing element to extract juice. Although also known as slow juicers, these products aren't that much slower than their centrifugal counterparts. 
Preparation is generally tougher with these models, and you'll have to cut up fruit first and, usually, remove hard seeds, adding preparation time into the mix. 
You get the benefit that masticating juicers are much more efficient, so you'll get more juice from each fruit, and with less air and heat added, the juice tastes fresher and should last for longer.
Herbs and leafy greens are easily dealt with, but harder fruits and vegetables should be cut carefully into smaller junks to prevent blockages. These machines are generally harder to take apart and clean, with few having dishwasher-safe components.
Finally, if you only care about fresh orange, then a citrus juicer can be a good choice. Cheaper and easier to use, these use a motor to spin a reamer that removes juice from inside the orange (or other citrus fruit). 
You can't use other fruits in these juicers, making them more limited, but if you don't mind, these products are cheaper and easier to maintain than the other types of juicer.
How much should I spend on a juicer?
How much you spend, depends on your needs and how much you'll use a juicer. For occasional use, or for a single person, you can get a perfectly serviceable juicer for around $100. 
If you want the best-quality juice, need to make more, or want to expand the range of ingredients that you're using, then the top juicers come in at more than $400.
More expensive juicers, particularly masticating ones, produce more juice than cheaper models. Factor this into the price when you pay: for those that buy a lot of fresh produce, a more expensive juicer helps you maximize your return.