Hurom HP Slow Juicer review: easy, fresh-squeezed juice to complement a healthy lifestyle
We've reviewed the Hurom HP Slow Juicer. Read on to see how it can help you make healthy choices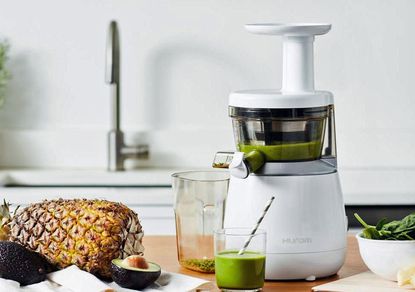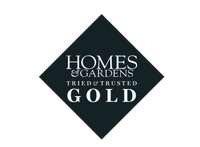 (Image credit: Hurom)
Once you try juice fresh from the Hurom HP Slow Juicer, anything store-bought can never compare. The cute and compact machine lives up to the Hurom name for excellency, but you will be left with lots of parts to clean up.
Reasons to buy
+

Easy and quiet operation

+

Compact, for a juicer

+

Extracts a lot of juice

+

Stunning design

+

Includes magazine-style recipe book
Reasons to avoid
-

Multiple parts (8) to clean and assemble

-

Narrow feeding chute

-

Heavy
You can trust Homes & Gardens. Our expert reviewers spend hours testing and comparing the latest products, helping you choose the best for you. Find out more about how we test.
The popularity of juicing isn't going anywhere, with trendy juice shops popping up in every shopping center, mall, and main street. But what's better than spending $10
a fresh-squeezed juiced packed with antioxidants and other nutrients is making it your own, at home, whenever you want.
Whether you're new to juicing, or consider yourself a devoted juicer, we suggest you consider the compact, personal-sized Hurom HP Slow Juicer, an attractively designed machine that churns out flavorful, nutrient-rich juice. When it comes to juicing, especially slow juicing, Hurom typically comes to mind as the best of the best. They design some of the best juicers and best cold press juicers available.
Hurom is well-known for its Slow Squeeze Technology that rotates at just 43 RPM with a vertical auger to crush and then squeeze out the juice (similar to how you would hand-squeeze an orange) instead of shredding fruits and vegetables with high-speed blades like centrifugal juicers and blenders. This natural motion minimizing damage to ingredients, keeping natural taste and nutrition intact. While this method yields delicious fruit juices, it's also extremely notable for extracting the best nutrients and juices from leafy greens that other juicer types just can't.
Keep reading for my full experience incorporating the HP Slow Juicer into my routine in my ensuing review.
Who will love the Hurom HP Slow Juicer?
We've thought of several groups of those that will enjoy the Hurom HP Slow Juicers. Both new and advanced juicers will love the quality of juice and ease of use. Its function even goes beyond juicing, with the ability to produce nut milk and even frozen mixtures.
The Hurom HP Slow Juicer is also Hurom's most affordable model making it ideal for those looking to try Hurom without sacrificing quality, but not buy the priciest model.
It's also Hurom's smallest, most compact model, making it excellent for personal juicing for one or two people, or those without a lot of counter or storage space. The included juice container is an easy vessel to stow overflow juice as you continue to batch.
Hurom HP Slow Juicer Specifications
Colors: white, green, pink
Type: slow juicer
Weight: 9.7lb./ 4.4kg
Materials: ABS, Tritan, Ultem, Stainless Steel
Dimensions: 7.6" x 6.9" x 15.5"
Cord length: 1.4m
RPM: 43rpm
Chamber Capacity: 350ml
Hurom HP Slow Juicer design
What's in the box?
-Juicer Body
-Hopper & Lid
-Chamber
-Fine Strainer
-Coarse Strainer
-Twin Wing Auger
-Juice Container
-Pulp Container
-Spinning Brush
-Pusher
-Large Cleaning Brush
-Small Cleaning Brush
-Manual & Recipe Book
One of the key highlights of the HP Slow Juicer is its cute, retro design, available in white, mint and pink. It's considered a personal-size juicer, with a more compact footprint. It has a smaller capacity, but that doesn't mean you sacrifice quality.
It comprised of multiple parts, with the sturdy body being made of impact-resistant ABS plastic body, and weighing the most. The chamber is made with durable Tritan, while the squeezing screw and strainers are both made with Ultem, which is 8x stronger than traditional plastics. The parts were definitely on the confusing side to assemble together in the beginning, and my biggest pain point to clean. Sometimes, the cleaning took longer than the juicing.
It's definitely attractive to leave out on display, especially if juicing is part of your daily routine, with a relatively compact diameter. However, at 15.5" tall, it would not fit under the cabinets on my countertop, and since my cabinets do not offer that clearance either, I'll have to separate the body and chamber with a hopper. Luckily the juice container fits neatly inside the pulp container, but that is three components I now have to find space for in my cabinet.
Keeping safety in mind, it features duplicate safety sensors that mean the unit will only operate only if the chamber is completely and accurately assembled on the base. A built-in cooling system with integrated heat vents prevents overheating. The chute is long and narrow even small fingers out, and the unit doesn't have any blades or sharp parts, making it family-friendly to use with kids.
The HP rotates at 43 revolutions per minute to mimic the motion of hand-squeezed juice. This patented Slow Squeeze Technology ensures your juice stays fresh and in its most natural state. It's also highly effective at creating nut milks and with frozen produce.
Another development, most juicers, and blenders are pretty noisy, but the Hurom HP Slow Juicer is nearly silent, and not disruptive at all, making it easy to use first thing in the morning without waking any sleeping family members.
How to use the Hurom HP Slow Juicer
The HP Slow Juicer can take a moment to figure out to assemble. The strainer, you receive both a coarse and a fine strainer, clicks into the spinning brush, before adding in the auger. These pieces connect into the chamber. Then, you'll connect the hopper. Once you mount the chamber to the motor body, you'll be ready to start juicing.
On the chamber, there is a juice pour spout, with a spigot, and a separate compartment where the pulp collects before being pushed out into the pulp bin.
Juicing is incredibly simple. Switch to the ON button and gradually drop ingredients down the hopper chute, and press with the pusher as needed. If the squeezing screw would stop, there is also a REV button to engage to push ingredients back upward.
How it performed
Hurom HP Slow Juicer was extremely easy to use. The accompanying booklets gave insight into how to trim ingredients as well as the best order to juice. It's important to consider their recommendations on how small to cut food parts ahead of time to not clog the machine. I slowly dropped in pieces at a time. While technically a slow juicer, I felt like in no time my juice was ready. And it was relatively quiet too!
Like any typical juicer, it does require large amounts of produce for large amounts of juice.
For instance, three clementines yielded about 150ml of juice, and eight strawberries left me with 200ml of juice. Both were smooth, full of color, and bursting with fresh flavor. If you are looking to quench the thirst of a crowd, you will need to have lots of fruit on hand.
Due to the Slow Juicing technique, leftover pulp is essentially minimal and on the Hurom it always felt rather dry to the touch, making room for optimal extraction. The hole on the machine that the pulp exits through was rather small and required a lot of force to drop into the pulp waste container. Some users from site reviews noted that with fibrous vegetables the portal would clog, but Hurom shared that it's important to make sure food is cut into small enough pieces, as the machine crush, but do not cut, so the pulp that travels through the juicer is going to be the same size as the cut produce.

Cleaning the Hurom HP Slow Juicer
Beyond the juicing-making experience, a big part of use is also the ease of cleaning and maintaining your machine. While the cleaning is not difficult, I found it time-consuming. I counted eight pieces that needed to be rinsed and scrubbed including the hopper, pusher, auger, strainer, spinning brush, chamber, juice container, and pulp container.
The hardest parts to clean were the leftover pulp stuck in the chute of the chamber and residue left on the strainer. Luckily, it included two different cleaning brushes that were convenient to dedicate to cleaning both. No parts were dishwasher safe, and all need to be hand-washed. Putting it back together is confusing at first, but once you figure out how to slot everything in its place, over time, you will get the hang of it. See our how to clean a juicer feature for more tips.
How does the Hurom HP Slow Juicer compare to other slow juicers?
While the price tag feels hefty, the $379 Hurom HP Slow Juicer is actually Hurom's lowest-cost juicer. Quality vertical single-auger juicers don't come cheap. Compared to other Hurom Juicers, it's marketed as compact and best for personal use, with just 350ml of capacity compared to other models' 500ml.
If quick and easy clean-ups are big for you, you'll want to consider the H101 Easy Clean Juicer. As the name suggests, it's easier to clean, with fewer parts to look after. It uses elongated grooves as opposed to a standard strainer that needs just a rinsing. No scrubbing required.
Other popular juicing brands include Kuvings and Omega. Kuvings is known for offering wider chutes that require less prep and churns at 60 RPM. Meanwhile, Omega's juicers are horizontal masticating juicers with 80 RPM speed, and they have settings that you can select depending on what you are juicing. Hurom still squeezes out more juice than both competitors with its slower rotation.
How does the Hurom HP Slow Juicer rate online?
The Hurom HP Slow Juicer is available both directly via Hurom and through Amazon.
On Hurom, it has almost 600 reviews and appears to have about a 4.5 rating, while on Amazon has a 4.4 out of 5 ratings from 300 reviews.
One review that caught my attention titled "Juice of my Dreams", seems to convey my exact feelings on this juicer as well: "This juicer seems to be working very well. I thought it was initially somewhat tricky to fully understand how the parts nest together to fit in the base and secure before being able to use, but I think I have it figured out now. I do love the results. I am impressed with how little pulp is leftover. I enjoy that there are two different strainer/sieves depending on your preferred viscosity in the finished product."
Hurom HP Slow Juicer: Final thoughts
If you're longing to concoct your own juice blends at home, I think you will without a doubt be satisfied with the Hurom HP Slow Juicer, no matter if you're just starting out on your juicing journey, or a seasoned pro. Gone are the days where even the best blender will make your favorite drinks, because the Hurom is a game-changer.
The world of juicing is very vast, incorporating traditional fruits, leafy greens, and even nut blends into new makeups. The HP Slow Juicer will allow you to tap into all of it, and learn about the nutrients and efficacies that go into juice making.
On a performance level, it will transform how you think about fresh juice. It's easy to use, and more importantly, makes the most of your ingredients to extract as much usable juice as possible. The included recipe booklet was also extremely helpful as a guide to determine how much fruit to use for a recipe, and of course, inspiration for what to throw together. I do wish the clean-up and assembly were less time-consuming, but it's not necessarily difficult.
However, due to the time it takes to prep and clean, you'll want to consider if it's worth it for you to invest in. If you're constantly on-the-go and don't want to take the time to prep and clean immediately after, you may be better off heading to your local juice bar. But, if you're a proponent of leisurely breakfasts at home, knowing the exact nutritional information of what you're drinking, or curb trips to your local juice shop in favor of doing it yourself, investing in a juicer of this caliber is an essential must-do.
About this review – and our reviewer
Jaclyn is the US eCommerce editor across the homes titles at Future, including Homes & Gardens. She spends her days tracking the latest buzzworthy releases and testing a variety of products to determine whether they are worth bringing into your home.
As with all our reviews the Hurom HP Slow Juicer has been tested first-hand in our home, using it just as you would so you know exactly what you are buying. The products are given to us free of charge and we test them for as long as possible before sending them back to the brand unless we are able to keep them as we are with this juicer. This enables us to continue to use the product and gives us the opportunity to return to our reviews for updating, so you can keep up-to-date with how it's fared over a period of time.
Sign up to the Homes & Gardens newsletter
Decor Ideas. Project Inspiration. Expert Advice. Delivered to your inbox.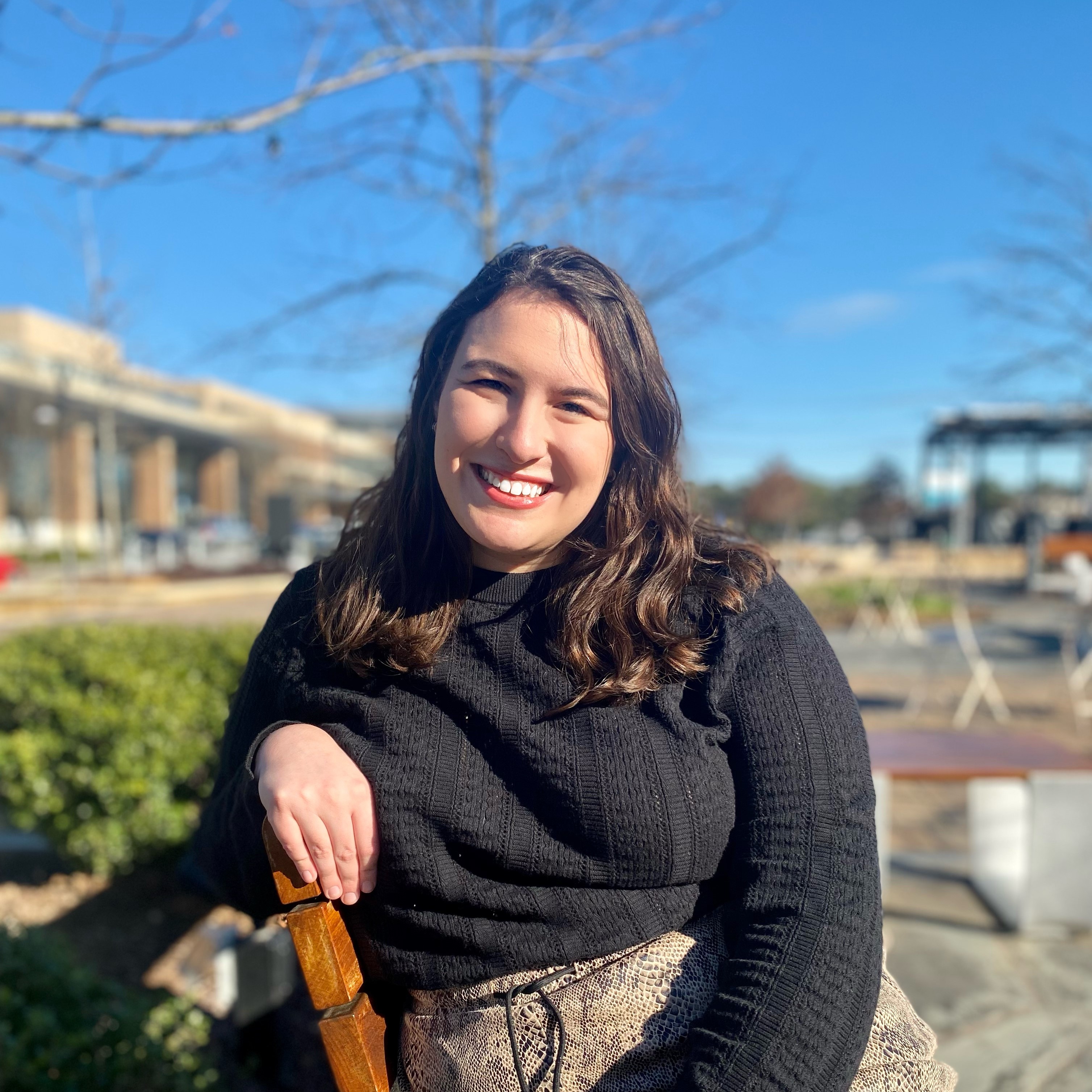 Jaclyn is H&G's eCommerce editor and oversees all things shopping. She's also a bonafide sleep expert, and previously managed all sleep content on Homes & Gardens and Real Homes– in fact, she has passed our five-step certification process to become a verified customer advisor on mattresses. She regularly scouts out the best of the best for buying guides to help you fill your home with only the best. She joined the team in January 2021. She has previously worked with Apartment Therapy, The Kitchn, The Spruce, The Spruce Eats, and MyDomaine. When Jaclyn's not working, she loves browsing real estate listings, unwinding with a chilled glass of Rosé, and entertaining her Cavapoo, Reese.