43 bathroom ideas – stand-out decor ideas for washrooms, ensuites and more
These inspiring bathroom ideas are good-looking, functional and on-trend. Use them to kickstart your remodel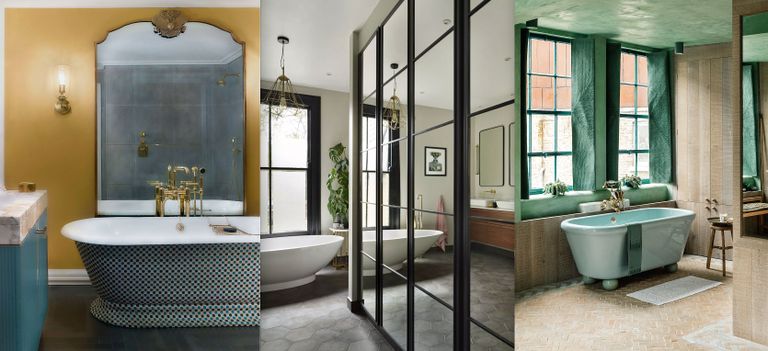 (Image credit: Future)
Where bathroom ideas and remodelling a bathroom might once have been a straightforward project anchored in practicality, we now approach the task with a lot more care and consideration, with the aim to create a more welcoming space.
Usually considered purely utilitarian, functional spaces, bathrooms have since evolved into our own personal wellness sanctuaries.
Bathrooms should be inviting and relaxing rooms which are beautifully decorated but never at the expense of their functionality.
Whether you are planning on updating your master bathroom, upgrading a shower room or turning unused space into a luxurious ensuite, there are now a vast array of bathroom ideas available to suit your taste, from colors and materials to finishes and shapes.
Bathroom ideas for every space
Before you dive in, think about the investment you wish to make. Write down your must-have items (for instance, is a bathtub a non-negotiable?) as well as any changes that need to be made to the existing size and layout of the space that will take up a significant portion of your total spend.
'Bathrooms are much more complicated than people realise,' says C P Hart managing director Paul Rowland. 'There are a great many behind-the-scenes mechanics that need to be considered when creating a functional and reliable space.'
Scroll down for our favourite bathroom pictures and top picks of the best bathroom ideas, giving you inspiration to help you create your dream washroom.
1. Use natural materials and color to create a stand-out space
Wood-panelled walls introduce a warm and tactile quality in a way that a standard painted finish can never achiev, which makes them perfect for a supremely comfortable, cossetting bathroom environment.
In this Shoreditch apartment, based on the fourth floor of a former shoe factory, the architects Chan and Earys used a blend of limed oak brushed timber planks with traditional lime plaster mixed with a natural green pigment on the walls and ceiling. The result is a soft and tactile finish, which is then carried through in the curves of the avocado-green roll top bath by Water Monopoly.
'For a more decorative finish it's all about the finer details that will make your bathroom ooze with elegance. Consider lighting in the form of beautiful pendants and wall fittings, opt for bespoke statement furniture pieces and incorporate softer furnishings, wallpapers and muted pastel colors,' says Leanne Robey, senior designer, Ripples.

2. Double up on showers for a spa space
Uneven polished plaster finishes are a natural complement to smooth glossy elements such as brass and marble often found in luxurious bathroom schemes. The Moroccan tadelackt bathroom wall idea in particular, with its natural grittiness, strikes an interesting counter tone to the even and shiny surfaces.
Installing it is an artisanal skill, explains Jamie Blake of Blakes London who used the finish for this concealed shower and WC: 'You're looking to add just enough movement in the plaster to create interest but not so much that the end result looks messy.' To add a touch of wow-factor, the floors are clad in Carrara marble tiles laid a herringbone pattern which is seamlessly carried up the internal walls.
3. Use unusual tile shapes to create understated drama
When it comes to adding a decorative touch to a bathroom, nothing beats the versatility of bathroom tiles ideas - for the floors, walls, alcoves or backsplashes. For an understated look, play with the shape of the tile rather than the pattern.
Here, Joel Fry of West One Bathrooms chose Ca'Pietra's Zen marble mosaic, a scallop-shaped design which forms a pretty backdrop for the brushed brass tap fittings (a finish which is thoughtfully carried through to the trap under the sink). The curvy border of the backsplash is echoed in the recessed mirror cabinets which add an Art Deco touch to this bathroom.
'I love to mix wallpaper and tiles as it is a fantastic way to play with scale and bring personality to what is often a small space. If I use a large patterned wallpaper, I will usually use a smaller scale tile–it's all about finding the right balance,' says Kate Aslangui, founder, Oakley Moore Interior Design.
4. Create secret storage – imaginatively
Whenever planning a bathroom from scratch, calculate how much bathroom storage is required and be careful not to underestimate the amount. Items used on a daily basis will need open bathroom shelves, but others should be stored out of sight to ensure the space feels serene and uncluttered.
This is particularly true where anything visible might disrupt the impact of the design such as in this bathroom covered in colorful kismet tiles which was designed by Paris-based LSL Architects. The alcove adjacent to the shower has been turned into a unit of drawers built in from the ceiling down and painted in a sky blue to link in with the tile colours. The antique French basin was restored by Water Monopoly.
'Tiles are a good way to inject a bit of color into a bathroom and there are lots of inexpensive, pretty ones around. To save on costs only use wall tiles where you actually need them such as inside showers then get busy with your paintbrush and add colour to the vanity and bath to add warmth,' says Beth Dadswell, Imperfect Interiors.
5. Embrace the new trend for patterned bathware
Across the board, bathware pieces are taking bold strides away from decades-long unwritten rule that they should only ever be white.
From the '70s favorites of avocado or dusty pink to sunny yellows and elegant navy, there's been an explosion of color on the market recently. But why stop at a plain bathroom colour ideas when you can have pattern?
That's the approach that decorator Irene Gunter took to this lower ground floor bathroom, with the bath wrapped in a woven fabric: 'Everything about this space was about creating warmth. It had no natural focal point, so I hung the mirror behind the bath to ground the space and painted the walls in mustard yellow to tie in with the brassy tones of the tapware.'
6. Choose bold brassware for a showstopping look
Brassware is an important part of any bathroom and should be considered early on when you start thinking about how to design a bathroom.
'You can create a statement in any bathroom, even the most compact ones, with more essential elements, such as a sculptural shaped basin, a striking-coloured vanity or an unusual finish of brassware. Faucets are working parts that have continuous water flowing through them,' explains Yousef Mansuri, Head of Design at C P Hart. 'They are the most used and have the highest potential to break, so investing in high-quality fittings that stand the test of time is essential.'
7. Embrace interesting materials
Marble adds a sense of luxury and helps make your bathroom feel more expensive, too. This is why, more often than not, it's a design feature often found in hotel bathrooms and spas. High-quality slabs will be water-resistant, but due to its mineral nature, marble still requires regular maintenance.
'What I love most with marble is the activity and coloration,' comments Cara Woodhouse, who designed this bathroom above. 'I also love the fact that all stones are different and have their one of a kind unique markings and colors.'
Applying an additional sealant during installation will help avoid premature wear from harsh cleaning products.
8. Highlight architectural details using bold colors
When deciding on your bathroom decor, you may want to choose bathroom art ideas as a starting point and use the colors present throughout your space. Remember that water-resistant formulas should be used if your bathroom is being painted.
'Don't forget to paint your ceiling in the same tone, or one that complements the walls – you will be amazed at how often your eyes are drawn upwards when you are relaxing in the bathtub,' suggests Ruth Mottershead, Creative Director at Little Greene.
9. Create a rustic feel with wood panelling
Lighting designer Tom Raffield's home is a masterclass in designing with timber – and this ethos goes right through to the bathroom. Untreated floorboards are reminiscent of a beach hut, while the pendant lights were inspired by sea urchins.
10. Keep the bathroom floor clear
When you have a small bathroom and limited space to work with, opt for wall-hung sanitaryware or sanitaryware that sits on very slim legs, like in the bathroom above.
Wall-hung units will create the illusion of more space and make a small bathroom look bigger. If you want a freestanding bathtub, choose one with feet to elevate the tub.
11. Choose lighting that stands out (rather than blending in)
Lighting should not be overlooked, as the bathroom lighting ideas you choose can have a huge impact on the look and feel of your bathroom.
'Assess your lighting at the planning stage to maximise opportunities,' advises Peter Bowles, founder of Davey Lighting at Original BTC.
'You need two types of illumination when planning your bathroom lighting: shadow-free task lighting for functional tasks, such as shaving and applying make-up, and ambient lighting for when you simply want to lie back and enjoy a soak,' he adds.
Make sure all lighting fixtures have the appropriate IP (Ingress Protection) rating, too.
12. Paint the bathroom floor for vintage appeal
Frills and ruffles are back on trend as we hanker after nostalgic decorative bathroom trends. But for us, the star of the show in this space is one of those bathroom ideas you don't see too often in a wet space: painted wooden floorboards.
'I have a wooden floor in my bathroom, and those floorboards are over 100 years old, because they are original to the house. However, they stand up really well to moisture because they are well protected with yacht varnish,' says Homes & Gardens Editor in Chief, Lucy Searle. 'Mine are lime-washed but I love this look which is crisp but vintage.'
13. Squeeze in a tub – even in a tiny space
If you have your heart set on a freestanding tub but are restricted on space, consider a reduced-depth model, like this compact design from The Albion Bath Company.
What material the bathtub is made of may be a deciding factor, too – while a cast-iron tub may have a high-quality appearance, it's weight may be a drawback if your floorboards are not reinforced.
14. Opt for sanitaryware that stands out
Bright pops of color don't have to be restricted to the wall anymore, with options to have colorful washbasins and toilets, tiles and even brassware greater than ever before. Warm, earthy tones create a sense of calm, whereas bolder hues can feel more energizing.
15. Indulge in an exotic wallpaper design
Chinoiserie is having a resurgence in popularity at the moment – and the bathroom is a wonderful place to indulge in it – although we should mention that it looks fabulous in powder rooms, too.
16. Delight in the details
Want to create a cohesive look? Try sticking to a theme. Wherever possible, make sure you see samples of all the bathroom paint ideas you are considering, fabrics, tiles and even your brassware. Check they work well together before committing to a full order.
You don't want to have your whole bathroom tiled before realizing it doesn't match with the furniture you picked out.
17. Pick an on trend tile shape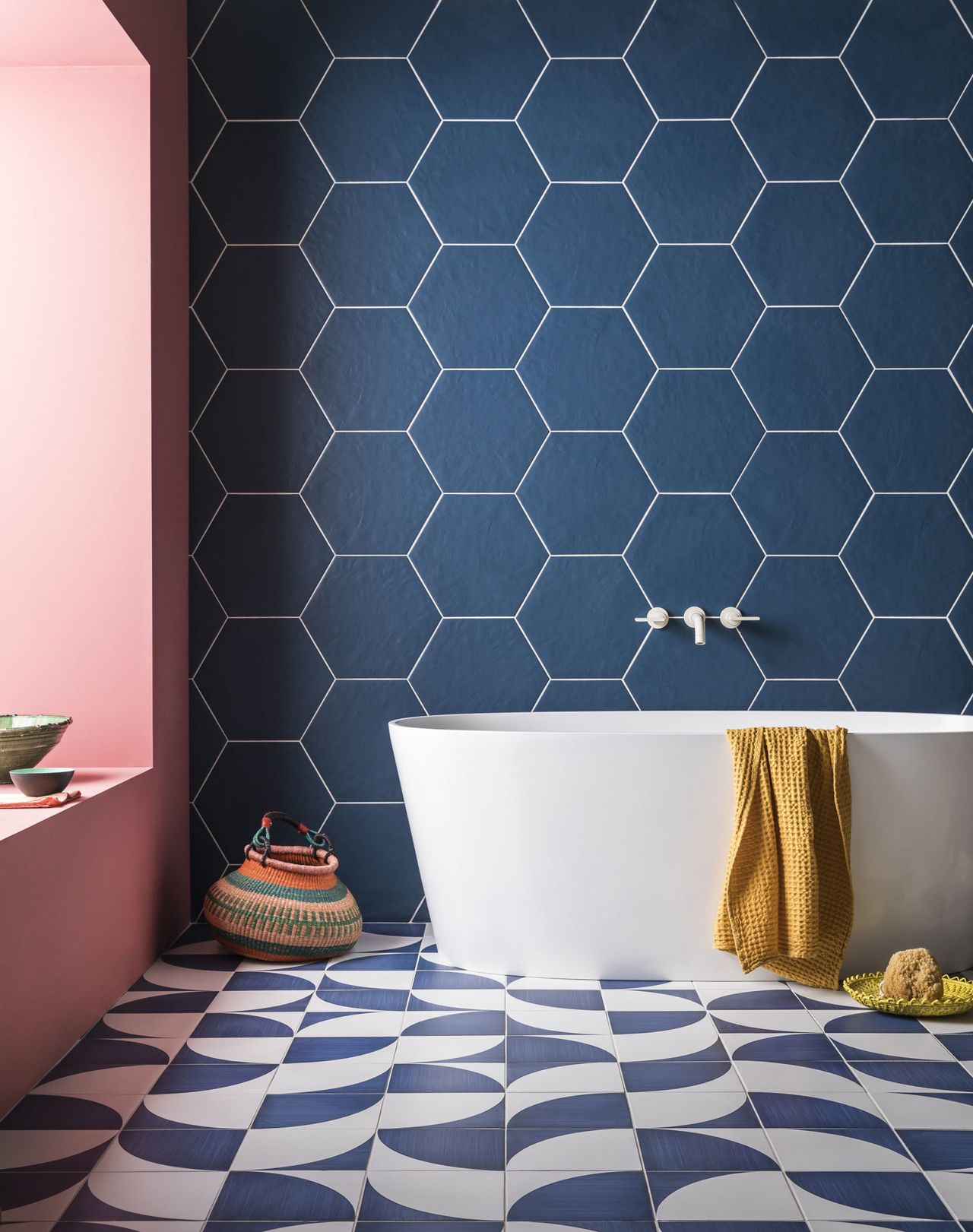 Hexagons are the tile shape for the year ahead. Importantly, larger format, matte, one-color tiled walls are more on trend than intricate patterns for this tile-shape.
This, of course, gives you a wonderful opportunity to use color-blocking within the bathroom for a dramatic finish – whether you choose bold shades or a more neutral approach.
18. Combine vintage pieces with new hardware
Vintage bathroom vanity ideas are on the rise in bathroom design, and can be combined with new traditional-style fittings that match without compromising on functionality.
And wall-mounted mixer faucets work well in compact bathrooms, as the pipework can be hidden without the need for a pedestal.
19. Include exotic stone for a stand-out feature
Introducing exotic stone is another wonderful way of lifting a bathroom scheme. Real stone requires a larger budget, but you can find convincing lookalikes that are just as beautiful, without the high price tag or care and maintenance.
This basin is actually custom-made from 6mm-thick porcelain tiles to create a convincing natural agate.
Bathroom Design Studio's managing director John Naughten says, 'Thanks to the many advances in surface technologies, the design of porcelains inspired by precious stones are now incredibly lifelike, yet offer far easier cleaning and no aftercare.'
20. Be smart about storage
Maintain a clean and clutter-free washroom by making sure you have plenty of storage worked into your design. Compact spaces especially will benefit from smart small bathroom storage ideas.
Keep everyday items such as toothbrushes and soap close to hand, while cleaning products and extra toilet rolls can be stored out of sight in cupboards or drawers.
21. Introduce terrazzo for color and texture
Terrazzo is another material that's seeing a resurgence in our homes – something to consider when looking for bathroom ideas for surfaces such as countertops, backsplashes and even floors. Or, you could use it in a focal space, such as to line a shower.
It comes in a myriad of finishes and colors, so you can create a scheme that's unique and perfect for your space.
22. Add accessories to make your bathroom characterful
Don't forget about finishing touches – towels, soap dispensers and objets d'art can help pull together the final look of your bathroom. Folded clean bathroom towels are a thoughtful touch in a guest bathroom.
Just make sure any valued items are situated away from wet areas of the bathroom to avoid getting splashed.
23. Make a feature of your bathroom heating
Not only will a heated radiator keep towels warm and dry in your bathroom, but it can also help reduce the relative moisture in the air.
But how about going one step further and installing underfloor heating? This is definitley worth considering if you're looking at wet room ideas and there are two options to choose from - an electric system or a wet system.
Electric systems are often preferable in smaller spaces as they are easier to install, whereas a wet system connected to your central heating tends to have an expensive initial outlay but may be more cost-effective in the long run.
24. Create a decorative link between your bedroom and ensuite
Create a link between your bedroom and adjoining ensuite bathroom by using similar design cues throughout both spaces. With this in mind, you may adopt the same colors or use complementary materials between the two rooms.
For example, here, the monochrome pattern on the wallpaper in the bedroom is complimented by a similarly colored pattern on the bathroom floor, and the rich copper hue on the lampshade is echoed by the bathroom lighting.
25. Choose organic materials
While organic materials such as wood and stone are becoming more popular bathroom flooring ideas to evoke a feeling of wellbeing and connection to nature, they are not always the most practical solution.
Fortunately, there are alternatives available. 'It is now possible to achieve the look you want without the challenges and maintenance the real material can bring,' says Jo Oliver, Director at Stone & Ceramic Warehouse.
'Wood-effect porcelain tiles, for example, can also be supplied in large formats, which reduces the potential for leaks,' she adds.
26. Express yourself in your bathroom decor
The terms 'classic bathroom' and 'maximalism' don't tend to go hand in hand, but that's not to say they shouldn't.
Now's the time to bring your personality into your bathroom decor. If bright colors and bold patterns bring you joy, then you are more likely to enjoy spending time in your bathroom.
27. Go for gold bathroom fittings
Another way to elevate your bathroom design is to switch up your brassware.
While chrome fixtures offer a classic look, popular finishes such as gold and even rose-gold can add an interesting element – and are one of those bathroom ideas that can even be retro-fitted if you are not planning a complete renovation.
28. Play with pattern on walls and floors
To make a real impact in a small shower room or wet room, match your bathroom floor tile ideas to the tiles on your walls. Not only will this add wow-factor to your bathroom, but the continuous running pattern creates a sleek, seamless look. Think of it as the equivalent of using a bold wallpaper.
29. Define zones with decorative bathroom ideas
Larger bathrooms benefit from definitive zones. Use different colors and materials as markers in your bathroom, such as patterned or colored bathroom tiles in the shower or around a vanity unit.
Another option is to add privacy screens in front of the shower or WC, which can be particularly useful for busy family bathrooms.
30. Work in hidden storage to enhance space
When working with a smaller space, pieces with dual-functionality are a must.
Take a mirrored cabinet as an example; not only can you keep your bathroom tidy by hiding away toiletries, but mirrors will help to reflect light around the room.
31. Go bold with wallpaper
'Don't be afraid to use a bold, statement wallpaper in the bathroom, it's a great way of injecting personality into a small space and can bring character and warmth,' says Lee Clarke, Director at Warner House.
'If you are worried about using wallpaper in a bathroom, ask your decorator to use a water-resistant finish when installing,' he adds.
32. Go all white to stretch the space
Whether your main bathroom or guest bathroom is on the compact-side, opting for white bathroom ideas will make it feel larger, lighter and brighter.
In this bathroom by LA-based designer Stefani Stein, the bathroom has been made to feel larger with narrow tiles hung horizontally, which tricks the eye into seeing the space as wider than it is – this visual trick is useful for correcting awkward proportions.
In an all-white bathroom, it's important to add some texture, detail and warmth. Here, gold-finish fittings add warmth, detail is added in the patterned floor tiles and, of course, you can easily add texture with accessories such as baskets and towels.
33. Hide the toilet behind a screen
This is a simple but very effective bathroom idea – a see-through screen that hides the toilet. Of course, you could erect a half- or foreshortened wall here, but his simple solution allows light to penetrate into the entirety of the room, and allows a clear view of the window beyond.
34. Go for a monochromatic bathroom scheme
Black and white bathrooms can be extremely elegant if you get the balance right: namely, more white than black, but black in key places, such as the sides of a freestanding bathtub.
Our advice? Add warmth to the space with natural accessories, such as basketwork and colorful towels.
35. Be adventurous with the layout
This bathroom layout is planned for impact. The glass panel directly behind the bath in this bathroom is also the shower screen for the enormous walk-in double shower.
The other clever detail is the tiled wall that matches the floor: it creates a smart, streamlined finish that not only frames the bath in the view, but is also warm and interesting to look at.
36. Maximize natural light with smart shutters
Bathrooms benefit from plenty of natural light so if your washroom is lucky to have an excess of bathroom windows, it's worth investing in shutters instead of light blocking drapes of blinds.
Shutters will to allow you to maintain the right amount of privacy when required and open out the space to full light when not.
37. Pair black bathroom fittings with bold colors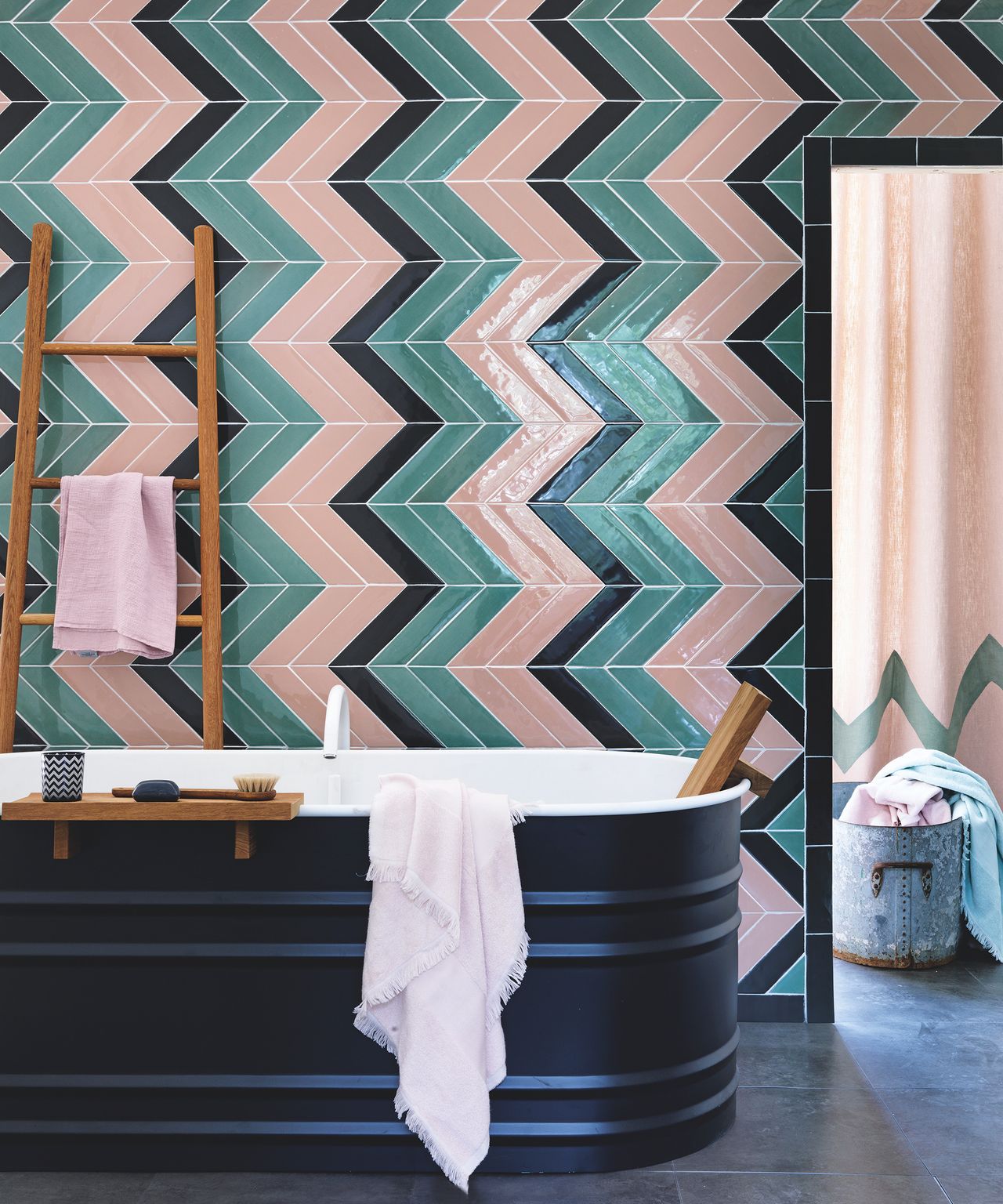 Black works wonderfully well with a large selection of colors. Colored tiles laid diagonally are all the more eye-catching against dark flooring and fittings.
38. Choose sage green for a relaxing haven
Green bathroom ideas are still incredibly popular and sage is a chic green hue that adds a more mature spin on the pastel trend that comes back year on year. Its muted tones are softer on the eye, but it still uplifts a room as much as a brighter more poignant shade would do.
39. Repeat tiles on an accent wall to enhance space
In a small bathroom, running tiles from the floor up on to the accent wall behind the bath will help make your space feel cohesive – and will trick the eye into seeing it as bigger as it really is. Pick a tile that's not too busy – a two-color tile will be calmer, especially if it is in a cool color.
40. Choose vintage chic for charm and character
Whether you want to ensure your interiors are in keeping with your period property, or jump on the trend for vintage, this timeless theme will always be here to stay.
In the bathroom, think gold tones, curvy accents, artworks, statement chandeliers and a statement freestanding bath.
41. Let statement tiles take the limelight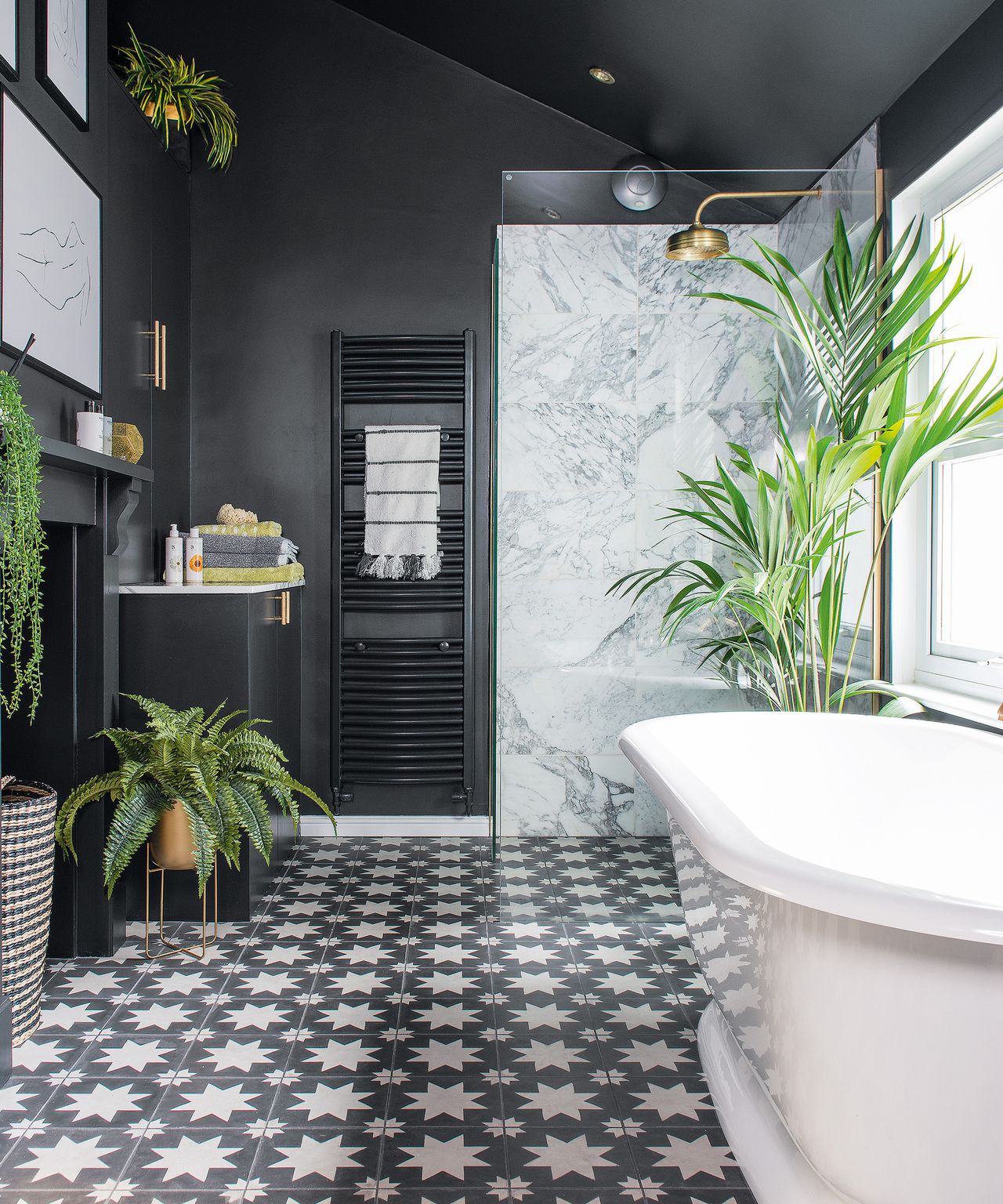 Statement bathroom tiles can bring a new dimension to a washspace and elevate the space. Whether you choose monochrome patterns for the floor or tile up the wall by your basin, it will add a point of visual interest.
To elevate your design further, mix it up with different shaped tiles such as hexagons or a mixture of large and small squares joined together.
42. Pick Crittall-style framing for screens
Fitting well into the industrial style, these dark and rather striking windows add sharp angles and allow for plenty of light to flood into the modern bathroom above.
But they don't have to just be used as windows; Crittall shower screens are also proving ultra-popular and make a cool alternative to clear glass.

43. Use an extravagant wallpaper above dado height
In this inviting bathroom, the block color of the wall panelling and floor allows a wonderfully whimsical wallpaper with a strong motif to shine. Meanwhile, understated border details on the curtain and the towels help to pull the look together for a cohesive feel.
You can find more cottage bathroom ideas in our dedicated gallery if you love this style.
How should I decorate my bathroom?
If you're wondering how to decorate your bathroom, there are several aspects you need to consider - no matter what size the space is.
Firstly, the essentials. Every bathroom will need a WC, basin, bath or shower (often both), including all the accompanying brassware.
The layout of your space will determine the placement of these elements, as well as the size and style. Lighting should also be planned early on, as ideally you will need to account for both overhead lighting and task lighting. The same goes for heating, too.
Once you have an idea of where everything will go, you can start to decide on the bathroom decor. 'Bathrooms can sometimes be the last room that's thought about when it comes to decorating, and it can be easy to forget that it should also be a space to decompress, relax and enjoy,' says materials specialist Fameed Khalique.
'The same attention to detail and personal touches applied to other rooms in the home can be done here, too.'
Finally, when all the work is finished and your new bathroom is ready, put in place your towels, soap dispensers, candles and artwork to complete the look.
What are the on-trend colors for bathrooms in 2021?
So, you've got your layout sorted, now it's time to think about the on-trend colors for bathrooms in 2021.
In keeping with the popular opinion that bathrooms are a place for rest and relaxation, there is currently a shift towards warmer colors.
'The ever-so-popular cool grey is moving towards softer shades of clay and beige, and trendy baby pinks are also being replaced by earthy terracottas,' says Yousef Mansuri, Head of Design at C.P. Hart.
'Keeping in line with the natural trend, wood is increasing in popularity, with raw or reclaimed textures becoming more of a stable,' he adds.
Yvette's first steps into interior journalism came several years ago when she joined the team at specialist consumer magazine Kitchens Bedrooms & Bathrooms, which is where her love for home design (and obsession for decorating) began to truly flourish. She worked on the title in a variety of positions, before being appointed as Features Editor on Essential Kitchen Bathroom Bedroom magazine, further cementing her voice as an expert in the three core rooms of our homes.
During her years working in London, it became a running joke that Yvette wanted a fully stocked cocktail trolley in her apartment but would need to leave the city if she wanted to afford – and comfortably fit – one in her own home. Funnily enough, in 2019 she did exactly that, and can now be found sitting happily in her spacious Bristol adobe, cosmopolitan in hand.
With a keen eye for new trends and innovations, Yvette continues to write about homes and interiors as a freelance journalist, sharing tried and tested advice for renovation projects and top tips for transforming your home into something beautiful.