Window treatment ideas – 30 ways with curtains, blinds and shutters for every room
Find beautiful window treatment ideas of every style, for every room in your home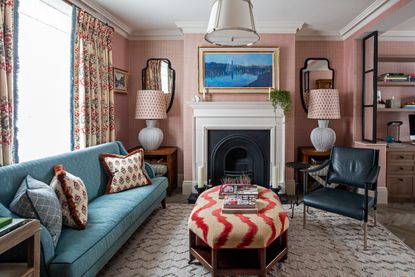 (Image credit: Henry Prideaux/Tom Sullam)
Window treatment ideas are myriad. Fulfilling a vital practical function of blocking out noise and light and providing privacy, they are also amongst the most influential decorative features a room can have.
Both functional and decorative, curtain ideas and window blind ideas are the barrier between inside and outside. They shield us from harsh light during the day and are drawn tight at night. What's more, window dressings create privacy from prying eyes.
Equally, like a stand-out painting, window treatment ideas can bring character and verve to an interiors scheme or be a quiet counterfoil to a flamboyant scheme.
So why spend money on beautiful paint shades and great quality furniture if you're going to skimp on the window dressing ideas? They are the finishing touch to your interior design – that final piece that completes the space.
Window treatment ideas
There are rules to follow to help you get window dressing ideas just right. These address certain issues like ceiling height, dealing with color and pattern and the big question – do you let them drape?
We've pulled together a range of decorating ideas for window treatments, with expert tips on how to deal with the most common issues so you can make your room feel fabulous.
1. Team a patterned blind with wallpaper
'When you already have a patterned wallpaper,' explains Irene Gunter, founder of global interior designer studio Gunter & Co, 'choosing a subtle fabric in a mix of soft colors that match tonally is a good way to embrace the maximalist trend in your home in a way that is a little less overwhelming.
'It's a good idea to use blackout lining as this ensures the fabric doesn't look overly yellow, which can happen when the light shines through.'
2. Hang a Roman blind to soften a bathroom
A pretty Roman blind is a sure winner when it comes to window treatment ideas. Window blind ideas will add softness and character to a contemporary bathroom space. Here, a simple motif on the blind is reminiscent of Indian woodblocks, and chimes well with other elements of moody Eastern influence.
For blinds or curtains to work well in a bathroom, make sure your room is well-ventilated to prevent any mildew developing. Avoid full-length designs if you can – or at least ones that hang on the floor – and opt for a lightweight fabric that will not only maintain privacy while letting in sunlight, but will also dry quicker in case they do get damp.
Shown here is a Roman blind in Tasha's Trip in Charcoal, linen by Kit Kemp at Christopher Farr Cloth and edged in Newport Galon braid from Houlès. The bath is Drummonds.
3. Choose a decorative Roman blind to add color and pattern
Be creative with bespoke Roman blinds for window treatment ideas. You can bring a decorative aspect to windows by choosing fabrics that reflect and echo your soft furnishings – on your window seat ideas and beyond.
It's also important to determine whether a style of the blind is appropriate for the window and that the scale of the design complements the other fabrics in the room.
'I often use a sheer Roman blind within the reveal and a more decorative design on the outer,' says Janie Money, associate director at Sibyl Colefax & John Fowler. 'If you use a plain material, define with a contrasting trim.'
Shown is Carsina fabric in red/sage with Corin Braid trim in tomato/teal both Colefax & Fowler.
4. Pick a slubby linen for a relaxed, country appeal
Whereas a bedroom benefits from black-out blinds, a kitchen is a place to welcome in the natural morning light, for more inspiration, see our kitchen window ideas.
Roman blinds, which fold up rather than roll, which aren't too heavy work well in this breakfast area by interior designer Sophie Ashby at Studio Ashby, as they allow you to control how much light comes through.
5. Frame a window to create a focal point
A 'lambrequin' is a traditional design technique that provides a window treatment with a dramatic edge, and is a fabulous way to jazz up a window with a blind so it becomes almost architectural in style. Interior designer, Henry Prideaux explains, 'I am always delighted when there is an opportunity to use a lambrequin layered over a Roman blind within a suitable scheme, framing the window like a theater set to give a space structure and gravitas.'
6. Pick solar shades for bright rooms
A bright room that you spend lots of time in during the day is wonderful, of course, but if you have noticed that your furnishings are suffering from fading, you might like to consider solar shades, which allow light in – unlike black-out blinds – but are made from a material whose weave blocks some of the light.
'Solar shades now come in stylish and beautiful options, and are great investment pieces for larger spaces such as a living room,' explains interior designer Mary Patton. 'Preserving energy and protecting your furniture from the sun is a major plus.'
Remember that fabrics with tighter weaves will allow less light in – this means you can specify the weave to suit the amount of light control you need. And, if you can't reach the shades' mechanisms, motorized solar shades are available.
Mary's favorite place to shop solar shades? Stoneside, who will allow you to select from a wide range.
7. Pick a roller blind that's picture perfect
Find window treatment ideas that looks just as good as the real view behind it. This blind by Surface View features Dedham Vale by John Constable is from the V&A collection.
'Artwork can bring drama, beauty and a little fun to windows with roller blinds that are unlike anything you will have seen before,' says Michael Ayerst, managing director of Surface View.
This kind of window treatment ideas help to create an inspiring office space no matter what time of day.
8. Create the illusion of ceiling height
One of the biggest issues with dressing windows can be low ceilings, we're not all blessed with stunning high-ceilinged rooms, so tricks need to be employed to create the illusion of height, as London-based interior designer, Henry Prideaux shares below:
'A trick that good designers often use – if a window is low in proportion to the ceiling height, is to position fittings as high as possible so that curtain ideas are hung above the top of the window frame to draw the eye upwards making the room feel taller and the overall effect more dramatic.
'In a similar way, Roman blinds don't necessarily have to sit immediately on top of the window. They can be fitted slightly higher and then pulled down to conceal any expanse of bare wall above the window to make the elevation appear taller allowing the window treatment to be more appropriate within the rest of the room.'
9. Create a luxe look by going door to door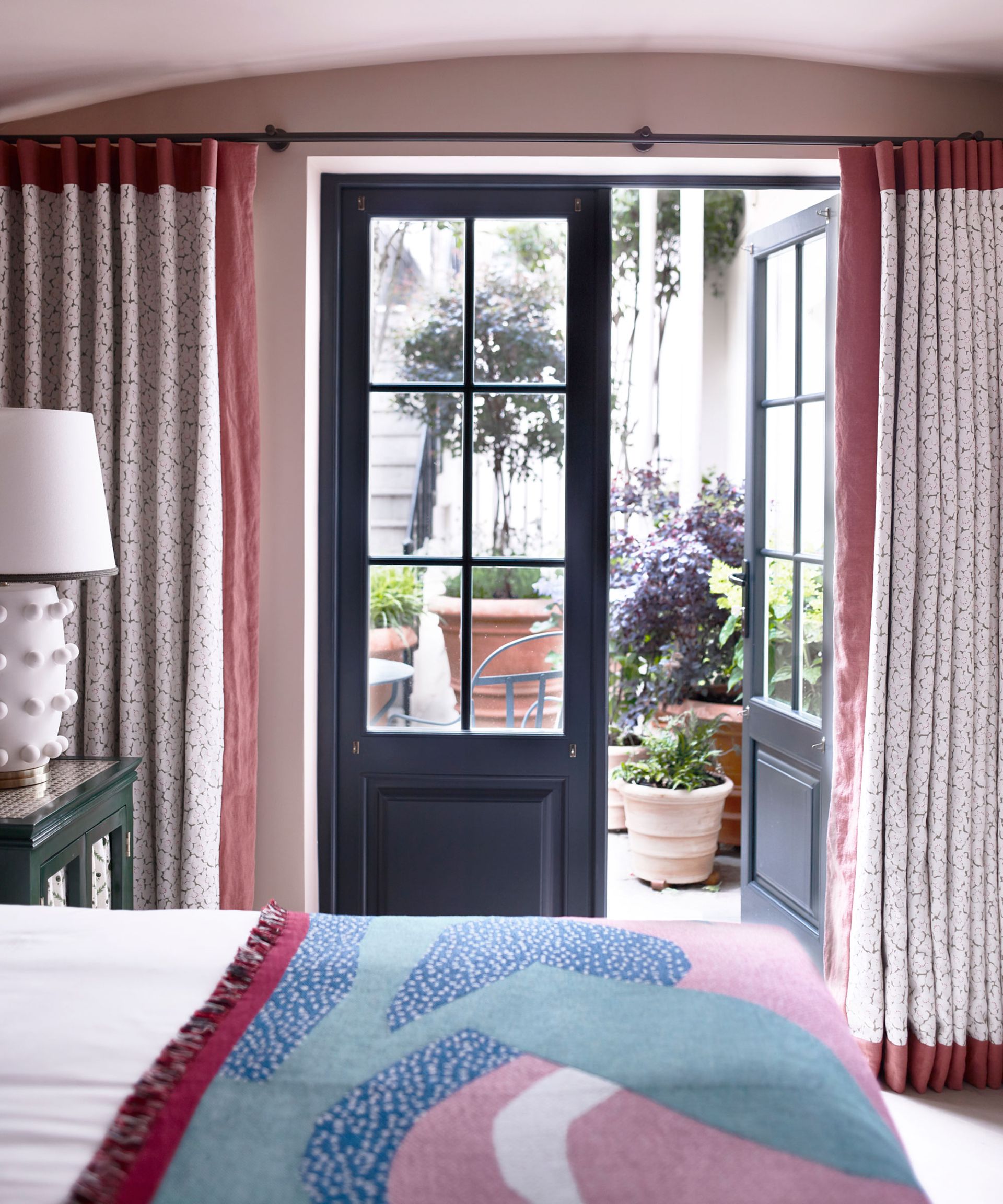 The requirements of window treatment ideas will vary room to room, but they are all designed to provide levels of privacy, shade, soundproofing and warmth.
If you are looking for bedroom curtain ideas, think luxury. In this three-bedroom London maisonette design by Gunter & Co, the bedroom has double doors which lead out onto a patio. Wall-to-wall curtains were added in front, not only to help block out light and sound when the room is occupied, but by using heavy fabric floor-to-ceiling, the curtains will also help keep out any unwanted drafts.
'We worked with a palette of rich colors to make the most of the daylight on offer in the property, from lighter colors in light-filled spaces to warm and rich shades in darker spaces,' says Irene Gunter, founder of Gunter & Co.
As well as these practical elements, the rich textures and deep folds of the Christopher Farr Cloth fabric in the curtains help to create a cozy atmosphere in the bedroom when drawn, a great bedroom window treatment idea.
10. Correct uneven proportions with window dressings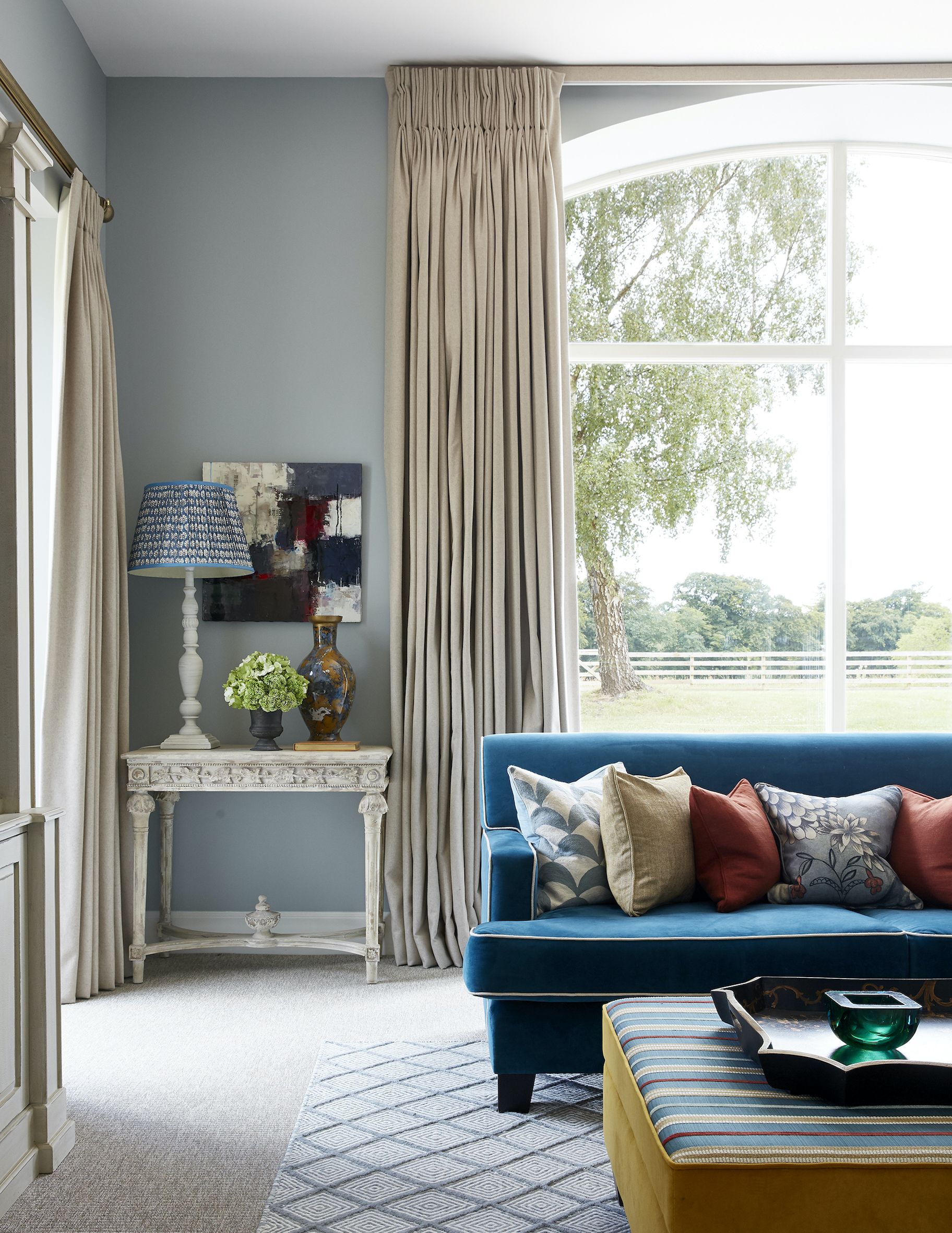 Potentially more of an issue in older properties but a tricky issue nonetheless, so we enlisted the advice of Emma Derterding, founder and creative director of Kelling Designs for her solution:
'If you have windows at various heights within the same room, then I'd always utilize these to give the illusion space. For the higher window, take your curtains right to the ceiling as this will make the room feel taller and make the most of the ceiling height.
'For lower windows, fit the curtain rail to above the window leaving the wall above exposed as this will help balance the space and give a sense of grandeur.'
11. Choose a warm shade for a cool room
A pelmet, also known as a cornice board, is a box frame used to conceal the top of curtains, and is commonly found in classic-style interiors.
Pelmets can be made by using foam core or plywood to create a structure which can either be painted a similar tone to your walls, or upholstered in fabric to match the curtains hung beneath.
Though largely a decorative feature giving prominence to windows, they – and other window valance ideas – are also designed to help conceal and also offer additional insulation around your windows, which is why they are so popular in older buildings such as this Kensington townhouse.
Here, interior designer Christiana Syrris, then at Studio Indigo, used a bold mustard hue both on the walls and the window dressing. This technique provides a modern twist while also adding depth and interesting within a singular color palette.
12. Use curtains as a decorative backdrop
Great for modern curtain ideas, you can use patterned curtains to create a design statement – almost like a backdrop to the rest of your scheme, this will work especially well if the fabric is quite sheer and light can seep through them. We asked Emily Mould, Design Director at Romo and Black Edition for her advice on using patterns.
'Creating a maximalist statement has evolved to become much more considered, moving away from the pattern clash of the past. Choose a hero pattern and introduce color, print and texture around it, allowing the design to take centerstage whilst layers of print and color add depth and textural touches to make a harmonious interior.'
13. Work with the room proportions you have
'Opt for floor to ceiling curtains, ensuring there are no gaps. This look adds height to a room, while keeping a clean and simple aesthetic. And attention to detail goes a long way, explain Jenna and Mariana from London-based Interior Fox.
'For example, we like to swap out the eyelets to match the curtain pole. This simple but effective technique makes all the difference and helps to create a more unified and custom look.
'Gone are the days of shorter curtains, they feel dated and can make a window feel small and boxed in. Instead create a cohesive look by complementing the curtains with the wall color.'
14. Tackle a corner window cleverly
If you're lucky enough to have a beautiful corner window then dressing it correctly is key to maintaining the light and character of the space – this might be a particular issue if you are looking for cottage curtain ideas which often have to address tricky spaces. We asked Harry Cole, founder of Loom & Last how to deal with this tricky window treatment.
'Corner windows offer a great source of light, but it can be a daunting decorating decision when dressing them. Simplify the design process by treating each window as a single unit and hang each pair of curtains on separate rods. To ensure unity within the space, position the rods at the same height to create an L shape, but remember to allow enough room between the brackets.'
15. Choose a bold layered look with curtains and wallpaper
Looking for bold and beautiful window treatment ideas? These Osborne Red curtains from Blithfield, make a strong statement alongside the Iznik wallpaper in Madder Pink from Rapture & Wright at The Fabric Collective.
The secret here is to keep the density of color the same. Taking center stage is the side table that breaks the intensity of pattern.
16. Opt for a feature length curtain
Floor-to-ceiling curtains can create a sense of height in a space, and a contemporary solution is to conceal the track in the ceiling cavity. These are the Vedra Amarilla curtains from the Livingetc collection for Hillarys.
17. Create another dimension with a layered feel
'Floor length curtains create warmth and layers of texture in a sitting room or bedroom,' says interior designer Natalia Miyar.
'If the room has strong statement furniture, I choose a soft, textured fabric or multi-toned curtains to subtly add another dimension to the space.'
The curtain fabric used here is from Dominique Kieffer by Italian company, Rubelli.
18. Merge indoors and out with botanical prints
A curtain filled with dense foliage will echo the greenery outside. This is English Oak fabric in Teal by Linwood.
When thinking about window treatment ideas, draw the eye through the room with a piece of furniture. Here a pouffe is upholstered in a linking design – SN Schwarzwald Col 1 by Dedar.
19. Layer with a valance to create a statement
Often used for living room drape ideas, in a period property, we can use the character of the original features and inspiration of the past to recreate window dressings how they used to be. In this instance, the valance complements the rest of the scheme and frames the beautiful window seat area perfectly – ideal if you are researching country curtain ideas.
Carlos Garcia, interior decorator at Carlos Garcia Interiors shares what he did:
'I chose a valance to give softness, warmth and a touch of understated opulence to the room. The loosely hand gathered heading adds informality too and suits the beautiful Robert Kime floral linen.'
20. Follow through on the rest of your scheme
Your guest bedroom is a perfect opportunity to get creative and design a scheme reminiscent of boutique hotel interiors. These curtains run the course of the walls, and were custom made by JAB Anstoetz to match the velvet-upholstered sofa bed nestled in between.
21. Get the colors right
The easiest way to get the color right is to match to your existing scheme. By that, we mean the key colors, so in this room, we have the paprika walls and natural chair. Both these shades can be seen in the curtain fabric and they create a cohesive feel.
If you love your fabric then why not have an armchair covered in the same design? Matching like this is a big trend this year and it ties in with the maximalist look that's doing the interior rounds too.
22. Create a cohesive feel with matched patterns
'Almost any fabric can become a blind and, as with curtains, we recommend the use of beautiful linings,' says Emma Clarke, director of Warner House. 'Blackout should be a consideration depending on the room and interlining material for an elegant finish.'
Shown on the windows here is Warner House's Balmoral Olive.
Adding tape or bullion trims to the bottom edge creates interest bringing individuality to your scheme. Try layering both curtains and blinds for warmth and depth.
23. Choose the right fabric and drape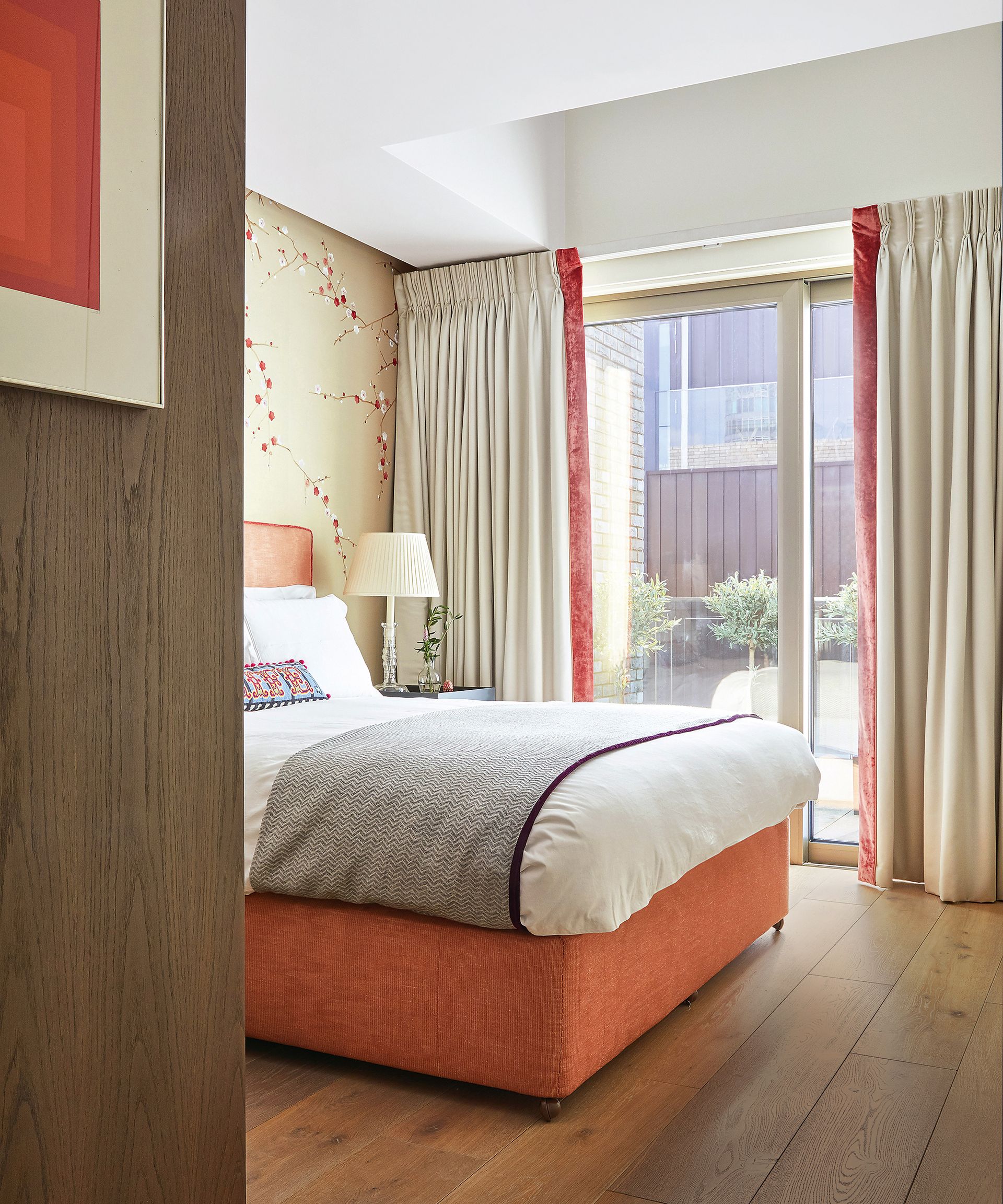 Molly Freshwater, Creative Director at Secret Linen Store explains what she looks for when it comes to choosing the right fabric and drape:
'I always think of window dressing as the final finishing touch to your room. The color is important, but for me the fabric and drape is at the top of my curtain list to get right. My first rule of curtains is that they should be long to the floor and in the case of 100% linen curtains, even longer.
'If it's an airy, bright feel that you want in the room, it has to be 100% linen. These curtains let the light dapple through, and give you privacy at the same time. They can be drawn back to almost nothing during the day, and if you want to tie them they are so light, you need only use a lovely ribbon.
'If you need to keep the light out completely, a blind behind the linen will do this job and leave your room looking light and airy as and when you want it.'
24. Use shutters for privacy, shade – and color
Shutters aren't just for indoors – they are making their way outdoors, too, to create cool shade on a south-facing porch or for providing privacy on a porch that is overlooked. They are a wonderful tool for extending your indoor space outdoors – and for providing a colorful backdrop. Of course, a pale green is wonderful for linking that transitional zone to the foliage outdoors.
It's vital that the shutters you choose for this purpose are made from materials – and have fixings – that are tough enough to stand up to temperature fluctuations and downpours.
25. Consider shutter color carefully
Louvered shutters like these look effortlessly elegant – and are wonderful for bedrooms because they can filter out noise, dirt and even the cold.
However, it's worth making a point or two about the light levels of a room and how they are affected by shutters. First – most shutters don't block out light as efficiently as other window dressings, although the darker the shutter color, the more effective they are at dulling early morning light. Secondly, the color of your shutters will alter the color of the light that filters into your room: white shutters will reflect white light in; yellow shutters will make a room feel sunnier, whereas grey shutters will make a bright room feel cool.
26. Choose Venetian blinds for a streamlined look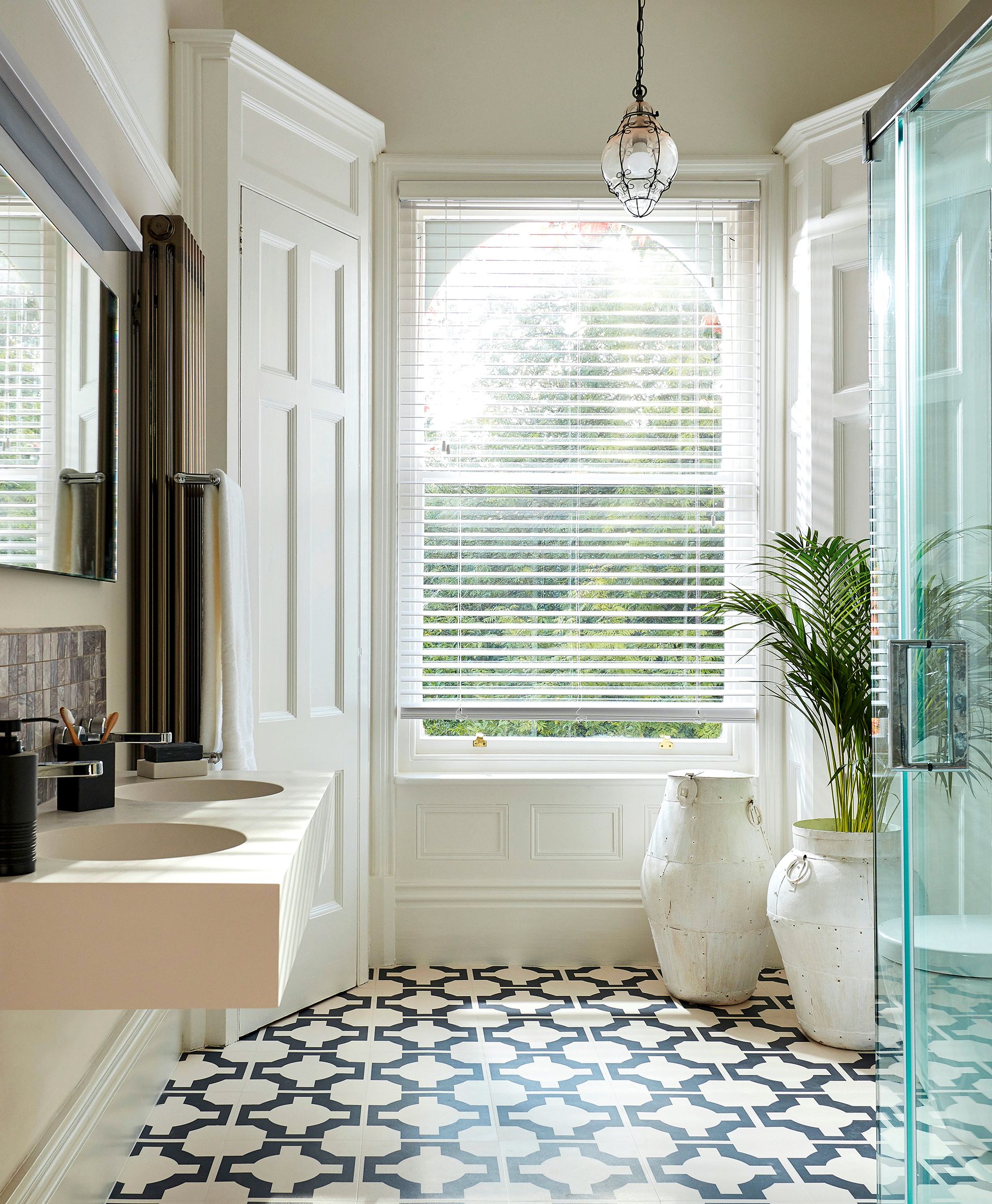 Venetian blinds are super smart, practical – and perfect if you are on a budget or furnishing a rental home. From outside, they give the impression of shutters – but at a much lower price. Like shutters, they do gather dust, so white or pale finishes are better for disguising this and creating bright rooms.
27. Co-ordinate curtains with upholstery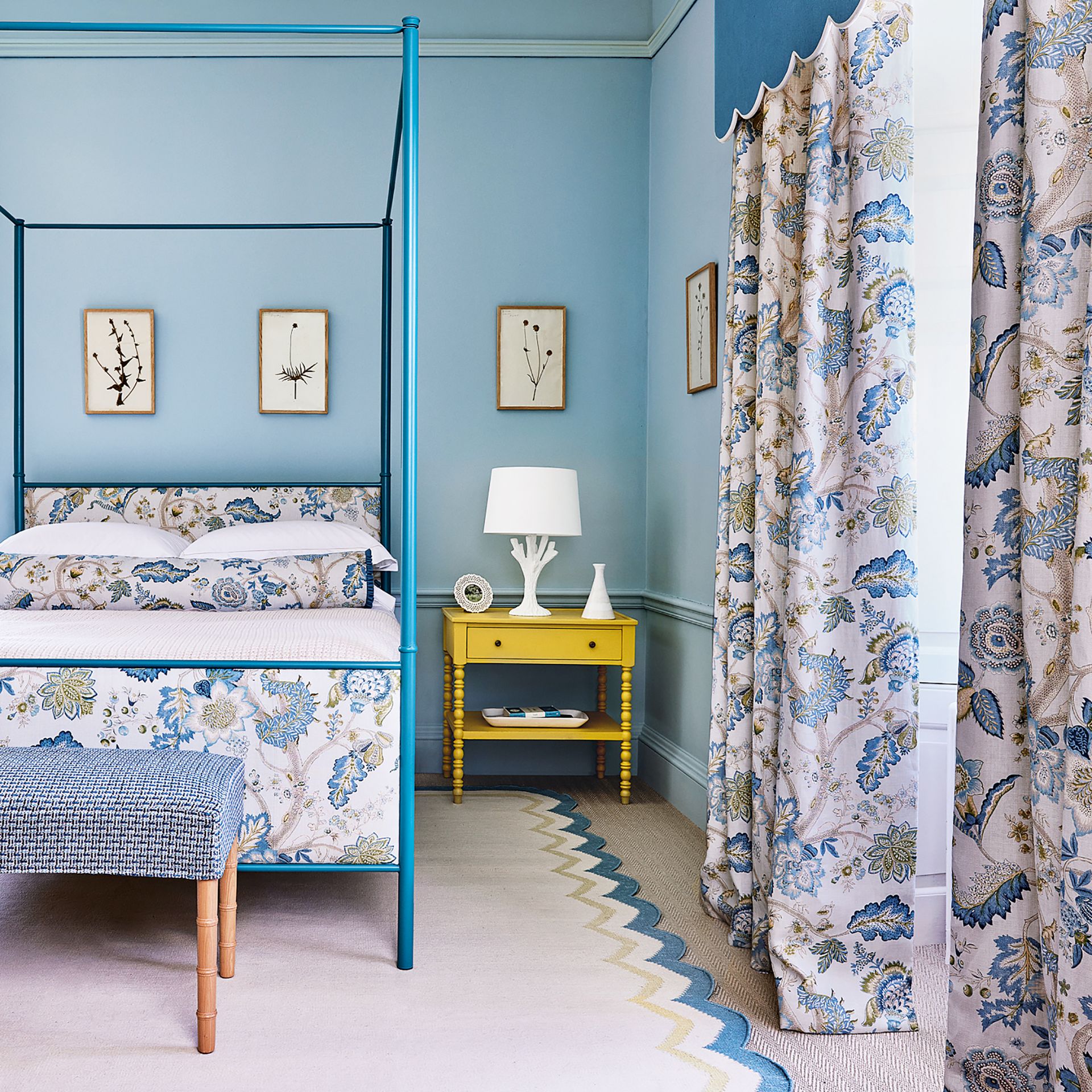 Opting for decorative fabrics over curtains and upholstery is a brilliant way to inject colour, pattern and personality into a bedroom. Covering the headboard and bed frame in the same design as the curtains will not only make a beautiful statement, it will also help create a cohesive, unified look. However, if you've considering doing this, then the key is to introduce additional, subtler fabrics throughout the room to soften the strong print advise the experts.
'Using the same pattern on two items in a room creates cohesion, however, don't make it too matchy matchy,' says Ella Richards, head of design at Linwood. 'You need to add elements of surprise – the bedroom would be rather dull without the dark blue pelmet, the footstool with its tweed-style weave and the dash of yellow from the bedside table. It's all about little surprises.'
28. Channel the ruffle trend with a ruched blind
Making a feature of bathroom windows with a fabric blind is a brilliant way to inject pattern, colour and personality into what can feel cold, clinical spaces. Ruffles are all the rage at the moment so why not create a nod to the look with a ruched 'London' style fabric blind?
'Bathrooms often feel stark and cold, full of hard surfaces and bright white finishes, adding a large scale floral fabric ruched to create a 'London' blind with a contrast or striped trim delivers a touch of whimsy, creating a considered and joyful interior,' says Richard Smith, founder & creative director, Madeaux
29. Balance light and privacy with a venetian blind
Venetian blinds have adjustable horizontal slats, also known as louvres, which allow you to control light levels whilst maintaining privacy – this makes venetian blinds a perfect choice for bathrooms, plus, depending on the material they can be water-resistant and can be easily wiped clean which is important in moist areas.
'As bathrooms are usually quite steamy rooms, roller blinds with polyester or polyester mix fabric are practical choices as they are resistant to damp and humid conditions and are easy to wipe clean. Alternatively, Wood Impression venetian blinds offer the look of real wood but with the water resistance suitable to a bathroom environment,' says Jackie Hoyte of Blinds2Go
30. Choose full length curtains for a traditional look
For a traditional living room consider curtains in decorative prints inspired by historic designs such as this Palampore tree of life design from Warner House which draws from the exotic chintzes printed in the 17th-century on the Coromandel Coast for the European market.
'Almost any fabric can be used as a curtain provided it has beautiful drape. Best quality curtain lining and interlining materials give a luxurious finish, enhancing the beauty of the fabric and accentuating shape and fullness,' says Lee Clarke, Director at Warner House.
'We believe "more is more" and in almost every instance we would advise curtains should be full length: puddled for a traditional feel, or flush to the floor for a modern finish.'
'Be generous with your widths to avoid lacklustre, thin curtains – show off color and design with sumptuous fullness,' advises Lee Clarke. 'Hang curtains above the window frame for extra height and to showcase a fabulous sweeping design. We love the pinch pleat heading: triple pinch for a heritage look, or the double pinch for a sleeker finish.'
What window treatments are popular today?
Our edit of the best window treatments ideas are in style for 2021: they include both decorative Roman and roller blinds that add layering and comfort to a room to more pared back blinds that provide solar shading; for curtains, luxurious layered looks are popular amongst interior designers; shutters are perennially popular and are even finding their way on to porches; for rental properties, Venetian blinds provide streamlined, smart looks – but on a more affordable budget than shutters.
How do I measure up for window treatments?
Follow measuring instructions carefully for the specific blinds or curtains you wish to order and the situation you want to fit it into, such as a bay window or patio door or standard rectangular window. These are provided on most retailers' websites. Use a metal measuring tape as fabric tapes can stretch or give inaccurate measurements. Also decide which side you want the controls on for convenience of use.
How do you decide whether to fit inside or outside the recess? Leah Brandwood, Head of Design, Blinds 2go, explains this will depend on whether your window has a recess or not and what obstructions there are to fitting the blind inside the recess, such as handles, window fittings and the direction the window opens.
'If the space is clear then it comes down to personal preference, but most people prefer to fit their blinds inside the recess and curtains are fitted outside the recess,' she says.
How do I choose a curtain header?
The main options are eyelet – usually where large, metal rings are set within the fabric at the top of the curtain and easily loop onto a curtain pole – or pleated – a more classic look where gathered folds run along the top of a curtain which can be attached to a track or a pole with hooks. There are then further variations between these looks, which all give slightly different appearances.
'At Warner House we love the pinch pleat heading; triple pinch for a heritage look, double pinch for a sleeker finish,' says Emma Clarke, director, Warner House. 'Be generous with your widths to avoid lacklustre, thin curtains. Hang curtains above the window frame for extra height and to showcase a fabulous sweeping design.'
Once you've decided, you can then start to have fun choosing a curtain pole, or take a look into pelmets to cover the top of the curtain entirely.
How do I pick a pattern for my window treatments?
'There are a range of practical and aesthetic considerations when choosing curtain fabric,' says Emily Mould, Design Director Romo and Black Edition. 'Consider whether you want to make a statement with a strong color, pattern or contrasting texture or whether you want a subtler look with a plain, textural neutral or muted pastel shade.
See: Cottage curtain ideas – inspiration for a pretty, cozy home
'A bold, large-scale design can create a striking focal point and will work best when used for large windows where the full repeat can be fully appreciated. If you have smaller windows, opt for a small-scale pattern to create a more refined look.
'Consider the quality of the material; an elegant lightweight sheer can gently diffuse the sunlight whilst dressing your windows with more substantial fabrics such as luxurious wools or sumptuous velvets can help prevent drafts and retain heat.
'Color is also important; pale earthy blues and greens can provide a relaxing haven whilst rich shades of plum or scarlet create an intimate space and luxuriant tones of ochre or burnt orange can induce a feeling of warmth.'
Sign up to the Homes & Gardens newsletter
Decor Ideas. Project Inspiration. Expert Advice. Delivered to your inbox.
With over 30 years of working in journalism on women's home and lifestyle media brands, Rhoda is an Editorial Director, Homes Content, at Future. Over time, Rhoda has worked on the entire homes and gardens portfolio including Homes & Gardens, Country Homes & Interiors, Livingetc, Ideal Home, Style at Home, Woman & Home, 25 Beautiful Homes, Amateur Gardening and Easy Gardens. She was also editor of Country Homes & Interiors for 14 years, leading it across print and creating the blog Country Days. She has also worked at Woman's Weekly, Family Circle and Practical Parenting.