Bedroom curtain ideas — 10 tips for perfect sleep space drapes
These bedroom curtain ideas include luxurious linings, eco-friendly picks and sunlight-banishing fabrics so you can find the drapes of your dreams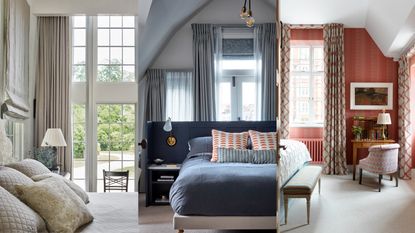 (Image credit: Emily J Followill/Beth Webb Interiors/K&H Design/Kit Kemp)
When it's time to tuck away the day, the right bedroom curtain ideas will not only make your sleep space look and feel great, but help you sleep soundly too.
Thinking carefully about your drapes is a crucial part of putting together your bedroom ideas. Taking up a substantial surface area that stretches from floor to ceiling, they can make a huge impact on your design scheme.
Whether you want your curtain ideas to blend in with a relaxed scheme or make an impact with a pop of color or pattern, aesthetics are obviously important when it comes to curtains, but so is their ability to keep out sunlight when you're trying to get your beauty sleep.
Bedroom curtain ideas
For tips on picking bedroom curtain ideas that don't only look good but leave you feeling well rested too, we asked the experts for their advice.
1. Pick a curtain heading that suits your style
From bohemian bedroom ideas to slick modern looks, pick a curtain heading that fits with your personal style.
'Different curtain headings will create distinctive looks,' says Mariana Ugarte and Jen Choate, Co-Founders of Interior Fox.
'Those looking for a modern and sleek finish should consider a curtain track system. Alternatively, for a more relaxed look try tie-top curtains. They are increasingly becoming more popular, they feel light, airy, and add a rustic element to your window.'
In this white bedroom, a fresh neutral look is accented with a black curtain pole that ties in with the picture frames and out-of-shot sideboard.
'When working with eyelet curtains make sure to coordinate the eyelet color with the chosen curtain pole,' advise Ugarte and Choate.
2. Go long
If you're looking to add a feeling of decadence to your master bedroom, take your curtains to the top.
'Give height and drama to the room by hanging the curtains higher than the window. This will elongate the window and make best use of the natural light,' say the Interior Fox duo. 'When measuring the window, make sure to take the full length so the curtain drops to the floor with no gaps.'
In this dark bedroom by Murphy Deesign, a small space with relatively short windows is made to feel taller with the use of George Spencer Designs fabric hung substantially above the window frame, teamed with a white ceiling that contrasts with the dark blue walls.
3. Bring pattern into a simple scheme
Curtains are a great way to add visual interest into a room, and stretch it from top to toe. If you're looking to add interest into a generally simple bedroom scheme, pick a small format pattern that borrows its colors from accents across the room.
In this blue bedroom by Studio Duggan, a neutral backdrop of grays is enlivened by a Moroccan-inspired blue and red curtain pattern. To tie a curtain pattern into a room, drop patterns of a similar scale elsewhere, or even use the same pattern on cushions, as demonstrated here.
4. Sleep tight with a blackout lining
First and foremost, curtains are for blocking out the outside world and that includes any unwelcome natural light.
'If the curtains are for the bedroom I'd suggest a blackout lining with integrated interlining. This will obstruct early morning sunlight, keep your room cool throughout the summer months, warm in winter and provide the best drape,' says Harry Cole, Founder at Loom & Last.
'Blackout lining is also a good option for living spaces at the front of the house as it restricts visibility and helps to maintain privacy.'
Blackout curtains don't have to look heavy either. These Loom & Last curtains are blackout lined, but give the external impression of lightweight cotton.
5. Go eco-friendly with linen
Using natural materials is among the top bedroom trends right now and if a trend is good for the planet too, we're all here for it.
'Linen works best for an eco-friendly curtain choice,' says Cole. 'The advantage to choosing this natural material is that it has very little impact on the environment unlike many of the synthetic materials. Made from flax plants that require little water or pesticides, linen is regarded as the most sustainable fabric.'
In this room by interior designer Beth Webb, a linen-style curtain shows how the look can also marry rusticity with sophistication.
6. Make the curtains one of many colored accents
Curtains are a great way to bring a generous pop of color into a room, especially modern curtain ideas. With just one item, you can transform a neutrally painted room and really lead its color story. Pair it with accents of the same color group around the room to create a coherent scheme.
This guest bedroom is given warmth thanks to pink accents of different shades throughout the space, contrasted with rich leafy greens. Creating a color scheme through soft furnishings is an excellent option for the likes of kids' rooms, where you may not want to commit to an all-out paint job.
7. Pair your curtains with a blind
Blackout linings aren't the only way to fortify your curtains' light-shielding abilities.
'Alternatively, we like to pair curtains with a blind,' say Choate and Ugarte. 'Not only does it filter out the light and increase privacy, but it also creates a visual focal point that is sophisticated, timeless, and chic.'
This has been achieved in this gray bedroom by K&H Design, where an unusual window arrangement is turned into a centerpiece through the use of an additional sheer curtain and a blind that takes color inspiration from the bedding.
'It's important to ensure the fabric of the blind and curtain complement one another. Picking out a color within the fabric or pattern of the curtain is a good place to start,' say Choate and Ugarte.
8. Add a luxurious lining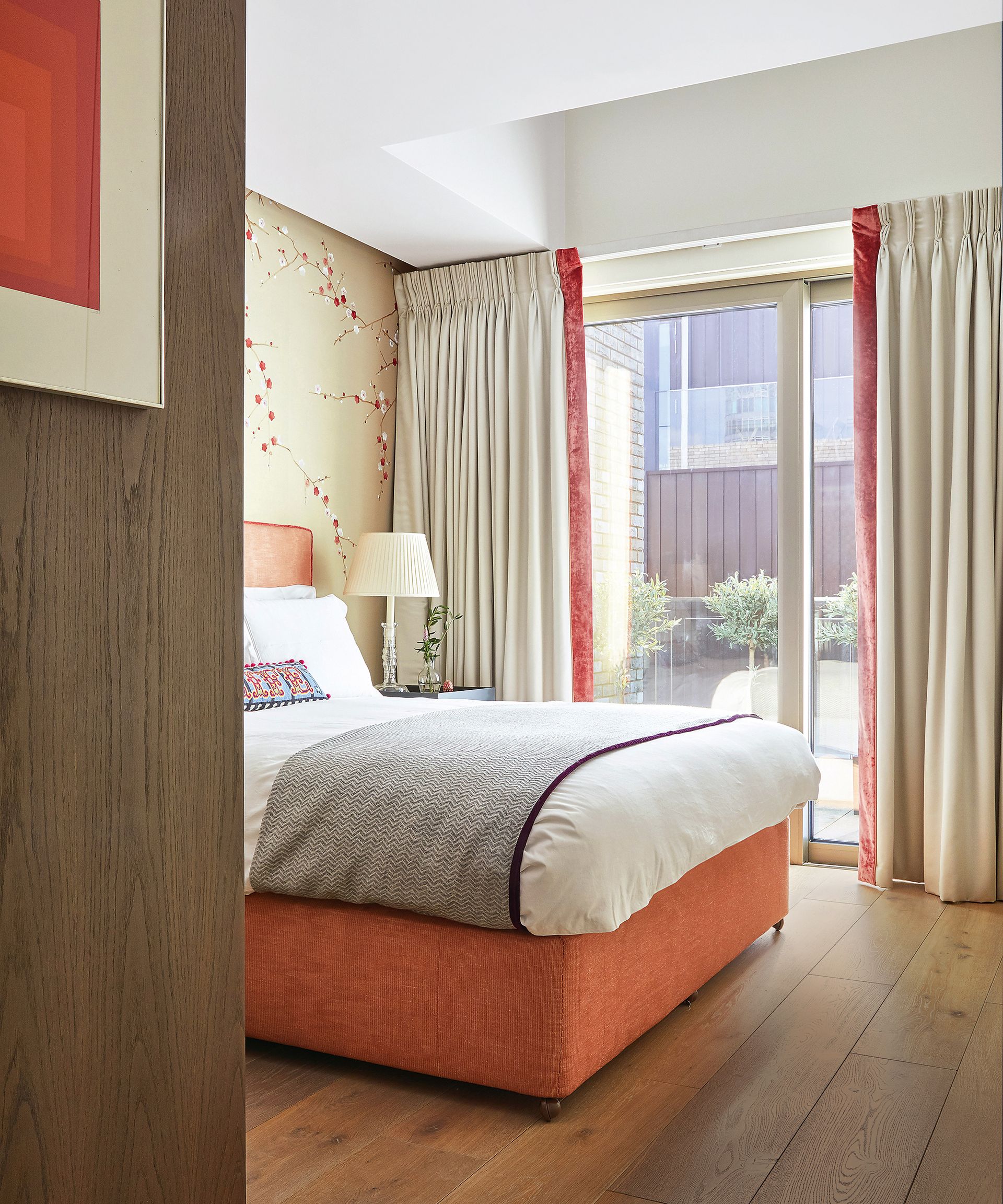 Remember, a curtain always has two sides and that means you can have double the fun - a great option for curtain closet ideas.
While not strictly necessary for rustic linen alternatives, including a lining into traditionally formal curtains is essential for making them feel finished and substantial.
To boost your luxury bedroom ideas, add a lining that adds a subtle touch of texture or deep color to channel thoughtful opulence. In this bedroom, a set of taupe curtains are lined and trimmed with a plush orange-red velvet for a delightful surprise.
9. Keep it neat with a lath and fascia heading
If you're not quite brave enough to dabble in the pelmet's comeback, there is a more subtle way to create a neat heading to your bedroom curtains, explains interior designer Kit Kemp.
'A covered 'lath and fascia' is very different to a full pelmet and is a more contemporary hanging mechanism, formed of a corded metal track fixed to a board. The track is then hidden from view by a 5cm fascia.'
Usually covered in the same fabric as your curtains, a fascia allows for a neat and discreet curtain rail covering that doesn't drop in front of the window, allowing maximum light in.
'It allows an elegant pinch pleat curtain to remain on show as the curtain sits in front of the fascia rather than under and behind it when the curtains are closed,' says Kemp.
10. Finish with a trim
If you never like to leave a job unfinished, tie up your curtain design with the ultimate closer.
'Add a contemporary twist to your window dressing with a decorative trim or pattern along the edges. This can make all the difference and can transform simple curtains into a modern design statement,' say Choate and Ugarte.
'We're known for our love of detail and the same applies when it comes to curtains,' says Kemp, who designed this bedroom with red curtains finished with a bright blue and red spotted trim.
'We love to add detail to the leading edge, whether it be a braid, trim, piping or contrast fabric'.
Which curtains are best for the bedroom?
When choosing curtains for the bedroom, it's important to think about how you sleep.
If you or any other occupants are light sleepers that tend to wake up with the sun, then you may want to choose curtains that are primed for blocking out light. Choosing heavier fabrics will do this, or consider adding a blackout liner to that lighter fabric you've fallen in love with.
If you're wedded to the idea of breezy, slightly sheer curtains, consider layering them, or teaming them with a fitted blind that can be employed when you need the room to be as dark as possible.
How do I arrange my bedroom curtains?
In contemporary bedroom design, a laidback feel is what's really on trend, so be prepared to let your curtains do what they want. If you are really keen to tie them back, cords and ties will feel more relaxed than wall-fixed holdbacks.
Think also about the length of your curtains.
'For a look that feels more luxurious, go one step further and add additional length to the curtain so that it gathers at the bottom,' say Ugarte and Choate. 'An additional 3-6 inches is necessary for this technique. This style is more appropriate for rooms with less traffic, where the floors aren't cleaned as often.'
Sign up to the Homes & Gardens newsletter
Decor Ideas. Project Inspiration. Expert Advice. Delivered to your inbox.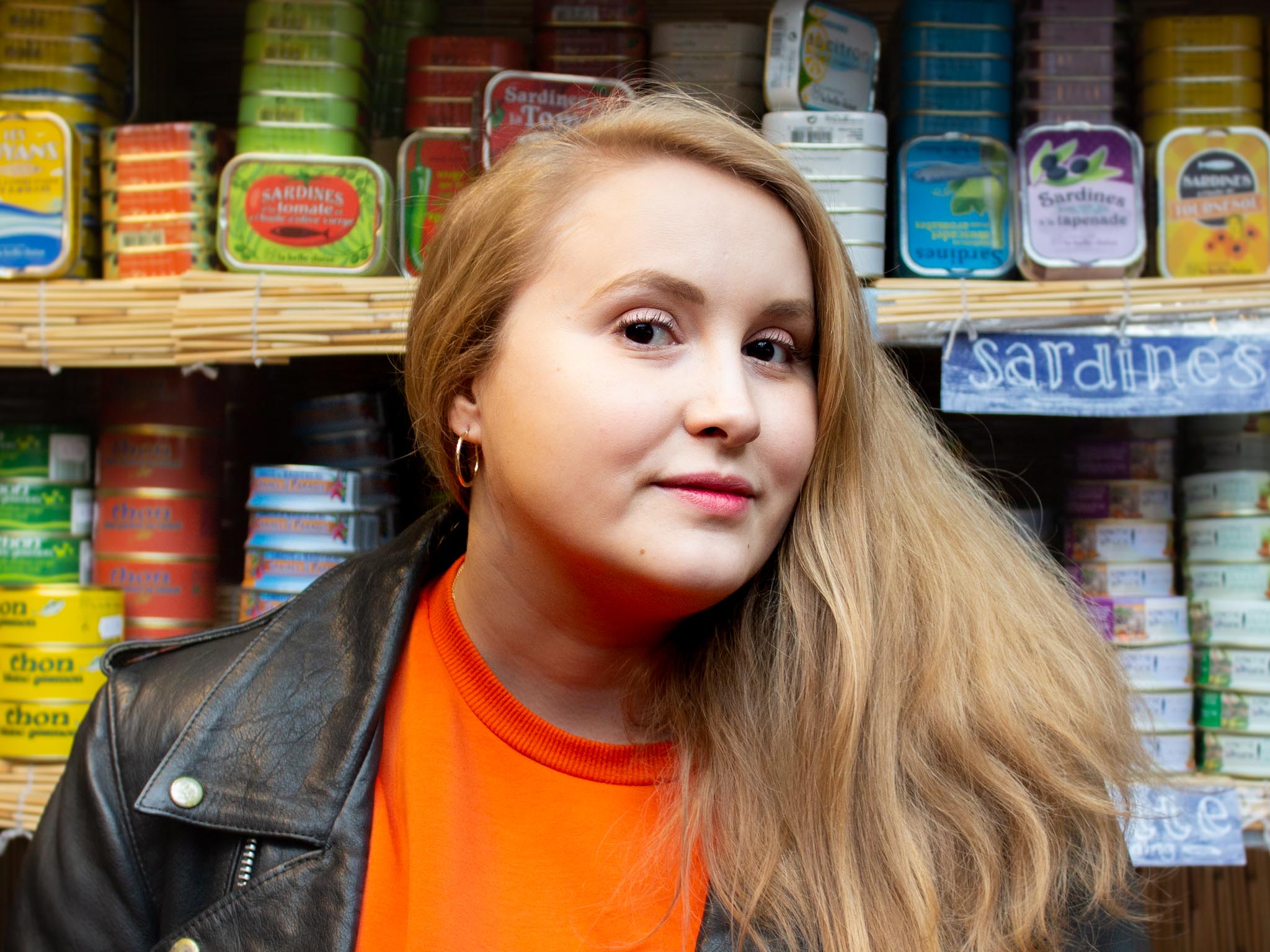 Ailis started out at British GQ, where a month of work experience turned into 18 months of working on all sorts of projects, writing about everything from motorsport to interiors, and helping to put together the GQ Food & Drink Awards. She then spent three years at the London Evening Standard, covering restaurants and bars. After a period of freelancing, writing about food, drink and homes for publications including Conde Nast Traveller, Luxury London and Departures, she started at Homes & Gardens as a Digital Writer, allowing her to fully indulge her love of good interior design. She is now a fully fledged food PR but still writes for Homes & Gardens as a contributing editor.