How can I divide a bedroom into two rooms? 9 ways to create a multifunctional – and stylish – space
Expert tips on how to divide a bedroom into two rooms – without having to build a structural wall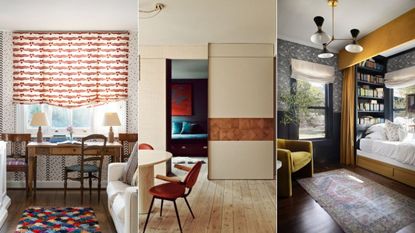 (Image credit: Ben Collins / Michael Sinclair / Urbanology Designs / Photograph Matti Gresham)
If you're a little short on square footage, or simply want to optimize a larger space, you may be wondering: 'How can I divide a bedroom into two rooms?'
Whether you're looking to improve your bedroom layout ideas, or find that you need your bedroom to double up as an office or yoga space, you don't have to get the builders in to achieve it.
'There are several ways that we can approach delineation of space within a room,' says Anna Popov, Principal at Interiors by Popov. 'We find the most effective and creative way to start is to approach the solution with a visual element.
'For example, different wall finishes like paint, wallpaper, textiles and even wall paneling can be a great place to start when defining different zones within a room.'
Need a bedroom that's versatile as well as chic? We've rounded up a host of ideas on how you can divide a bedroom into two below to help inspire your next project.
How can I divide a bedroom into two rooms?
From simple ways to divide a bedroom, such as with a curtain, to design techniques with color and pattern, to more involved ideas, such as internal half-walls, this is how to get the job done.
1. Color block on walls to visually divide the bedroom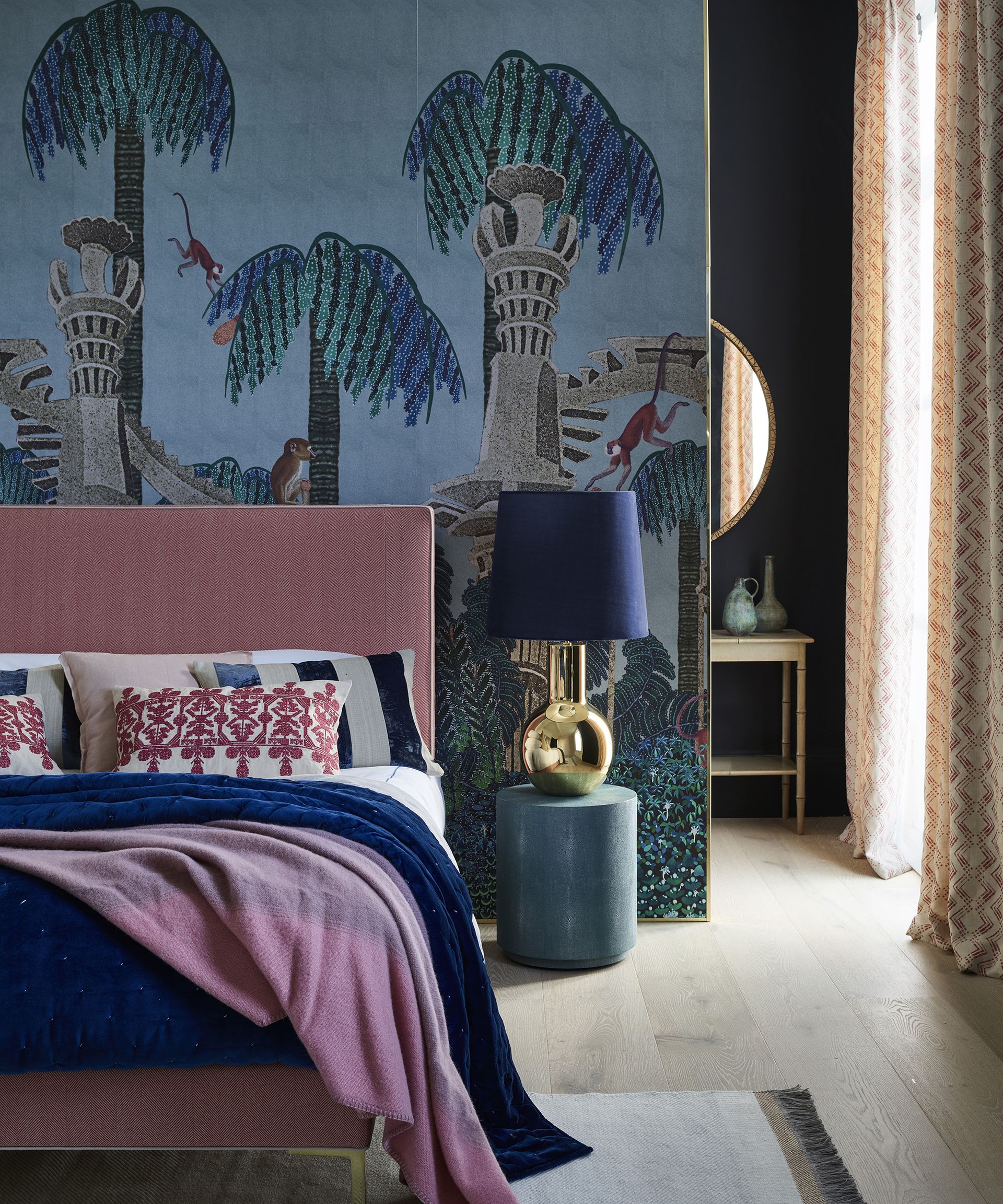 Whether you use bedroom wallpaper ideas or bedroom paint ideas, or both in combination, doing so can easily divide a bedroom, if only visually.
In the bedroom above, a darker shade of paint is used in the alcove to create a distinct feel for the dressing area, while the wall behind the bed is covered in impactful wallpaper that creates a definite visual separation of the two zones.
You needn't use wallpaper to achieve this – contrasting paint colors will have a similar effect. By painting one part of the room in one color, including the walls and ceiling, and another section of the room a different color, again including the walls and ceiling in that shade, gives the visual impression of two separate spaces within one room.
'Opting for multiple paint shades is an effective way to divide a bedroom into two distinct zones,' confirms Helen Shaw, International Director of Marketing, Benjamin Moore.
'A tonal color a couple of steps up or down on your color chart provides a subtle solution to creating a sub-divided space whilst also maintaining harmony and tranquillity. The contrast creates the illusion of a separate space where there isn't one structurally.'
2. Divide a bedroom with curtains or drapery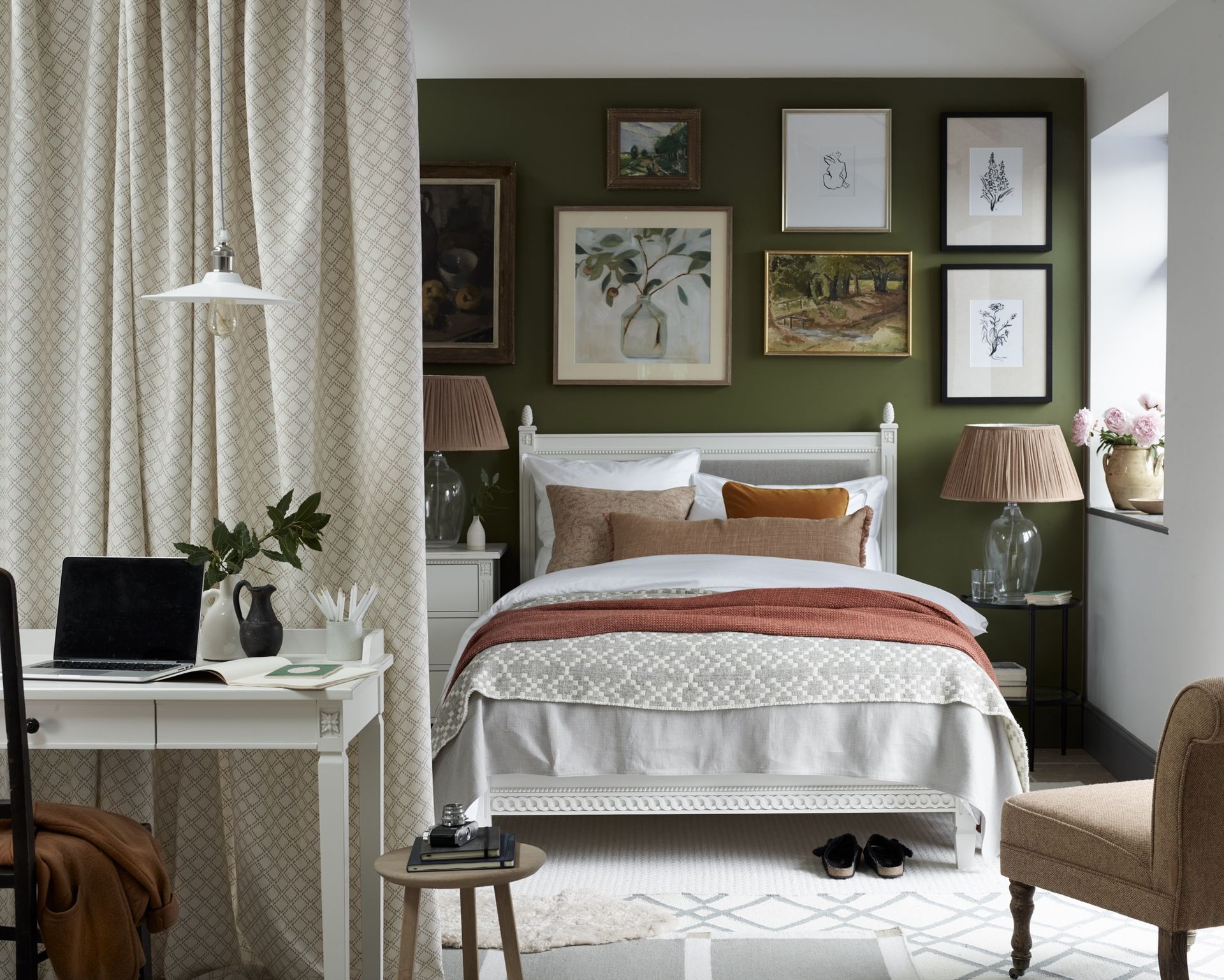 When a bedroom needs to do double duty, curtains are one of the simplest solutions to divide the space.
In the stylish bedroom above, curtains draped across the center of a long, narrow bedroom, create a designated sleep sanctuary that can be closed off when somebody is working at the home office desk opposite, the perfect solution for those looking for bedroom office ideas.
Bedroom curtain ideas are the ideal way to separate spaces, whether it's hiding a closet or a vanity area.
Jessica Shaw, Interior Design Director at The Turett Collaborative, says: 'I often use drapery as a design trick. Hanging a roll-ceiling track or tension wire, which can be found at IKEA for relatively affordable prices, will allow you to hang floor-to-ceiling drapery.
'If you are in a loft apartment, this hack is especially useful in detracting from clothing racks, or other visible storage.
'Essentially, floor-to-ceiling drapery creates a new textured addition to your space and acts as an effective room divider.'
3. Create division with a niche bed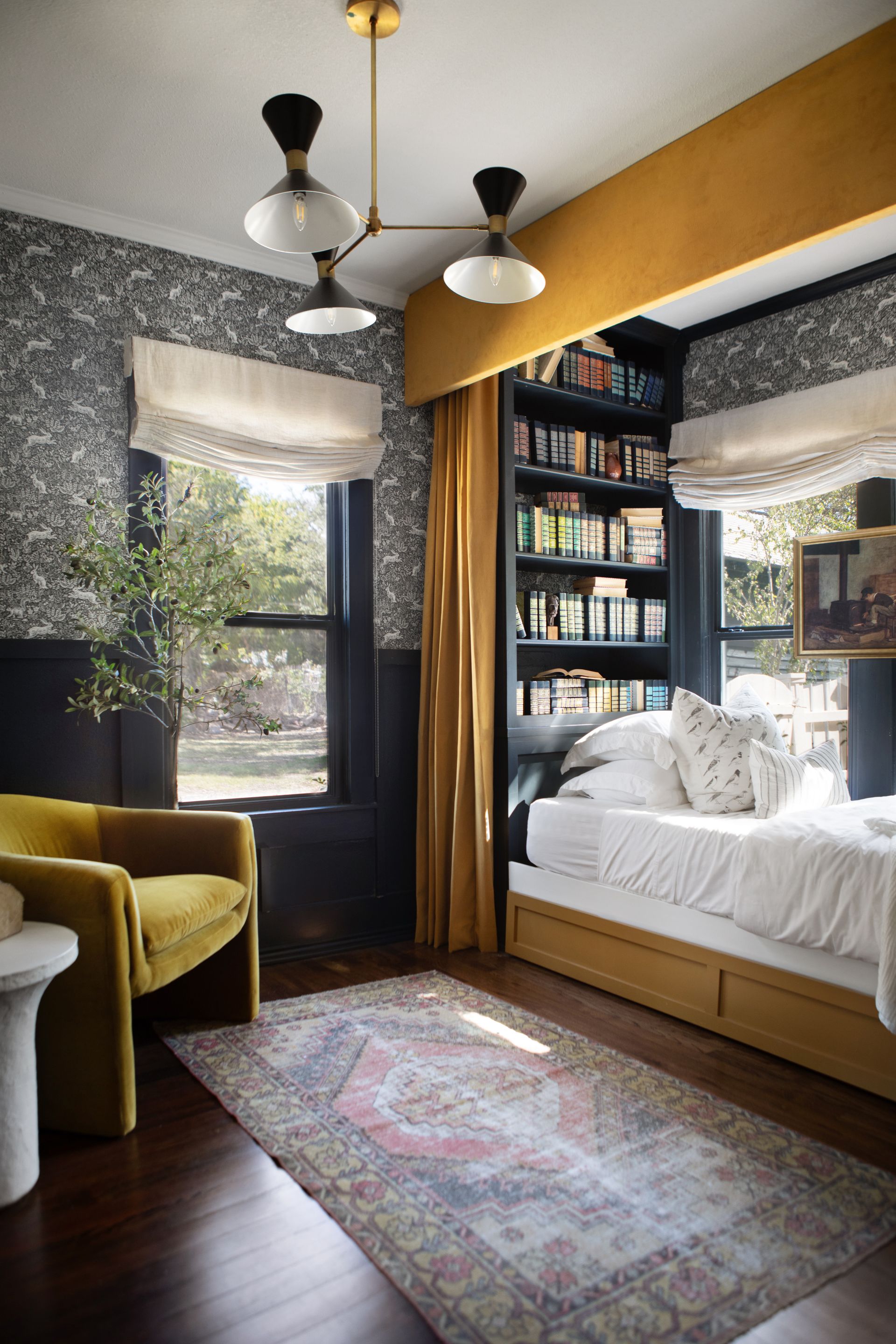 Niche or nook bed ideas are a wonderful way to create more floor space in a smaller room because you can put the bed right into the corner of the room, often under a window, which you might normally avoid.
With a curtain to pull across the nook, you have a perfectly divided sleep space, and the rest of the room can be devoted to other purposes.
4. Place rugs strategically to zone a bedroom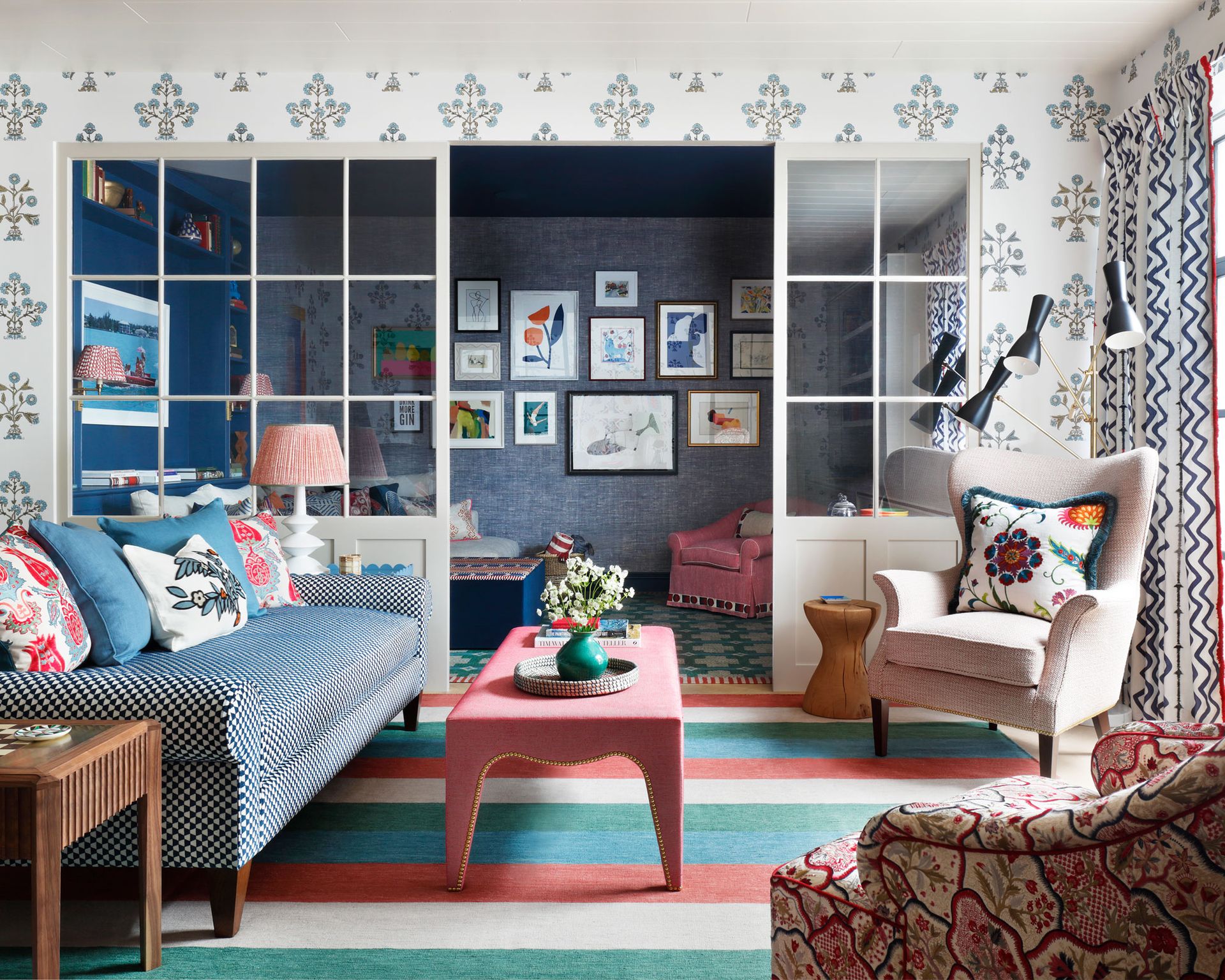 Take a tip from broken plan living room ideas and use multiple rugs is an effective way to zone a bedroom and delineate between your sleeping area and work space or relaxing open plan living room.
In the stylish room above, the reversal of the color scheme from one space to another, both in the rugs and on the walls, creates two distinct spaces.
Bear in mind that you can also place a rug underneath furniture to define that as separate to the rest of the room.
That could work equally well to define a home working area or a seating spot, and is a particularly handy small bedroom idea.
'In bedrooms, we like to use rugs as they ground a space and can be very helpful to indicate rest zones like meditation spaces, reading nooks or even nursing or play areas within a nursery,' says Anna Popov. 'The added layer of texture and softness is often all that is needed.'
And Alinta Lim, Senior Designer at King Living, adds: 'Effective zoning can be key to bedroom design, particularly if this space still acts as home office as well as a place for rest.
'The simple addition of a rug under the desk can segregate a working space, for example.'
5. Use a home library to create a bedroom and living space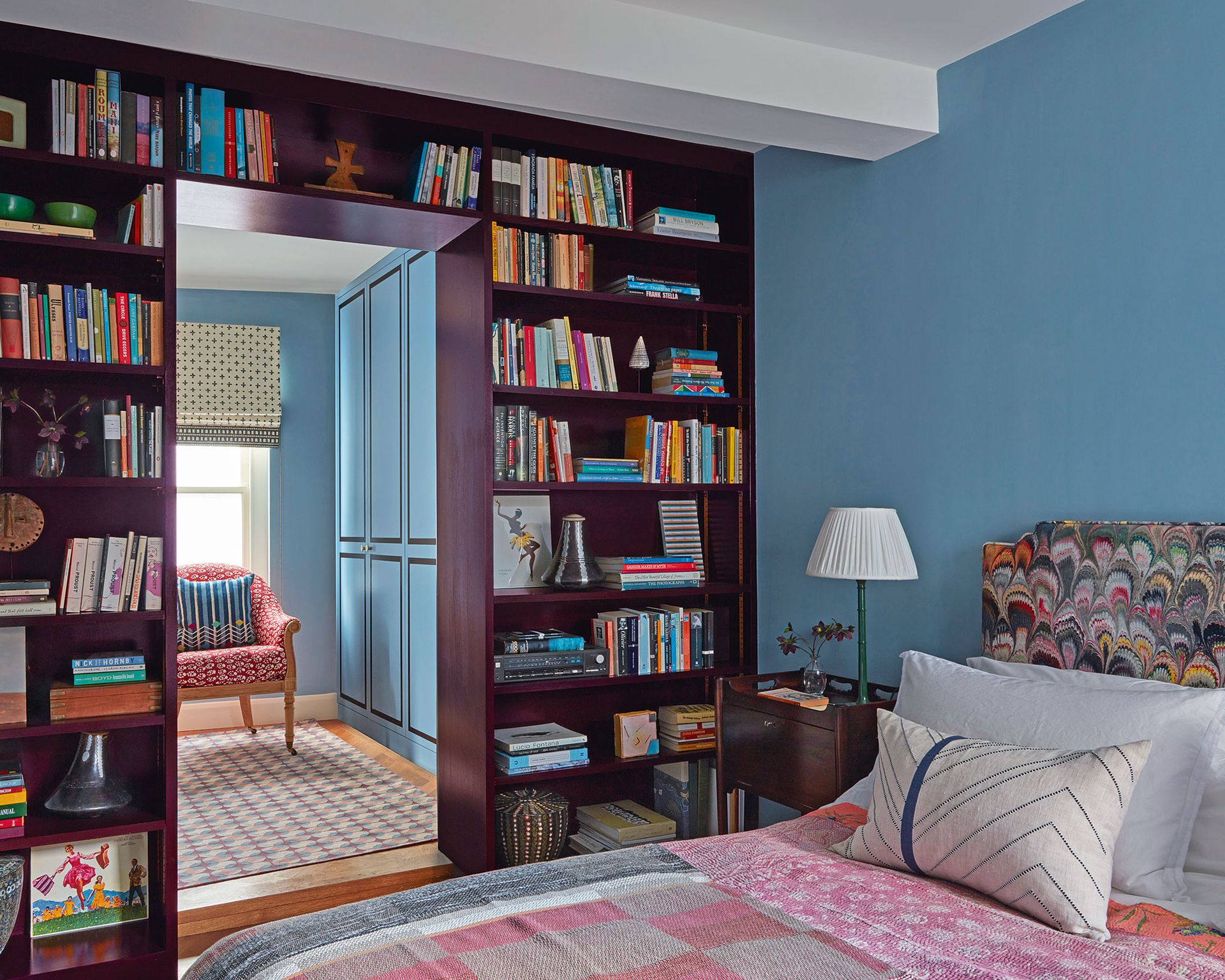 You don't need a structural wall to give the impression of two distinct spaces within one room. All you need? Back-to-back bedroom shelving ideas that create a false wall. Distinct flooring and furniture matched with complementing wall colors creates a harmonious space.
'Dividing the room by purpose can be achieved by using furniture and accessories to change the flow of a room's design,' confirms King Living's Alinta Lim.
The idea is showcased perfectly in the room above, which shows how to create an inviting living room within the bedroom.
6. Make a feature of a smart room divider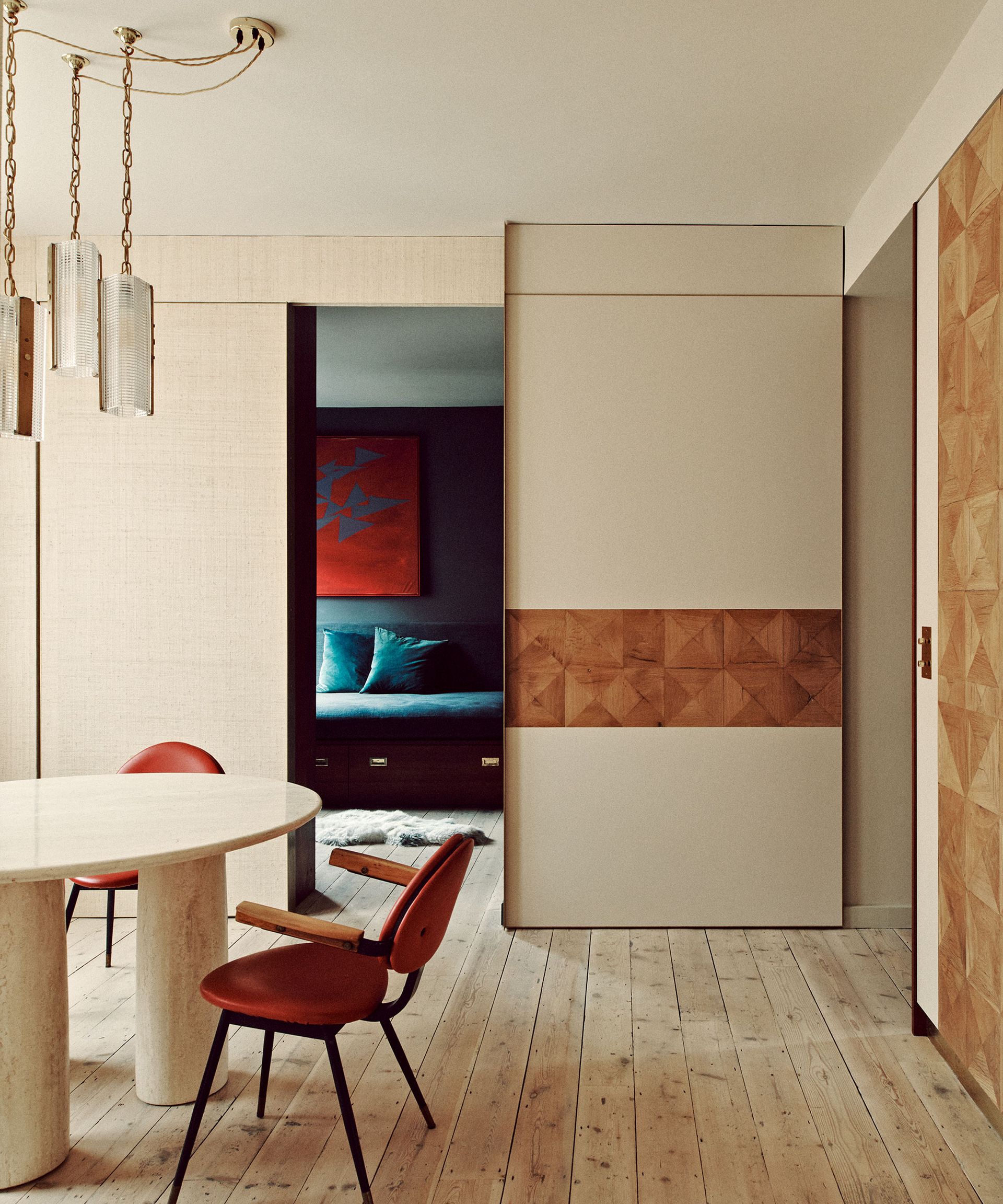 Room divider ideas are a particularly useful investment if you are looking for sleek apartment decor ideas as they offer instant privacy.
For best effect, put the divider on top and bottom runners so that the action is smooth, and for more subtle approaches, consider space-saving pocket doors over floor-to-ceiling millwork.
7. Turn a window into a seating area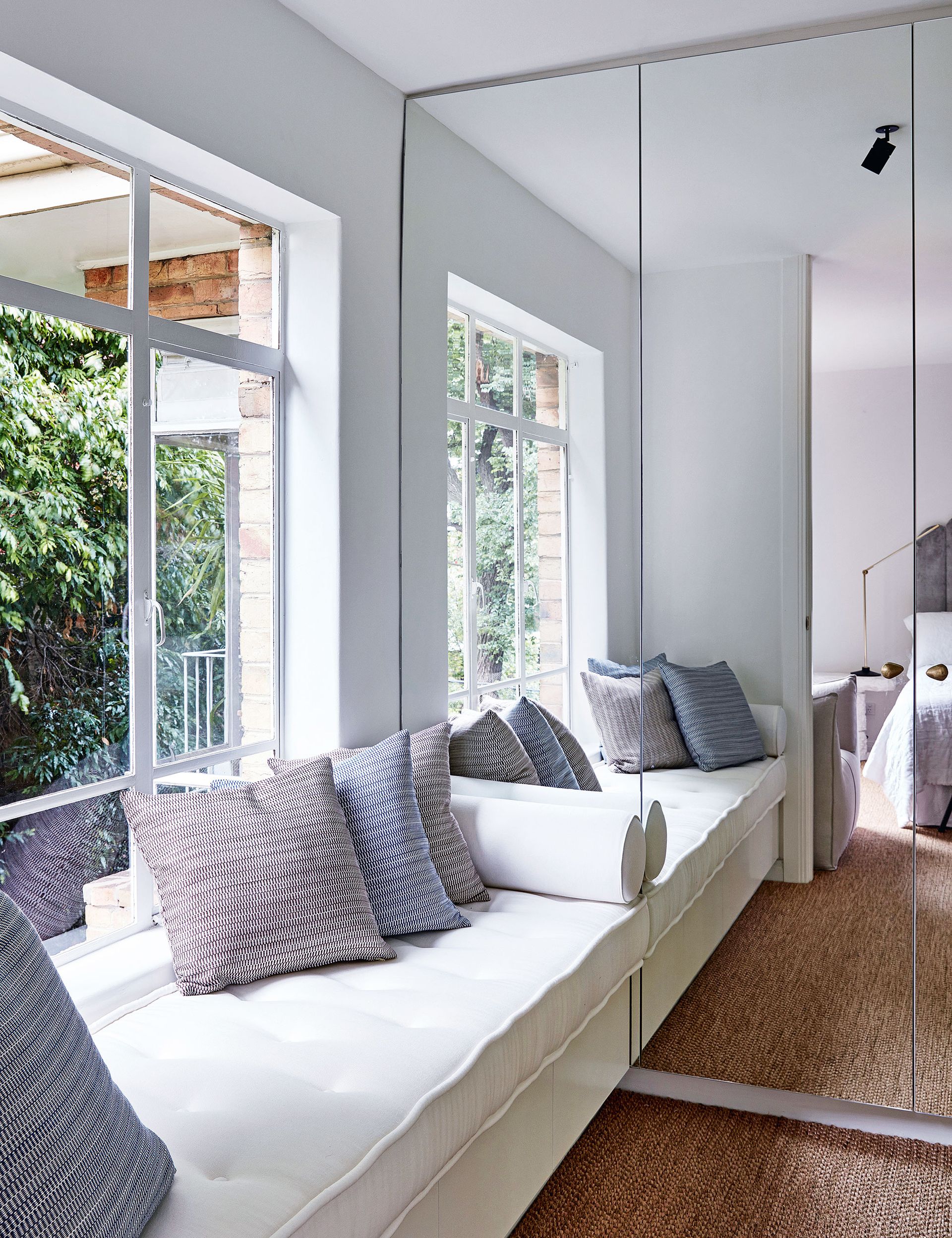 Don't let any space go to waste in your bedroom. A bay window or alcove can be transformed into a functional area, whether it's creating a seating area, popping a work desk in there or setting up a designated yoga or meditation zone in a larger space.
Stylish seating areas work particularly well in a window. You don't need oodles of room to create one either; in a small bedroom you could install a built-in seat with a lift up lid beneath the cushion that has plenty of hidden storage beneath. The mirror placement in the room above cleverly throws a ton of light into the darker end of the bedroom, too.
8. Layer lighting to divide the bedroom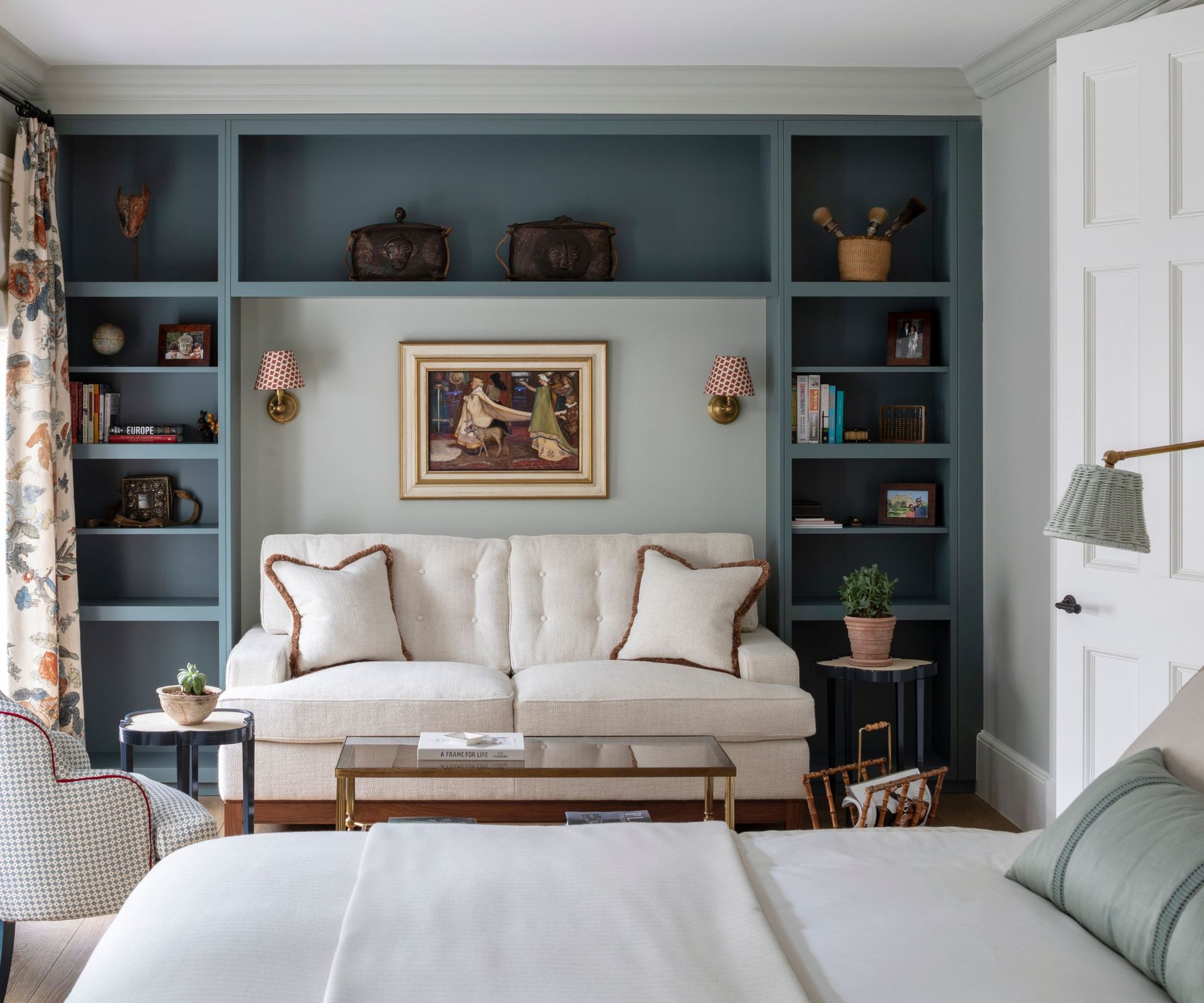 It's possible to zone a space by using different types of bedroom lighting ideas.
'Another unique and very creative way to divide space is with the careful utilization of lighting,' says Anna Popov. 'There are many ultra-modern lighting solutions on the market that when used in this way can be such a fun option for designating space that is not seen very often.'
Simply by using table lamps by the bedside or wall lamps above it, as in the room above, shows how you easily zone a space and create a reading nook and a sleep space with different types of lighting.
9. Install internal glazing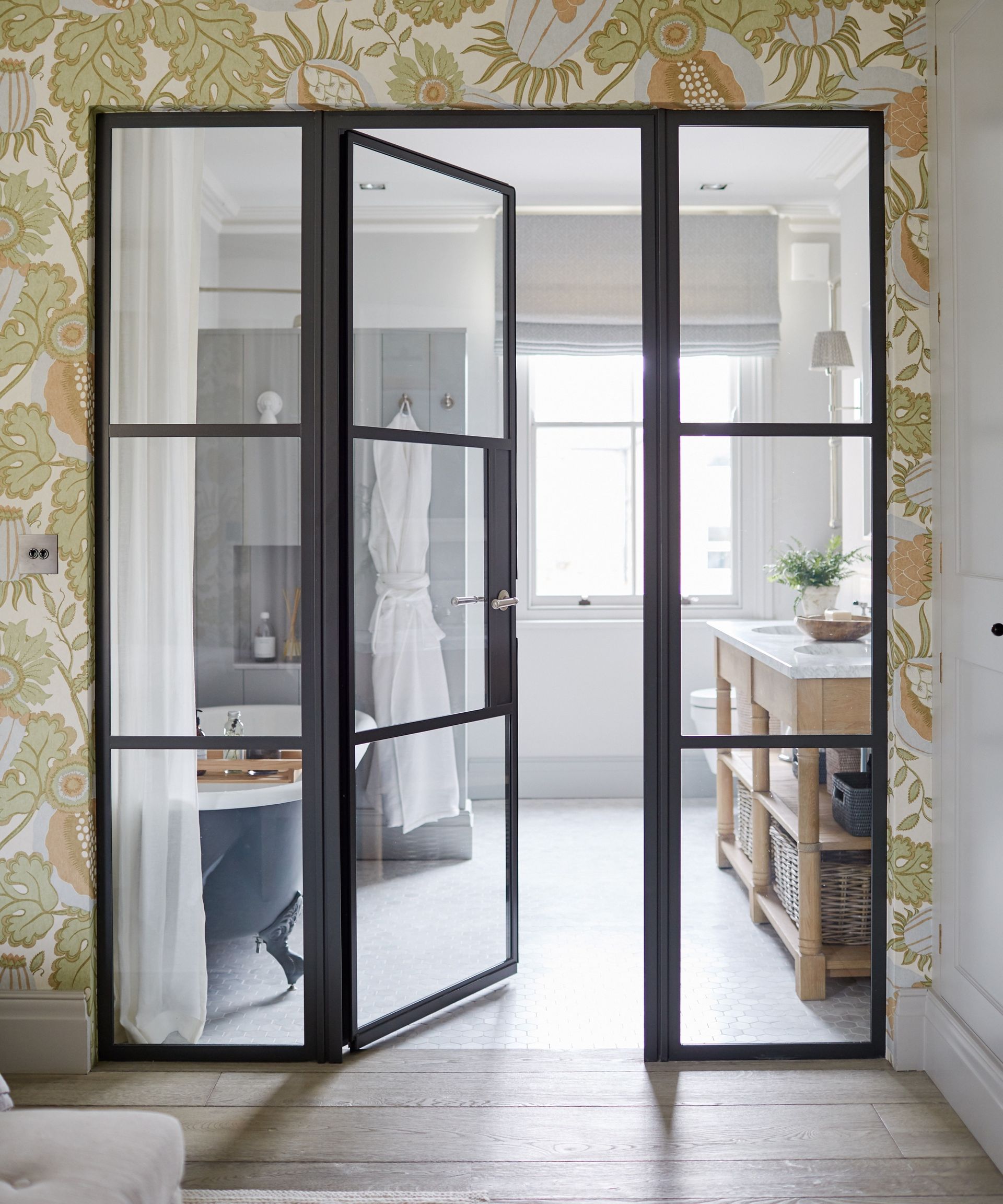 This way of dividing a bedroom will require you to call in the professionals, but a glass partition is a modern and high-end way to divide a bedroom into two rooms.
It will allow light to flood into the room while working to offer a clear distinction between two spaces.
The stunning space by Sims Hilditch (above), highlights how internal glazing can add a contemporary touch to any room, working wonderfully in a period property as well as a modern home.
Sims Hilditch Design Director, Louise Wicksteed, says: 'Crittall doors are a great way to separate a bedroom without compromising on light and the feeling of spaciousness in a room.
'A linen curtain can be pulled across if privacy is required. The Crittall doors in this design also add a sleek and contemporary aspect to the space, offsetting the botanical wallpaper and natural fabrics used to create a feeling of calm throughout the rest of the room.'
FAQs
What is the cheapest way to divide a bedroom?
The cheapest way to divide a bedroom is to hang a curtain or use drapery to zone the space.
Curtains can be used to segregate closet areas, cover clothes rails or separate the sleeping space from a home office area.
What's more, drapery is also an effective way to separate an open plan space in loft or studio apartments.
---
If you're looking for ways to boost your small apartment living room ideas and turn a studio into two rooms, all of the above are doable, affordable and stylish. 'Always check with your landlord before you make any structural changes,' advises Lucy Searle, Homes & Gardens' Editor in Chief. 'Within the realms of what is permitted within the building and what is structurally sound, most will welcome ways to make their properties more versatile.'
Sign up to the Homes & Gardens newsletter
Decor Ideas. Project Inspiration. Expert Advice. Delivered to your inbox.
Ruth Doherty is an experienced digital writer and editor specializing in interiors, travel and lifestyle. With 20 years of writing for national sites under her belt, she's worked for the likes of Livingetc.com, Standard, Ideal Home, Stylist and Marie Claire as well as Homes & Gardens.