Bedroom paint ideas – 10 easy ways to update walls, floors and furniture
Get creative with these colorful bedroom paint ideas, that are super simple to achieve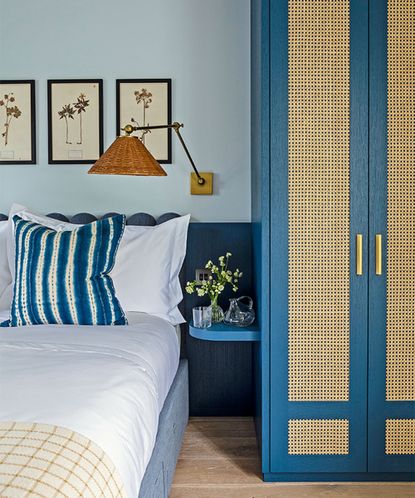 (Image credit: Mark Bolton)
Paint gives you the power to transform any space quickly and easily, but when it comes to bedroom paint ideas, a change of wall color isn't the only option available. Bedroom furniture and floors are easy to spruce up with a cheery coat of paint, while painting woodwork, paneling and accent features are all wonderful ways of giving a tired bedroom new focus.
When it comes to bedroom color ideas, the tone you choose can have a huge impact on the overall mood and feeling of the space - from dark, seductive tones that add atmosphere and depth, to bright, zingy shades that can refresh and revitalise.
'Paint is the quickest and most effective way to add instant impact and change the mood and atmosphere of a room,' says Justyna Korczynska, Senior Designer at Crown Paints. 'The darker the color the more light it absorbs – so reds, plums and terracottas will visually bring walls inwards, making a room look warm and inviting. Or opt for soothing natural tones that create an instant feeling of tranquility and calm, if you want to create a peaceful oasis where you can relax and unwind.'
Bedroom paint ideas
'As a nation we are all getting braver with color and much more creative with it too, so one color on the walls just isn't enough anymore,' says Marianne Shillingford, Creative Director at Dulux, 'and the wonderful thing about paint is that the results you get from it are instant.
'If you don't fancy a complete makeover or live in an apartment you can't decorate, paint up some canvases in colors you love and use them to add life to the walls. It can tie all your belongings together for a harmonious look and you can change them whenever you fancy with a simple affordable tester pot.'
1. Paint the bed to add a bold pop of color
Whether in the bedroom, or considering paint ideas for every room, painting a focal point piece of furniture in a bold, eye-catching color is a fabulous way of refreshing a room that lacks focus and energy.
The bed is a prime candidate for a makeover in any bedroom, from a simple wooden bed frame to a statement four-poster. Choose a bright, standout paint color for best effect, but one that complements or contrasts with the rest of the bedroom decor. Bold, sunny yellow sits perfectly with fresh green floral fabrics and wallpaper and can help to refresh and revitalise the room instantly.
2. Add impact with painted panelling
Bedroom wall decor ideas can range from simple tricks to more elaborate ideas and makeovers. Paneling ideas for walls are a popular way to add character and color to walls and by focusing on the wall behind the bed, it won't require a complete room redo if you're after an easier update.
Consider cladding halfway or three-quarters the height of your wall and paneling paint ideas in a bold, standout shade. With a vibrant, co-ordinating headboard and bedding, it can create a focal point in a room that's lacking in architectural details. Panelling can add a practical element too, allowing wall light wiring to be hidden away and creating a display shelf for decorative pieces.
'Working with bold, dark colors should be all about balance,' says Justyna Korczynska, Senior Designer at Crown Paints. 'Always make sure you incorporate neutral and pale features into the room, whether that's through furniture, accessories or other paint colors, that will light up the space. And if you're painting the walls in a deep shade, make sure you paint the ceiling a crisp white and opt for light wooden flooring or carpet to balance out the effect.'
3. Use inky tones to transform woodwork
Instead of keeping to standard whites and neutrals for furniture and trims, be braver and plump for a more colorful option on woodwork. Revamp a tired closet by painting it a more vibrant shade. And if paneled doors are looking shabby, why not consider replacing them with woven cane or hessian panels to add an on-trend look?
Blue bedroom ideas can create a calming and restful backdrop that is perfect for a space where you want to unwind. And while blue is often regarded as a cold color, teaming it with warmer sand, caramel and tan tones, will take off the chill and add heat and warmth.
'This inky teal is a beautiful color that instantly feels sophisticated and calming,' says Katie Lion, an interior designer with Kitesgrove. 'We didn't want to take over the room, so we limited its use to the headboard, cushions and built-in cupboards, then used a paler blue for the walls and ceiling which helps the room feel light and balances the darker tones,' perfect for bedroom ceiling ideas.
4. Try painting bedroom walls halfway
Using all-over color in a bedroom can often be overwhelming in a space where you want to feel calm and relaxed. However a bedroom without any color or contrast can feel flat and lifeless if not done thoughtfully. Strike a happy compromise, by trying a half-and-half paint treatment that will give you the best of both worlds, a great option for bedroom accent wall paint ideas.
While red bedroom ideas are a brilliant way of bringing warmth and richness to a room, balancing red with calmer, neutral tones, will soften the effect so that red doesn't dominate the room. Paint timber panelling or plain plastered walls halfway in a warm, earthy terracotta or red, teamed with a neutral tone on the top section of wall. Having a darker color at the bottom will help to ground the room and provides a contrast backdrop for the bed and bedding.
'Luxurious and opulent, red tones can be used to create a scheme with real impact,' says Ruth Mottershead, Creative Director Little Greene. 'From our deep, muted 'Tuscan Red' used here, to more vibrant reds or sophisticated pale pinks.'
5. Paint alcoves a decadent shade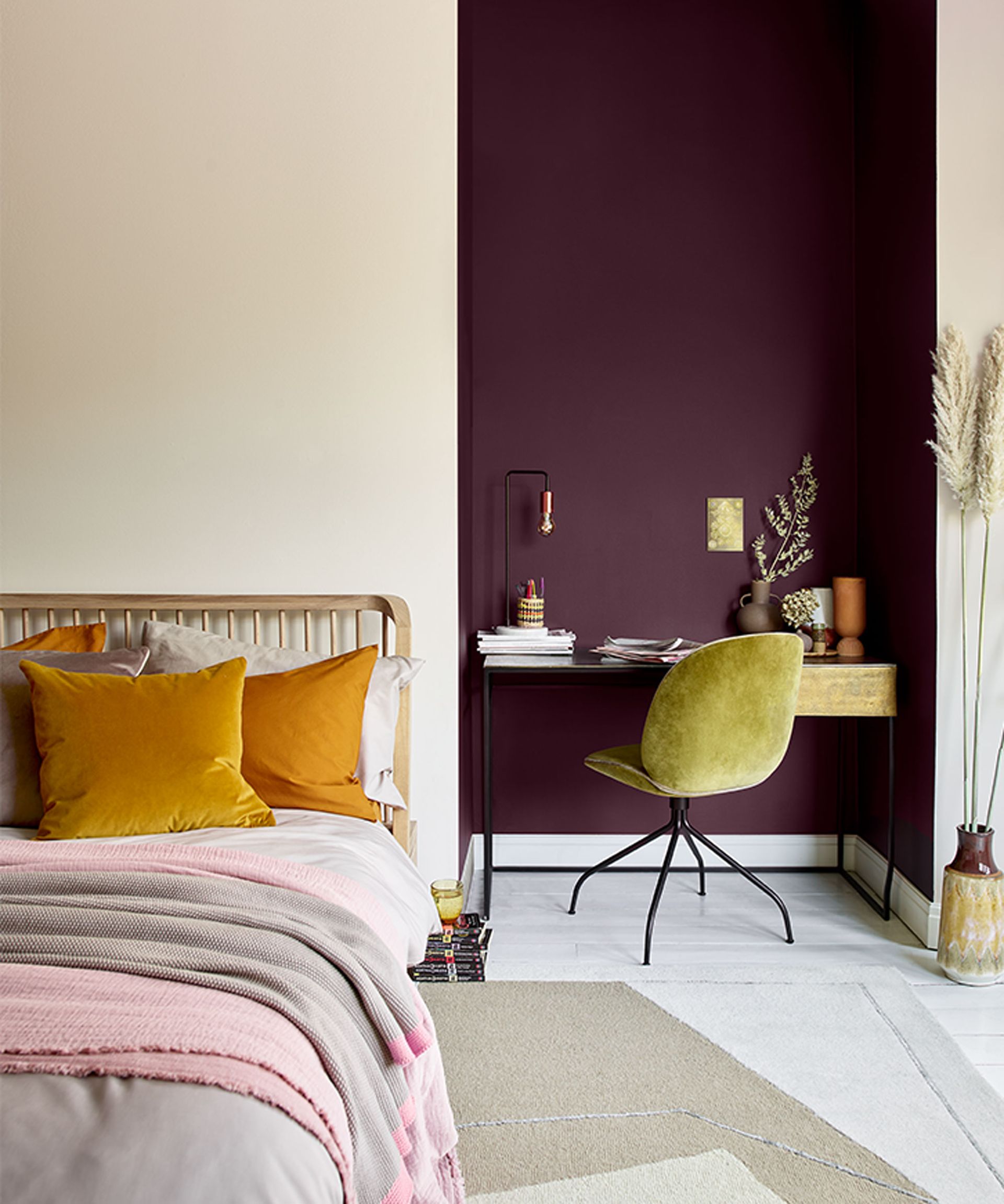 Dark bedrooms can feel cozy and cocooning, but if dark walls throughout feel too intense, introduce just a small hit of color by focusing on an accent area instead. Painting inside an alcove or around a recess in a dark, moody shade will add instant impact and is a clever idea for a breakaway space in which to set a dressing table or desk. A dark background will make luxe metallics and display items stand out and sparkle more too.
'Layering colors together and allowing one color to meet another just beyond the corner of the room has an amazing effect on a space,' says Marianne Shillingford, Creative Director at Dulux. 'It makes a room feel less like a box and more like a gallery for the things in your life that you really care about, including your favourite colors. Use one color as a predominant backdrop and then add painted details in colors which are inspired by the things that are staying in the room.'
6. Bring balance with patterns and plains
Try a combination of painted panelling and pretty wallpaper to add color and pattern to a plain bedroom. Adding just a few panels of a pretty floral wallpaper or jazzy geometric set into plain paintwork is a lovely way of adding visual interest without the pattern dominating or overpowering the room. And as only a few lengths of wallpaper are all that's required, it can be a clever way of introducing a favourite pattern or costly print without having to spend a fortune.
Color match your bedroom paint and wallpaper by choosing a shade from within the wallpaper design for your paint color, which will help to link the two for a co-ordinated look.
7. Upcycle a plain piece with pearl detailing
Painting bedroom furniture in a fresh new color is a lovely way of breathing life into pre-loved pieces or thrift shop buys that are looking past their best. An easy option that cuts out the prep work is to use chalk paint for the job. Chalk paint is self-levelling and self-sealing, so gives excellent coverage with minimal effort.
Painting a wardrobe, chest of drawers or bedside tables, shouldn't be too difficult a project for a beginner. A bold color, such as black or navy on the exterior will pop with the interior painted in a vibrant contrast color such as hot pink or lipstick red.
Go one better and create a decorative pearlized treatment by painting on a stencilled or freehand design on doors, drawers and side panels. Use contrast white chalk paint to apply your pattern and then add a pearlescent glaze as a final top coat, which will give a subtle shimmer and create an inlaid pearl effect.
8. Put the focus on the floor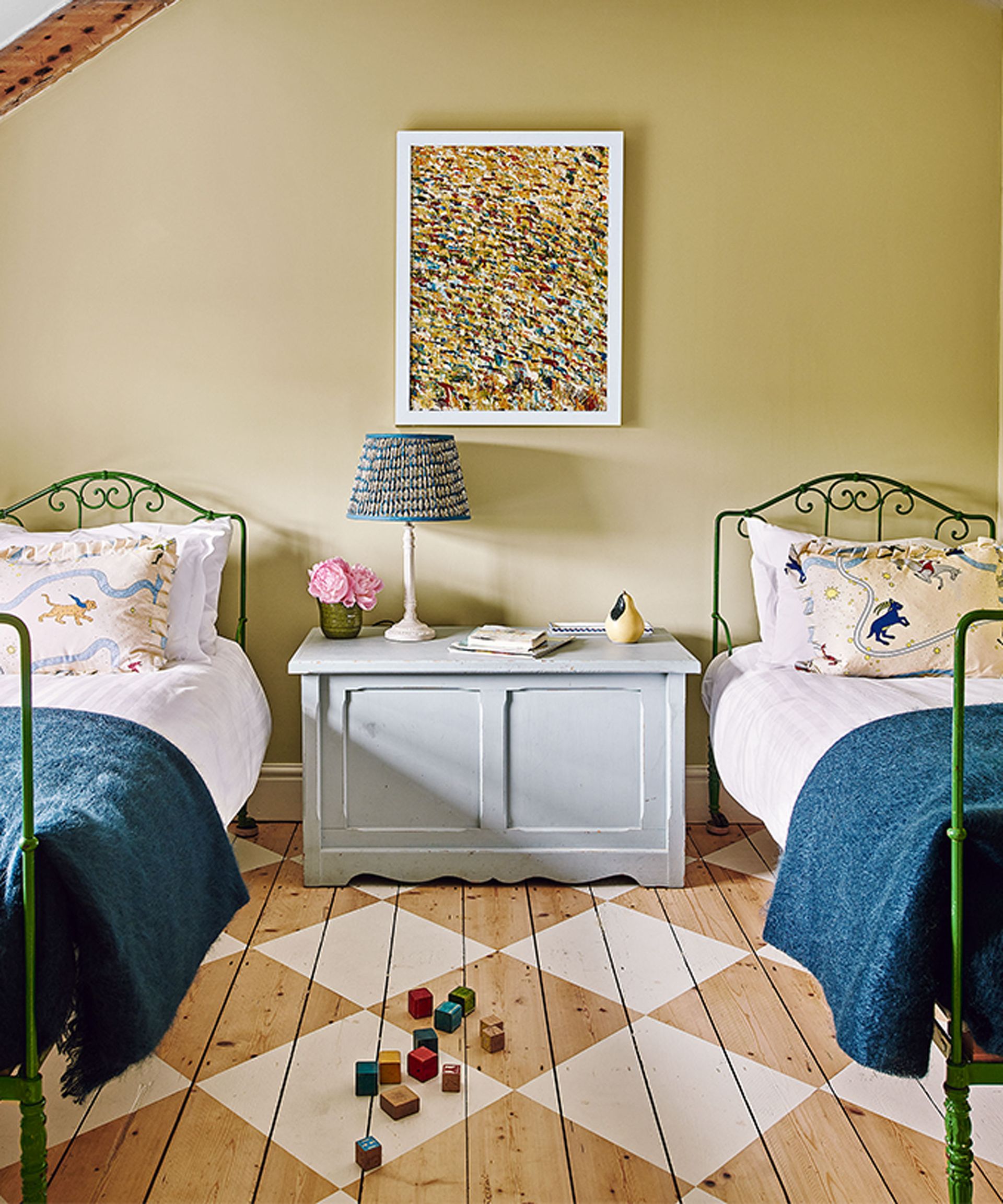 While walls and furniture are easy to spruce up with a fresh coat of paint, floorboards are another option worth considering and can make a big impact in a small space or plain bedroom. A slightly unconventional choice, similar to ceiling paint ideas, thoughtfully focusing on your flooring can create a stylish, cohesive effect.
Timber floor boards that are worn and shabby can be revitalized with a coat of varnish or floor paint or try an eye-catching checkerboard effect combining paint and lacquered boards for a little extra time and effort. Floorboards should be cleaned and sanded lightly first, but then all that's required is a pencil, tape measure and masking tape to ensure that you achieve neat lines. Once painted, simply protect your design with a coat of clear lacquer.
Interior designer, Isabelle Lomas, created this fun checkerboard floor for a children's bedroom. 'We kept the walls plain,' says Isabelle, who used Willow V from Paint and paper library. 'This allowed us to incorporate a checkerboard pattern on the floor – a fun element that is also hardwearing.'
9. Paint curves in a dressing room
Boxy bedrooms or rooms that lack any original architectural details can often feel plain and featureless. A clever visual trick can be to use paint to create a 'faux' feature or accent detail that will then give the room a focal point.
Create a vanity area in a bedroom alcove or recess by painting an arched panel on the wall in contrast-colored paint. Position a dressing table or console against the wall, with the painted area acting as a backdrop to showcase furniture and decorative pieces. Add a circular mirror and curved chair to emphasise the shape of the archway and add a stylish finishing flourish.
Use a pencil, length of string and a thumb tack to help mark out a semicircle on the wall, before filling it in with paint.
10. Create a faux headboard with cheery paintwork
Looking for easy ways to brighten up plain white bedroom ideas? Put the focus on the bed by creating a faux headboard effect using contrast-colored paint. A simple way of giving an unfussy wooden bedstead more prominence, painting the wall behind the bed will create the effect of a super-sized headboard that will in turn become the focal point of the bedroom.
Create headboard ideas like this by simply painting the surrounding wall area in your chosen paint color so that it frames the bed in a block effect. Adding a length of wooden trim painted a dark accent color as contrast edging will help to further emphasize the effect.
Tie in your color theme by choosing a bedroom paint color that complements your bedding and soft furnishings. Be inspired by green bedroom ideas and bring in lots of leafy plants and foliage to decorate. Green can have a calming, restorative effect, so is a perfect choice for bedrooms.
Which color paint is best for a bedroom?
Choosing a paint color for your bedroom boils down to personal preference, but there are some colors that work better than others.
'Green is known to calm the mind and provide a restful backdrop,' say the paint experts at Lick. 'While calming blue is another color that will create a soothing bedroom vibe and a restful night's sleep.
'And far from being boring, white bedroom paint will act as an all-over base with a neutral palette that leaves you free to play about with natural woods, prints and plant life.
'Darker purple can induce vivid dreams, while lilac is a more blissful shade. And for a more energetic color, pink is a shade that will have you bouncing out of bed.'
Should bedrooms be painted dark or light?
The paint colors used in a bedroom can depend on the size of the space and what type of lighting there is. A large bedroom with lots of natural light can benefit from either a light or dark color scheme.
And while it might be tempting to opt for light paint colors in a small, dark bedroom, that's not always the best choice. In a light-starved space, stronger colors can often work better, helping to add depth to a room and make it feel cozier.
'Dark colors have become more mainstream,' says Justyna Korczynska, Senior Designer at Crown Paints. 'Charcoal can really give a room a feeling of luxury and sophistication and works surprisingly well in a small area to give it some grandeur.
'People are often reserved about using dark colors in their homes but they really shouldn't be. Bold, dark shades have an incredible power and are able to transform any room injecting character into it. A good way to start introducing a darker shade in your home is to decorate one of the smaller rooms, that are used for shorter period of time, like a hallway, bathroom or bedroom.'
Sign up to the Homes & Gardens newsletter
Decor Ideas. Project Inspiration. Expert Advice. Delivered to your inbox.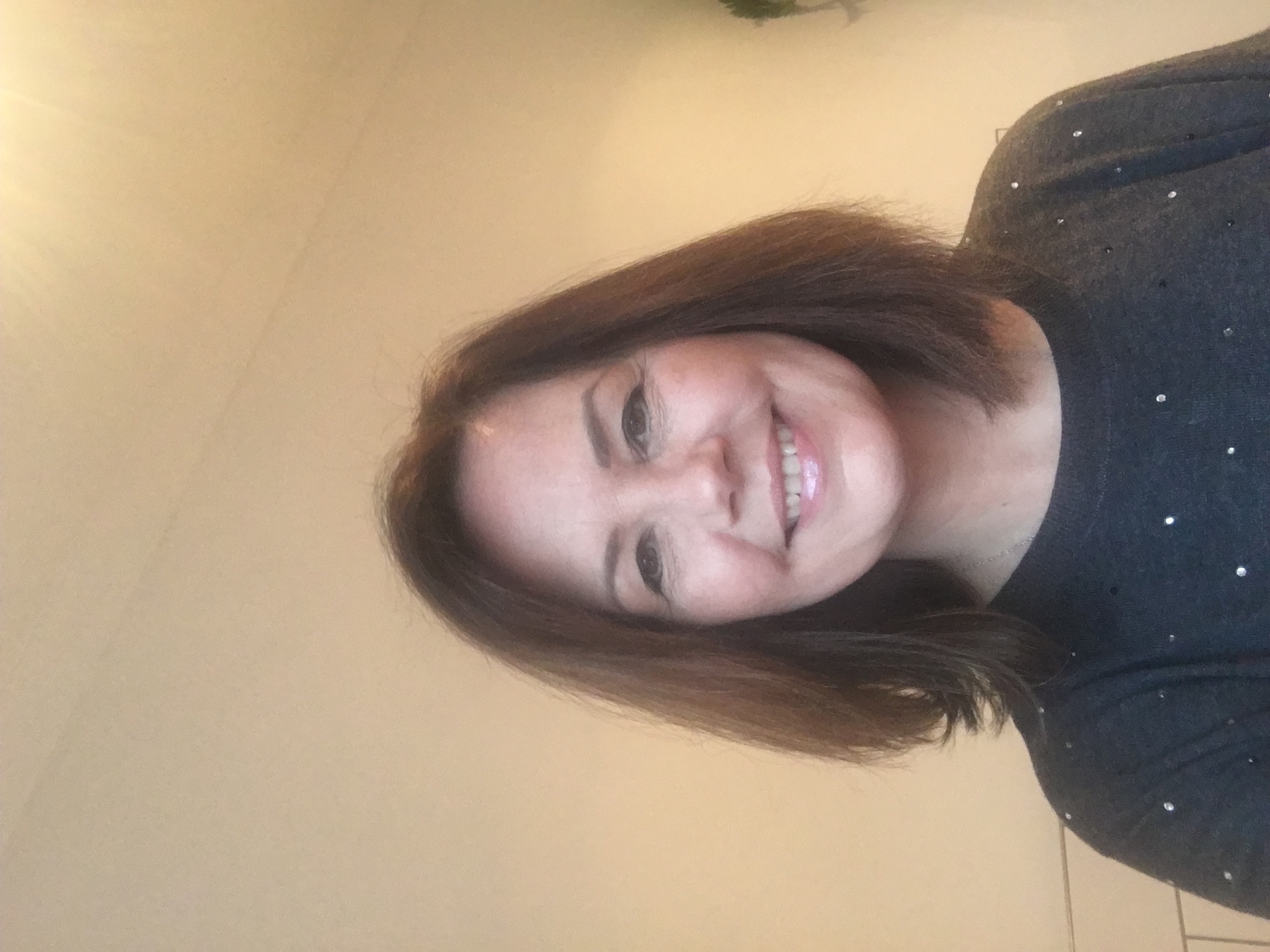 Lisa is a freelance journalist who has written about interiors for more than 25 years and has worked on all the major homes titles, primarily Ideal Home, but also including Homes & Gardens, Country Homes & Interiors, Style at Home, Livingetc, Woman & Home, Easy Gardens and Good Homes magazines. Lisa writes about interior design and decor ideas for Homes & Gardens.