Cozy living room ideas – 19 warm and restful schemes
Create the ultimate hibernation space with these cozy living room ideas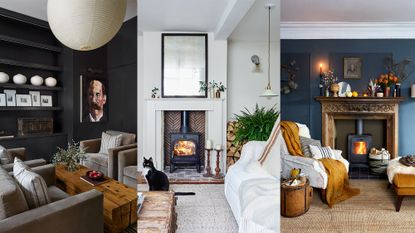 (Image credit: David Fazier / Brent Darby / Kasia Fiszer)
Cozy living room ideas are all about creating spaces which are comfortable, functional, warm and welcoming. In our fast-paced modern world, having restful spaces to retreat to where we can relax and recuperate have never been so important.
From the wall colors and flooring materials, to seating and window treatments, there are so many elements to consider when designing a soothing cozy room, not to mention fabrics and finishing touches. To create the ultimate soothing space it's important to consider how these elements work together, not just in terms of how they make the room look, but how it feels, too.
'Making a living room feel cozy is about the whole persona of the space and the energy it offers in the form of scent, touch, light, and sound, making a living room feel cozy,' explains interior designer Julia Dempster.
Whether you're looking to redesign your living room ideas or make a few updates to an existing space, these cozy spaces and expert tips will help get you inspired.
Cozy living room ideas
When thinking about cozy living room ideas, it's important not to strip out all of the things in your living room that make it unique – it's those pieces that add individuality to a space and make it real and inviting.
'Flexibility is key – eclectic furniture and keynote accessories not only make your home more welcoming, they're a great way to express your personality,' Sam Baldry, head of design at Swoon.
So, if you're looking for living room ideas that will make your space more inviting, more cocooning and more cosseting, you've come to the right place. You can also draw on these ideas when learning how to decorate a den.
1. Try decorating in dark colors
Many people shy away from using dark living room color ideas, but they can be a great way to create a cozy atmosphere.
'Using deep, dark shades in living spaces creates a dramatic, intimate and cocooning feel,' explains Ruth Mottershead, creative director at Little Greene. Dark steely greys and blues are particularly popular and work well with warm accent colors such as mustard and terracotta. Alternatively, warmer shades such as brown are beginning to find favor amongst those looking to decorate with the soothing earthy hues.
'Dark colors like 'Chocolate Color' can make a real statement when used all-over, as they have an innate warmth that makes a space inviting and enveloping without feeling heavy and imposing,' adds Ruth Mottershead.
2. Think about layout
For interior designer Catherine Staples, lead designer of Aspen & Ivy, the key to a successful cozy living room is to make it comfortable and functional, which all starts with a well-thought out living room layout.
'Ground the room with a large area rug and incorporate as much seating as possible; the rule of thumb is the conversation circle should not exceed 10 feet (3m) in diameter, all seating should sit within, otherwise, if outside the circle, no one feels connected,' she explains.
'Adding a fireplace, bookcase, throws and toss pillows in a mix of textures also contributes to the coziness creating ambiance.'
3. Create a layered lighting schemes
Living room lighting can instantly change the look and feel of a room, so should be considered carefully at the beginning of any living room design. To create a cozy yet functional space be sure to include plenty of ambient lighting as well as task lighting as part of a layered scheme.
'Always remember that ceiling lighting (such as pendants, spotlights, and recessed lighting) are a great general light source but are not enough on their own,' says Emma Deterding, founder of Kelling Designs. 'Floor and wall lamps are a great alternative to having the main lighting switched on as they often add a warming glow that's ideal for those cosy evenings.'
4. Choose the right sofa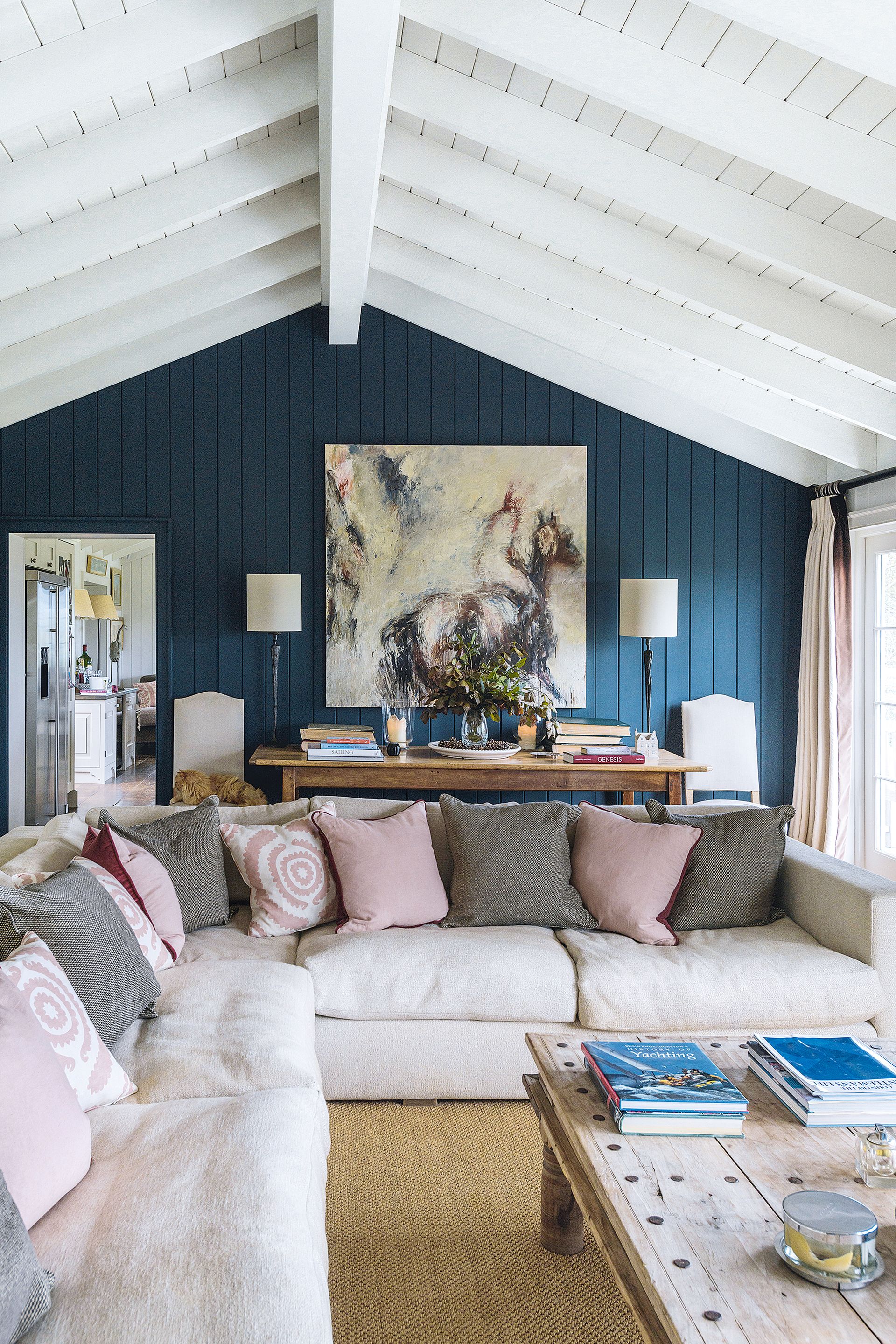 The sofa is one of the largest and most important pieces of furniture in a cozy living room, so it's important to get it right. For the ultimate in comfort you can't go wrong with a deep, loose-cushioned design perfect for sinking into, not forgetting plenty of scatter cushions. If space allows, a corner sofa offers plenty of room to accommodate guests when entertaining, as well as space to cozy-up in the corner with your feet up for some me time.
This chunky corner living room sofa was made bespoke by Dunning & Everard and is covered in a soft, textured GP&J Baker fabric. If you're thinking of a large, chunky design think about opting for a light color upholstery to keep the space feeling bright, dark colors could be heavy and dominating.
5. Create warmth underfoot with a carpet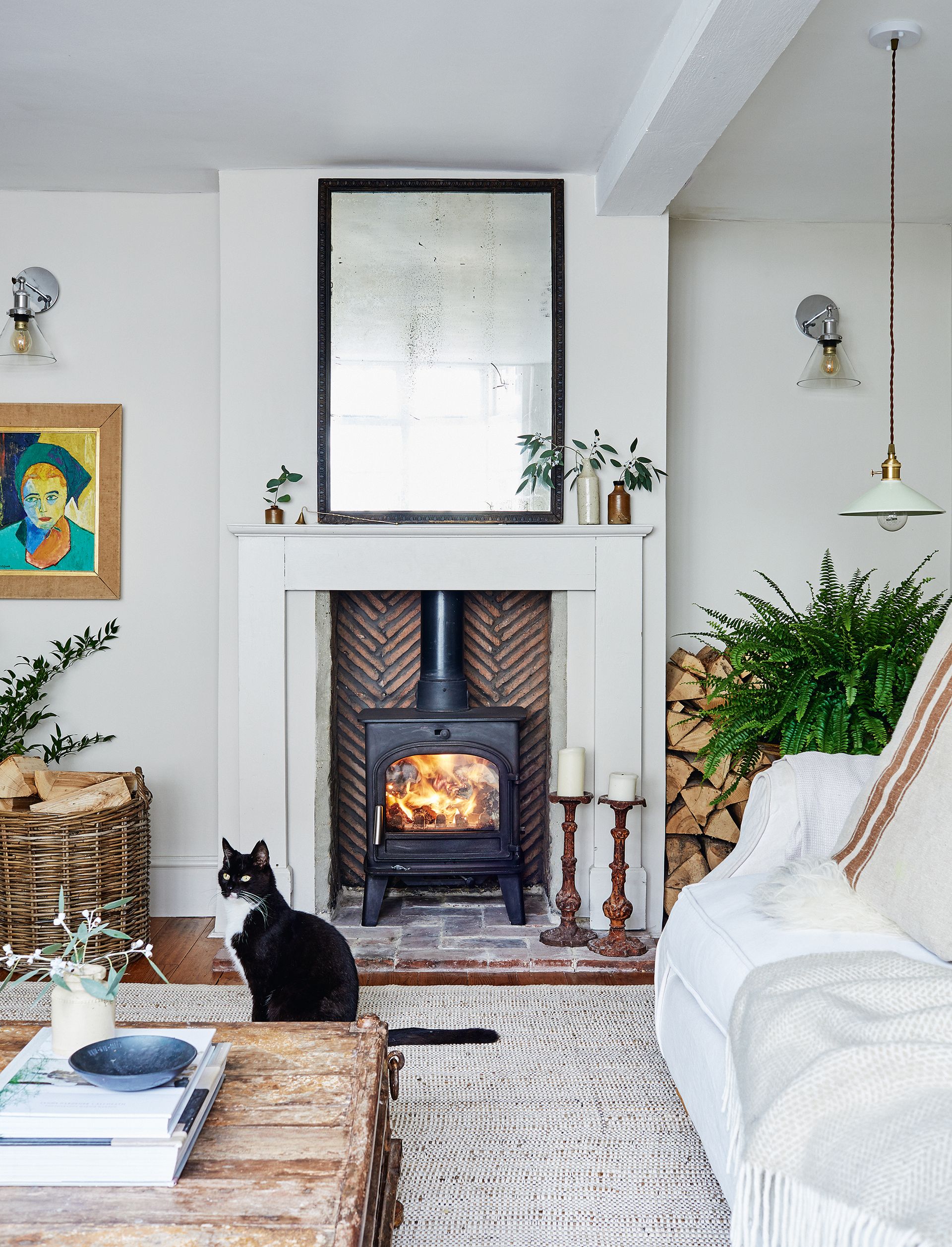 When it comes to living room flooring, nothing beats fitted carpet or a deep pile rug for adding coziness. As well as offering a luxurious, soft layer to sink your feet into after a long day, carpets also help insulate rooms and deaden sound, too, bringing a sense of calm and tranquility.
As living rooms are busy spaces with high footfall it's important to choose a carpet material that's hardwearing. 'Wool-rich carpets are known for their quality because they are highly durable, which helps maintain their appearance,' explains Jodie Hatton, residential design manager at Brintons.
'Not only is wool on trend right now, it's also a sustainable flooring choice. It insulates your home, is easily recyclable and biodegradable. Thanks to wool's hypoallergenic and antibacterial properties, using it on the floor helps to make the air we breathe cleaner. The natural oils in the sheep fleece also make them extremely easy to maintain as it prevents direct dirt from sticking to the fibre,' adds Jodie Hatton.
6. Create a cozy corner for reading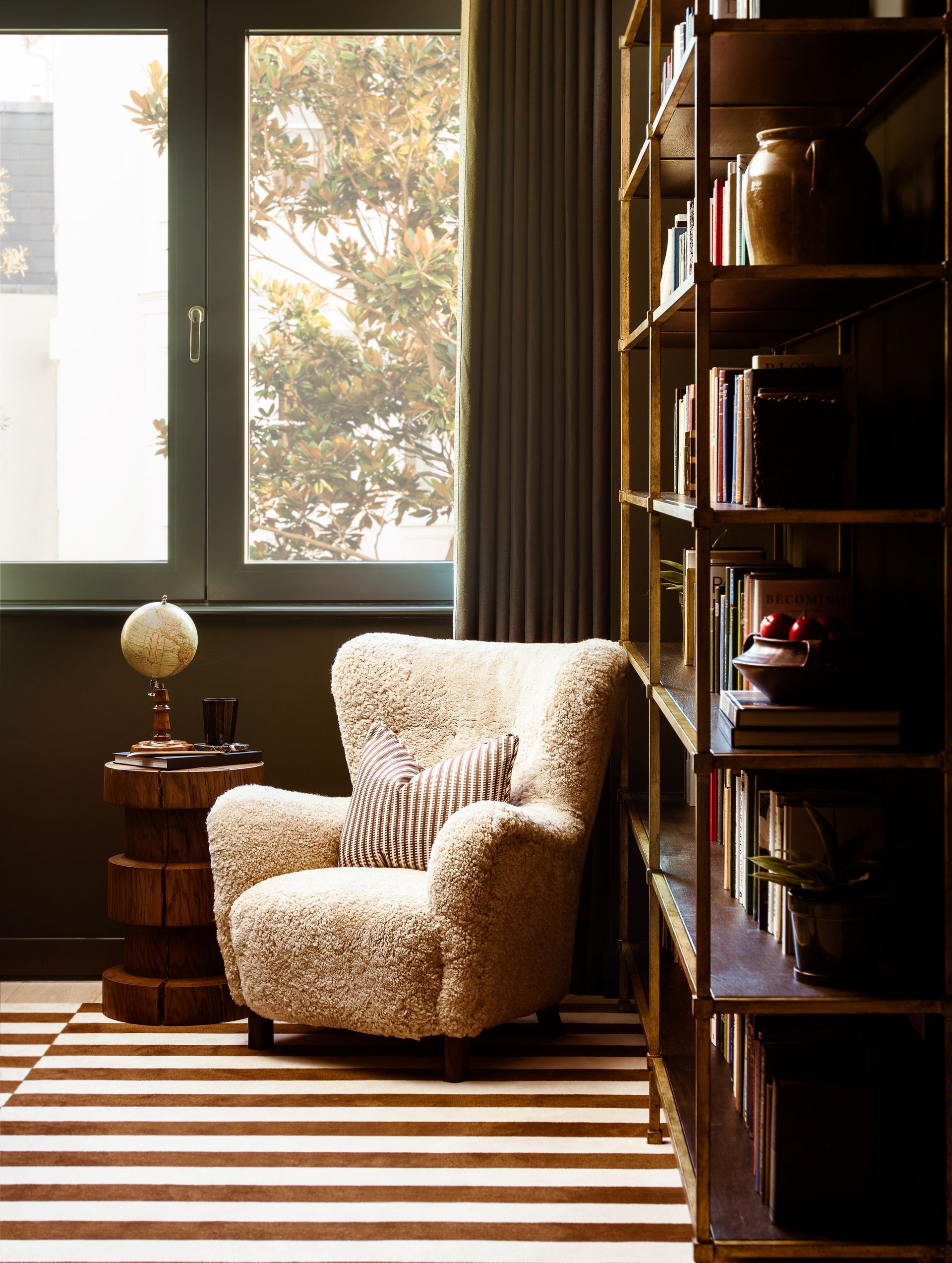 No cozy living room is complete without an enveloping armchair to curl up in and enjoy a good book. With its high back, exaggerated curves and fleecy fabric, this armchair offers the ultimate in comfort while the dark wood, deep green walls and drapes and metallic touches all add to the warmth and intimacy of the space.
'The high impact texture of this boucle armchair sets off the sleek walnut shelving and the contemporary striped rug in this quiet reading nook,' say the team at Albion Nord.
7. Layer up patterned fabrics
Decorating with an assortment of delicately patterned fabrics in a mix of scales and colors is a wonderful way to create a relaxed atmosphere in a living room.
In this cozy space, fabric designer Vanessa Arbuthnott has furnished with an array of seating styles in a warm mix of orange Shibori and Lime Pretty Maids fabrics to create a space full of color and character, while the ottoman is covered in a hand woven Welsh textile brings additional texture.
8. Fill your space with cherished possessions
In this black living room by interior designer David Frazier has achieved maximum coziness by painting the walls, ceiling and millwork in a warm black and furnishing with velvet club chairs, however it's the finishing touches that make all the difference, he explains.
'While the space itself is cozy and comfortable, the meaning of each of the items we curated to assemble this space give the greatest coziness possible.'
'The oil painting is by Mike Rachlis and is a modern interpretation of a portrait of the client's great, great grandfather. The curated collection of pottery and photography are layered on the shelves to tell a story of travel and family – the pieces themselves all have meaning and bring comfort to our clients and the photography is all from my client's father.'
'By painting all surfaces the same color – it makes the room feel larger and the dark color gives a richness to the space,' adds David Frazier.
9. Style-up the space with warm colors
There's no need to redesign a room to create a cozy space, simply adding in a few carefully chosen homewares and accessories in warm spice tones are all you need to style it up ready for the colder months. In this room, the mustard lampshade and votives with candles, both from Oka, bring a warm glow, while the rich ochre velvet cushion brings texture and fall color.
In order to re-style your living room from season to season it's important to think carefully about your wall color. This warm, almost neutral pink provides a great backdrop for a living space as it can be styled-up to be fresh and spring like or warm and cozy depending on the accent colors you choose.
10. Add dimmer switches
Living room lighting ideas can make or break the atmosphere in your space. Design experts love a layered approach that can be dialled up, or down, as required.
Interior designer Nicky Dobree recommends using plenty of lamps to cast a soft, warm light across the room at a lower level. Instead of a lone central pendant, she prefers indirect spotlights, on dimmers if possible. 'They're more discreet and can be hidden in the beams,' she says.
11. Choose natural shades
'We're seeing a lot more terracotta, clay and rust colors coming through,' says Charlie Marshall, founder of Loaf, which has introduced ten new fabrics in edible shades, such as Caramel, Pinky Peanut and Praline.
These tones are ideally suited in a country setting, and can be softened with neutral off-white living room paint ideas as a backdrop.
'Velvet decor is a relatively new trend that's gaining traction on sofas, and a great way to fast track a bit of luxury into your living room. For stress-free entertaining, go for modern "smart" or "clever" velvet, which is designed to be stain resistant.'
12. Play with texture
As well being a great way to keep up with the latest living room trends, a biannual cushion update can also be all it takes to adapt your cozy living room ideas to the changing seasons. Cottons and linens work well in summer, while more cosseting fabrics are perfect in winter.
'Texture is an important aspect of choosing winter textiles. Look for the softest wool throws in chunky and rib knits and faux fur cushions,' says Sam Hood, creative director of Amara. 'Neutral colors are great for developing a warm look that will resonate well in a country home.'
13. Center your layout around a fireplace
When it comes to designing a living room layout, while most under the age of 20 would wager that the TV should be the room's focal point, an attractive fireplace is the far more stylish option.
If you use your fireplace, make sure you don't position living room seating too near and risk cooking your guests! You'll also need enough space to store fuel – at least 20 inches (50cm) clearance is recommended.
A centrally located coffee table is ideal for hosting drinks and reading material, but it shouldn't be an obstacle or make sofa access tricky. Aim for about 12-16 inches (30-40cm) clearance all around.
Pull sofas away from the walls if possible, too.
14. Add a coffee table
'When choosing a coffee table, it's important to think about how it will be positioned in the room, as well as how it will work with the existing aesthetic,' advises Emma Sims Hilditch, founder and creative director of Sims Hilditch.
'Avoid anything too on-trend, as you may find that you tire of it quickly and it will need to be replaced,' – like the classic furniture choices in this gray living room.
'We love to push two identical coffee tables together,' Emma adds.
15. Aim for a sophisticated look
For a more adult entertaining space, pick shapely furniture with elegance and grace. Symmetry in interior design is key, but don't over-play the coordination or it may appear stiff and unwelcoming.
'To create a sophisticated look, it's important to choose things you really like or cherish. Avoid anything too gimmicky and don't try to match everything,' says Tim Walters, managing director of George Spencer Designs.
'The most relaxing homes should be a reflection of who we are, evolving and growing with us over time to create a natural form of layering in design and color,' adds Tim.
16. Dress your windows well
Never underestimate the cosseting capabilities of country-style drapes. Adding comfort in a way blinds never can, drapes can be used to dress even the smallest of windows, and will help keep the heat inside in the process.
Even if your window is small or awkwardly placed, as in this country cottage, a thickly lined curtain can add color and warmth. Here, Sanderson has used a single outsized curtain to make the small offset window appear bigger.
'Generous curtains in earthy tones create the perfect backdrop for cozy nights by the fireplace,' says Rebecca Craig, lead designer at Sanderson.
17. Consider installing a woodburning stove
It's not just the heat that makes an indoor fire so enticing, it's the whole package: the smell, the sound, the soft light.
'The ambience a woodburning stove creates is unbeatable,' says Emma Sims-Hilditch. 'They also emit a delicious woody aroma. In addition, a statement mantelpiece surround can create a focus in a room.'
Woodburning stoves also come with the ability to regulate the heat and can be left (provided they are well maintained) without constant supervision, making it a relatively low maintenance option, too.
'The other bonus is that they are much more flexible when it comes to installation,' adds Henriette von Stockhausen of VSP Interiors.
18. Don't shy away from pattern
An abundance of pattern can make a large open space appear a lot more intimate. From patterned living room wallpaper ideas to cushions, pillows, upholstery and flooring, patterns can be implemented pretty much anywhere in a space that feels too cold or open, to give it a cozy feel.
'Pattern need not always be partnered with plain,' says Susie Watson, director of Susie Watson Designs. 'Learn how to mix patterns for a more eclectic look, which is easier to live with than you might think.'
19. Choose wraparound furniture
Echoing the direction of the walls, a sectional, corner, modular or curved sofa that is configured to wrap around a room will will add a cosseting feel to a living space.
They're a useful small living rooms, as they allow you to use every inch of your space, keeping it relaxed and intimate. Also an excellent choice for larger spaces, you can place the sofa into the centre of the room, breaking up the open area and making the room feel instantly cozier.
How can I make my living room feel cozy?
There are plenty of cozy living room ideas to choose from, but as a rule, it's best to focus on areas such as lighting, furniture and texture, particularly if you want to make a large living room feel cozy.
With lighting, you should switch off the bright overhead light (use this only whenever you're cleaning or doing something practical) and introduce a variety of light sources around the room.
Furniture should fill the room without overcrowding – sectional sofas, footstools and so on. The right furniture will instantly add a cocooning effect to even the largest of spaces.
Soft texture should be included all around the space - the look needs to be cozy and inviting. Introduce an ottoman instead of a coffee table, drapes and curtains instead of shutters, and rugs and carpet instead of hard flooring. Add cushions and throws to soften up a contemporary shaped sofa, too.
What colors make a living room cozy?
Don't necessarily assume that the color white will make a room feel cold. A similar assumption about dark walls making a small room feel smaller is also incorrect.
White, teamed with plenty of texture and natural fabrics and surfaces, can look instantly appealing, like in this cozy bohemian living room idea above – while dark shades on walls will make a room feel cozy, not small.
'While white shutters will always appeal,' says Mark Lucas, designer at Hillarys, 'we're seeing an increasing trend towards colored and stained wood'.
Sign up to the Homes & Gardens newsletter
Decor Ideas. Project Inspiration. Expert Advice. Delivered to your inbox.
Pippa is Content Editor on Homes & Gardens online contributing to Period Living and Country Homes & Interiors print issues. A graduate of Art History and formerly Style Editor at Period Living, she is passionate about architecture, creating decorating content, interior styling and writing about craft and historic homes. She enjoys searching out beautiful images and the latest trends to share with the Homes & Gardens audience. A keen gardener, when she's not writing you'll find her growing flowers on her village allotment for styling projects.