Cozy living room ideas – hibernate at home in a comfy, cocoon-like space
Our line-up of cozy living room ideas will help you enjoy lazy days and cozy evenings with loved ones in the most comfortable of spaces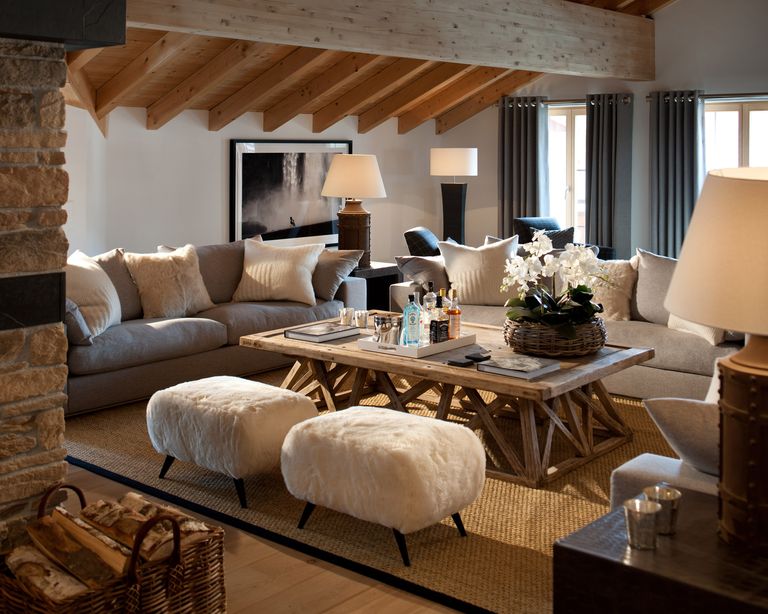 (Image credit: Nicky Dobree/Philipvile)
Cozy living room ideas are pretty much top of most people's lists at the moment – for obvious reasons, when you consider that the most used space in a home is the living space.
From busy family areas to quiet rooms to retreat to, cozy living room ideas should be functional and, above all, comfortable – particularly if all you crave is a soothing space to unwind in at the end of a busy day.
There are plenty of big and small changes you can make to your living room to make the space feel cozier and more inviting.
From the colors you decorate with, the furniture to choose and the lighting to pick, they all can have a transformative effect on a cold, dreary living area.
Cozy living room ideas
When thinking about cozy living room ideas, it's important not to strip out all of the things in your living room that make it unique - it's those pieces that add individuality to a space and make it real and inviting.
'Flexibility is key - eclectic furniture and keynote accessories not only make your home more welcoming, they're a great way to express your personality.' Sam Baldry, head of design at Swoon (opens in new tab).
So, if you're looking for living room ideas (opens in new tab) that will make your space more inviting, more cocooning and more cosseting, you've come to the right place.
1. Install mood lighting
Living room lighting ideas (opens in new tab) can make or break the atmosphere in your space. Design experts love a layered approach that can be dialled up, or down, as required.
Interior designer Nicky Dobree (opens in new tab) recommends using plenty of lamps to cast a soft, warm light across the room at a lower level. Instead of a lone central pendant, she prefers indirect spotlights, on dimmers if possible. 'They're more discreet and can be hidden in the beams,' she says.
2. Choose natural shades
'We're seeing a lot more terracotta, clay and rust colors coming through,' says Charlie Marshall, founder of Loaf (opens in new tab), which has introduced ten new fabrics in edible shades, such as Caramel, Pinky Peanut and Praline.
These tones are ideally suited in a country setting, and can be softened with neutral off-white living room paint ideas (opens in new tab) as a backdrop.
'Velvet is a relatively new trend that's gaining traction on sofas, and a great way to fast track a bit of luxury into your living room. For stress-free entertaining, go for modern "smart" or "clever" velvet, which is designed to be stain resistant.'
3. Play with texture
As well being a great way to keep up with the latest living room trends (opens in new tab), a biannual cushion update can also be all it takes to adapt your cozy living room ideas to the changing seasons. Cottons and linens work well in summer, while more cosseting fabrics are perfect in winter.
'Texture is an important aspect of choosing winter textiles. Look for the softest wool throws in chunky and rib knits and faux fur cushions,' says Sam Hood, creative director of Amara (opens in new tab). 'Neutral colors are great for developing a warm look that will resonate well in a country home.'
4. Play with your layout
When it comes to designing a living room (opens in new tab) layout, while most under the age of 20 would wager that the TV should be the room's focal point, an attractive fireplace is the far more stylish option.
If you use your fireplace, make sure you don't position seating too near and risk cooking your guests! You'll also need enough space to store fuel – at least 20 inches (50cm) clearance is recommended.
A centrally located coffee table is ideal for hosting drinks and reading material, but it shouldn't be an obstacle or make sofa access tricky. Aim for about 12-16 inches (30-40cm) clearance all around.
Pull sofas away from the walls if possible, too.
5. Choose your furniture with care
'When choosing a coffee table, it's important to think about how it will be positioned in the room, as well as how it will work with the existing aesthetic,' advises Emma Sims Hilditch, founder and creative director of Sims Hilditch (opens in new tab).
'Avoid anything too on-trend, as you may find that you tire of it quickly and it will need to be replaced,' – like the classic furniture choices in this gray living room (opens in new tab).
'We love to push two identical coffee tables together,' Emma adds.
6. Aim for a sophisticated look
For a more adult entertaining space, pick shapely furniture with elegance and grace. Symmetry is key, but don't over-play the coordination or it may appear stiff and unwelcoming.
'To create a sophisticated look, it's important to choose things you really like or cherish. Avoid anything too gimmicky and don't try to match everything,' says Tim Walters, managing director of George Spencer Designs (opens in new tab).
'The most relaxing homes should be a reflection of who we are, evolving and growing with us over time to create a natural form of layering in design and color,' adds Tim.
7. Dress your windows well
Never underestimate the cosseting capabilities of country-style drapes (opens in new tab). Adding comfort in a way blinds never can, drapes can be used to dress even the smallest of windows, and will help keep the heat inside in the process.
Even if your window is small or awkwardly placed, as in this country cottage, a thickly lined curtain can add color and warmth. Here, Sanderson (opens in new tab) has used a single outsized curtain to make the small offset window appear bigger.
'Generous curtains in earthy tones create the perfect backdrop for cozy nights by the fireplace,' says Rebecca Craig, lead designer at Sanderson.
8. Consider installing a woodburning stove
It's not just the heat that makes an indoor fire so enticing, it's the whole package: the smell, the sound, the soft light.
'The ambience a woodburning stove creates is unbeatable,' says Emma Sims-Hilditch. 'They also emit a delicious woody aroma. In addition, a statement mantelpiece surround can create a focus in a room.'
Woodburning stoves also come with the ability to regulate the heat and can be left (provided they are well maintained) without constant supervision, making it a relatively low maintenance option, too.
'The other bonus is that they are much more flexible when it comes to installation,' adds Henriette von Stockhausen of VSP Interiors.
9. Don't shy away from pattern
An abundance of pattern can make a large open space appear a lot more intimate. From patterned living room wallpaper ideas (opens in new tab) to cushions, pillows, upholstery and flooring, patterns can be implemented pretty much anywhere in a space that feels too cold or open, to give it a cozy feel.
'Pattern need not always be partnered with plain,' says Susie Watson, director of Susie Watson Designs. 'Learn how to mix patterns (opens in new tab) for a more eclectic look, which is easier to live with than you might think.'
10. Choose wraparound furniture
Echoing the direction of the walls, a sectional, corner, modular or curved sofa that is configured to wrap around a room will will add a cosseting feel to a living space.
They're a useful small living rooms (opens in new tab), as they allow you to use every inch of your space, keeping it relaxed and intimate. Also an excellent choice for larger spaces, you can place the sofa into the centre of the room, breaking up the open area and making the room feel instantly cozier.
How can I make my living room feel cozy?
There are plenty of cozy living room ideas to choose from, but as a rule, it's best to focus on areas such as lighting, furniture and texture.
With lighting, you should switch off the bright overhead light (use this only whenever you're cleaning or doing something practical) and introduce a variety of light sources around the room.
Furniture should fill the room without overcrowding - sectional sofas, footstools and so on. The right furniture will instantly add a cocooning effect to even the largest of spaces.
Soft texture should be included all around the space - the look needs to be cozy and inviting. Introduce an ottoman instead of a coffee table, drapes and curtains instead of shutters, and rugs and carpet instead of hard flooring. Add cushions and throws to soften up a contemporary shaped sofa, too.
What colors make a living room cozy?
Don't necessarily assume that the color white will make a room feel cold. A similar assumption about dark walls making a small room feel smaller is also incorrect.
White, teamed with plenty of texture and natural fabrics and surfaces, can look instantly appealing, like in this cozy bohemian living room idea (opens in new tab) above – while dark shades on walls will make a room feel cozy, not small.
'While white shutters will always appeal,' says Mark Lucas, designer at Hillarys (opens in new tab), 'we're seeing an increasing trend towards colored and stained wood'.
Linda graduated from university with a First in Journalism, Film and Broadcasting. Her career began on a trade title for the kitchen and bathroom industry, and she has worked for Homes & Gardens, and sister-brands Livingetc, Country Homes & Interiors and Ideal Home, since 2006, covering interiors topics, though kitchens and bathrooms are her specialism.