Traditional living room ideas – classic decor looks for walls, floors and furniture
Inspiration for creating traditional living rooms with timeless charm, using ideas from archive prints to the sofas that blend comfort with elegance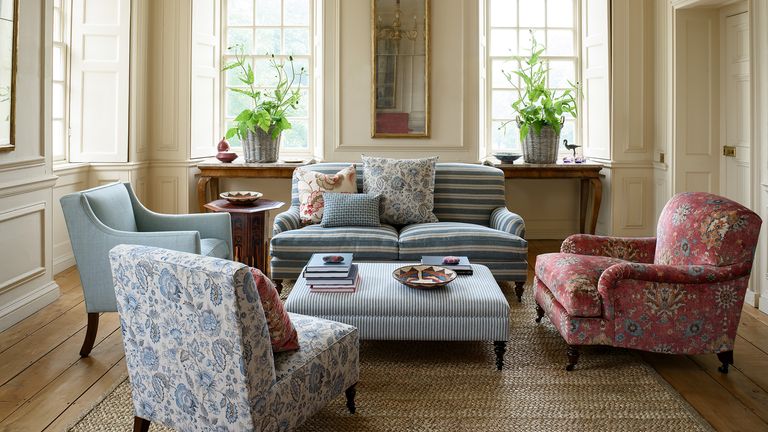 (Image credit: Colefax & Fowler)
These traditional living room ideas will help you to create calm, elegant spaces with timeless appeal. Centered around the principles of comfort and relaxation, traditional living rooms are designed to allow us to unwind after a long day, but are equally where we can entertain guests and visitors.
When it comes to decorating, there's plenty to think about, from wall colors, flooring types, that all important living room suite and window treatments to those vital finishing touches. If you have a period property, the best place to start is by looking at what you already have, advises Ruth Mottershead, Little Greene's creative director.
'To create a timeless scheme, consider the architectural period of your home as well as the atmosphere you wish to create; often the most enduring design schemes are those that are a natural fit for the style of property,' she says.
Discover more expert advice and traditional living room ideas below. For more living room ideas, whatever your style, don't miss our main feature.
1. Layer neutral colors
Wall color is one of the key decisions to make when designing a living room; as the as the backdrop to your scheme it will have a huge impact on the look and feel of the space. For a classic, calming scheme but one that still has interest, consider using a mix of neutral shades suggests Ruth Mottershead, creative director at Little Greene.
'Timeless living room schemes are all about creating an elegant, calming space using soft natural colors such as stone based hues and neutrals,' she says. 'Remember "neutral" does not mean bland and the use of stone colors is not about a return to beige, greige or even magnolia, it's about adding warming, natural shades to create subtle schemes with a sense of longevity and timelessness.'
2. Hang curtains in archive fabric prints
There are all sorts of window treatments to chose from, but nothing says traditional style like classic floor to ceiling drapes. From Edwardian chintz to designs inspired by 18th century palampores (bed covers) from India's Coromandel Coast, Warner House has a rich archive of velvets, weaves and embroideries to inject luxurious pattern and history into your living space. Director, Lee Clarke, explains why he loves prints from the past and why scale is important.
'Traditional homes are often roomy, with high ceilings and large windows. This is why scale is important. Choose large scale patterns to get the proportion right and don't be afraid to match the same pattern on the walls and the curtains,' he says.
'At Warner House, we carry many old, traditional patterns that have been given a twist with the use of more contemporary colors. I am not a fan of replicating the original decorative style of the home, I feel it can look a little forced and may not suit how we live today,' Lee continues.
'What I much prefer is decoration which pays respect to the past, but lives for today; bold chintz, large scale florals, toile de jouy all work well in period homes, they can work equally well with both traditional and contemporary furniture or indeed a mix of the two!'
3. Choose striped upholstery for a timeless feel
Whether chic, wide stripes or rustic french ticking linens, striped fabrics are a brilliant choice when it comes to upholstery and window treatments in traditional living rooms. Inoffensive and easy to live with, they will stand the test of time and come in all manor of weaves, weights and colors to match your scheme.
New from Clarke & Clarke, these three varying stripes from the Edgeworth collection, pictured across the footstool, sofa and wing-back armchair, all co-ordinate to create a calm yet layered look. Try the classic combination of blue and white to enduring appeal.
See: Decorating with stripes – smarten up a room with these elegant looks
4. Opt for a classic, comfortable sofa
As spaces to relax and unwind, comfort should be the main focus when designing a traditional living room, so what sofa you chose is an important decision. For a design that perfectly blends comfort with quality and that has a relaxed feel that will stand the test of time consider a curved, Howard-style design with loose cushions such as this Stratford design from Kingcome .
'Based on traditional Edwardian designs, the Stratford sofa perfectly embodies timeless and luxurious living. With its generous deep seat, low arms and sprung back, this sumptuously comfortable sofa is perfectly suited to traditional interiors as well as town houses and cottages,' says Frank Phipps, design director at Kingcome Sofas.
Choosing a delicate green fabric for upholstery such as this Dart Stripe in a timeless Leaf Green from Colefax & Fowler will create a fresh, uplifting feel.
5. Furnish with antique pieces
Finely crafted using traditional methods and boasting a quality of manufacture inimitable by many modern designs, antique furniture makes a great choice for furnishing a traditional living room, whether you have a period property or are looking to create a traditional look.
Whether it's a pair of exquisite Georgian Chippendale chairs or a weathered French cabinet with chippy paint found at a flea market, furniture with age brings personality and character to a space often unattainable with modern pieces.
Provided they are well cared for antique sofas such as these Howard designs, with their elegant silhouettes and loose sink-in feather filled cushions, will ensure timeless elegance and comfort for years to come.
See: Decorating with antiques – 5 top tips from designer Henriette von Stockhausen
6. Opt for versatile seating options
For many the living room is a place to gather with family and friends, so its important to factor in plenty of seating options into your design. As well as sofas and armchairs, consider adding in upholstered pouffes and footstools which can be easily moved in and out of the space and think about using a window area to create a cozy window seat.
7. Mix and match fabrics
Capturing the enduring beauty of nature, florals are a brilliant choice for upholstery in a traditional living room, and they work brilliantly when layered with other prints explains Daniel Slowik, associate design director at Sibyl Colefax & John Fowler.
'The trick with florals is understanding how to work with them in terms of pattern, color, texture and scale to create a timeless scheme, without them appearing old fashioned,' he says. 'Combining the patterns with neutral or plain color tones and adding colorful block-printed cushions and rugs always works well.
'There is nothing wrong with a bit of a clash but it's worth noting that while the most surprising colors can work well together you have to play around a bit with the designs themselves to achieve a harmony of pattern. The perfect combination will unify a scheme and can give it a timeless quality but it's always important to remember the process is organic.
'Plain floorboards in a light color or white keeps the room looking fresh as does stone and natural flooring. Play up the freshness of the designs by combining with contemporary ceramics and baskets.'
8. Invest in quality pieces you love
To give spaces a timeless feel for years to come it's a good idea to invest in quality pieces you love says Birdie Fortescue, designer and founder of the eponymous interiors brand.
'Build up and invest carefully in a collection of furniture, whether antique or contemporary, that you love and will stand the test of time. This, in addition to your favorite art, will create the bones of a room from which you can layer with color, pattern and texture,' says the designer.
Decorating spaces in neutral colors and limiting color and print to cushions which can easily be updated is another great way to keep spaces feeling calm but fresh.
'Refresh your cushions each season as this will immediately give a room a new look and lease of light,' says Birdie.
9. Create a focus with a characterful fireplace
Whether it's a snug stone inglenook surmounted by historic beam or a grand, carved marble surround, the fireplace is often the main feature of a living room and, creating warmth and a homely feel, is the place people naturally congregate.
If you're lucky enough to have an original fireplace be sure to preserve it and make it the focus of your scheme, alternatively, if you don't, consider fitting a reclaimed fireplace for a traditional feel and fitting it with a wood-burning stove.
See: Fireplace ideas for living rooms - from style to placement
10. Add a feature rug
Choosing a pared-back palette will ensure your living room scheme stands the test of time, so, rather than a feature wall that you may tire of, why not inject color and pattern through the addition of a beautiful rug? For similar designs to this blue oriental style pictured try Oka.
11. Fit floor to ceiling book shelves
Whether they're used to store books or display cherished collectables, bespoke built-in shelves will give your living room that valuable storage space, but will also help make your space feel homely and lived in which is what traditional spaces are all about. If your ceilings are tall, they're a brilliant way to make spaces feel more cozy.
Lover of all things vintage, floral and country, Pippa has been working in interiors media for 10 years. A graduate of Art History, and Style Editor for Period Living magazine, she is a nostalgic soul who is passionate about historic architecture and traditional craftsmanship. When she's writing about homes and gardens you'll find her pottering on her Gloucestershire allotment, Pippa's Plot, where she grows flowers for styling her own home and interiors shoots.