Traditional living room ideas – 20 classic decor looks for walls, floors and furniture
Be inspired by these traditional living room ideas and create a space full of timeless charm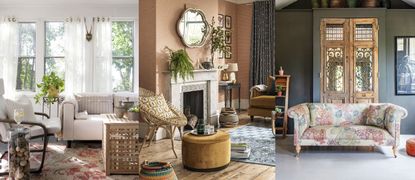 (Image credit: Georgia Zikas Designs/John Lewis & Partners/Sofas & Stuff)
Sign up to the Homes & Gardens newsletter
Decor Ideas. Project Inspiration. Expert Advice. Delivered to your inbox.
Thank you for signing up to Homes & Gardens. You will receive a verification email shortly.
There was a problem. Please refresh the page and try again.
Traditional living room ideas bring with them a charm and sophistication that is guaranteed to offer a warm welcome to both your family and visiting friends. Your living room is the space in which you unwind and as such the design should be centered around the principles of comfort and relaxation.
When it comes to designing your living room ideas, there's plenty to think about, from wall colors and flooring types to that all important living room suite and window treatments as well as those vital finishing touches.
'Traditional design in a living room is all about creating and telling a story in the colors, textures and pieces that you choose. It is not trendy nor of the moment, rather, will stand the test of time and always make the home feel elegant and sophisticated. Focus on rich elements like area rugs, antique furniture or unique wallcoverings to bring your space to life,' says Ana Rovai, designer at Perlmutter Freiwald.
Traditional living room ideas
Traditional living room ideas are one of the easiest looks to achieve. Start by viewing your space as a bare room, highlight any architectural elements that make your living room unique. This could be a large bay-window, coving and ceiling roses or traditional fireplaces. These elements will help you ground your design. From there, let traditional decorating ideas guide your design, select classic furniture shapes and styles, antiques are always a good choice for traditional living room ideas but there are also lots of newer pieces which are based on historic designs. Pair this with antique and classical decor to complete the look.
'When designing a traditional living room incorporating antiques is a great way to stay true to the design style while still creating a space that feels fresh and unique,' says Megan Dufresne, Principal Designer at MC Design. 'A key feature of traditional style is intertwining historical pieces with newer pieces to create a beautiful balance of old and new. The use of antiques in the decor connects the room to the time period while the newer pieces add a modern edge.'
1. Create a timeless living room with classic furniture
Any style of home can channel traditional decorating ideas in your living room, after all this timeless look offers a pared back sophistication that works in a wide range of spaces. Opt for classic shaped furniture and natural materials, paired with accent antiques or vintage pieces to set the tone.
'However, traditional does not mean dated or boring! On the contrary, there is nothing more exciting than to modernize traditional design elements to adapt and work with the way we live today, while still giving an overall sense of timeless elegance to a living room,' says Georgia Zikas, founder of Georgia Zikas Design. 'This can be as simple an idea as beautifully rich fabrics for your arm chairs, to incorporating family heirlooms and furniture that have been passed down over generations. Creating this layered look adds character and substance to a room.'
2. Add sliding barn doors to offer flexibility
Open-plan living room ideas are very of the moment, creating an informal welcoming heart to your home. While it is perfect for entertaining, sometimes you want your traditional living room ideas to feel cozy and intimate. Adding sliding barn doors to your open-plan living room offers the best of both worlds. When open, these sliding doors create a seamless link between the living room and kitchen/dining areas. However, when you're looking to create an intimate space for cozy night's in, you can close the doors and create a sanctuary.
Opting for sliding doors rather than traditional swing doors has minimalist impact, paint in a soothing shade to create a feature and give your traditional living room ideas a country-style edge.
There are plenty of different broken plan living room ideas that can provide versatility to your traditional living room ideas, from internal glazing and panels through to screens and drapes.
3. Focus your design on your living rooms architectural features
Use the architectural features in your space to define your traditional living room ideas. If you have large windows, consider leaving them undressed to maximize the light that floods into the space. Natural light is your best-friend in living room styling, making everything seem brighter and more welcoming. If your living room is a darker space, consider adding mirrors and other ways for how to increase natural light to help elevate your space.
If you're lucky enough to have a vaulted ceiling or original beams, leave these unpainted to add texture and character, great for living room ceiling ideas.
4. Opt for colored walls to add warmth to your traditional living room ideas
Traditional living room ideas do not have to be devoid of color. While white walls set a minimalist backdrop for your traditional scheme, consider experimenting with colored walls. A plaster-pink wall color makes the space feel instantly warmer while offering a pretty backdrop to wall art and decor. Pair pink living room ideas with rattan accessories and velvet upholstery in a mustard shade to channel a more boho feel. Original wooden floors and a period fireplace complete the traditional living room ideas.
5. Make a statement with you sofa
Your sofa is the key piece of furniture in your living room and as such it should define the tone of the space. While there are plenty of living room sofa ideas from which to choose, for traditional living room ideas, opt for a classic sofa shape. 'The rounded arms of a roll arm sofa are a hallmark of traditional style, but the choice of color and fabric can elevate this living room staple. I use color and texture to ensure the sofa makes a statement but doesn't overpower the space,' says Megan Dufresne.
Buying a new sofa or armchair is one of the most important furniture purchases you will make for your home. There are endless possibilities for the design and fabric choice, but perhaps most importantly, you need to focus on comfort, as every seat feels different. 'Don't order a sofa online without seeing it in person. While you might take the risk with an occasional-use armchair, your primary seating must feel just right. Try out as many different options as you can, and work out whether you prefer an upright or more relaxed sit, firm or soft cushions, and the levels of support you require,' recommends Period Living editor Melanie Griffiths.
7. Combine traditional prints with modern colors for a contemporary edge
Floral room decor comes hand in hand with traditional living room ideas but that doesn't mean it has to be dated and kitsch. A heritage print in a bold modern shade is sure to give your traditional living room ideas a contemporary flair.
'Wallpaper is almost a must for a traditional living room scheme and traditional patterns are a great way to hint to a particular era. If you're looking to balance the look with some modernity then a traditional pattern in a modern color is a great way to do that,' says James Mellan-Matulewicz, creative director at Bobbi Beck.
8. Choose striped upholstery for a timeless feel
Whether chic, wide stripes or rustic french ticking linens, striped fabrics are a brilliant choice when it comes to both upholstery and window treatments in traditional living room ideas. Inoffensive and easy to live with, they will stand the test of time and come in all manor of weaves, weights and colors to match your scheme.
If you feel apprehensive about decorating with stripes, the key is to avoid too many patterns in the space. Start by introducing a small striped accessory, such as a vase, a piece of artwork or even a rug, then you can build up to upholstery and window-dressings. If opting for multiple different stripes in a scheme, keep to a similar color palette but add texture by incorporating stripes in different directions and sizes.
9. Use lighting to create accents and spotlight key features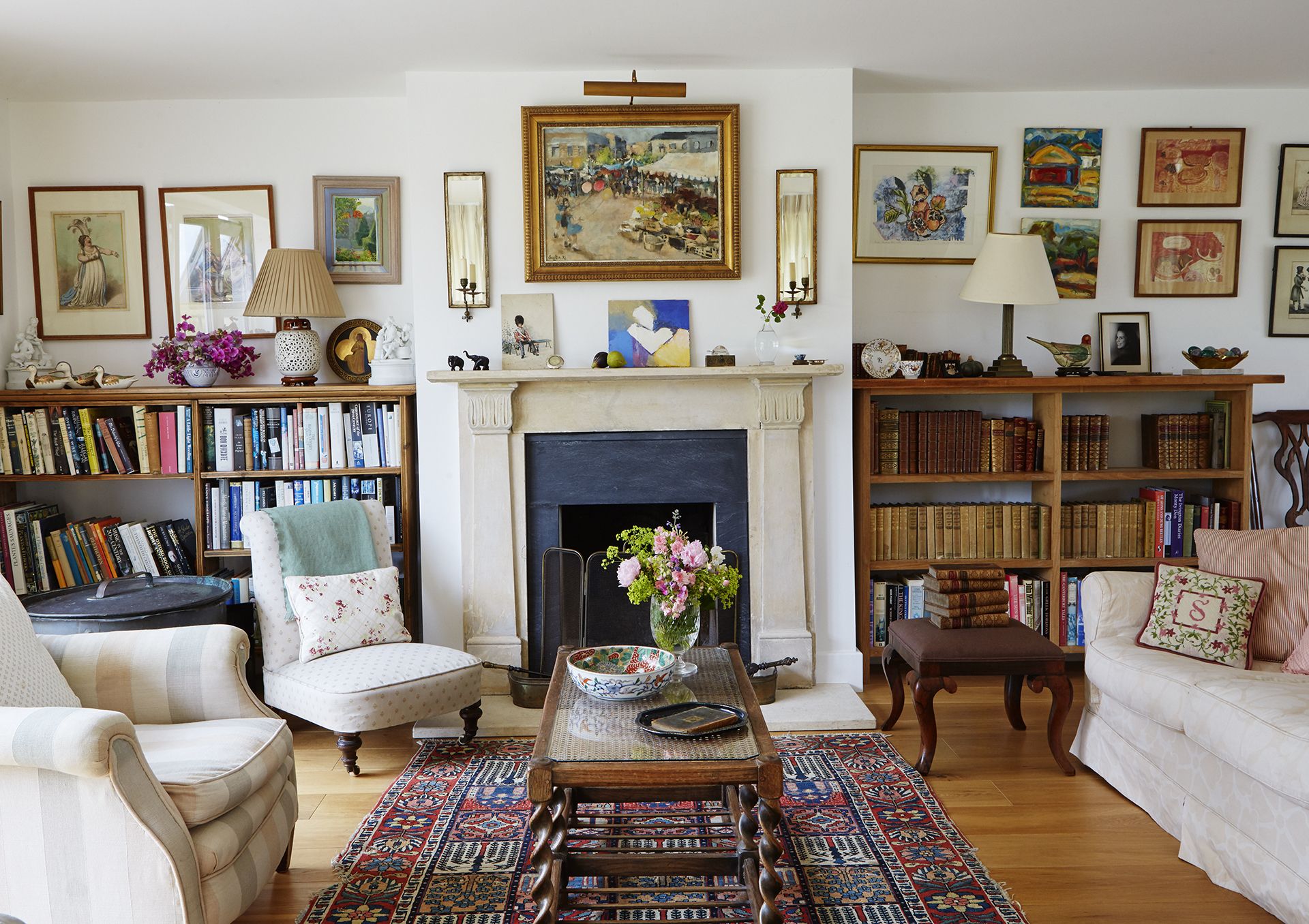 Accent lighting is a technique used to highlight focal points and add interest. Placing a picture light above a favorite piece of artwork elevates its status in the room and draws the eye. To achieve this in your traditional living room ideas, prioritise symmetry. Here, a picture light is flanked by symmetrical table lamps and wall sconces, which provide a practical element without compromising the look of the space.
10. Select a colorscheme inspired by the natural world
Green is a great choice for traditional living room ideas. When paired with white it brings a spring-like feel to the space which will feel bright and airy even on the grayest days. This green Stratford sofa from Kingcome is dressed in a fresh yet understand pastel green which beautiful complements the botanical prints on the footstool and panelled cabinetry.
'Based on traditional Edwardian designs, the Stratford sofa perfectly embodies timeless and luxurious living. With its generous deep seat, low arms and sprung back, this sumptuously comfortable sofa is perfectly suited to traditional interiors as well as town houses and cottages,' says Frank Phipps, design director at Kingcome Sofas.
11. Layer neutral colors for a traditional living room scheme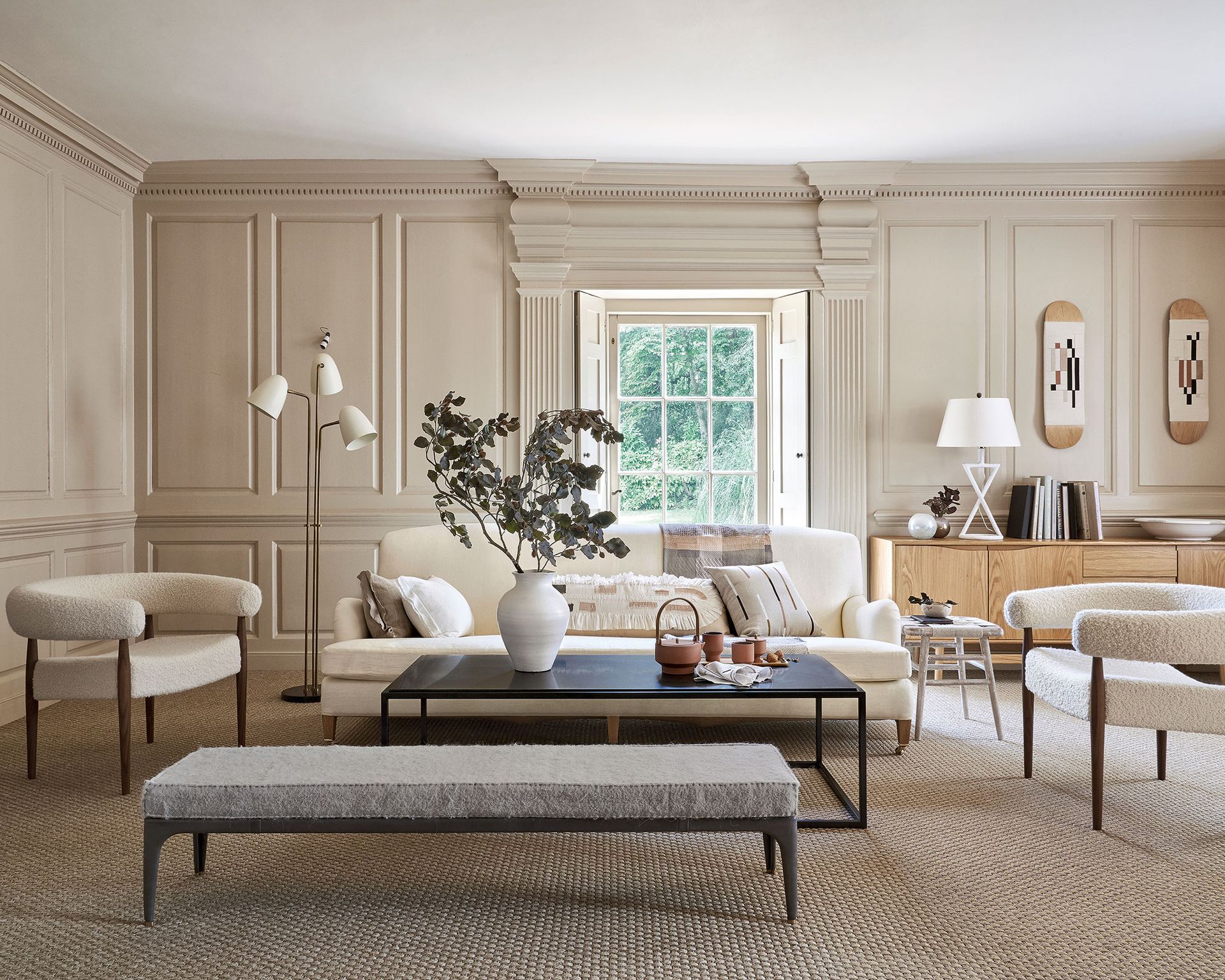 Wall color is one of the key decisions to make when deciding on which traditional living room ideas to incorporate into your own space. As the as the backdrop to your scheme, wall color will have a huge impact on the look and feel of the space. For a classic, calming scheme but one that still has interest, consider using a mix of neutral shades suggests Ruth Mottershead, creative director at Little Greene.
'Timeless living room schemes are all about creating an elegant, calming space using soft natural colors such as stone based hues and neutrals,' she says. 'Remember "neutral" does not mean bland and the use of stone colors is not about a return to beige, greige or even magnolia, it's about adding warming, natural shades to create subtle schemes with a sense of longevity and timelessness.'
If you want to add a statement to your neutral scheme, consider incorporating wall mural ideas or living room feature wall ideas for an eye-catching injection of color and pattern.
12. Hang curtains in archive fabric prints
There are all sorts of window treatment ideas that can look great as part of your traditional living room ideas. However, nothing says traditional style like classic floor to ceiling drapes. From Edwardian chintz to designs inspired by 18th century palampores (bed covers) from India's Coromandel Coast, Warner House has a rich archive of velvets, weaves and embroideries to inject luxurious pattern and history into your living space. Director, Lee Clarke, explains why he loves prints from the past and why scale is important.
'Traditional homes are often roomy, with high ceilings and large windows. This is why scale is important. Choose large scale patterns to get the proportion right and don't be afraid to match the same pattern on the walls and the curtains,' he says.
'At Warner House, we carry many old, traditional patterns that have been given a twist with the use of more contemporary colors. I am not a fan of replicating the original decorative style of the home, I feel it can look a little forced and may not suit how we live today,' Lee continues.
'What I much prefer is decoration which pays respect to the past, but lives for today; bold chintz, large scale florals, toile de jouy all work well in period homes, they can work equally well with both traditional and contemporary furniture or indeed a mix of the two!'
13. Decorate with chinoiserie for an opulent feel
A Western style that seeks to emulate the art and design of China, Japan and other Asian countries, chinoiserie has been bringing an air of luxury to interiors ever since it emerged in the mid 18th century. Chinoiserie is a great choice for traditional living room ideas, bringing heritage charm as well as pattern and color to the scheme.
Sourced from an early 20th-century printed linen sample, this Yentai Stone paper from Warner House, depicts a chinoiserie scene of urns and floral arrangements, and is available in a co-ordinating printed linen – perfect for creating co-ordinating window treatments.

14. Furnish with antique pieces
Finely crafted using traditional methods and boasting a quality of manufacture inimitable by many modern designs, antique furniture makes a great choice for furnishing for traditional living room ideas.
Whether it's a pair of exquisite Georgian Chippendale chairs or a weathered French cabinet with chippy paint found at a flea market, furniture with age brings personality and character to a space often unattainable with modern pieces.
Provided they are well cared for antique sofas such as these Howard designs, with their elegant silhouettes and loose sink-in feather filled cushions, will ensure timeless elegance and comfort for years to come.
15. Opt for versatile seating options
For many, the living room is a place to gather with family and friends, so its important to factor in plenty of seating options into your design. As well as sofas and armchairs, consider adding in upholstered pouffes and footstools into your traditional living room ideas as these can be easily moved in and out of the space and think about using a window area to create a cozy window seat.
16. Mix and match fabrics to add texture
Capturing the enduring beauty of nature, florals are a brilliant choice for upholstery for traditional living room ideas. They also work brilliantly when layered with other prints explains Daniel Slowik, associate design director at Sibyl Colefax & John Fowler.
'The trick with florals is understanding how to work with them in terms of pattern, color, texture and scale to create a timeless scheme, without them appearing old fashioned,' he says. 'Combining the patterns with neutral or plain color tones and adding colorful block-printed cushions and rugs always works well.
'There is nothing wrong with a bit of a clash but it's worth noting that while the most surprising colors can work well together you have to play around a bit with the designs themselves to achieve a harmony of pattern. The perfect combination will unify a scheme and can give it a timeless quality but it's always important to remember the process is organic.
'Plain floorboards in a light color or white keeps the room looking fresh as does stone and natural flooring. Play up the freshness of the designs by combining with contemporary ceramics and baskets.'
17. Invest in quality pieces you love
To give spaces a timeless feel for years to come it's a good idea to invest in quality pieces you love says Birdie Fortescue, designer and founder of the eponymous interiors brand.
'Build up and invest carefully in a collection of furniture, whether antique or contemporary, that you love and will stand the test of time. This, in addition to your favorite art, will create the bones of a room from which you can layer with color, pattern and texture,' says the designer.
Decorating spaces in neutral colors and limiting color and print to cushions which can easily be updated is another great way to keep spaces feeling calm but fresh.
'Refresh your cushions each season as this will immediately give a room a new look and lease of light,' says Birdie.
18. Create a focus with a characterful fireplace
Whether it's a snug stone inglenook surmounted by historic beam or a grand, carved marble surround, the fireplace is often the main feature of a living room and, creating warmth and a homely feel, is the place people naturally congregate.
If you're lucky enough to have an original fireplace be sure to preserve it and make it the focus of your scheme, alternatively, if you don't, consider fitting a reclaimed fireplace for a traditional feel and fitting it with a wood-burning stove. There are plenty of traditional fireplace ideas that would create a stunning centerpiece in your traditional living room ideas.
19. Add a feature rug to bring color to your living room
Choosing a pared-back palette will ensure your living room scheme stands the test of time, so, rather than a feature wall that you may tire of, why not inject color and pattern through the addition of a beautiful rug? For similar designs to this blue oriental style pictured try Oka.
20. Fit floor to ceiling book shelves
Whether they're used to store books or display cherished collectables, bespoke built-in shelves will give your traditional living room ideas valuable storage space. Living room bookshelf ideas will also help make your space feel homely and lived in which is what traditional spaces are all about. If your ceilings are tall, they're a brilliant way to make spaces feel more cozy.
How do you make a living room look traditional?
You can make a living room look traditional by incorporating classically designed furniture and pairing it with antique or vintage decor and design elements. 'To create a timeless scheme, consider the architectural period of your home as well as the atmosphere you wish to create; often the most enduring design schemes are those that are a natural fit for the style of property,'advises Ruth Mottershead, Little Greene's creative director.
What is a traditional living room style?
A traditional living room style is one that is timeless. Painted in neutral colors with characterful furnishing and soft textiles, your traditional living room ideas should exude warmth and comfort.
'I think the main key in designing a more traditional living room is the use of color, pattern and elegant shapes. Traditional living room ideas can be a fun way to make an elegant statement. One starting point is a patterned rug with possibly scroll-like details or even an antique hand knotted piece. I then look to coordinate items from the rug to more detailed, dramatic lines and images in the furniture, lighting, accessories and even wallpaper,' recommends Amy Youngblood of Amy Youngblood Interiors. 'Finally don't forget about artwork which really finishes off the space. More traditional subjects such as landscapes or still lifes with fussy frames are a go to or for more of an ecclectic look contemporary paintings with coordinating colors look great too!'
Sign up to the Homes & Gardens newsletter
Decor Ideas. Project Inspiration. Expert Advice. Delivered to your inbox.
Pippa is Content Editor on Homes & Gardens online contributing to Period Living and Country Homes & Interiors print issues. A graduate of Art History and formerly Style Editor at Period Living, she is passionate about architecture, creating decorating content, interior styling and writing about craft and historic homes. She enjoys searching out beautiful images and the latest trends to share with the Homes & Gardens audience. A keen gardener, when she's not writing you'll find her growing flowers on her village allotment for styling projects.