Chinoiserie – 13 whimsical ways to decorate with this cultural phenomenon
A fusion of Eastern and Western design, Chinoiserie has been bringing exoticism and luxury to interiors for centuries – here's why it continues to captivate designers today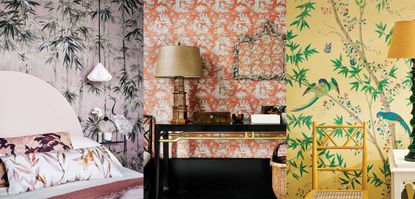 (Image credit: Future)
Chinoiserie is a brilliant way to bring exoticism, luxury and timeless charm to interiors. A fusion of Eastern and Western design, Chinoiserie is a European decorative style that imitates the art and design of China, Japan and other Asian countries which was particularly popular from the latter half of the 18th- to the mid-19th century.
This period witnessed a huge increase in trade between Europe and East Asia and Western society became fascinated by the decorative arts brought back from the Far East, as a result eastern influences began to infiltrate everything from architecture to wall-coverings, fabric, furniture and ceramics.
Characterized by fantastical oriental scenes and sinuous, stylized flower and bird motifs, the Chinoiserie trend has witnessed a surge in popularity in recent years, with today's wallpaper and fabric houses offering a wealth of ornate decorative designs to bring wow-factor to your interior design choices.
Chinoiserie – 13 beautiful decorating ideas for your walls
If you're interested in decorating with chinoiserie then there's a wealth of interior design trends and decorating ideas to inspire. Whether you're looking to create a contemporary or traditional scheme, there are a huge array of ways to channel the style in your home.
Taking inspiration from traditional hand-painted Chinoiserie panels, some specialist companies, such as Fromental and de Gournay, offer bespoke hand-painted designs, alongside emerging independent designers such as Diane Hill. These are created using traditional methods and allow homeowners the chance to have completely bespoke designs that capture meaningful details.
'The client can create something truly unique on the walls of their homes,' says Chinoiserie artist Diane Hill. 'I am captivated by the bold patterns and scenic storytelling of Chinoiserie.'
'Incorporating Chinoiserie inspired wallpaper ideas and designs is a simple way to add a touch of timeless exoticism into your interior,' says Ruth Mottershead creative director of Little Greene. 'Featuring trailing florals and exotic birds, these rich and decorative designs were popular in the 18th century and work beautifully in period homes as well as contemporary schemes.'
Chinoiserie is a versatile style that can be used to bring timeless style to a variety of rooms. We've rounded up some ideas of how to decorate with chinoiserie to create timeless schemes.
1. Evoke the beauty of nature by decorating with Chinoiserie
With roots in the oriental landscape, Chinoiserie also brings the timeless beauty of nature to interiors, imbuing rooms with the restorative powers explains Hannah Cecil Gournay, founder de Gournay. For her, Chinoiserie is more than just decorative – it elevates interiors into a spiritual realm and has the power to lift our mood and really impact the way we feel.
'I truly believe the well-documented benefits of a garden are centric to the enduring appeal of Chinoiserie wallpaper – the traditional premise of which conjures a scene of flowers trees and birds that span the walls,' she says.
'The effect on the mind and the spirit are almost palpable, transposing interior to exterior and transporting inhabitants from the confines of four walls into nature – which in the case of de Gournay is painted entirely by hand. It's good for the soul.'
2. Bring wow-factor to an entranceway with a hand-painted chinoiserie mural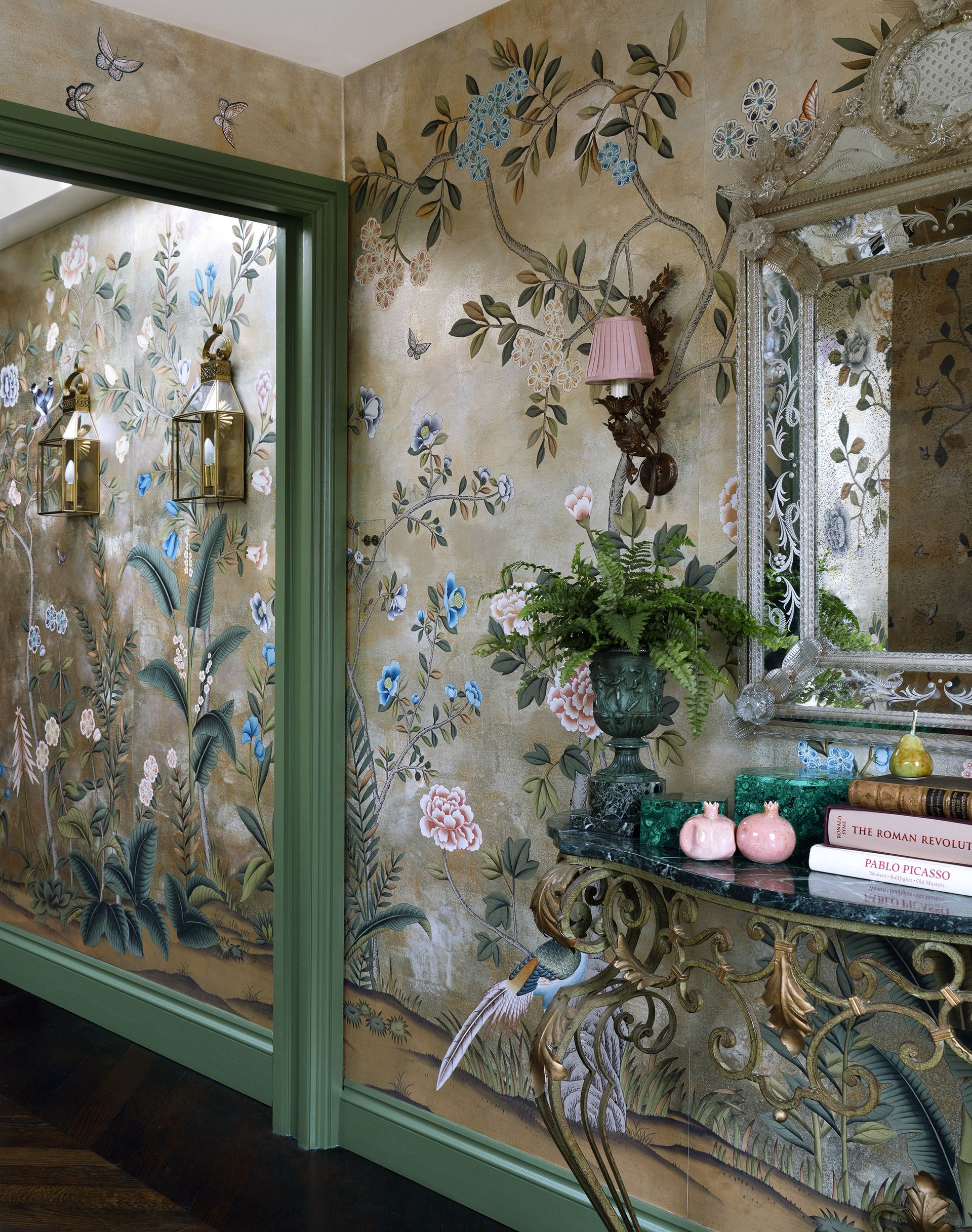 Entryway ideas can easily be forgotten when it comes to decorating, however, as the first space guests will see when they enter your home, they're a great place to make a statement. This hand-painted Siam design from de Gournay adorns the entrance hall of Hannah Cecil Gournay's home, founder of the brand.
When it comes to decorating with chinoiserie, she says there's no need to hold back.
'There's no denying de Gournay wallpaper commands attention; the trick is not to hide this but work to a scheme that balances elements as harmoniously as possible. Clients shouldn't avoid putting up their art and mirrors – these pieces can often enhance the design surrounding them. If you'd prefer to let the wallpaper do the talking then it's a case of muting everything else to an extent.'
3. Make a statement with a bold yellow Chinoiserie-inspired wallpaper
Contemporary wallpapers based on original hand-painted designs are a brilliant way to channel the Chinoiserie trend. Available in an array of vibrant, contemporary colorways, the papers, such as this Belton Scenic design from Little Greene work well in entertaining spaces and link spaces such as dining rooms and hallways.
4. Transform a bathroom into an exotic oasis with a chinoiserie mural
Conjuring the romance of distant lands with their sinuous flowing designs, chinoiserie mural and wallpaper ideas are stunning choices for luxury bathrooms, helping to transform them into opulent Far-Eastern sanctuaries. After all, as private spaces where we can truly unwind at the end of the day, our bathroom ideas deserve the five-star treatment.
5. Impress visitors with a beautiful Chinoiserie walls in a powder room or guest bathroom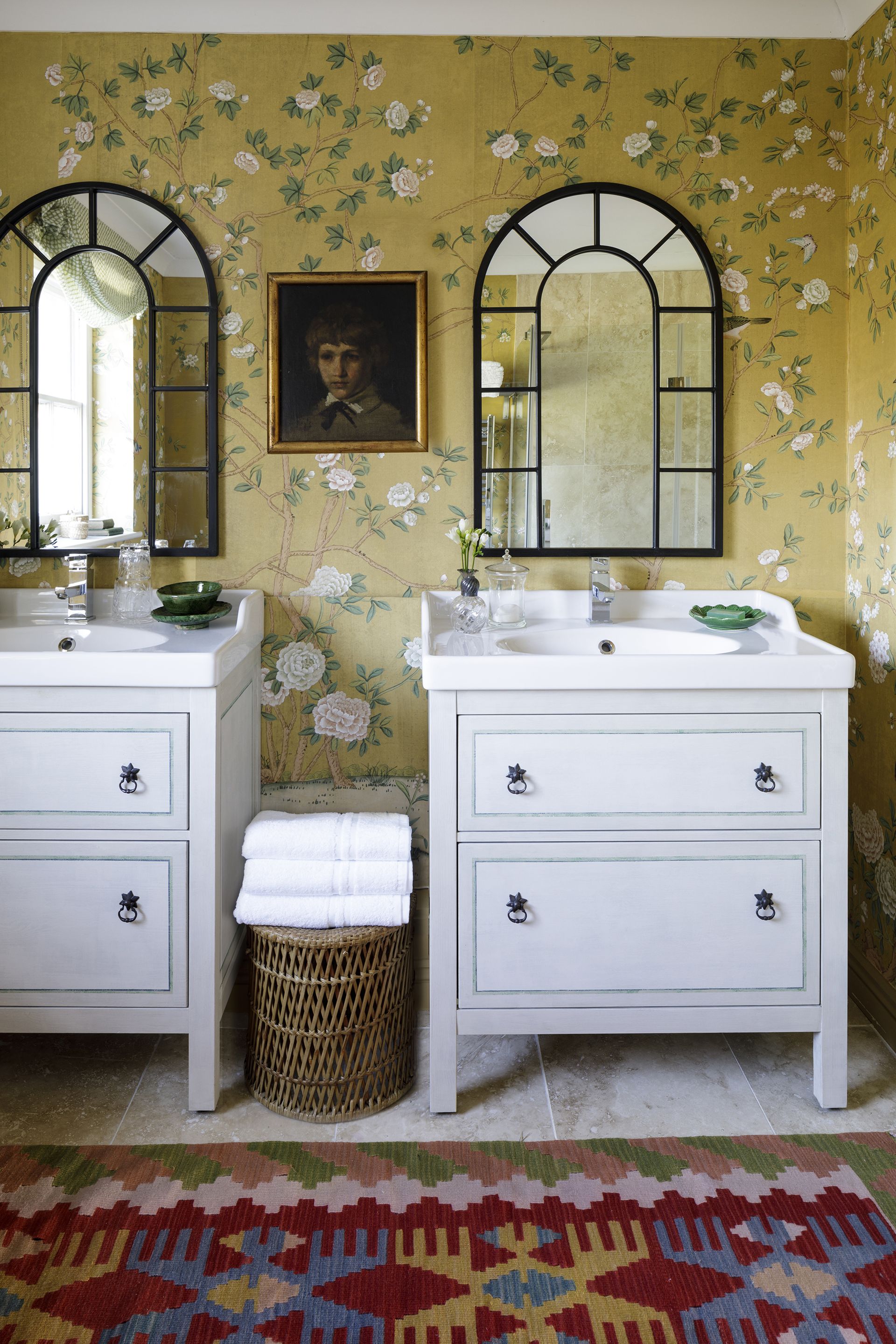 Decorating with an exuberant floral Chinoiserie design, such as this from de Gournay, will really turn heads in a guest bathroom, says Henriette von Stockhausen, founder of VSP Interiors. When decorating with Chinoiserie designs, first consider the purpose and size of the room she advises.
'Choose a style that fits the scale of your room. I chose something striking for the guest bathroom as it's a bit of fun for guests to enjoy when they visit. However, if it were for my master bathroom, I would choose a quieter color as I would see it every day.'
6. Use Chinoiserie to create a restful bedroom
When introduced in muted tones, delicate and flowing Chinoiserie designs can make a the perfect soothing backdrop for a bedroom as this scheme proves. Fusing Mediterranean influences with Far-Eastern design, this contemporary Olive Tree mural from interior design Sophie Paterson's collection at Fromental depicts gently twisting olive branches peppered with olive fruit and is completely hand-painted.
'I see this design working particularly well in an orangery, dining room or entrance hall. The layout could also lend itself beautifully to a traditional bedroom, especially one in the Mediterranean,' says Sophie Paterson.
7. Combine Chinoiserie paper with panelling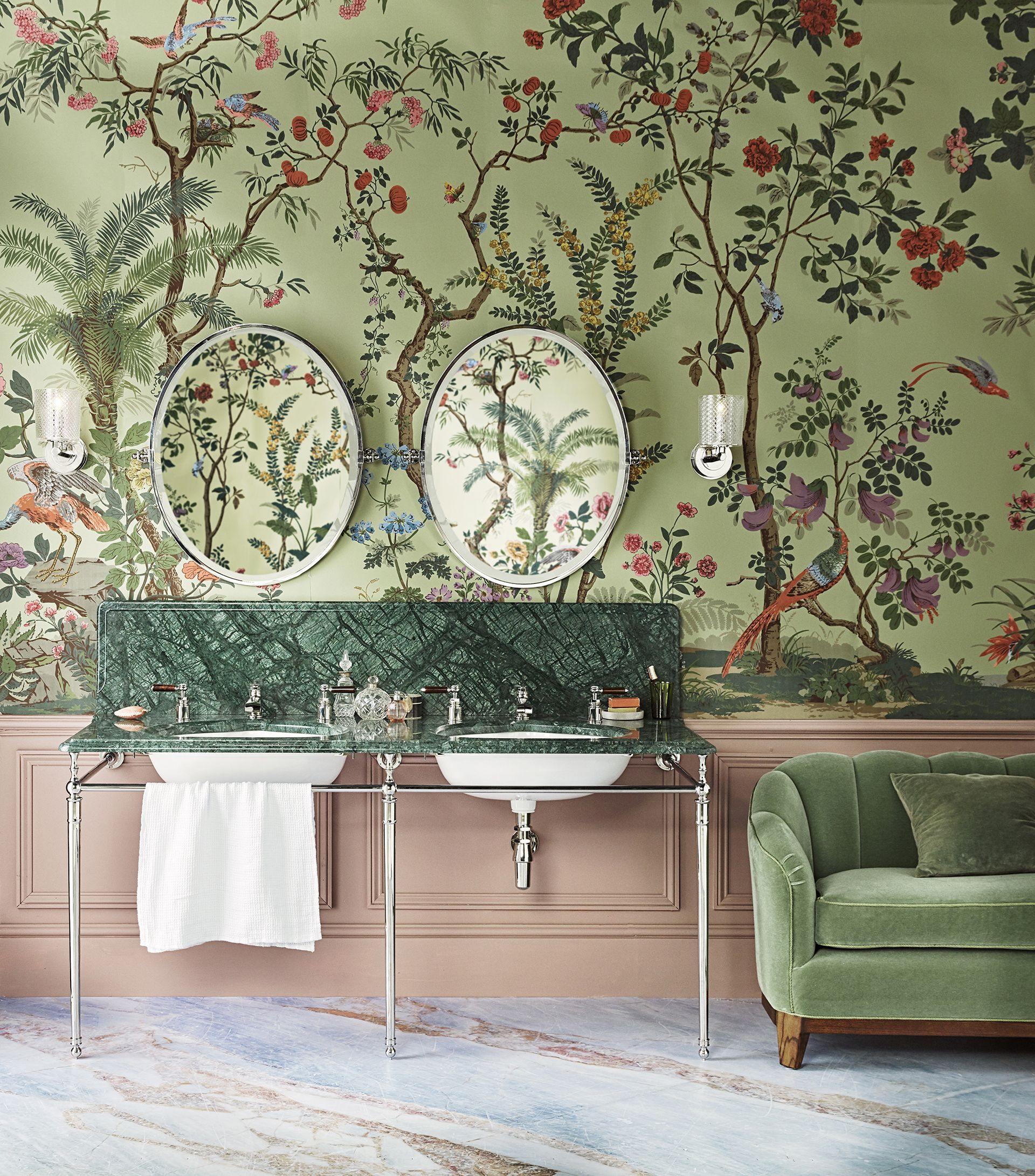 Using Chinoiserie wallpaper above painted panelling is a brilliant way to tone down the exuberant design and it's a look that works particularly well in traditional bathrooms. Try picking out a paint color from the mural to create a cohesive look, alternative, create two-tone drama by opting for a contrasting shade.
'If budget is a concern think about only using it above a dado rail to reduce the quantity needed, but make sure you select one that doesn't depict rocks or ground if you are using it above floor level,' says Henriette von Stockhausen.
8. Create a lavish entertaining space with a bespoke Chinoiserie mural
A stunning hand-painted Chinoiserie mural covering an entire wall makes a luxurious, opulent backdrop for entertaining spaces such as dining room ideas, as this de Gournay design proves.
9. Channel the Chinoiserie trend through furniture
For a more subtle nod to the elegant decorative style, choose living room furniture ideas inspired by traditional chinoiserie lacquered designs. Companies such as Oka offer beautiful contemporary designs inspired by authentic pieces, alongside chinoiserie lighting, ceramics and accessories such as lacquered trays.
'A lot of our collections at OKA involve traditional chinoiserie techniques; we look to old books and antiques for inspiration, then reinterpret them, for pieces that will stand that test of time,' says Sue Jones, OKA's creative director.
'That's what I think makes chinoiserie so popular – it's timeless. There's a lot of clever craftsmanship that goes into reproducing these lovely intricate patterns, and in the end you have a really classic piece of furniture or China set that looks beautiful, while telling a story.'
10. Inject color – and glamor – to a living space with a mural
For Lizzie Deshayes, co-founder and design director at Fromental, the key to the enduring popularity of Chinoiserie lies in its ability to inject bold color and pattern to any space – which is most easily achieved with Chinoiserie wallpaper.
'Chinoiserie is a stylized "European x Far Eastern" hybrid of a panoramic garden landscape. It brings exoticism, color, pattern and movement to a room of any size of style of architecture. This is why it has never been out of style, transcending fashion,' she says.
11. Opt for a contemporary wallpaper inspired by authentic chinoiserie designs
Chinoiserie has provided a rich source of inspiration for designers and wallpaper and fabric houses for decades and continues to captivate them today. Capturing the beauty of nature and offering a nod to design history, but in an array of beautiful contemporary colorways, printed wallpapers inspired by Chinoiserie are a brilliant choice for a more contemporary scheme. This new Fleur Orientale wallpaper from Designers Guild is guaranteed to bring a breathe of fresh air to a traditional living room.
'Chinoiserie is an extraordinary aesthetic and one that has inspired me for many years. This season though, it is the craft of porcelain production from the 18th century, that we have explored,' says Tricia Guild, founder & creative director of Designers Guild of its latest collection.
'The intricate and highly detailed work of Sevres and Meissen are particularly special – their elegant grounds and decorative details were as innovative and ground breaking as they were captivating. Known as "white gold' porcelain at the time was considered one of the most highly prized commodities in the world and it was those luminous grounds and their unique artistry that made their work so incredibly inspiring.'
12. Conjure the romance of distant lands
For Lee Clarke, director of Warner House, the timeless charm of Chinoiserie centers around its romance and ability to conjure distant lands.
'Chinoiserie may be seeing a resurgence, but the style never went away and will always be popular. Chinoiserie can sit in both modern and classic interiors and can contrast or complement existing styles, making it surprisingly usable.'
'At Warner House, we love how Chinoiserie injects charm and romance into the space, providing interest through color and exotica from faraway places. Interior lovers will always demand style, personality and references to their travels, art and culture.'
13. Give interiors a personal touch with a bespoke Chinoiserie mural
While there are lots of printed Chinoiserie wallpapers and fabrics available, there are still companies and artists that create bespoke wall murals using traditional methods inspired by historic Chinoiserie panels, such as emerging talent Diane Hill who creates murals in signature jewel colors.
The beauty of bespoke is that they allow homeowners the chance to have completely unique design which incorporate meaningful details within the design.
Where can you use Chinoiserie?
Chinoiserie can be used in all sorts of spaces. Hand-painted mural ideas – used wall-to-wall – can make for truly magical entertaining spaces, but they also work well in small connecting spaces such as narrow hallways to really make an entrance.
'I adore chinoiserie and use it a lot whether it be on the end of a corridor for a focal point and interest, or in an entire bedroom. It creates something beautiful to look at and makes any room feel extra special,' says Henriette. 'The style is very adaptable and works equally with modern or classic touches.'
What is chinoiserie?
Rooted in the origins of the word chinois – French for 'Chinese', Chinoiserie is a decorative style inspired by the art and design of China, Japan and Asian countries.
More specifically, as Antiques Roadshow expert Marc Alum explains, 'it extends its meaning into a generic trend that encapsulates the styles – under one umbrella – of Eastern Asia, including all cultures that come under the Chinese cultural sphere and stretching as far east as Japan. In essence, it is a catch-all word for Western objects made in the Oriental manner.'
The style originated in the mid-18th century, a time which witnessed a huge increase in trade between Europe and East Asia. Companies such The East India Company – the British company formed to trade with East and Southeast Asia, India and China – imported all manor of decorative objects, such as porcelain, textiles and lacquer, that spurred a fascination with oriental culture within Western society which soon infiltrated into architecture, art and design.
Captivated by the exotic pieces, craftsman began to imitate the style within their work, creating ceramics, lacquered furniture and wallpaper with fanciful, exotic scenes. While trade was strong at this time, movement of people was still very restricted, so artisans would often rely on their imagination, which led to the depiction of fantastical landscapes. Other common motifs included flower and bird design as well as pagodas.
According to the V&A, 'most of the great houses of Europe had at least one room decorated with a Chinese paper, original or imitation. By the end of the 18th century they were to be found in most modest sized houses too.'
Interest in the style and continued into the 19th and but declined following the First Opium War of 1839–42 between Britain and China.
Pippa is Content Editor on Homes & Gardens online contributing to Period Living and Country Homes & Interiors print issues. A graduate of Art History and formerly Style Editor at Period Living, she is passionate about architecture, creating decorating content, interior styling and writing about craft and historic homes. She enjoys searching out beautiful images and the latest trends to share with the Homes & Gardens audience. A keen gardener, when she's not writing you'll find her growing flowers on her village allotment for styling projects.