Traditional bedroom ideas – 20 timeless designs to inspire
These traditional bedroom ideas, from statement headboards to inviting window seats, will bring sweet dreams every night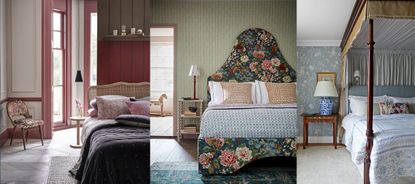 (Image credit: Fenwick & Tilbroook/Future/ Paul Massey)
Traditional bedroom ideas are loved for their timeless appeal and the restful sanctuary that they create. The bedroom is a room unlike any other in your home and should be the perfect place to relax after a busy day.
From the daily commute, to the constant buzzing of your phone, not to mention the seemingly never ending sea of responsibilities that rest upon our shoulders, we all need a quiet place to escape at the end of a busy day. Your bedroom is your sanctuary, a private space shut off from the busy world, so let your own personal style and tastes guide your design.
From beds and furniture to wall-coverings and window treatments, there are plenty of bedroom ideas that will inspire your traditional bedroom ideas.
Traditional bedroom ideas – 20 ways to design a classic sleep space
A traditional-style bedroom is one that feels authentic to the age of your home and is packed with pattern, visual interest, comfort and warmth. By channelling traditional decorating ideas you will give your space an identity, instantly imbuing it with charm and character.
1. Opt for a wrought-iron bedframe to encapsulate traditional bedroom ideas
Your bed defines the look of the whole room, so opt for a timeless design that will also give you the freedom to reinvent your space in future. Crafted from wrought iron, the Henry bed from the Period Living collection at Wrought Iron & Brass Bed Co, is inspired by classic dorm-style designs and is here finished in iridescent bronze for an added touch of sophistication.
When it comes to finding the best bed ideas to incorporate into your traditional bedroom ideas or vintage bedroom ideas, classic Victorian-style beds should be your first port of call. 'Wrought iron and brass beds resonate with so many of us, from classic movies such as Mary Poppins and Bedknobs & Broomsticks, through to snuggling down under multiple layers of bedding when staying over with beloved grandparents,' says Harry Thompson of Wrought Iron & Brass Bed Company. 'Wonderfully timeless, a well-made iron or brass bed should last years, just like our fond childhood memories.'
2. Play with paint color to add character to your traditional bedroom ideas
Whether it's paneling, picture rails, detailed window frames, cornicing or ceiling roses, there are plenty of ways to accentuate the character found in traditional bedroom ideas. Make these details sing by painting them in a brighter color than your base wall.
When it comes to choosing the best color for a bedroom be inspired by your furniture, the room's orientation and the natural light it receives. Be sure to consider paint finishes too, pair a matt finish on walls with a satin around the window frames to help reflect light back into the room.
In this bedroom the picture rail and skirting board have been painted in Fenwick & Tilbrook's Highland Peat, emphasising the room's height, as have the window frames, drawing the eye down the length of the room and as such, making it feel lighter. A stud wall, painted in both Boleyn Rose and Conker, creates a cozy and private nook for the bed.
3. Create harmony between traditional bedroom ideas and an ensuite with wallpaper
A more modern element of traditional bedroom ideas, an ensuite is a valuable addition to any master. However, it's important that your ensuite bathroom ideas work in harmony with the rest of your traditional bedroom ideas.
One way to achieve this is by using the same patterned wallpaper in both the bedroom and ensuite to create harmony throughout the space. There are plenty of bathroom wallpaper ideas, that would look equally stunning in a bedroom.
Brimming with color, Style Library's Blackthorn FSC wallpaper in an Autumn shade brings a warmth to the design of both spaces, while also being a sustainable decorating choice. While the trend towards sustainability might seem like a new idea, it was actually a cornerstone of the Arts and Crafts movement. As a reaction to mass production, designers including William Morris championed handcrafted designs that were made to last. Today, design house Sanderson continues that legacy, while also ensuring its raw materials are ethically traded.
4. Add fitted wardrobes to make the most of available space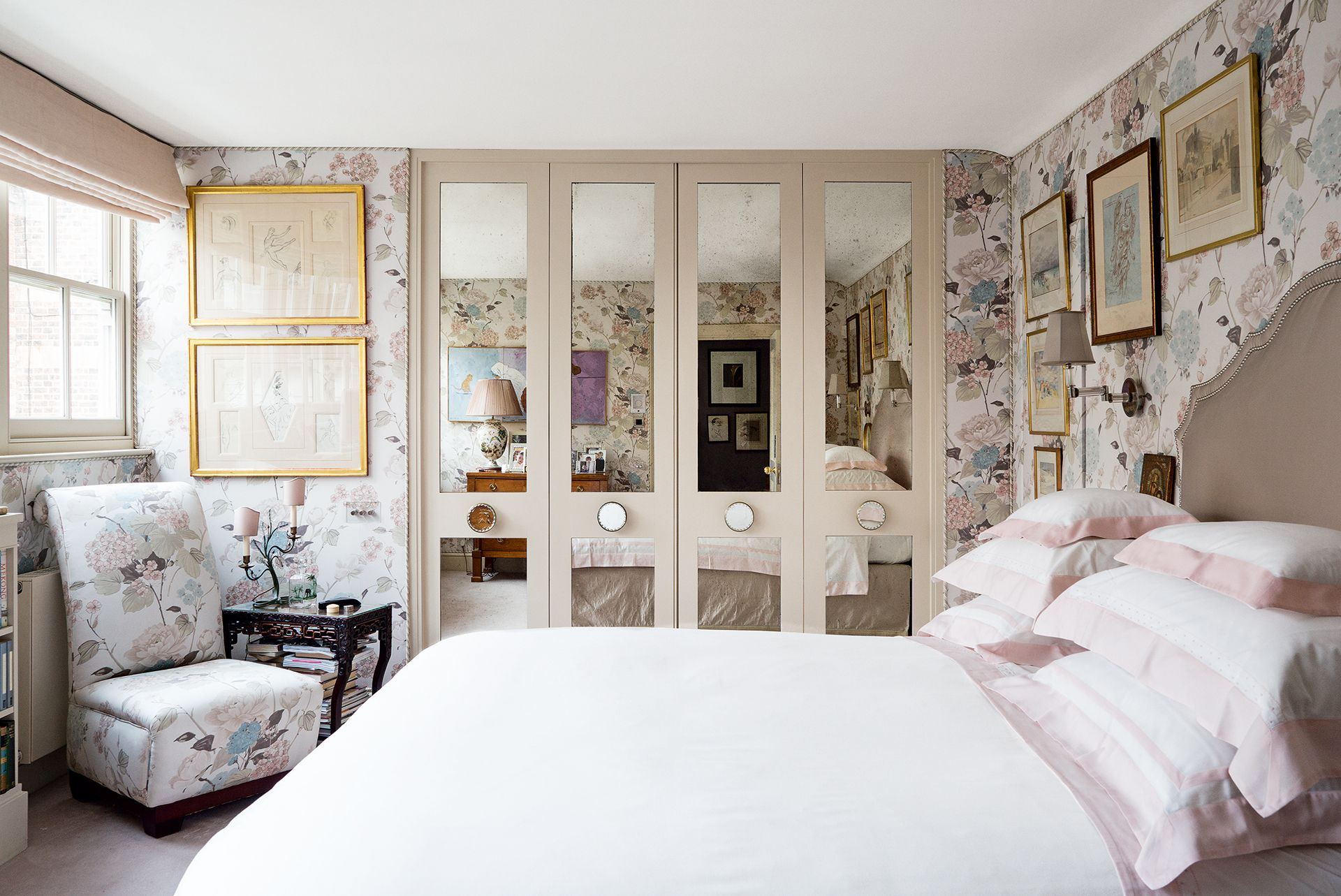 A good night's sleep goes hand in hand with a tidy bedroom – you can't properly relax if you're surrounded by clutter. Built-in furniture is one of the best bedroom storage ideas and is perfect for traditional bedroom ideas as it can be easily installed into unusually shaped nooks. Built-in furniture is also perfect for bedrooms in attic conversions as they can incorporate the sloped ceilings.
These pretty mirrored wardrobes provide a storage solution that is tailor-made for the room, and enable you to maximise every last bit of space – ideal if you have awkward alcoves and sloping ceilings to contend with. Another clever way to reduce clutter is to fit wall lights either side of the bed, as it frees up space on your bedside tables.
If you're considering adding fitted wardrobes, then you'll be asking: how much do fitted wardrobes cost to install? Of course this varies from project to project depending on the size and requirements but prices start at around $1,000.
5. Opt for linen bedlinen for a touch of luxury
Getting into a freshly made bed is one of life's little luxuries so make sure that you invest in the best bedlinen. Linen makes for some of the best bed sheets as its loosely woven structure makes it highly breathable, helping to regulate your body temperature throughout the night.
'Linen has a beautiful distinctive texture that gets even softer with each wash. A dream to look at and to snuggle, it blends practicality with aesthetic, thanks to its charming and crumpled look that requires no ironing,' explains Molly Freshwater, creative director at The Secret Linen Store. 'Twice as durable as cotton, linen bedding can last decades. It's also a much more environmentally friendly option, as it needs little irrigation to grow.'
Due to its natural weave and textural appearance, linen is the perfect complement to country bedroom ideas. Try layering different colors and textures for the ultimate cozy sanctuary.
6. Decorate with dark shades for an intimate atmosphere
Traditional bedroom ideas don't have to be light and bright – opting for a dark scheme can create an intimate enviroment that promotes restful sleep.
'Dark colors are a great choice for the bedroom as they create a warm, cozy atmosphere and look wonderful at night. Sometimes people can feel slightly intimidated when using dark colors in the bedroom, however they are actually very calming and endearing,' explains Francesca Wezel, founder of Francesca's Paints.
7. Celebrate pattern by opting for a characterful wallpaper
Your bedroom is a private space, and as such gives you the opportunity to create a truly personal scheme. If you prefer to play it safe in the main rooms of your home, then use the bedroom as a place to experiment with color and texture.
A calming palette of soft turquoise and warm beige makes Susi Bellamy's Duck-Egg Bouquet wallpaper perfect for a relaxing sanctuary, while its marbled design adds an artistic feel.
'Fresh, earthy and completely versatile, you can't go wrong with green and blue. They are closely connected on the color wheel, so it's easy to introduce the two tones to create the illusion of more color without overpowering a space,' explains Jen & Mar, co-founders of Interior Fox. 'For a calming effect opt for lighter colors offset by natural finishes, or for a more sumptuous scheme choose much darker shades.'
When selecting a wallpaper be sure to try it out in situ by attaching samples to the wall. This will help you get a feel for how the paper will look in your space and whether it will complement your other traditional bedroom ideas. 'If wallpapering all four walls feels a little overwhelming, or you are using a particularly bold design, consider accent walls. Placing patterned wallpaper behind the bed offers the perfect place to experiment as the bed will break up the space and make it feel slightly more subtle,' advises Ruth Mottishead, creative director at Little Greene.
8. Add a cozy touch to your bedroom design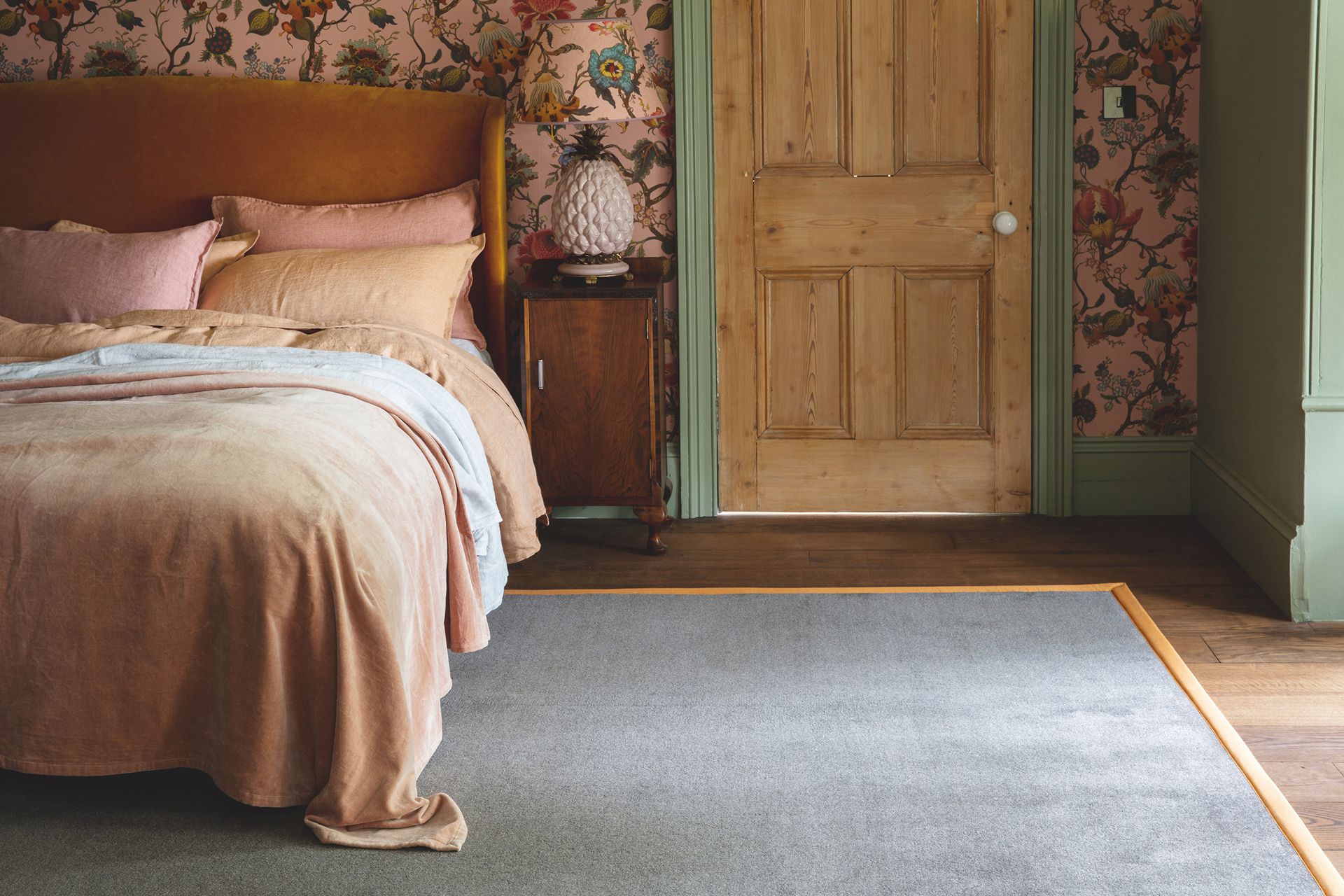 Offering soundproofing, insulation and bringing texture to the scheme, there are myriad benefits to bedroom carpet ideas. However, in traditional bedrooms with original flooring, it isn't always the best option, as fitting carpet could cause damage. Bedroom rug ideas offer so much more than a simple floor covering, bringing all the benefits of a carpet yet still showcasing and protecting the original wooden flooring.
Furthermore, the position of your rug can help to zone the room, creating a divide between the sleeping and dressing areas as well as provided warmth underfoot. If you're hoping to incorporate patterned wallpaper ideas into your traditional bedroom ideas, then opt for a minimalist muted rug, like this gray weave with mustard border, to prevent the patterns competing for attention.
9. Invest in shiplap to bring character to your traditional bedroom ideas
Paneling is an excellent addition to any traditional bedroom ideas. Bringing instant character and warmth, paneling is an affordable way to elevate your bedroom design. From tongue-and-grove and fluted through to shiplap and square, there are plenty of different paneling ideas for walls that are sure to spark your imagination.
In this bedroom, shiplap walls have been painted in earthy tones to give the bedroom a welcoming, laid-back feel. Decorating with neutrals rather than whites also prevents this minimalist scheme from feeling cold.
10. Use lighting to create a soothing atmosphere
The right lighting design will have a huge impact on your bedroom's look, allowing the space to seamlessly flip from bright in the morning to cozy at night. 'Layering the lighting will give you plenty of options. Bedside task lamps, clip-on lights and wall lights offer low-level illumination for reading or relaxing, while ceiling lights create a focal point over the bed and serve a practical function,' advises Natalie Mann, new product development co-ordinator at Iconic Lights. 'Don't forget warm white bulbs and a dimmer switch, as this will give you full control from bright light to a softer mood lighting for the evening.'
When lighting a bedroom, ensure that you can operate at least one of your lights from the bed. Fitting wall lights either side of the headboard offers ample reading light without disturbing a sleeping partner. Pair with a table lamp, such as this Palmer lamp with Buttercup velvet shade to softly illuminate the room in the evening.
11. Dress your windows with floor-length bedroom curtains for a peaceful sanctuary
While curtains and blinds are the obvious choice of window dressing for a bedroom, consider that shutters may be a more practical solution that will complement period homes from various eras.
'The bedroom should be a calm space where you can switch off and shutters can greatly add to this by providing you with privacy and the ability to control the amount of natural light entering. Additionally, if your sleep is disturbed by sunlight or streetlamps full height solid shutters are a stylish solution. Keeping the shutters closed will block out all light in the evening, whilst during the day you can open them fully to clear the window allowing daylight light in,' explains Chrissie Harper, customer experience manager at California Shutters. 'As well as looking beautiful inside your home, shutters also add to the curb appeal of the property and from a practical point of view are easy to maintain.'
10. Choose a four-poster for an opulent feel
If you're searching for traditional bedroom ideas that will bring grandeur to your space, then a four-poster antique bed is a must. 'I find that antiques have a timeless quality that is difficult to achieve with most modern pieces, and the depth that they give to a scheme provide unparalleled comfort,' says interior designer Henriette von Stockhausen of VSP Interiors. 'However, often it is the juxtaposition of old and new that creates that certain special energy to a design.'
Evoking luxury bedroom ideas, pair your four-poster bed ideas with a classic canopy to create an elegant space that invites regency style into your scheme.
11. Add layers of comfort to your bed
This traditional bedroom sanctuary is part of a converted stable block but had no original period features worth preserving. Instead, the bright room has been clad in whitewashed pine and incorporates rustic bedroom ideas with reclaimed brick tiles.
While its walls and flooring could lead to this traditional bedroom feeling cold and unwelcoming, soft fabrics and a soothing color palette help to create a warm and welcoming space.
'Combining traditional styling with modern-day comforts may sound tricky, but the very first pocket sprung mattress was invented in 1901! So even pocket sprung mattresses have footings in tradition,' say Harry Thompson of Wrought Iron & Brass Bed Company. However, there are still valuable lessons we can learn from our grandparents and great grandparents when it comes to styling a bed, he says. 'One traditional trick we have lost over the years is layering our bedding. Not only do multiple layers offer a comforting and cozy sleep sanctuary, but layering your bed with natural fibres, such as wool and alpaca, helps to create a breathable, fresh sleep environment perfect for all seasons.'
12. Make the most of original features
Exposed timbers add to the character of this large attic bedroom. It's a classic amongst traditional bedroom ideas and includes antique and vintage furniture, but the look is fresh and up to date thanks to the color choices.
The pairing of pink and green is a traditional decorating idea that is very 'now' and Farrow & Ball's Dead Salmon shade is used right up to the rafters to emphasize the old beams. The headboard is covered in Colefax & Fowler's Lincoln fabric.
'Adorn the room with pretty soft furnishings in muted tones and paint other furniture such as chests of drawers, a dressing table or desk and bedside tables (regardless of age or period style) in similar calming hues to fuse a look that's eclectic, fun and unstructured.' says Shabs Kay, owner of antique bed specialists Victorian Dreams .
13. Add pattern with a bold headboard
The most successful traditional bedroom ideas are the ones with personality, but which work with the original features says renowned interior designer Penny Morrison. There's no denying that in a bedroom, the bed itself will generally be the focal point of the room, especially if it showcases eye-catching headboard ideas.
'It's really all about creating a space of character and unique personality,' says Penny. 'You can enhance a room's traditional features by painting joinery in a high-gloss lacquer finish. And the combination of textures and pattern in your accessories complements but also strengthens the scheme, and creates atmosphere. There is no right or wrong.' And if it's good enough for the doyenne of mixing patterns in a room, pairing unexpected pieces and palettes, it's good enough for us too.
14. Layer whites with pastels to create a calm sanctuary
Traditional bedrooms are often decorated quite intricately but you can use pattern simply, and cleverly. Here, the matching tones of the different colors gives the room a calm feel, while decorating with stripes, presented both vertically and horizontally, create interest and also exaggerate the room's proportions very subtly.
17. Choose floral for a traditional bedroom scheme
Choosing and using bedroom wallpaper ideas is something most of us have struggled with, some of us even avoiding wallpaper altogether, feeling much more confident with a paint brush than with a paste brush. However, wallpaper provides the opportunity to bring a burst of pattern into your traditional bedroom ideas.
'We have noticed a shift in interiors tastes and trends in recent years, with a move towards heritage designs centred around florals and nature. Preferences in color palettes have shifted too, with the new generation not afraid to mix things up, such as powdery pinks complemented with cool greys and darker charcoals,' reveals Nina Tarnowski, founder and designer at Woodchip & Magnolia, 'Whether an eye-catching wallpaper or striking mural, adorning your walls in a bold floral design gives an instant lift and creates a design statement. Don't be afraid to push beyond your comfort zone and consider even taking the design up to the ceiling, a burst of flora and fauna is the perfect way to achieve a stylish and striking new look.'
18. Try cottagecore style in your traditional bedroom
The cottagecore look is a staple of traditional bedroom ideas – and it can be really elegant if you go for a subtle approach, choosing foliage over florals and complementing them with more modern, simple graphics. A pared-back color scheme will channel elements of cottage bedroom design into your traditional bedroom ideas.
When incorperating the cottagecore look, be sure to utilise nature. 'Bring the outside in and add flowers, indoor plants and perhaps a floral wallpaper to brighten up your space. Bringing as many natural elements, or at least a natural façade into your bedroom is so beneficial to our wellbeing,' says Joanna Ross, General Manager of Design at Sheridan.
19. Incorporate a window seat to add traditional charm
If you're lucky enough to have window recesses that are deep and low enough to incorporate window seat ideas, the bedroom is the perfect place for this most romantic of sitting places. One of our favorite traditional bedroom ideas, it provides a peaceful spot to read a few pages or relax and watch the clouds go by.
This dainty window seat has been paired with a a pretty pink toile de jouy wallpaper and cushions in matching shades to create a timeless scheme that draws on cozy bedroom ideas.
20. Traditional styling and modern comforts – for modern times
When designing any bedroom, comfort should be the priority and this is all the more prevalent in traditional bedroom ideas. One of the best ways to achieve comfort in your bedroom is by layering textiles.
'In these modern times, the bedroom offers modern comfort in the form of oversized deep duvets – always buy a duvet a size larger than your bed. Choose high thread count sheets, an upholstered headboard to lean on when reading in bed, and deep pile carpet or sheepskin rugs underfoot,' recommends Georgia Metcalfe of The French Bedroom Company.
How do you design a traditional bedroom?
Designing a traditional bedroom should be done with thought and care, especially because we spend so much time in them.
'Bedrooms are the best rooms in the house for you to follow your heart, express your own character and create a truly personal space,' says Ruth Mottershead, creative director at Little Greene. You can be as bold or as simple as you like, it's as easy as creating a space that is pleasing to you.
Heritage patterned fabrics, luxurious quilts and antique furniture are elements that can help you design a traditional bedroom. One of the beauties of traditional bedroom ideas are that they are timeless and can work in a wide variety of homes. Consider incorporating traditional ideas such as bed canopies, window seats and floral wallpaper to take your traditional bedroom ideas to the next level.
How do I make my bed pretty?
Adding a beautiful duvet cover and lots of cushions offer a great and easy way to make your bed pretty. Pick a fabric you love and don't be afraid to be bold in your choice. Alternatively crisp white bedlinen accented with some floral cushions will instantly look pretty yet sophisticated. If you are thinking of updating your bed frame, a four-posted bed will always be a pretty choice that is perfect for adding a luxury edge to traditional bedroom ideas.
What is a traditional bedroom?
'Traditional bedroom ideas refer to a style that's firmly anchored in the past. However, that does not have to mean that it's boring. Instead, you can embrace classic design while also adding touches that show off your personality and taste,' explains Andre Kazimierski, CEO of Improovy Painters Chicago.
'Consider adding a pop of color through wallpaper or artwork. You could also opt for a unique ceiling fixture or houseplants. Just because it's traditional doesn't mean that everything has to be neutral! Just be sure that you're maintaining some sort of symmetry.'
Sign up to the Homes & Gardens newsletter
Decor Ideas. Project Inspiration. Expert Advice. Delivered to your inbox.
Karen is the houses editor for homesandgardens.com and homes editor for the brand's sister titles, Period Living and Country Homes & Interiors, and an experienced writer on interiors and gardens. She loves visiting historic houses for Period Living and writing about rural properties for Country Homes & Interiors, and working with photographers to capture all shapes and sizes of properties. Karen began her career as a sub editor at Hi-Fi News and Record Review magazine. Her move to women's magazines came soon after, in the shape of Living magazine, which covered cookery, fashion, beauty, homes and gardening. From Living Karen moved to Ideal Home magazine, where as deputy chief sub, then chief sub, she started to really take an interest in properties, architecture, interior design and gardening.