Traditional bedroom ideas – 11 ways to combine tradition, luxury and comfort
These traditional bedroom ideas, from antique brass bedsteads to inviting window seats, will bring sweet dreams every night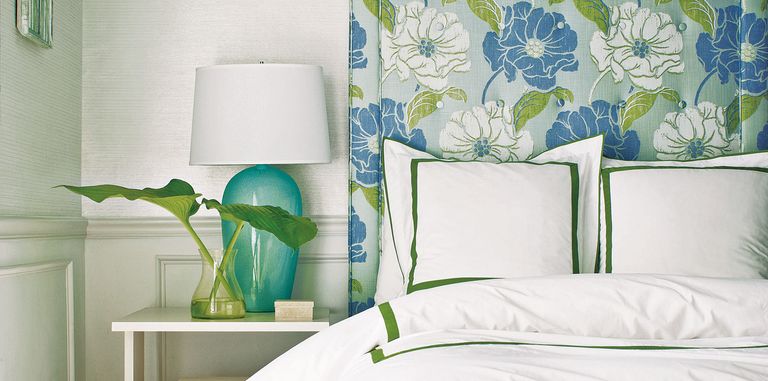 (Image credit: Thibault)
By Karen Darlow published
Traditional bedroom ideas can be romantic and dramatic, especially if you incorporate authentic furnishings, such as a four-poster bed. However, you don't have to go all-out for period authenticity. It's traditional style you're creating, not museum style, so it's fine to mix in a few contemporary twists to keep things fresh and comfortable.
'Bedrooms are the best rooms in the house for you to follow your heart, express your own character and create a truly personal space,' says Ruth Mottershead, creative director at Little Greene. And we couldn't agree more, so we've picked out some key traditional bedroom ideas below, to suit all traditional tastes.
Continue scrolling for inspiration and beautiful traditional bedroom ideas that will guarantee a comfortable – and stylish – night's sleep.
See: Bedroom ideas – designs and inspiration for beautiful bedrooms
1. Make the most of original features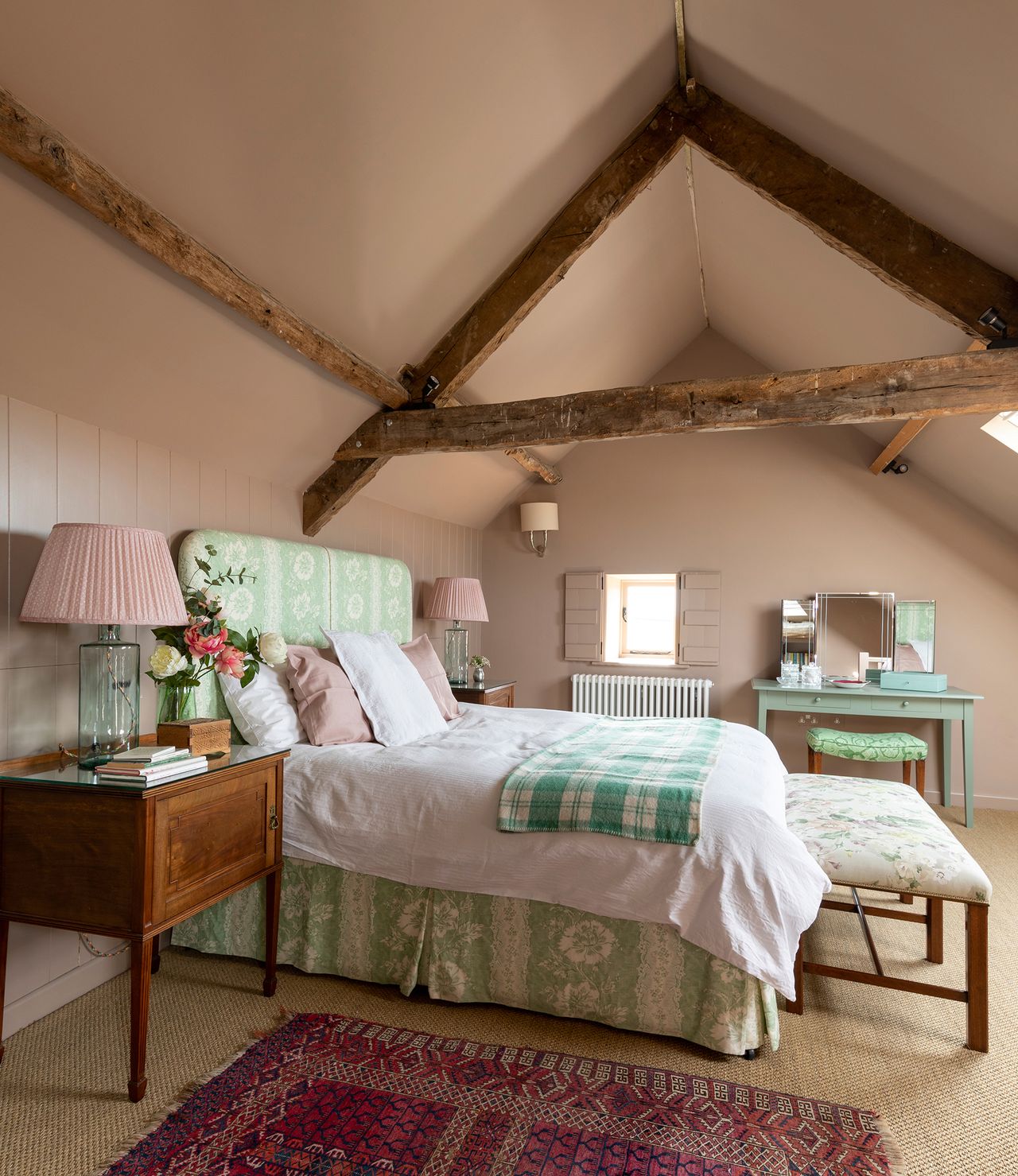 Exposed timbers add to the character of this large attic bedroom. It's a classic amongst traditional bedroom ideas and includes antique and vintage furniture, but the look is fresh and up to date thanks to the color choices.
The pairing of pink and green is very 'now' and Farrow & Ball's Dead Salmon shade is used right up to the rafters to emphasize the old beams. The headboard is covered in Colefax & Fowler's Lincoln fabric.
Shabs Kay, owner of Victorian Dreams antique bed specialists, has the following advice for putting together a modern take on a traditional bedroom scheme based on color:
'Adorn the room with pretty soft furnishings in muted tones and paint other furniture such as chests of drawers, a dressing table or desk and bedside tables (regardless of age or period style) in similar calming hues to fuse a look that's eclectic, fun and unstructured.'
See: Traditional decorating ideas – inspiration for stylish, timeless interiors
2. Use prints to create character and atmosphere
The most successful traditional bedroom schemes are the ones with personality, but which work with the original features says renowned interior designer Penny Morrison.
'It's really all about creating a space of character and unique personality,' says Penny. 'You can enhance a room's traditional features by painting joinery in a high-gloss lacquer finish. And the combination of textures and pattern in your accessories complements but also strengthens the scheme, and creates atmosphere. There is no right or wrong.'
And if it's good enough for the doyenne of pairing unexpected pieces, patterns and palettes, well, it's good enough for us too.
See: How to mix patterns in a room – an interior design masterclass
3. Layer whites with pastels to create a calm sanctuary
Traditional bedrooms are often decorated quite intricately but you can use pattern simply, and cleverly. Here, the matching tones of the different colors gives the room a calm feel, while the stripes, presented both vertically and horizontally, create interest and also exaggerate the room's proportions very subtly.
See: Traditional kitchen ideas – classic looks for cabinets, countertops and more
4. Choose wallpaper for a traditional bedroom scheme
Choosing and using wallpaper is something most of us have struggled with, some of us even avoid wallpaper altogether feeling much more confident with a paint brush than with a paste brush. Ruth Mottershead, creative director at Little Greene has some excellent tips for choosing wallpaper for a traditional bedroom scheme. 'Start by considering the ambiance you wish to create; whether that be natural with a bird or floral motif, bright and vibrant, deep, or with a dark and restful feel.'
And then there's the question of scale. 'The use of bold and large designs in small rooms is difficult because the scale of the two is so often out of sync, generally the size of the room determines the scale of the wallpaper design,' says Ruth. 'Try out samples of your chosen paper in situ – it is a great way to get a true understanding of the design.'
And for those of us who are a bit halfway house with our wallpapering and favor an accent wall, rather than wall-to-wall, Ruth Mottershead offers the following vindication.
'If wallpapering all four walls feels a little overwhelming, or you are using a particularly bold design, consider placing it behind the bed, the perfect place to experiment with color or pattern, or both.'
See: Accent wall ideas – inspiring feature wall ideas and creative focal points
This feature was created by H&G's sister brand, Period Living magazine
Subscribe to Period Living for more inspiration Period Living is the UK's best-selling period homes magazine. A subscription provides you with all you need to know about caring for and improving a traditional house and garden.
5. Try cottagecore style in your traditional bedroom
The cottagecore look is a staple of traditional bedroom ideas – and it can be really elegant if you go for a subtle approach, choosing foliage over florals and complementing them with more modern, simple graphics. A pared-back color scheme will create a more traditional bedroom look than one that's more cottage-style – here, the leafy greens give you the very best of cottagecore, without the 'cute'.
See: Cottage decorating ideas – charming ways to get a characterful look
6. The window seat
If you're lucky enough to have window recesses that are deep enough and low enough for a window seat, the bedroom is the perfect place for this most romantic of sitting places and traditional bedroom ideas. The perfect place to read a few pages or relax and watch the clouds go by. Pretty pink toile de Jouy wallpaper and cushions in matching shades will keep you sitting pretty in traditional bedroom perfection.
See: Window seat design tips interior designers want you to know
7. A show-stopping statement bed
There's no denying that in a bedroom, the bed itself will generally be the focal point of the room. With that in mind, Shabs Kay, owner of Victorian Dreams antique bed specialists, says:
'Choosing a statement bed really sets the scene. For a pretty and delicate look, choose an upholstered bed in a beautiful fabric. Or go brave and bold with an elaborate Victorian brass and iron bedstead which will look great against the rich, deep blues and greens that are so popular at the moment.'
See: Headboard ideas – statement headboards and interior designers' tips
'Color doesn't have to envelop the whole room. A painted feature wall or a gorgeously sumptuous William Morris wallpaper will do the trick. Add heavy interlined velvet curtains and dress the bed in plain linens for a period look.'
Here, added coziness to the pale green scheme has been layered on with a darker green on the bedroom ceiling.
8. Authentic period details
It's all in the detail for traditional bedroom ideas. 'Having elegant designs of wooden furniture that pay visual homage to the skills of the master craftsmen of a bygone era are the key elements of a traditional style bedroom,' says Georgia Metcalfe, founder and creator of The French Bedroom Company.
'For example, turned legs on dressing tables or bedside tables, claw feet, scrolling acanthus leaves and hand-carved floral motives on headboard crests are all reflective of traditional design.'
See: Traditional bathroom ideas – for inspiration and more ways to decorate
9. Traditional styling and modern comforts – for modern times
Is it possible to combine traditional styling with modern-day comforts and convenience? Georgia Metcalfe of The French Bedroom Company believes it is.
'It's important to enjoy tradition, and experience luxury and comfort at the same time. Traditional styling can work perfectly with modern comforts,' she says. 'The bedroom is often the nucleus of a family home: family cuddles, bedtime stories, Sunday morning chats and for comfort when unwell.'
And it's especially true at the moment. 'In these modern times, particularly during the recent lockdowns, the bedroom offers modern comfort in the form of oversized deep duvets – always buy a duvet a size larger than your bed. Choose high thread count sheets, an upholstered headboard to lean on when reading in bed, and deep pile carpet or sheepskin rugs underfoot.'
10. Pick a traditional bed frame for an authentic look
This traditional bedroom sanctuary is part of a converted stable block but had no original period features worth preserving. Instead, the bright room has been clad in whitewashed pine for a modern rustic feel and the space is paved with reclaimed brick tiles.
Harry Thompson of Wrought Iron & Brass Bed Company says, 'Combining traditional styling with modern-day comforts may sound tricky, but the very first pocket sprung mattress was invented in 1901! So even pocket sprung mattresses have footings in tradition.'
However, there are still valuable lessons we can learn from our grandparents and great grandparents when it comes to bedroom comfort, he says. 'One traditional styling trick we have lost over the years is layering our bedding. Not only do multiple layers offer a comforting and cosy sleep sanctuary, but layering your bed with natural fibres, such as wool and alpaca, helps to create a breathable, fresh sleep environment perfect for all seasons.'
11. Fresh flowers – the finishing touch for traditional bedroom ideas
Say it with flowers, but not just any old flowers. Make sure they're seasonal, sustainable, and complement the look of your traditional bedroom, too. A simple hand-tied posy of fresh flowers and gathered foliage and berries arranged in a simple glass jar can be the all-important finishing touch.
See: Small bedroom ideas – to make the most of a compact space
This arrangement of fresh flowers from JamJar Flowers brings the whole bedroom scheme together, complementing the colors and pattern of the Laura Ashley wallpaper and antique chest of drawers.
I'm the homes editor of Period Living magazine and an experienced writer on interiors and gardens. I've also moved house quite a few times – totting up 10 homes in 12 years during a particularly nomadic time in my life. I like to think that makes me quite the homes expert, or at least very experienced and with a clear idea of what I like and don't like in a home.
I love visiting and writing about old houses for Homes & Gardens' sister magazine Period Living and working with photographers to capture all kinds of historic properties. It's inspiring to talk to people about their traditional homes and to hear the stories behind their furnishing and decorating choices. And by the time I've finished an interview with a homeowner I've always got a handful of new ideas to try in my own house, as well as plenty of good stories for the magazine. It's the perfect work-life balance.