Decorating with vintage – 10 ways to add character to your home
Create unique interiors full of personality with these tips for decorating with vintage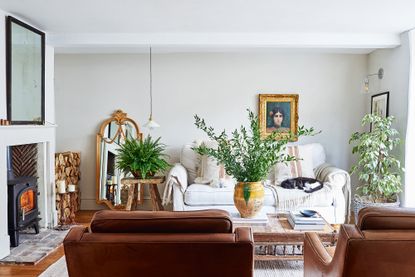 (Image credit: Future / Brent Darby)
Decorating with vintage is a wonderful way to give your home character and unique style.
Steeped in history, vintage pieces have stories to tell and bring a personal touch to interior design, whether it's a cherished heirloom passed down through the generations or a lucky find picked up at a yard sale.
'Not only are these pieces often finely crafted to stand the test of time, they bring much needed character and charm to what otherwise might be a more contemporary home,' explains interior designer Emma Sims Hilditch.
Here we've rounded up a selection of inspiring ways for integrating antiques and vintage finds into your home alongside some expert advice from interior experts.
Decorating with vintage
There are many approaches to decorating with vintage, but many of the interiors experts agree that when it comes to choosing vintage pieces you should buy what you love rather than what you think might be valuable.
'The first steps for anyone beginning the journey of decorating with vintage should start with what a person likes, rather than focussing on the value. It's about finding pieces that speak to you on a personal level. It's not necessary to spend a fortune from the outset,' says interior designer Henriette von Stockhausen.
'Decorating with antiques really adds a sense of charm and history to a room. Go for what you love, rather than what you think might be valuable or on trend,' adds Louise Roe, founder of nostalgic homeware brand Sharland England.
Mix old with new
For interior designer Kelly Weastler the key to decorating with vintage is to mix pieces from different eras.
'I am a firm believer that in every era there is incredible design and I pull from lots of different periods – I love mixing deco, Bauhaus, mid-century modern decor; sticking to one era can be a bit one note. If you buy all your furniture new it's going to start to look dated quickly, but if you take the time to curate and shop in a variety of places, you end up with a much more timeless room.
'I start sourcing furniture early on in projects, and taking time to find the right pieces makes all the difference. I'm always looking for a balance between vintage and contemporary. If I buy a new sofa maybe I'll look for a vintage coffee table, so they offset one another,' adds Kelly Weastler.
Combine different styles
When decorating with vintage pieces don't feel like all your need to match says Henriette von Stockhausen, instead follow your heart. 'The truth is that often the more contrived and forced an interior is, the less successful it is,' she says.
'Some people will stumble over the need to focus on one period or genre which perhaps reflect the time in which the house was built. This can be important for those who are trying to restore a room or house to the original design. But my approach with clients is to encourage them to mix pieces from different countries, styles and periods, if they are comfortable doing so.'
Invest in quality pieces
For many interior designers the appeal of choosing vintage furniture over modern is its longevity.
'The materials used were generally high quality – hardwoods and unusual woods that people don't use now or silks or embroideries. For quality, design and durability, antiques compare very favorably to modern furniture,' explains interior designer Susan Deliss.
To ensure you're buying a quality piece and not a reproduction, 'check the authenticity of the antiques you purchase – there should be labels, hallmarks or details of the maker's location and often a certificate of authenticity,' says Clara Ewart, head of design at Kitesgrove.
Embrace vintage textiles
Whether introduced through cushions, lampshades or bedspreads, vintage textiles are a brilliant way to inject room color, pattern and softness into an interior – you could even hang a fabric panel as a piece of wall decor.
Made by hand with exquisite craftsmanship, there are beautiful vintage fabrics available from all over the world which showcase an array of different techniques, from Indian Kantha quilts and Japaneze Shibori to embroidered Suzani panels from Central Asia.
'I just love that vintage textiles are one-of-a-kind, I'm drawn to the colors and patterns that tell the tales of time,' says Chloe Jonasonwho creates beautifully handcrafted homewares alongside providing a bespoke curtain, blinds, upholstery and design service. 'They have a certain faded elegance which makes them easy to mix and match as the muted colors all work really well together.'
Choose antique lighting
With many beautifully decorative designs available, antique and vintage lighting is becoming increasingly popular among homeowners wanting to make a decorative statement.
'It is about a lighting feature that has the same impact when it is off as it does when illuminated, decadent and glamorous, function and form, it needs to light a space, but also ignite the imagination,' says Lucy Tonge, owner of decorative antiques and lighting dealer LCT Home.
'We've seen quite a surge in demand for antique and vintage wall sconces in the past few months, there has always been a strong desire among many of our style conscious clients to secure that key piece of vintage designer lighting, and the focus used to lean more toward ceiling lights, be they flush mounts or chandeliers.
'However, the recent trends have very much been focused toward securing that unique piece of lighting for the wall, whether it is a pair of beautiful naturally inspired flora and fauna sconces, or a spectacular statement light, the appetite among our clients for wall lighting that is decorative as well as functional is stronger than ever, particularly from the 1960s–80s.'
Up-cycle vintage pieces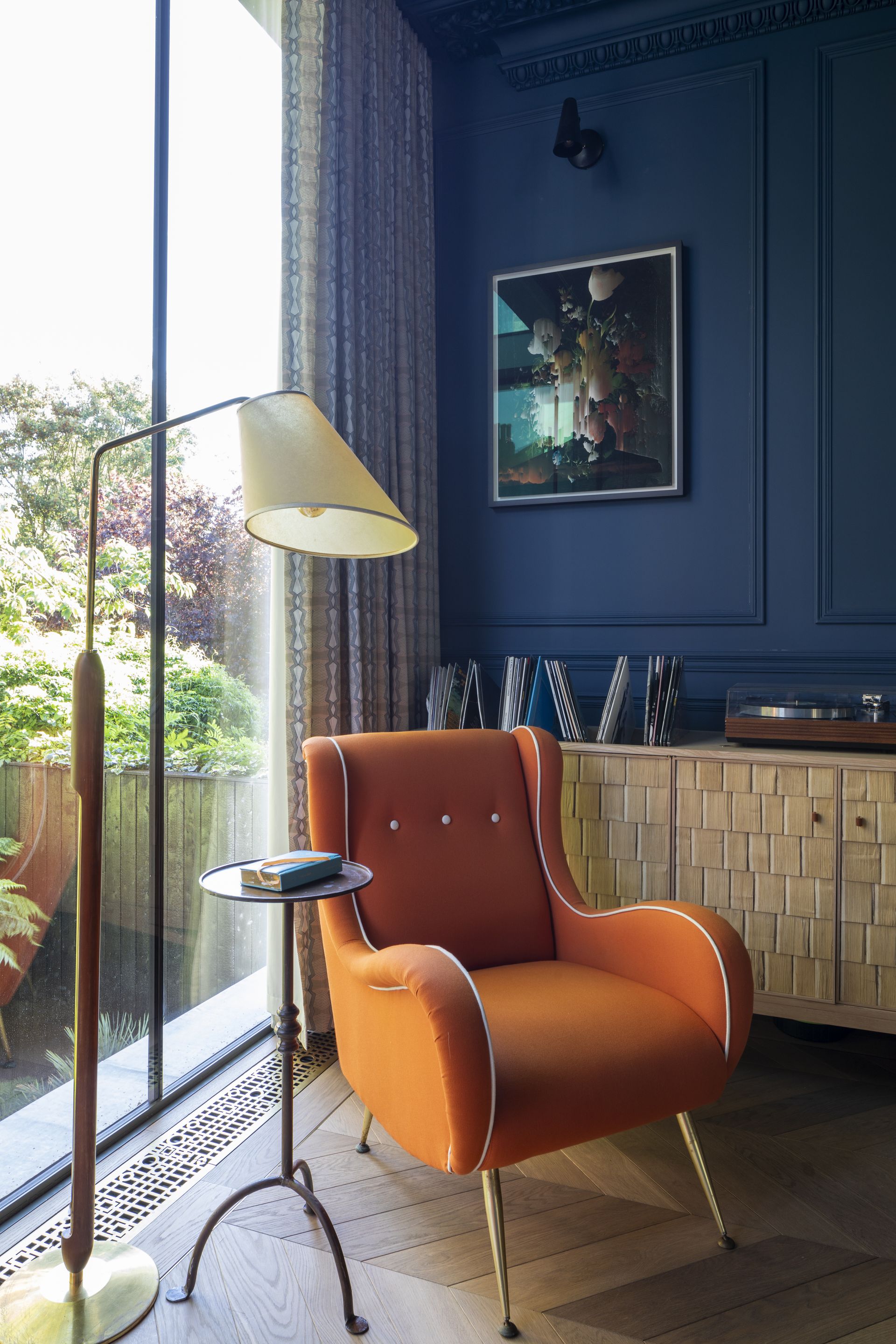 Whether it's recovering mid-century armchair, giving a lick of paint to an old sideboard, or framing a new artwork with an old gilt frame, giving vintage finds a new lease of life is a great way to create unique pieces for your home, plus it helps reduce waste, too. Pieces such as these would work perfectly in design styles such as the Retro Revival look.
'There are many places to find wonderful antiques and you don't need to have a big budget to find pieces which can be restored, re-upholstered and renewed whether you choose to go to a decorative fair or an auction house,' says Clara Ewart, Head of Design at Kitesgrove.
'Re-purposing one-off pieces of furniture or lighting will also provide a great sense of satisfaction to be continuing the life of an item which may otherwise have been discarded.'
Play with texture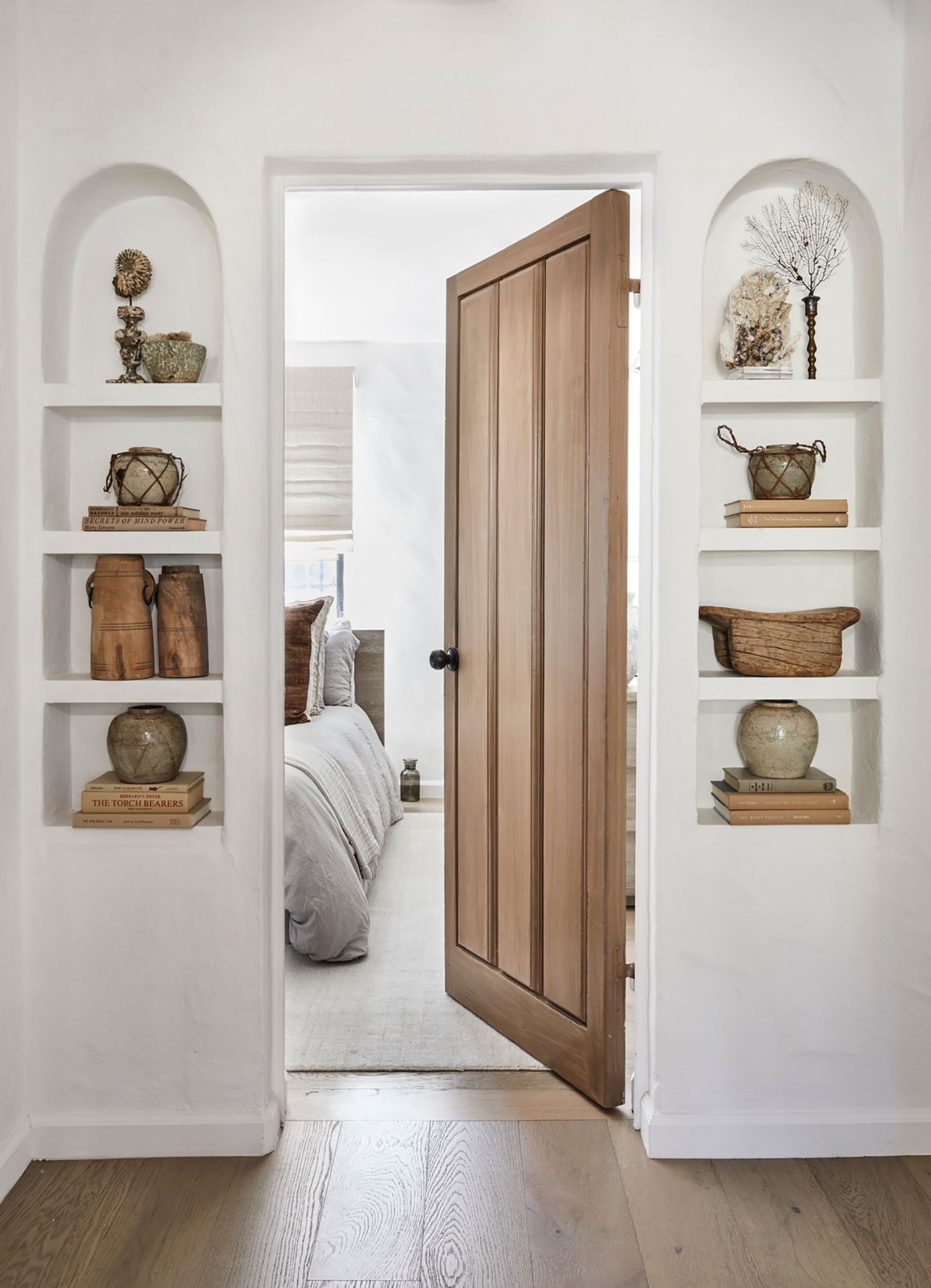 Boasting beautiful time-worn patinas, vintage vessels, books and artefacts make beautiful pieces for decorating shelves. 'I prefer to use contrasting textures but with a minimal color palette when I decorate with vintage pieces. I limit the colors to a maximum of three,' explains interior designer Julia Dempster.
When styling a shelf, 'do not have all the items on a longer shelf the same height. Not only should you contrast materials, you should mix up the heights, too,' she adds.
Integrate vintage pieces into the kitchen
If you're looking to create a vintage kitchen, adding in freestanding pieces of furniture such as dressers, sideboards or buffet tables, will instantly add personality and create a more relaxed feel.
'It is definitely worth spending time sourcing vintage pieces to break up a room, they can really make a difference to the finished look and always add personality and character, says Helen Parker, creative director at Devol.
While fitted kitchen cabinets are great for maximizing storage ideas, freestanding vintage pieces boast beautiful aged patinas, which, when used in combination with cabinetry, can help break up the uniformity of the space. Freestanding kitchens can also be easily reconfigured if you're looking to change the kitchen layout, plus can be taken with you if you move house.
Take a cue from the architecture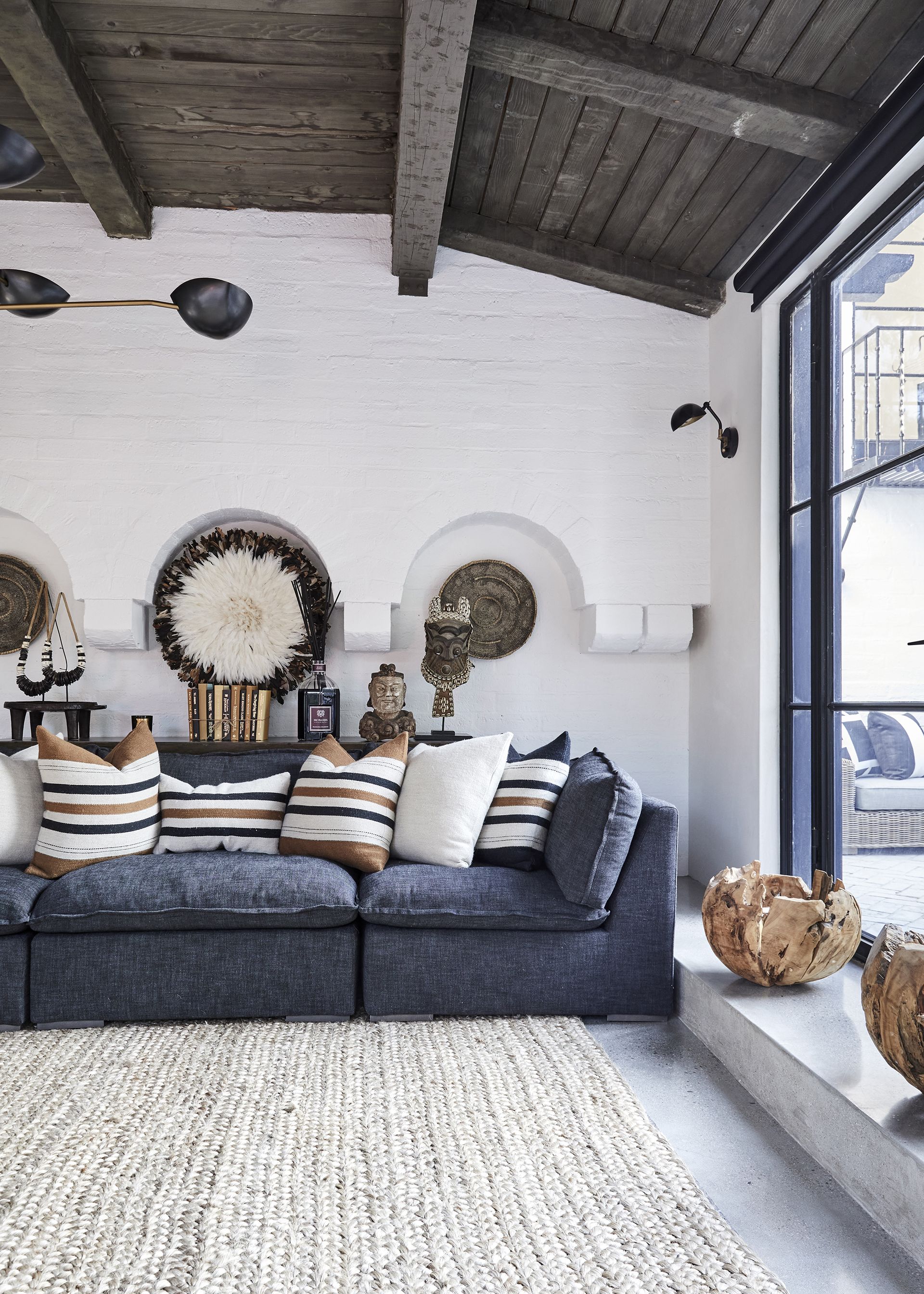 When decorating with art or vintage wall décor, taking inspiration from the architecture of the room is a good place to start suggests Julia Dempster.
'In this living area I selected textural pieces such as a 3D Juju hat made of feathers from St. Frank and vintage tribal handwoven baskets from Fragments of Identity,' she says of this farmhouse-style Pacific Palisades home.
'The architectural features were curved, and I wanted the artwork emphasize the architectural elements, the three pieces were selected to reflect both the wall and the colors and textures within the sisal rug and the cushions on the sofa.'
Bring antiques into the bathroom
Bathroom ideas can run the risk of feeling cold and clinical, but introducing antiques and vintage finds is a great way to bring warmth, texture and personality. Why not mount modern sinks onto a Victorian washstand to create a unique and playful vanity unit.
Think creatively about how you can bring new purpose to old or unwanted items suggests Henriette von Stockhausen. 'There are so many ways to incorporate antiques with perhaps the only rule being not to be afraid to mix and experiment. Old paravent screens can become cupboard doors, rugs can become headboards, urns can become lamps and tables can become kitchen islands! Creativity is key – let your imagination run wild and tell your own story!'
How do you mix modern and vintage decor?
'Always style vintage pieces with a mix of more contemporary items, as you don't want to create a period film set in the living room,' explains Louise Roe. 'I love the warmth and comfort that wood and old textiles bring to interiors with their worn patina – try draping a vintage Suzani over the back of the sofa to add a focal point to the room.'
'Vintage and collectable accessories will also add eternal quirk and give a space which might otherwise be on-trend but lifeless, a real sense of depth, personality and soul,' says Martin Waller, director at Andrew Martin.
'They will highlight the minimalist backdrop in which they sit, accentuating your fashionable and meticulously thought-out scheme, whilst adding something original from which the conversation starts. I mean that metaphorically and literally, there always has to be a surprise in a room to create visual excitement as well as something new to talk about with guests.'
Sign up to the Homes & Gardens newsletter
Decor Ideas. Project Inspiration. Expert Advice. Delivered to your inbox.
Pippa is Content Editor on Homes & Gardens online contributing to Period Living and Country Homes & Interiors print issues. A graduate of Art History and formerly Style Editor at Period Living, she is passionate about architecture, creating decorating content, interior styling and writing about craft and historic homes. She enjoys searching out beautiful images and the latest trends to share with the Homes & Gardens audience. A keen gardener, when she's not writing you'll find her growing flowers on her village allotment for styling projects.