Kitchen ideas – 60 fabulous kitchen decor and decorating ideas
These kitchen ideas will help you create the kitchen of your dreams – and make the most of this vital space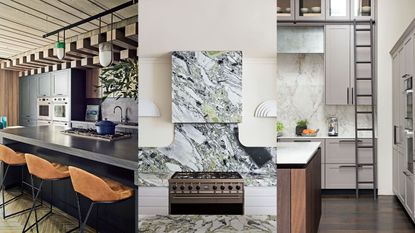 (Image credit: Future)
Collating your favorite kitchen ideas is a priority – and always the fun bit – when rethinking your new-look kitchen. These ideas – whether kitchen looks you like, surface materials or cabinetry styles – can then be worked into your ideal layout, the practical key to getting your kitchen right. A kitchen can, after all, look fantastic but if it fails to function as a workspace, it can be hugely disappointing.
These kitchen ideas are our very favorites – you can save the images you love, then start the hard work: looking at everything, from where to put your recycling to how close your oven is to your food store (after all, you don't want to end up walking the length of the kitchen every time you need an extra ingredient).
If you're using a kitchen designer, they will be able to advise on kitchen decor ideas that look good and work perfectly, too. But, it always helps to go to them with your own kitchen ideas. Every one of our kitchen pictures is different but most suit one of the five basic layouts.
Kitchen ideas
From cabinets and lighting schemes to backsplashes and flooring, these kitchen ideas cover everything you need to think about. You can use them, too, to inspire your kitchen layout ideas.
1. Introduce positivity and warmth with yellow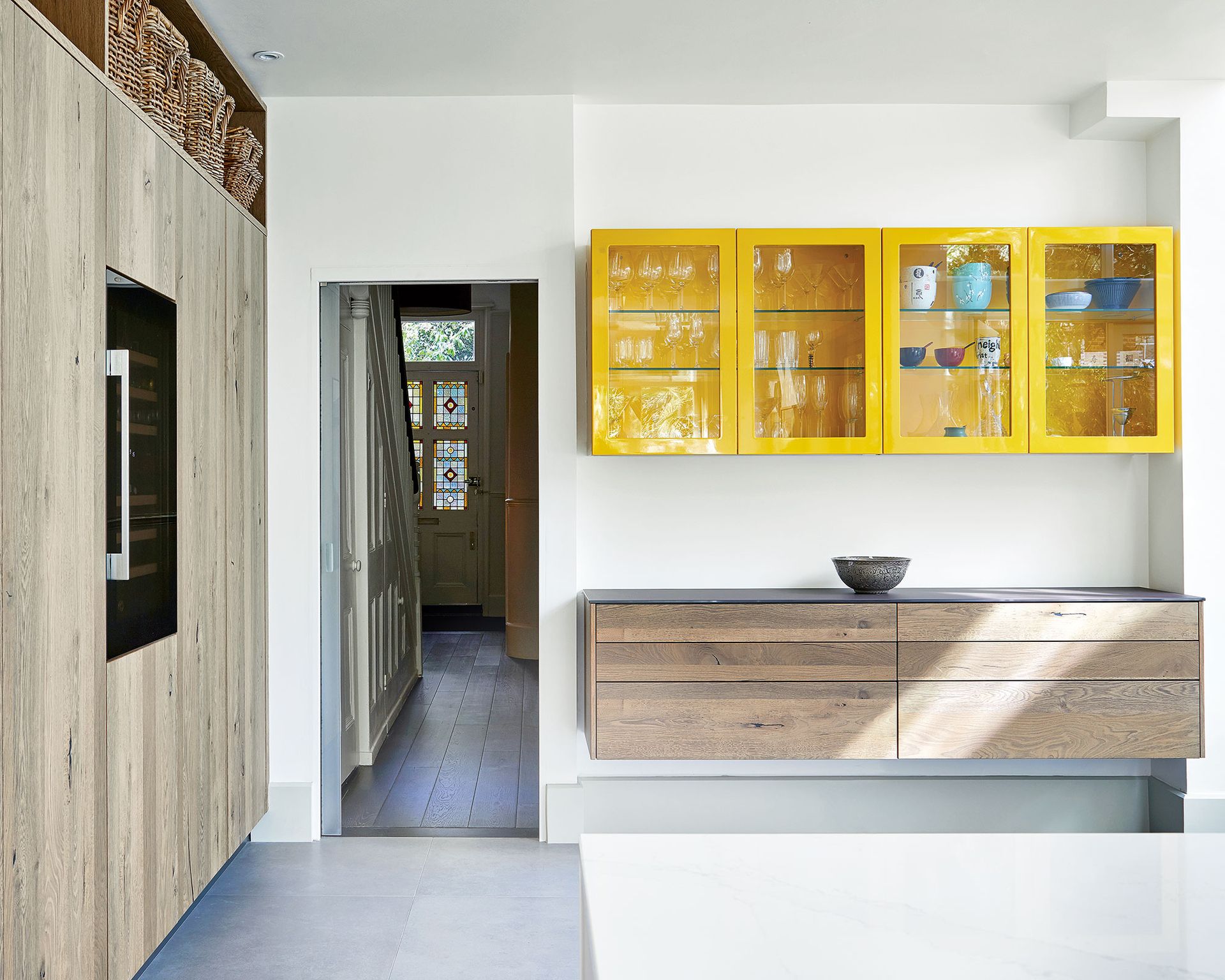 Kitchen color ideas play an integral role when it comes to the look and feel of your kitchen design. Embraced in a big way or used in small doses, yellow kitchen ideas are rich, versatile and exude warmth.
'Introducing an accent color presented the opportunity to add a playful edge to this space,' explains Lucy Popps, senior designer, Kitchen Bee Design (opens in new tab). 'Using the color on glazed wall kitchen cabinets softens the impact and adds depth.'
The zesty yellow in question, Dulux's Lemon Punch, was inspired by the stained glass in the home's front door, which can be just glimpsed at the end of the entryway.
2. Add joie de vivre with a French country kitchen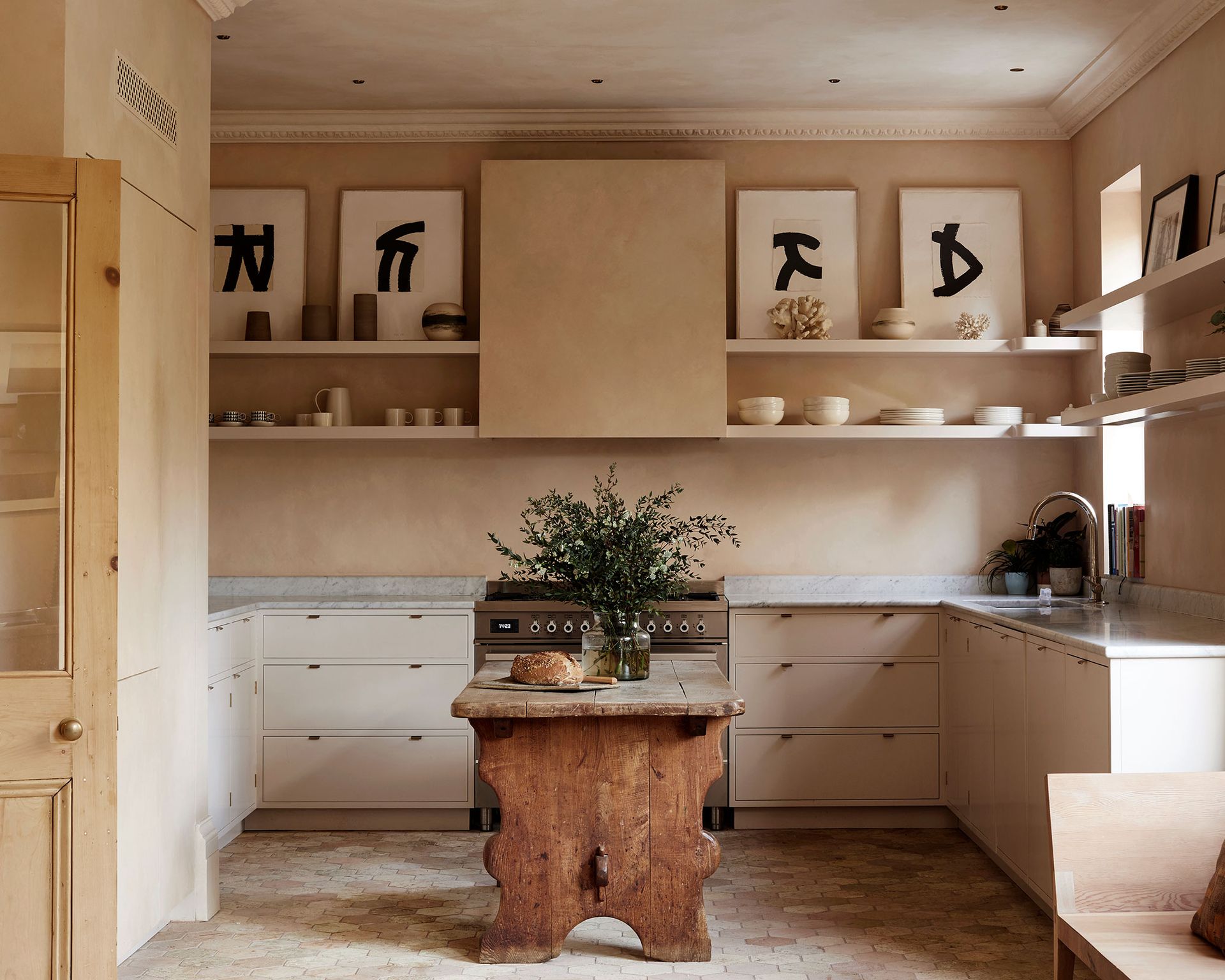 The ethos of modern French country kitchen design is all about evoking a relaxed, welcoming atmosphere, without going full rural Provence. Here, interior designer Jessica Summer (opens in new tab) sets the scene with earthy tones and plenty of texture.
'The kitchen cabinetry is minimal and contemporary to allow the materials to stand out, but also to balance the traditional features like the antique butcher's block and kitchen shelving ideas that are open, or by decorating above kitchen cabinets.
3. Add interest to the ceiling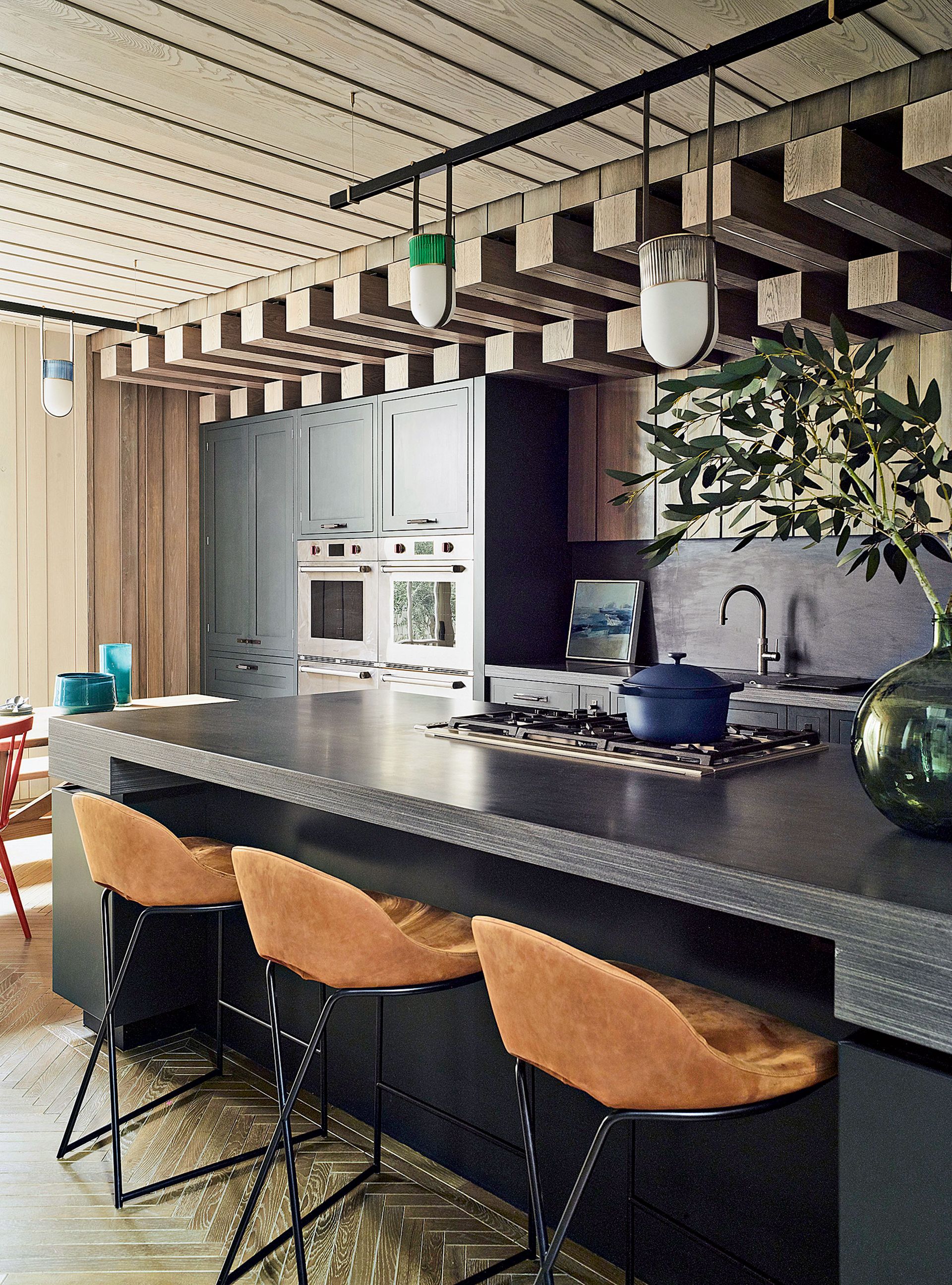 On maximizing the potential of statement ceilings, architectural practice SPPARC has the drop. 'Ceilings featuring interesting shapes and materials can be used to achieve an articulation and rhythm with architectural features elsewhere – in this case the floating stairs that lead from the kitchen to the living spaces above,' says Trevor Morriss of SPPARC. Crafted from stained ash and oak, this chunky ceiling is certain to have everybody talking.
4. Hang storage up high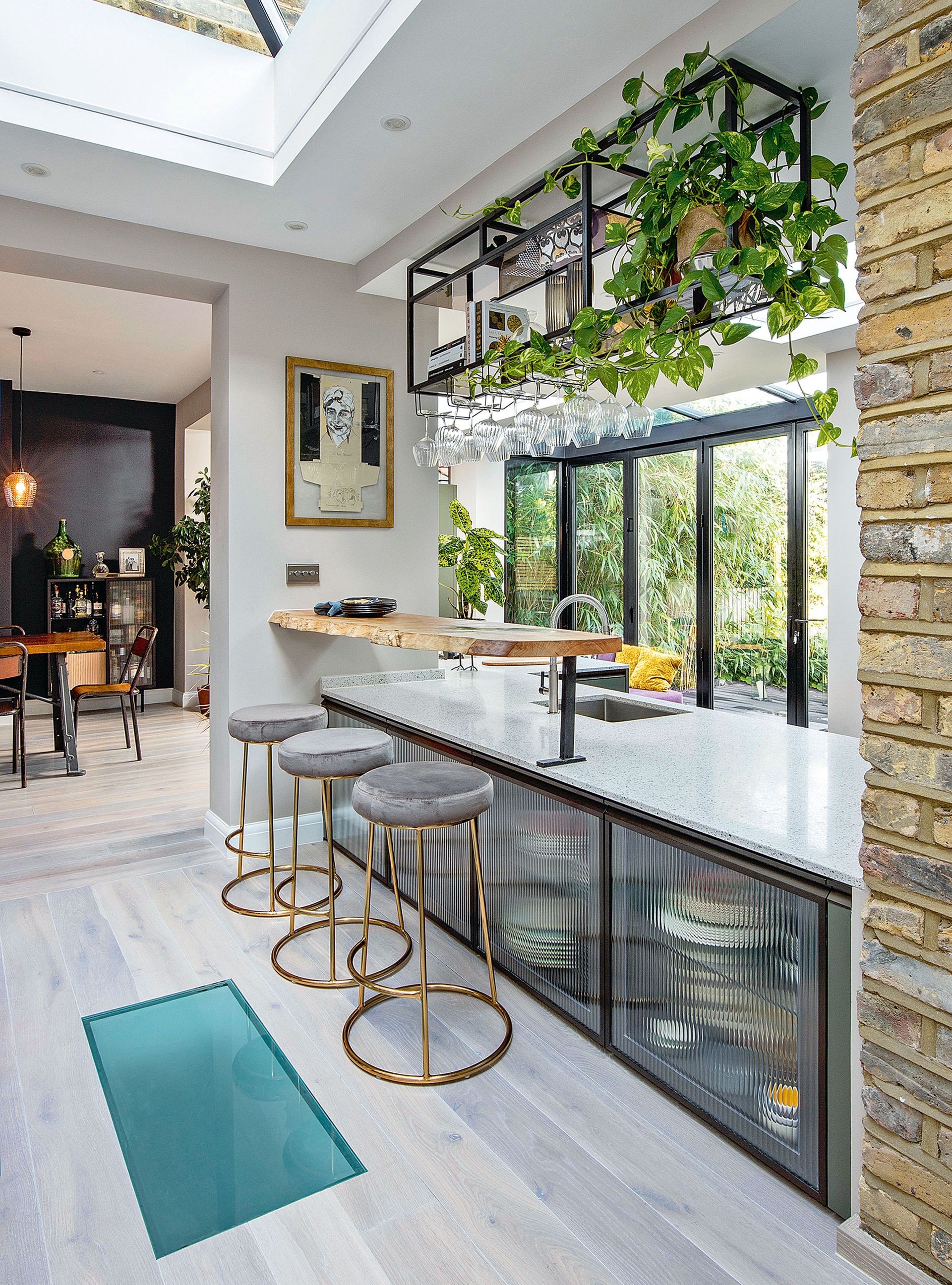 When it comes to creating extra kitchen storage, Italian brand Scavolini recommends looking up for missed opportunities. 'Ceiling-mounted storage is a great way to bring elements of the professional kitchen into the home,' says showroom manager of Scavolini (opens in new tab) by Multiliving (opens in new tab), Brani Hadzhi. 'It's also brilliant for keeping your favorite essentials out of the way but within reach.' Use greenery, glassware and recipe books to blend and soften.
5. Consider a shapely backsplash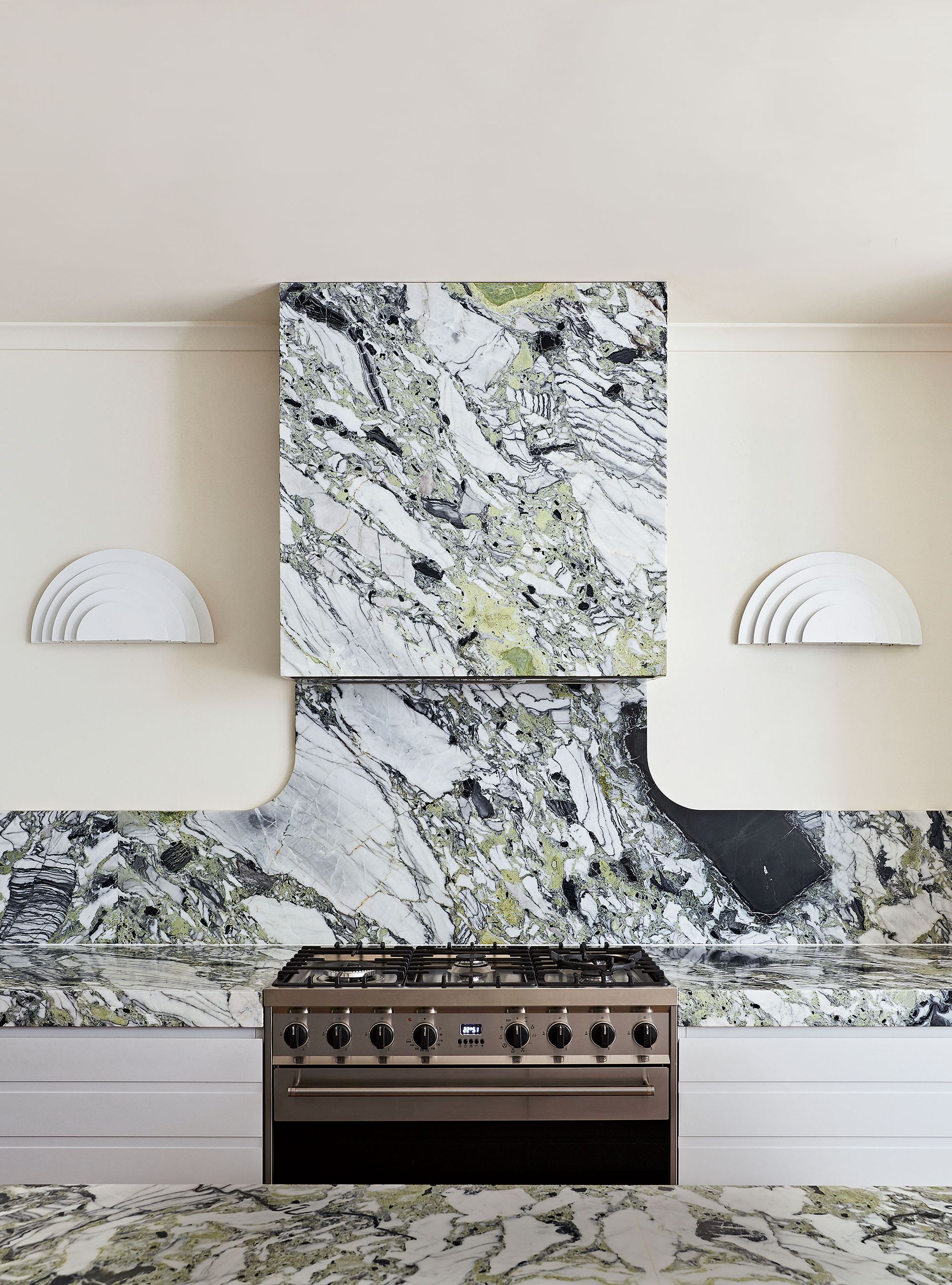 Why end a kitchen backsplash in a straight, horizontal line when curvaceous silhouettes can prove far more enticing? Here, Australia-based designer Tamsin Johnson (opens in new tab) cut swooping curves into marble, merging backsplash and cooker hood with striking sinuousness. Also explore tiled backsplash in fish scales and hexagons for simple shape-shifting surfaces.
6. Put it on display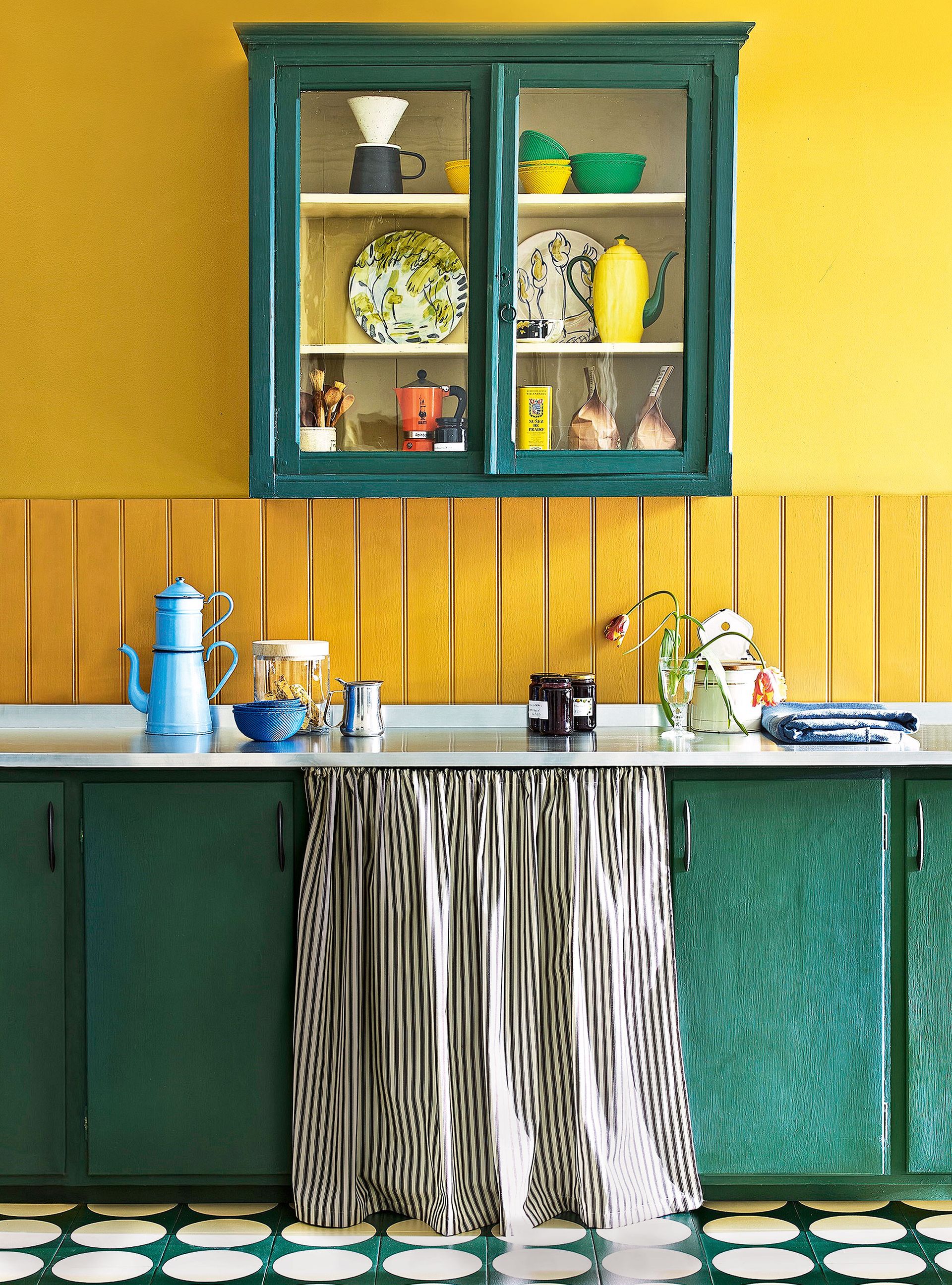 No space for a dresser or pantry? Glazed wall cabinets are just as beautiful and the display possibilities just as strong, albeit on a smaller scale. Steer clear of a fitted-kitchen feel by opting for a standalone unit that's more focal point than functional storage – perfect for walls without windows. Fill with colorful crockery and artisanal packaging as the mood takes.
7. Utilize the size of the space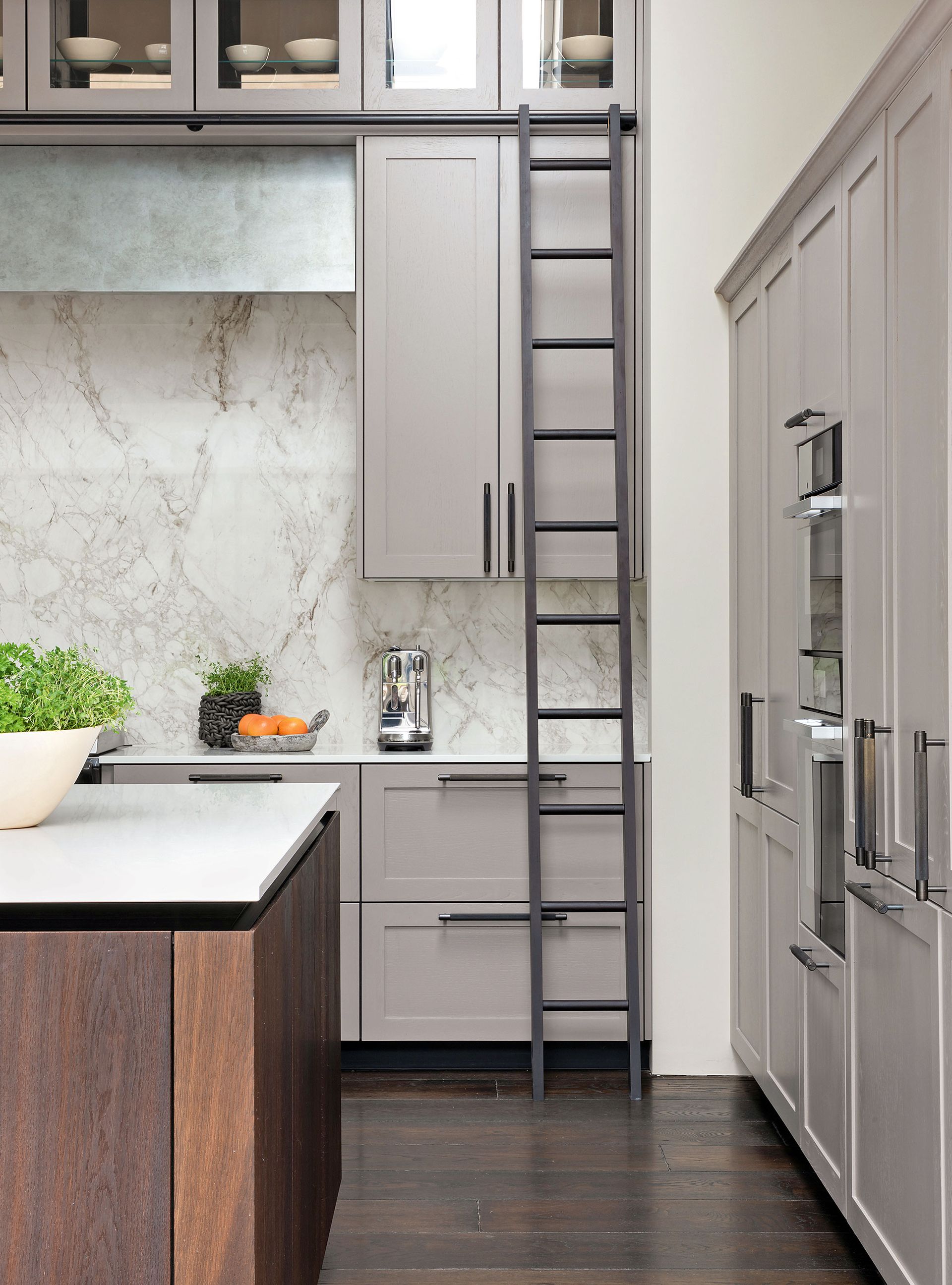 Now there's one more reason to celebrate high kitchen ceilings – the library ladder is coming into its own. Seen in all the loftiest modern kitchens, statement ladders are being embraced in all their vertical glory.
'A permanent ladder is about so much more than accessible high-level storage,' says designer Keith Myers, founder of The Myers Touch (opens in new tab). 'A beautiful ladder provides an interesting, eye-catching feature, while the metal rail introduces a punchy design detail.'
8. Invest in chic seating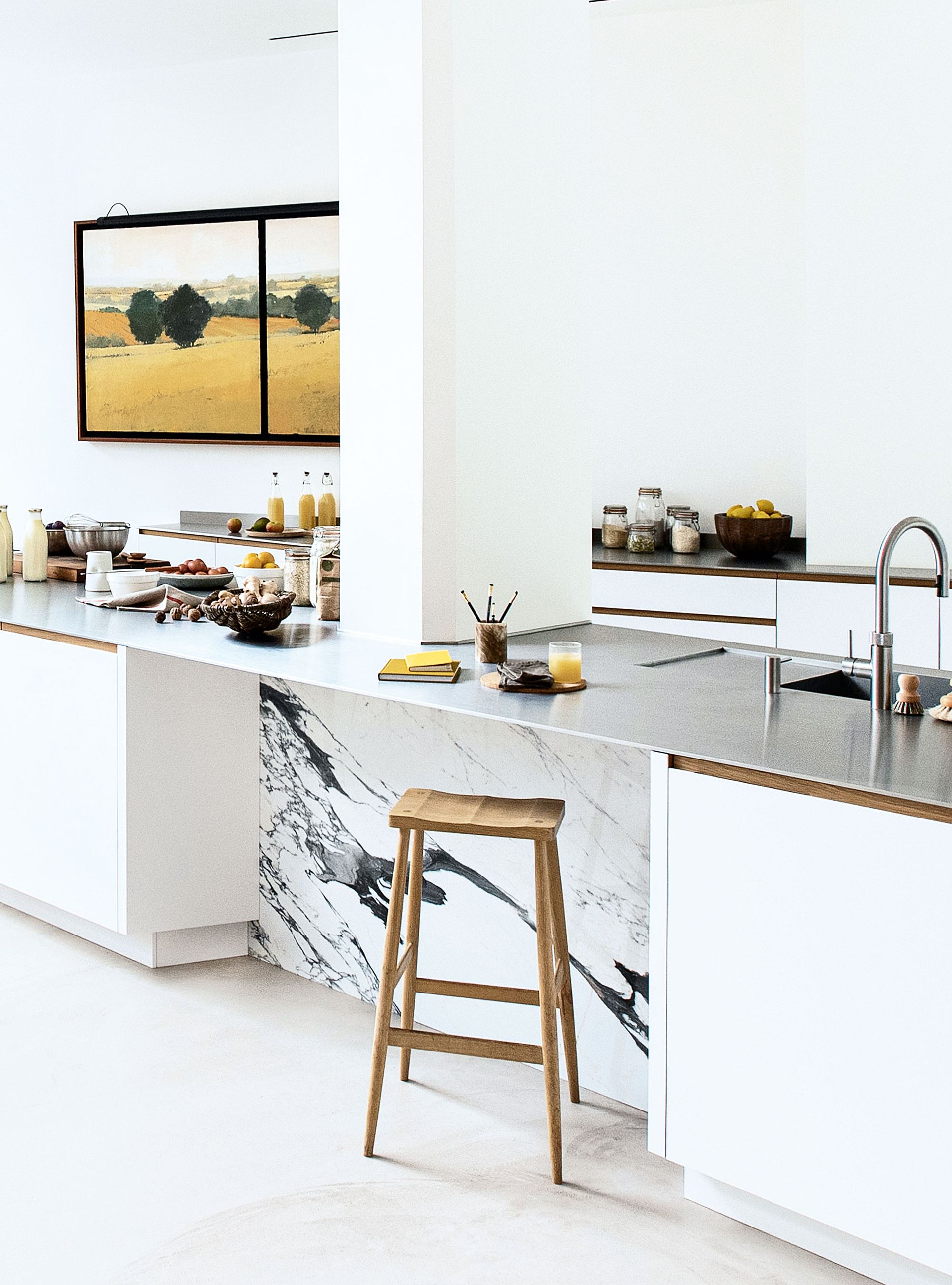 When it comes to bar stools, bespoke maker Jack Trench (opens in new tab) points to a trend for more intimate perching in the white kitchen. 'This may be a single or two-stool perching point, or simply a more economically sized breakfast bar,' says director, Jack Trench.
'The trend stems from those with kitchen-diners, who are realising they don't always need extensive breakfast bars in addition to a table. However, they do still want seating within the hub of the kitchen. This is where the kitchen perch comes into its own; informal seating for a quick coffee or checking emails.'
9. Create a kitchen decor scheme with character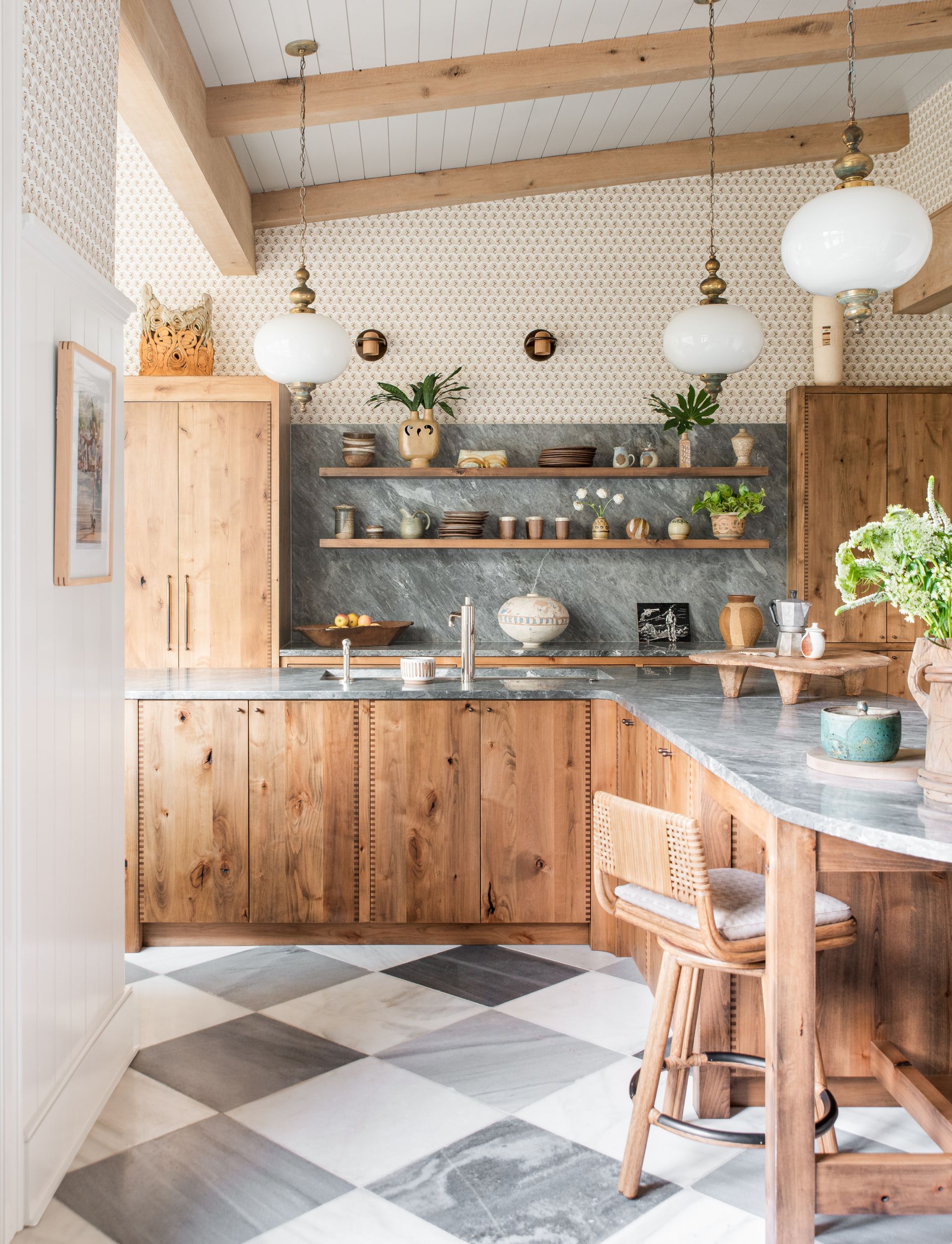 If there's one thing the pandemic has taught us, it's that kitchen ideas that promote a feeling of homeliness make us happy. 'Homeliness' means different things to all of us – some like minimalism, others a more decorative feel.
For interior designer Cortney Bishop, it's about layering with, for example, rugs, choosing characterful cabinet fronts, and keeping countertops clear, to give cherished personal belongings space to be displayed: 'Showcase your personal style – whether it's displaying pottery, a vase of beautiful florals, or a unique basket or tray,' she says when sharing her kitchen styling tips. 'I always recommend to design with intent and function. Less is sometimes more, but not always.'
10. Reinvent rustic kitchens with moody shades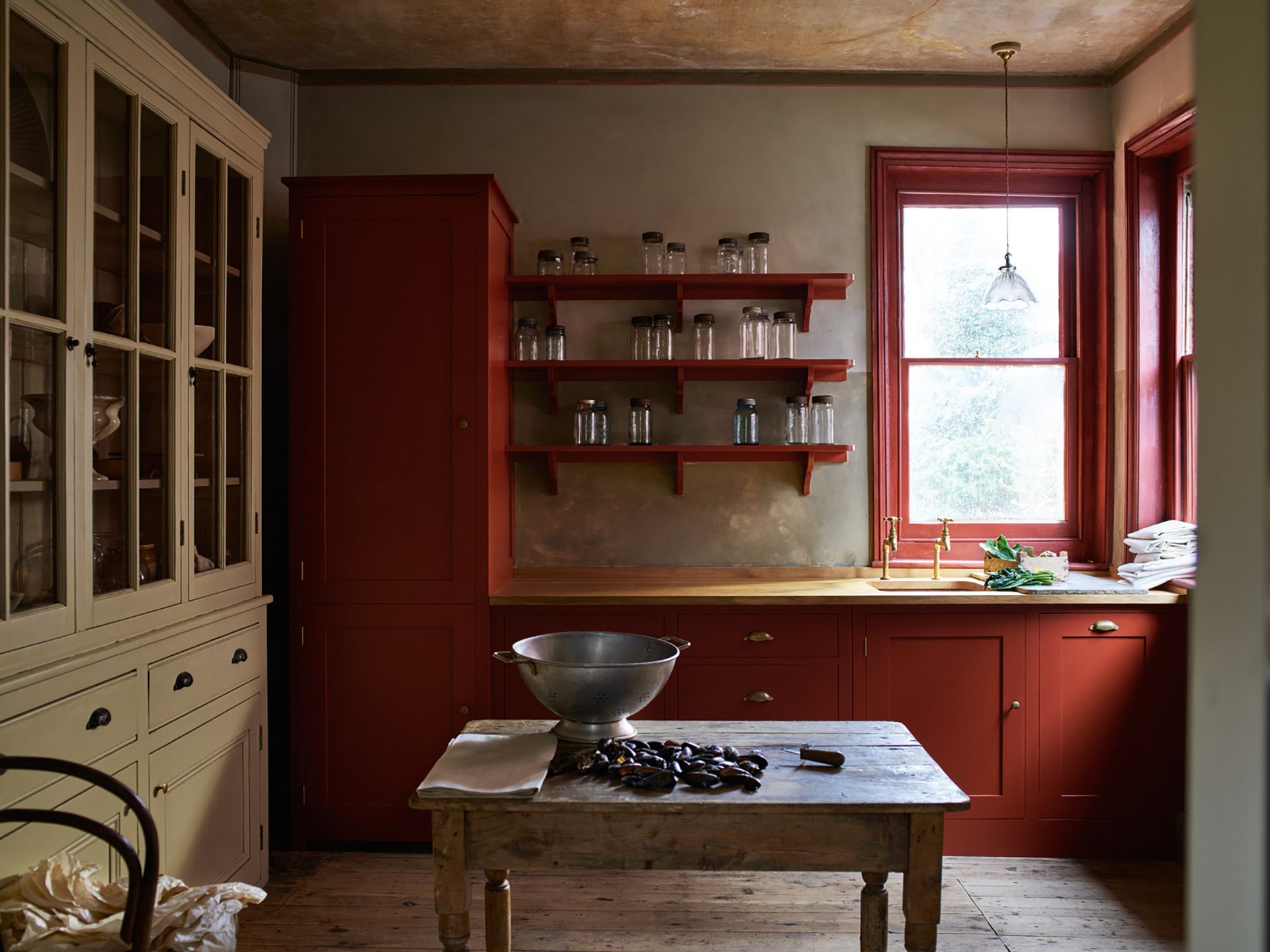 In tune with general kitchen trends towards creating homely spaces, rustic kitchen ideas are more popular than ever. And while white or cream color schemes are still predominant, with blue and green following close behind, deeper, moodier, earthier cabinet colors are gaining popularity – especially when combined with warm wooden tones and freestanding pieces.
'The best way to tie together older pieces with new elegant cabinetry is to use vintage inspired hardware and taps,' says Jen & Mar, co-founders of design agency Interior Fox (opens in new tab).
11. Add pattern to a kitchen with wallpaper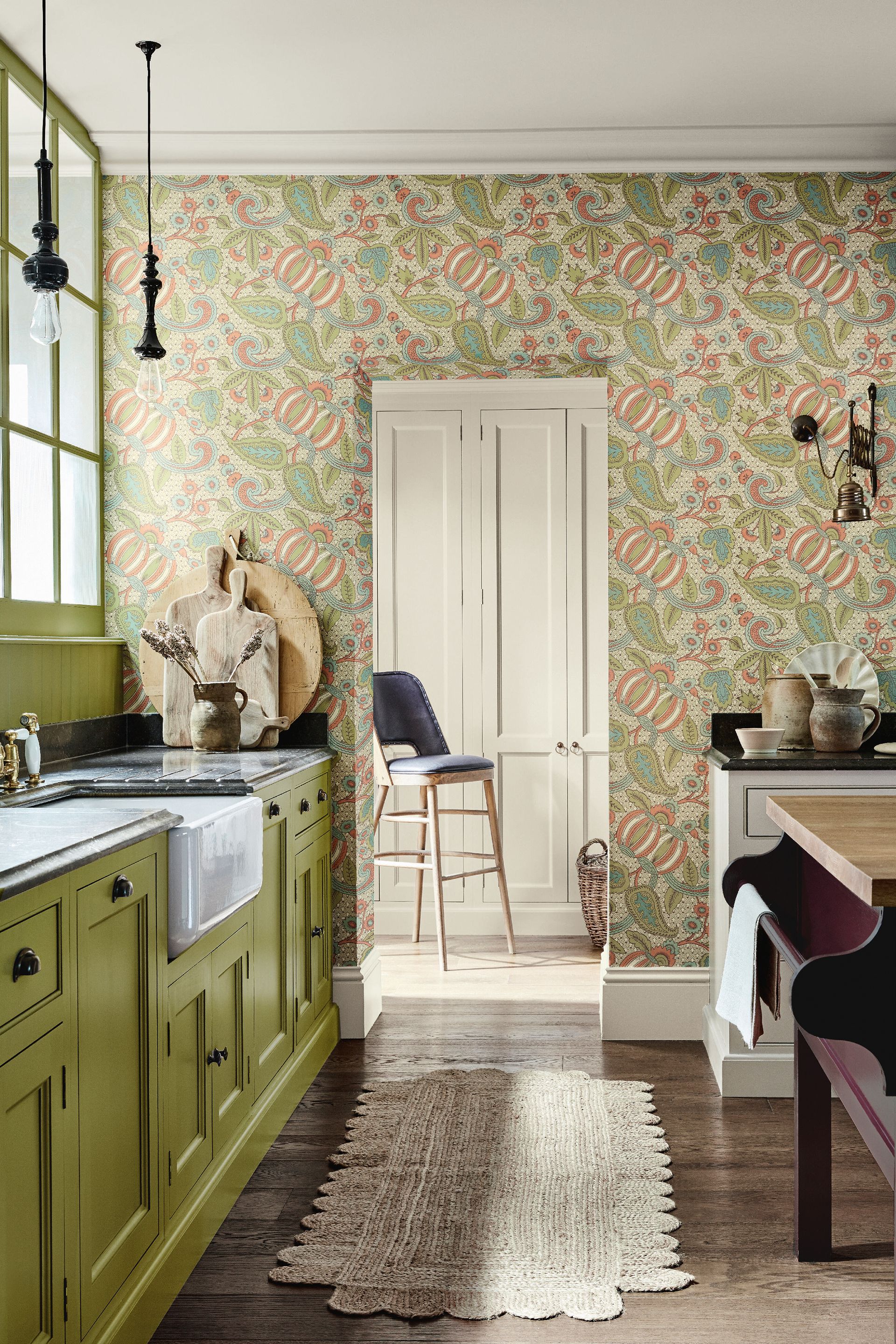 Companies such as Little Greene (opens in new tab) and Morris & Co (opens in new tab) are championing the return of wallpaper to the kitchen. Kitchen wallpaper ideas include modern designs, of course, but those with the most impact have a heritage appeal – playing to that desire to make kitchens feel just as decorated as living rooms.
'Kitchen wall decor ideas are admittedly tricky – it's vital to ensure that the design you choose is moisture-resistant – or that your decorator has come up with a solution for giving the wallpaper you have set your heart on some moisture-resistance,' says Lucy Searle, Editor in Chief of Homes & Gardens. 'That said, there are many beautiful kitchen – and bathroom – ready designs that will elevate your space from plain to personalized.'
12. Rethink fabrics for a kitchen, too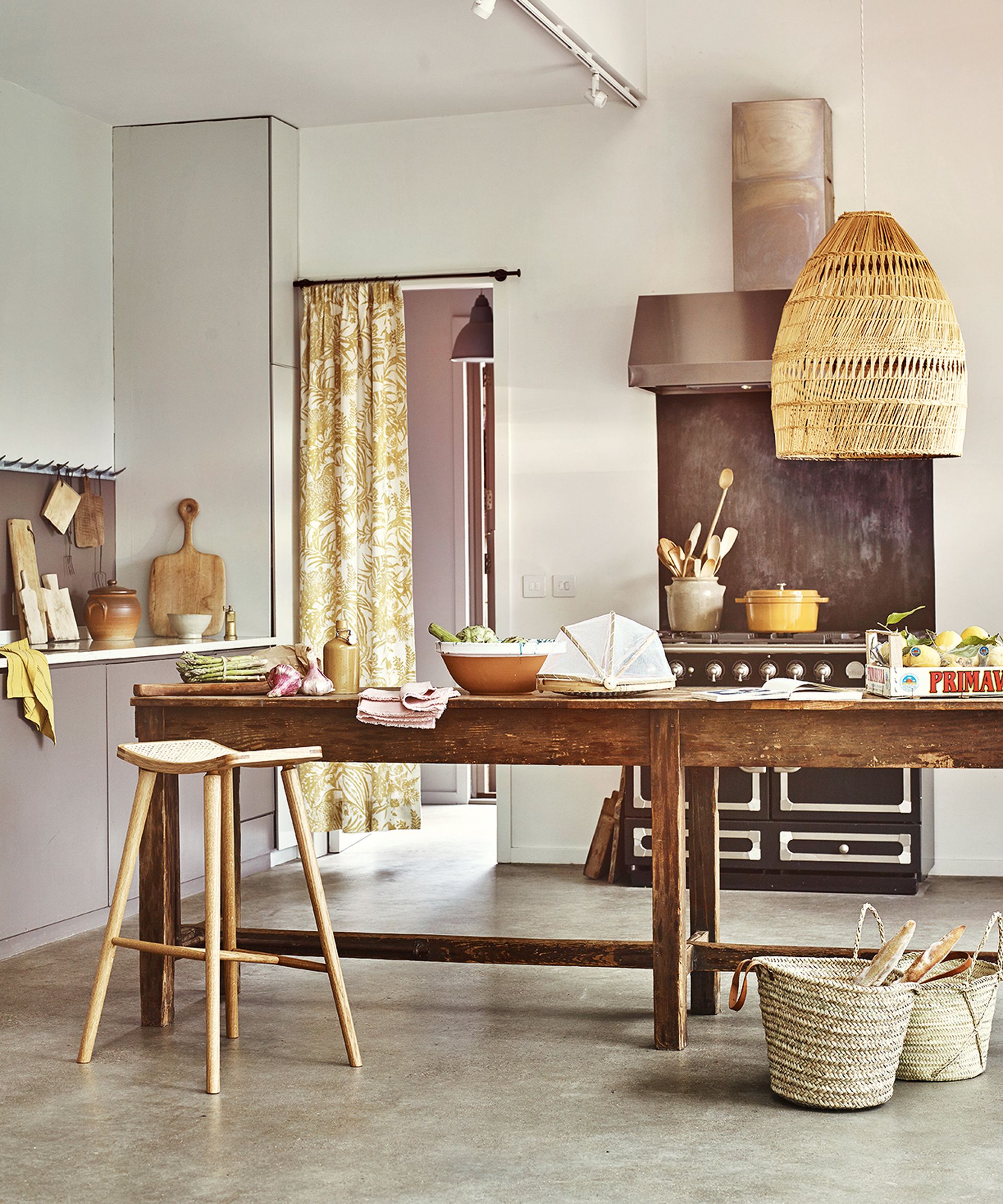 If the kitchen ideas you are putting in your scrapbook – virtual or otherwise – are bursting with pattern and color, then your next option might be kitchen curtain ideas. Just as with wallpaper, the fabrics you choose must be able to withstand moisture from cooking, and splashes and sticky fingers, too, if you have young children.
And it may be that you want to limit to curtain fabrics to a doorway, as in the kitchen above, choosing blinds for more practical window treatment ideas. 'One simple curtain treatment can make a kitchen feel cozier, more welcoming and colorful,' says Jennifer Ebert, Homes & Gardens' Digital Editor. 'Fabrics can also help with acoustics, which is often a problem in kitchens.'
13. Design a chef's kitchen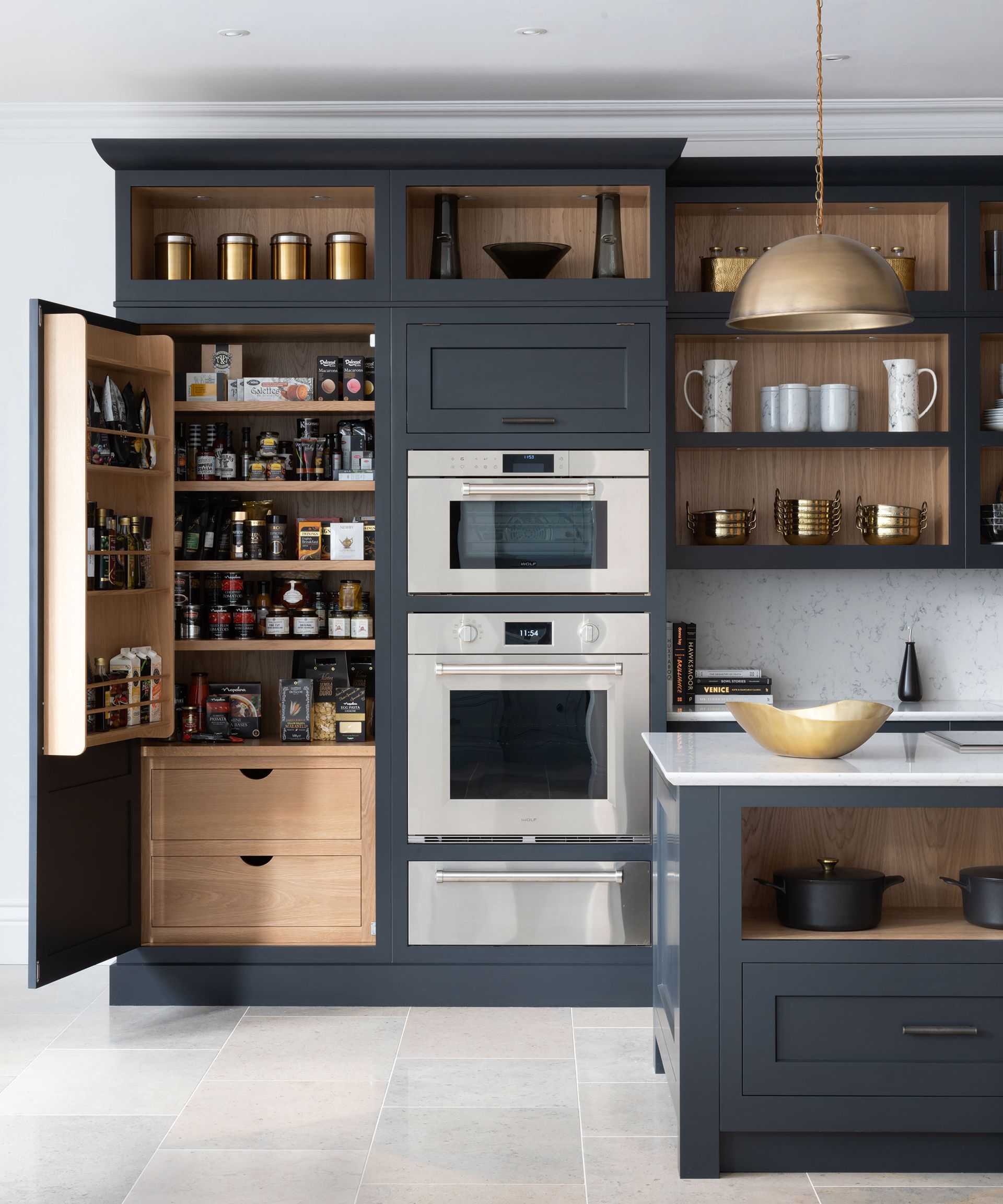 If you truly love cooking it makes sense that your kitchen ideas should be centered around functionality first. The growing interest in home cooking during the pandemic – and entertaining as we begin to emerge from it – has lead to the rise in interest in chef's kitchens – how they are laid out, the appliances they include and their practicality-first design approach.
'To make the cooking process seamless, every item should have a purpose and a place – you should be able to reach whatever you need almost without thinking about it so that you can focus on guests as well as cooking,' says chef Galton Blackiston, brand ambassador for kitchen designer Tom Howley (opens in new tab).
14. Color scheme and combine materials with restraint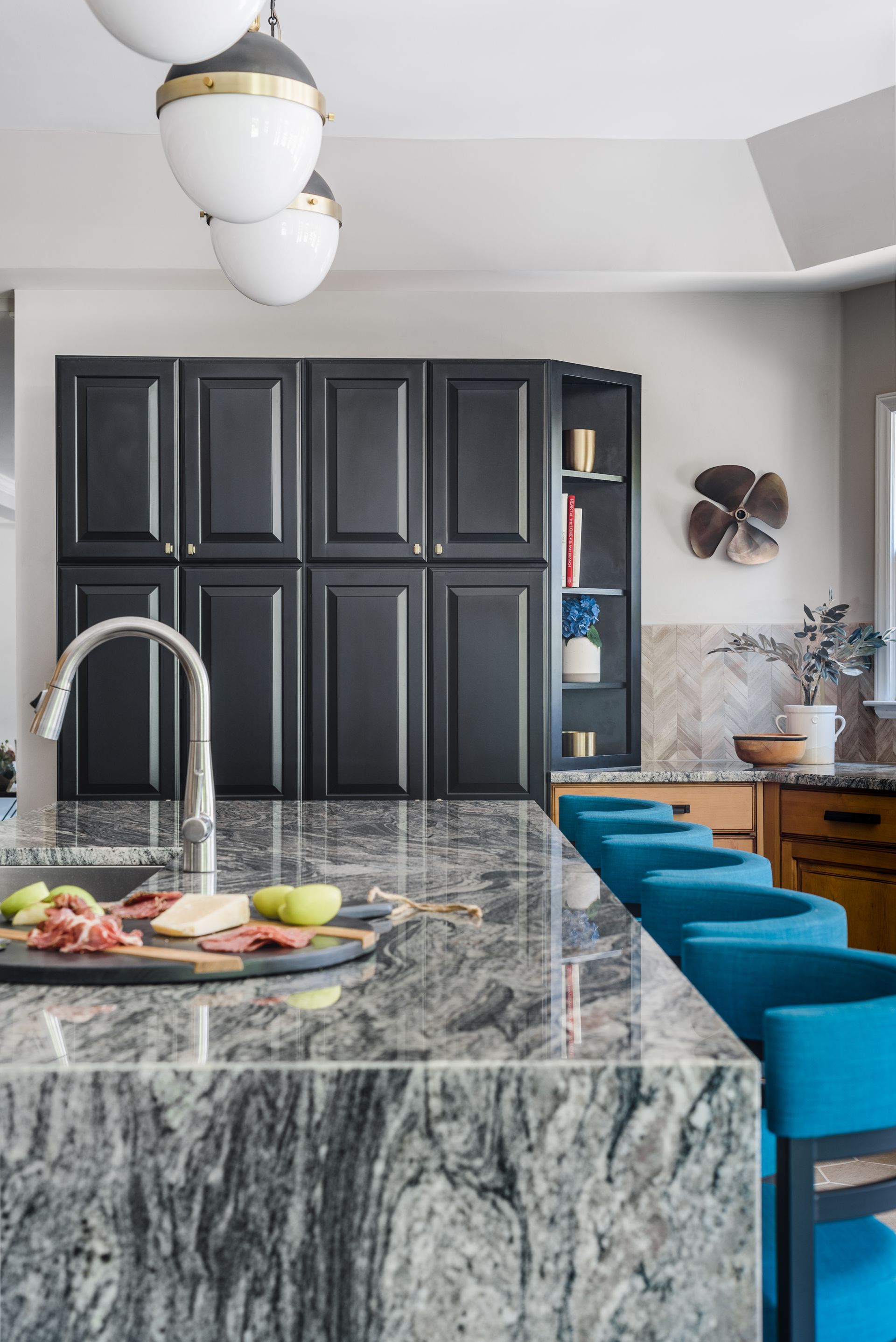 When designing a kitchen, use a combination of colors, materials and finishes to create a characterful look – but just as you would in a living room, limit your palette to one main color and two accents. In this kitchen, interior designer Brenna Morgan (opens in new tab) used grey as the predominant shade in the marble-look island, with black painted cabinets as an accent next to warmer, stained wood cabinetry and bright turquoise bar stools in this lakeside retreat.
15. Embrace Shaker style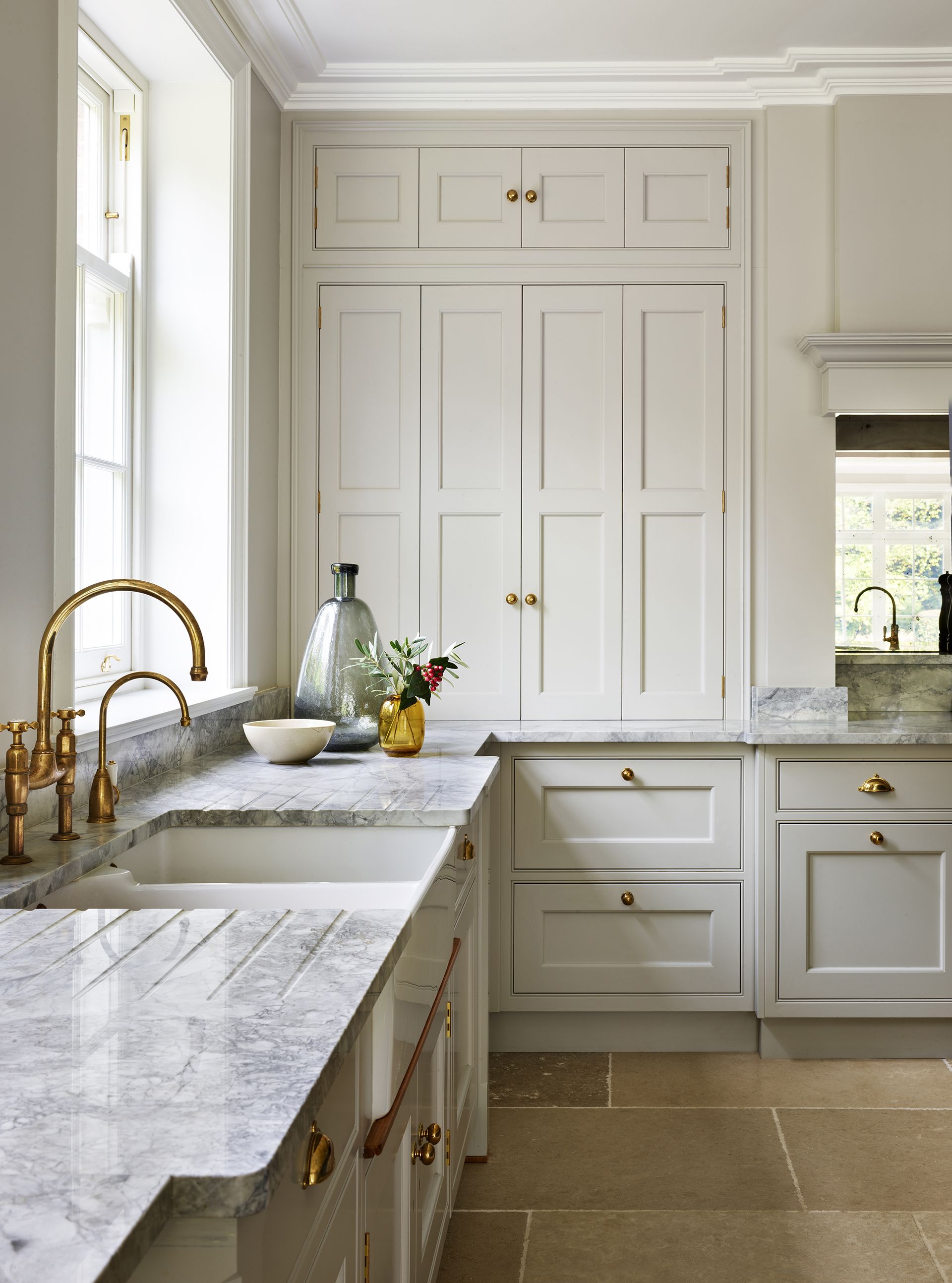 'Classic simplicity' is a phrase that sums up Shaker kitchen ideas. What we love about this look is that it is quietly characterful, will complement both modern and traditional homes, and can be as rustic or streamlined and elegant as you'd like.
'White, cream, grey – or neutral-colored – Shaker kitchens are so easy to redecorate around, and if you are installing a kitchen to please future home buyers, you really can't go wrong with this most recognizable of American kitchen styles,' says Lucy Searle. 'For the more adventurous, Shaker kitchens in darker shades, such as black, blue and green can also look incredibly smart.'
16. Make a kitchen feel homey with casual seating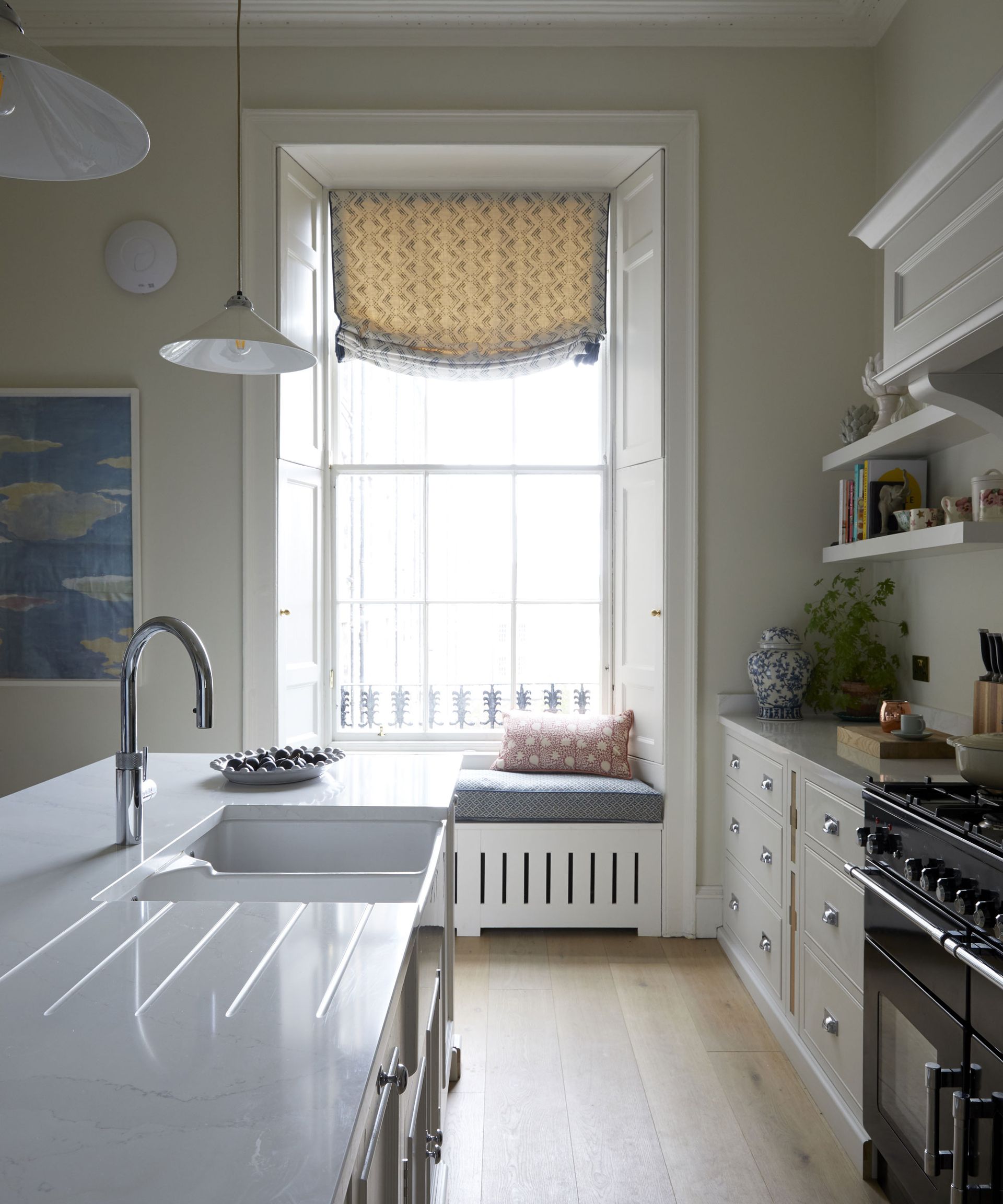 Interior designer Jessica Buckley (opens in new tab) has created this kitchen – in a Georgian property in Edinburgh, Scotland – to be a sociable, homely space. The kitchen styling ideas are testament to this, with open shelving displaying pretty pieces, and art on the walls. But our favorite detail is the window seat idea, which makes a functional space look stylish, a great look for kitchen window ideas.
17. Love contemporary? Black is back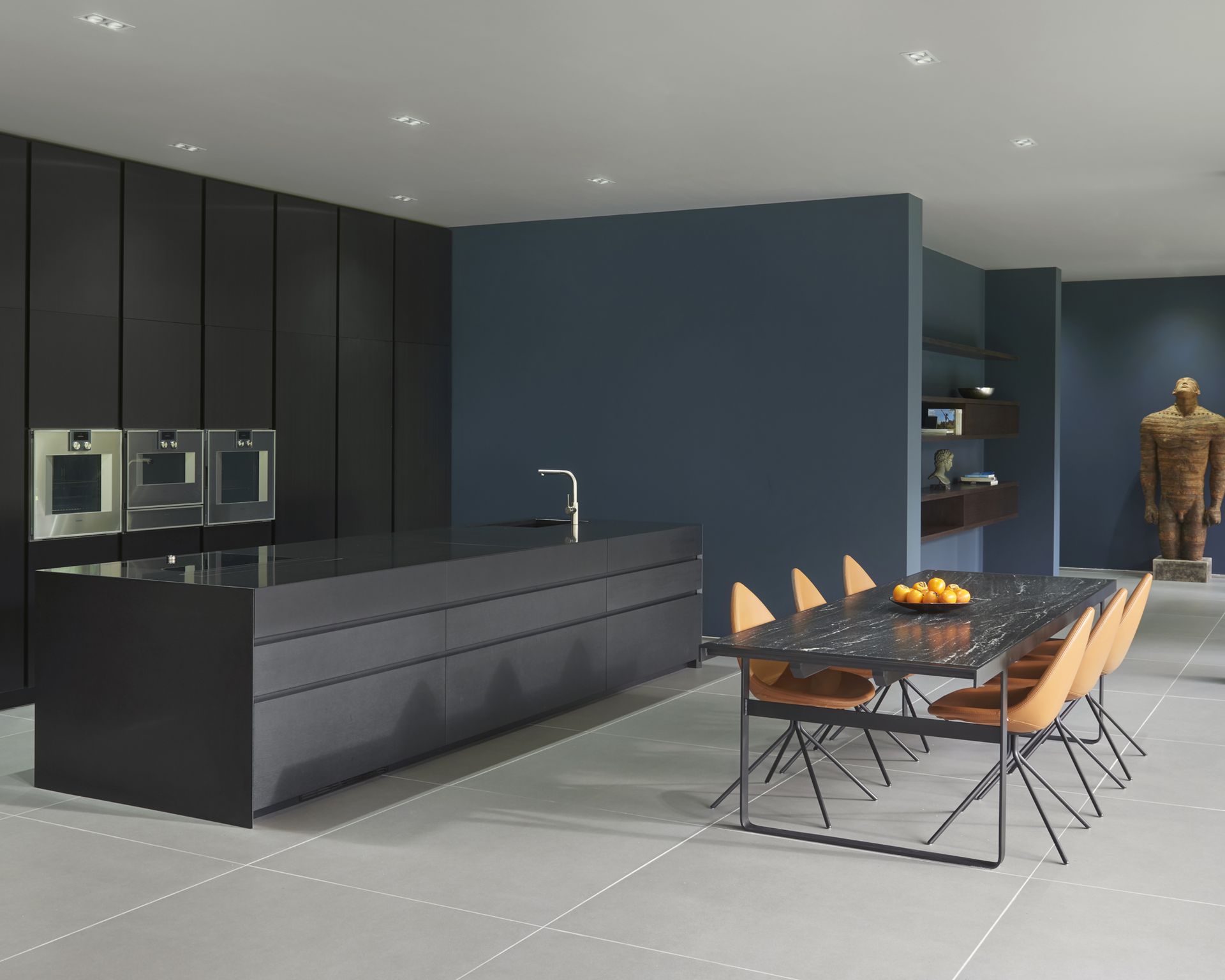 Black kitchen ideas are back on trend – and while they do really suit traditional homes, they are most striking in contemporary settings.
Unlike green or blue, black is a neutral shade, which mean you can use other colors paired with it with ease – but we think black as a backdrop is best complemented by textures found in natural materials, such as wood and brick, which will add contrast to matte cabinetry, but warmth, too.
18. Work your layout around your windows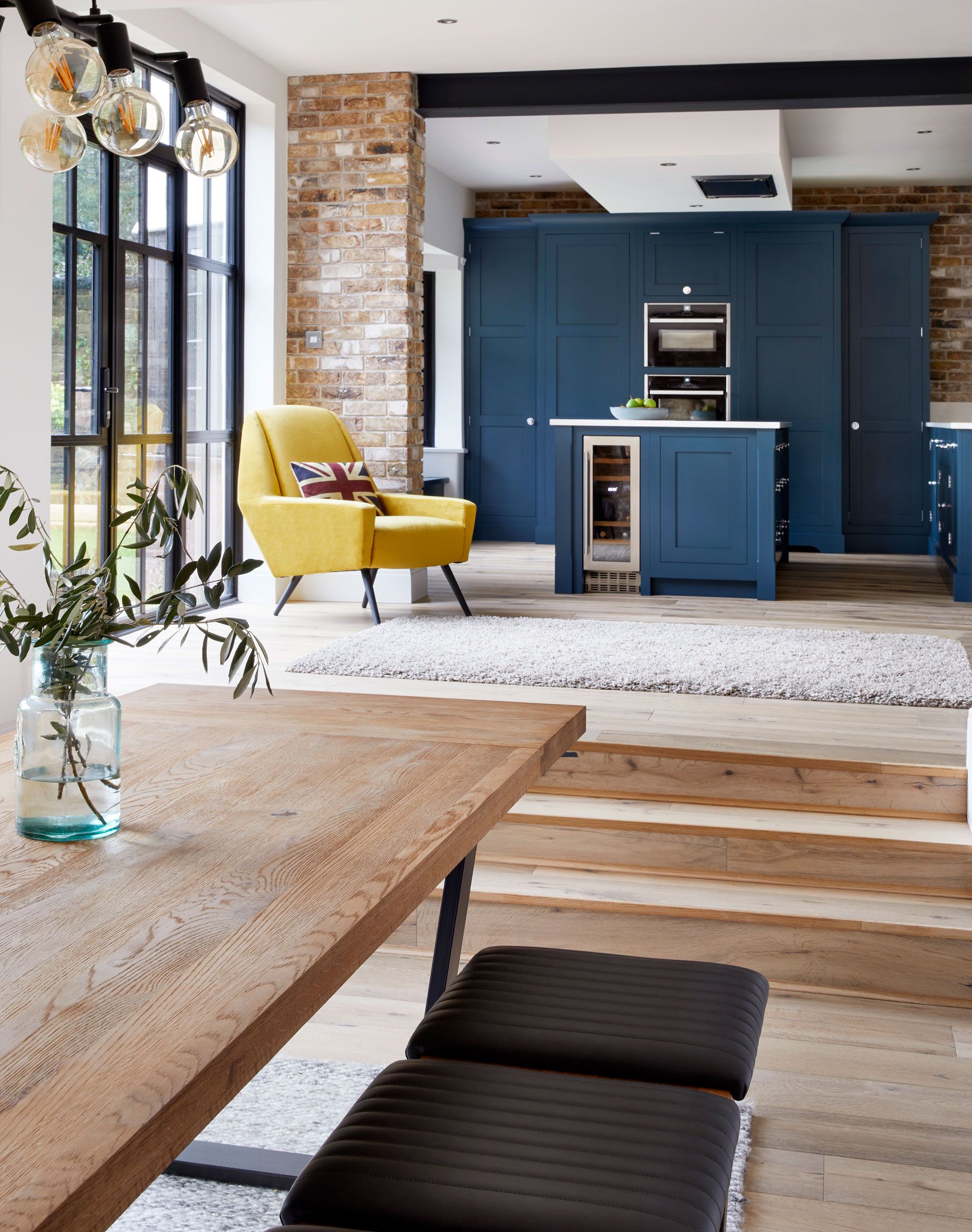 'The layout of the room is what makes a kitchen design successful,' says Tom Howley, design director at the eponymous kitchen company.
'The most important thing to consider is how you use your space. If your kitchen is near your garden, or has a nice view, make sure the furniture layout makes the best of this by orienting towards the view. Your sink doesn't always have to be positioned looking out to the garden; consider locating your dining area with the best view in the kitchen. Creating an indoor outdoor living space will mean that dinner parties can extend outside into the garden, with all the essentials to hand in the kitchen.'
19. Pick intriguing backsplash materials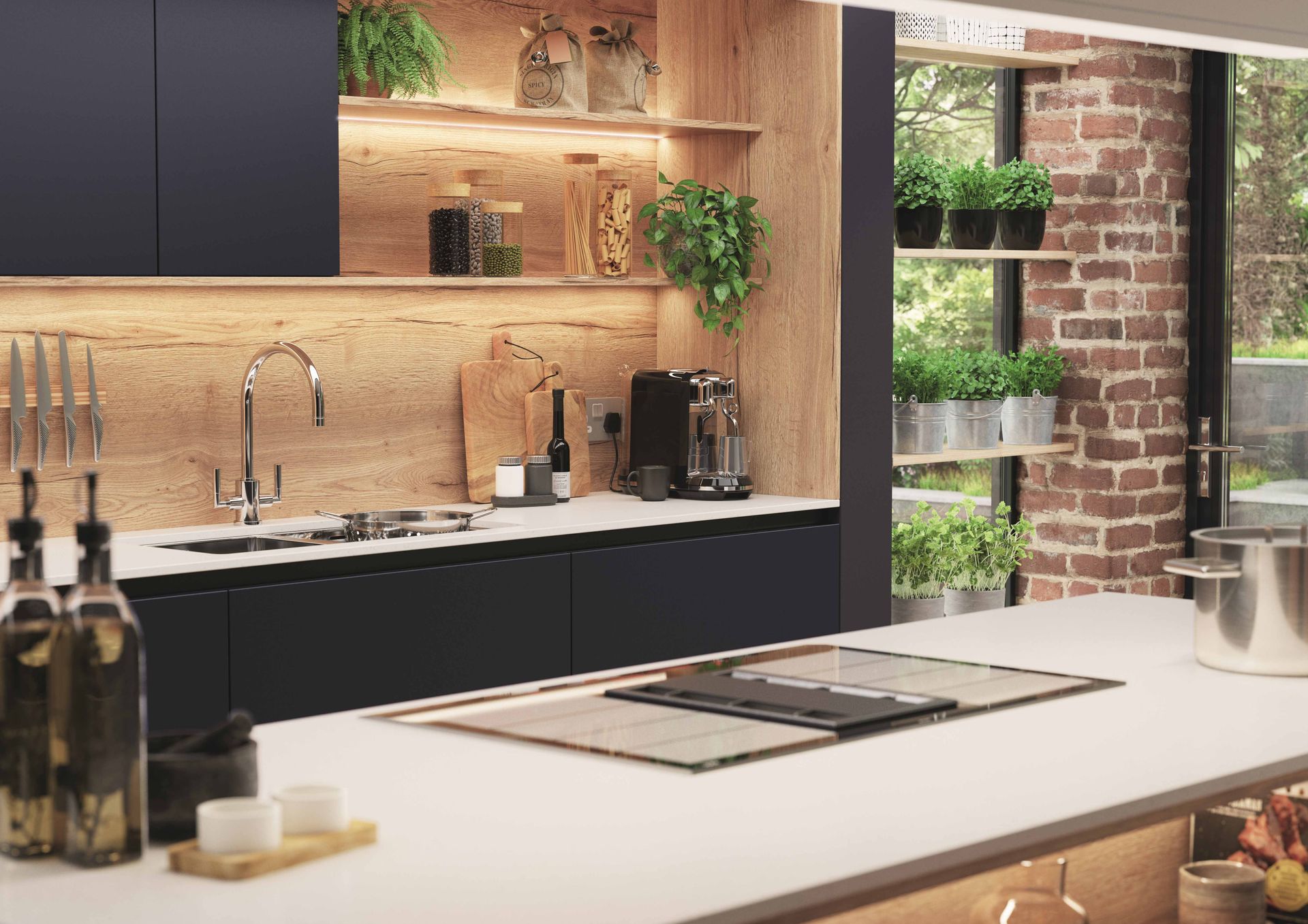 There are many backsplash ideas for kitchens that can make your kitchen stand out from the crowd. Unexpected materials, such as timber, can be incredibly practical if properly sealed. Here, the backsplash material has been used to line the open shelving above, creating a warm, cohesive look that's perfect for making a sleek, contemporary design feel more inviting.
20. Play with scale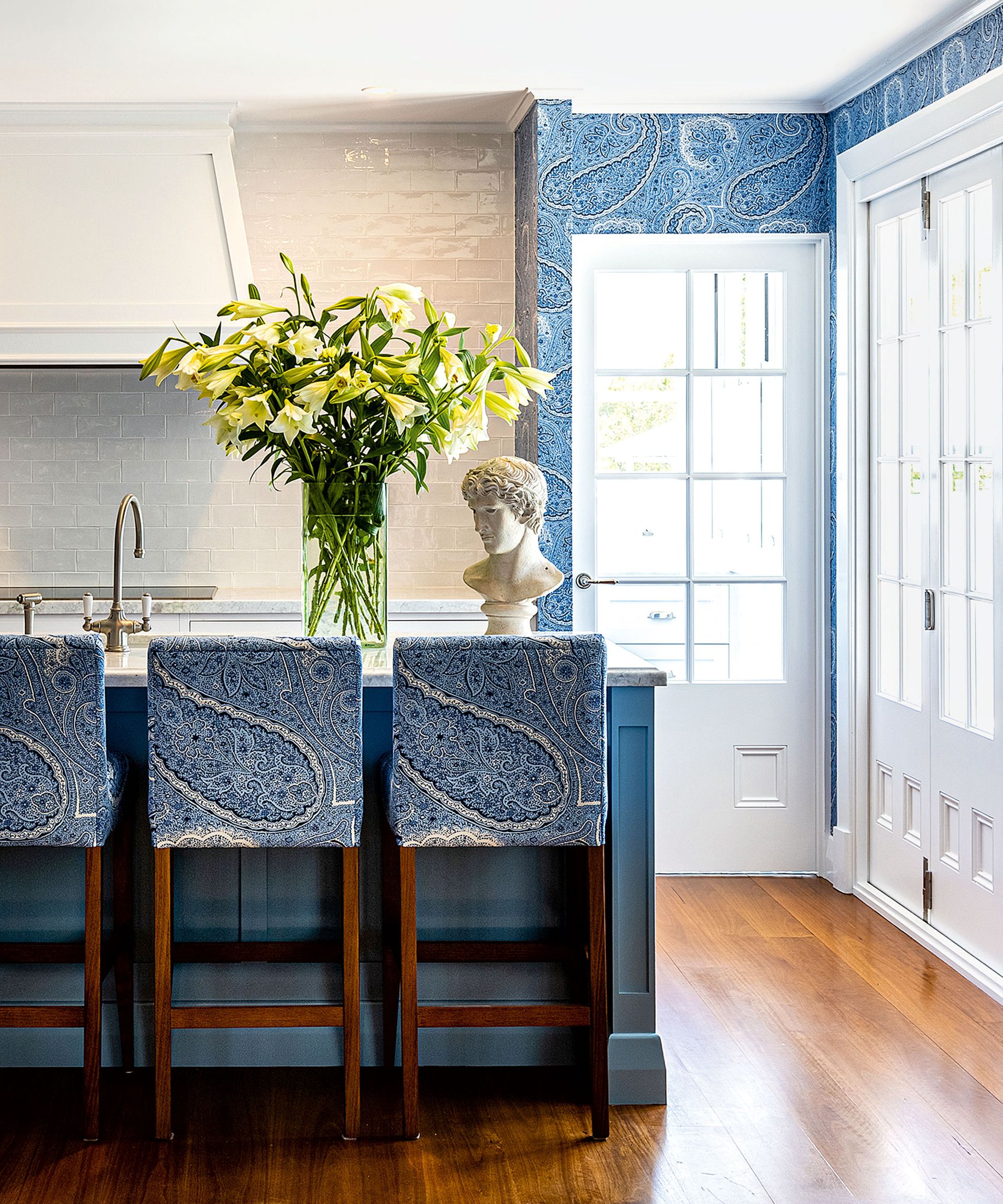 Kitchen interior design should never be overlooked – and can be easily introduced into a space with pattern. In this scheme by interior designer Anna Spiro (opens in new tab), the same paisley print is used on the walls and the chairs to link the areas.
'When color and pattern are used well, they give an air of individuality and help create rooms that are full of energy,' says Anna Spiro.
By opting for a slightly larger scale on the upholstery, the repeat creates extra impact as the shape takes up the majority of the chair backs. With a larger surface area available on the walls, a smaller repeat allows the pattern to be seen in its entirety.
21. Keep walls clear for a relaxed, spacious kitchen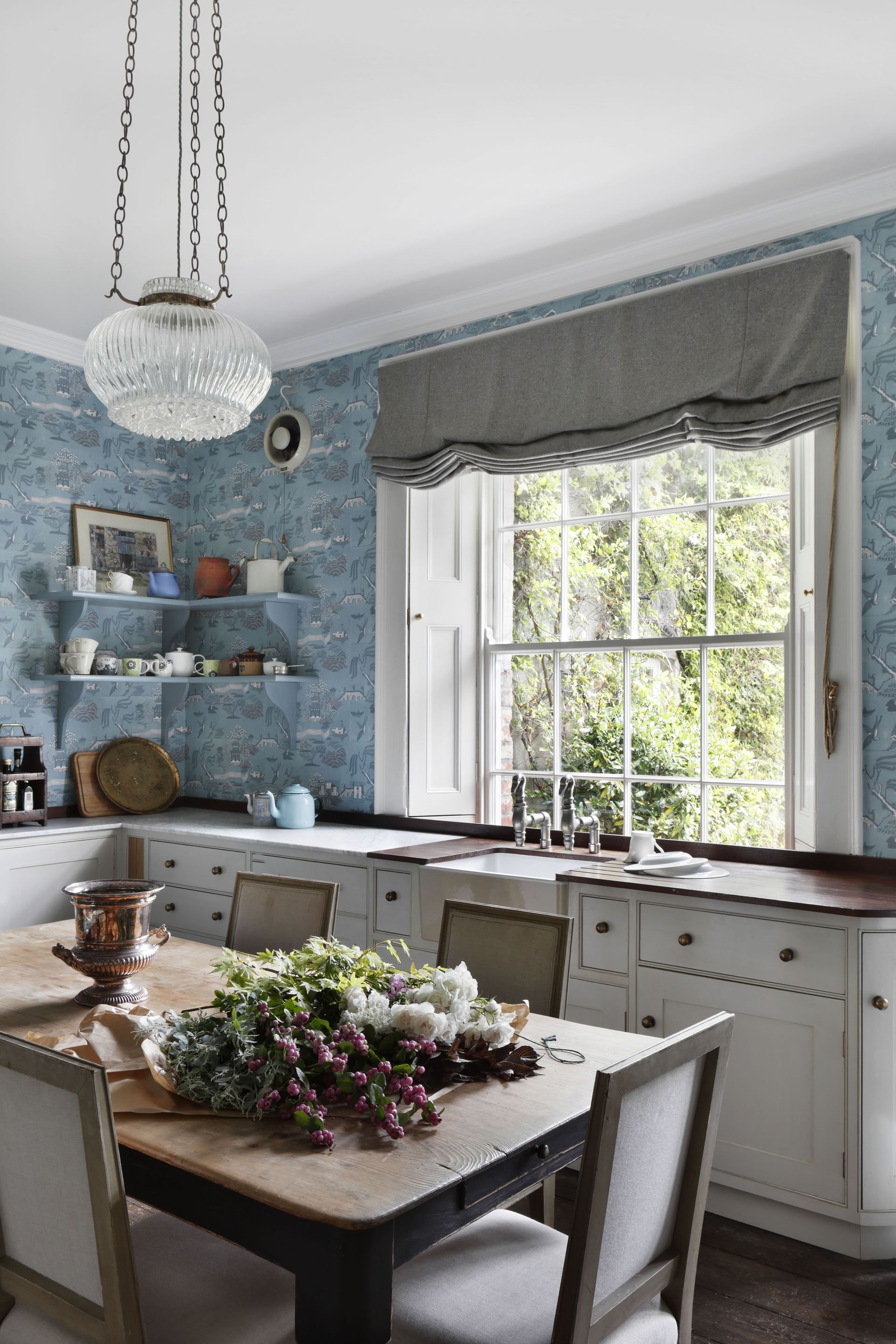 Small or dark kitchens – and those you want to feel laid-back – are best furnished with floor-level cabinetry anyway. This will mean that you might have to consider pantry ideas to ensure there is enough storage available, but you will be more than repaid by the finish, which will feel much more like a living space than a functional room.
22. Know where to spend and where to save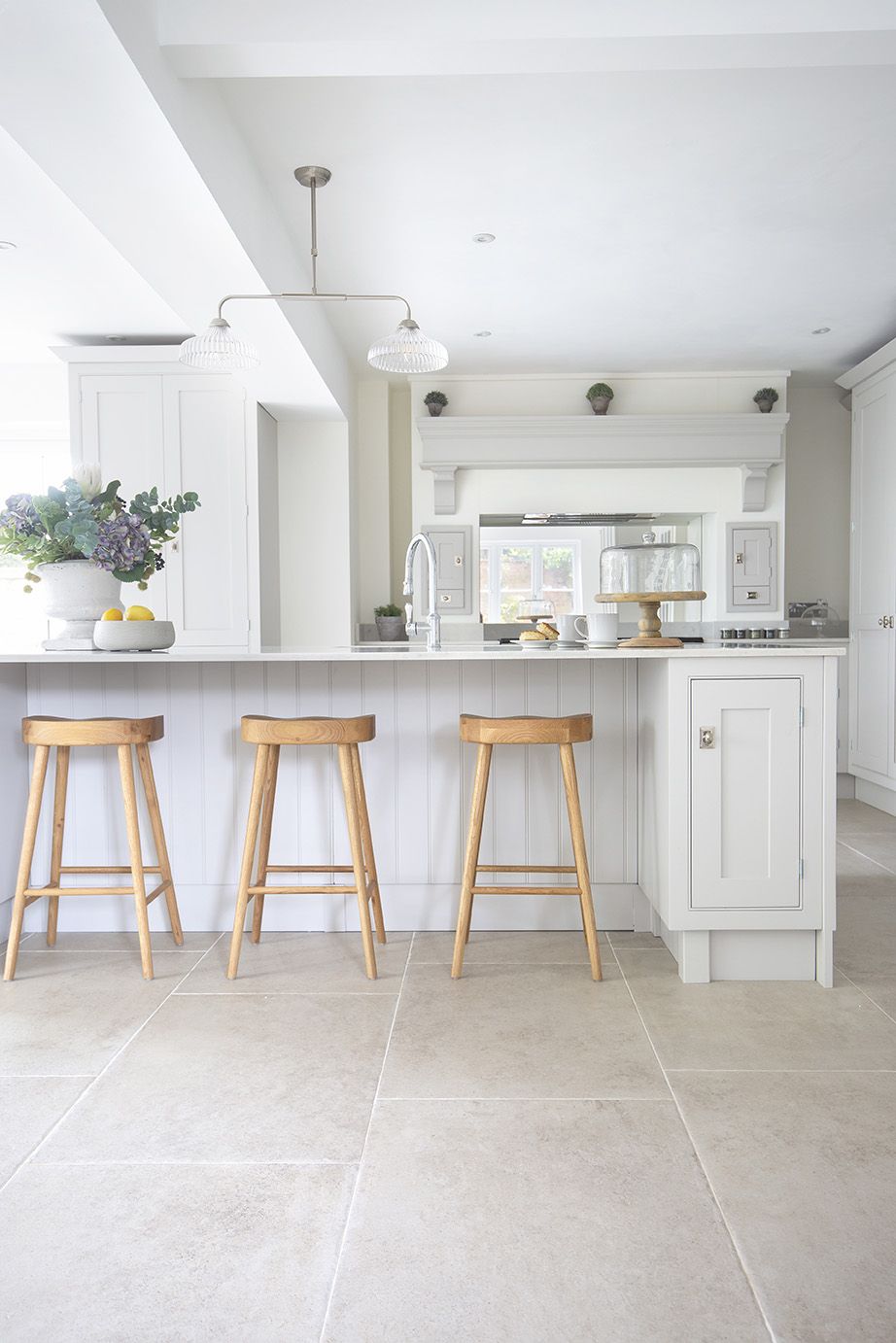 Knowing how much a new kitchen costs can help you know where to spend and save right from the beginning of the process.
'For us, the cabinetry is really the star of the show, so we would suggest investing in bespoke, made-to-measure options. Saving money on countertops, appliances and flooring is the best way to approach kitchen design to give the 'bones' of the space the maximum longevity,' explains Tom Howley.
'Glass is an excellent finish for kitchens. Not only do glazed cabinets break up the monotony of repetitive, solid fronted doors – especially in large spaces – they maximize the flow of light into darker corners. Having glass-fronted doors is as good as open shelving when it comes to displaying your prized pieces. They're also fantastic when accessing everyday essentials allowing you to see what you have and where you've put things.'
23. Use every opportunity to boost storage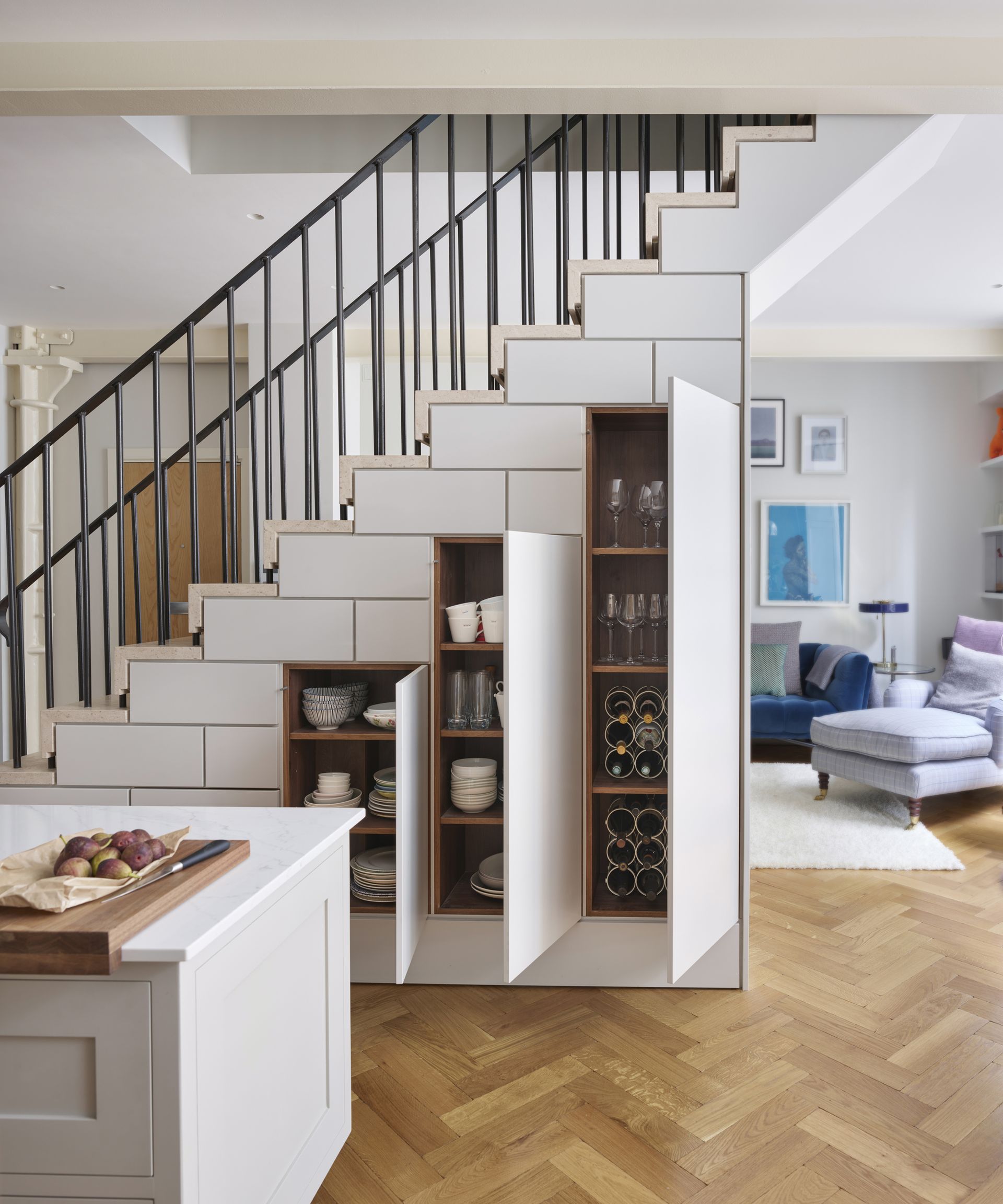 However large and well-equipped your kitchen, excellent storage will only make it function better and look neater – so during the design process, consider whether there might be elements of architecture within your home that can be exploited for extra storage.
24. Include freestanding elements to move beyond 'fitted'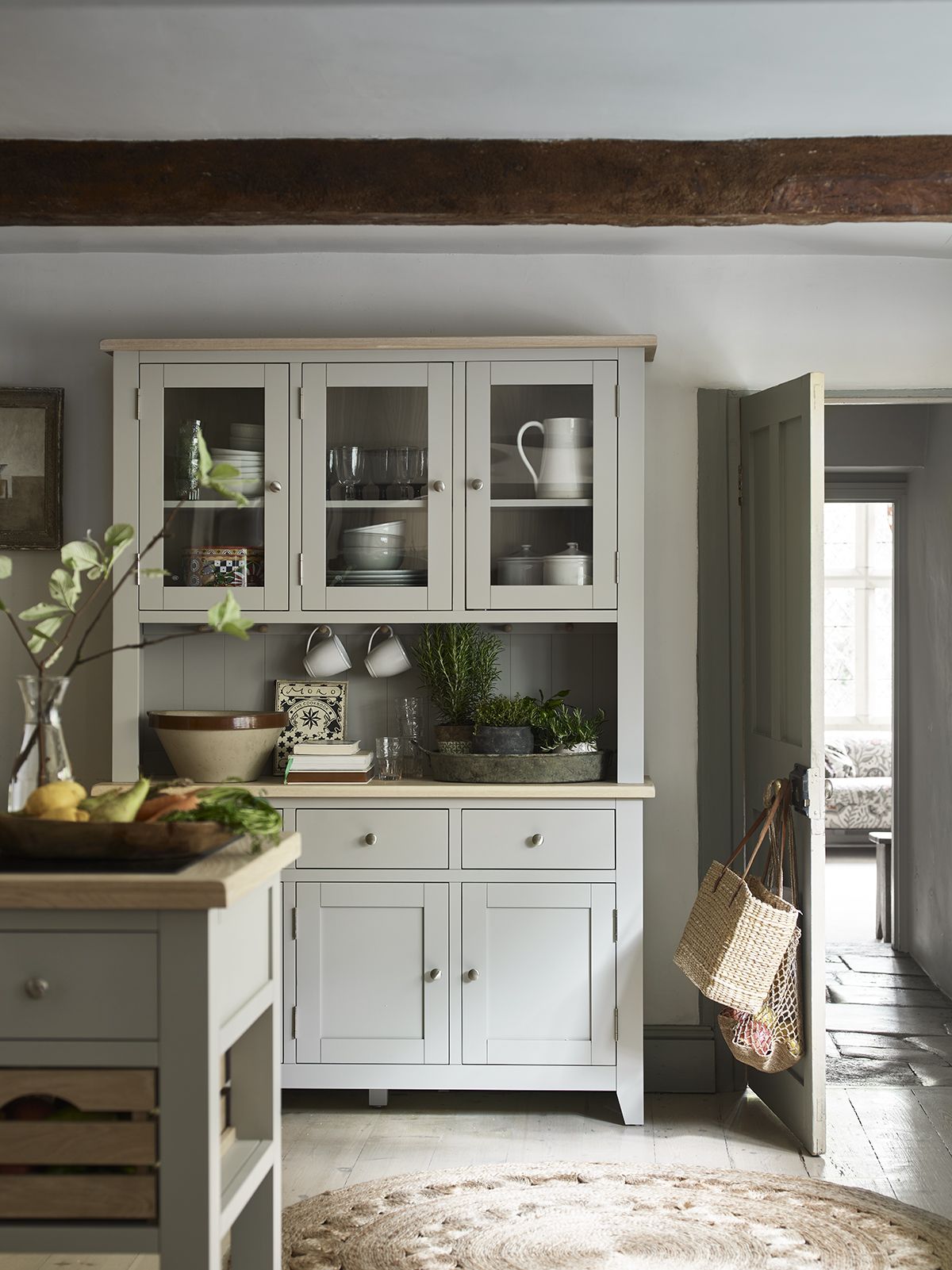 Fitted kitchens are wonderful in that they allow you to use every inch of spare space. But they can feel soulless – so if it's character you want, it is absolutely worthwhile incorporating at least one piece of freestanding furniture into your room's layout. That may be a dresser, a sideboard or even a farmhouse kitchen island idea – and you can choose designs that suit your kitchen's style, they needn't be traditional.
25. Warm an all-white scheme with natural textures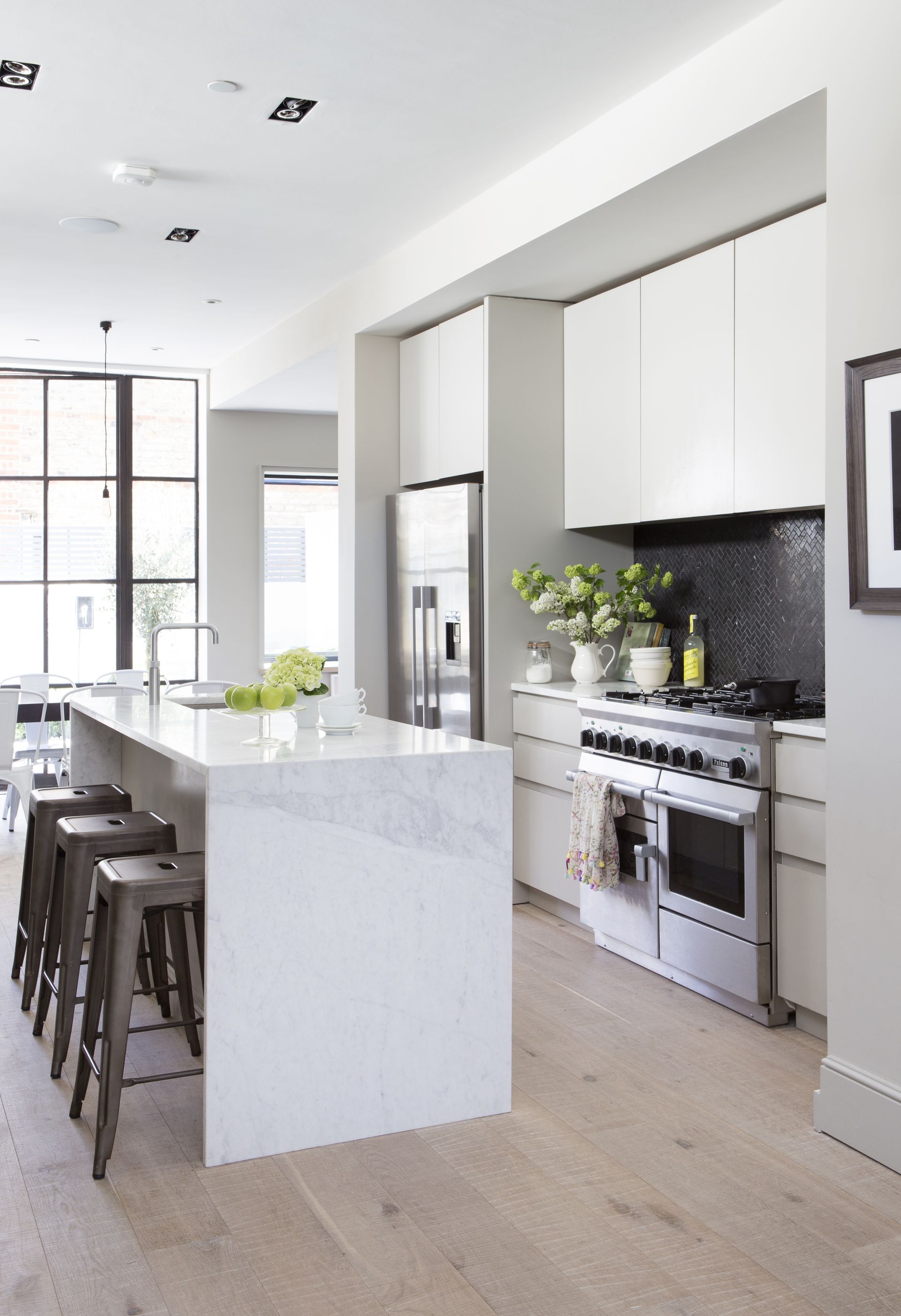 You can't go far wrong with white. As well as lightening up smaller spaces, white kitchens feel clean and stylish - but you do need to balance it with a warming material like natural wood.
Will Thompson, Head of Marketing at Valspar advises: 'When you're choosing a color scheme, the perfect combination is integral to our positive experience and enjoyment of the room. If you're a fan of a classic finish, an all white kitchen works beautifully for spaces of all sizes.
Small kitchens will benefit from the reflective nature of a white color scheme, paired with natural wood finishes such as countertops, wood flooring and door handles to break up the white and enhance the earthy feel.
Valspar's The Perfect White (opens in new tab) is ideal for keeping high traffic areas in their fresh white state, for easy scuff removal and stain resistance.'
26. Mix patterns with plains to create a balanced scheme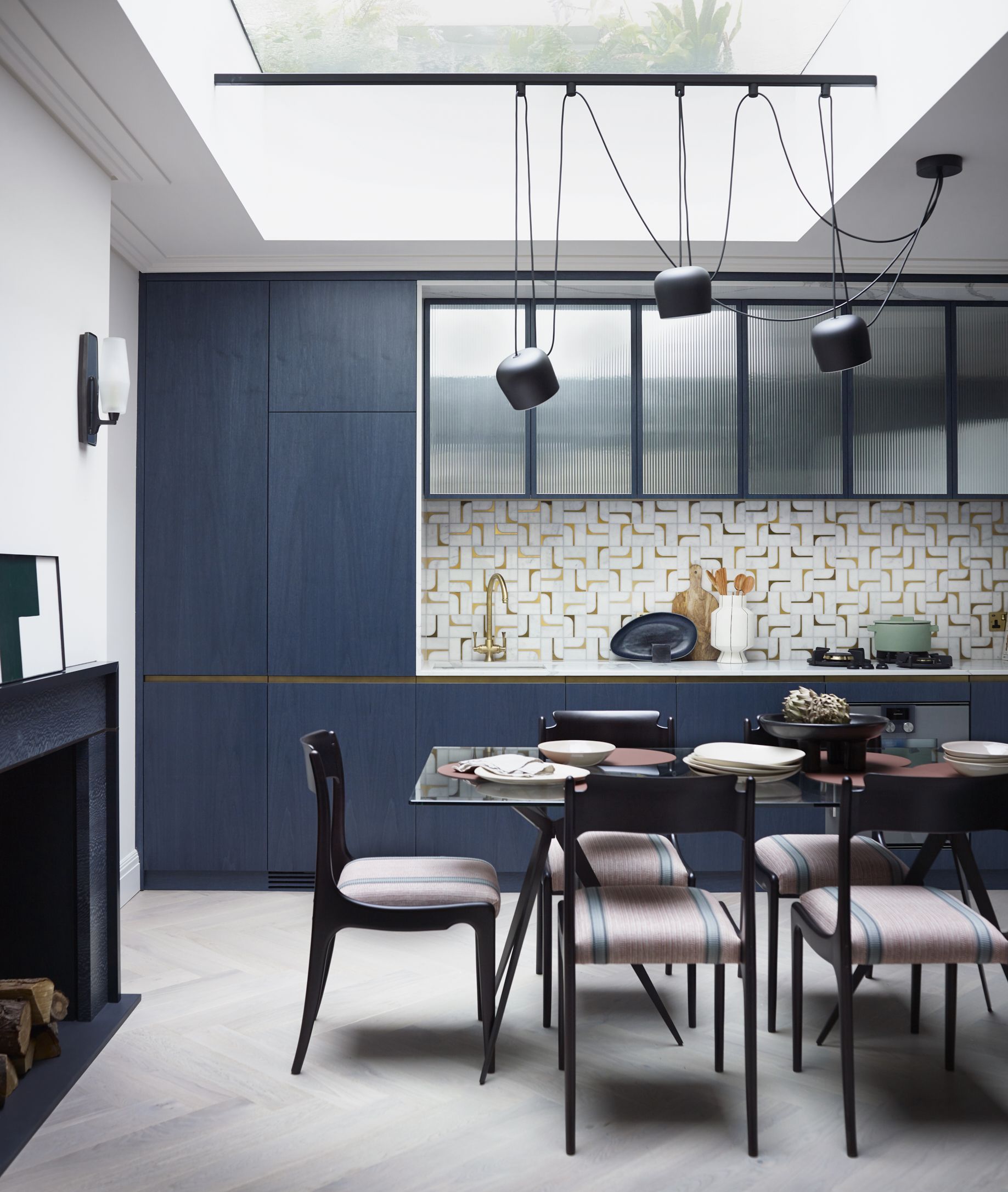 'The graphical and playful impact that the backsplash has on this space is a real conversation-starter,' says Irene Gunter, Co-Founder of Gunter & Co (opens in new tab).
'When designing a kitchen there always needs to be that one eye catching feature. In this case the tiles were chosen before anything else and the metal trims and cabinet door finish came after, the blue was chosen as a neutral which in the case of this colourful project made total sense
'Given the cost of the luxe marble tiles with satin brass inlay, we knew that we needed to use the tiles sparingly. That's why this single-wall kitchen configuration turned out to be the perfect fit.'
We love the detailing of these kitchen tile ideas and how they work against the sleek blue units. The result is an exciting color scheme that incorporates both pattern and plain elements that's both bold and contemporary.
27. Love grey? Create more impact with deep tones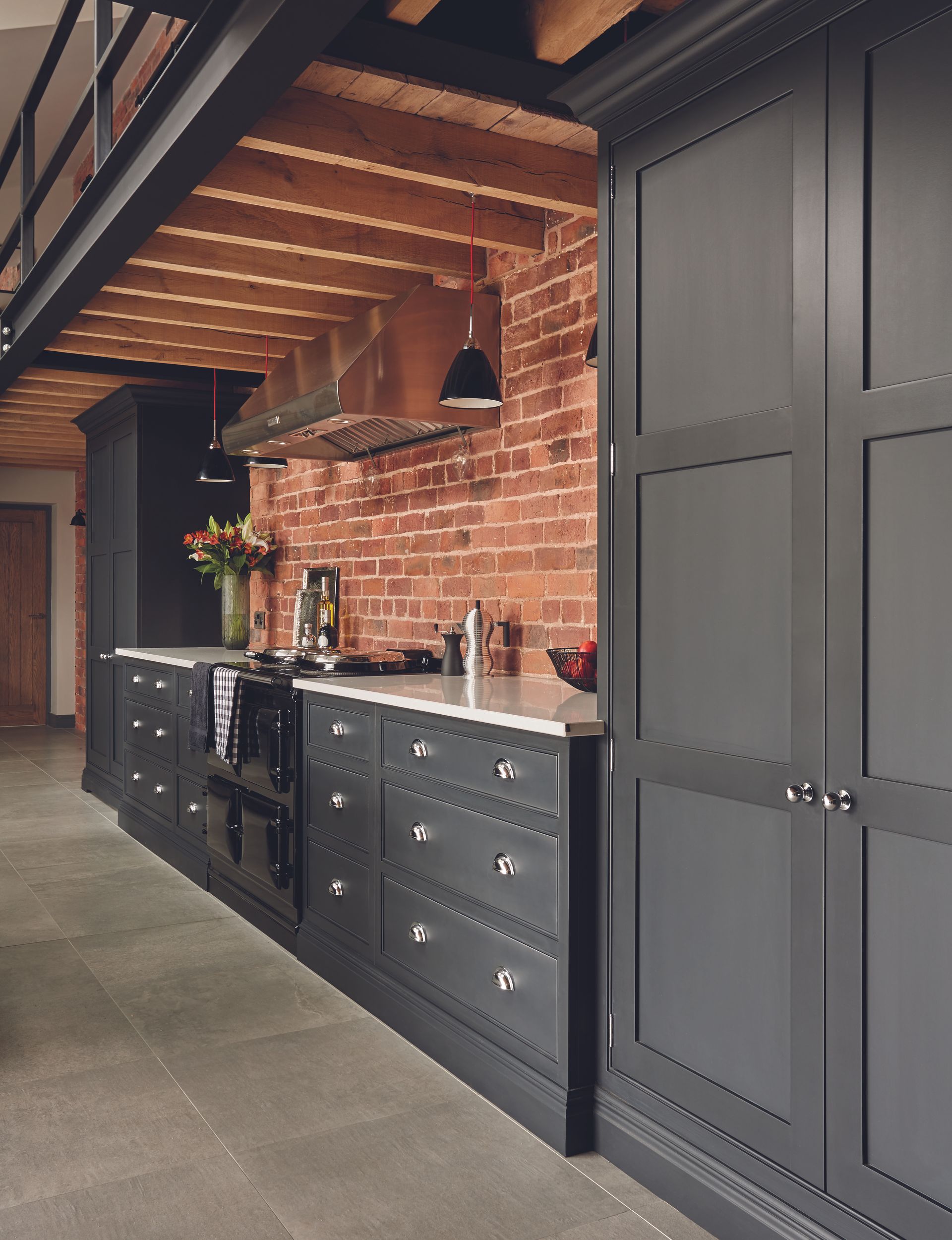 'It's important that when it comes to making a bold design choice that it fits within your home and with your tastes,' says Tom Howley, Design Director at Tom Howley (opens in new tab).
'Rather than persuade a client to step away from a more traditional paint color to follow a trend, it's all about deciding how much of a statement they want to make.
'Neutral color palettes in the kitchen will never disappear, but for those that want to add a stronger injection of color, black, navy and grey kitchens still remain very popular and can be contrasted with light color work surfaces and flooring.'
28. Add personality with eclectic decor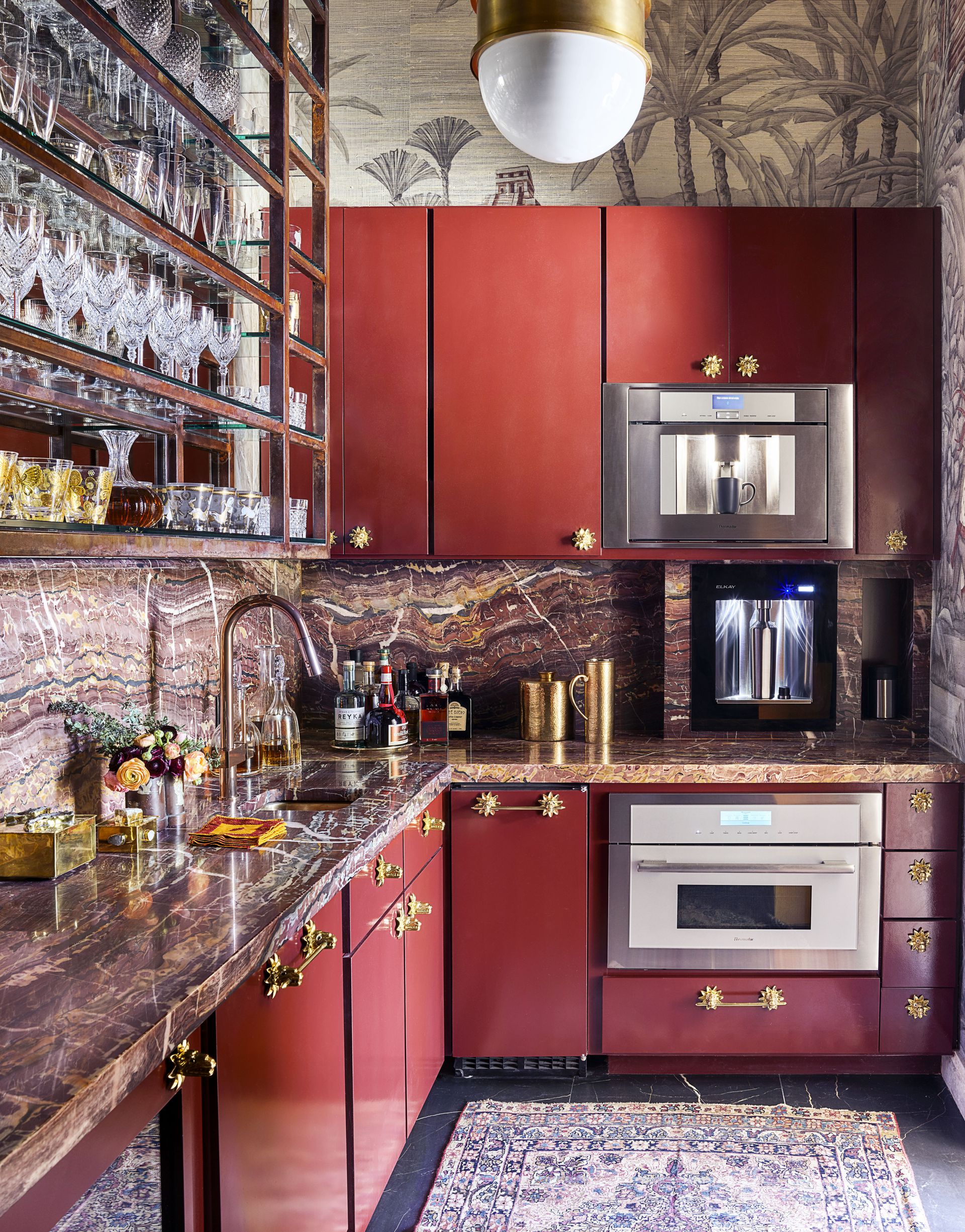 For color lovers, a kitchen is a great place to go a little wild and introduce a theme using your favorite shades, prints and patterns – particularly when planning kitchen wall decor ideas.
We asked sought-after interior designer Michelle Nussbaumer (opens in new tab), known for her stunning global style, for her advice on how to incorporate these elements in your kitchen:
'For a good colorful kitchen, it is important to intersperse bright shades of blues, reds and pinks within a neutral space, but there has to be some consistency in color when combining different patterns like flooring.
'I like to include tribal patterns mixed with an English Chintz, French Paisley or Indian block print to achieve my worldly look. Think 19th Century English traveller goes to India via Morocco.'
29. Glam up a green kitchen with gold fittings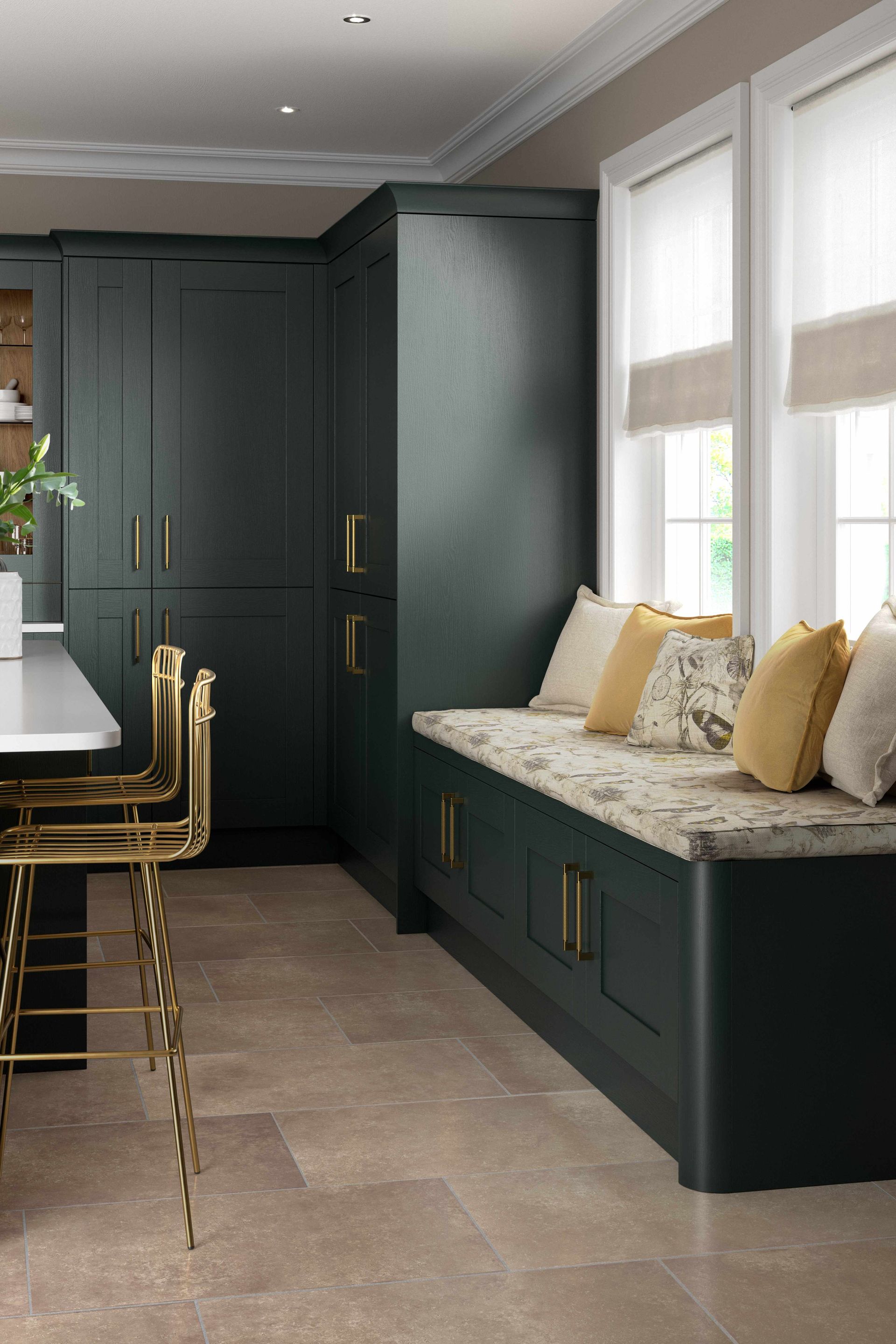 Green kitchens are on trend – and unlikely to fall out of favor in the near future. Easy to coordinate with natural materials, such as wood and stone, they can also be given a glamorous edge with brass or antique gold fittings – from bar stools to handles.
This kitchen has cleverly married both gold fittings with country style furnishings on the window seat – which usefully hides lots of storage space beneath – to create a space that feels both elegant and relaxed.
30. Start with a well-planned lighting scheme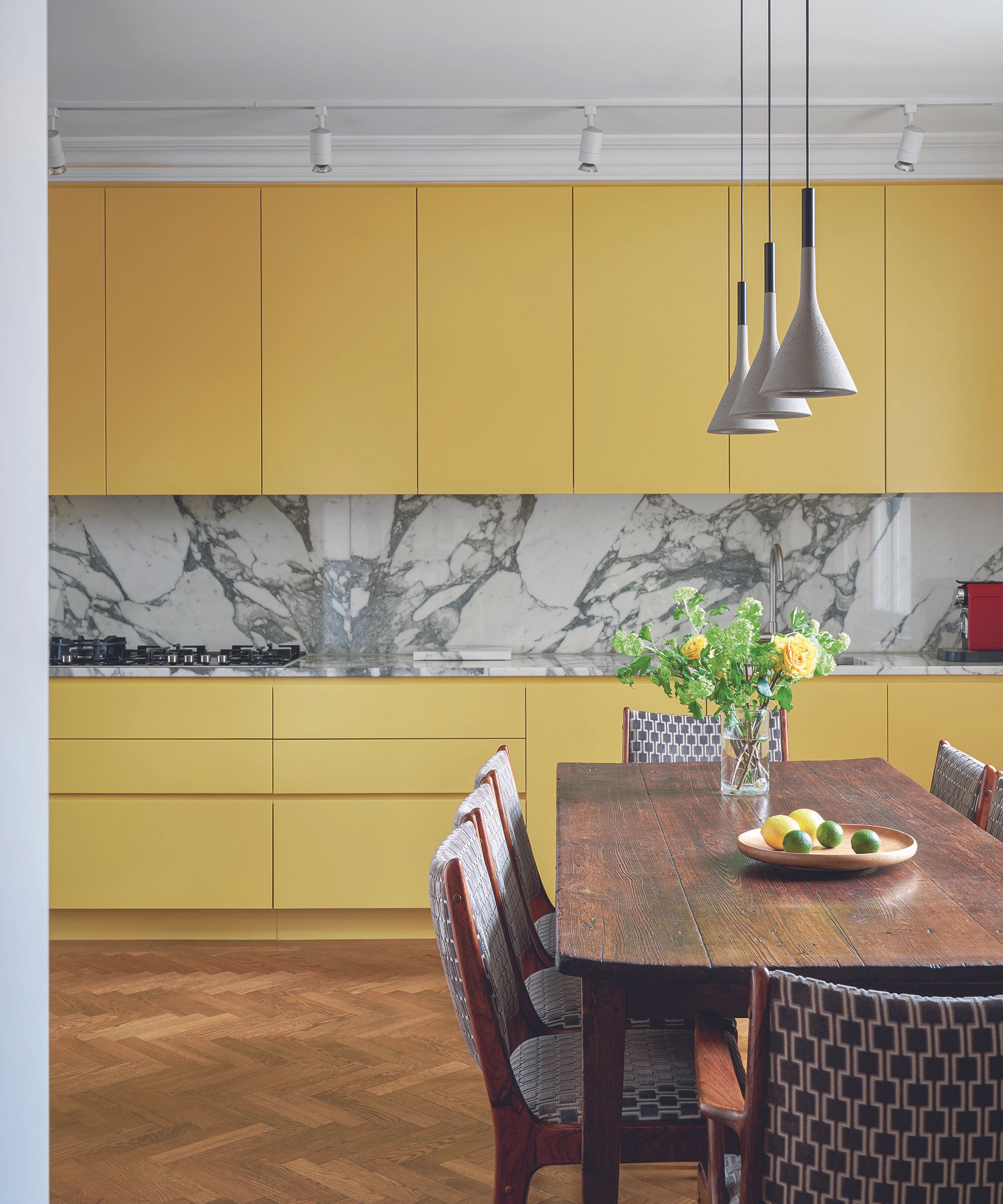 A great lighting scheme has the power to transform ordinary kitchen ideas into something truly spectacular. Now that our kitchens are increasingly performing on a multifunctional level, so our kitchen lighting ideas must evolve to cater for dining, relaxing, office or homework and entertaining.
Cleverly positioned lighting can also hide a multitude of sins – making a small kitchen appear larger, disguising awkward architecture or compensating for poor natural light. 'Planning the lighting at the same time as the kitchen is essential. It is always obvious when lighting is an afterthought,' says Mark Holloway from Holloways of Ludlow (opens in new tab).
Boost the impact of statement pendants by arranging in a row along the length of an island unit, table or peninsula. Odd numbers work best; try three or five depending on the area and your budget.
31. Add in feature wall lights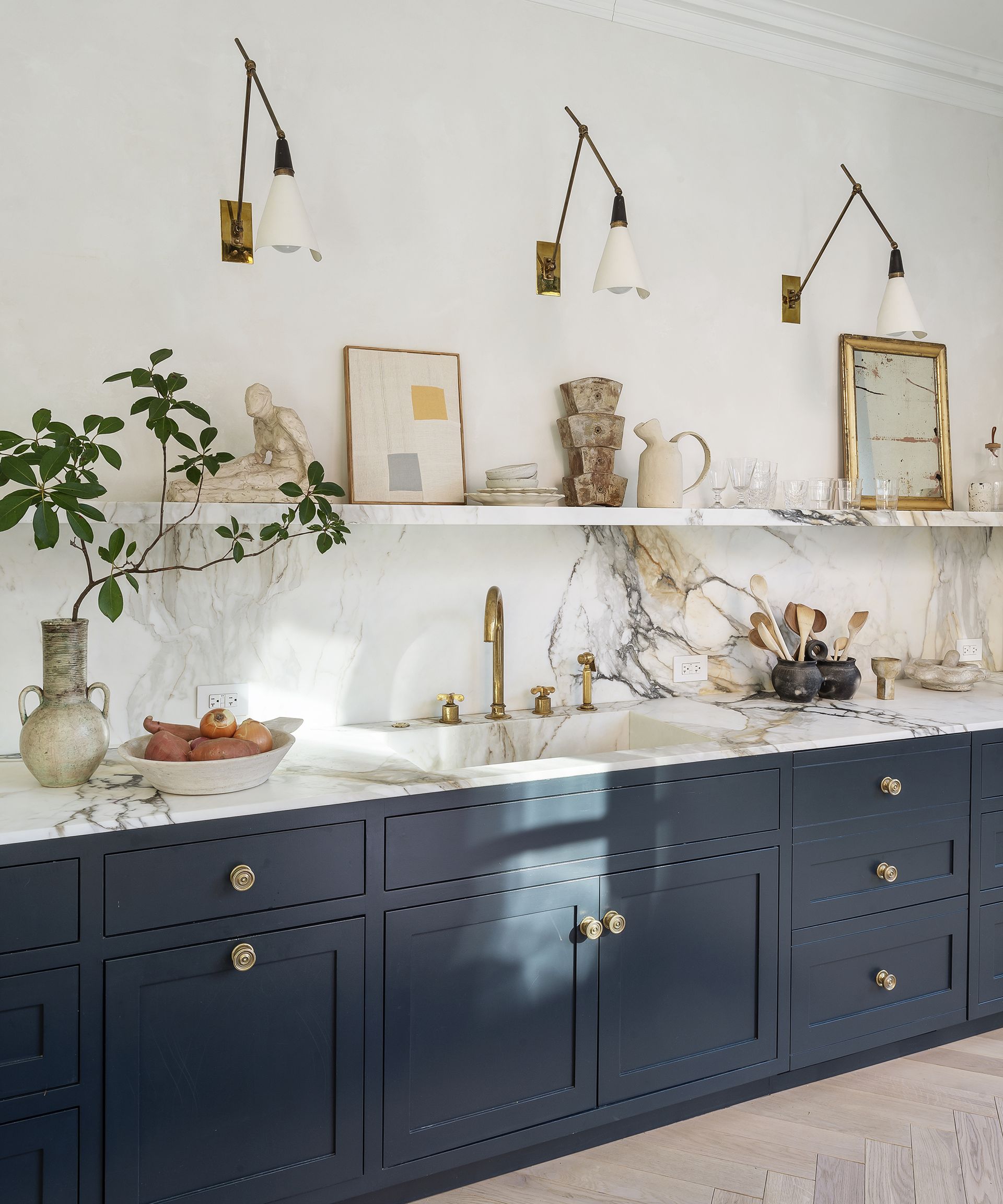 As the layout develops, start thinking about the lighting, not only for wiring purposes, but also so that you can problem-solve as the plans unfold, says Jamie Blake, creative director of Blakes London (opens in new tab).
'For example, I would usually use LEDs under the wall cupboards to light the worktop. Without them, another lighting solution is required, so instead I might include kitchen wall lights on swing arms that can be angled to suit.'
32. Paint your kitchen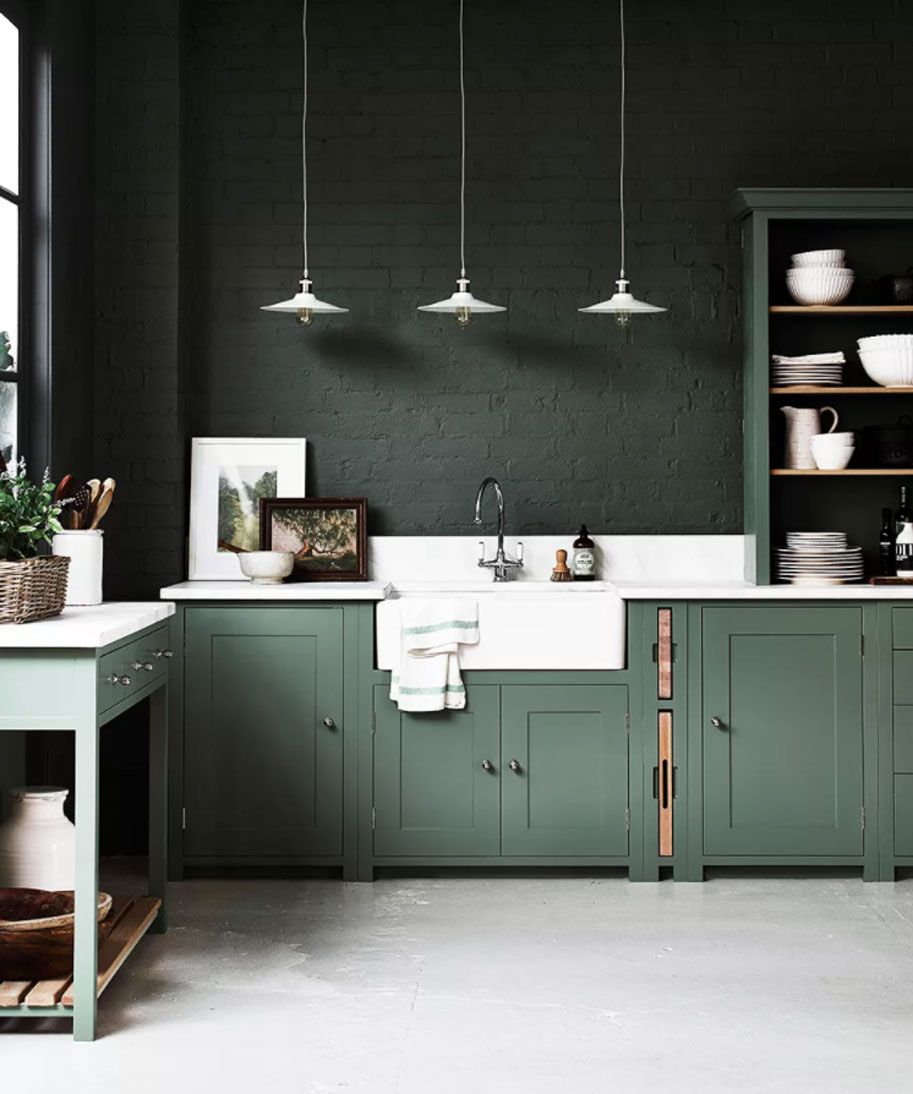 This beautiful kitchen from Neptune has a painted look that we heartily approve of – and it's one that should inspire your painted kitchen design.
One of the most appealing and varied finishes for kitchen cabinetry, paint lends itself to both the classic looks of the traditional kitchen and to modern linear designs.
The advantage is in its almost limitless choice of colors, allowing you free rein to express yourself, whether your home is period or contemporary, country or urban. And you can always re-paint if you want a change or update in the future.
When planning your color palette, start by considering the room's size, design and choice of flooring. Soft neutral shades are easy to live with in even the smallest spaces, while on-trend grey can look coolly architectural in a modern room, or warm and inviting when teamed with wood.
Large rooms with lots of natural light can support a bolder paint color choice. 'Consider painting one element – an island unit or tall cupboard, perhaps – in a strong color, and then pick that up in your choice of pendant lights, cushions or chairs,' says Scott Nicholson, MD of Chamber Furniture (opens in new tab).
33. Make shelving practical and beautiful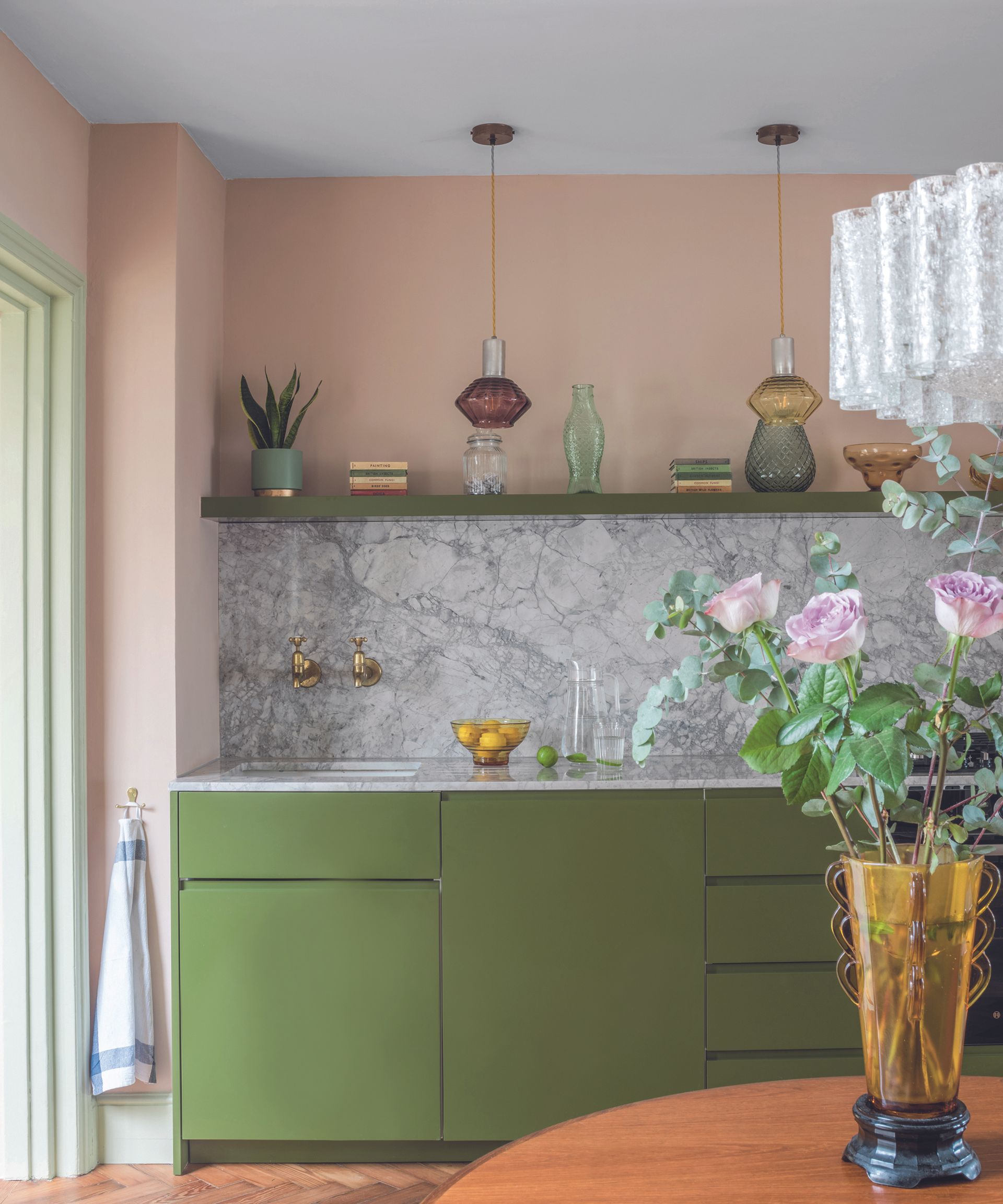 Good kitchen ideas always combine practicality and aesthetics – which is where kitchen shelving ideas can come in useful. Think about how you might make a 250mm-deep wall shelf beautiful, as well as functional, with some stacked up cookery books, in colors chosen to tie in with the curtains perhaps, and some attractive accessories.
34. Free yourself from the restraints of a fully-fitted kitchen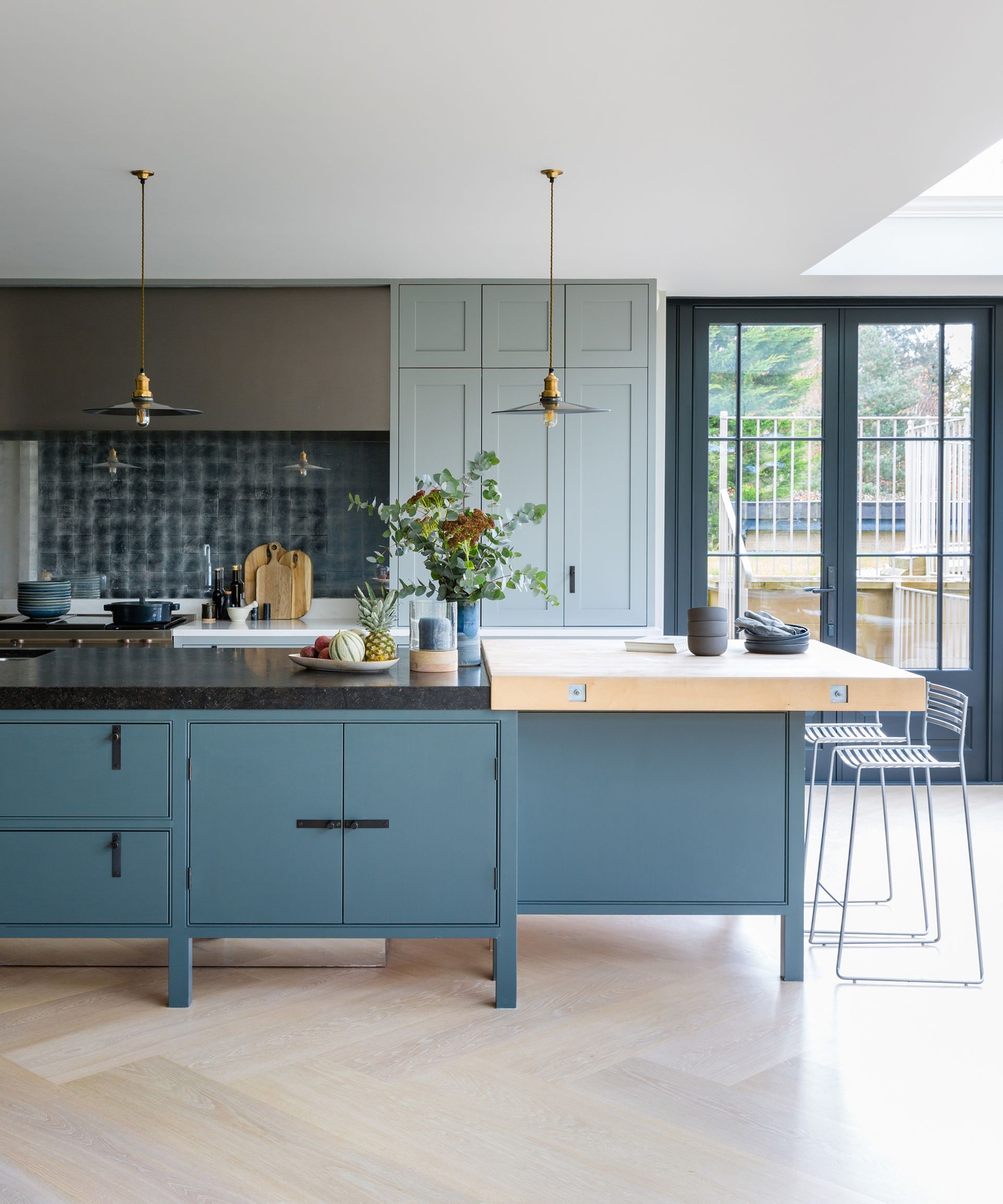 For those seeking a more relaxed approach to kitchen design, the option of buying freestanding, rather than fitted, cabinets is proving increasingly attractive. Often initiated by the desire to protect original architectural features from the permanent attachment of modern fitted units, freestanding kitchens are becoming a particularly popular choice in period properties. They are also one of the most sustainable kitchen ideas as they allow you to shake things up when the mood takes you without the need to remove a fitted design.
'Not everyone aspires to the sleek banks of units associated with a contemporary fitted kitchen,' agrees Debbie Bowden of Barnes of Ashburton (opens in new tab).
The ability to try out various layouts to find out what truly works reduces the pressure to get your kitchen right first time. There's also a great deal of reassurance to be found in the knowledge that a freestanding kitchen can be configured in different ways to meet your family's changing needs.
35. Add character with pattern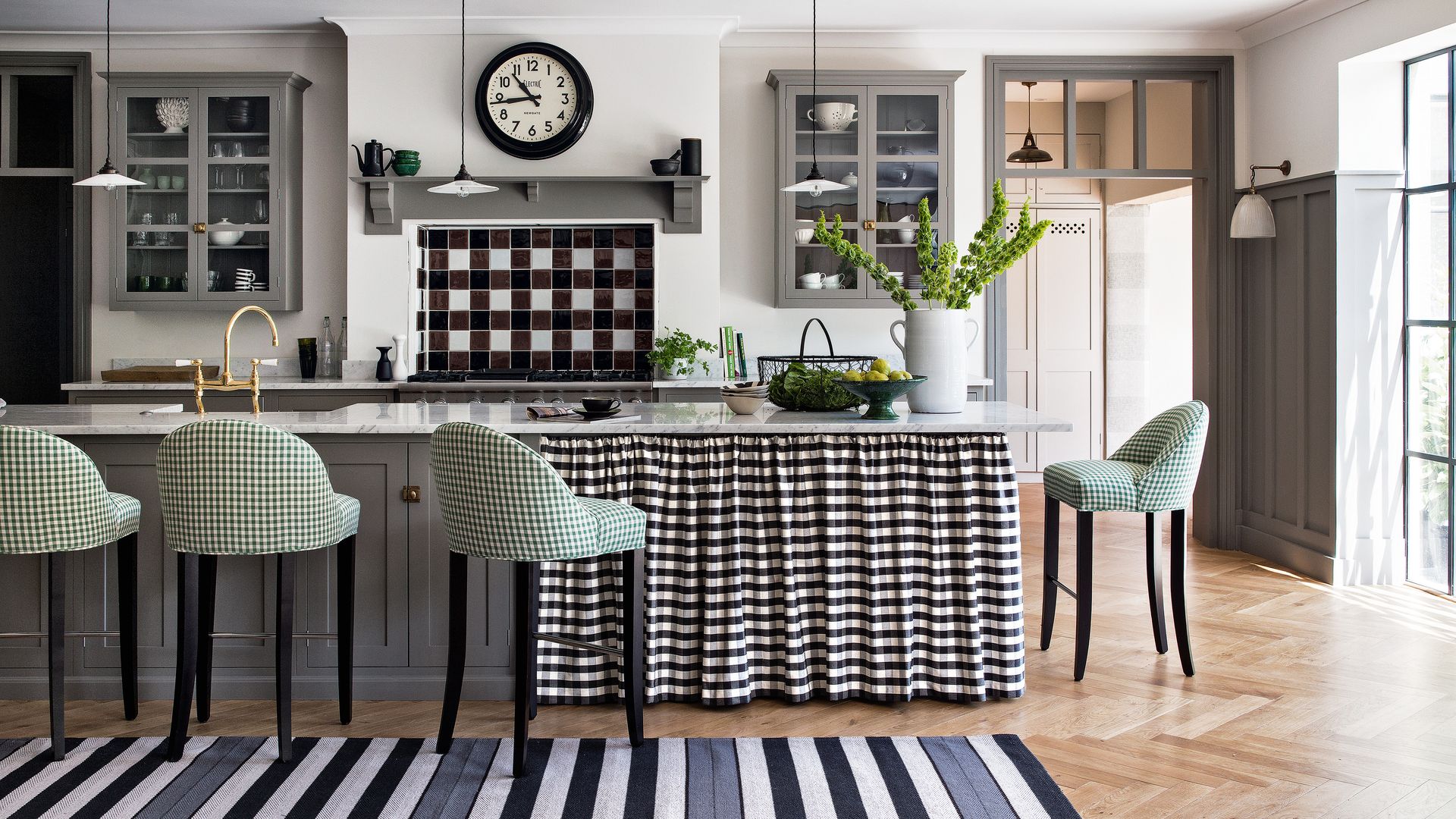 It's incredibly sensible to choose classic kitchen cabinet ideas, as this way the design, finish and color will not date within the life of the kitchen. Shaker cabinetry or flat-fronted doors are both safe choices, while white, grey or blue kitchens are enduringly popular.
So, how to add your own stamp to these spaces? The easiest way to do so is with pattern – in backsplash tiles, fabrics on upholstery and curtains. These elements can be swapped out with the season or when you want – but don't yet need – to start remodeling a kitchen.
36. Make use of vertical space – beautifully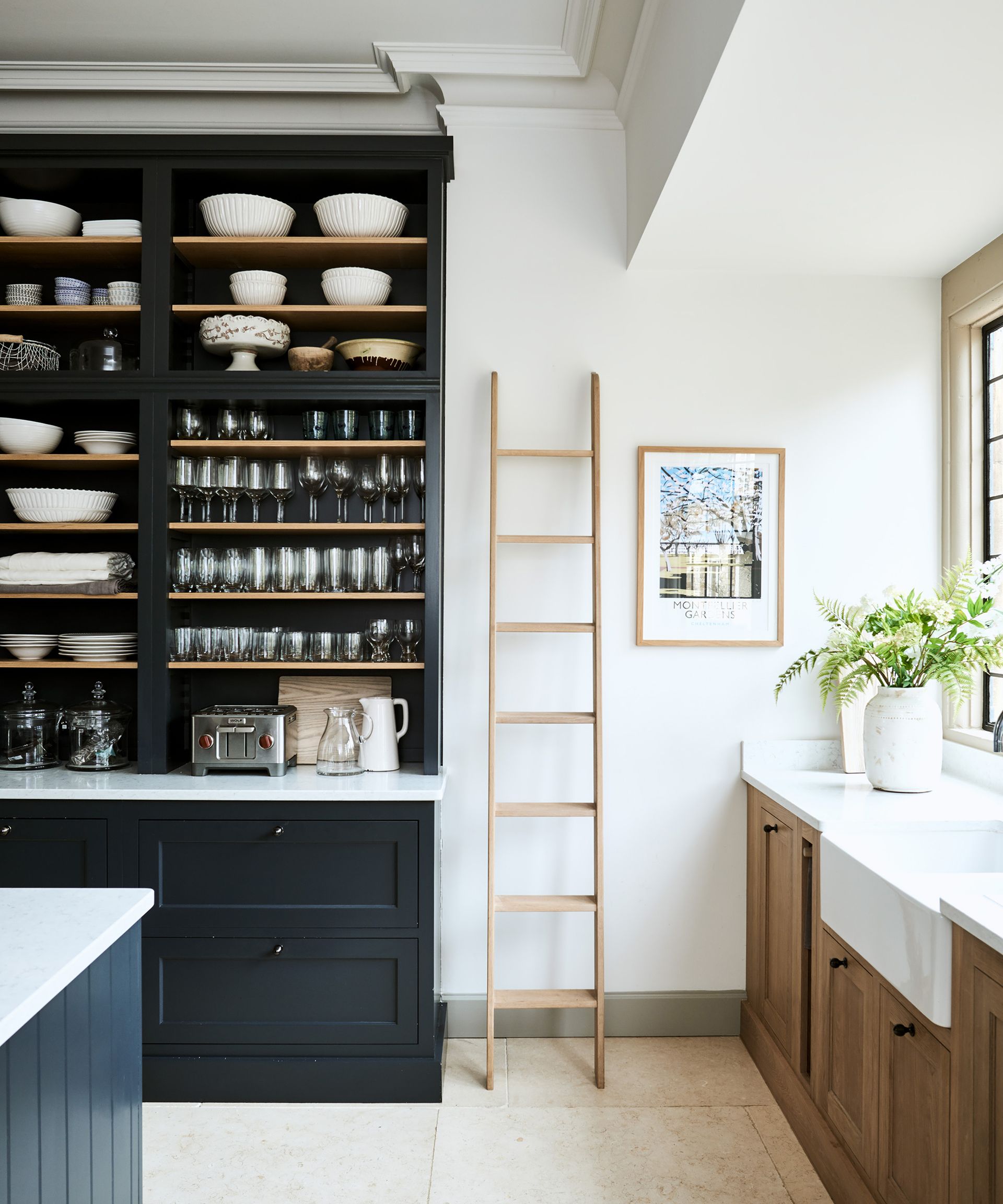 Mixed materials or finishes create a kitchen that's full of character, but what has really caught our eye in this room is the clever use of vertical space on a wall that demands narrow cabinetry.
It's a perfect kitchen idea for a galley layout – solid fronted units would have made the space feel narrower, but open shelving has the opposite effect, adding depth and – because you can usefully store your best pieces on it – a ton of character.
37. Seek a straight and narrow design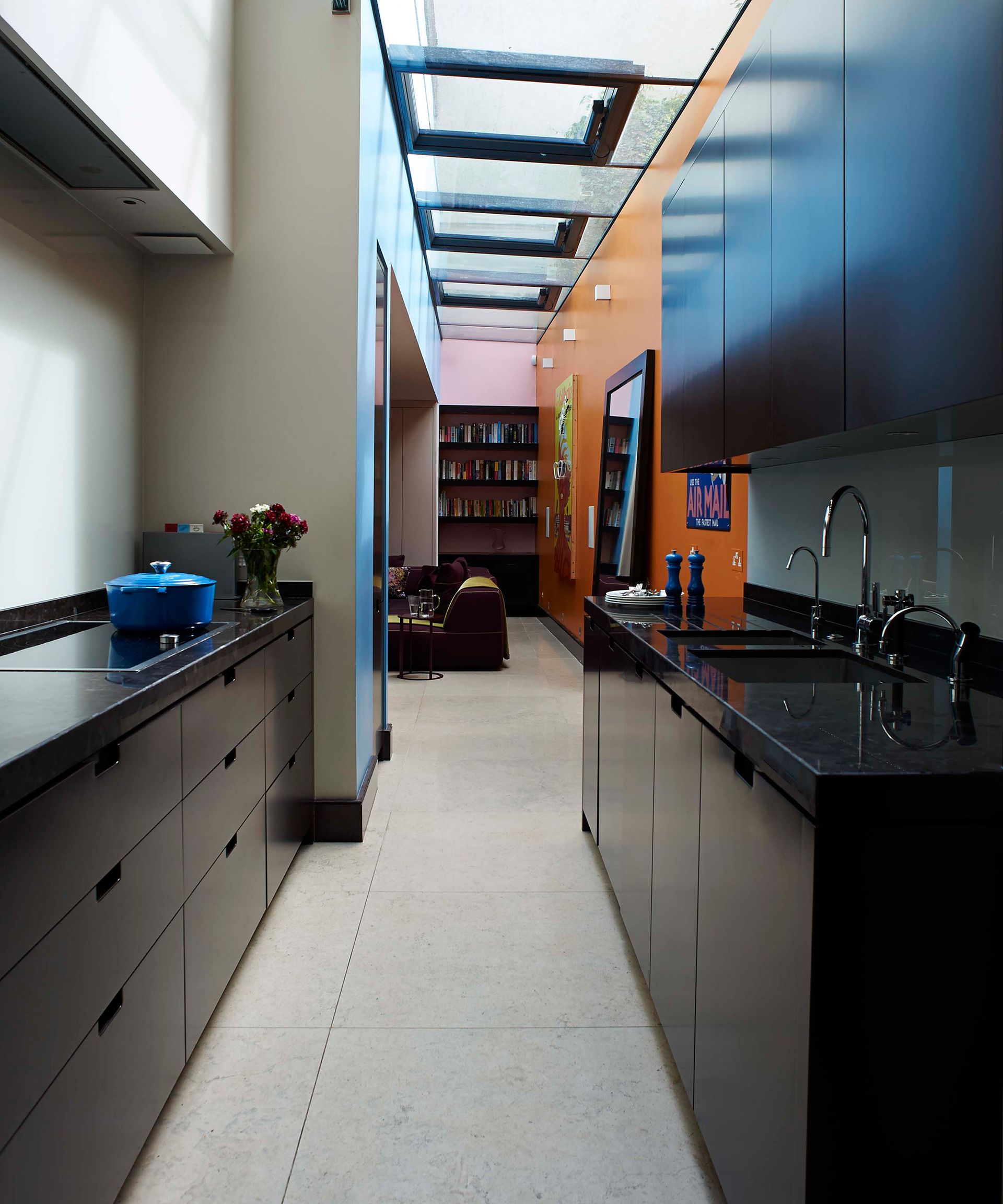 Single or double, a classic galley layout makes the most of modern kitchen zones and works like a dream for keen cooks.
A one-wall galley is best suited to the lone chef, as it requires linear movement from one activity to the next.
For ease of use, separate the cooking and wet zones by a reasonable length of worktop but resist the temptation to put the sink and cooker at opposite ends of the room. 'You'll gain wide work surfaces but may feel very cramped when cooking or washing up,' explains Graeme Smith, Conceptual Designer at Second Nature Kitchens (opens in new tab).
A double galley allows the traditional work triangle, with a cooker and fridge on one side and the sink opposite, and provides more room for a pair of cooks to work together.
When thinking of kitchen ceiling ideas for a galley kitchen, if the option is available, skylights will open up the space and let lots of natural light flood in, making it feel light and bright.
38. Add color and vibrancy with a mural