Kitchen shelving ideas – to boost storage and display space
Shelving is a great option if you are the proud owner of an impressive crockery collection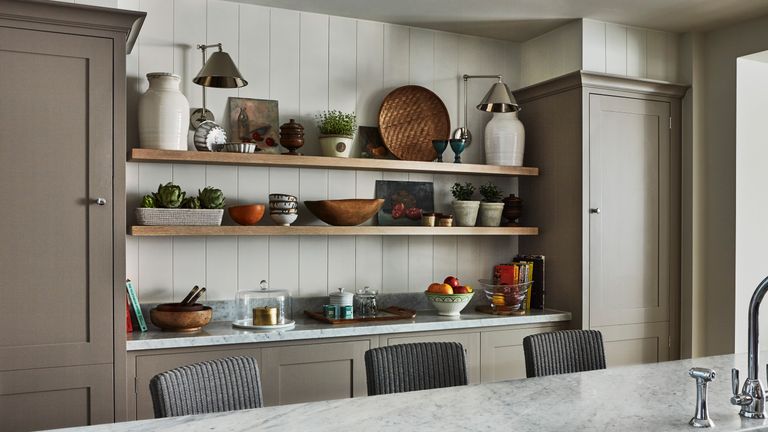 (Image credit: Future / Jan Baldwin)
Kitchen shelving ideas – whether open or hidden within a cupboard or behind pocket doors – is a great option if you are the proud owner of an impressive crockery collection, or are a keen cook who appreciates having ingredients close at hand. 
Having everything on display, however, is not for the faint-hearted as it requires a certain amount of dedication to keep shelves looking smart and uncluttered.
Here, we take you through the options for kitchen shelving – plus give you plenty of inspiration for how best to display your favorite finds on it.
1. Play with decorative shelving
Not everything needs to be hidden away when it comes to storage – in fact decorative solutions can make a huge difference to your look and feel. 
A cluster of simple floating shelves work particularly well in a kitchen, where there may be a fair amount of closed cabinetry taking up space along the walls. They add an element of interest that draws the eye, all while helping to keep countertops clear.
It's best to mount open shelving just above eye level and within easy reach if you intend for the shelves to hold day-to-day items, such as plates and mugs. For a stylised look, stack collections of your favourite crockery, line up fresh herbs and incorporate small pieces of art along a run of open shelving.
2. Use shelving to create interest
Shelving doesn't have to always be practical, it can be used to house quirky curios and objets. 
Try mixing large statement pieces with smaller items grouped together. When grouping, consider the shape that the objects create collectively and play with color and form to keep things interesting. Glass lidded pots will look more enticing if filled with colorful props, whether they be functional or decorative.
3. Have a shelving unit fitted professionally 
'Commissioning a display piece from a furniture maker will make the very best use of a space,' explains Richard Williams, Richard Williams Furniture. 
'A joiner will work around awkward shapes in walls and conceal service pipes or wall boxing. Large pieces will be fixed and scribed to the shape of the wall and skirting, which gives a very neat finish. 
If shelves are to be adjustable, look for neat and unobtrusive methods of adjustability such as 5mm shelf pegs with a limited number of peg holes for each shelf.' 
4. Keep the look coherent
When displaying items on open shelves, it is vital to keep things organized.
Items placed in groups or in lines of threes, fours or fives will prevent the shelves looking untidy. When choosing the overall look, decide if you want the shelves to be made in a material which is a statement in itself, or if you want them to have a less prominent role, allowing your display to do all the talking.
5. Fit shelving in a recess or alcove
Open shelving can create a real statement in a room and is both practical and aesthetically pleasing. 
'It is also a more economical option than a fully enclosed storage unit. It is particularly suited to small recesses in areas such as either side of a chimney breast, helping to visually correct uneven proportions,' says Anne Haimes, Anne Haimes Interiors.
6. Work with wood
Think carefully about the thickness you want each shelf to be. If you're using wood, it pays to choose a chunky option, giving a strong, clean, confident appearance. 
'Wood is not a homogenous material – every single piece is different, and herein  lies its beauty,' advises Keith Atkins, DesignSpaceLondon. 'Create an interplay between different timbers or use  bookmatching techniques to achieve pattern and variety.'
Think too about whether you'd like shelves with adjustable heights to allow for flexibility. 
7. Add intrigue with color
Choosing color is such a personal experience – in fact no one knows for  sure whether we all even see the myriad shades in the same way. Mark Wilkinson, founder of Mark Wilkinson Furniture, believes that the colors we choose automatically are naturally influenced by current fashions. 
'The color in a kitchen – be it on shelves or cabinets – should last for at least five years,  minimum, so try to look beyond immediate trends and choose a color that  will keep you feeling good long term,' he advises.
However, if you have your heart set on adding a bold color to your kitchen shelves, then look no further than Pantone's Color of the Year for 2021. 
Bright yellow shelves combined with warm gray elsewhere creates a positive and grounding feel. Open-plan kitchens especially benefit from this burst of energy and enthusiasm.
8. Keep it hidden behind a door
The shelves in your kitchen do not always have to be permanently on display. 
Disguise your storage solutions behind streamlined doors. Go for slab doors that are completely flat to mimic a bare wall, and paint to doors the same color as your wall to help them disappear
In this kitchen, the restful painted interior of a cabinet showcases a display of Japanese-style monochrome ceramics and wooded artisan pieces. 
9. Display elegant glass jars and ceramics
Decanting your cooking supplies into neat matching jars yields a certain amount of satisfaction, and makes it easy to spot if you are running low of any ingredients. As well as keeping your shelves looking tidy, your dry goods will also be kept airtight. 
Be aware, this type of shelving does require an element of frequent dusting, but we think the styling benefits are worth the extra bit of effort.
10. Keep it simple with a single shelf
Kitchen shelving doesn't always have to be the star of the show. Sometimes just a single shelf is enough to add interest without detracting away from the rest of the space. 
Shelf space doesn't have to be purely practical; here beautifully-designed ceramic plates and jugs add personality to the room. Re-use pretty tins as utensil holders, and old glass bottles as bud vases.
11. Use reclaimed look for a rustic appearance
For a country-style kitchen, modern shelving may look out of place. Why not have a shelf built from reclaimed wood to add instant character and provide the perfect ledge for your rustic bowls and utensils?
What do you put on kitchen shelves?
Of course, you may have got them all picked out and fitted, but what do you put on kitchen shelves?
You could pop dried goods in stylish see through containers, plants, crockery and more on them - the the possibilities are endless. What's more, beautifully styled shelves with all kinds of useful knick-knacks add real interest to a kitchen. 
Open shelving for kitchens is a great way to add extra storage space to a room, as well as wow factor. Adjustable shelves, lighting and neat joinery will enhance the look of a piece like this, as well as offering a way to group favourite items and add impact to a scheme.
How do you use open shelving in a kitchen?
If you're wondering how to use open shelving in a kitchen, be sure to work to the full proportions of the room, to create maximum impact. A floor-to-ceiling unit, with sturdy, adjustable shelves and minimal fixtures will offer a strong, enticing look and act as an excellent  anchor and display. 
In smaller rooms, including living areas and kitchens, open shelving can be an effective way of creating storage without appearing to eat too much space. 
Consider the look you are opting for, whether traditional, featuring detailed joinery, or sleek and unfussy with a  contemporary edge. And think carefully about what you are displaying – this will ensure each shelf is made to allow sufficient depth and to carry weight  without warping. 
Is open shelving still in style?
Yes, open shelving is still in style for 2021. 
'Open shelving can create a real statement in a room and is both practical and visually pleasing, making it a popular design element for the kitchen,' says Anne Haimes, Anne Haimes Interiors.