Kitchen cabinet ideas – 15 cabinet styles, colors, materials, and trends to know
From Shaker-style to modern, handleless designs, we take a look at some of our favorite kitchen cabinet ideas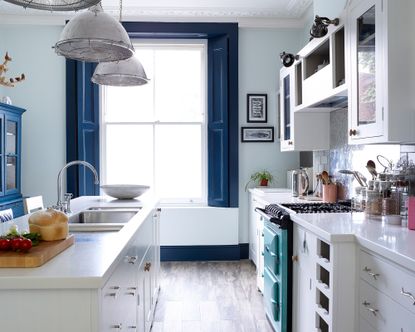 (Image credit: Future / Rachael Smith)
Finding the right kitchen cabinet ideas is pivotal to creating a kitchen that you will love for years to come.
Whether you prefer a classic look with lots of detailing or something more modern, such as flat-fronted doors, these kitchen cabinet ideas will provide you with the inspiration you need to create a scheme that fits your home's period, your decorating style and the room's proportions.
If you're looking for more kitchen ideas, these kitchen cabinet ideas will provide inspiration for open-plan, galley, U-shaped and L-shaped kitchens. You might also want to consider ways to decorate above kitchen cabinets, too.
Kitchen cabinet ideas
'Start by considering the style and feel you want for your kitchen. Think about how it might relate not just to the living room and dining areas, especially if it is part of an open-plan space, but how it also fits with your overall plan for the house,' advises designer Tiffany Duggan of interior design agency Studio Duggan.
'Gather pictures of kitchens that inspire you and start to hone your ideas, thinking about how they might suit your space, the joinery elsewhere in your home and the period of your property.'
1. Opt for a sleek handleless design
The latest contemporary designs are all about a multi-tasking, free flowing design with a paired-back look.
Available in a variety of finishes, from hi-gloss white to textured woods and ceramics, it's a kitchen style that works beautifully in both modern and period properties.
Technological advances in push-open and close doors means that it has become possible to dispense with handles in both wall and base cabinets. If you prefer not to have push-open cupboards, then recessed handles provide the same sleek look and can be lined with contrasting colors and materials to add interest.
Whether you're after handleless cupboards to make the most of a small space or keeping a large space open and light, it's important that clutter is kept at bay. Too many objects on work surfaces can spoil the look so ensure you have as much storage space as possible by incorporating the latest drawer systems.
'With contemporary flush (flat-fronted) kitchens, think about whether you see yourself liking it in the future. Given its cost, cabinetry is usually the one thing you don't want to change in a hurry, whereas you can always repaint the walls or replace the backsplash if you wish,' says Tiffany Duggan.
2. Introduce color to your kitchen
After door/drawer front design, kitchen cabinet colors are next on the list of design decisions. 'We are seeing a definite trend towards bolder, braver color choices for statement kitchens with more personality,' says Jamee Kong, designer, DesignSpaceLondon.
To prevent strong color from overpowering, use it in small portions – perhaps to highlight a key focal point – or keep it below your direct sight line as you enter the kitchen. Also consider scale: a big kitchen can take a much bigger burst of color.
'If you're worried that colorful cabinetry might date or dominate the scheme, opt for neutral tones and then introduce color with tiles, paint and accessories,' advises Rob Whitaker, creative director, Fired Earth.
This is where painted kitchen cabinet ideas come in: pick a painted kitchen and you can refresh it as it needs – or when your tastes change.
'A hand-painted kitchen works particularly well for its timeless appeal and because it is so useful to be able to repaint it every now and then to create a different look and feel. I've seen 20-year-old classic Shaker kitchens be repainted and look amazing,' says Tiffany Duggan.
3. Replace kitchen cabinetry doors
If you are happy with your existing kitchen layout and your carcasses are in good order, replacement doors not only make an easy and affordable option, they can also be a creative one, too.
In the past, replacing just the doors would have been considered the budget approach but, with a definite move towards adding individuality to a room, this is a great way to refresh a kitchen.
You might choose just to replace a selection of the doors rather than all of them – perhaps just wall units, or just one part of the kitchen as a focal point.
In a plain modern kitchen, you could replace just a handful, picking several colors to create your own palette. And of course, new doors can be the greener, less wasteful option – there's no need to rip out a perfectly good kitchen, just because the doors are dated or you want a new colour or finish. And it is satisfyingly simple.
'It really is something you can do in a day,' says Robert Clark, MD of made to measure company, Kitchen Door Workshop. 'It's a matter of unscrewing the old door and putting on the new one.'
4. Introduce a breakfast station
A breakfast cupboard or coffee station is also useful, as it can be used to store all the things you need in one place, including cups, a coffee machine and biscuits.
Bi-fold doors make it easy to access the contents of the cupboard, while the space below could be used to include an integrated fridge drawer to store milk, ready to hand.
5. Maximize every spare inch of space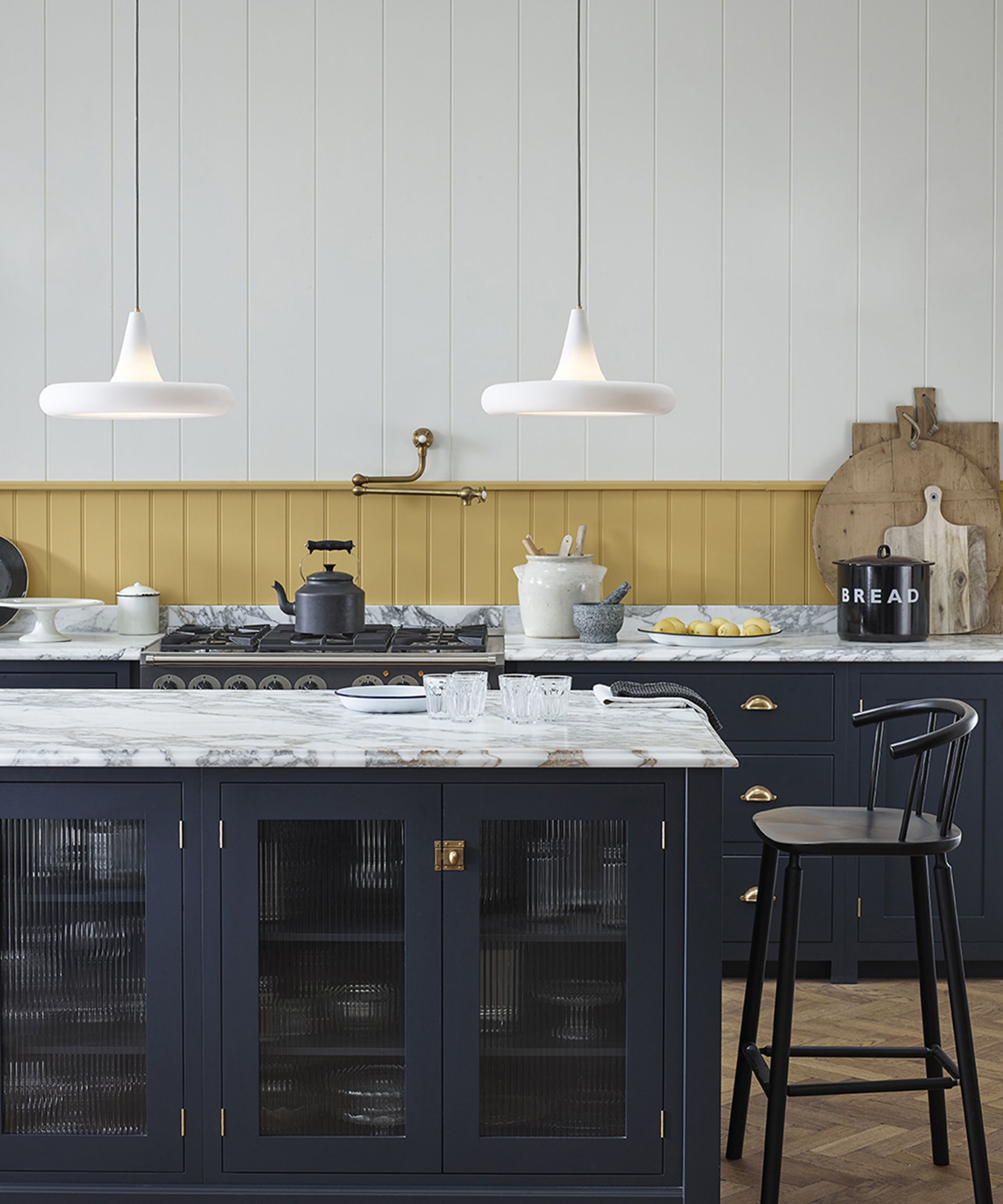 Make use of every inch of space, especially in a small kitchen. While base unit cupboards are typically 540mm deep, you might add shallower ones at 380mm deep to make use of space on the 'non-working' side of a kitchen island, behind bar stools, for storing items used only occasionally.
'It's probably best to run tall units up to the ceiling or just below if they have coving. Stumpy units with 3ft or more of empty space above in a high-ceilinged room look very unbalanced and it is usually better to fill the empty space with more cupboards, which can be used for storing those infrequently used items, such as bases, jugs and terrines,' says Tiffany Duggan.
Other kitchen storage ideas to consider include a drawer with integrated sockets for re-charging phones and tablets (no unsightly wires trailing on the worktop) and dedicated out-of-sight areas for baskets or bins to sort recycling.
6. Celebrate curves in your kitchen
2021 has seen the introduction of curvaceous design elements taking center stage.
Just as kitchens are not simply for cooking, so kitchen cabinets do not have to be solely composed of straight lines.
Full-on voluptuous or gently rounded, curves will lift the layout of your kitchen and soften the overall look of your space, adding a bold design focus or a subtle touch of shaping to your kitchen cabinetry.
'Curves offer that touch of individuality that everyone is searching for, softening the lines in the interior to create a much more welcoming space,' says Graeme Smith, conceptual designer, Metris.
'Although linear, kitchens continue to have strong appeal, there is a definite trend towards a softer approach in the styling of kitchens, with curves being easier on the eye and more comfortable to live with.'
7. Work in a pantry
A much-loved classic, the pantry or larder offers versatile storage that's equally suited to modern life.
The rise of the home chef and baker, modern shopping habits and the trend towards low-level kitchens with few wall cupboards have created a very modern need for a generous central store.
Modern-day pantry ideas – in all their guises and formats – are finding a valued place in country, classic and contemporary kitchens.
There is something about a pantry that encourages you to consider aesthetics alongside the practical.
'The pantry is a traditional room, so I think it's nice to take the design cue from that and go with it – wooden shelves, scroll brackets and a cold slab,' says Nick Anderson, designer and director of Guild Anderson.
Shallower shelves above deeper shelves, positioned at different heights, allow you to store, see and reach different things with ease.
8. Provide easy access with open shelves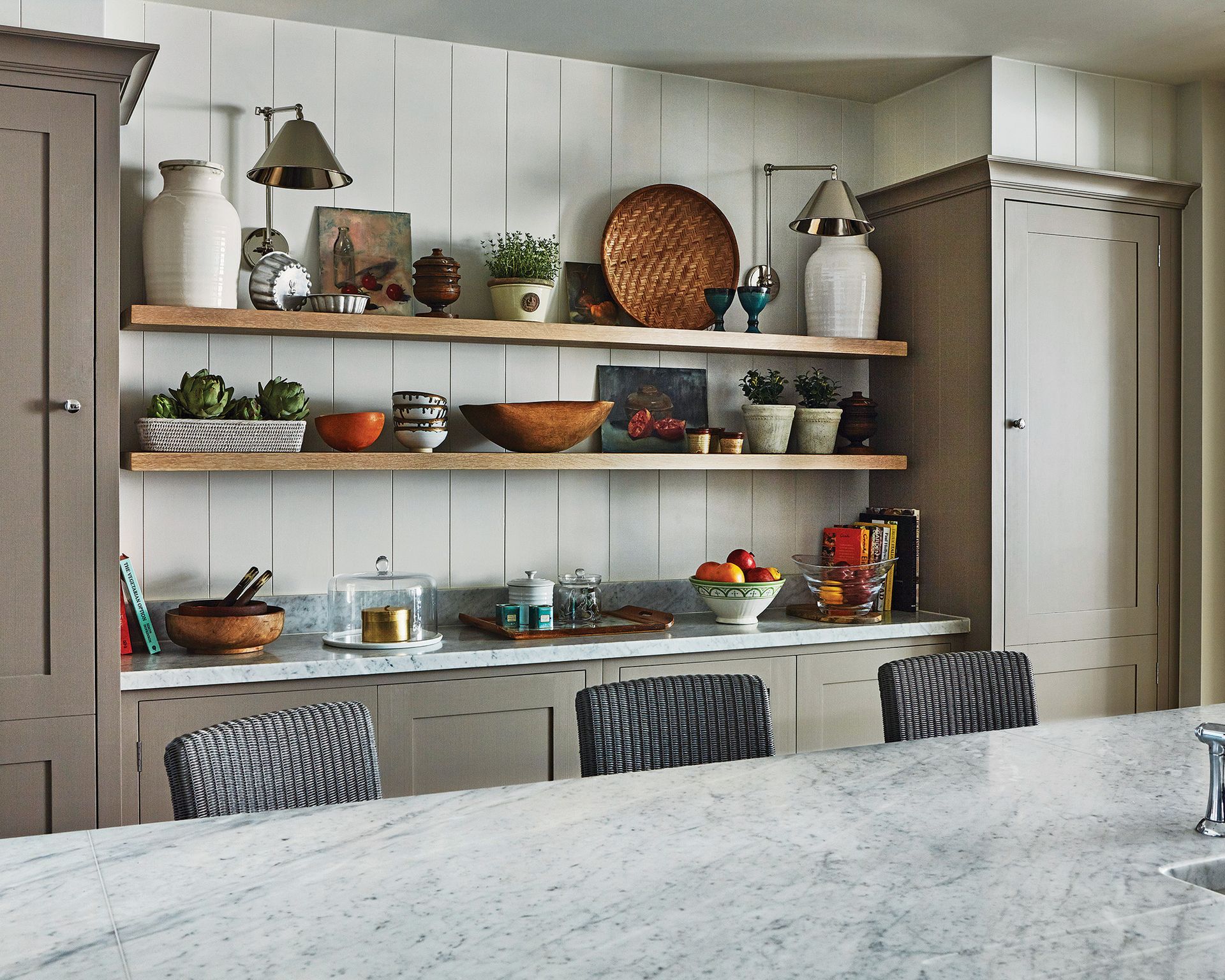 Kitchen storage can come in many forms other than traditional wall cupboards. Open kitchen shelving ideas are great if you are the proud owner of an impressive crockery collection, or are a keen cook who appreciates having ingredients close at hand.
Having everything on display, however, is not for the faint-hearted as it requires a certain amount of dedication to keep shelves looking smart.
Consider the look you are opting for, whether traditional, featuring detailed joinery, or sleek and unfussy with a contemporary edge. And think carefully about what you are displaying. This will ensure each shelf is made to allow sufficient depth and to carry weight without warping.
9. Make shelving beautiful for display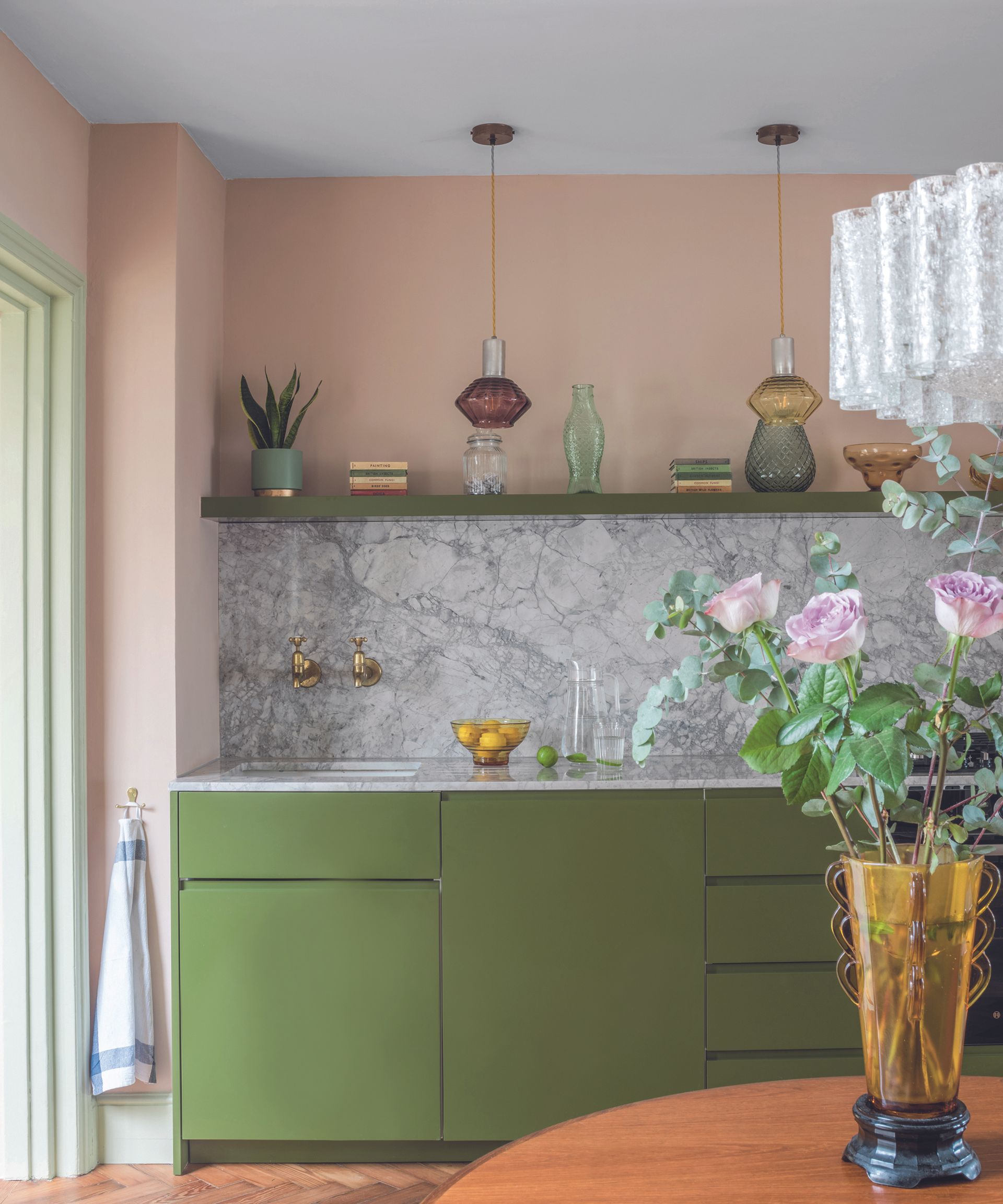 Good kitchen design is always a combination of practicality and aesthetics. I like to think about how I might make a 250mm-deep wall shelf beautiful, as well as functional, with some stacked up cookery books, in colors chosen to tie in with the curtains perhaps, and some attractive accessories.
10. Use vertical space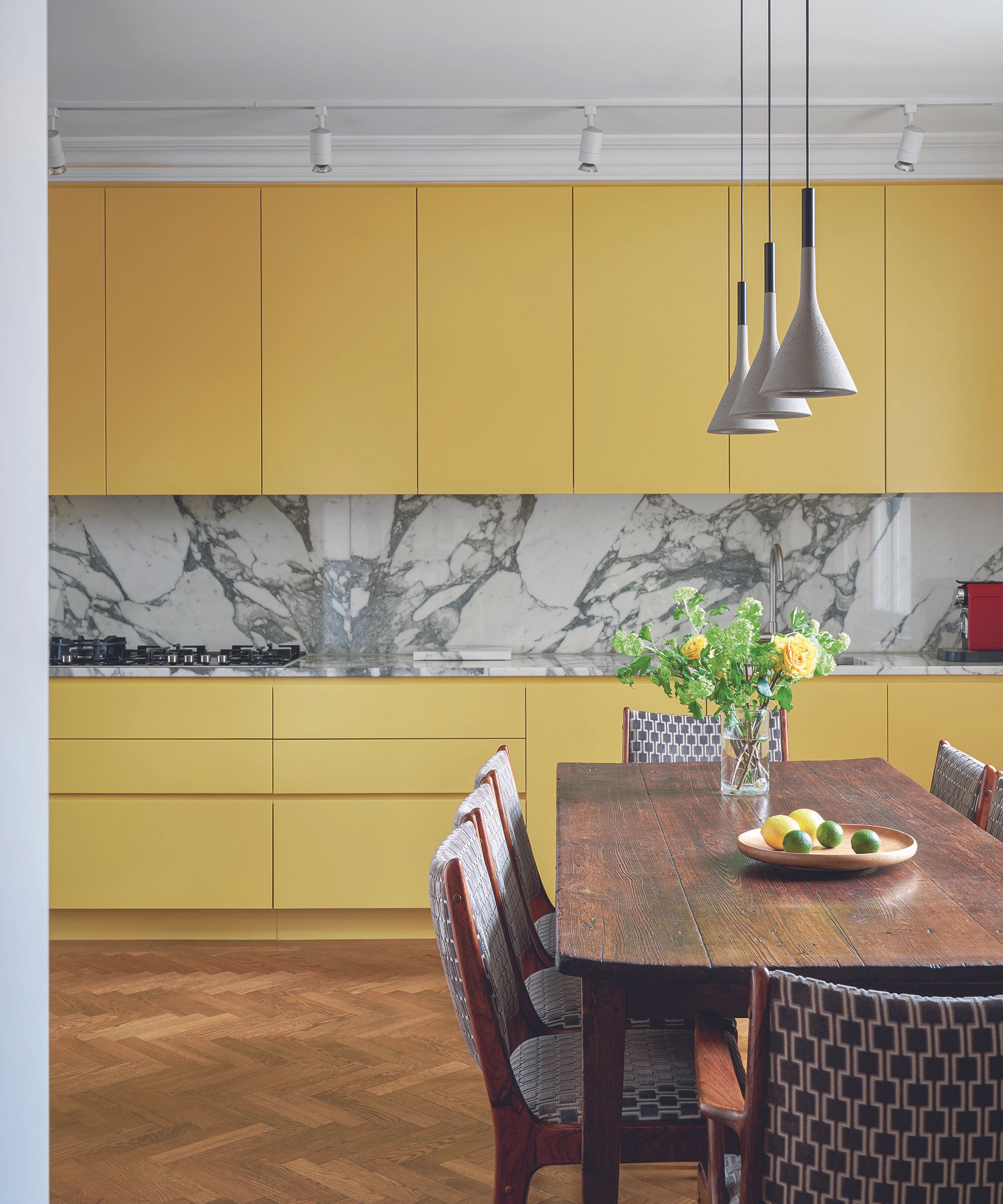 'Alongside the style of cabinetry you're installing, try to consider its proportions and aim to create some sense of symmetry by placing key features, such as a chimney breast framing a range cooker, as a central statement piece,' advises Tiffany Duggan.
'It goes without saying that the specifics are always going to be determined by the size and height of your room.
'A standard kitchen cabinet is usually 600mm wide (although there are plenty of other options and of course bespoke allows for anything you want); we often start out by plotting the room in terms of 600mm-wide sections simply to get some sense of scale.'
11. Opt for a timeless, Shaker-style kitchen
This timeless yet simple kitchen design originated from the 18th-Century Quakers, known as the 'Shakers' because of their animated style of worship. Furniture with any decoration or embellishment was shunned in favour of humble and functional pieces that echoed their modest lifestyle.
Known as 'Friends of the Light', the Quakers believed in bringing light where there was darkness, and their kitchens reflected this. The lack of electricity in the home meant that kitchens were often sombre places, so the furniture was made from light woods, such as cherry and maple, and often painted in bright colors dictated by their sect.
Today, Shaker-style kitchens adorn the homes of many, and for good reason. It is a look that works equally well in traditional and contemporary homes.
Wood is the dominant material in Shaker kitchens but be careful not to tip the scale to 'vintage' or 'country' style. Choose a simple design with square doors with an inset panel and, if you have it painted, go for a matte finish.
12. Go for a modern design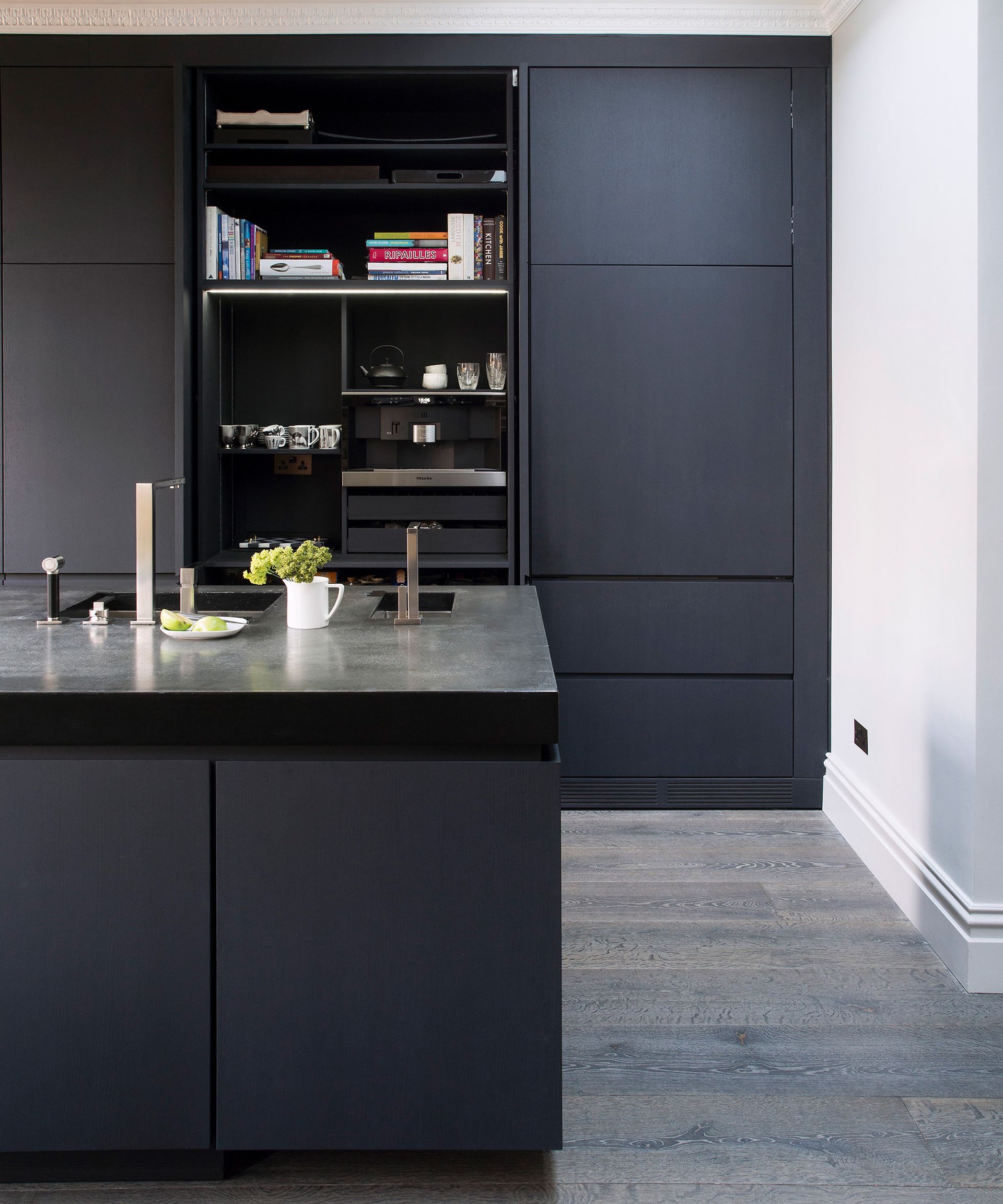 The mainstay of modern kitchen design is simple, flat-fronted cabinetry – it's a sleek look and one that is ageing incredibly well. In fact, much of what we consider to be modern design dates back to the 1930s.
Even the sleek, handleless cabinets so typical of modern kitchen design right now have been around since the 1960s when SieMatic launched the first finger-pull kitchen cabinet.
For a while, modern kitchens seemed to take stark to a whole new level. Cabinetry was pared down and invariably white gloss, but it's a look that can be too clinical for many.
Thankfully, the current trend for modern is a far warmer affair. The clean lines and a fuss-free finish are still there but with texture, surface finish and soft color that bring character and are easy to live with.
The simple lines show off clever engineering, form and finish, and the latest engineering techniques have helped give new life to materials previously out of favor.
13. Embrace a solid wood scheme
Choose wood if you want solidity, longevity and an organic material.
A solid wood kitchen has all the beauty of a natural material with each piece having a unique grain pattern. It will also age well. Wood naturally expands and contracts, so a quality wood kitchen will be constructed to allow for this slight movement.
Consider attractive woods such as oak and walnut, or a painted finish, which offers a different spectrum of looks. Alternatively, you can combine natural with painted finishes in different parts of the room. Wood is generally a more expensive option than other cabinetry choices.
14. Factor in freestanding elements
Free yourself from the restraints of fully-fitted kitchen cabinetry and enjoy a more flexible, laidback cooking space.
For those seeking a more relaxed approach to kitchen design, the option of freestanding kitchen ideas, rather than fitted cabinets is proving increasingly attractive.
Often initiated by the desire to protect original architectural features from the permanent attachment of modern fitted units, the freestanding kitchen is becoming a particularly popular choice in period properties.
'Not everyone aspires to the sleek banks of units associated with a contemporary fitted kitchen,' agrees Debbie Bowden of Barnes of Ashburton.
15. Give it an individual twist
Interior designer Tiffany Duggan, founder of Studio Duggan, believes it is important to personalize your kitchen, and cabinetry is the perfect way to do so.
'When our studio first opened in 2011, kitchens all seemed to be neutral in color, whether they were classic or contemporary,' she says.
'Now, in line with current trends throughout the house, we are seeing more demand for kitchens with color, pattern and personality, which is probably another reason why the Shaker style is so popular.
'It can be customized easily: the interiors of a glass-fronted cabinet can be painted in one color, the door frames in another, or the handles changed as you wish.'
What kitchen cabinets are in style now?
The latest kitchen cabinets that are in style now are contemporary designs that are all about a multi-tasking, free-flowing design with a paired-back look.
'Handleless kitchen cabinets are one of the biggest kitchen trends for 2021 for a more pared-back, streamlined look. It's all about simplicity and a focus on cabinetry details,' explains Busola Evans, Kitchen and Bathroom Supplement Editor.
How much does it cost to replace kitchen cabinets?
It can cost anywhere from next-to-nothing to over $50,000/£37,000 to replace your kitchen cabinets. It all depends on what materials, labor and finishes you want.
'The great thing about kitchens is the cost is incredibly broad and there's no set amount of money that you should spend on new kitchen cabinets, but it is important to create a realistic budget,' advises Andy Briggs, interior designer at Optiplan Kitchens.
Setting an accurate budget in advance will allow you to find the best way for you to achieve the look you're aiming for without over-stretching your finances.
Sign up to the Homes & Gardens newsletter
Decor Ideas. Project Inspiration. Expert Advice. Delivered to your inbox.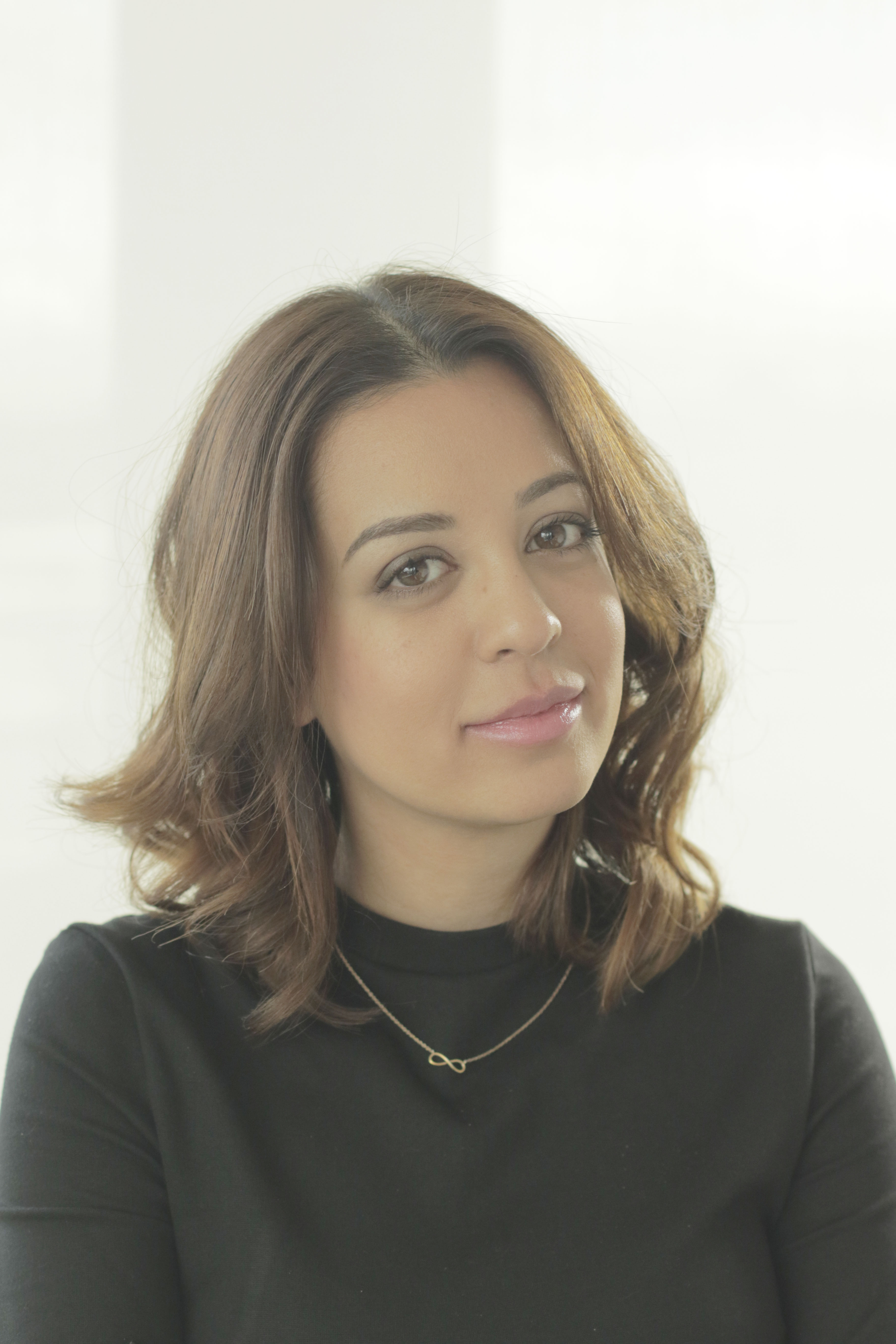 Jennifer is the Digital Editor at Homes & Gardens. Having worked in the interiors industry for a number of years, spanning many publications, she now hones her digital prowess on the 'best interiors website' in the world. Multi-skilled, Jennifer has worked in PR and marketing, and the occasional dabble in the social media, commercial and e-commerce space. Over the years, she has written about every area of the home, from compiling design houses from some of the best interior designers in the world to sourcing celebrity homes, reviewing appliances and even the odd news story or two.