Kitchen island ideas – 27 beautiful ways make a statement at home
Kitchen island ideas can be a spectacular addition that transforms a design scheme as well as boosting usability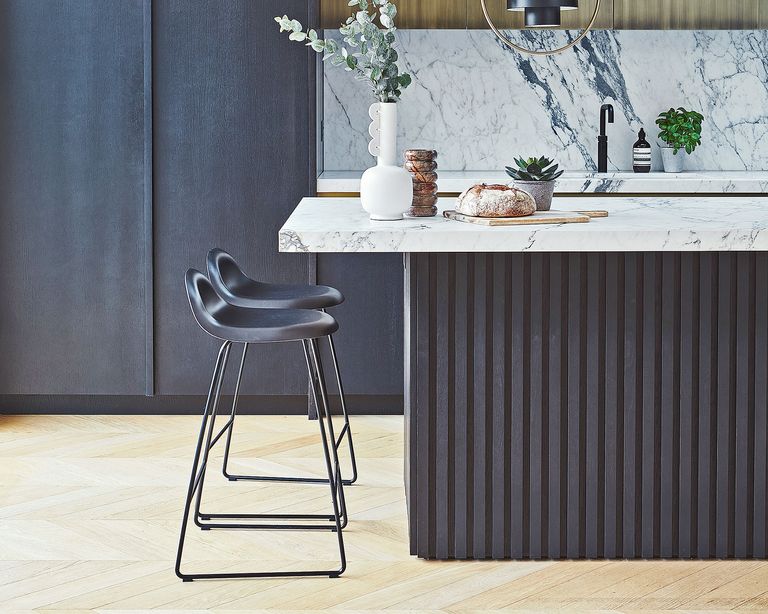 (Image credit: Malcolm Menzies)
Kitchen island ideas have become an essential part of kitchen design, largely thanks to the move towards larger kitchens in open plan spaces.
Kitchen islands are easily adaptable – they might be long and slim, running parallel to the work area, neat and round in a compact space, or broad and spacious housing a sink, appliances, kitchen islands and oodles of storage. There as many options for islands as there are kitchen ideas.
As well as looking good and creating ample storage and workspace, islands can also help the ergonomics of the kitchen, making it easier to reach everything you need when cooking up a meal.
Kitchen island ideas
These kitchen island ideas will help to inspire your choice of size, shape, finish and design, and create a new addition that will completely transform your cooking space.
1. Incorporate showstopping fixtures and hardware
Designing a kitchen island requires careful and considered thought process, and you'll want to avoid a whole host of kitchen island mistakes.
'Islands tend to become the home theater of cooking, putting the cook at the center of the layout,' says Graeme Smith, Head of Design at Life Kitchens. When all eyes are on the island at meal times, every part of it – from the breakfast bar ideas to smaller details like the appliances and the hardware – need to be well-considered design-wise.
In this kitchen by interior designer Amanda Evans, a showstopping Butler sink becomes a key feature in the design, emphasizing the rustic roots of the design's contemporary take on farmhouse style.
2. Extend your countertop material down the island's sides
'Islands bring multiple functional benefits to the kitchen, but they can also help to add character to a design,' says Smith. 'Large format materials such as granite and quartz tend to work well for modern kitchen island ideas.'
If you've fallen in love with your countertop material, why stop at just one surface? Installing a wrap-around countertop will bring the material down the sides of the island, creating a luxurious sense of seamlessness, perfect for a very modern look. Leave the perpendicular side open, and this can work as a space for your island seating ideas, as demonstrated in this example.
3. Think carefully about walkaround space
When considering how to choose the right sized island, think about the space you'll need beyond it.
'Islands are an eye-catching feature in a kitchen but they can eat up a substantial amount of space,' says Smith. 'So when thinking about adding one into design, it is important to consider the available space and the circulation area around the island.
'Typically, 48in/1200mm between the cabinetry and island will be needed for a scheme that invites an easy flow.'
In this compact kitchen, the island area is maximized, but leaves just the right amount of space for users to move comfortably around its sides.
4. Mix and match your storage options
If storage space is at a premium in your kitchen, adding an island into the mix opens up a wealth of possibilities. When designing a kitchen island, be sure to think about a variety of storage solutions. Incorporate a mixture of cabinets and drawers to allow effortless storage for table and cookware of all shapes and sizes. You can also consider adding open shelving to display some of your most characterful kitchen essentials.
'To add a homely touch, opt for an integrated island book-end,' says Smith. 'This will free up countertop space and allow for the most loved cookbooks to be put on display for an extra layer of personality.'
5. Go for an unusual shape
Buck the trend when designing a kitchen island and swap a traditional rectangular island for something a little more unique – this might be slightly curved or fully circular.
This Tom Howley kitchen island is a double whammy, with a part rectangular, part curved design for the ultimate statement feature.
6. Create different zones
Switching up materials on the surface can help to break up a long kitchen island. This can also be done to help zone different areas, depending on what they might be used for.
For example, a surface used for food prep might be kept as stone, whereas wood might be used for breakfast bar ideas – like in this particular kitchen.
If you love this neutral style, our white kitchen ideas will bring you more inspiration.
7. Double the seating with an L-shaped breakfast bar
You've probably seen a fair few L-shaped kitchen ideas, but did you know the format typically used with cabinets can work really well for an island?
Creating an L-shaped breakfast bar with your island can be a handy way of doubling the amount of kitchen island seating within the same kitchen island size and creating a sociable cooking space.
It also makes serving food and drinks easier, so this design is perfect for those who love to entertain.
8. Think big
For fluting on a grand scale, look to Smallbone's Icarus Collection for inspiration. Demonstrating the impact of outsized sculpting in the kitchen, this unique design nods to 1920s glamor via scalloped glass, rich textures and warm tones. A shimmering wash of brushed gold accentuates the curved oak cabinet fronts, while allowing subtle graining to shine through.
'The unique curve was achieved using materials technology typically used in the protection zones for cars in F1 motor racing to reinforce and lighten the doors,' says Smallbone's ideation director, Iain O'Mahony. 'The aim was to capture a sense of boundless imagination and craft-led design.'
9. Go long
If you're blessed with a lot of space in your kitchen, your kitchen island ideas can be as large as you want.
One way to make your kitchen stand out is to make the island extra long with ample seating – almost reminiscent of a cocktail bar. We love this elongated design, with space for seven, as a modern alternative to a dining room table.
10. Use it to make the hob the center of the room
By putting the hob on a kitchen island, you're helping to make it the central point of the room. This means a person cooking can face the rest of the room (rather than with their back turned) – making it a clever, sociable design feature. It also offers lots of space around your cooker, for food preparation.
We love the blue kitchen cabinetry in this country house in Wiltshire.
11. Add in a work table to create a multi-purpose space
From a functional perspective, a kitchen island provides extra prep space, cutting down the footwork between key areas of sink, cooker and fridge in an open plan kitchen. It also provides a boundary between the work zone of the kitchen and the neighbouring living/dining zone, keeping children and guests from getting under your feet. It is increasingly a work space, too.
'The rise of the "working kitchen" reflects a repurposing of the traditional kitchen and an increased demand for multi-functional spaces,' says Merlin Wright, Design Director at Plain English and British Standard by Plain English.
'Worktables offer added space and can include clever kitchen storage ideas to hide not only kitchen items but also office paraphernalia. Often they incorporate a seating area with high stools, adding another valuable space to work or relax and helping to zone the kitchen.'
12. Make space for seating at a kitchen island
Almost all kitchen islands incorporate some form of seating. Even the smallest space can usually accommodate an overhang of worktop and a pair or bar stools, although more of us are opting for long islands with integrated low level, table-style seating at one end as a comfortable set up for family meals and entertaining.
'Extra work surface space is high on our wish lists,' says Annie Tullett, Kitchen Designer at Neptune Hove. 'The kitchen layout is vital to creating extra workspace and designing a harmonious flow.'
You can also make your portable kitchen island ideas work even harder for you by incorporating smart designs and appliances for a veritable tech hub, such as hidden power sockets and charging points.
13. Work in a dining table
As well as extra workspace, one of the top modern kitchen island ideas right now is the addition of a dining table for a clever space-saving solution.
Richard Atkins, Design Director at DesignSpace London, says: 'A decade ago, islands were generally only one height: either worktop height or a higher bar level. Now there is much more variation, with different levels for different functions.
'We regularly integrate a table into the island, due to two main reasons: when a living space is more compact and there isn't the space for a separate dining table, or when clients actively want to eat in close proximity to the kitchen.'
14. Make a display
The small finishing details of a kitchen add another layer of depth. Plain English's Merlin Wright explains: 'No longer content with pure practicality, clients are incorporating open kitchen shelving ideas within islands to act as beautiful displays, curated to showcase unique collections – from vintage curiosities and ceramics, to cookery books and glassware – each adding color and personality.'
15. Add design details to a kitchen island
Giving a nod to simple English countryside style and the cottagecore aesthetic, panelling is having something of a moment.
Merlin Wright at Plain English says: 'The long established love for tongue and groove panelling is more popular than ever. The natural design choice helps to add a tactile and warm feel when used on kitchen island ideas.'
If you love workstations and breakfast bars with a rural flavour, dive into our farmhouse kitchen island ideas, too.
16. Use a kitchen island to introduce new materials
The change of pace offered by an island often encourages a change of material, introducing another dimension to your kitchen design. You might afford to be braver here with a bolder finish or colorway, or perhaps a more expensive material that would be prohibitive across an entire kitchen.
'An island tends to define the kitchen, forming a neat and transparent division to the dining and living space beyond,' explains Laurence Pidgeon, Director at Laurence Pidgeon.
17. Add color with a kitchen island
A kitchen island is a fabulous opportunity to incorporate fresh kitchen color ideas.
Laurence Pidgeon says: 'At least the facing part of the island should be in warm and welcoming materials to make a transition from efficient kitchen surfaces. For a show-stopping centerpiece, look to luxury materials, from deeply veined marble and mottled granites to exotic timber veneers and gleaming mirror or burnished metal.
'There's also a trend for an increasing use of textured materials – think raw or rough-sawn wood, honed or flamed stone tops – as well as a contrast of color or finish between the island and the rest of the kitchen.'
18. Max out kitchen island storage
Kitchen island ideas are a golden opportunity to up the storage space in your kitchen, so ensure you work it into both sides of a deep unit.
Store seldom used items, accessories you need for dining or even homework related clutter on the outer side of the island, with cooking essentials on the kitchen side.
19. Work two kitchen islands into a larger space
If space allows, two kitchen islands is always better than one. A pair of island units has become the last word in luxury, an expansive addition for when space is no object. This bespoke Macassar kitchen is by Smallbone of Devizes.
The design here creates a galley kitchen hybrid, with places to prepare food on either side.
20. Pick a luxury material for your kitchen island
As we said above, it's the time of strongly veined marble.
'Deep veins are a key trend in island surfaces, and marbling comes in lots of colors. Don't be tempted to stick to white, but seek out greener tones, which are calming and sophisticated,' says Sarah Spiteri, Editorial Director at Homes & Gardens.
This bespoke kitchen featuring Arabescato and Bardiglio marbles was designed by David Collins Studio for Sky Residence at the Ritz-Carlton Residences, Bangkok. For a similar look, try Eggersmann Design.
21. Add in a wine cabinet
A few years ago, wine cabinets were considered a luxury appliance, available only to those with big budgets and big kitchens to match. These days however, as prices and sizes have reduced, there's something to suit every scheme and size.
Wine coolers built into a kitchen island are a great investment, as they will free-up space in the refrigerator as well as the worktop while keeping your wine in optimum condition.
If you enjoy entertaining, friends and family can help themselves to a glass while you get on with the cooking. As our kitchens become more like theaters, with island cooking becoming more popular, it makes sense to have a wine cabinet to complete the performance.
22. Light your kitchen island
Kitchen island lighting is a really important element of its design and should be planned in right at the beginning of your kitchen design journey.
If you do go for pendants, like in the stylish kitchen above, bear in mind that odd numbers are more visually arresting than even numbers.
23. Devote budget to book-matching
A kitchen island with overhang means seats can be stowed, and the legs of the stools add an airy feel. A stunning slab of stone can be showcased in several ways around an island.
Bookmatching, where slices of stone reflect their neighbors, or slip-matching, which uses stone slices to produce a continuous effect, are effective techniques but, where possible, a seamless piece of stone mounted across the front of a unit is especially awe-inspiring.
24. Consider deep drawers for a streamlined look
The success of this sleek, uncluttered space is largely down to the island unit. The layout 'front of house' focuses on a 4.2m-wide island unit, topped by two book-matched marble-look composite slabs.
The island is a soft division between the cooking and living areas. The 2.4m-wide drawers are used to stash crockery and utensils and help keep everything tidy.
If you're a fan of this streamlined look, our modern kitchen ideas could be for you.
25. Pick a material that matches your home's fabric
If your kitchen is dominated by a particular feature that's part of your home's architecture – whether a marble fire surround or aged wooden beams, as in the cottage kitchen above – picking a material for your kitchen island that complements or mimics it will create a look that's streamlined, sleek and calm.
However, it is important to work at least one element of contrast into the room – here, the rough plaster of the white walls offers the relief.
26. Be flexible with a mobile island
Kitchen islands needn't be fixed pieces of furniture – freestanding or portable kitchen islands are a versatile choice that allow you to flex your kitchen layout over time, or to create a more relaxed look that's the antithesis of the fitted finish.
These kitchen islands are unlikely to house appliances or electrical points – instead they are purely for prep and eating, storage and, of course, display. Put yours on casters if you want it to be truly mobile.
27. Go for an island with fluted details
A modern twist on traditional fluting, ribbed designs take a more angular, geometric direction. The surface of this island by Blakes London features drawers with deep battened fronts.
'The deeper the battens the more dramatic the aesthetic,' says lead designer Magnus Nilsson. 'Bear in mind that battening will add weight to drawer fronts. Here we added weights at the back for balance and a smooth experience when opening the drawers.' Magnus took the vertical detail up a level by incorporating a stripe into the liquid brass painted wall units – adding a touch of ritzy glamor.
Is a kitchen island a good idea?
'Even in small kitchens, a kitchen island is a fantastic way to maximize space, as you can make it as multi-functional as possible by incorporating integrated appliances and smart storage solutions,' says Darren Watts, Showroom Development and Design Director at Wren Kitchens.
'The kitchen is the heart of the home social life, and it's important to consider the comfort of the cook. Integrating cooking appliances into the island puts them at the centre of the action – even better if there is space for bar-style seating too so guests can socialise while the food is prepared,' adds Daniel Bowler, Director of Eggersmann UK.
Is my kitchen too small for an island?
If you don't have a lot of space, you might be thinking your kitchen is too small for an island – but this may not be the case.
'It is all about proportions and practicality; the room needs to work ergonomically and have enough space to move around. For example, to incorporate seating on an island, we would suggest a minimum of 1.2m between a breakfast bar and a wall or furniture,' says Richard.
Don't install an island for the sake of it; they have to play a vital role in cooking efficiency (preferably multiple roles) and not get in the way. Try using a table or even boxes to block out the space for a few days – it's a great way to work out how an island will impact the room's flow.
What color kitchen islands are on trend for 2022?
The kitchen island colors on trend vary depending on your kitchen's look.
For painted kitchens, dark blues and grays are ideal for kitchen islands, helping to add depth to an otherwise plain design. While more modern schemes include burnished metal trims and handles alongside clean white and gray kitchen cabinet ideas.
Look out for an embracing of earthy reds and rich grassy green kitchens. These are paired with burnished brass and soft gold finishes for handles and trim.
Texture is in abundance, too. Fluted cabinetry echoes the fluted glass we're seeing in designs from companies such as Ledbury Studio – the new company led by kitchen supremo Charlie Smallbone.
Faux marble worktops with waterfall edges encasing an island are also proving increasingly popular, pairing pattern with an easy-to-clean durable surface.
Ailis started out at British GQ, where a month of work experience turned into 18 months of working on all sorts of projects, writing about everything from motorsport to interiors, and helping to put together the GQ Food & Drink Awards. She then spent three years at the London Evening Standard, covering restaurants and bars. After a period of freelancing, writing about food, drink and homes for publications including Conde Nast Traveller, Luxury London and Departures, she started at Homes & Gardens as a Digital Writer, allowing her to fully indulge her love of good interior design. She is now a fully fledged food PR but still writes for Homes & Gardens as a contributing editor.