Small kitchen ideas — 24 designs for compact kitchens
Make the most of every inch with these stylish small kitchen ideas... less really can be more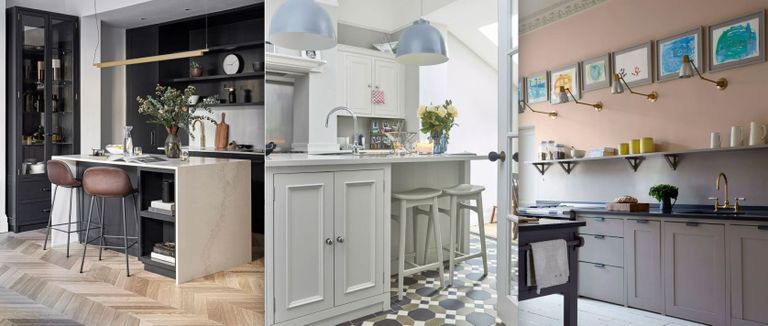 (Image credit: Future)
Our small kitchen ideas are perfect for those not blessed with a large and sociable space.
Not all homes come with vast open plan spaces. If yours is on the small side, there is plenty to feel positive about and there are still plenty of kitchen ideas to play with.
For a start, it's easy to keep everything to hand without having to march from sink to hob to fridge. Plus, there is a wealth of clever small kitchen storage ideas available to get the very best out of every inch. Look for a designer with a proven record of creating dynamic and ergonomic designs for small spaces.
And, finally, you can afford to go for unusual and unabashedly luxurious materials. With a limited amount of door and drawer fronts to cover, investing in a little luxe easily elevates your kitchen area from small to cool.
Small kitchen ideas
These small kitchen ideas are useful, whether you are redesigning a compact space or looking to furnish a utility or laundry room, or if you just want clever, space-saving ideas for a larger kitchen. Space-efficient, they are stylish, too.
1. Choose rich textiles to add pattern
When space is tight, you can distract the eye with color, but the best place to have rich shades is on the floor. That gives you the opportunity to introduce the cabinetry and walls in pale plains, which are more likely to make a small kitchen feel bigger.
2. Love bold tiles? Keep them to the floor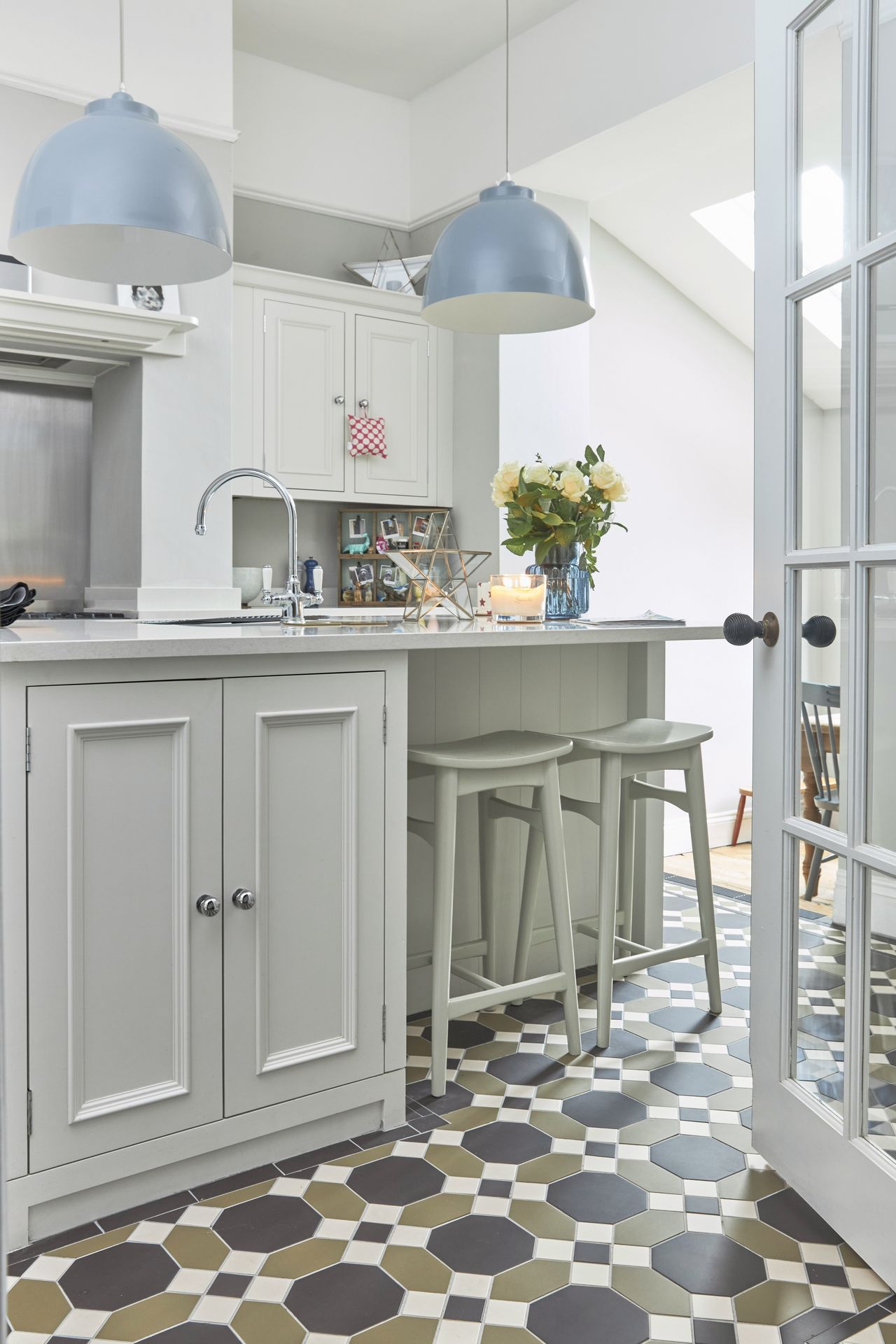 If you love pattern, again, limiting it to the floor can make a small kitchen feel bigger. Any pattern that creates lines that draw the eye across the kitchen will help make the space feel larger still and if you limit the color palette of the tiles you choose, you will exaggerate the effect further.
Kitchen flooring like this becomes the feature of the room and is best used when the units and walls are plain in color, that way there's no creative clashing. You can also use tiles to zone the kitchen area if the space is open plan.
3. Light up with pretty shades
Small kitchens can be in dark, dramatic shades but they will benefit from an element of the cabinetry being in a contrasting pale color. Pale pretty shades like blush pink combine well with gray countertops and backsplash and they will expand your small kitchen visually.
Be clever too with your textures. The ribbed white sink mimics the ribbed glass of the cabinets and you can see the white tableware peeking through. These are all key design features that help a dark and small scheme look fabulous.
4. Create a visual trick when you replace wall cabinets
Clever lighting ideas for small kitchens are needed in compact spaces. LED strips under cabinets are one great idea and so are downlights. But we like the idea of making a design statement with your lights and if you can source wall lights that have adjustable heads then all the better, as they can double as task lamps too. This works particularly well when you don't have wall units to hang LED strips from.
Here, a line of lamps is echoed by a line of pictures above. This linear trick is another way to make a small kitchen appear longer than it is.
5. Venture vertically
When planning small kitchen layouts think vertically by continuing your cabinets up to the ceiling but plan carefully to ensure the room feels as open as possible. Store less frequently used items in high cupboards. Add a breakfast bar if you can. The amount of storage and workspace it provides makes great use of the footprint and will ensure your kitchen is more sociable.
6. Focus on form and function
Creating a fuss-free, family friendly design is easy with handleless cabinetry. Available in a variety of finishes, from hi-gloss white to textured woods and ceramics, it's a style that works beautifully in both modern and period properties.
A handleless scheme, particularly one in a cool white, can appear clinical, but adding a few natural materials will give it a softer edge. Think about including a colorful patterned tile backsplash or wooden worktops. Stone or wood floors are also a practical solution for a kitchen that will help to create a layered, textured effect.
7. Mind the gap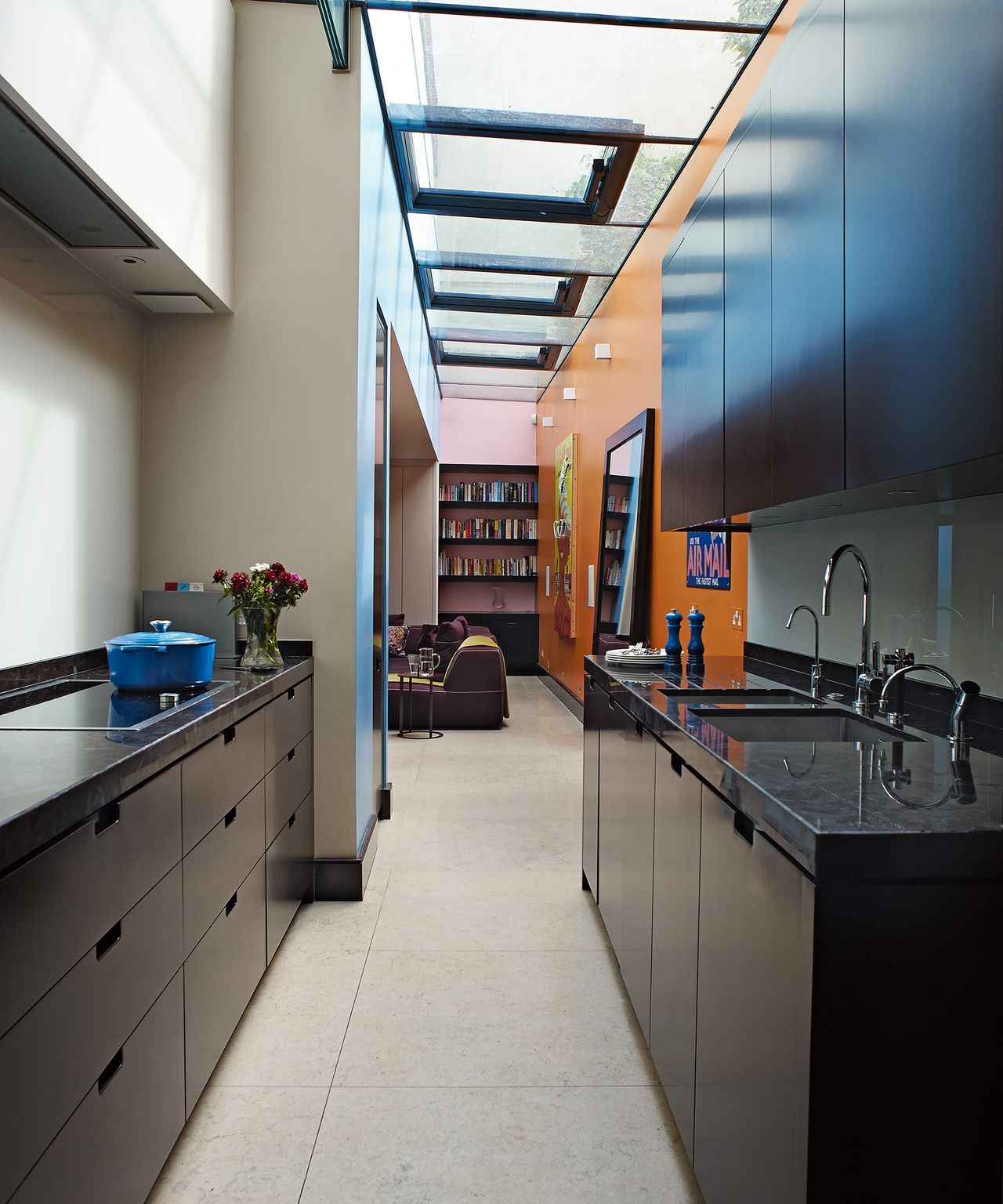 Named after the kitchen space on a ship, galleys are designed to be super-efficient by maximising every available space. Known for their two parallel counters, there is a range of practical options to help make it a workable layout, from smart storage solutions to lighting tricks and fun flooring ideas.
Storage is key in galley kitchens, as space saving is the goal. Opt for a multi-use drawer as it offers a compact space for crockery and cutlery.
8. Bright idea
Eye-catching details aren't just for the big boys. Neutrals are not for everyone and the size of your kitchen shouldn't dictate that you play it safe. Decorative accessories will add colorful flourishes and can be easily updated to keep abreast of new kitchen trends. Lamp shades, blinds, artwork and countertop storage are all good, inexpensive options.
9. Light up
Consider rooflights or glazing your ceiling if you have few or small windows. Similarly, keep tall cabinets and bulky fridge freezers away from windows where they may limit the amount of daylight in the room.
10. Factor in food for thought with seating
Even very small spaces can often accommodate an open-plan dining area. In a compact kitchen, consider using banquette seating, fitted into a corner or even on one side of a kitchen island, to create a cozy dining spot.
11. Look on the bright side
When it comes to the color scheme, you don't have to play it safe, even when looking for small kitchen ideas. Conventional wisdom suggests light and bright with reflective surfaces to keep the space airy, but the opposite can work just as well.
Dark and moody charcoal cabinetry teamed with a dramatic lighting scheme will make the kitchen feel smart, while good use of mirrors, whatever the color scheme, will give a greater illusion of space.
And don't scrimp on the kitchen lighting ideas. Incorporate adequate task lighting under cabinets for food preparation and include in-drawer and in-cabinet lighting where possible, so you can always see the contents. Finally, add some mood lighting if you can on a separate circuit.
12. Keep it neat and tidy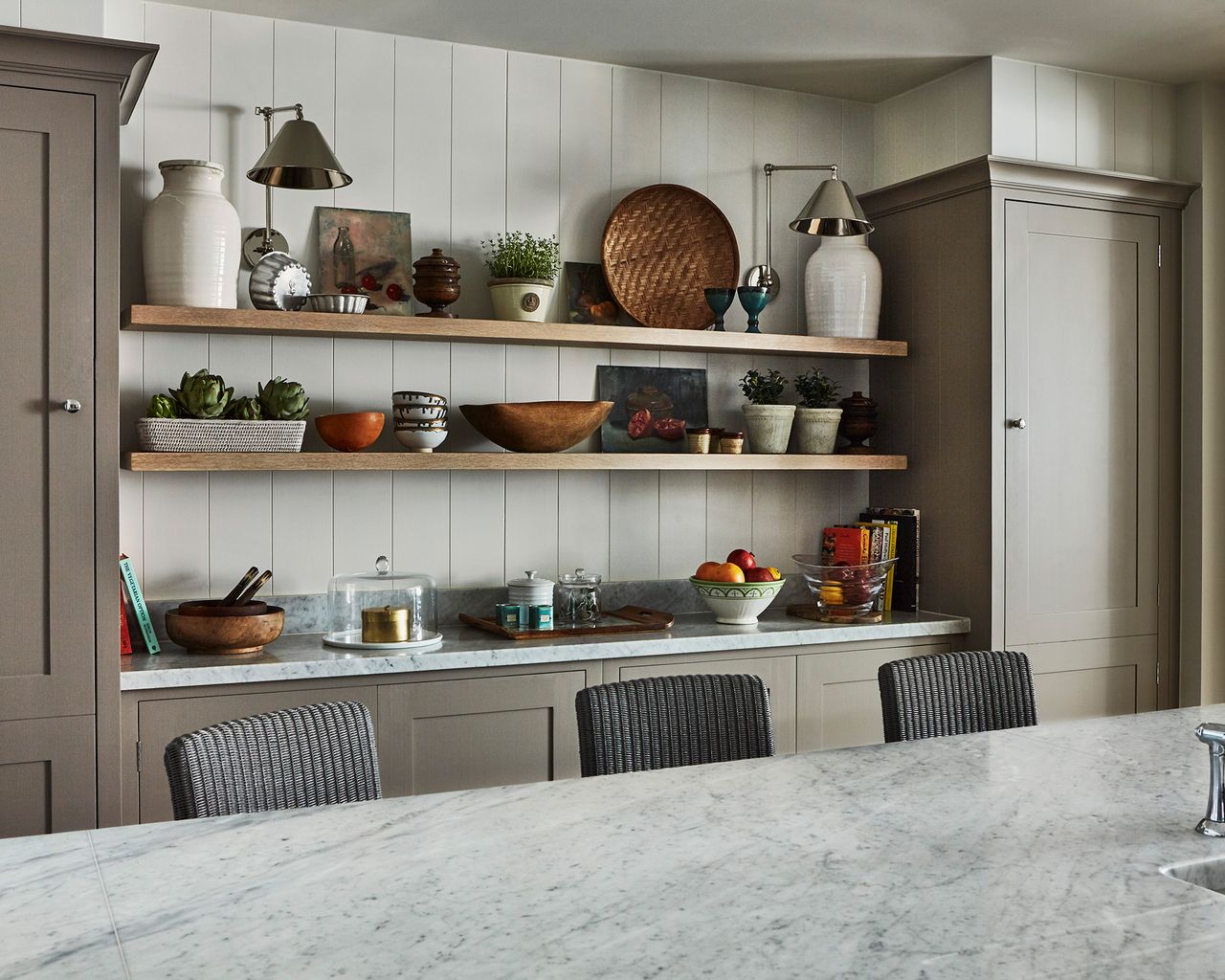 Storage is one of the most important elements in a small kitchen and open shelves can make a small space feel larger, unlike a solid run of cabinetry. If you are using open shelves in your small kitchen, ensure you save the best-looking pieces to be both stored and displayed for this space.
But the possibilities really are endless when it comes to kitchen storage ideas.
13. Put it on display
Talking of display... don't forget to include a small display area if you can squeeze it in. Open shelves are ideal for showing off decorative items and cookbooks that make your kitchen feel personal.
'Keep materials simple. I would recommend a maximum of three finishes in a small kitchen, which allows you to zone areas, create features and let other sections blend into the background,' says Lindsey Rendall, co-founder, Rendall & Wright.
14. Add a color pop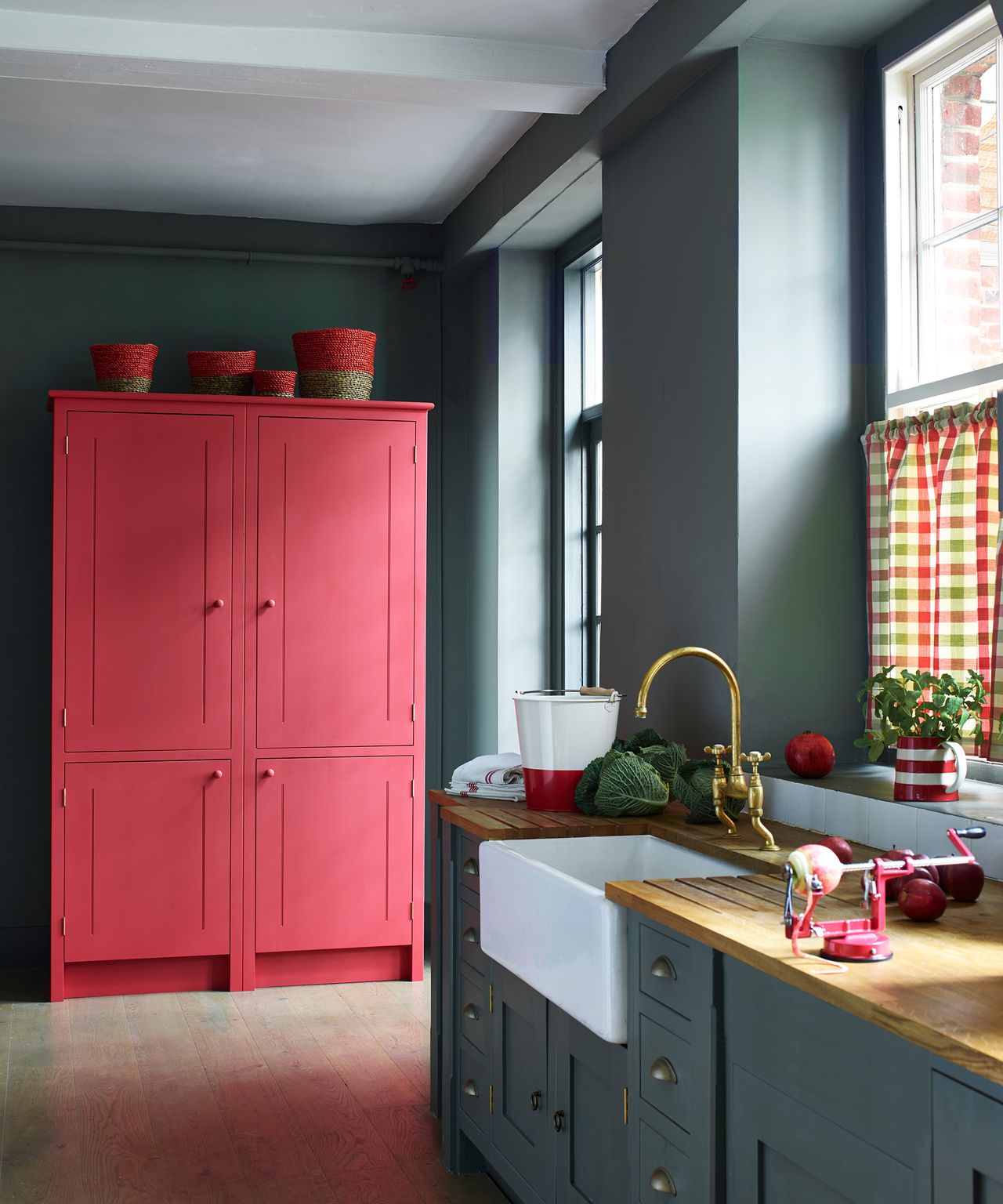 When it comes to kitchen color ideas, don't be afraid to go bold in a small kitchen space.
A bright splash of bold red could really make the difference between a cold, cramped space and one that is interesting and exciting.
15. Keep things off surfaces
If your kitchen is small, any clutter that's left on the side is going to use up much-needed workspace and make it look even smaller. Also, when it comes to cooking, you'll be limited with countertop surface area.
Make more room for yourself by putting any appliances that aren't used every day in a cupboard, rather than on the side. The same goes for any food. It also might be worth considering if decorative kitchen accessories are actually adding anything to the space, or if they are just getting in the way.
An alternative way to make space on counters and in cupboards is to hang pans, like this rustic aesthetic.
16. Opt for slimmer cabinets
Slimline base cabinets could be a great option if you're in need of a little more floor space because they are built with a reduced depth. However, this does mean that you won't be able to store any big pans in them, so it's important to come up with an alternative way to store these essentials, or size down.
17. Use geometric patterns
Geometric patterns are becoming an increasingly popular choice and they are incredibly helpful for making a space look bigger, as they draw the eye vertically or lengthways to give the impression of a longer, taller kitchen.
18. Get reflective
We all know mirrors make a space look bigger, so why not throw a few into your kitchen? Alternatively, opting for reflective surfaces, such as gloss, will help bounce light around the room, making it appear bigger and brighter.
19. Go for a single sink
There's no denying a double butler sink makes dishwashing incredibly easy, but if you have a small kitchen, this style is going to take up precious space. Not to mention it will make the room look even smaller.
A single sink can look just as stylish and will give you more counter space to play with.
20. Integrate your appliances
Integrated appliances, like fridges, washing machines and dishwashers, will make a room appear bigger and more streamline.
Yes, you might have to open a cupboard to get to them, but the overall look will be sleeker instead of a mix-match of different elements in a small space.
21. Add a portable island
A portable kitchen island can be moved about the room according to needs, which means they are more flexible than their static counterparts.
These moveable options don't feature plumbing, electricity or gas. They are usually tables, trollies or units on wheels, but they come in a whole host of styles from industrial designs to classic farmhouse kitchen islands.
22. Be fridge smart
It's important to be realistic about your space. If it's going to be a squeeze to get a huge fridge-freezer in then perhaps don't, or look at alternative options, like slimmer designs.
Also, think about where it can tuck in neatly within your kitchen layout, whether that's in the corner or built into the cabinet design.
23. Keep lines clean
Did you know that something as simple as removing bulky handles from cabinets can make your small kitchen appear larger? By using modern kitchen ideas such as push/click catches instead, the room will be more streamline and will look smoother.
24. Use light-reflecting accessories
Metallic accessories – whether that's pots and or pendant lights – will help bounce light around the room. These light-reflecting objects will boost brightness and add a sense of depth.
How do I plan a small kitchen?
Getting the right designer on board is key and, crucially, the kitchen needs to be designed to suit the space, rather than picking a range or style and trying to adapt your small kitchen ideas to fit.
Dual purpose pieces and good internal storage will make the most of cupboard space. Weigh up the pros and cons of tall units over worktop space – small double galleys often benefit from one side of tall cabinets teamed with one run of base units opposite. Although, you should make every attempt to keep work surface clear of clutter.
Look for compact appliances, choosing premium models that give the optimum internal space while still fitting a standard or compact footprint. Also pieces such as multi-functional compact ovens, offer a range of cooking methods from steam to conventional and microwave in one neat little package.
It's also worth taking shape into account – U-shaped kitchens for example, can work really well in a small space.
What is the best layout for a small kitchen?
In terms of small kitchen layouts, a galley format is a popular choice.
Galley kitchens, with their linear simplicity, have a timeless appeal no matter how big or small your space. And with open plan living becoming increasingly popular, a galley kitchen is a compact solution that is both practical and surprisingly stylish.
What is the best color for a small kitchen?
The best color for a small kitchen ultimately depends on what you want from the space, but don't let the size hold you back from going bold.
While the long established preference for going 'light and bright' when decorating small spaces does apply, it's important not to let your kitchen slip into neutral obscurity.
'Don't be afraid to use color – even really bright colors in high gloss finishes, such as lime green, blue, lilac or pink. It's a great way to give your kitchen a boost if you haven't got a great deal of space to play with,' advises Adrian Stoneham of Stoneham Kitchens.
If you do feel more comfortable with a pale palette, try to shake things up in other ways. Incorporating interesting shapes, via serpentine curved units, or adding one strong feature piece like a chandelier or designer bar stools, can create a really dynamic room that's easy to update.
How can I make a small kitchen look bigger?
Lighting, materials and layouts are all ways you can make a small kitchen look bigger.
With the help of some professional advice, a smaller kitchen can have as much character and personality as one measuring twice the size.
'Making the most of a small kitchen is as much about creating an optical illusion as it is about finding clever storage solutions for problem areas,' says Katie Fontana of Plain English.
'For example, long, linear shelving creates practical storage areas without overcrowding the wall space and also helps to draw the eye across the length of the room. I might store interesting glassware or pale colored china here to avoid a heavily cluttered look.'
How can I decorate my small kitchen?
Decorating a small kitchen can be approached in the same way as in a larger kitchen. In other words, pick finishes and decorative elements that please you and complement the style of the rest of your home. But it's really important to understand that every choice you make for a small kitchen will be magnified by the compact conditions.
So, if you were to choose a paint color, bold tiles or a maximalist wallpaper for the walls, each will feel that much more vivid and dominating than in a larger kitchen. For this reason, it is a good idea to limit your choice of decorative layers to just two and to keep them to specific areas of the room.
Or, go for subtlety and be aware that toning down your choices just a little can still be really effective in a small kitchen.
Can I put an island in a small kitchen?
When it comes to fitting a kitchen, a question that's often asked is 'can I put an island in a small kitchen?' The good news is that there's usually always a way to make it work.
An island unit is perhaps the most popular feature in a kitchen, and is one that can work well in a small kitchen.
In a very large room, it will act as a bridge between perimeter furniture, improving the work triangle and allowing more than one cook to work comfortably side-by-side, but can also make a wonderful addition to a small kitchen, adding extra seating and negating the need for a separate dining room.
With the addition of arresting light pendants or an eye-catching work surface, it can become the room's design centrepiece. In an open-plan kitchen, use an island or peninsula to divide cooking and dining.
'The addition of breakfast bar seating can create intimacy in the smallest kitchen, and only requires a 40cm worktop overhang to dine in comfort,' says interior designer Abigail Hall.
Connect both water and electricity, and your island will become an impressive workhorse, incorporating cooking, washing and cooling appliances. 'This will free up surfaces in the rest of the kitchen but we also see the island as an opportunity to have extra ovens or specialist appliances such as a teppanyaki, wok burner or BBQ grill,' adds Neil Lerner.