Designing a kitchen island – expert tips and planning advice
If you know how, designing a kitchen island is a simple step-by-step process. Here are the key things you need to consider, according to our experts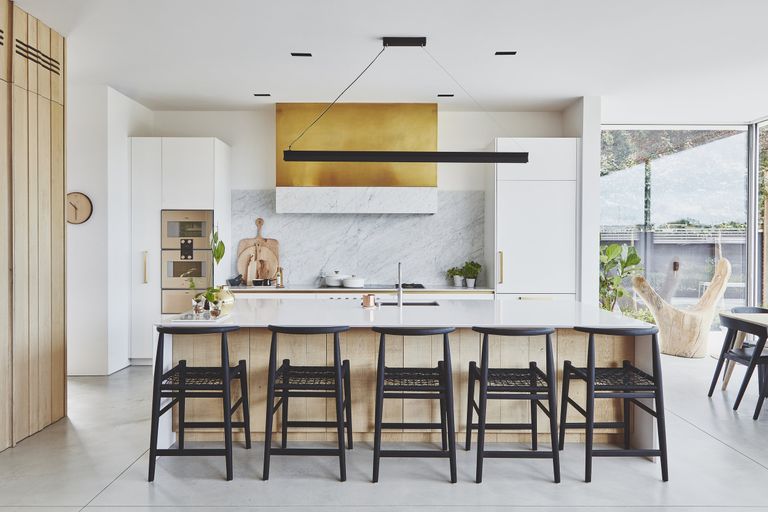 (Image credit: Blakes London)
Designing a kitchen island is a task best approached with a ton of know how. Why? Getting kitchen island design absolutely right is vital because your entire space revolves around this central element. Incorporating an island into your planned design can not only provide extra seating and storage space, it can also house a sink and key appliances while creating a focal point for friends and family to gather around. It can be an opportunity to introduce color, texture, new materials or, for the very adventurous, be a show-stopper, too.
It is important to get crucial things like the size and the positioning of it right – no one wants to end up with an island that overwhelms the room or is awkward to get around. There are also other kitchen ideas to consider, like the countertops and the space needed for optimum use.
But where do you start? We spoke to kitchen experts to find out how to achieve the perfect island.
Think about how you will use your kitchen island
A kitchen island can often enhance a kitchen, providing extra seating and storage space, but it is important to be sure that it meets the needs of the people who will use it.
'The real beauty of the kitchen island is that it gives the homeowner a working galley kitchen, a concept rightly beloved of professional chefs due to the enhanced efficiency and safety during cooking,' explains Peter Humphrey, design director and founder of Humphrey Munson.
'You prep one side; you cook the other. It's a simple but brilliant layout choice. The best islands create a true "working side" of the kitchen countered with a "social side" to provide seating for the breakfast rush hour or guests catching up before dinner.'
Ensure the island's size is in proportion
'A good-size island can range from about 2m to 3m long and 2.2m to 1.4m wide (any wider tends to create waste space in the center),' says Smallbone's Damian Wright.
You can find out more about how to choose the right sized kitchen island in our dedicated feature.
Allow enough space around the kitchen island
It sounds obvious but make sure you can move around the island and work in the kitchen with ease. This is as important as the size of the unit itself, says Peter Humphrey. 'The negative space – the space between furniture – is as important as the size of the unit itself. The golden rule is to allow 1 to 1.2m to move around easily, but there are times when going narrower is justified – for example when the dishwasher door is open.'
Damian Wright echoes this: 'Allow at least 1m of space around the island, and if you have seating at the island, remember that not all bar stools tuck right in, so take this into account when measuring from the back of the island to the nearest wall cabinet.'
Head of Retail & Commercial Design at Life Kitchens, Graeme Smith adds, 'It is important to bear in mind that extra floor space may be needed in areas like the hob that typically experience high-traffic.'
Decide between fitted and freestanding kitchen islands
'Fitted or portable kitchen islands are both functional additions to a kitchen but deciding on what style to go for depends on how multi-functional the kitchen needs to be,' says Graeme Smith. 'A mobile island is valuable to those who need furniture to act as a preparation-based room divider during the day and pushed aside at night to make way for entertaining.
'Fitted islands are a permanent fixture that prove more functional in larger kitchens with extra floor space.'
Mix shapes for interest and balance
A round breakfast bar can work to soften a large island in a large room. Proportion is important; the island needs to fit into the design rather than dominate. 'Using a different material for the breakfast bar helps to break up density,' adds Peter. 'We avoid split levels in island design – the appeal often lies in a desire to hide mess away, but they can look and feel disjointed. If surface clutter bothers you, install two dishwashers.'
Be brave with color
Even if you have a neutral color scheme, an island gives the opportunity to add an exciting layer of interest to the kitchen. 'I always like a kitchen island to feel anchored in the room and the easiest way to achieve this is to use a punchy dark color for the island cabinetry,' says Peter.
'Bold, dark colors can be intimidating but the island cabinetry is always below the line of sight when you walk in, so it provides an opportunity to be brave with color and create a contrast – a deep, dark blue with brass hardware will always have wow factor.'
Create enough space for food prep
'If the kitchen design dictates the hob needs to go on the island, then excellent ceiling extraction is essential. Ideally though the island should be a space for food prep with a sink – either the main sink or a prep sink. You'll enjoy countertop space galore, the opportunity to integrate dishwashers and pull-out bins underneath. If you need a fridge in the island, opt for a pull-out drawer such as Fisher & Paykel's CoolDrawer, which can switch between fridge and freezer at the touch of a button,' says Peter.
Choose the right countertop for you
'Natural marble is stunning but it's porous and easily stained and scratched. No one wants low level anxiety watching a drop of red wine spill onto the counter when you've got friends over.
'We use quartz countertops almost exclusively on our islands because they are low maintenance, easy to clean and come in jumbo slabs to avoid joints,' says Peter. 'Kitchens are for living in nowadays. By prioritizing durability, you can truly relax.'
Graeme Smith continues: 'Subject to size, quartz and granite used in their entirety work well to give a seamless finish. Larger islands may require a joint, so there is the opportunity to experiment with the design and choose a complementary material, color or thickness.
'Adding timber elements such as chopping blocks to a breakfast bar can be a good way to subtly zone an island whilst also disguising the joints.'
Consider the best seating plan
If you are considering kitchen island seating ideas, give some thought to how you will actually use it. Is it the only seating in your kitchen? Will it seat guests or is it simply for the family to grab a quick breakfast at? Will you be working there – or only ever enjoying a quick coffee break?
'Sitting in a line is great at the sushi bar but not for kitchen islands, so three is the magic number for straight line seating. If you need four stools, then wrap them around one end of the island so it's more sociable,' suggests Peter.
'When you choose your counter stools always check the dimensions and have them drawn into the kitchen design to ensure they fit perfectly with plenty of space to manoeuver around.'
And, of course, ensure they are comfortable.
Ensure the kitchen island's functionality is perfect
Choosing what will go in your kitchen island depends on numerous factors, but here are a few to consider: if there is to be a hob in the kitchen, putting it on the island will allow you to cook and socialize at the same time; if there is to be a sink in the island, bear in mind that you will probably then have dishes sitting there waiting to be washed – or draining; consider if there is space for a wine fridge in the island, on the dining side; and, finally, consider storage.
Kitchen island storage works well with wide, deep drawers on the kitchen side, and either shallow drawers or open shelving on the dining side of the island, assuming it's not being used as a breakfast bar.
'A 1290mm-wide drawer will likely allow you to store all your pans in one readily accessible space rather than delving into the back of a cupboard to retrieve a heavy casserole pan,' says designer Emma Sims-Hilditch of Sims Hilditch.
Work lighting design into your plans
It's vital to research kitchen island lighting ideas at the same time as planning the island's design. Above the island, the lighting needs to be both practical and aesthetically pleasing.
'What this means in practice is that you may need to consider an extractor fan that doubles up as a light fitting, assuming there is a hob on your kitchen island,' advises Homes & Gardens' Editor in Chief, Lucy Searle. 'Otherwise, a pendant, or line of pendants, will draw attention to the island and provide task lighting for when you are prepping – however, ensure the lighting is dimmable so that you can effortlessly adjust the mood from cooking to dining.'
Graeme Smith continues, 'The kitchen island is naturally the focal point of a room, so it is important to choose the right lighting that enhances it practically and aesthetically. Pendant lighting is an elegant addition that will bring an extra layer of interest to the kitchen's design.
'The low hanging bulbs will offer extra light for everyday tasks without overwhelming the space. For a more visual effect, plinth lighting can be integrated to add an aspect of drama and luxury to a scheme.'