Kitchen island lighting ideas – how to light up this prime spot to perfection
Choose the right kitchen island lighting ideas to make the centerpiece of your kitchen the focal point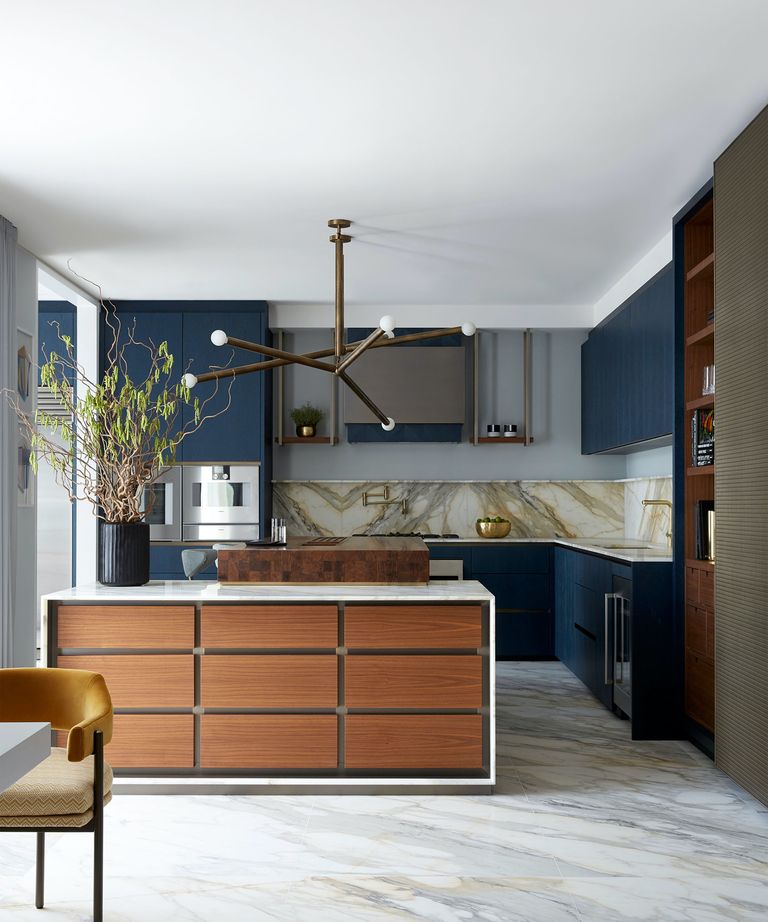 (Image credit: Lanserring )
If the kitchen is the heart of the home, then the island must be what keeps it beating.
A well-lit island is one of the most important kitchen lighting ideas – after all, what's the point of having the feature if you can't show it off in all its glory?
Kitchen islands are 'used for both cooking and food preparation, as well as entertaining and bringing the family together,' says Niki Wright, founder of Lights & Lamps. 'Kitchen island lighting must cater for a range uses. Lighting this space in the house is therefore key for creating the right warmth and atmosphere that works right from early morning cups of coffee through to intimate late night glasses of wine.
'The kitchen island is where design and function meet,' notes Sam Neuman, founder of Home Lighting Ideas. 'Kitchen Islands should be enjoyable yet functional workstations. Food preparation requires balanced light to reveal the detail of ingredients and fine chopping. While conversely, low to no light during meals to mask the evidence of its creation. In between times, an island is the design feature to create focus in the space and to invite conversation.'
Read on to discover our favorite kitchen island lighting ideas for every scheme and style.
See: Kitchen ideas – inspiration for every space, style and budget
1. Make a modern statement
In a contemporary kitchen, with sleek lines and an abundance of white, look to making a statement with your kitchen island lighting.
Continue the clean lines of the space with a bold pendant in a black steel to make sure it has all the impact possible.
'Hanging a single pendant over an island can make a bold statement within a scheme,' comments Jamie Blake, Creative Director, Blakes London. 
'In a space such as this, where the ceiling heights are generous, hanging a single oversized pendant over the island draws the eye upwards, bringing the elegant Georgian coving into focus and offering the eye a further point of interest. '
By choosing a pendant that stretches out widely and incorporates multiple bulbs, you ensure that the whole width of the island will be lit; perfect for both cooking and conversation.
Love this design? See more kitchen island ideas in our dedicated gallery.
2. Choose a linear style
Another wonderful route for a modern scheme is a linear kitchen island lighting solution.
The linear style is especially powerful above a relatively narrow island, as it keeps proportions feeling even. 
This is the Compendium Suspension Light by Daniel Rybakken for Viaduct and includes a diffused LED light, meaning not only will the bulbs last forever, but the light will be dispersed evenly. While this option is available in black and aluminium, opting for a brass finish will add warmth to a contemporary space.
3. Install the unexpected
Chandeliers are most often associated with grand staircases, entrance halls and formal entertaining spaces. However, there are no rules against adding one to your kitchen island lighting ideas list.
Install an elaborate chandelier above your kitchen island to make the work space a focal point and conversation starter.
Do be aware that, depending on which style you choose, there may be multiple components which could collect dust. Since you obviously don't want dust in your cooking, either choose a more minimal chandelier or make sure to have a quick dust before you begin preparing any food.
4. Light up the rainbow
A new trend in kitchen island lighting ideas is the use of color.
'Currently, there is a focus on character lighting; large pendant lights above the island are very popular, helping to introduce color and a decorative touch to the kitchen,' notes Richard Moore, Design Director at Martin Moore. 'In lofty rooms, pendant lighting also help to draw the focus downwards towards the island.'
With color, integrate the shades from your cabinetry to create cohesion. Once this is in there, have fun with adding unexpected pops of other hues.
5. Look to traditional materials
With metals so popular in lighting it can be easy to forget about how impactful using a traditional material can be.
Depending on the style of your home, classic enamel pendant lights can offer a retro, rustic or industrial feel. It's a look that works especially well in barn conversions, country properties and spaces with exposed brick walls.
See: Kitchen island seating ideas – ways to use bar stools and dining chairs
6. Opt for a cluster 
Perfect for people who want the traditional single pendant look but still want to maximize light, look to cluster ceiling lights.
Many versions of these can be adjusted length-wise, so you can play around with different heights and arrangements.
This bespoke mirrored island by Jo Berryman Studio clearly wants to be the star of the show, and this is a wonderful way to show the power of kitchen island lighting. 
Sam Neuman, founder of Home Lighting Ideas says, 'The kitchen island is the center piece of the kitchen and the lighting allows you to celebrate and enhance this design feature.'
7. Add a highlight
Keeping to a strict monochrome look in your kitchen is a great way for making a strong design statement. This doesn't mean, however, that you can't add unexpected splashes of something special.
This row of three seemingly simple black pendants have added interest with their insides being brass. Not only does this align with the subtle brass detailing on the cabinetry and faucets, but it actually adds a wonderful warmth to the light these pendants produce, and therefore the overall scheme.
See: Breakfast bar ideas – explore more ways to add dining space with these
8. Size up
Consider the size of your island when selecting the right lighting for the space.
In a generously sized kitchen your island will also be sized up. This extra-large island demonstrates the need for a couple of oversized pendants to light up the whole space without overcrowding form above. Choosing glass shades stops the lights from overpowering, too.
9. Big up the bulb
'Filament or Edison bulbs have grown in popularity over recent years as a reaction to the harsh and unflattering quality of most low energy lighting,' notes Merlin Wright, Design Director at British Standard by Plain English. 'Filament bulbs provide a warm light and look great with braided cables and vintage or industrial type fittings.'
Use ceiling hooks to loop up cords to create your own kitchen island lighting design, and one that can be easily changed depending on whatever atmosphere you wish to create.
See: How to choose the right sized island – everything you need to know
10. Be as bold as brass
If you want a pair of simply shaped pendant lights lighting your kitchen island, make them into something special by choosing an unexpected material.
In this traditional kitchen, with neutrals and blues, the use of these brushed brass pendants is a wonderfully joyous addition. By keeping other metal fixtures in the kitchen classic silver, these pendants shine bright in the space.
How do you pick a light for a kitchen island?
When you pick a light for a kitchen island, it's important to remember that quality is king. 
'Use good quality lamps in the kitchen with 90+ CRI* to compliment food and to make you feel good,' advises Sam Neuman, founder of Home Lighting Ideas. '2700K is flattering and dims well.' 
'For breakfast, ramp those lights up to full spectrum white, also ensure your walls are well lit, especially if it's a grey day,' continues Sam. 'To combat dullness, feed the retina with light to help align the circadian rhythm to daytime conditions.  In the evening change to a relaxed atmosphere using warm tungsten colour light (2700K – 2200K), allowing melatonin to be released in the brain, to relax prepare for sleep.'
*CRI = Colour Rendering Index
How many lights should be on a kitchen island?
The number of lights on a kitchen island depends on the size of the piece as well as the light itself.  
That said, if in doubt remember that odd numbers are more pleasing on the eye, so in a larger island consider three rather than four.
See: How to plan kitchen lighting – for more practical advice
What is trending in kitchen island lighting?
If you've decided to take the plunge, perhaps you want to know what's trending in kitchen lighting?
'Pendants are an island's best friend,' notes lighting designer Sam Neuman. 'Once dimmed low, they throw a soft light all around creating a flattering ambience while taking the focus away from the cooking clutter. Downlights are ideal for highlighting the sculptural form and surfaces of your kitchen island. Use multiple circuits for maximum effect.' 
Ultimately, the most important thing to consider is what you want your kitchen to offer.