How to choose kitchen lighting – with advice from design experts
Provide the right illumination levels for all of the room's functions with this guide to choosing kitchen lighting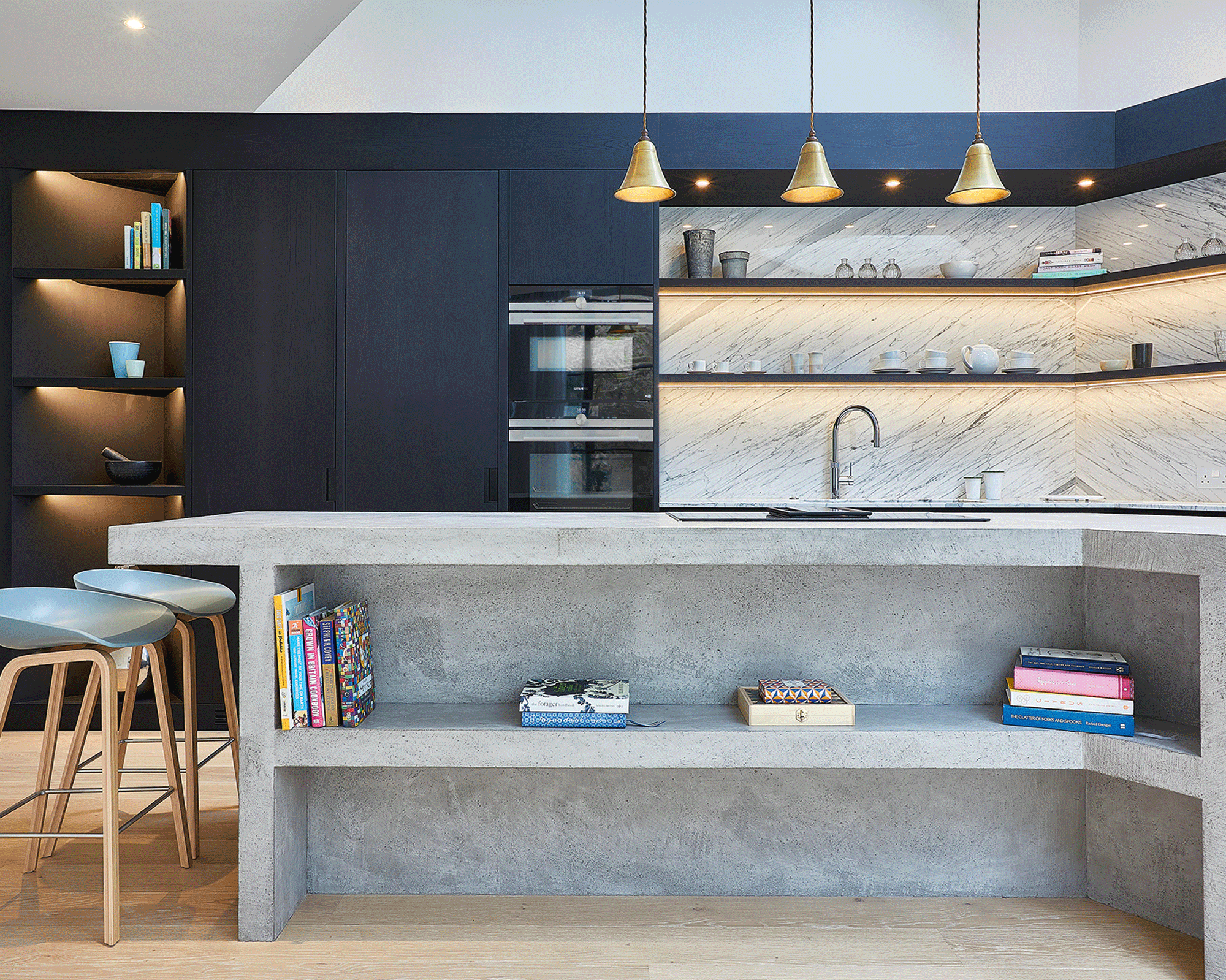 (Image credit: Kitchens Of Holloways)
Knowing how to choose kitchen lighting is an important step in the room's design. Without good lighting for preparation and cooking, as well as for the dining and everyday living that takes place in the room, the space will fall short.
Of course, kitchen lighting ideas should contribute aesthetically as well as playing their part practically. As with elements such as cabinetry, counters, wall decor, and flooring, lighting materials, finishes, and colors as well as shape and style are all crucial to the room's look.
Here, we examine how to choose kitchen lighting successfully with advice from the experts.
How to choose kitchen lighting
The room's illumination is critical for a successful kitchen design, so choosing kitchen lighting should never be left to the last minute – it should be amongst your priority list of kitchen ideas. You may want to double-check how much light your kitchen needs before you start thinking aesthetics – a lighting engineer can help with this.
'The most effective lighting solution is to specify a lighting scheme that allows bright task lighting over the countertops where the food preparation is taking place, and warm, low lighting for the guests,' says Tom Howley, design director at the eponymous kitchen company.
'There may only be a 10 feet between these two very different light sources, but it makes the world of difference to your guests' entertaining experience and the chef or the host's cooking experience. Strategic lighting will encourage guests to relax and enjoy the kitchen and the informal dining experience.'
Planning kitchen lighting that fulfils these roles will consist of task, ambient, and accent (also known as feature) lighting.
Plan task lighting
Areas of the kitchen such as counters, the range, cooktop, and sink need to be especially well lit for safe and easy preparation, cooking, and other tasks. Consider the task lighting – such as kitchen wall lighting ideas – which will illuminate these areas early in the process of choosing kitchen lighting.
'Lighting schemes are an essential part of kitchen planning as there is nothing worse than a dimly lit work area,' says Melissa Klink, head of design at Harvey Jones. 'Position spots directly above key areas to ensure the light isn't blocked while you stand at the sink, hob or counter. Utilize under-cabinet lighting to illuminate counters and a lit hood can provide lighting for your cooking area.'
What's crucial is avoiding shadows. 'Try to reduce shadows on task areas so when leaning over the counter the lights should not be directly behind you,' says Piero De Marchis, director, Detail Lighting. 'Linear LED lighting is good for reducing shadows, above cabinets, under cabinets or linear trimless strips in the ceiling.'
Wall lights could be used where there aren't wall cabinets, while ceiling lights can provide task lighting, but they must focus light on the work area.
Kitchen island lighting ideas, such as pendant lights, may need to function as task lighting during food preparation, but as ambient lighting for that area once the cooking is over. 'We often recommend incorporating pendant lights that are easily dimmable,' says David Amos, CEO at Amos Lighting + Home. 'This is so that you can reduce the brightness down when you have finished your food preparation and then have a relaxed environment to socialize with guests and family.'
Introduce ambient lighting
A room's ambient lighting is the general background illumination, and is also a key ingredient when choosing kitchen lighting. It should be planned bearing in mind how much natural light the room receives, but needs to provide a comfortable and uniform level of light for the room at all hours.
Ambient lighting might come from different styles of ceiling designs such as recessed or surface lighting, or pendant lights or chandeliers. 'In newer projects, I've seen bulkhead lighting working very well,' says Karan Main, director, The Main Company. 'This has two positives, the lighting is lower and therefore changing the bulb is easier.
'Bulkhead lighting means bringing the ceiling level down, usually around the perimeter of the room and at a variety of heights from 8 to 24 inches (20 to 60cm) – this will depend on the total height of the room. Usually bulkhead lighting will focus directly down onto the countertop level, so there is no worry of standing in one's own shadow.'
Add accent lighting
Don't forget accent illumination when choosing kitchen lighting. It adds visual interest, contributes to the atmosphere of the space, and can highlight features of the room.
It can take many different forms. 'Consider the "warm glow" areas where glazed cupboard lights can be left on to shine through glasses stacked on glass shelves to create an atmosphere while dining in the kitchen,' suggests Alex Main, director of The Main Company.
Shane Hilton, designer at Harvey Jones, is a fan of using LEDs (light emitting diodes). 'Colored LED lights are ideal for creating ambient and relaxing lighting effects,' he says. 'Whether you're after a cool, modern look with blue plinth lighting or a warm, comforting glow for an intimate kitchen/dining room, LEDs will do the job.
'They can give an almost infinite amount of color via the convenience of a remote control, with the added benefit of being long-life and maintenance-free, and having low running costs.'
We mentioned earlier that pendant lights can be dual function, providing task as well as accent lighting, and to use them in the latter role Helena Myers, director of The Myers Touch Kitchen Design Studio suggests: 'Choose accent pendants over spaces like breakfast bars or other seating areas and drop them low to create more intimacy and atmosphere.'
Combining different lighting types
When choosing kitchen lighting you will be selecting the fittings that make up the task, ambient, and accent illumination for the space and it's important that these can be operated individually. 'Having the choice to switch lights independently from each other really makes an atmospheric space when the kitchen changes from a cooking to dining and relaxing space,' says Alex Main.
Being able to dim some of the lights is also highly desirable. 'Using dimmer switches on your main lights can also help create a glow in the evening – perfect for entertaining,' says Melissa Klink.
What color light is best for the kitchen?
For a kitchen, opt for a cool white light. That means a Kelvin rating of 3,000 to 4,500. Warm, yellower light with a lower Kelvin rating is better for a living space rather than one where food preparation and cooking take place.
But bear in mind you should be able to change the mood. 'The light you choose in the kitchen must be functional,' says Karan Main. 'However, it's also important to create soft accent areas that contribute to a more ambient, social space for when the kitchen is not being used as a workplace.'
Do kitchen light fixtures need to match?
Kitchen light fixtures don't have to match exactly, but the final effect should be a considered one. 'If you are a person who enjoys an eclectic mix, make sure the tones match: for example, you could go from a light aged brass finish to a bronze finish, or a pewter to aged zinc finish,' says Karan Main.
'For those who prefer symmetry then it's more preferable to retain a level of cohesion and use the same finish across the light fixtures, sockets and also cabinet hardware.'
Sarah is a freelance journalist and editor. Previously executive editor of Ideal Home, she's specialized in interiors, property and gardens for over 20 years, and covers interior design, house design, gardens, and cleaning and organizing a home for H&G. She's written for websites, including Houzz, Channel 4's flagship website, 4Homes, and Future's T3; national newspapers, including The Guardian; and magazines including Future's Country Homes & Interiors, Homebuilding & Renovating, Period Living, and Style at Home, as well as House Beautiful, Good Homes, Grand Designs, Homes & Antiques, LandLove and The English Home among others. It's no big surprise that she likes to put what she writes about into practice, and is a serial house renovator.