Best pillows: 10 top options that will transform your sleep
Our edit of the best pillows will help you sleep better and solve any aches and pains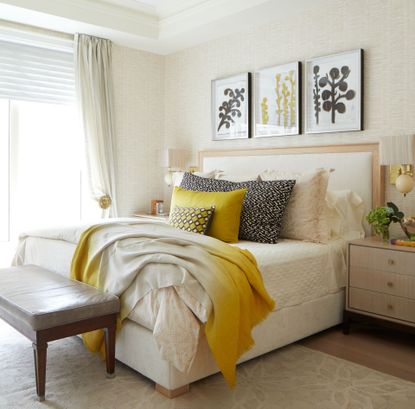 (Image credit: Colette van den Thillart)
Resting your head on one (or two) of the best pillows can make a big difference to how you sleep, and how well you sleep. It's also one of the simplest changes you can make to your bed, for dare we say immediate relief?
We can agree that an inviting pillow arrangement is pivotal to some of the best bedroom ideas, but if your pillow has been clumping, falling flat, causing you to overheat at night, or most importantly, causing pain and discomfort, it's time to explore the idea of replacing your pillows. In fact, sleep experts recommend new pillows on an annual basis, but we too are partial to sometimes holding on to that pillow until it no longer serves us. Call it sentimentality, or the thought that finding the best pillow for the perfect night's sleep is no small feat.
There are many options to choose from with alternative fillings and varying degrees of firmness to suit every sleep position. The perfect pillow for you will make sure that your head and neck stay aligned when you're lying down. Side sleepers, back, and stomach sleepers all need different levels of support to ensure that they are in the correct position for the entire eight hours of bedtime. Getting a pillow type with a filling that you are (knowingly) sensitive to could cause an irritable night's sleep so best to avoid those when shortlisting a selection and stick to what you know.
While the best mattress is part of the foundation of getting a great night's sleep, the right pillow is just as essential. To help, we've researched, slept on, and pulled together an edit of the best pillows to help you decide. Keep scrolling to see what we have deemed the best pillows.
Best pillows of 2022
Why you can trust Homes & Gardens Our expert reviewers spend hours testing and comparing products and services so you can choose the best for you. Find out more about how we test.
1. Casper Original Pillow
Best pillow for all sleepers
Specifications
Sizing: Standard, King
Options: 1.25" low loft, 2" mid-loft
Filling: Polyester Micro Fill
Firmness: Medium
Cover type: 100% cotton
Reasons to buy
+
Great for every sleep position
+
Unique pillow in pillow design for increased support
+
Even distribution of fibers
+
Sleeps cool
Reasons to avoid
-
May not be firm enough for some
-
The medium loft may be too full for some pillowcases
A soft yet supportive down-alternative pillow with a breathable cotton cover for keeping your head cool at night, this Casper pillow has claimed our number one spot, and it's easy to see why…
Coming from a pillow-lover who typically sleeps with a number of pillows, I found comfort and support, with just the one, as opposed to the mountain I typically have on my bed.
What's unique is the design encompasses not one but two pillows. It has an inner pillow with shorter fibers to give you support for your head and neck. And the outer pillow is super-soft and fluffy, like a cloud. It'll also stay plump for longer thanks to the individually blown cluster of clump-resistant of fibers, and it typically reshapes without the need to re-plump. The two-in-one design also makes it super easy to pop the outer pillow into the washing machine on a regular basis.
While Casper set out to develop a pillow that suits all sleep types, it also took into consideration the loft of the pillows, offering a 1.25" low loft and a 2" mid loft. If you're unsure which to choose, a quick questionnaire takes into account your sleep position, mattress feel, height, and weight to give you personalized advice as to the appropriate height for you.
2. Boll & Branch Down Pillow
Best down pillow
Specifications
Best for: Ethical sleep standards
Sizes: Standard, King
Density: Soft, Medium, Firm
Filling: Responsibly sourced down
Cover: 100% organic cotton
Reasons to buy
+
Lightweight and flexible
+
Options for all sleep-preferences
+
Triple-washed, responsibly sourced down
+
100% organic cotton cover
Reasons to avoid
-
Needs re-plumping
-
Gets more expensive the firmer you go
Love the cloud-like feel of down, but not the practices of producing it? We feel you! The Boll & Branch down pillow features down sourced from a cruelty-free farm that is then triple-washed using environmentally-friendly detergent and encased in a 100% organic cotton shell with a dense weave that keeps down in. It's downright soft and luxurious.
Available in three density offerings, you'll find comfort in whichever firmness options you choose, according to the way you sleep. Its supportive sink-in qualities make the soft perfect for stomach sleepers, though side sleepers have reported loving the medium version, and back sleepers enjoyed the firm.
A three-chamber construction helps the pillow keep its shape both through the night and over time. The Soft density is filled with adjustable down in all chambers while the Medium and Firm density pillows feature a more supportive feather and down inner pillow and surrounded by a soft layer of down.
Now, like most traditional down pillows, you'll still find yourself having to plump the pillow every so often, which refreshes the loft, and hence, your experience. It also has no odor and can even appeal to
3. Brooklinen Down Alternative Pillow
Best down alternative pillow
Specifications
Sizes: Standard, King, Euro
Density: Medium
Filling: Polyfill
Cover: 100% Cotton Sateen Shell
Reasons to buy
+
Hypoallergenic and vegan
+
Great Construction
+
365-day return policy
Reasons to avoid
-
Only one density
-
Not machine washable
Down alternative, or polyfill is a great choice for those who like the feeling of down, but don't want to deal with the chance of pointy feathers, its environmental factors, suffer from allergies, or a host of other issues that bring them to synthetic fill.
The Brooklinen Down Alternative Pillow manages to closely mimic the feel of down (seriously, you won't be able to notice the difference) with its shaved microfibers (made from recycled plastic bottles) that seem to mold to the weight of your head. Of course, that also means you still will have to plump here and there, and it eventually will go flat.
You'll find yourself sleeping cool as the cotton sateen cover is breathable and cooling, while the fibers won't retain heat... or trigger allergies.
Brooklinen offers one of the most lenient returns on pillows that we've seen with its 365-day return policy, plus an additional year of warranty. If within the first year, the pillow goes flat or doesn't meet your own expectations, you'll be able to get a refund, hassle-free.
4. Coop Home Goods Premium Adjustable Loft Pillow
Best pillow with adjustable fill
Specifications
Sizes: Queen, King
Density: Variable
Filling: Shredded memory foam and microfiber
Cover type: Bamboo-derived viscose rayon and polyester
Reasons to buy
+
Adjustable height
+
Hypoallergenic
+
Includes extra fill for extra loft
+
Sleeps cool
+
CertiPUR-US® and GREENGUARD Gold certified
Reasons to avoid
-
Where to put the extra filling
-
Off-gassing odor lasts a few days
The long-time best-selling COOP Adjustable Loft Pillow has shaken up how we think about pillows by letting you control the loft and fill power. You can't make the wrong choice here with the ability to stuff as much or as little of the shredded memory foam into your pillow as you need to sleep comfortably. It also comes with an additional refill bag. Our biggest issue with these adjustable pillows is where to keep and contain the extra filling?
Depending on how much of the shredded memory foam and microfiber fill you use, the pillow can sleep firmer or softer. But no matter the amount you choose, these benefits hold true for all: it's hypoallergenic, CertiPUR-US, and GREENGUARD Gold certification, sleeps cool, and you get 100 nights to decide if it's the best pillow for you.
To adjust your pillow, you'll unzip the outer quilted shell, and then the secondary inner lining that contains the shredded memory foam and microfiber fill. The quilted cover is soft and cooling, thanks to Coop's special Lulltra fabric, featuring bamboo-derived viscose rayon blended with polyester. The design also makes it incredibly easy to wash the outer cover in the washing machine.
5. Saatva Latex Pillow
Best luxury pillow
Specifications
Sizes: Standard, King
Density: Medium-firm
Filling: Microdenier fiber, Talalay latex
Cover: Removable 100% organic cotton
Reasons to buy
+
Firm, supportive shredded latex foam
+
Mildew and dust mite-resistant
+
Organic cotton cover
+
45-day trial
Reasons to avoid
-
Expensive
-
Too dense for some
Everything about the Saatva Latex Pillow hints at luxury, eco-luxury that is. The pillow-in-pillow design features a down-alternative shell with a shredded natural latex core for responsive head and neck support, all wrapped in a 100% organic cotton shell.
We'd describe resting our heads on the Saatva Latex Pillow as buoyant and responsive, as it cushions around your head. It feels soft at first lay, but your head doesn't sink too far down, rather it stays supportive for excellent neck and spine alignment. The pillow is also pretty heavy, four pounds, which attests to its durability and loftiness. The pillow has a medium-firmness that makes it excellent for side sleepers and back sleepers who seek loft, but stomach sleepers will need something with less loft.
Saatva offers a 45-day trial period and a 1 year warranty on the pillow.
6. Wavy Swell Pillow
Best memory foam pillow
Specifications
Dimensions: 25in x 15.35 x 5.5in
Firmness: Plush
Filling: 100% polyurethane
Cover type: 100% polyester mesh shell
Reasons to buy
+
Retains shape
+
Stays cool and regulates heat
+
Made in Italy
+
Machine Washable and Dryer Safe
Reasons to avoid
-
Memory foam off-gassing smell
-
Perforated design only on one side
The Wavy Swell pillow changes the pillow game for a number of reasons. Its water-produced foam uses water instead of chemicals to expand pillow foams for a more natural and non-toxic product. The front uniquely features perforations that serve as a grid of channels cut into the foam which creates less surface tension to the face and also provides even more opportunity for air to move away from the face. It's made in Italy, and cut and carved from a block of foam as opposed to the standard way of pouring into a mold. It's also machine-washable and dryer safe, making it extremely easy to wash the pillows. Wavy even offers its own line of all-natural detergents. Woah, that's a lot.
The pillow is covered in a sheer mesh that works with the foam to regulate heat and lets the foam operate at full function. It's not the softest material, so I personally did not choose to sleep on it exposed, but you can still enjoy the full benefits with a pillowcase of a breathable fabric, like cotton or Tencel.
Sleeping with the Swell, the pillow is perfectly squeezable. While I like to back it up during the night with another pillow underneath for extra height, the Swell remains comfortable and cool all night long. It's just as comfortable curling up with it on my stomach as finding neck support on my side. You don't necessarily need to flip the pillow to find the cool side, both sleep cool, but the perforated design is only on the front. When in a pillowcase, it can be harder to differentiate which side is which, and I know you want to maximize all the benefits.
7. Avocado Molded Latex Pillow
Best latex pillow
Specifications
Sizes: Standard, Queen, King
Firmness: Firm
Filling: Natural Latex
Cover type: GOTS- certified organic cotton
Reasons to buy
+
Designed for back and side sleepers
+
Offers excellent neck support
+
Charcoal-infused latex eliminates odors and moisture
+
100-night sleep trial
Reasons to avoid
-
Dense
-
May be too firm for some
-
Not for stomach sleepers
If you've pondered a latex mattress, we think a latex pillow is a good place to start, so you can get a sense of its buoyant properties.
The Avocado Molded Latex Pillow is optimized for side and back sleepers looking for neck support. The firm pillow has about a 5" loft that takes all the pressure off my neck, giving it immediate relief. It's much firmer than I'm used to and doesn't offer that sink-in feeling, rather my head just rests atop. The latex caves ever so slightly, to pop back up the second any weight is lifted. The pillow seems to radiate coolness from its organic cotton cover and continues to stay cool throughout the night.
Avocado uses 100% natural latex, sustainably sourced from their own factories in India that are then poured into a mold the share of a pillow. They infused their molded pillow with charcoal to reduce odor and manage temperature and moisture. The materials have been recognized by eco-INSTITUT to be free of dangerous emissions and synthetic materials, as well as GreenGuard Gold and Formaldehyde free by the UL Environment.
Avocado Green offers a 100-night trial for its pillows, so seeing if this latex design can solve all your sleep dreams, is as risk-free as it gets.
8. Purple Harmony Pillow
Best pillow that sleeps cool
Specifications
Sizes: Standard, King
Options: 5.5" Low, 6.5" Mid, 7.5" Tall
Firmness : Soft
Filling: Talalay latex
Cover type: Mesh cover with purple grid
Reasons to buy
+
Maintains shape
+
Features Purple-grid tech
+
Very breathable
+
100 night trial
Reasons to avoid
-
On the heavier side
-
Can slightly feel the purple grid if not using a pillowcase
If there's a pillow that has made me go, WOW, it's definitely the Purple Harmony Pillow. I've never slept with anything quite like it before, and it's safe to say I'm obsessed.
The Harmony is the perfect mixture of a uniquely Purple Grid Hex gel layer woven into the removable cover with a ventilated Talalay latex core. Together, these two technologies combine to offer insane no-pressure support and stay temperature neutral- for cooling airflow and breathability all night long.
The pillow is available in three lofts to help you find the best support for your sleep style and body: high and medium for combo and side sleepers, and a recently debuted low model. I tried the low (recommended for back and stomach sleepers and smaller framed people), and while at the end of the day, I found that loft, well, too low for my personal taste, that doesn't mean, I'm not an advocate for stacking pillows to enjoy the rest of the benefits this pillow provides. But fortunately, Purple offers a 100-day trial for you to decide if you've gotten the right pillow for your needs.
One thing about this pillow. It's heavy and dense, and not the kind of thing you would want to be slinging around for any pillow fights. At the same time, it's so perfectly squeezable if you love to hug your pillow, before immediately bouncing back to its original shape.
9. Pluto Pillow
Best customizable pillow
Specifications
Sizes: Standard, King
Firmness: Varies
Filling: Varies
Cover type: Cotton
Reasons to buy
+
Made-to-order and customized to your needs
+
Hypoallergenic
+
110 day trial period
Reasons to avoid
-
No down or latex options
-
Slower processing time
Adjustable fill pillows are trending, but Pluto takes the personalization even further with its customizable pillow. After filling out a questionnaire with some demographics, sleep preferences, and even the ability to comment on what you want out of a pillow or add extra results (a human reads it) you'll find yourself with one of over 35 variations through a patented process. Pluto runs your data runs through an algorithm that generates your best pillow, and it's made-to-order.
Pillows will feature various cover materials and fills, but what stays consistent is the hybrid design with a foam inner core and an outer plush pillow, Depending on your responses, your pillow will be finished with a smooth, soft, quilted, or cooling cover, and will have varying fills according to whether you like your pillows soft and squishy or supportive. After my preferences, I received a medium-fill pillow with a smooth cotton cover that was optimal for my back-sleeping tendencies. And it was love at first lay.
If you're planning to buy as a gift or to share with a partner, you'll want to have them fill out their own questionnaire and make their own account. Shipping is free, though you might have to go through multiple transactions.
10. Brentwood Home Zuma Foam Wedge Pillow
Best wedge pillow for elevated support
Specifications
Sizes: 7", 10", 12"
Firmness: Firm
Filling: Memory Foam with Biofoam
Cover type: Bamboo-derived rayon
Reasons to buy
+
Recommended for people who snore, have acid reflux, respiratory issues
+
Reduces neck and shoulder pain
+
Helps with circulation and lower back pain when used for the lower half of the body
+
Breathable, washable bamboo-rayon cover that sleeps cool
+
24" wide to accommodate entire body
Reasons to avoid
-
Takes time for those new to sleeping on an incline to adjust
-
Large and Bulky
A wedge pillow has many benefits to help you find a better night's sleep, including the ability to reduce snoring associated with sleep apnea, lessen acid reflux from GERD, relieve pressure on sensitive areas, and improve circulation. It can also alleviate any neck or shoulder pain. Our pick, the Brentwood Home Zuma Foam Wedge, will aid anyone with a need to sleep at a more elevated height, and this pick feels especially luxurious.
The Zuma pillow is available in three different "heights" to tailor-make your wedge pillow to your needs. The 10-inch size is the most popular and provides a medium amount of lift when laying down; the 7-inch provides a gentler slope and less lift and is recommended for those that just need to be slightly elevated while sleeping, and lastly, the 12-inch provides the highest amount of lift and is best for those that need to sleep in a more upright position.
The wedge pillow is extremely useful to flip the pillow to the sharply inclined side for support when watching TV or reading in bed. Or improve circulation in the lower half of your body and relieve lower back pain and position it under your legs. They're also a great choice for pregnant women to help with any reflux from pregnancy or to keep moms to be from rolling onto their backs.
It arrives neatly packed in a long and slender box before popping up to full size once unwrapped. The memory foam is infused with BioFoam, a patented biological foam made in the United States from vegetable materials and meets CertiPur-US standards, while the removable, washable cover is woven of a stretchy bamboo-derived rayon, that helps draw heat away from the body. Lying down, you'll immediately notice its firm support and gradual slope. At 24" wide and deep, the design comfortably supports the width of your body but may push you closer to the edge of the bed, depending on how high up on the pillow you choose to sleep.
Brentwood Home offers a 30-day trial period and a 1-year warranty on its pillows.
How we tested the best pillows
Months in the making, our editor, Jaclyn, slept on more than a dozen different pillows over the course of the last year. A pillow that feels great the first night, might not hold up in the long run, while a pillow that takes getting used to creeps in as an all-around favorite.
She also enlisted the help of her family, who all sleep in different positions, to give their feedback on the pillows, and try them for themselves. For picks that Jaclyn has personally not tried yet, she crowdsourced from co-workers and friends about the pillow that changed their life, and back up those recommendations by looking into customer reviews.
How to choose the best pillow for your needs?
A good pillow should keep your head, neck, and spine in neutral alignment. To support the head fully the pillow should be nicely tucked into your neck and shoulder.
According to The Sleep Council, a pillow that is too soft will cause your head to flop and a pillow that is too hard will cause neck pain and stiffness.
To choose the right one for you, think about your sleep position. There are pillows recommended for side, back, front, and combination sleepers but there are also different fillings to choose from offering a variety of benefits.
Back sleepers will benefit most from a medium-firm pillow with a medium loft. If it's too soft, your head will sink to a point of little support, and if the pillow is too high, you could be causing undesired strain on your neck. You also want a pillow that won't go flat during the night, making a memory foam or latex pillow a great choice for you!
Side sleepers will love all the loft to cushion their heads and necks. They'll do best with a firmer pillow that keeps them from sinking too far down, which could cause neck strain if your body is not in alignment. Though a little sink-in motion and a fluffy, moldable feeling are desired too.
Stomach sleepers have the highest risk of dealing with neck pain, and even applying pressure on your lower back or abdomen. These sleepers will need a flatter and a soft pillow to help keep heads and necks more in line with the rest of their bodies. A huggable or moldable design is especially beneficial for helping your head conform to the pillow, and for holding on to the pillow while you sleep.
Additionally, allergy sufferers might want to consider microfiber, silk, or memory foam. Other important features to consider are the pillow height or loft, support, and breathability.
This does, of course, mean that if you have a partner, you may each need entirely different pillows, so don't stop assuming that one size (and shape and filling) fits all.
Which pillow filling is best?
There are four main types of filling: down, down alternative, memory foam, and latex. Sometimes you'll see designs that incorporate more than one type of filling. Prices can vary hugely from $5 for a synthetic filling to well over $250 for a 100% Canadian goose-down pillow. Here are the four main pillow types explained:
Down
This premium pillow type is perfect for snuggling, moldable, and oh so soft. Officially, a down pillow has to be made up of at least 70% down feathers – down is fluffier and more delicate and they tend to form a cluster as opposed to a more rigid feather which has a quill that runs down the middle and sometimes pokes out of your pillowcase.
The feathers come from ducks or geese – the latter is more expensive as the clusters formed on geese are larger and therefore softer. They will need regular plumping and may not suit side sleepers who need more height.
Other things to note: they're not vegan, some people are allergic and you can experience pillow noise from some.
Our favorites: Boll & Branch Down Pillow
Down Alternative
This synthetic man-made filling is often made from polyester or microfiber. It is basically plastic but woven into tiny soft and silky fibers. Premium designs can feel down-like whereas cheaper designs can flatten quickly and therefore don't have much of a lifespan.
This is also a good option for allergy sufferers as they tend to be naturally hypoallergenic, they also come in a range of heights and levels of firmness so should suit all types of sleepers.
If you're concerned about your plastic usage, there are more sustainable fillings out there but if you prefer to sleep on microfiber look for brands that only make their filling from recycled plastics.
Our favorites: Casper Original Pillow, Brooklinen Down Alternative Pillow, COOP Home Goods Adjustable Loft Pillow, Saatva Latex Pillow
Memory Foam
First invented in the 1960s by NASA scientists who were looking for ways to improve seat cushioning for astronauts and crash protection, memory foam can offer really good support for anyone suffering from back pain or joint problems. The foam molds to the shape of your head, neck, and shoulders, and when the pressure is removed the pillow bounces back to its original shape so no plumping is required.
They tend to be very firm and heavy and the height for most cannot be adjusted so they are best suited for side or back sleepers – if you wake up on your front you will find it very uncomfortable on your neck and lower back. On cheaper designs, the airflow isn't great so you might complain of overheating or prefer to sleep on a different filling during the warmer summer months.
Our favorites: Wavy Swell Pillow (opens in new tab)
Latex Pillows
Latex pillows are finding their moment in popularity right now, thanks to their ability to conform closely to the sleeper's neck and shoulders to alleviate pressure points for excellent neck and shoulder pain relief. It's almost like memory foam but known to sleep cooler than most foams and is more durable. A latex pillow can last you as long as three or four years, but they usually do have a more expensive upfront cost due to its materials.
We've seen latex pillows in the shape of single-piece molds or shredded, to more or less mimic your favorite down or down-alternative pillows. While hypoallergenic, if you do have latex allergies, it is most prudent to avoid these types of pillows. You'll also find that these latex pillows are not feather-light, and do have a density to them that can make them sleep more firm, though you can still find latex pillows that sleep plush.
Our favorites: Purple Harmony Pillow, Avocado Molded Latex Pillow,
What pillows do five-star hotels use?
When you slide into a cloud-like, hotel bed, what is it that makes them so heavenly? The pillows they use will be mostly 100% goose down-filled or a down alternative if you specify a feather allergy, or some blend of feather and down. Hotels need to offer pillows that suit all sleep types, and some will even offer different pillow options, including foam options... just ask. If you're staying at a luxury hotel, you'll find that a double bed always has at least four pillows on a bed for you to sleep with. Some may even be marked soft or fir.
They are always super fluffy, plumped to perfection, and tend to be larger than standard size for a positively luxurious experience. Hotel beds always come with an abundance of pillows, too (plenty to prop you up for your morning coffee and paper) and they often use crisp, white Egyptian cotton bed linen with a high thread count of at least 250.
How to take care of pillows
To keep your pillows fresh and in top shape, you'll definitely need to take the time to clean them. While they don't need to be washed as often as your sheets, it's still vital to take the time to understand how to wash a pillow. Each pillow type will follow a different set of instructions, so in general, check the care tag of your pillow. Most feather pillows can be washed on a gentle cycle, or hand washed, while a foam pillow will last longest when hand washed or spot cleaned.
What is the best pillow?
To recap... the best pillow you can buy is the Casper Pillow, which feels luxurious, and has achieved that perfect balance of support and comfort. It's also breathable and washable, which is a bonus.
We also love the Purple Harmony Pillow, which if you have traditionally gone down the down or memory foam route, it's a great innovative and cooling option.
You've reached the end of the page. Jump back up to the top ^