Best pillow 2023: tried and tested for every sleepy head
These best pillows have been reviewed and recommended by our sleep expert, for comfier sleep free from aches and pains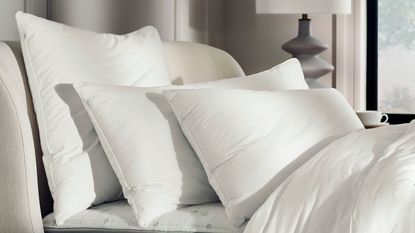 (Image credit: Boll and Branch)
After spending hundreds of nights, trying out more pillows than we can count, it's settled: Having one of the best pillows can make a major difference in how well you sleep. A simple swap from your tired, flat pillows to a fresh, plush pair can provide immediate relief from an uncomfortable night's sleep. If you're waking up with a neck or back ache, are overheating at night, or your pillows are simply looking tired, it's time to buy some new ones.
Best pillow guide
With many pillow types to choose from, there's one to suit every sleep style. Side sleepers, and back and stomach sleepers require different lofts of support to keep the head and neck aligned when lying down. And if you suffer from allergies or find yourself flipping to the 'cool side of the pillow', there are different fillings for your needs.
Below are eight pillows we rate as best, based on comfort, support, and cost. Included are pillows from brands that also make some of the best mattresses on the market, like Saatva, Casper, and Boll & Branch– so you can trust you'll get a great night's sleep.
Best pillows of 2023
You can trust Homes & Gardens. Our expert reviewers spend hours testing and comparing the latest products, helping you choose the best for you. Find out more about how we test.
Best pillow overall
1. Casper Original Pillow
Best pillow for all sleepers
Specifications
Size: Standard, King
Filling: Polyester Micro Fill
Firmness: Medium
Cover type: 100% cotton
Reasons to buy
+
Great for every sleep position
+
Gives increased support
+
Even distribution of fibers
+
Sleeps cool
Reasons to avoid
-
May not be firm enough for some
Why you should buy it
Our tester Jaclyn found as much comfort and support with just a single Casper Original as the mountain of pillows she usually has on her bed. This is thanks to a unique design that combines two specialized layers – an inner pillow with shorter fibers to support the head and neck and a super-soft, fluffy outer pillow.
Why we love it
It'll stay plump for longer thanks to the individually blown cluster of clump-resistant fibers, and it reshapes without the need to re-plump. This two-in-one design also makes it super easy to pop the outer pillow into the washing machine. If you run a little hot at night, this soft but supportive down-alternative pillow comes with a breathable cotton cover that will keep you cool.
Good to know
While Casper set out to develop a pillow that suits all sleep types, it also took into consideration the height of the pillows, offering a 1.25" low loft and a 2" mid loft. If you're unsure which to choose, they offer a quick questionnaire to give you personalized advice on the appropriate height for you.
Best cooling pillow
2. Sleep Number True Temp Ultimate Pillow
Best cooling pillow
Specifications
Size : 16"W x 22"D x 5"-6"H
Firmness: Medium Plush
Filling: 77% Polyurethane Foam, 23% Viscoelastic Polyurethane Foam
Cover type: Polyester/ Spandex
Reasons to buy
+
Three customizable heights for a 4",5" or 6" contour
+
Also available in a standard and contour style
+
Temperature Balancing
Reasons to avoid
-
Memory foam off-gassing smell
-
Likely too thick for stomach sleepers
Why you should buy it
Sleep Number's True Temp Pillow is an extremely supportive pillow that sleeps super cool.
Why we love it
It has a specially molded foam top layer with perforations for breathability and support, followed by two-inch-thick foam layers that can be removed. It has an undulating contour design for better head and neck support. But most importantly, this memory foam is temperature regulating – so you won't need to turn the pillow over to its fresh side. All the foams are CERTIPUR-US too, meaning they're free of harmful materials and emissions. As a back sleeper, Jaclyn particularly liked the pillow at its 5-inch level, with one foam block removed. It's a dense pillow, but just squeezable enough.
Good to know
This pillow is marketed to work for all sleep types, but it may be too thick for front sleepers. There's also the typical memory foam off-gassing for the first few nights.
Best down pillow
3. Boll & Branch Down Pillow
Best down pillow
Specifications
Sizes: Standard, King
Firmness: Soft, Medium, Firm
Filling: Responsibly sourced down
Cover type: 100% organic cotton
Reasons to buy
+
Lightweight and flexible
+
Options for all sleep-preferences
+
Triple-washed, responsibly sourced down
+
100% organic cotton cover
Reasons to avoid
-
Needs re-plumping
-
Gets more expensive the firmer you go
Why you should buy it
If you love the feel of down but are uncomfortable with how it's produced, the Boll & Branch Down Pillow is the perfect pillow. The down fill is sourced from a cruelty-free farm that is then triple-washed using environmentally-friendly detergent and encased in a 100% organic cotton shell.
Why we love it
A three-chamber construction helps the pillow keep its shape both through the night and over time, Available in three sizes: the Soft density is filled with adjustable down in all the chambers while the medium and firm pillows feature a more supportive feather and down inner pillow, surrounded by a soft layer of down. I've found that the soft option is perfect for stomach sleepers, but side sleepers report loving the medium version, and back sleepers typically select the firm.
Good to know
Like most traditional down pillows, you'll still have to plump the pillow every so often. This hypoallergenic design is a great choice if you suffer from allergies, which also means this pillow is odorless.
Best memory foam pillow
4. Coop Home Goods Premium Adjustable Loft Pillow
Best pillow with adjustable fill
Specifications
Sizes: Queen, King
Firmness : Customizable
Filling: Shredded memory foam and microfiber
Cover type: Bamboo-derived viscose rayon and polyester
Reasons to buy
+
Adjustable height
+
Hypoallergenic
+
Includes extra fill for extra loft
+
Sleeps cool
+
CertiPUR-US and GREENGUARD Gold certified
Reasons to avoid
-
Where to put the extra filling
-
May be too soft for some
Why you should buy it
The long-time best-selling COOP Adjustable Loft Pillow lets you precisely control the loft and fill of your pillow. Simply stuff as much of the shredded memory foam into your pillow as you need to make your pillow firmer or softer.
Why we love it
To adjust your pillow, unzip the outer quilted shell, and then the secondary inner lining that contains the shredded memory foam and microfiber fill. The quilted cover is soft and cooling, thanks to Coop's special Lulltra fabric, featuring bamboo-derived viscose rayon blended with polyester. This memory foam is hypoallergenic, has CertiPUR-US and GREENGUARD Gold certifications, and you get 100 nights to decide if it's the best pillow for you. I found the design also makes it incredibly easy to wash the outer cover in the washing machine.
Good to know
Once you've adjusted your pillow exactly as you want it, you're left with a load of extra filling to store. I've ended up with mine in a bag under my bed. As much as I like this pillow, I do find it the 'sink-in' feel too soft for my liking. Back sleep especially may agree.
Best pillow for back pain
5. Purple Harmony Pillow
Best pillow for back pain
Specifications
Sizes: Standard, King
Firmness : Soft
Filling: Talalay latex
Cover type: Mesh cover with purple grid
Reasons to buy
+
Maintains shape
+
Features Purple-grid tech
+
Very breathable
+
100 night trial
Reasons to avoid
-
On the heavier side
-
Expensive
Why you should buy it
The Purple Harmony pillow uses high-quality tech to help with any aches and pains you make wake up to. Our tested Jaclyn claims she has 'never slept with anything quite like the Purple Harmony Pillow before, and over a year later, is still obsessed.'
Why we love it
The Harmony is the perfect mixture of a uniquely Purple Grid Hex gel layer woven into the removable cover with a ventilated Talalay latex core. Together, these two technologies combine to offer insane pressure support and stay temperature neutral for airflow and breathability all night long. This pillow is heavy and dense, but this makes it perfectly squeezable, and if you love to hug your pillow, it will bounce back to its original shape.
Good to know
The Harmony pillow is available in three lofts to help you find the best support for your sleep style and body: a tall, medium for combo and side sleepers, and a low model. I tried the low (recommended for back and stomach sleepers and smaller framed people) but found that particular loft too soft for me. It's also a pretty pricey option. Fortunately, Purple offers a 100-day trial for you to decide.
Best down-alternative pillow
6. Brooklinen Down Alternative Pillow
Best down alternative pillow
Specifications
Sizes: Standard, King, Euro
Firmness : Medium
Filling: Polyfill
Cover type: 100% Cotton Sateen Shell
Reasons to buy
+
Feels just like feathers
+
Hypoallergenic and vegan
+
Great construction
+
365-day return policy
Reasons to avoid
-
Only one density
-
Not machine washable
Why you should buy it
Down alternative or polyfill, is a great choice if you don't want a down pillow but love the feel of the natural filling. Whether you want to avoid allergies or pointy feathers, the Brooklinen Down Alternative Pillow mimics down with shaved microfibers made from recycled plastic bottles.
Why we love it
The synthetic filling molds well to the weight of your head that you won't even notice the difference. Of course, that also means you still will have to plump here and there. The cotton sateen cover is breathable and cooling, so this is another good option if you get hot at night. Best of all, Brooklinen offers one of the most lenient returns on pillows that we've seen. Its 365-day return policy is coupled with an additional year of warranty, so if the pillow goes flat or doesn't meet your expectations, you can get a refund, hassle-free.
Good to know
This pillow only comes with one density, so it might not fit your sleeping style. Jaclyn found this pillow to a great for side sleepers, like herself, but may be too soft for those who sleep on their back. It's also not machine washable, which is a little inconvenient.
Best luxury pillow
7. Saatva Latex Pillow
Best luxury pillow
Specifications
Sizes: Standard, King
Firmness : Medium-firm
Filling: Microdenier fiber, Talalay latex
Cover type: Removable 100% organic cotton
Reasons to buy
+
Firm, supportive shredded latex foam
+
Mildew and dust mite-resistant
+
Organic cotton cover
+
45-day trial
Reasons to avoid
-
Very expensive
-
Too dense for some
Why you should buy it
Just like their mattresses, everything about the Saatva Latex Pillow is luxurious. And while this one might cost you your savings, it won't cost the earth.
Why we love it
The pillow-in-pillow design features a down-alternative shell with a shredded natural latex core for responsive head and neck support, all wrapped in a 100% organic cotton cover. This buoyant and responsive pillow cushions around my head. While it feels incredibly soft, there's no sinking feeling, as it stays supportive for excellent neck and spine alignment. Saatva offers a 45-day trial period and a 1-year warranty on its pillow, so you can make sure that it suits your sleep style.
Good to know
The pillow has a medium firmness that makes it excellent for side sleepers and back sleepers who seek loft, but stomach sleepers will need something less firm.
---
How we test pillows
Our previous e-commerce editor Jaclyn has slept on more than two dozen different pillows to deliver you the best pillows that will transform how you think about sleep. A pillow that feels great the first night might not hold up in the long run, while a pillow that takes getting used to can become a firm favorite. On test, these pillows are slept on for weeks at a time, but our picks are the ones that continue to make it back into the rotation.
She also enlisted the help of her family, who all sleep in different positions, to give their feedback on the pillows, and try them for themselves. I've also tried out a few in this best list, so you can trust these pillows have been in thorough hands. During the testing process, we've made sure to back up our recommendations by looking into customer reviews.
For more insight into our heads-on review process, refer to our how we review guidelines.
Meet our tester
Tested by
Our former sleep e-commerce editor, Jaclyn frequently tests out and stays up to date on all things mattresses and bedding. She's not willing to sacrifice comfort or value and is after a mattress that makes it easy to sleep through the night. In addition to Homes & Gardens, you can find her work in Real Homes, Livingetc, Apartment Therapy, MyDomaine, and The Spruce. She lives in Atlanta, GA.
How to choose the perfect pillow
How to choose the best pillow for your needs?
A pillow has a major impact on your sleep quality. A good pillow should keep your head, neck, and spine in neutral alignment. According to The Sleep Council, a pillow that is too soft will cause your head to flop and a pillow that is too hard will cause neck pain and stiffness. To support the head fully the pillow should be nicely tucked into your neck and shoulder. To ensure the best comfort and support, you should consider your sleep style. Different firmnesses and lofts are recommended for side, back, front, and combination sleepers.
Back sleepers will benefit most from a medium-firm pillow with a medium loft. If it's too soft, your head will sink to a point of little support, and if the pillow is too high, you could be causing undesired strain on your neck. You also want a pillow that won't go flat during the night, so memory foam or latex pillows are a smart choice.
Side sleepers will love all the loft to cushion their heads and necks. They'll do best with a firmer pillow that keeps them from sinking too far down. A little sink-in motion and a fluffy, moldable feeling are a good call too.
Stomach sleepers have the highest risk of dealing with neck pain, and even trouble in the lower back or abdomen. These sleepers will need a flat, soft pillow to help keep their head and neck in line with the rest of their body. A huggable or moldable design is especially beneficial for helping your head conform to the pillow, and for holding on to the pillow while you sleep.
Additionally, you should consider what additional needs you have. Allergy sufferers might want to consider microfiber, silk, or memory foam. And if you sleep hot, you should make sure your pillow has a breathable layer or cotton cover.
Which pillow filling is best?
There are four main types of filling: down, down alternative, memory foam, and latex. Sometimes you'll see designs that incorporate more than one type of filling.
Down: Officially, a down pillow has to be made up of at least 70% down feathers – which is fluffier and more delicate as they tend to form a cluster as opposed to a more rigid feather that sometimes pokes out of your pillowcase. The feathers come from ducks or geese – the latter is more expensive. They will need regular plumping and may not suit side sleepers who need more height.
Down Alternative: This synthetic man-made filling is often made from polyester or microfiber. It is basically plastic but woven into tiny soft and silky fibers. Premium designs can feel down-like whereas cheaper designs can flatten quickly and therefore don't have much of a lifespan.
A good option for allergy sufferers as they tend to be naturally hypoallergenic. If you're concerned about your plastic usage but prefer to sleep on microfiber, look for brands that only make their filling from recycled plastics.
Memory Foam: Memory foam can offer really good support for anyone suffering from back pain or joint problems. Memory foam pillows can be subbed into solid core and shredded memory foam types. Foam piece mold to the shape of your head, neck, and shoulders, and when the pressure is removed the pillow bounces back to its original shape so no plumping is required. They're also cheaper to produce, making them more affordable than other options.
Latex Pillows: Latex pillows are finding their moment in popularity right now, thanks to their ability to conform closely to the sleeper's neck and shoulders to alleviate pressure points for excellent neck and shoulder pain relief. It's similar to memory foam but known to sleep cooler. A latex pillow can last you as long as three or four years, but they usually have a more expensive upfront cost due to their materials.
FAQs
How often should you replace pillows?
'The general rule of thumb is to replace your pillow around every two years' states Parima Ijaz, founder of bedding brand Pure Parima. However, how long your pillows last will depend on your sleep routine, and how well you look after them. 'Some of your pillows may not be used as often as others and your everyday pillow could start to deteriorate much quicker.' To ensure you're not sleeping on a t