Best mattress sales: top deals on tested beds from Casper, Nectar and more
We've rounded up the best mattress sales on at the moment, so you can upgrade your bedroom and get better sleep, for less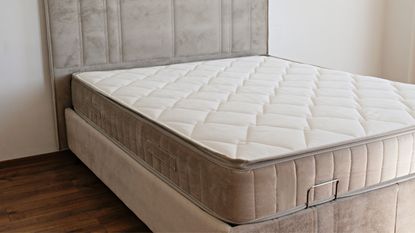 (Image credit: Credit:Evrymmnt Creative #:1392544739)
If you're in need of a new bed, you'll know how hard navigating the mattress market can be – and how expensive the best mattresses can get. The good news is, there are some great deals and discounts on at the moment to make the most of it. Across many big-name bedding brands, including Casper, Nectar, Dreamcloud, and Saatva, you'll find money off their best-selling beds.
But finding the best deal isn't a dreamy task. Many mattress brands and retailers may market their sales as great value, but you could find the bed of your dreams with an even bigger discount. As your sleep editor and shopping expert, I've rounded up the best deals around – on the beds that pass our test as the best.
I've listed the mattresses our team has reviewed first-hand, as well as the best deals on brands we know and love, so you know you're getting a good saving and a great night's sleep. There's $375 off our pick for the best mattress, for example, and 33% off the Nectar mattress, which is both their top-rated model and our best mattress for back pain.
I've got you covered with memory foam mattresses for under $500, organic mattresses at more affordable prices, and hybrid mattress deals you won't want to miss. All the prices we've listed are for a queen size.
So whether you've had your eye on a specific model for a while, or are on the hunt for a great bed with an equally great price tag, shop these sales, and upgrade your sleep, for less.
Best mattress deals
Here are the best deals on mattresses we love. They feature in our best mattress guide and we've tested every single one – so you can be sure to get a great night's sleep.
Best mattress in a box deals
The best box mattresses are already affordable. Get your new bed for an even greater price in the Memorial Day sales. These are the ones we've reviewed of course, for your convivence.
Best memory foam mattress deal
Memory foam mattresses are the most popular mattress type on the market right now. Know you love memory foam or want to try it for the first time? These are the best ones on offer:
Best organic mattress deal
For the eco-conscious, Memorial Day is the best time to buy an organic mattress. They're usually very expensive due to naturally sourced materials, so if you can get one at a discount, don't snooze.
Best cooling mattress deals
Get hot at night? The best cooling mattress is the answer to your sleep needs. Get one at a discount and sleep even cooler.
Best mattress topper and protector deals
Not ready to invest in a new mattress, or maybe your bed doesn't need replacing just yet – there are Memorial Day deals on the best mattress toppers and mattress protectors to make the most of too.
A-Z: Every brand sale live today
Those are our picks of the best value deals from a very crowded market. If you're still looking for a different retailer, here's more detail on the best brands and deals, listed in alphabetical order.