I'm a shopping writer – these are the best places to buy bathroom vanities in 2023
For a storage unit and a getting-ready station in one stylish piece, you need a bathroom vanity. Here's where to buy the best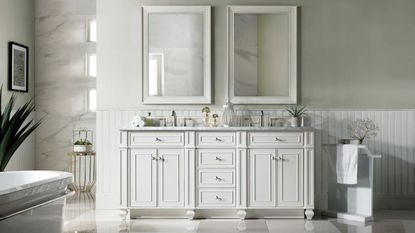 (Image credit: Vanities Depot)
Best places to buy bathroom vanities 2023: Jump Menu
When you're getting ready in a rush, there's nothing worse than a cluttered bathroom. It's so much harder to find that skincare bottle or make-up brush you need when your products are strewn across the room.
In a vanity, everything has a home. With the right bathroom vanity, you can maximize your storage space without sacrificing your style. There are freestanding vanities that make a statement in the center of your floor, as well as wall-mounted vanities that seem to float above it. A cute and compact corner vanity would fit right into a smaller bathroom, while a master bathroom might be better served by a double vanity with multiple sinks and more storage space. There are colorful vanities, and classic white ones, in modern, traditional, and transitional styles.
With so many options, it's easy to feel spoiled for choice. That's where I come in. As a shopping writer, I know where to buy the best bathroom vanities. I've spent hours searching the sites of the top bathroom retailers and taking stock of their selection. I've found six stores that sell vanities to suit every size and style of bathroom.
Whether you're shopping for a single sink or a sprawling double vanity, these stores have got you covered.
Best places to buy bathroom vanities in 2023
You can trust Homes & Gardens. Our expert reviewers spend hours testing and comparing the latest products, helping you choose the best for you. Find out more about how we test.
Lowes
A simple search for 'bathroom vanities' yields over 12,000 results at Lowe's. With so many options, it's easy to feel overwhelmed. Luckily, Lowe's specialist filters help to narrow the search. You can shop for bathroom vanities by width to ensure you only see the pieces that will fit into your space. Lowe's stocks everything from small to standard to super-sized vanities. You can also shop for specific features, such as integrated electrical outlets to plug in razors or charge toothbrushes, or soft-close doors and drawers for nearly-silent storage. If you're a first-time renovator, and you're keen to avoid bathroom renovation mistakes, you'll love Lowe's how-to blogs.
+ Saves space
- Less suitable for master bathrooms
Made from MDF with a faux-wood finish, this moisture-resistant vanity looks like the real thing, but it won't rot in the warm, damp conditions of a bathroom.
Water Creation Palace Vanity
+ Ample storage space
- Some assembly required
The Palace Vanity packs serious storage space, with six drawers, four doors, and two interior shelves to store your skincare products and your spare linen.
Pottery Barn
Pottery Barn puts their bestselling bathroom vanities right at the top of the page, so you can see the pieces that have been bought and loved before. Most of Pottery Barn's best vanities are shaker-style, or transitional, combining classic materials, like wood caning with all the modern conveniences. Eco-conscious shoppers will be pleased to hear that every purchase of a wooden vanity plants a tree. Before you buy, it's worth noting that, while their bathroom vanities arrive pre-assembled, Pottery Barn recommends professional installation. If that isn't in your budget, you might want to shop elsewhere.
Benchwright Double Vanity
+ Dovetailed for durability
- Professional installation recommended
This vanity is fitted with three drawers and two cubbies, each with an adjustable shelf, so you can create your own storage solution.
Sausalito Single Sink Vanity
+ Classic design
- Tricky to clean
This shaker-style vanity comes with a marble top that's right on trend. It's beautiful, but a little high-maintenance, and you'll need to avoid chemical cleaners.
Crate and Barrel
Crate & Barrel offers a limited but carefully curated selection of beautiful bathroom vanities. Made from natural materials with intricate designs and plenty of hidden doors and drawers, their pieces marry form and function. These are premium vanities and they come with a premium price tag: many cost more than $2000. That might sound like a lot to spend on a bathroom vanity, but you can get more for your money if you know how to look. A few of these pieces come with complementary mirrors and trays to complete the look.
+ Easy to instal
- Faucet, drain and backsplash not included
This single-sink vanity straddles casual and traditional styles. It comes with a large cut-out on the back panel for easy plumbing access.
Carmen Double Sink Vanity
+ Statement piece
- Less suitable for smaller bathrooms
Crafted from solid ash wood, this vanity is cut with clean lines and topped with Volakas marble. It's a great fit for master bathrooms.
Home Depot
Whether you know the exact make and model of your desired bathroom vanity, or you're just searching for inspiration, you'll find it on Home Depot. You can shop for vanities by color, style, and width to find the unit that best suits your space. There's even an option to browse for bathroom vanities without tops and fit your own or select a new vanity top and slot it into your old cabinet. For extensive bathroom redesigns, Home Depot is the place to go. Their 'Complete the Project' page links to all the best bathroom faucets, tiling, mirrors, and more to match your vanity.
Cambridge Bathroom Vanity
+ Ample storage space
- Assembly required
This vanity comes with pre-drilled holes and an illustrated installation guide for easy, do-it-yourself assembly.
+ Suitable for master bathrooms
- No single-sink option
Made from solid wood and sealed for water resistance, this double vanity should stand the test of time. It comes with a reversible side-splash for versatile placement.
Anthropologie
If you're shopping for a bathroom vanity that makes a statement, you'll find it on Anthropologie. While most of their vanities come in natural wood shades, there are a few painted pieces in blush pinks and blue grays. These units are ideal for anyone who wants to experiment with colorful bathroom ideas without redecorating the whole space. Buyers on a budget will be disappointed to hear that Anthropologie offers limited control over which units you see. Since there are only two price categories, you can only shop for vanities which cost more or less than $500. There's no option to set your own upper and lower limit.
+ Customizable
- Less suitable for master bathrooms
This short and stylish vanity comes with brass or chrome accents, so you can choose the unit that best complements your color palette.
Handcarved Gulliver Vanity
+ Statement piece
- Less suitable for master bathrooms
Made from acacia wood and hand-carved with intricate patterns, this single-sink vanity would stand out in a guest bathroom or ensuite.
Walmart
Where most home stores stock vanities in modern, traditional, and transitional styles, Walmart gets much more specific. You can shop for coastal vanities to complement your beach bathroom decor or classic vanities with contemporary features that fit right into mid-century modern homes. Unlike the rest of the retailers on this list, Walmart lets you set your own budget on a sliding scale. You can fix your upper and lower limits down to the dollar. The best bathroom vanities cost hundreds, rather than thousands, of dollars at Walmart.