Bathroom vanity ideas – 26 ideas for a stand out vanity area
Our bathroom vanity ideas can elevate any bathroom scheme with personality and practicality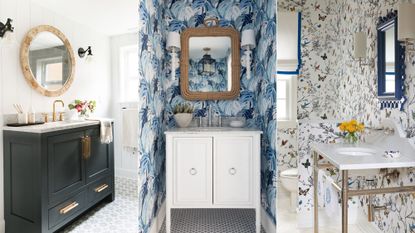 (Image credit: Cohesively Curated Interiors/Carina Skrobecki/Karen B. Wolf Interiors/Raquel Langworthy Photography/Jane Beiles)
Bathroom vanity ideas are an often overlooked part of bathroom design with tubs, showers and tiling taking centerstage. However, this single piece of furniture has the power to make or break your bathroom design.
Finding the perfect balance between style and practicality is key. From choosing the right countertop material to finding the perfect silhouette for your space, these bathroom vanities will keep your bathroom ideas organized while also adding character and personality to your space.
'Storage is incredibly important and is worth serious consideration. There are two general schools of thought – either hide the storage area or go bold and make it a design feature. A beautiful vanity unit can make your basin a focal point, as well as providing that much needed storage for cleaning materials and lotions and potions. For a more contemporary theme, a wall hung unit with sliding drawers is a popular solution,' says Phil Etherden, managing director of The Albion Bath Company.
Bathroom vanity ideas
When designing a bathroom vanity, think about the practicalities – how your vanity will work day to day – as well as its aesthetics. Striking the right balance between these two elements will make for a long-lasting, functional design that you will love.
From floor-standing to floating, wall-hung to double and single vanity designs, using a stylish vanity unit can beautifully transform the look and feel of your bathroom. We have curated a collection of smart bathroom vanity ideas that can integrate into bathrooms of all sizes and styles, along with some helpful advice from design experts on how to best incorporate a stylish vanity unit into your bathroom.
1. Pick the right size and shape vanity for your room
The style and shape of your vanity will primarily be defined by the size and shape of your bathroom. For a large spacious master bathroom, a double vanity makes for the perfect star attraction, while smaller cloakroom ideas will require a more compact, petite design.
'There are so many options for bathroom vanities, depending on the look you want to achieve. This bathroom is defined by its narrow profile, so it was important to find a piece that would work well in the space. Opting for this modern design, which is on legs rather than cabinetry and a minimalist white countertop makes the room appear brighter and airier,' explains Kristina Phillips of Kristina Phillips Interior Design.
2. Opt for a floating basin in small bathrooms
If you're trying to figure out the perfect bathroom vanity ideas for a small bathroom design, then a wall-hanging unit is the perfect piece. Creating the illusion of more space, is exposes the flooring beneath – this emphasizes the footprint of the room while also showing off even more of your elegant bathroom flooring.
'A floating vanity creates the illusion of more space when the floor is exposed –especially if combined with hidden pipes and a wall mounted faucet. What's possible with a vanity depends on existing plumbing and whether the pipes are being floor mounted or wall mounted. It's important to discuss with your plumber what's possible first and then source a vanity that fits your design vision,' said Jameelah Davis and Ebonee Clark, co-founders of Lauren Wesley Designs.
3. Pay attention to your countertop material
The countertop material is a vital component of your bathroom vanity ideas. Taking up a significant portion of the room, it will play a significant role in setting the tone and atmosphere for the room. As such, your bathroom countertop ideas are an as important part of your bathroom vanity ideas as the base on which it stands. After all, you will see a lot more of the countertop than you will the drawers or legs beneath.
'We're seeing more organic materials in bathroom design. Stone, concrete, and even teak are becoming luxury chic in bathrooms. It's a simple design element, but it gives the bathroom a finished feel,' explains Lance Thomas of Thomas Guy Interiors.
4. Maximize awkward spaces by installing a fitted vanity
Bathrooms are traditionally the smallest room of the house and as such have to make the most of the available space. As such, every nook and cranny has a valuable role in your bathroom design. Here, a small corner of the bathroom has been utilised to house a fitted vanity complete with marble countertop and upstand. It has been paired with statement wall lights and mirror to create a compact space which is just as functional as larger bathroom vanity ideas
5. Use your vanity to add block color to your space
If you have a minimalist bathroom decorated in a monochrome scheme, then your vanity offers the perfect opportunity to add more bathroom color ideas to your room. This beautiful cornflower blue vanity has a symmetrical design which suits the clean lines of the room, while also bringing color and character to the space. The vanity is accentuated with black brassware which ties the new piece in with the existing taps, door knob and light fixtures.
6. Give your bathroom a lifestyle aesthetic with a dresser inspired vanity
With so many bathroom vanity ideas available, it can be hard to find the right fit for your space. 'A great way to refresh a tired bathroom is to opt for a vanity that looks like furniture, such as this dresser inspired vanity. Opt for a design that extends all the way to the side wall to ensure the maximum amount of usable counter space. Adding a mirror wall with sconces mounted above the vanity ensures plenty of reflected light,' says Kristina Phillips.
7. Create a statement with a colored marble design
Reminiscent of luxury hotels, a double console is a grand addition to a bathroom or en suite. A symmetrical twin basin will provide more than enough space for both you and your partner to get ready in the morning while also making an opulent statement. To embrace luxury bathroom ideas, opt for a vanity with an open frame and use the countertop as an opportunity to embrace marble bathroom ideas, as seen in this richly colored Verde Guatemala marble washstand with antique brass stand from Drummonds.
8. Add a curtain for cottage charm
Nothing creates a laid-back cottage feel than floral prints – whether that's as part of cottage kitchens ideas or cottage bathroom ideas.
'All the hard surfaces of a bathroom can create quite a clinical feel, so we like to bring in fabric and color where we can to add softness and warmth,' says interior designer Sarah Vanrenen of Vanrenen GW Designs. 'Here, a pretty chintz curtain hangs from a scalloped frame, concealing plenty of bathroom storage.'
9. Choose gray for timeless style
'A serene space with classic design details will always stand the test of time. I am a big believer that neutral classics do not necessarily need to mean boring. You'll see I played with tonal grays – a soft dove for the vanity, a veined white/gray marble for the countertops, against a slightly creamery gray tile for the backsplash, This subtle contrast between these various grays creates some dimension in the bathroom without it feeling overwhelming or busy,' says Georgia Zikas, interior designer and founder of Georgia Zikas Design.
There are plenty of inspiring gray bathroom vanity ideas to help you find the perfect fit for your bathroom too.
10. Maximize vanity storage for a minimalist bathroom aesthetic
As the smallest room of the house, bathroom space is at a premium and therefore it is vital that your bathroom vanity ideas and with it your bathroom storage ideas work for you. 'You have to maximize every inch of space you have in the bathroom,' says Mel Bean of Mel Bean Interiors. 'Adding mirrors, vertical sconces create the illusion of more space. While built-in cabinetry and a multi-drawered vanity adds function as well as sleek design so you can keep the counters free of clutter.'
11. Capitalize on your vanity's elegance with bathroom lighting
In order for your vanity unit to be well-lit and functional for use at all times of day, planning in lighting designs beside your mirrors is essential.
With so many beautiful bathroom lighting ideas to choose from, why not make a statement with your vanity lighting.
These traditionally inspired gold and glass wall lights create an eye-catching focal point in the room. Positioned above the mirror helps to maximize the illumination provided by the lights – a great option for bathroom lighting ideas over mirrors.
12. Repurpose antique furniture to create a stylish bathroom vanity
Back in time, this antique vanity unit would have had a china or tin basin and jug sat on its marble top for washing.
This makes it a prime candidate for conversion if you are looking for traditional bathroom ideas. A skilled carpenter and plumber can easily cut holes for plumbing to create an authentic looking vanity unit, with all the efficiencies of a modern piece – such charm!
13. Combine open and closed storage
One of the key elements of a bathroom vanity unit is storage, and choosing a design that combines open and closed storage is a great option for when organizing a bathroom vanity.
Simon Temprell, Interior Design Manager at Neptune states, 'closed cabinetry is perfect for keeping the bathroom looking neat and tidy, but it is nice to have some open storage too for the display of towels, bottles, jars and accessories.'
As shown in this bathroom by Neptune, the vanity unit contains a practical, large draw, with open, low-level shelving. Having open shelving such as this allows for you to get creative and decorative with bathroom accessories, with the two woven baskets used in this space adding inviting texture and softness to the space, great for bathroom shelf ideas.
14. Organize your bathroom with two single vanities
Great for master bathroom ideas, using two single vanity units can make a bathroom feel more organized, spacious and distinguished, it can also lead to more creative freedom when decorating and styling the unit, making it completely your own.
In this bathroom, the two Edinburgh Washstands by Neptune are positioned close together to establish a vanity zone in the bathroom, however, by using two separate units, it makes the area feel more spacious, ideal for when there is more than one person occupying the bathroom.
15. Choose a sleek modern, design
Of course, there are a range of bathroom vanity ideas out there from which to choose, whether that's a rustic wooden design, to a traditional metal unit with exposed framework. For a more modern look, why not choose a design similar to the sleek and sophisticated custom unit shown above by Ripples.
Defined by a smooth, white countertop, flush gray draws and cabinets, and a large mirror with integrated shelving and lighting, this vanity design embraces an uncluttered, minimalist look, taking inspiration from modern cabinet designs like that found in a kitchen. A central unit such as this is a great option for bathroom organization ideas.
For modern bathroom ideas like this, Ripples Senior Designer Jo Sangster states, 'by wall mounting vanity units and other furniture items, you open up the floor space and create a less cluttered look. When paired with low level lighting, the effect is maximized.'
16. Keep it simple with a single vanity unit
Vanity units come in all shapes and sizes, and for small bathroom ideas, a single vanity unit can slot in perfectly.
James Lentaigne, creative director at Drummonds states, 'when choosing a vanity unit, it's vital to take into consideration the size of the bathroom. Vanity units tend to be large, impressive statement pieces and so it's important to choose a style/size that doesn't overwhelm the space. We have launched a range of compact vanity units, which are specifically designed with smaller bathrooms in mind.'
17. Opt for a floating countertop to highlight cast basins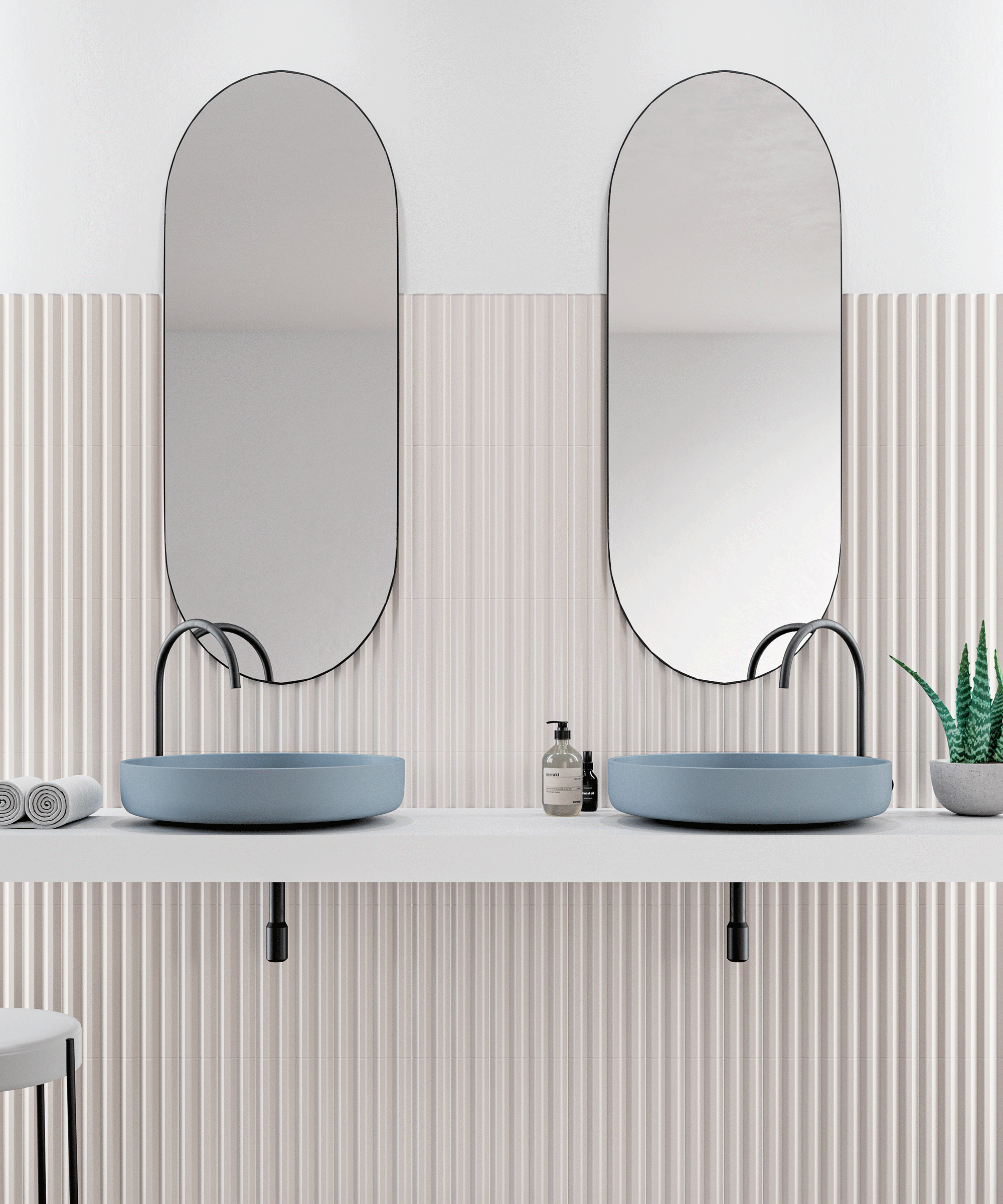 Celebrate the shape of beautifully cast bowls with counter-mounted installation. Also known as 'lotus-mounted', this is a sophisticated look that benefits from a contrasting backdrop.
Here, three-dimensional tiles provide subtle interest without stealing the limelight. You may need a taller faucet to ensure sufficient space between spout and basin, so go wall mounted for precise placement. On a modern deck-style vanity like this one, do invest in attractive waste traps.
18. Play with symmetry with perfectly spaced basins, mirrors and lights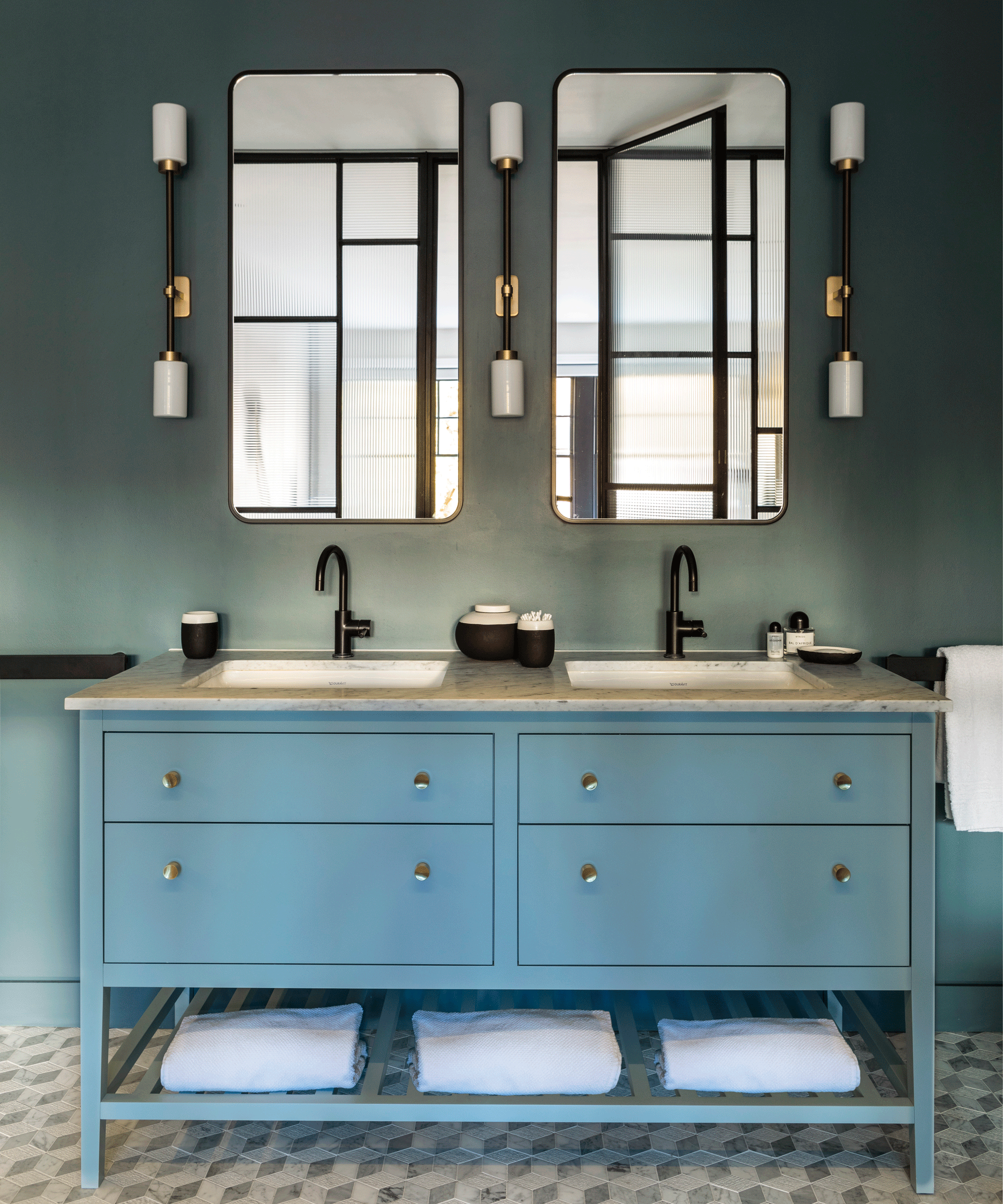 'A symmetrically designed vanity unit helps create a calming sense of balance. Take the symmetry up a level with perfectly spaced mirrors and wall-mounted bathroom lighting ideas, as shown above,' says Irene Gunter, director, Gunter & Co.
'This approach helps zone the unit, giving each user their own clearly defined wash-space. We like to allow at least 15cm between basins to provide sufficient elbow room for two to use comfortably.'
19. Choose undermounted basins for an understated, minimalist look
Attached to the underside of the countertop, under-mounted basins offer a sleek, minimalist look.
'While under-mounted basins can be more costly upfront due to more complex installation, you will reap the rewards when it comes to cleanliness,' says Jamie Blake, creative director of Blakes London.
There's no raised lip or rim where dirt and bacteria might collect, and a clean lined surface is far easier to wipe down.
20. Go for a custom-made vanity for a truly unique look
There's no excuse for disorder in the bathroom with a custom-made bathroom vanity ideas.
'This bespoke vanity is an organizational dream. We ensured specific places for everything the owners use, with drawers configured to accommodate specific product dimensions,' says Jo Aynsley, head of interior design, Jeffreys Interiors.
'Practically speaking, fitted furniture is low maintenance as there are no dust traps and it offers a range of small bathroom storage ideas in the available space, too.'
21. Create a stand out space
A vanity unit is one of the central features in a bathroom, so get creative and bold with color and material to create a stand out design.
James Lentaigne, Creative Director at Drummonds states, 'people are increasingly dedicating more space to their bathroom, often turning a spare bedroom into an ensuite or family bathroom. This means that larger, more dramatic pieces can be incorporated as part of the design and with their classic good looks, washstands are the perfect way of introducing the wow factor into the room. Elegant and refined, their styling speaks to both classical and contemporary interiors.'
For a luxurious look, embracing marble bathroom ideas can be both beautiful and incredibly durable, as James goes on to say, 'marble is a traditional surface which is very much on-trend and is an immensely stylish finishing touch. People always appreciate the luxurious look and feel of this natural material - and the fact that each piece has its own unique characteristics. As long as it is properly sealed, it is also a highly practical choice.'
As shown here in this bathroom from Kate Moss's Cotswold home, the stunning, Green Verde Guatemala marble creates a truly show-stopping design, a beautiful example of green bathroom ideas.
22. Keep the floor clear to increase the sense of space
'Double vanity units are naturally larger than single, so it's important to boost the sense of space even if your actual space is limited,' says Yosuef Mansuri, head of design, C.P. Hart.
'Revealing as much floor as possible is a smart small bathroom idea, as it gives the impression of a larger room, so opt for a vanity that is either wall-mounted or on slim legs to give a feeling of openness.'
22. Let the bathroom vanity take center stage
Taking a double vanity away from the walls can prove a far better use of floor space.
'In this bathroom, there were doors and windows on three of the four walls, so it felt natural to place the vanity unit in the middle of the room,' recalls Fiona Barratt Campbell, founder, Fiona Barratt Interiors.
'A central vanity unit with impactful mirrors and beautiful materials also provides a great focal point,' - one to remember for bathroom mirror ideas.
23. Incorporate a statement wall for high drama
A traditional pedestal-style washstand is utterly timeless and perfect for showcasing statement bathroom wall ideas, like this tile-inspired wallpaper by Pierre Frey.
On-trend antiqued brass adds warmth to this classic ball-jointed frame. Choosing a double vanity with open storage below makes the unit appear lighter and provides opportunity to add some personal touches and texture.
Use baskets to keep toiletries tidy and towel bails for coziness.
24. Add a splash of color with a painted vanity unit
This bathroom by Artisans of Devizes is all neutrals, except for the double vanity unit that adds a touch of drama to the scheme with a bold red-painted finish.
Set in a family home full of charm, character and color, this bathroom's Marble Mosaic is offset by the bold red vanity unit, created for impact.
25. Use a double vanity to max out bathroom storage
In our opinion, choosing a double vanity sink is the perfect opportunity to incorporate well-organized drawers and increase storage space.
Useful bathroom shelf ideas will increase your storage, but pull-out deep drawers like these will make space for everything, from makeup to towel storage, all neatly hidden behind cabinetry.
26. Nestle a vanity in a niche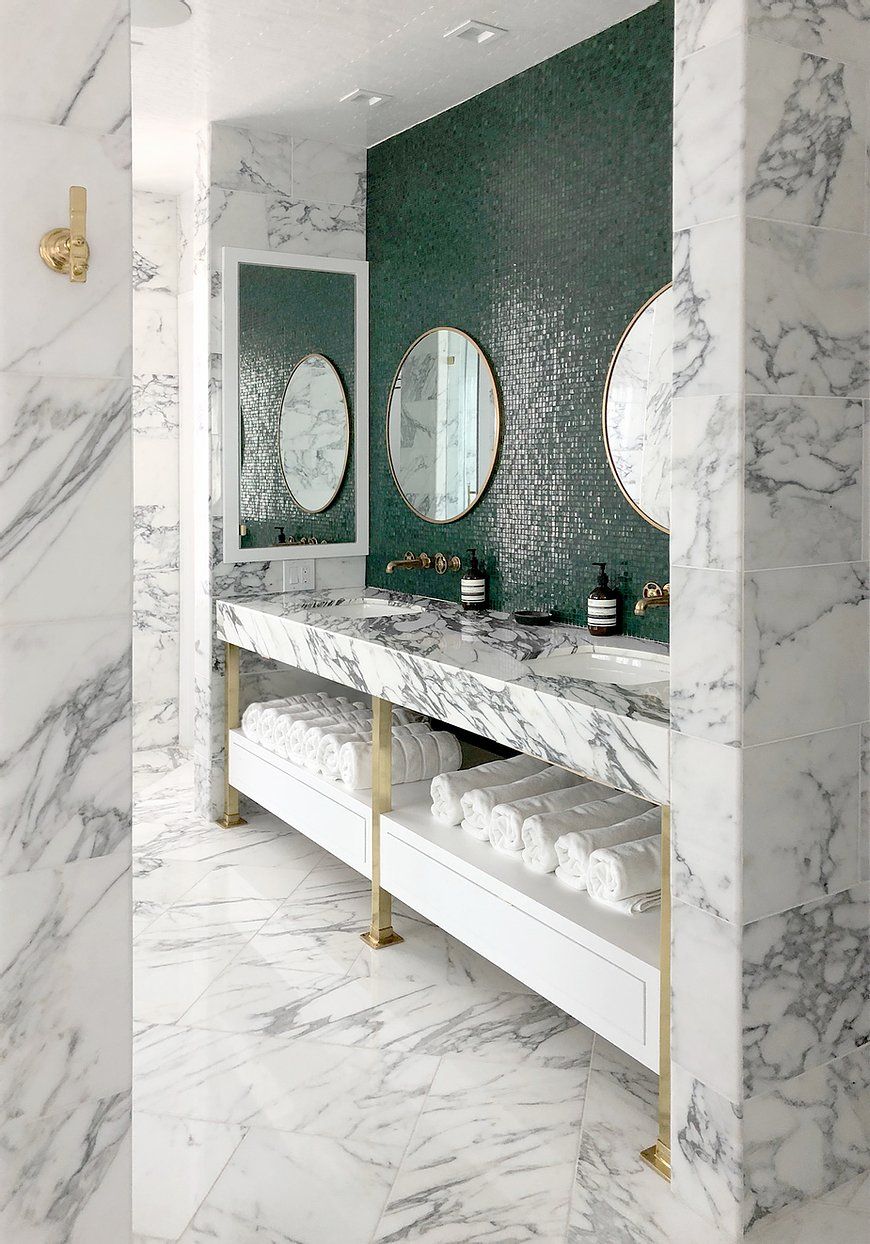 Creating a niche for a bathroom vanity is a neat way to enclose the space, making it feel luxurious and streamlined, and providing many more opportunities for storage.
Cladding the niche in a luxurious material is a must for following through on that boutique hotel look. This bathroom designed by Cara Woodhouse achieves just that, a stunning example of what can be achieved for bathroom splashback ideas.
What material is best for bathroom vanity tops?
Although there are many different bathroom tile ideas, one of the best materials for a bathroom vanity top is a man-made stone-look composite.
This material can be designed to mimic everything from marble to quartz. It comes in a vast range of colors and finishes, can withstand soaking without damage, and is resistant to spillages of caustic materials, such as nail varnish remover. It is also very easy to clean.
What bathroom vanities are in style?
Bathroom vanities that are in style are those that incorporate some kind of storage – hidden for neat, streamlined bathrooms, or those that make a statement in the space, whether that's through color, design or material.
James Lentaigne from Drummonds states, 'at the moment, Verde Guatemala marble is an extremely popular choice, as are aged brass finishes. However, white Arabesato marble is a timeless choice when it comes to vanity units.'
Depending on the look you want to go for, bathroom vanity trends range from very contemporary, sleek designs to those created from antique – or antique-look – furniture.
What can I use instead of a bathroom vanity?
There is no limit to the items you can use as a bathroom vanity: ideas include upcycled barrels; antique wash stands or second hand tables or chests of drawers. The only rules are that it needs to be the right height for you to comfortably wash your hands and face, and that it isn't too bulky that it dominates your space.
How can I make my bathroom vanity look better?
You can make your bathroom vanity look better with a lick of paint and new brassware. Start by sanding the vanity back and then learn how to paint wood furniture to ensure your vanity has a professional finish. Be sure to opt for a hardwaring paint that can withstand the moisture of the bathroom. Then pair with modern hardware to updated your vanity's look.
Sign up to the Homes & Gardens newsletter
Decor Ideas. Project Inspiration. Expert Advice. Delivered to your inbox.
Linda graduated from university with a First in Journalism, Film and Broadcasting. Her career began on a trade title for the kitchen and bathroom industry, and she has worked for Homes & Gardens, and sister-brands Livingetc, Country Homes & Interiors and Ideal Home, since 2006, covering interiors topics, though kitchens and bathrooms are her specialism.