Bathroom color ideas – 28 inspiring ways to create a bright, beautiful space
As these bathroom color ideas demonstrate, gone are the days when a serene scheme was limited to neutral tones and plain finishes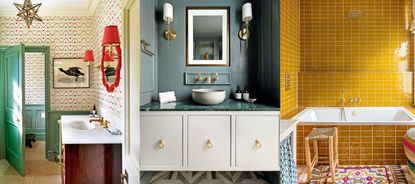 (Image credit: Future)
Bathroom color ideas might not be the first element you think of when planning a new scheme, but it should certainly not be an afterthought.
A good bathroom color scheme is essential for creating the look, feel and design you want in your bathroom or shower room. And you can use everything from tiles to sanitaryware to accessories to create a unique look.
Adding a bright and beautiful hue to your bathroom will really lift your whole home, bringing this functional space into line with the rest of your decor. The good news is there are so many bathroom ideas and colors to choose from.
Bathroom color ideas
Don't ignore bathroom color ideas when you remodel – they can utterly transform a space. Using bold wall treatments, vibrant sanitaryware, bright flooring and brilliant accessories, we show you how to use room color ideas to refresh your bathroom.
1. Drench on the color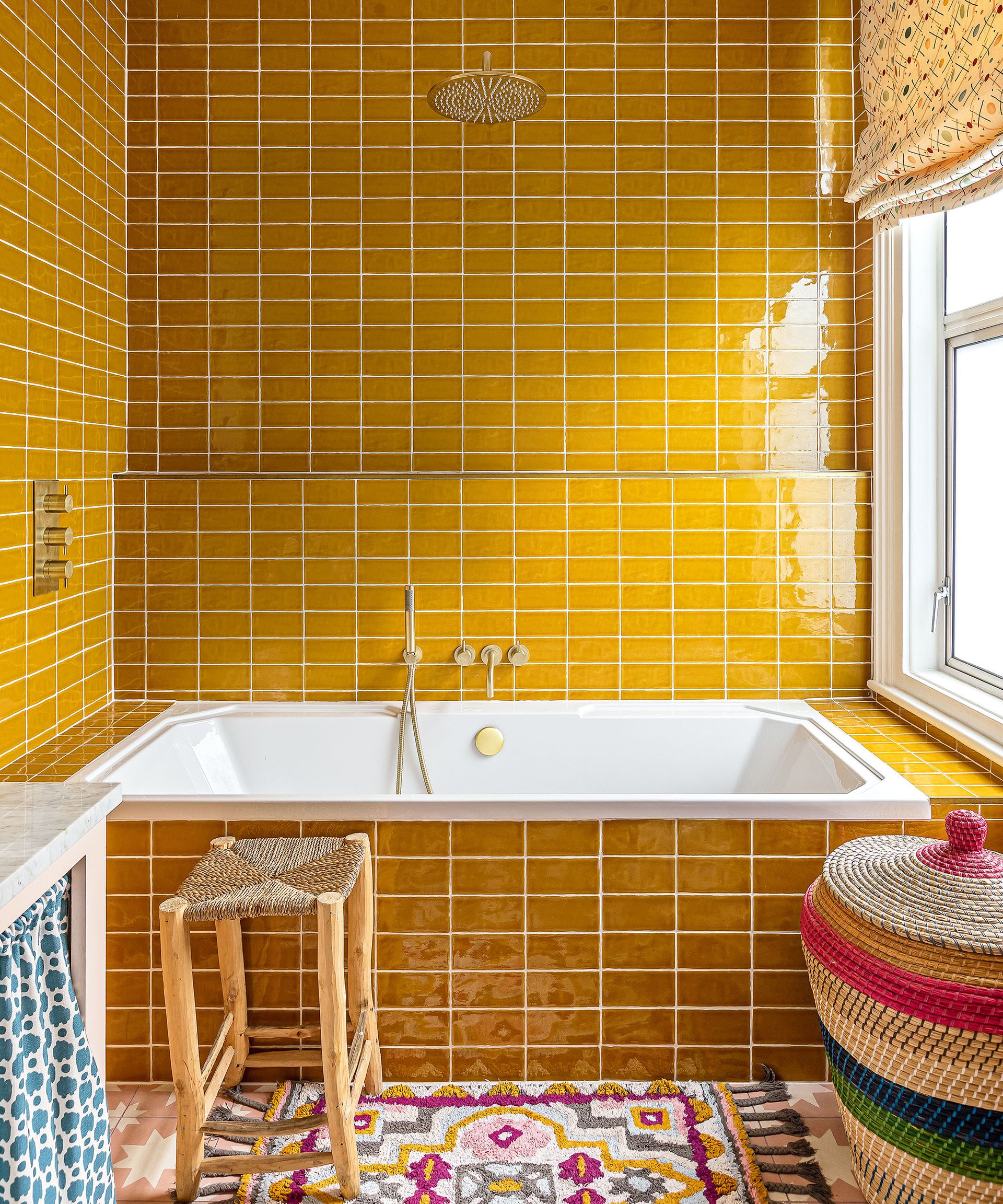 'We always recommend being adventurous when it comes to color in bathrooms, as secondary spaces they're a great place to experiment,' says Lucy Barlow, creative director, Barlow & Barlow.
'The color drenching trend is a brilliantly bold technique that can really enhance a smaller room. We went for mustard and pink in this family bathroom because it's appropriate for a child's space without being too sickly for any adults who use it as well.'
2. Introduce a playful spirit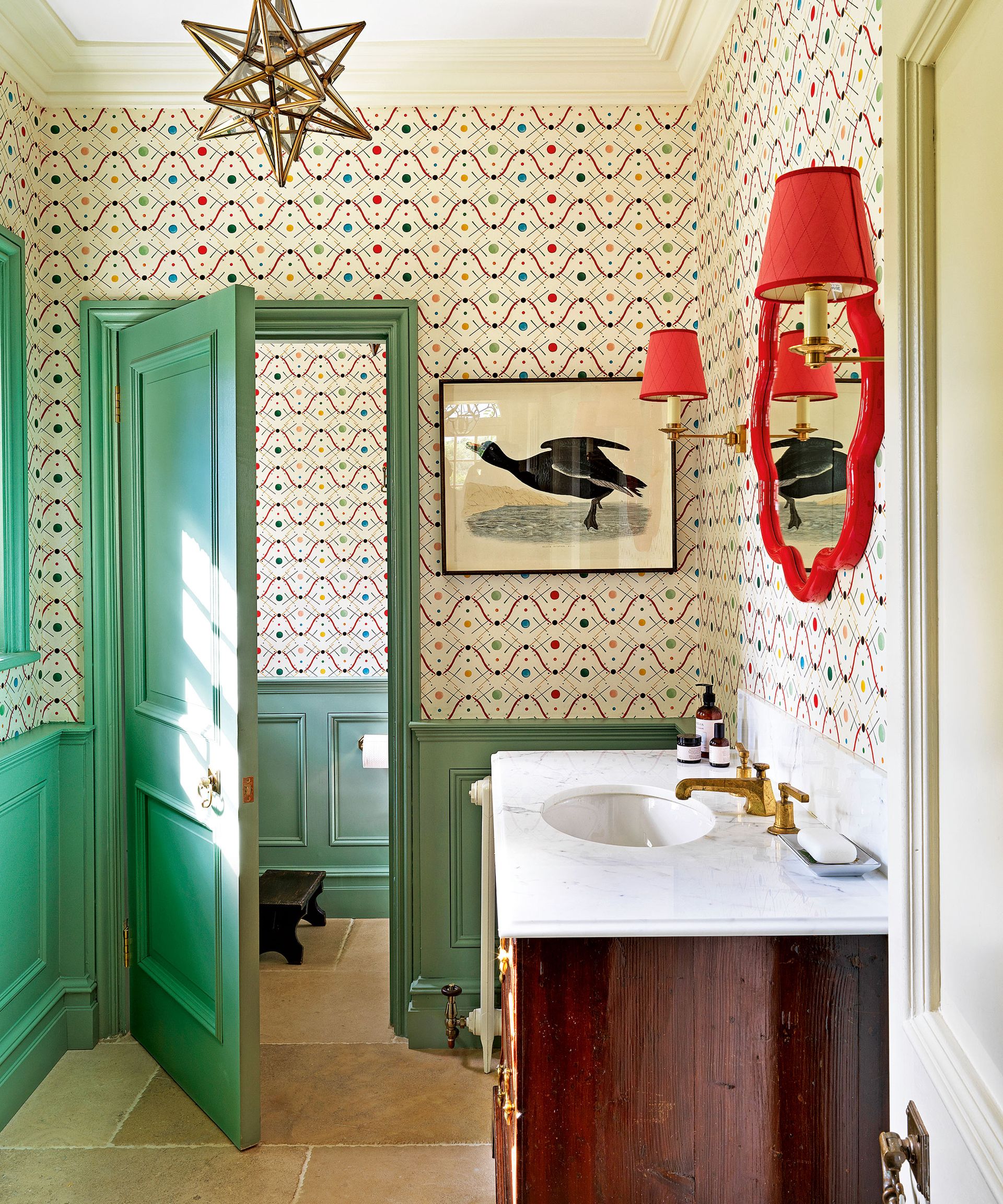 In this bathroom in the home of Aurelia Skincare founder Claire Vero, Salvesen Graham has expertly worked color and pattern. 'Picking up a color tone in the wallpaper on the panelling and woodwork is a lovely way to introduce a further element of decoration to a scheme,' says co-founder Mary Graham. 'For practical reasons, panelling can also provide additional resistance to everyday wear without diluting the bathroom wallpaper's power to impress.'
3. Start with a mood
Spending time looking for bathroom color ideas you like can be daunting. Simplify by first asking what you want the space to say. Is this a family bathroom that needs to be practical and sturdy, or a peaceful place to escape to after work?
Finding the mood first will help you narrow down color choices. Want to relax? Look to pastels and pale blues. Want a pragmatic space? In that case, go for something neutral. This is a good way to narrow down bathroom color schemes from the start.
The simplest way to add color in a bathroom is with bathroom paint ideas – but you can add character and depth with wallpaper more effectively, even if it's only limited to one wall.
4. Use the color wheel to pick soothing bathroom colors
Pairing colors in bathrooms can be tricky because space is often limited and so color clashes are highlighted. Take advantage of the color wheel to make things easier. The wheel lets you see at a glance how colors relate to each other visually and has been used in design for generations.
Opposite colors – say red and green – are complementary, whilst those next to each other – like green and blue – blend. Play around till you find your perfect combination.
5. Stay neutral for easy color scheming in a bathroom
Neutral bathrooms are classics for a reason. They allow colors to inspire feelings of calm and serenity. But they do need breaking up; you can do this by mixing two different neutrals together. Go one shade darker – grey and white, or beige and brown.
This is a great way to future-proof your bathroom too, as double-neutrals don't really go out of style. For a balanced look, paint two-thirds of the room the lighter neutral shade and the remaining third the darker.
6. Use the 7-2-1 ratio
If you want to add a splash of color to your bathroom but you're not sure how far to go, choose three shades – one neutral, one colorful but light, and one bold. Then, divide these across the space with a ratio of 7-2-1.
So seven-tenths of the room should be neutral, two-tenths lighter and colorful - leaving the final tenth bold. This will add color to the space in a non-domineering and balanced way.
Find three colors which conventionally go together, like white, grey and light green, and swap out one of the colors for a bolder version – lime green, to create a striking 7-2-1 bathroom color scheme. You can see how it works for green bathroom ideas, above.
7. Start big, get smaller
When considering bathroom color ideas, start with the biggest surface first. So begin by painting your widest wall. Then work down to the furnishings, bath and vanity and finally the accessories like the towels, taps and soap dispensers.
Remember the 7-2-1 ratio and combine it with this system of working down. Save the bold colors for the smallest elements of the room.
8. Go dark
Bathrooms are traditionally seen as white, bright places, but don't be afraid to go a little darker with bathroom color ideas. A dark color, such as charcoal or indigo, can really make a bathroom pop, especially when used in stark contrast with bright, light finishes. Matt black fittings are becoming more popular all the time, with many of us opting for black and anthracite showers, taps and fittings these days.
Adding another hue to a dark color scheme – a bright green for example – will create a modern, contemporary look.
9. Use patterned wallpaper for the easiest of bathroom color ideas
'Wallpapering is a great way to stop bathrooms from feeling too sterile and just perfect for creating truly happy spaces, which I believe every bathroom should be,' says Nicola Harding, owner of Nicola Harding & Co (opens in new tab).
'Installing half-height paneling helps protect wallpaper from the danger zone, where water is most likely to splash, while also providing another opportunity to add cheerful colors.'
Here, the bath is positioned well away from the walls, offering another layer of protection for the beautiful Ceraudo wallpaper.
If you're still concerned, apply Polyvine's Decorator's Varnish, which can be brushed over wallpaper to prevent moisture ingress.
10. Take advantage of the fifth wall
While there's nothing wrong with a plain white ceiling, for color lovers it's a missed opportunity. In this gray bathroom, the ceiling – known as the 'fifth wall' – is painted in Little Greene's Yellow Pink, a warm mustard shade that has a cozying effect on the high ceilings, a great look for bathroom ceiling ideas.
Little Greene's Carmine picks up the pace on the bath, with Farrow & Ball's Arsenic adding brightness on the shutters.
'These colors verge on clashing but, thanks to the subtler wall and floor tiles, they don't,' explains Mandarin Stone (opens in new tab)'s marketing director Louisa Morgan.
If you like bathroom tile ideas with textured finishes and interesting shapes, such as the three-dimensional and honeycomb tiles shown above, they are an excellent way of providing enough depth and character.
11. Subtle but impactful bathroom color ideas? Play with animal prints
From timber grains to tropical patterns, natural beauty has long been a strong interiors trend, but animal prints in particular have found new popularity over recent months.
Fierce and exotic, big cats are the most glamorous creatures in the 
animal kingdom, so no wonder we're adopting their spots and stripes 
this season.
Leaping into homeware too, there's a touch of the feline on everything from furniture to flooring, but consider taking it to accessories for a look that can be changed with each trend.
12. Use two patterns in the same color
Embracing strong color, when designed as part of the flow of the rest of a home, can produce joyful results, as shown in this walk-in shower idea.
'Boldly colored and patterned tiles can add such personality, dynamism and impact to bathrooms, really lifting the space,' enthuses Caz Myers, director, Caz Myers Design (opens in new tab).
'While the tiles may be dramatic, the overall scheme can be timeless if you choose a color that truly resonates. Pattern-wise, go for tiles in two-tone repeats, like these modern geometrics, which, even when mixed, work effectively to create a unique and surprisingly restful space.'
13. Introduce one shot of strong color
Color-blocking is a great technique for anyone keen to test strong paint colors without over-committing. An all-out approach, with multiple blocks of undiluted color, often clashing, is popular in modern homes.
But for a more classical look go for one small, clearly defined block of dramatic color. Take inspiration from the Shaker-style bathroom vanity idea shown above. The orange-toned red – try Andrew Martin's Tomato Frog No. 52 (opens in new tab) – provides a dynamic focal point against creamy natural stones.
Restricting the rest of the paintwork to muted tones makes the statement color feels more impactful. Best of all, small injections of saturated color are easy to update.
14. Make subtle changes
There is no need to dramatically change your style; in fact a neutral background can be the perfect base for bringing color into a bathroom.
A bold bath mat is a simple and affordable way to add color to your scheme in an instant and can be changed to fit current bathroom trends or, if you simply change your mind.
15. Add a theatrical element
This bold hue is often considered a daring choice for interiors, but used creatively it can introduce a welcome burst of energy and flamboyance, great for master bathroom ideas.
Here, pale aqua makes a wonderful backdrop for vibrant accents of red that have been given a light-hearted, theatrical note using stripes and checks.
16. Introduce a colorful mural with waterproof wallpaper
In an otherwise plain space, wallpaper ideas such as the mural shown above are one of the most dramatic bathroom color ideas you can go for.
Wall&decò (opens in new tab)'s wet system wallpapers are extraordinary: impactful and beautiful, they can even be installed over old – even – tiles to create a space with true wow factor.
17. Revitalize a classic theme
Breathing new life into the classic coastal look, this blue bathroom idea features a breezy palette of blues, from soft shades of pale sky through to Breton navy, teal and denim.
For a cozy fisherman's cottage feel, try a new twist on tongue-and-groove by painting it in a shade that evokes the sea. In this bathroom, the painted panelling and a plinth help define the bathing area.
18. Introduce interest with wallpaper
Mixing and matching delicate designs and bold motifs can have remarkably different effects, depending on how they are used.
In this inviting bathroom, the block color of the wall panelling and floor allows a wonderfully whimsical wallpaper with a strong motif to shine. Meanwhile, understated border details on the curtain and the towels help to pull the look together for a cohesive feel.
19. Redecorate in an artist's palette
Minty greens and sugary pinks look fresh and clean, a winning bathroom color ideas combination. Dilute the sweetness with a punch of stronger pink and smart black brassware.
'While it's wonderful that we're all much more open to using stronger colors now, there always needs to be balance and pale pastels make a great neutral backdrop,' says Dean Keyworth, director of Armstrong Keyworth (opens in new tab).
Do take advantage of the increased availability of custom-colored finishes, like this striking magenta mirror in a bespoke shade created by Balineum. 'You may have to pay a surcharge for non-standard colors but it's worth it to achieve a beautifully balanced scheme,' adds Dean.
20. Take a leaf from nature
We take a pick of the latest foliage and floral motifs to bring uplifting color and decorative interest to the bathroom. The delicate but impactful nature of florals can add a new dimension to any scheme, from traditional to modern bathroom ideas. Here, a rich tropical-style wallpaper sets a relaxed mood in this inviting space centred on an elegant bath.
21. Be bold with an all-over color
Do you have a favorite bathroom color scheme? Then opt for decorating your whole space in a color that will make you happy day-after-day.
Beloved by ancient Chinese dynasties, the Moors and the Greeks, this enduring blue and white bathroom color combination takes on a fresh, modern feel with the latest indigo and denim tones.
This en-suite bathroom, with a strong wall color and chequered flooring, echoes the palette of the adjacent room to ensure a unified look.
22. Introduce exotic botanicals with wallpaper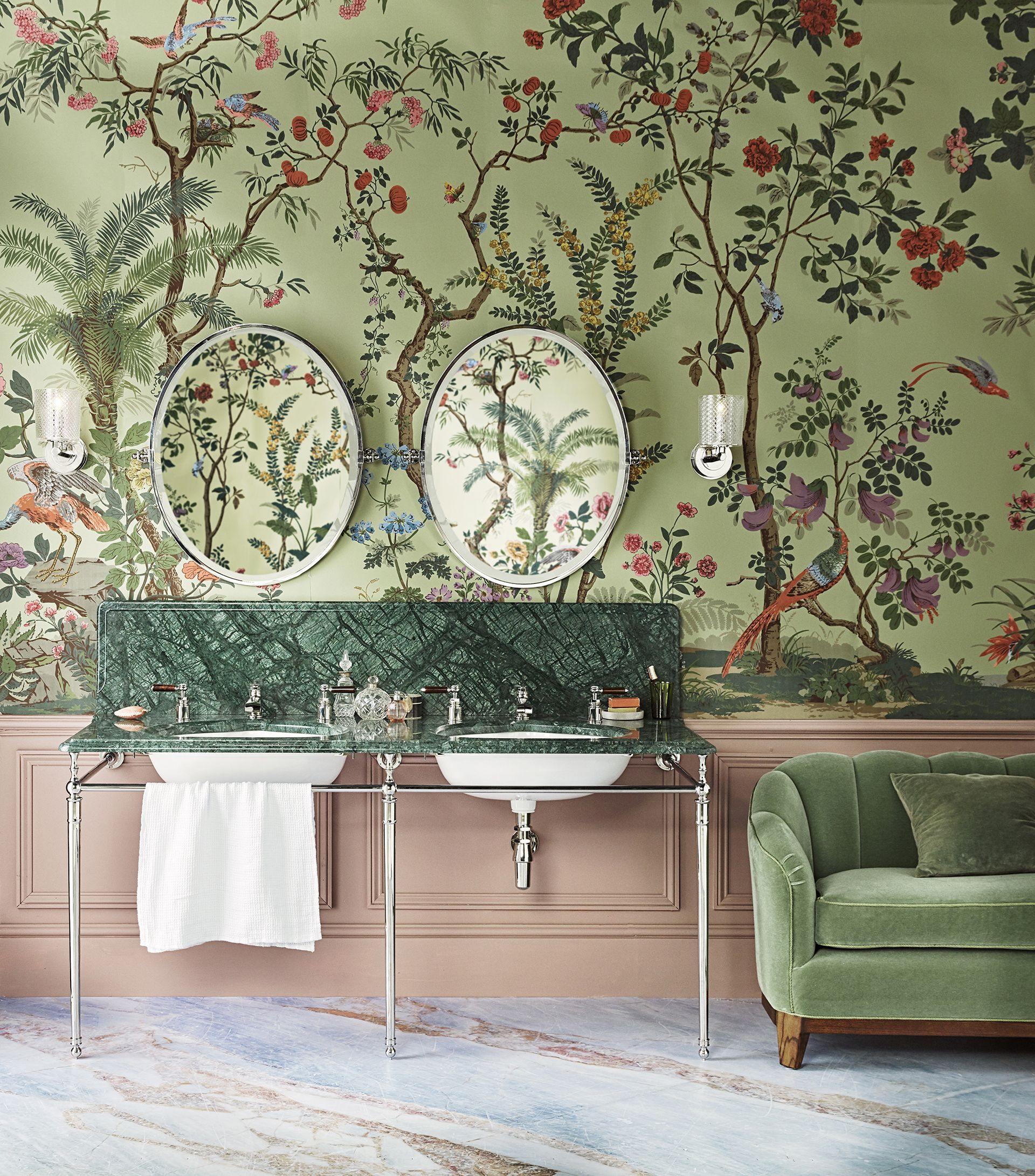 Chinoiserie is having a revival and the bathroom is the perfect space to use it.
Taking inspiration from traditional hand-painted Chinoiserie panels, specialist companies, such as Fromental (opens in new tab) and de Gournay (opens in new tab), and independent designers such as Diane Hill (opens in new tab) offer bespoke hand-painted designs that are quite simply beautiful.
23. Pick a warm blue bathroom color
'Warm blue' sounds like a contradiction or oxymoron, but if you are searching for blue bathroom color ideas because you love the shade, bear in mind that those shades with a touch of yellow in them are likely to help the room feel warmer – a must in a room that you want to feel inviting and warm.
'I would only go for a grey-blue in a bathroom that's flooded with sunlight when you're mostly likely to be using the room – or if you're remodelling a house in a warm climate,' says Homes & Gardens' Editor in Chief Lucy Searle. 'Otherwise the space is going to feel cool and somewhat unwelcoming.'
24. Go for grey, but balance it with warm-looking materials
If you are drawn to dark bathrooms, it's really important to contrast the steely gray tones with warmer colors and textures to make the bathroom feel like somewhere you want to spend time in.
You can, of course, add tiles or towels in warm shades, but grey actually makes a wonderful backdrop to wood and the metallics that complement it, such as brass or copper.
25. Introduce bathroom colors in fabrics and textiles
This beautiful roll top bath has been cleverly framed between floor-to-ceiling curtains in gorgeous colors, and the scheme has been further layered with lampshades more commonly seen in a bedroom and a rug that picks out the pink in the curtain fabric.
It creates not just one of the most truly original bathroom color ideas we've seen, but also a space that invites you to linger.
26. Create a dramatic contrast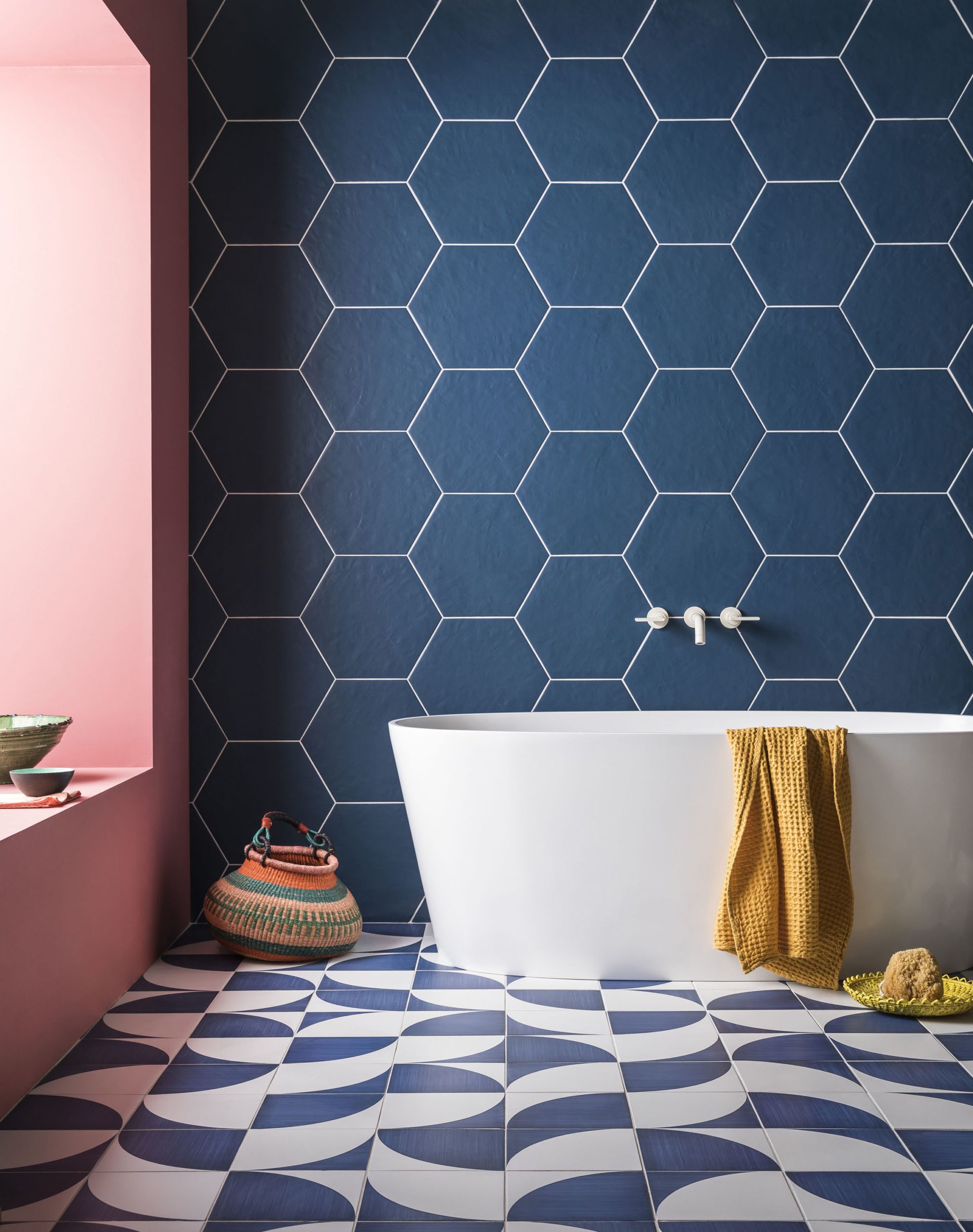 You can use really impactful tiles to introduce color into your space, but take it a step further with bold, contrasting bathroom wall ideas.
This color-blocking approach is perfect for the bathroom, but keep the tiling very simple, relying instead on tile shape rather than pattern to create interest.
27. Glamorize white with hints of gold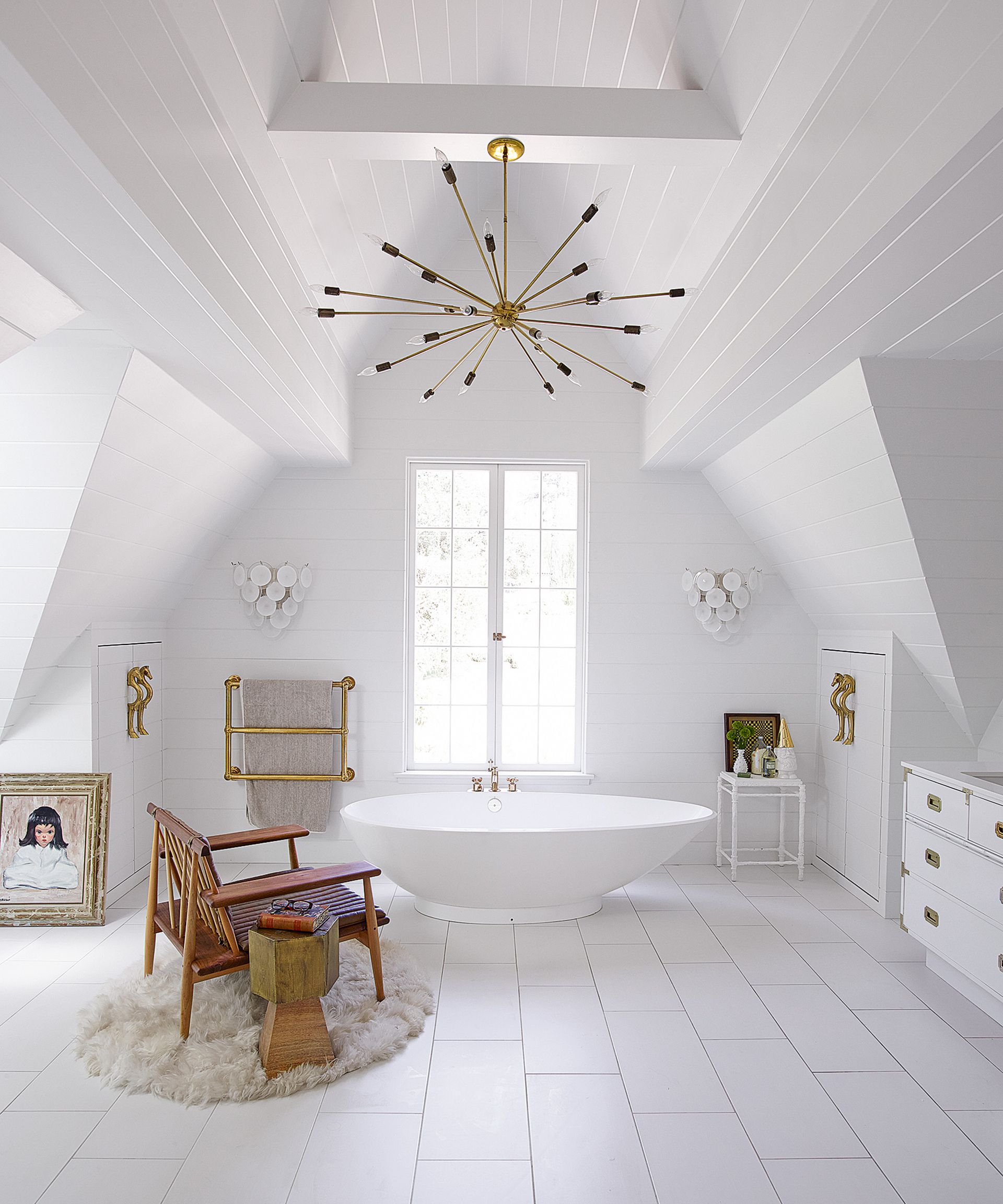 You quite simply can't go wrong with white bathroom color ideas, but match it with stainless steel and it can look a little flat and characterless.
However, swap out the silver for warmer metals, such as antique gold – in taps, towel radiators, bathroom lighting ideas and accessories – and the subtle white backdrop is enlivened, letting the fittings do the talking.
28. Don't forget colorful bathroom floors
If you've got a wooden bathroom floor, you can really make the space pop by painting the floorboards. Make sure you prime the floor and sand it before adding two coats of paint to each board. This can give your bathroom a rustic, country-farm inspired look too.
Contrasting color combinations across each board can create a strong monochrome effect. Combine this with a white bathroom and it's all the color you'll need.
How do you add color to a bathroom?
To add color to a bathroom (and personality) try incorporating upscaled period furniture into the scheme, turning an essentially functional room into a more personal space.
Try combining tile finishes too, mixing and matching both natural and man-made options to add texture and depth to a space.
Gone are the days of carpet in bathrooms. Use tiles, stone or timber to bring texture, color and pattern into the room.
Try creating a feature wall to add interest. A bathroom will also look lighter and brighter if it's uncluttered. Fit sockets in the cupboards to charge toothbrushes and incorporate a drawer where the hairdryer can be stored and plugged in.
What is the best color for a bathroom?
If you're pondering about the best color for a bathroom, you've come to the right place.
The bathroom is one of the most important rooms in any house, and careful color choices here can go a long way. Although its principal purpose is functional, a bathroom should also be a calm, relaxing and decoratively enticing space.
Simple, white fixtures and fittings are timeless, but consider making an impact when it comes to surfaces such as walls, ceilings, floors, windows and counter tops.
High quality bathroom furniture adds a luxurious effect, but it is the background elements that really underpin the feel of the space and allow experimentation with color, texture and pattern.
What colors are best for a small bathroom?
Perhaps you have a cozier space, so you're wondering what colors are best for a small bathroom?
If your bathroom is big enough, consider drawing attention to one wall with a vibrant wallpaper, tile arrangement, over-sized mirror or striking bathroom art idea – making sure it is framed appropriately to avoid condensation damage.
Small bathrooms can take bold colors just as well as larger rooms. If you're looking for small en-suite or cloakroom ideas, stick to the same wall treatment throughout. In a larger area, don't be afraid to ring the changes by using dark stone or tiles in a walk-in shower to add contrast and a really stylish impact.
What is the most relaxing color for a bathroom?
In terms of the most relaxing color for a bathroom, it really depends on personal preference.
Color has a huge impact on mood, and bathrooms have a tendency to sidestep polarizing hues in favor of pale neutrals and whites, which are refreshing and easy to live with.
At the opposite end of the spectrum, darker shades of grey including slate, are also popular for creating a cocooning spa-like effect.
What are the bathroom trends in 2022?
Bathroom trends in 2022 include Modernist units and bold patterns, which are making a splash in this room just as much as any other in the home – so make sure that yours isn't neglected.
Bathrooms should be restful sanctuaries as well as utilitarian spaces, and a well-thought out decorative scheme will reflect both practical and aesthetic elements.