What are the best colors for south-facing rooms? These are the designers' favorite shades
Choosing colors for a south-facing room? Don't lift a paintbrush before checking our design experts' top picks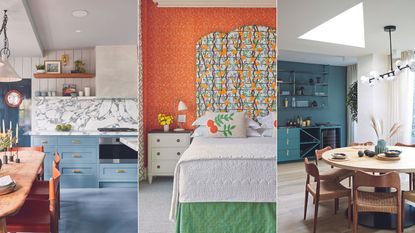 (Image credit: Future)
Sign up to the Homes & Gardens newsletter
Decor Ideas. Project Inspiration. Expert Advice. Delivered to your inbox.
Thank you for signing up to Homes & Gardens. You will receive a verification email shortly.
There was a problem. Please refresh the page and try again.
If you're planning on redecorating a south-facing room there are plenty of options. Warm and well-lit, south-facing rooms can handle strong, bright shades as well as look good in softer paler colors.
But what are the best colors for south-facing rooms? To answer this question and find out how to choose paint colors we asked interior design experts for their advice and favorite shades.
Remember that color choices are subjective and will be affected not only by the light levels in the room, but also by the surrounding furniture and furnishing choices. Light levels will vary depending on the time of day and season, and from one part of the room to another. So it makes sense to sample the color in situ and observe it throughout the day to make sure you're happy with your paint ideas before painting the whole room.
What are the best colors for south-facing rooms?
South-facing rooms have so much going for them. These bright, sunlit spaces need little help when you're creating a warm color scheme. However, if you're going to redecorate and are looking for the best colors for south-facing rooms you'll need to take into account how the room will be used, the size of the room and, of course, your own personal preferences. And if in your opinion the best colors for a south-facing room are the ones that turn down the heat for a cool color scheme, well, our interior designer friends have plenty of suggestions for that, and for the best white colors for south-facing rooms, too.
Enjoy hot colors in a south-facing room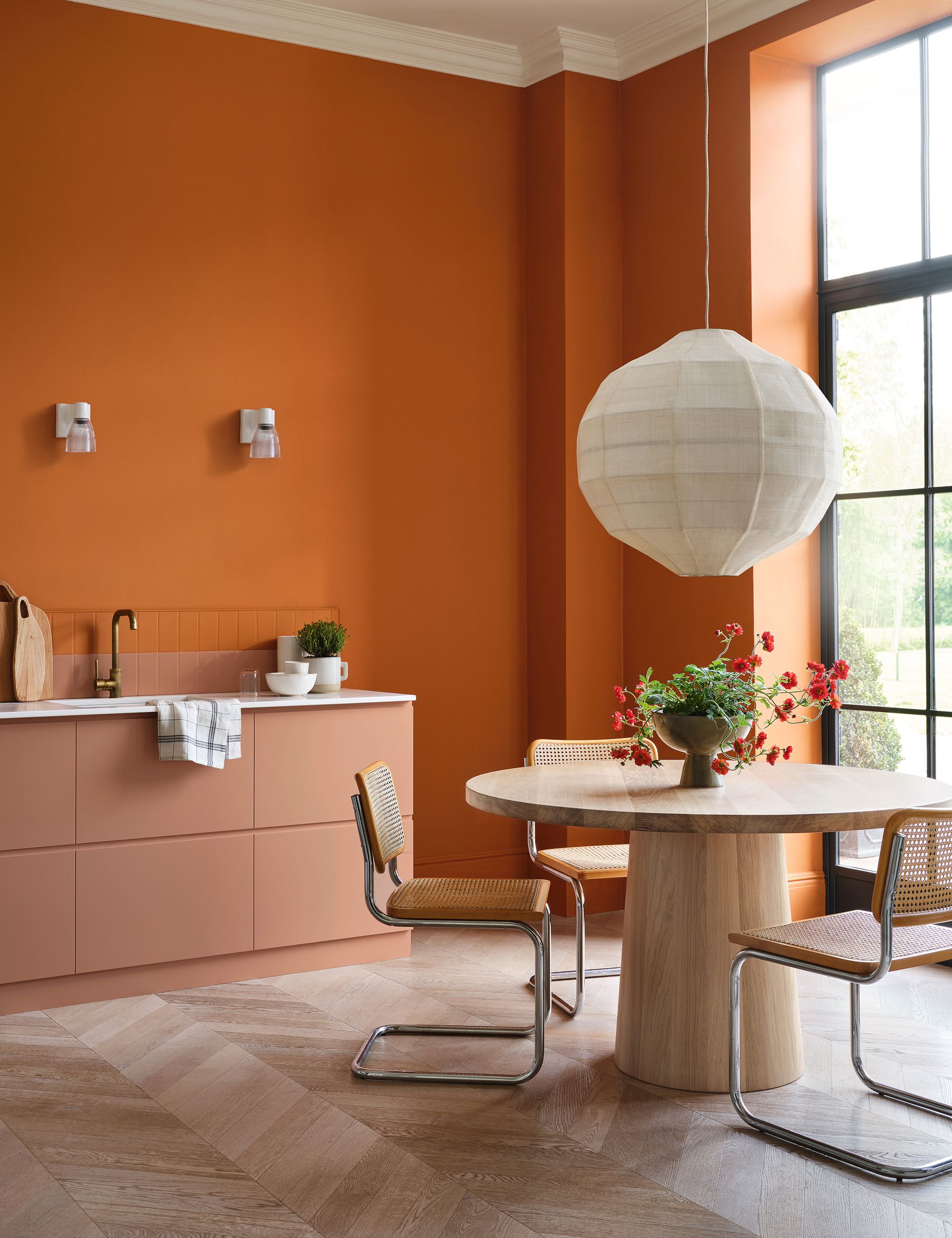 One of the first things to consider when you're thinking about the best colors for south-facing rooms, is what you use the room for. If you are looking for living room paint ideas or dining room paint ideas it makes sense to keep to the warmer side of the color wheel as these stimulating shades are perfect partners in creating welcoming reception rooms, as in the kitchen-diner above.
Hannah Yeo, color marketing & development manager at Benjamin Moore agrees and says: 'The natural light in a south-facing room is warm and strong which is great for rich, bold colors. Embrace the natural energy with colors like Pashmina or Evening Dove.'
French-born, Los Angeles-based interior designer Victoria Gillet is also a fan of strong, hot colors for south-facing rooms and says, 'To emphasize warmth, choose yellows, oranges, and reds. Harmonize colors with existing furnishings for a cohesive look.'
Hot colors are a great choice for smaller south-facing rooms, where a bright, strong shade can really make an impact. For larger spaces, try patterned wallpaper or textured finishes to calm the effect a little.
It's important not to overdo the heat in south-facing rooms as there's a danger things may become a little intense. Victorian Gillet adds, 'Achieving the right balance between vibrant colors and neutral tones helps soothe the space. For those rooms, the addition of a vibrant pop of colors can be achieved with the use of accessories to experiment and change the color scheme over time. Lastly to make these rooms feel cozier at night and during cloudy days, layering with decorative lighting is very important.'
Play it cool in a south-facing room
If hot colors aren't your bag, or for larger south-facing rooms and rooms that favor calmer colors, take a look at the cooler hues. For example, if you're looking for bedroom paint ideas, or bathroom paint ideas, shades with cool tones will be the best choices.
Benjamin Moore's Hannah Yeo says: 'Cool blues and greens work especially well to counterbalance the warm sunlight, and softer hues such as Smoke, Palladian Blue and Wickham Gray can feel calm yet refreshing.'
For those looking for more depth of color, Aegean Teal (pictured) is another Benjamin Moore shade that can cool south-facing spaces but still add personality to the room.
Designer Victoria Gillet advises: 'When choosing colors for south-facing rooms, you have various options to achieve different effects. For a cooler atmosphere, I like to opt for blues, greens, and purples.' These shades will still give you an option for a stronger, denser color, but without the heat of the fiery reds and oranges.
Select the best whites for south-facing rooms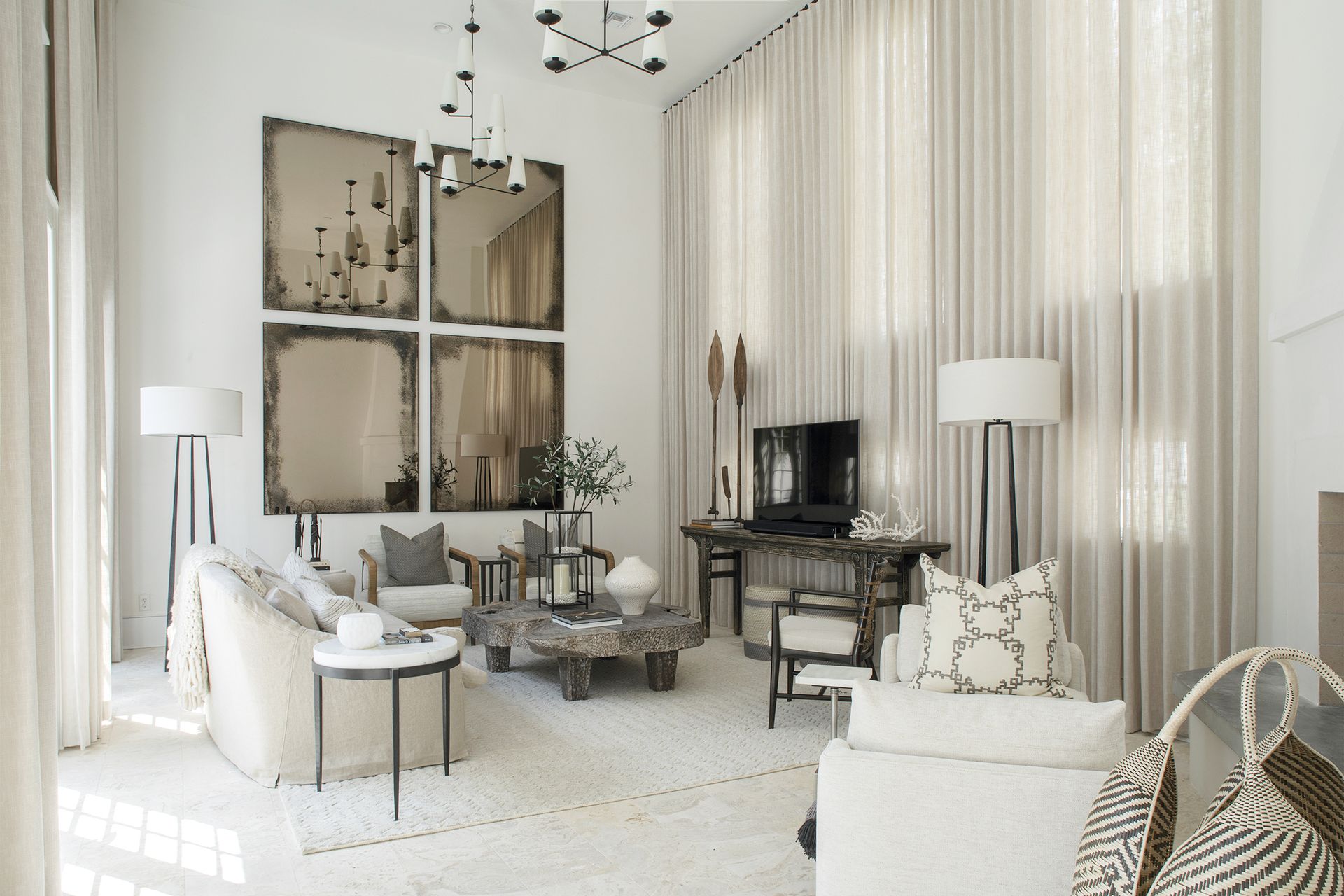 Still can't decide on the best color for south-facing rooms? Well, fear not, you can't go wrong with white paint, the perennial favorite. In Nashville-based designer Brad Ramsey's living room scheme, above, we can see how effective the south-facing space looks furnished completely in white.
And our designers share some great advice below, on specific white tones that work well with the lighting conditions in a south-facing room.
Interior designer Stephanie Brown explains that: 'South-facing rooms can really exaggerate any slightly "off" hues in paint colors. So if going for white, I'd opt for a true white such as Benjamin Moore's Oxford White. And if that feels a bit too stark, then the brand's Stonington Gray is a light, neutral grey.'
Designer Victoria Gillet adds her favorite south-facing white options to the list, too: Benjamin Moore's Chantilly Lace; Sherwin-Williams' Pure White and Extra White; and Farrow & Ball's All White. The designer also advises using eggshell or satin finishes 'for a subtle sheen and ease of maintenance', and adds 'remember to test paint samples on the walls to observe how colors appear under different lighting conditions throughout the day'.
Charles Cohen, the founder of Charles Cohen Designs, also has his go-to white paints: 'For South facing rooms, I like to use Benjamin Moore's White Dove, it emphasizes the brightness while still providing a neutral backdrop for furnishings.'
Meanwhile, Mika Durrell, founder of Able Moraine, says 'For all spaces when choosing whites I like to use a pure white such as Farrow & Ball's All White. Often whites have tints of color in them, so when you have a south facing room the exterior landscape and accentuate the undertone colors within a white. In a south facing bedroom with lush forest surrounding it, a white paint with very slight green undertones in it will read very green in the space, surprisingly so. So you have to be very careful when choosing whites and neutral wall colors and materials and be aware of the undertones, because in application and once installed the natural light and exterior surroundings will influence how those colors and materials look within the space.'
The importance of testing
With any major redecoration project, it's always best to try out your interior design ideas in the room so you can be sure you like the effect before investing in costly paint or wallcoverings. Buy a few different samples of paint and request swatches of fabrics and wallcoverings before you make your choice.
Victoria Gillet says: 'Consider how natural light interacts with the colors and test paint samples under different lighting conditions. And harmonize colors with existing furnishings for a cohesive look.'
Hannah Yeo of Benjamin Moore says, 'Sampling the color for rooms with southern exposure is essential as the light changes throughout the day. What may have looked perfect in the morning can look washed out by the afternoon's direct sunlight, then look warmer in the evening. You'll want to use bigger color swatches to observe the color and light every couple of hours.' She makes a good point about the light changing, and although this may sound like an unnecessary and over-cautious approach, it's surprising how much difference it can make to your final selection.
---
Besides choosing the best colors for south-facing rooms, you will have spent time and money carefully selecting furniture and furnishings. With that in mind, it's a good idea to protect them from bright sunlight, which can cause fabrics to fade quite dramatically. Victoria Gillet advises: 'South facing rooms should have appropriate window treatments such as light-filtering curtains or adjustable blinds. My go-to are linen drapery, very flowy and light.'
Designer Charles Cohen agrees, and adds: 'In order to filter direct sunlight and protect floorings and furnishings, I like to recommend solar shade window treatments which can be layered underneath custom Roman shades and draperies.'
Designer Olivia Stutz layers sheer white curtains over Roman blinds in the living room pictured above, an elegant solution for the brightly lit space.
So there you have it, the interior designers' trade secrets on all things south-facing: the best hot and cool colors to choose, the best white paints for south-facing rooms, and how to keep your south-facing room and its furnishings looking their best.
Sign up to the Homes & Gardens newsletter
Decor Ideas. Project Inspiration. Expert Advice. Delivered to your inbox.
Karen is the houses editor for homesandgardens.com and homes editor for the brand's sister titles, Period Living and Country Homes & Interiors, and an experienced writer on interiors and gardens. She loves visiting historic houses for Period Living and writing about rural properties for Country Homes & Interiors, and working with photographers to capture all shapes and sizes of properties. Karen began her career as a sub editor at Hi-Fi News and Record Review magazine. Her move to women's magazines came soon after, in the shape of Living magazine, which covered cookery, fashion, beauty, homes and gardening. From Living Karen moved to Ideal Home magazine, where as deputy chief sub, then chief sub, she started to really take an interest in properties, architecture, interior design and gardening.