The Color Wheel – H&G's complete guide on how to mix colors
Using the color wheel, learn how to apply color theory to decorating and reveal a whole new collection of color palettes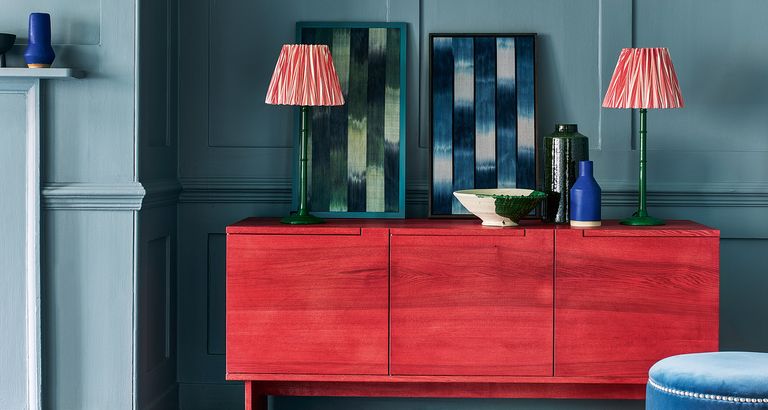 (Image credit: Future/Polly Wreford)
By Ginevra Benedetti published
When choosing a colour scheme, your first port of call should always be the color wheel. From bold, dramatic palettes to soothing tonal combinations, using a color wheel is fail-safe way to guarantee decorating success.
Conceived in 1666 by Sir Isaac Newton to map out the various relationships between colours in the spectrum, the wheel is essentially a visual representation of 12 core colors in a circle, from primary hues to secondary colors and so on.
It provides a clear and instant visual for exactly which hues contrast and coordinate, to help you to devise harmonious, tonal or contrasting looks.
How does a color wheel work?
There are 12 segments on the wheel, each one representing a color. The wheel explains how colors relate to each other, whether they're side by side or diametrically opposite.
Structurally, the wheel includes the three primary colors of red, green and blue, alongside three secondary colors, green, orange and purple (where two primaries are mixed together to form another).
Finally, there are six tertiary colors, a mix of a primary and secondary color. These are red-orange, yellow-orange, yellow-green, blue-green, blue-purple and red-purple. The warm colors - the reds, yellows and pinks - feature on one side. You'll find the cooler hues - blues, greens and purples, on the other.
What is color theory?
In essence, color theory is the application of art and science on design. It uses the color wheel to explain how colors mix, match and contrast, as well as how color can affect mood, generate emotions, soothe or aggravate.
'Color undoubtedly has the power to make our homes look more beautiful,' says Dulux Creative Director, Marianne Shillingford. 'But it also has the power to change the way we feel about them and behave in them. It can connect spaces together as much as the people in them and it can make us rest better, work better and just feel better'.
While applying the theory of what color schemes combine well is pretty fail safe, it's important to consider what use the space has. Ruth Mottershead, Creative Director at Little Greene agrees. 'For example, the kitchen is often the hub of the family home – usually a place of activity, the heart of family life and a place for entertaining friends. A kitchen therefore is an ideal place to make more adventurous colour choices and certainly the space where you can really experiment with vibrant colours.'
'For more tranquil spaces like the bathroom, consider shades that exude serenity so you can create a haven within your home. For a scheme that provides you with a calm retreat, use colours with warm undertones that really bring comfort to a space.'
What are harmonious colors?
Choosing adjacent colors on the wheel – yellow and green, for instance – is a straightforward way of creating an easy-to-live-with scheme. These harmonious colors are the most widely used group in interior design.
What are tonal colors?
Tonal colors are basically a variety of shades of one color, also known as tone-on-tone or monochromatic (not to be confused with monochrome). Decorating with this color palette will result in a uniform scheme as it uses only different tones - both lighter and darker - of one color.
What are contrasting colors?
Also referred to as complimentary colors, these are guaranteed to add drama to any room. By taking shades that sit opposite each other on the wheel, such as red and blue, you can create a rich, vibrant scheme packed with drama and energy. A split complementary (or contrasting) scheme is a slight variation, using a base color and two adjacent colors opposite it.
'When creating a contrasting palette, we recommend thinking about splitting the room into ratios,' says Helen Shaw, UK Director at Benjamin Moore, 'with main colour being 60% of the scheme, 30% the secondary and 10% an accent. The accent colour can help to break up an ultra-contrasting scheme and allows the look to be tied together.'
What's the difference between hue, tint and shade?
When discussing color, these three words are key. Frequently confused and used interchangeably, in reality they're three distinctly different things.
HUE
A hue is the purest form of any color, whether it's primary, secondary, tertiary or somewhere in between on the spectrum of colors on the wheel. Hues are very intense and are very dramatic, so they are usually lightened or darkened for the majority of decorating schemes to create a tint or a shade.
TINT & SHADE
The addition of white or black to a color will create a tint or a shade. If you add some black to a hue, you create a shade and go darker. If you add white, you create a tint and go lighter.
What colors go together?
If you follow the rules of the color wheel, you will discover a wide selection of palettes to choose from. Some of these combinations you will already be familiar with, while others you may not have come across before.
'Deciphering what colours go well together depends on where on the colour wheel they sit', continues Shaw. 'Consider creating a monochromatic scheme which uses varying levels of saturation of one colour. We would recommend using a paler shade of one and a darker hue of another.'
Color wheel-inspired schemes
FLAMINGO PINK, AQUAMARINE GREEN
This contrasting scheme pits a pale aquamarine against a flamingo hued pink. Accessorized with a splash of rich fuschia pink on the mirror frame, the pale blue flooring gives it an air of a modern classic.
BLUE HUES
Using variations of one color is a calming approach. Here, the deep blue hue of the chest of drawers makes a sophisticated backdrop to the lighter tinted powder blues of the upholstery, while the teal bowl adds an additional layer of color.
PLUM, PINK, AUBERGINE
This harmonious living room color scheme utilises a host of pink and purple shades to great effect. The rich aubergine color of the upholstery is echoed by the lampshade, while the plum walls wrap the scheme in warmth. Small splashes of pink and yellow lift the scheme from becoming too moody.
JADE GREEN, PETROL BLUE
'There there is no room where green doesn't work', says designer Suzy Hoodless. 'One fallacy is about mixing blue and green – they can be seen together and I have paired these shades with great success in past projects.'
Green is on the cooler side of the color wheel, ranging from watery blues to deep forest greens, reflecting the world around us – sky, sea and earth. This palette can create a visually strong statement that is also warm and very easy to live with. A pleasing plain color paired with a welcoming pattern, is the perfect foundation for an inviting room scheme.
GRAY GREEN, RED
A split complementary scheme, chosen from adjacent points on the color wheel. The deep green paint on the walls features deep gray undertones making a striking backdrop for a cast of vivid furnishings and accessories in appealing shades of red and coral.
TERRACOTTA, BLUE
In this living space, the tonal shade of terracotta on the wall provides a warm background for the bold royal blue sofa. Dashes of brown, terracotta and pink on cushions and artworks echo the wall colors, while the matching blue footstool and paler blue rug anchor the look.
FRESH GREENS
A clutch of green hues are combined in pattern, planting and upholstery, with a harmonious pop of blue. All are framed and grounded with strong black lines and pale cream walls.
FUSCHIA PINK, CORAL, PEACOCK BLUE, FOREST GREEN
The rich, pink of the sumptuous bedspread is the dramatic focus of this bedroom. A classic split complementary scheme, the addition of the deep blue shade of the headboard and the forest green walls ensure a cohesive, cosy sophistication.
DUCK EGG, RED
Complementary hues of vibrant red and cool duck egg prove a surprisingly fresh mix, against which geometric pattern in crisp monochrome lends a modern edge. The look is softened by the curves of the dining table and chairs.
BLUE, OLIVE GREEN, SUNSHINE YELLOW
Utilising colors from almost a third of the wheel, this harmonious scheme teams blocks of blue, yellow and olive green together for a calming effect. Patterned wallpaper in a neutral shade grounds the look, while the pale green pattern on the headboard gives it a fresh edge.
DELICATE PINKS
Powder pink walls and upholstery are given extra depth thanks to the accessories in this space. Rich pink curtains and a patterned rug in a plethora of pink hues, from pale pinks to almost red shades tie the tonal look together beautifully.
Now that you're armed with the knowledge of how to use the color wheel and how to mix colors, you'll be inspired to create your own perfect palettes.
Hello there, I'm Ginevra Benedetti,
Associate Editor on the Homes Content Team at Future.
I've been fortunate enough to have been writing about interiors for the past 16 years on the majority of Britain's monthly interiors titles, such as Ideal Home, Country Homes & Interiors and Style at Home, as well as Livingetc and of course, Homes & Gardens.
This naturally feeds into writing for wonderful websites like HomesandGardens.com and IdealHome.co.uk.
Over the years, I've interviewed some of the most talented designers in the business and I've pretty much written about every area of the home, from shopping and decorating, appliances and home tech, wallpaper and fabric, kitchens and bathrooms, even extensions and conversions.
I never tire about reading or writing about interiors, from classic timeless designs to innovative smart tech - the subject is always evolving, just as our homes do, year after year.