Decorating with grey – 21 ways to use this timeless shade
Discover the art of decorating with grey with these inspiring schemes and expert tips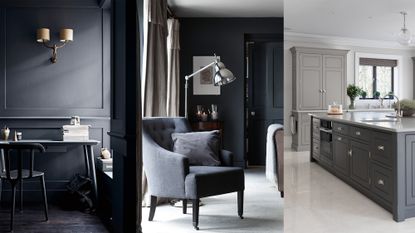 (Image credit: Crown / Neptune / Humphrey Munson)
Decorating with grey is enduringly popular and it's easy to see why.
A neutral, versatile shade with a broad tonal spectrum stretching from cool off whites to deep charcoal, grey can be used to create myriad interior looks for any room from cool, calm and uplifting to dramatic and sophisticated.
Grey looks effective when layered in different tones as part of a monochrome interior yet also makes a timeless backdrop for decorating with colorful furniture, artwork and accessories as part of a more striking scheme which can easily be updated across the years with different accent colors.
As Ruth Mottershead, creative director at Little Greene explains, 'Greys, neutrals and white are a decorating staple, and are combined in both classical and contemporary decoration style to present a backdrop upon which to decorate; but, this is not the end of the story, as the use of stronger neutrals leads us to a more exciting vision.'
Whether you're looking to create a calming grey living room or a bold, head-turning scheme, these grey room ideas are guaranteed to get you inspired.
Decorating with grey – what to consider
When decorating with grey one of the key things to consider is tone, especially when it comes to wall colors, as this can have a huge impact on the look and mood of the room.
'The paler the tone, the more it will reflect the available light. The darker the tone, the more light it will absorb,' Justyna Korczynska, senior designer at Crown. 'At the extremes, white will make a room look more spacious, and black brings the walls visually inwards. This rule applies to all colors. So a pale grey is ideal if you wanted to make a room look larger; a deep charcoal would make it appear smaller. Having said that, a dark color used in a small room can be really effective.'
1. Introduce plenty of texture
When decorating with grey and white texture is key explains Camilla Clarke, creative director at Albion Nord. 'Bringing in a variety of different materials helps to create interest and diversity in a space without the need for bold colors. Try to use greys with a warmer tone so the space doesn't feel too cold.'
In this grey bedroom the woven-effect wallpaper, velvet cushion and linen throw all combine to bring texture and coziness to the scheme.
If you're thinking of a grey and white bedroom, 'always try to use off-whites where possible as it helps to create a softer atmosphere in the room,' she adds.
2. Use mid-grey as a base for color and pattern
Soft and warm mid-greys are perfect for a living room color scheme as they provide a calm yet cozy feel plus provide a neutral backdrop for showcasing colorful, patterned cushions, curtains and fabrics in bolder accent colors.
In this traditional living room, Little Greene's Serpentine and a Bibury sofa in Dove linen from Vanessa Arbuthnott create a tranquil and timeless base for mix and match prints in peach and soft duck egg blue – brilliant accent colors for grey.
'Grey has universal appeal, serving as a timeless and elegant backdrop upon which to build character, however we are seeing a move towards warmer stone toned greys, which offer a sense of comfort. Dolphin, Serpentine, Grey Moss are becoming the go-to colors for creating a sense of coziness in living rooms whilst still delivering the sophistication and elegance that grey offers,' says Ruth Mottershead, creative director of Little Greene.
3. Choose the right grey for a kitchen
Decorating with grey in a kitchen is a popular and timeless choice with grey kitchen ideas – and subtler, grey and white kitchen ideas – nearly as popular as safe as houses white kitchens. However, finding the right grey for a kitchen can be tricky.
'Grey gets such a bad rep and people say oh it's so boring but it's a hugely versatile shade for kitchens and provides a wonderfully calming backdrop for other accent colors to really pop against,' says Louisa Eggleston, creative director at Humphrey Munson.
'It can take a while to get the exact tone right as the light changes so much so you always have to look at samples in the actual light. From a practical point of view grey cabinetry is exceptionally forgiving so for busy households with children and animals it can hide a multiple of sins!'
When choosing a grey for a kitchen the question of natural light is pertinent, as is the size of your kitchen: the smaller and darker it is, the lighter the shade of grey you should use to enhance it. If you're keen to introduce darker greys consider using a light grey on the base units, and a darker on a kitchen island to keep the space yet create a focal point.
4. Team grey with white for a fresh look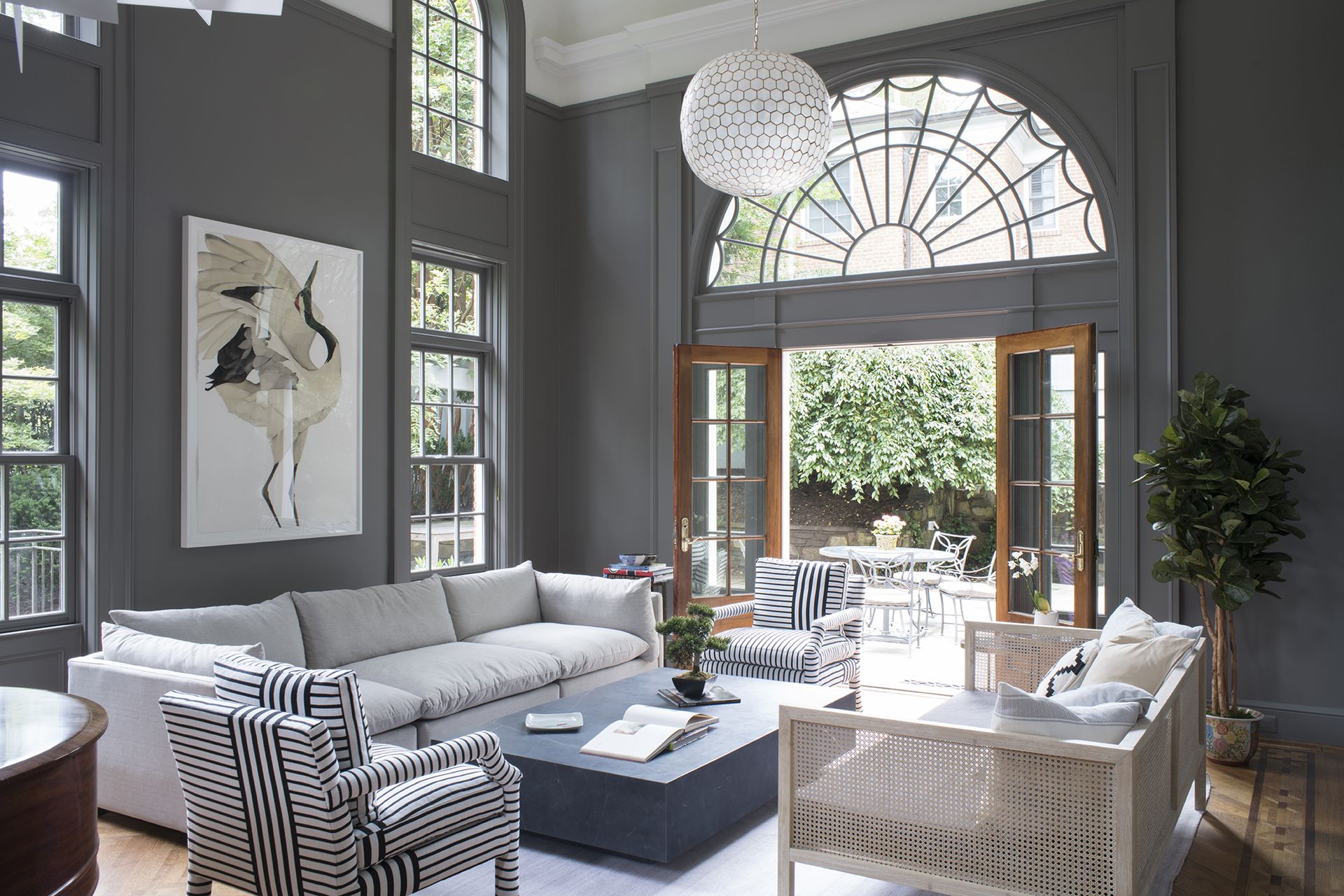 Using light grey with crisp white is a go-to for a bright, timeless living room scheme. In this grey and white living room by DC-based architecture firm, Fowlkes Studio, the restrained palette helps place emphasis on the striking architecture of the space, but it's important to choose the right shade of grey when decorating with grey and white together, explains Catherine Fowlkes of Fowlkes Studio.
'I like using warm greys to give depth to walls without dictating the room's furniture palette – light greys add a layer of softness while rich greys add depth. Coating the windows, doors and trim in the same grey wall color further unifies the backdrop to a living room and can give the illusion of a higher ceiling when painted in a contrasting color. I gravitate towards greys with less blue and more brown in them.'
5. Embrace dark greys for a cocooning feel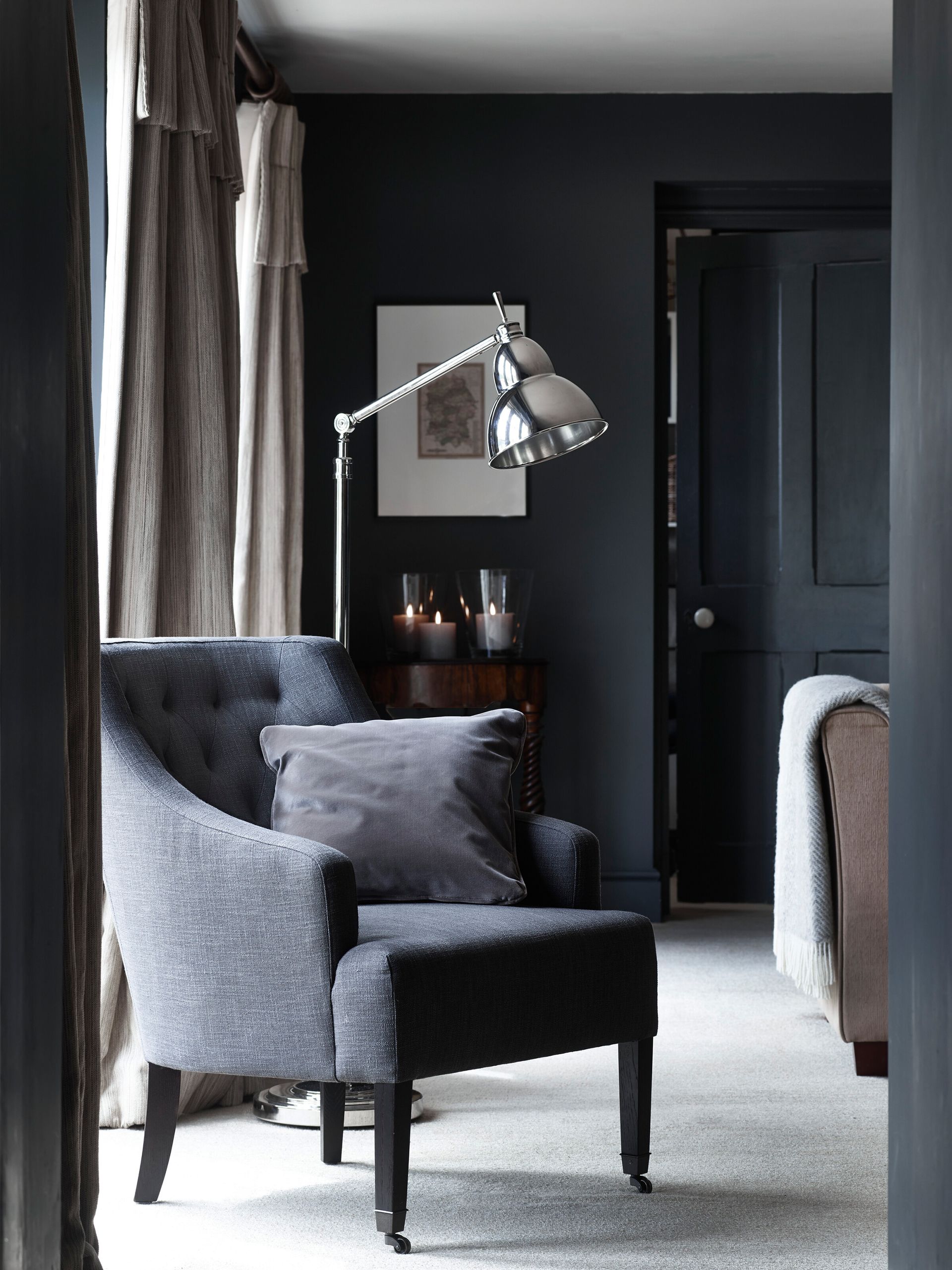 Large rooms can take the drama of decorating with dark smoky grey – for a contemporary look consider using the shade over all surfaces including skirting and door frames. Taking this color drenching approach with dark tones is also a brilliant cozy living room idea as it helps create an intimate, cocooning feel.
Here, walls painted in Neptune's Charcoal are beautifully offset with a light grey flooring idea and curtains to soften the look, while the nickel floor lamp and velvet bring luxury and texture.
6 . Bring life to grey rooms with patterned wallpapers
Gray bathrooms and grey and white bathrooms can run the risk of feeling cold and clinical; to create texture and interest try adding a pretty, ditsy wallpaper. This paisley design from Dado Atelier perfectly complements a glamorous marble double console basin, while rattan accessories add warmth and softness.
'Whether you're looking to add personality to your bathroom design scheme or create wow factor in your downstairs loo, wallpaper is a fantastic way to bring the joy of color and pattern into what is often a stark white space,' explains Kate French, creative director at Dado Atelier. 'The transient nature of a bathroom means it's an excellent room to have fun and bring in a sense of personality, style the space as you would any other room with interesting art and characterful mirrors.'
7. Color drench with grey for a contemporary look
Dark grey can make a wonderful shade for a home office, helping to bring walls in and create a cocooning space that focuses the mind.
Here Crown's Aftershow is used over all surfaces in a 'color drenching' technique which brings a contemporary twist to the space, while the wall paneling is a clever device which helps create depth and texture to the flat use of color. 'Panelling looks great when color matched to form a drenched wall,' says Justyna Korczynska. 'Paneling will add character and reflect a period style that is emphasised when hit with light. As the sun moves throughout the day shadows and texture will be created from the reflection of the sun.'
A sculptural wall light adds a touch of creativity – for similar, try Porta Romana, while the Scandi-style furniture also adds to the contemporary feel.
8. Give a living room a neutral focal point with a grey sofa
A neutral grey sofa living room idea is a great investment piece, as it is easy to refresh with new cushions and accessories as seasons and tastes change. This comfy Radcliffe corner sofa in Dyed Flax stonewashed linen from the Tailored by Oka collection is perfect for a farmhouse living room.
A jute rug, watery artwork bring essential rustic texture to the scheme while. When decorating with neutrals adding sculptural pieces can be a great way to add interest, such as demonstrated with the striking pendant and floor lamp designs in this scheme.
9. Warm up grey with wood
When paired with the warm tones of wood, dark grey walls make for a wonderfully rich interior scheme. This beautifully crafted stained oak Haberdashery kitchen from Devol makes a striking contrast with storm-colored walls painted in Farrow & Ball's Downpipe. Brass taps add to the warmth while a stylish veined marble sink brings additional texture.
10. Use grey to create a relaxed, rustic bedroom scheme
Dial down pattern and decorative noise in a bedroom to create the mood for a restful night's sleep. Here stonewashed French flax bedlinen in Dove Grey, from Piglet in Bed sets an understated tone, while textured walls add depth and interest to the scheme – a perfect combination of textures for a rustic bedroom look.
11. Consider your room's orientation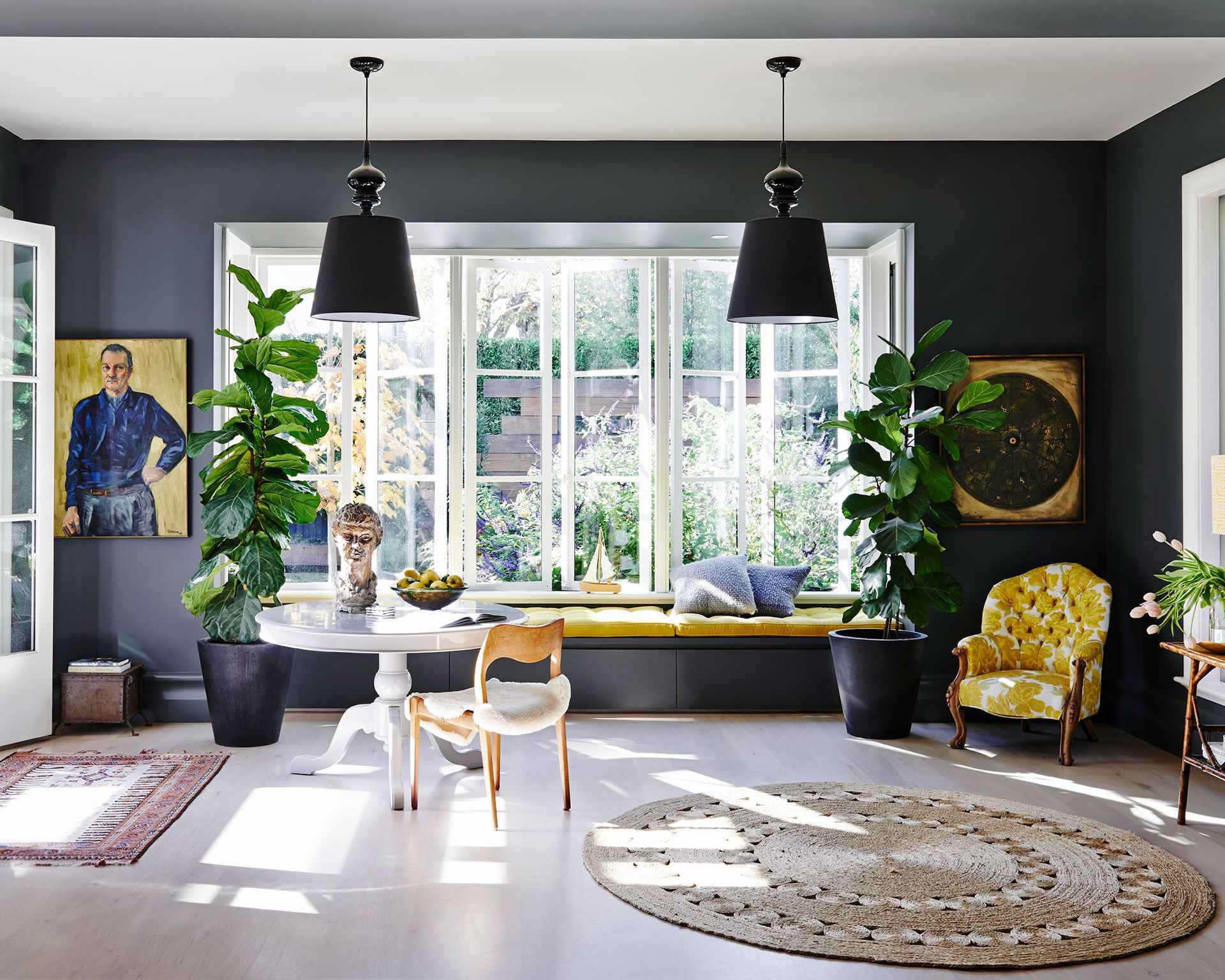 'Decorating with grey successfully really depends on you choosing a color that suits the natural light in the room,' says H&G's Editor in Chief Lucy Searle. 'A warm light, which you'll find in south- and west-facing rooms will soften a cool grey, making it a great choice for a restful feel, or you can choose a dark grey to great effect; an east- or -north-facing room will naturally receive colder light, so a warmer grey with yellow tones will work better.
'Then you might want to think about the effect you want to create: narrow spaces – perhaps grey hallways will feel bigger with lighter greys, while grey bathrooms and grey dining rooms in warm greys will feel more welcoming.'
12. Choose a warm, light grey for a welcoming hallway
Decorating with grey is a popular hallway idea. Hallways are often small spaces, so painting them in a light, neutral grey can be a great way to make them feel bright and airy, plus, opting for a shade with warm undertones will also help them feel welcoming.
Choosing a neutral color for a hallway is also a brilliant idea if you like to style different entry table decor ideas from season to season as it will provide a neutral backdrop for all manner of displays. In this grey hallway the orange berry branches are perfect add warmth and are perfect for fall.
1 3. Discover what colors work well with grey
Due to its versatility, most colors go with grey – it is a neutral after all, which means it acts like a blank canvas on which you can put your mark. However, before you consider a color scheme with grey as a base, it's worth considering the effect you want to create.
Judy Smith, Color Consultant at Crown confirms our thoughts: 'Pale and mid greys like Linen Cupboard and Tin Bath can offset the hottest and most vibrant tones of orange and deep yellow to add balance and a calming foil, they can also blend with soft and watery turquoises, purples, glass and metallics for a hazy look.'
This, of course, is perfect for when you want a warm, contemporary contrast. However, if you prefer a softer effect, like in the room above, you will want to choose greys and complementary colors that don't jar as much.
'Natural tones of pebble and stone mix with other natural colors like sand and chalk, as well as materials like linen and pale wood also make for a laid back and restful scheme.'
You can use the color wheel to get your choice just right.
14. Work out what color goes best in a grey living room
As we said above, most colors go well in a grey living room. You can team it with other shades of grey, sage, deep magenta, inky blues, jet black, tumeric… the list is endless.
However, when asking yourself this question, it's important first to talk about how much natural light your living room gets. Is it north-facing or south-facing? If the former, choose warming shades a warm grey with warm accent colors. If, however, the sun streams into your living room all day long, you can afford to choose a deeper tone, such as the one above.
The second question to consider: what effect do you want to create? This is largely going to be down to when in the day you use the room – if it's at night, a dark color, accessorized with warm shades and lit well can feel incredibly cozy. If, however, you want the room to feel light and bright, going for paler colors both for the grey and the accent shades will be more successful.
15. Work out what color furniture looks best with grey walls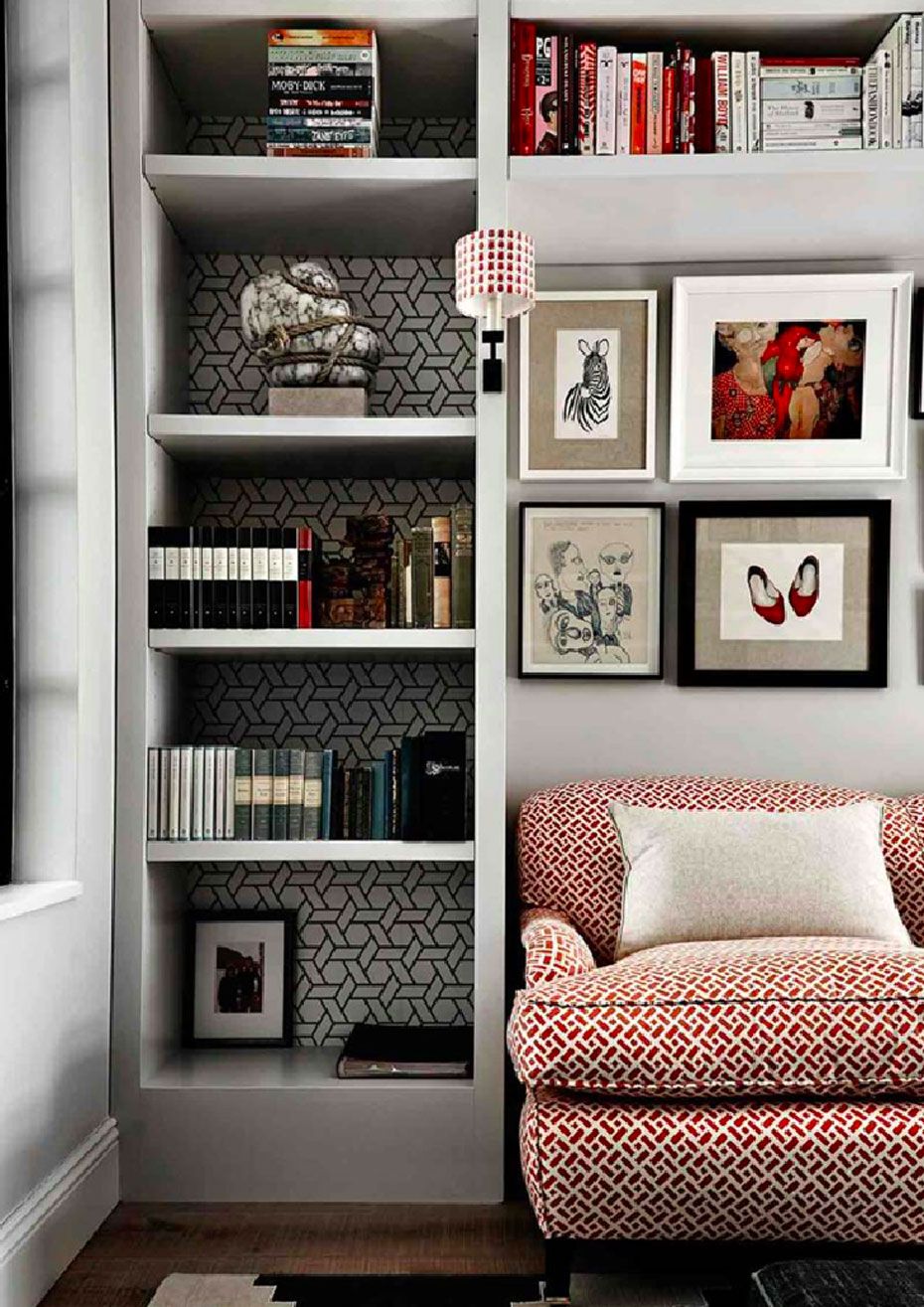 This is very much dependent on what shade of grey you have on your walls. For example, if your walls are slate or charcoal then opt for paler furniture in taupes, blush, coral and a paler grey. They will add a wonderful contrast to the dark walls and the result will be striking.
You can use the reverse methodology if you have pale walls – so choose darker furniture like a slate or deep terracotta sofa and accessorize with taupe cushions and a textured throw or two.
Antique furniture works well in both scenarios, the color of the wood will warm up the scheme and it will add character too.
16. Find out what color grey paint Joanna Gaines uses
We couldn't resist asking TV interior star, Joanna Gaines what her favorite grey shade is, and interestingly, she used it in Fixer Upper: Welcome Home - Episode 2 of her fabulous new show that you can watch on Magnolia Network.
The color is Prairie Smoke – you can see the beautiful depth it has when you see it used in the primary bedroom and how Joanne has used it on the wood cabinetry and trims. It contrasts beautifully against the warm tones of the bed and side table. It's very like the stunning grey kitchen dining room wall color used above.
17. Add warmth to a grey room with layering
Renowned British designer Louise Bradley founded her interior architecture and product design studio over 28 years ago and creates stunning sophisticated interiors for those who love bespoke and beautifully designed homes.
Below, she shares her advice on how to add warmth to grey rooms as depending on which tone you choose, grey can sometimes feel on the cool side.
'To avoid a grey color scheme feeling cold in an interior, you can add warmth through textured fabrics and the layering of patterns.
'Softening the light using tailored window treatments provides both privacy and intimacy within the space. Introducing hints of color through accessories dressed with greenery and foliage injects energy and lifts the space during the dull winter months.'
18. Try decorating with grey in different tones to create depth
Using the same tone of grey throughout a room can leave the space feeling flat – to create depth and interest it's often best to combine different tones of grey as Joa Studholme, color curator at Farrow & Ball has done in her fabulous office.
The walls are painted in Dimpse, a delicate, cool grey, which keeps the light-filled space uplifting and airy, while the floor is in Downpipe, which helps to ground the space.
19. Pair grey with warm accent colors
Warming shades like taupe or mushroom upholstered furniture with rusty-colored armchairs look great with light grey floors; they will create a welcoming and cozier feel against a cooler, pale floor (above).
And don't forget you can add pops of color – like the contemporary red stool shown here. On paper it may feel like it shouldn't work, but actually it does though is helped by the patchwork style rug. Rugs are a great option if you feel your floor feels too expansive.
20. Choose grey for a mid-century modern scheme
Iconic, sculptural pieces of furniture and bold, primary colors are hallmarks of mid-century modern decor and if you're looking to embrace this striking, retro look then a neutral grey backdrop can make a great, pared-back foundation.
In this space the light grey walls and textured grey carpet provide the perfect muted base for decorating with artwork and statement mid-century chairs with their zesty pop of yellow.
21. Combine a grey floor with colorful walls
Every color of the spectrum will go with a grey floor living room floor idea, and again, the one you choose will largely be down to the effect you want to create: elegant and cool or warm and cozy. Black, white, cream and shades from the cooler end of the color palette will work best on walls for sunny rooms with cool grey floors; spice shades and more welcoming tones of green and blue on walls will work with warmer grey floors.
'For a dramatic look, pair grey with layers of dark, moody tones like aubergine or midnight blue. If you'd like to incorporate a fresh look, infuse the palette with a lighter, softer shade that glows, like golden yellow or bright green, says Jodie Hatton, design manager at Brintons.
While light and bright spaces are appealing, they can be sterile if you don't add some cozier colors. This living room has been turned into a cozy, welcoming space when teamed with various plum tones, a patterned grey carpet, sky blue cushions and brass accessories.
What colors work well with grey?
'Grey is enormously versatile. Depending on the underlying tones within it and on the depth of color, it can be partnered with almost any other hue,' says interior designer Victoria Wormsley of French-Brooks Interiors. 'I like to use it as a foil for warmer shades, such as reds, pinks and terracotta or burnt orange. It also looks smart set against off-white for panelling and mouldings such as dado rails.
Consider pairing it with contrasting colors, too. Designer Vanessa Arbuthnott believes 'many yellows, softer pinks, and warm blues' work well as complementary colors.
Which colors do not go with grey?
Most colors go with grey but some look harsher against the steely tones of grey. If you are decorating with primary colors, for example, grey can jar. Equally, pastel colors are a poor match for grey: the pastels will look muddier and the grey will look out of place. The only exception is a pastel grey that matches your pastels tonally and exactly.
Can you go wrong decorating with grey?
Yes, you can go wrong when decorating with grey. For example, a one-grey scheme will look flat and uninviting, so ensure you introduce other greys, neutrals and warmer shades with accent colors, layering and texture. Equally, decorating with grey and primary colors or pastel colors will look wrong – the best matches are earthy, natural shades that add an element of warmth to your scheme.
Sign up to the Homes & Gardens newsletter
Decor Ideas. Project Inspiration. Expert Advice. Delivered to your inbox.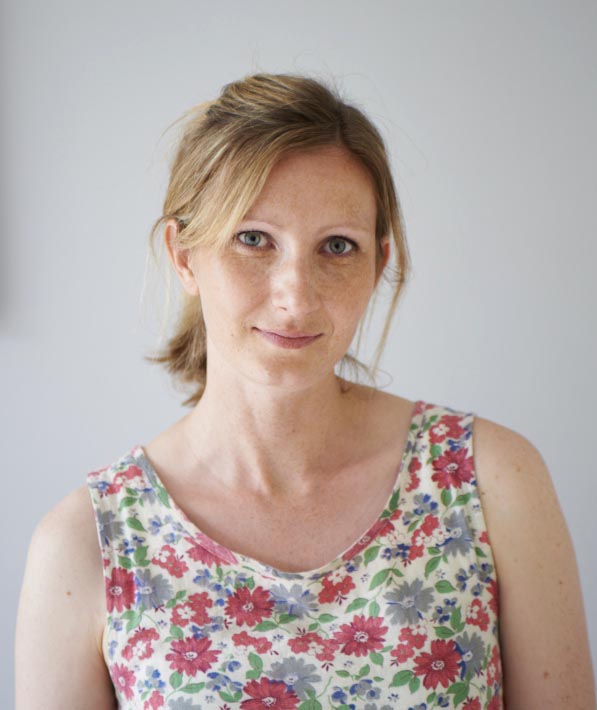 Sophie has been an interior stylist and journalist for over 20 years and has worked for many of the main interior magazines during that time, both in-house and as a freelancer. On the side, as well as being the News Editor for indie magazine, 91, she trained to be a florist in 2019 and launched The Prettiest Posy where she curates beautiful flowers for modern weddings and events. For H&G, she writes features about interior design – and is known for having an eye for a beautiful room.