Entry table decor ideas – how to decorate a hallway table
Embrace both beautiful and practical entry table decor ideas and create a space the feels like home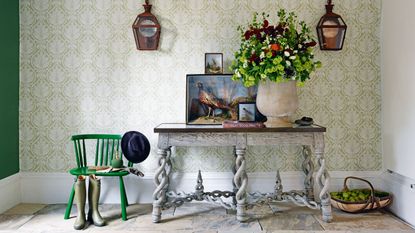 (Image credit: Simon Brown)
When thinking about entry table decor ideas, start with what really makes you feel at home.
As the first sight you'll likely see as you walk through the door, this space can host anything from family photographs to softly glowing lamps that welcome you into their warmth. If you're looking to inject personality into your hallway ideas, this is the place to do it – but you'll need to think a little about functionality too.
'Console tables make a functional addition to any space, offering a place to display family photos and heirlooms, but somewhere to safely store keys and letters too,' says Paul Deckland, Buying Director at The Cotswold Company.
Entry table decor ideas
From storage-friendly ornaments to beauteous bunches of local flowers, we asked the experts to share their favorite entry table decor ideas, and sourced some stunning examples that we'd love to have to welcome us home.
1. Keep it compact with a wall-mounted table
Before you choose what's going on your entry table, you need to think carefully about the table itself – its style and size will, after all, inform the overall look.
A wall mounted console table is an excellent option,' says interior designer Tiffany Duggan, Founder of interior design studio, Studio Duggan. '1st Dibs often have a great selection of antique ones with marble tops and iron scrolled brackets.'
Often coming with less of the bulk but all the style, a wall-mounted table is a particularly good option for narrow hallway ideas, as shown in this example designed by Duggan, where the table's lack of legs makes for more walkspace.
2. Stay tidy with built-in storage
'Hallway furniture can be tricky to place, as every piece should be slim but with maximum storage enabling us to store all essential items, including keys and wallets close to the front door,' says Solenne de la Fouchardiere, Founder of Ochre.
Entry tables need to do more than look pretty. Collecting the ephemera of everyday life, from mail to dog leads, is also a big part of the job. To keep the less pretty pieces at bay, look for tables that come with built-in storage to maximize on hallway storage ideas. Drawers will allow your chosen decor to shine, while bills and keys can be tucked out of site.
3. Make a hallway feel bigger with a mirror
Placing a mirror either on or above the entry table is not just handy for a quick check-in on your good hair day before leaving the house – it can also play a welcome optical illusion.
A particularly smart choice among small hallway ideas, adding a mirror can create a greater sense of space and bounce light around tight, dark nooks. In this hallway, the mirror is positioned to collect the light from outside, and bounce it back from its recessed alcove.
4. Bring the outside in with fresh flowers
As we've all been craving the great outdoors recently, green has become a huge trend in hallway color schemes – but don't restrict it to your hallway paint ideas alone.
'Fresh foliage foraged from the garden or surrounding countryside helps to bring the outside in, and gives a nod to the local landscape, something we consider with every design,' says interior designer Emma Sims-Hilditch.
A big bunch of flowers is a welcoming sight to behold on returning home, and can also help bring the outdoors in. When choosing your flowers, think about pairing them with your wall paint colors, or even using them to pick out accents in your hallway wallpaper ideas.
5. Make a statement with a round table
For homes with less of a hallway, more of a foyer, the battle with size may be filling it out rather than fitting things in. 'A round table can be a great way to fill the space of a larger entrance hall,' says Sims-Hilditch.
The historical grandeur of a circular table makes it perfect for making a statement in period properties, but it can also work well in a more modern setting. 'For a home with a more contemporary aesthetic, it is also a lovely way to soften the hard lines of Crittall doors or a metal coffee table, for instance,' Sims-Hilditch adds.
6. Light it up with table lamps
While you'll need to pair them with other hallway lighting ideas to ensure the space is adequately lit, a table lamp is a great way to add a welcoming, diffused glow into the hall, and provide extra task lighting for reading letters.
Along with their practical benefits, lamps are an excellent vehicle for making a design statement, and typically bridge the gap between eyeline and the table itself.
7. Double up
If you really love your entry table decor ideas, why not enjoy them twice over? Creating a symmetrical arrangement with your decor is not only aesthetically pleasing, but conveys a calming sense of order and purposefulness in what can be a hurried moment or two of the day.
In this hallway by Sims Hilditch, a central mirror and vase are flanked with identical lamps, chairs and baskets, all based on a double drawer console table.
8. Combine it all with a cabinet
Access to a tabletop is pretty important when designing a hallway – but it doesn't necessarily need to be attached to a table. If you're looking for a real storage boost, consider combining the accessibility of a console table with the mess-concealing advantages of a cabinet.
It's more one for larger hallways, perhaps – try being a little daintier with your decor choices on top and allow the surface area of a statement sideboard to do the talking, just like interior designer Mindy O'Connor has done with this deep blue cabinet. And don't forget to organize hallway closets so they look as good on the inside as the outside.
9. Hang art above your table
While less is not always more, it very often can be. When thinking about entry table decor ideas, practising restraint is a skill that will allow your selected items to shine.
In this hallway, the scheme is dominated by the exquisite pairing of a modern table and a corresponding mirror, the black frame of which emulates the thickness of the table's legs. The bold characteristics of these are then softened by the small, simple ornamental additions – just three, no more.
10. Choose storage-savvy ornaments
If you've maximized the space in your console table's drawers, think about how your chosen ornaments can work a little harder for you. That is to say, decor and storage can be one and the same.
'A console table is a useful item to have in the hallway,' says Sims Hilditch. 'Why not consider placing a wicker basket on top of or underneath the table to store post?'
In this entryway designed by Tiffany Leigh, the edition of stylish woven baskets below the table act as hallway shoe storage, but also add interest. Consider trinket boxes that can be used for keys too.
11. Delve into your home's heritage with antiques
If you're looking for style inspiration for your entry table decor, look around your home. Following a theme inspired by the house's period features will help create a cohesive scheme.
'An entrance hall can be a good place to place an antique table,' says Sims Hilditch. 'Antiques add a gravitas to an interior which sets the tone for the entire house, creating a feeling of timeless elegance. If the home is steeped in history, antiques usually blend well with the building's heritage, but they can also work in nice contrast to the furniture used in a more contemporary home.'
In this house, an antique table is paired with an antique-style chair and candle sconce to its side, along with candlesticks and porcelain on top.
How can I decorate my entrance table?
Typically, entry tables are not very big, meaning you have to be very deliberate in your decor decisions – every centimeter counts.
Therefore, think about prioritising decor items that serve a purpose. Table lamps will work as task lighting to help you find your keys in the dark, while trinket boxes can be used to hold keys and more. Once you've made a judgment call on those, go all out with purely decorative items like vases of flowers and framed family photographs.
Don't just think about what's directly on top of the table, but the wall decor ideas behind it as well. A mirror is a popular option, but also consider installing a piece of artwork to add immediate personality to your home from the first step through the door.
What should I put on my entry table?
In essence you need to balance what you need to put on your entry table with what you want to put on it – a bit of both will do you good.
You'll need space for items like keys, wallets and mail, but consider choosing a table with built-in storage like a drawer so these bits don't always have to be up on the countertop. If you don't have a drawer, consider finding a stylish plate, bowl or letter rack to keep these items tidy.
When you've decided where these essentials will live, mix and match a combination of framed photos, floral arrangements, table lamps and ornaments to showcase your personality and what feels like home to you.
Sign up to the Homes & Gardens newsletter
Decor Ideas. Project Inspiration. Expert Advice. Delivered to your inbox.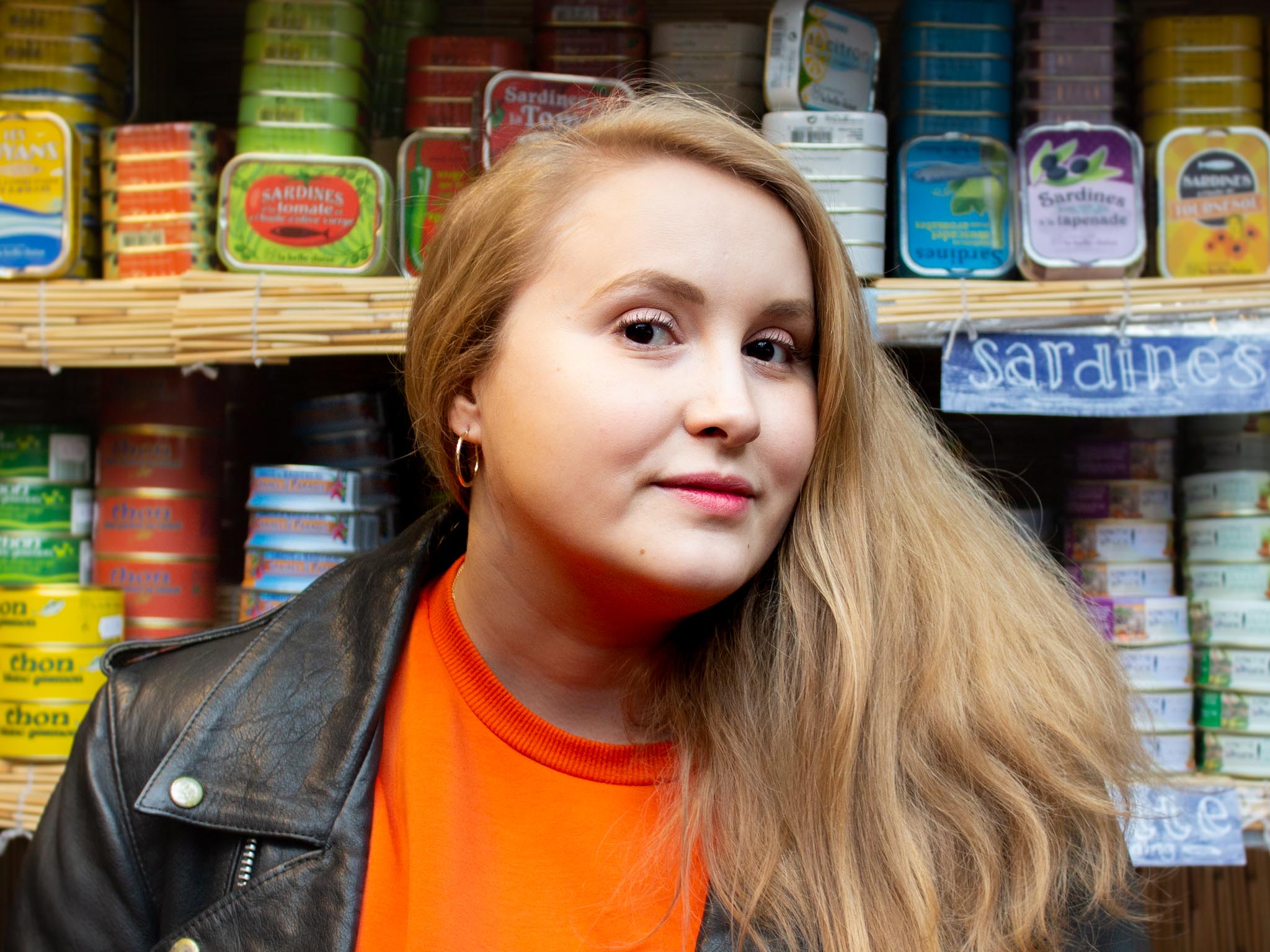 Ailis started out at British GQ, where a month of work experience turned into 18 months of working on all sorts of projects, writing about everything from motorsport to interiors, and helping to put together the GQ Food & Drink Awards. She then spent three years at the London Evening Standard, covering restaurants and bars. After a period of freelancing, writing about food, drink and homes for publications including Conde Nast Traveller, Luxury London and Departures, she started at Homes & Gardens as a Digital Writer, allowing her to fully indulge her love of good interior design. She is now a fully fledged food PR but still writes for Homes & Gardens as a contributing editor.