Hallway shoe storage – 11 ideas for keeping an entrance neat and tidy
Step up your hallway shoe storage with clever consoles, multifunctional boot benches and expert tips on saving space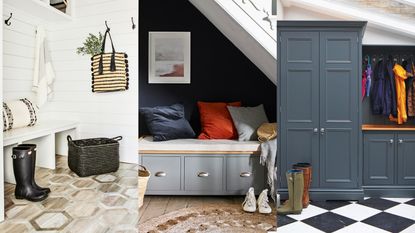 (Image credit: Marlaina Teich Designs/Patrick Cline/The Cotswold Company/James Balston)
Sign up to the Homes & Gardens newsletter
Decor Ideas. Project Inspiration. Expert Advice. Delivered to your inbox.
Thank you for signing up to Homes & Gardens. You will receive a verification email shortly.
There was a problem. Please refresh the page and try again.
No, you don't have too many shoes – you just need the right hallway shoe storage to accommodate them, that's all.
No one wants to trip up on their loved ones' shoes the moment they walk back in through the door, so incorporating ample storage for your boots and high heels is essential when planning your hallway ideas.
'Furniture that allows for hiding clutter is a simple way to keep your hallway free from mess,' says Solenne de la Fouchardiere, Founder at Ochre. 'Figuring out how to hide your shoe collection can make your space feel cleaner and clearer from the second you enter a room.'
Unfortunately, shoes are notoriously awkward objects to store – irregular shapes that you ideally don't want to stack are always a bit of a nightmare. Luckily, the furniture gods have come up with myriad ways to stash away your sneakers, and keep them organized in the process.
Hallway shoe storage
Great shoe storage ideas are vital, but especially in an entryway or hallway. From boot benches with secret storage to the space-saving tips you need to keep one of the house's smallest areas tidy, we asked the experts to share their smartest hallway shoe storage solutions to keep you one step ahead.
1. Use the space under the stairs
The best small hallway ideas are all about making the best of the space you have – and that means all of it.
'A hidden cupboard beneath a staircase in a hallway is a useful space saving idea for those wanting to avoid taking up valuable space with freestanding cabinets and cupboards,' says interior designer Emma Sims-Hilditch.
While stashing shoes in this cupboard is one way to use this awkward spot, opening up the area can allow for an excellent boot bench location – no need to worry about lack of head height if the purpose of the space is sitting down.
2. Get multifunctional with a storage bench
'When designing hallway interiors for our clients we often consider how best to maximize the storage space, particular if we are working within a small area,' says Sims-Hilditch. For hallway storage ideas that work really hard for you, consider a storage bench.
'Incorporating a hidden space to store shoes, hats and scarfs within bench seating is the perfect way to keep the area uncluttered and tidy, while remaining in keeping with the home's aesthetic.'
In this entryway nook by designer Ginny Macdonald, a slick, white oak boot bench features handleless deep drawers for easy shoe storage.
3. Maximize utility with built-in units
Wondering how to organize a hallway closet? The best answer is to design it well in the first place. Including bespoke, built-in units in a hallway not only helps make the most of the space, but allows you to tailor it to work for what you need. If you're the sort of household that wears a lot of boots, ensure you have shelves that are tall enough to accommodate them – for the kids, a greater number of smaller shoe cubbies may be better suited.
4. Upcycle alternative shelving
Not every piece of shoe storage needs to be a dedicated piece of shoe storage – frankly, some neat and tidy shelving will do. This is great news if you've found yourself with a much-loved freestanding bookshelf or storage unit that just won't fit elsewhere in a new home. If it fits, place it in the hallway and either stack up boots straight onto the shelves or use basket inserts that neatly disguise a shoe stash.
5. Make your console table work harder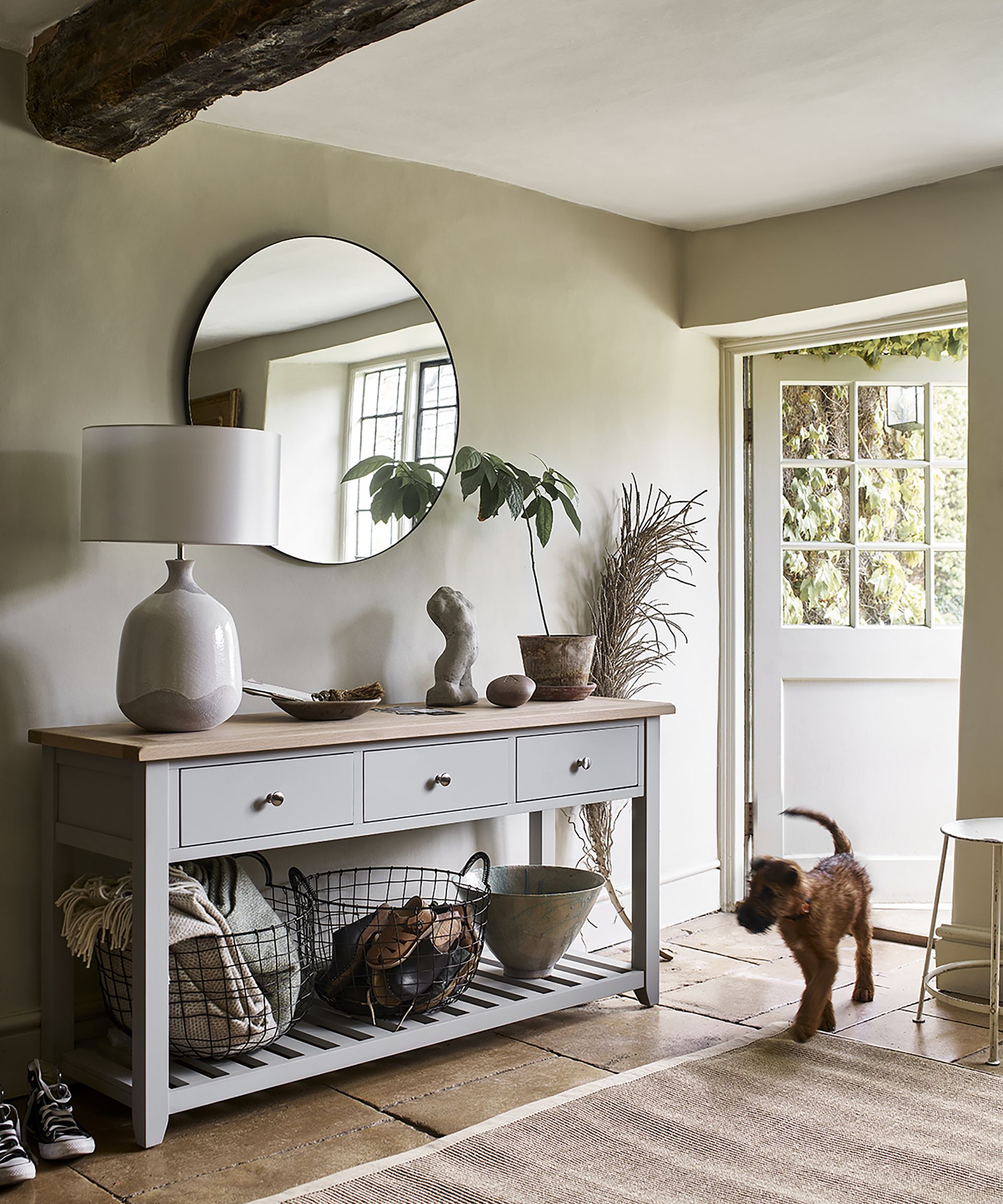 A console table already does a lot on a veritable tightrope: it will accommodate your keys, wallet, hallway lighting ideas and family photos, all while staying out of the way as much as possible.
'We recommend choosing pieces that are versatile and work hard in every space,' says Paul Deckland, Buying Director at The Cotswold Company. This console table does just that – choose one with a platform on towards the bottom, and it can act either as a shoe rack, or a place to put baskets that are easily filled with shoes.
6. Give each household member their own space
The key to keeping a space tidy is having somewhere to put everything – and if everyone knows exactly where things are meant to go, even better. In this space, designer Tiffany Leigh has made this particularly easy by creating a dedicated locker and shoe drawer for every member of the household. Floor-to-ceiling cabinetry also means that not having enough space is not an excuse.
7. Think vertically
Naturally, it's easiest to assume that shoe storage should go on the floor – but that is simply not the case. In a hallway with minimal floor space, make the most of walls and include shelving that reaches head height and beyond.
'For a narrow hallway, recessing shelving into a wall is a great way to create extra storage,' says Sims-Hilditch. If this isn't possible, make like the designers of this room and create a built-in shelving unit that makes the most of the wall's width as well as its height.
8. Get quick access with an open bench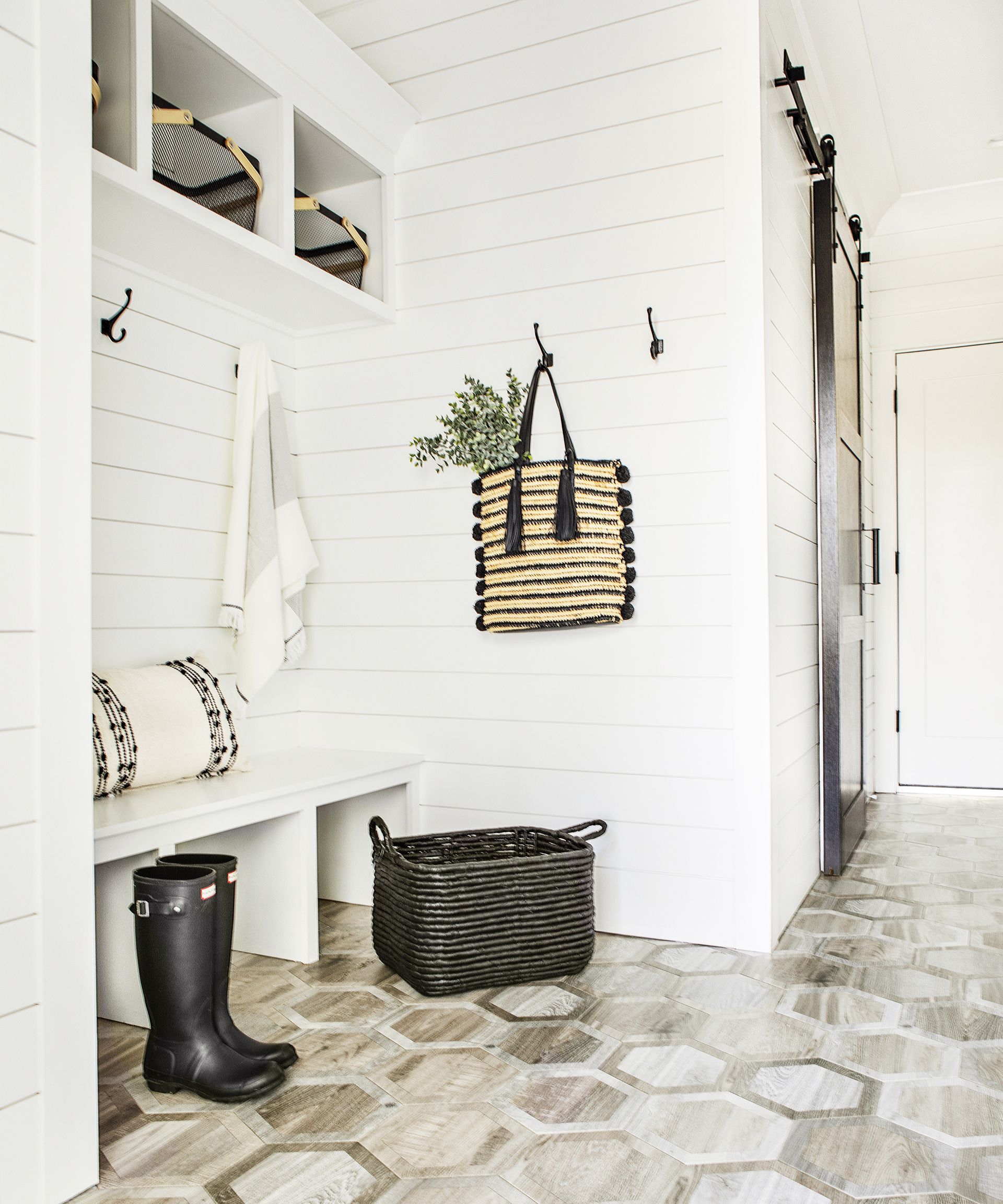 While keeping shoes out of sight is the easiest way to make a hallway feel tidy, day-to-day efficiency requires the shoes you need to be immediately accessible when you have to dash out the door. In this space by interior designer Marlaina Teich, a simple storage bench with open space beneath means that shoes used most frequently can be left out, but still tucked away. For the rest, the black woven basket is available to hide them from view.
9. Make it decorative
Don't just rely on your hallway wallpaper ideas to make a spectacular entrance – do it with your storage furniture too.
'In this hallway, we commissioned specialist decorators to paint our bespoke-designed American folk art-inspired shoe cupboard – plenty of storage for shoes and a great centerpiece opposite the staircase,' say Katie Glaister and Henry Miller-Robinson, Co-Founders of K&H Design. 'The charming Napoleon III pique fleurs complete the look. It's both practical and beautiful.'
10. Choose a unit that does it all in one
Of course, shoes aren't the only thing that need to be stored in a hallway – for ease, opt for a unit that will do it all. 'For busy family homes, a hallway tidy or shoe cupboard is perfect for housing coats, shoes and keys conveniently by the front door,' says Deckland.
If a whole cupboard is simply too big or imposing, a hallway unit like this one allows for shoe storage inside the ottoman storage bench, while also featuring coat hooks higher up, and even a mirror for a quick check before leaving the house.
11. Keep it minimal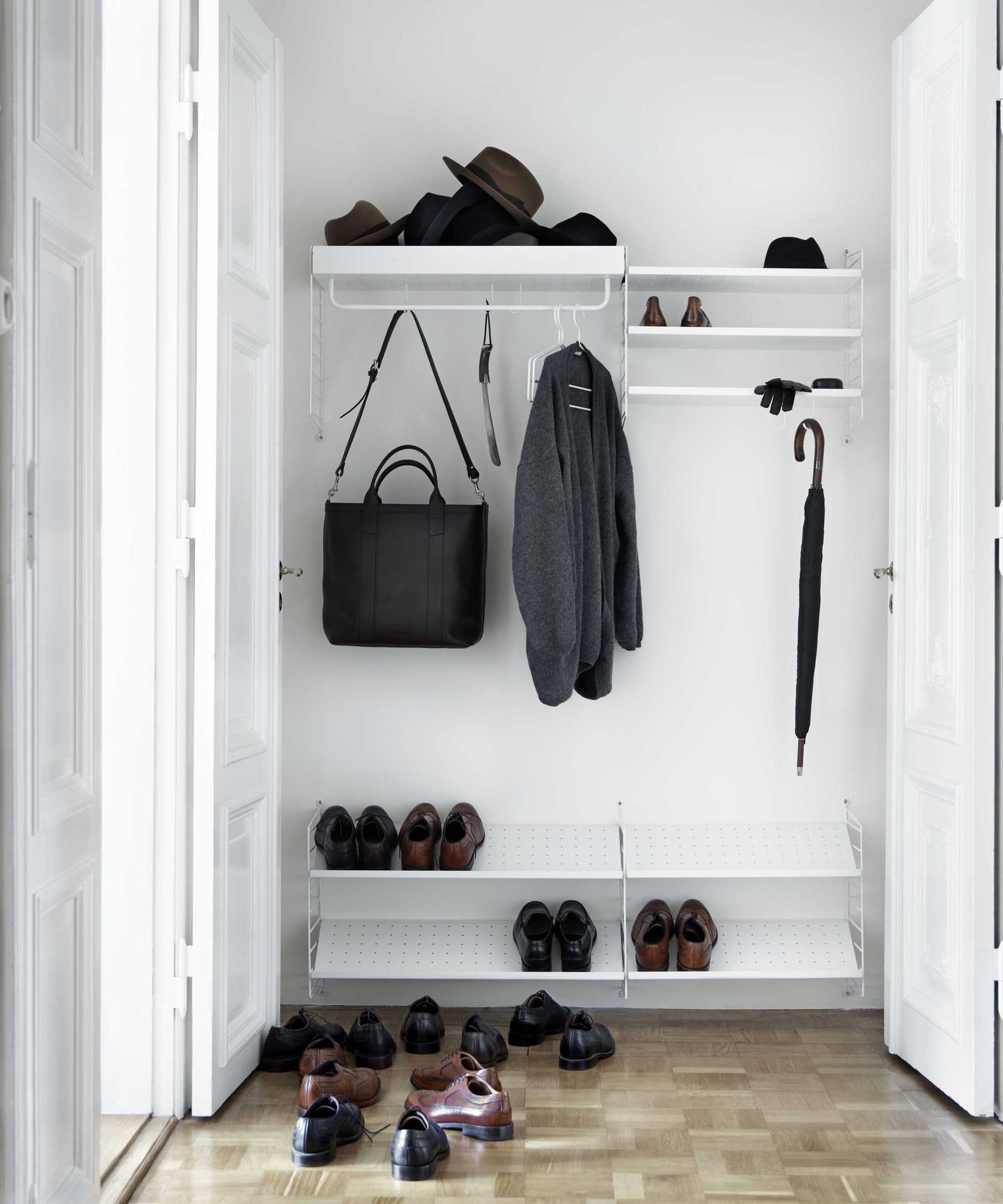 Whether you have a narrow hallway, or are just craving a simple aesthetic, bulky storage isn't always the answer. For smaller households, often a minimal approach is best with an open shoe rack, cantilevered shelves and a couple of wall hooks for coats. Something that blends effortlessly into your wall scheme, like this unit by String, can work particularly well amid pared-back, modern hallway ideas.
How do you store shoes in a hallway?
There are many ways to keep your shoes tidied away in a hallway – it's simply a case of working out what is best for you. For larger entrance halls, built-in cupboards with shoe racks or shelves are the best bet, allowing you to store coats, hats, scarves and more, all in one and out of sight.
If you're planning on creating a seating area for you to put said shoes on, then consider choosing a storage bench which allows for shoes to be stored inside it, accessible either through drawers or via an ottoman-style top. If multifunctional furniture is your thing, consider teaming this with a console table with a built-in shoe rack, for quick access to the shoes you use the most.
What should I keep in a hallway cupboard?
If possible, a hallway cupboard should be kept as a designated place for everything you need when leaving or returning to the house.
Shoes should be a priority, as should coats, scarves, hats, umbrellas and even shopping bags and dog leads. You may also want to use it for select cleaning items like shoe shining kits, but try to stop t from becoming overwhelmed by extra items.
Remember, don't fill it to the brim – you'll need space in there to store the shoes and coats of visiting guests too.
Sign up to the Homes & Gardens newsletter
Decor Ideas. Project Inspiration. Expert Advice. Delivered to your inbox.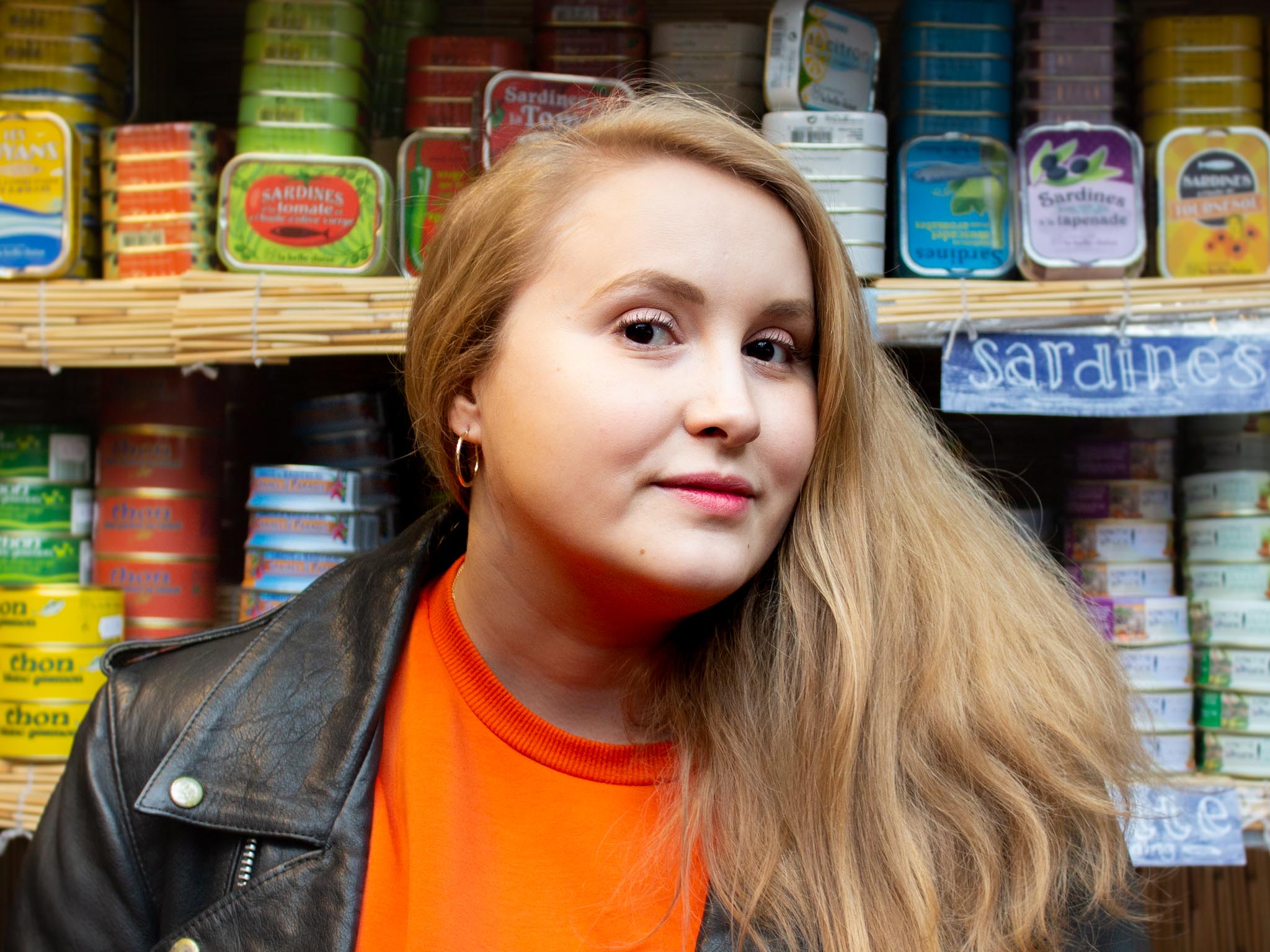 Ailis started out at British GQ, where a month of work experience turned into 18 months of working on all sorts of projects, writing about everything from motorsport to interiors, and helping to put together the GQ Food & Drink Awards. She then spent three years at the London Evening Standard, covering restaurants and bars. After a period of freelancing, writing about food, drink and homes for publications including Conde Nast Traveller, Luxury London and Departures, she started at Homes & Gardens as a Digital Writer, allowing her to fully indulge her love of good interior design. She is now a fully fledged food PR but still writes for Homes & Gardens as a contributing editor.