Hallway ideas – 25 stylish entryways to create a welcoming first impression
From interior details to inventive suggestions for storage, these design-led entrances, hallways and landings will inspire your revamp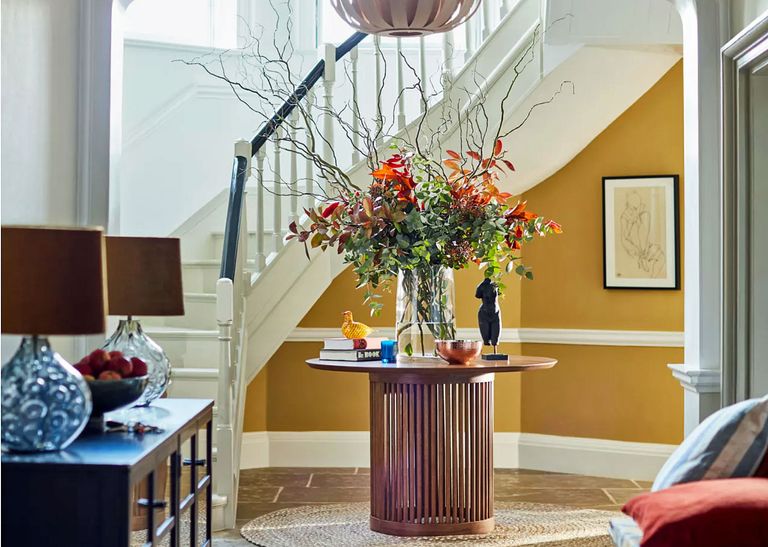 (Image credit: John Lewis)
Find the perfect hallway ideas for your home isn't always easy, but it should be.
From the first space any guest sees to the circulation zones between rooms, all the entryways and hallways in your home demand serious design attention.
Besides often being overlooked, they're also cursed with limited light and no natural focal point, so you need some solid interiors know-how to transform them into artful spaces. 
As well as looking inviting in its own right, an entryway or hallway should set the tone for the rest of your home – and should be considered alongside front porch ideas to ensure a coordinated feel. 
From interior details to inventive suggestions for storage, these design-led ideas for entrances, hallways and landings will inspire your scheme.
Hallway ideas
When decorating our homes, it's all too easy to forget the hallway; after all, it's not as if we spend much time in there. 
But there are so many reasons for making the effort – it's the first thing that family and friends see when they come round and it can make you feel relaxed and happy after a hard day. 
Whether you go for something fun and colorful or calm and soothing, here  are some ideas to get you started.
1. Swap carpet for a smart runner
A carpet is impractical in a hallway or entryway, but a stone or wooden floor can feel unwelcoming. The perfect compromise? A smart runner that can add both color and pattern, lead the eye up and down the space, and be taken up easily for cleaning is ideal.
Note the books and pictures in this space – it has been furnished to feel like a room, not a thoroughfare, which makes it feel far more welcoming. 
2. Use white to make a low ceiling feel taller
Entryways come in all shapes and sizes, and depending on the era of the property, can have low ceilings. White is generally the go-to in this situation as it will instantly add brightness, but if you prefer a more subtle yet still uplifting shade then consider Dimpse by Farrow & Ball which has been used here. 
It's a delicate grey that has elegance, and won't be as harsh as a brilliant white. Be consistent and use it for walls and woodwork, that way you'll achieve an all round encompassing feel. 
3. Consider scale, light and color
Remember that lighter colors give the appearance of more space, while darker tones will bring the room in, resulting in a cozier, more intimate feeling. 
Similarly, a wallpaper with large motif will introduce a sense of drama, while a smaller design will help to make the hallway appear more spacious.   
'Hard-wearing paints or tough, wipeable wall covering are best for particularly busy areas, says Claire Vallis, Design Director of the Harlequin Design Group. 'This is more important in family homes.' 
4. Add a pop of color for a quick fix
This farmhouse foyer has been given a pop of brightening color with a coral bench and multi-color cushions.
'Your entryway serves as the introduction to your home and the wonderful characters that reside within,' says Mary Maloney, Owner & Designer at Bees Knees Interior Design Studio. 'Your entry should suit the architecture of your home, along with the functional needs. The church pew in this entry holds sentimental value, along with a bit of family history, all of which suits this reproduction style colonial perfectly. Details count, the bright color and fabric add to the charm and welcome all who enter!'
5. Add casual storage to encourage neatness
It's inevitable that children in particular will kick off their shoes in an entryway and leave them there. Brenna Morgan, Designer at Brenna Morgan Interiors has a simple solution: baskets and boxes:
'An entry space is great for catching items as you come home. Here, we added two large baskets that could easily be home to shoes or kids' toys. The small boxes on the table might hold keys, masks or sunglasses for easy access on the way out the door,' she says. 
The mirror heightens and brightens this entryway too – note its proximity to the lamps and table, creating a tight arrangement that's an attractive display in itself.
6. Choose paint with a soft sheen to reflect light
Note the paint finish in this entryway – it has a soft sheen, specifically chosen to reflect light and to create a smart finish in this roomy entryway. This trick, though, will work really well in smaller hallways or those starved of natural daylight, enhancing light levels and make the space feel larger. 
'Don't forget about the entry walls. Sometimes even after furniture and art, an entryway can feel incomplete, so your entry may be calling for wallpaper or architectural paneling,' says Etch Design Group Principal Interior Designer, Stephanie Lindsey. 'We provided 2D elevation drawings for the paneling design. A classic traditional element, the wall paneling created sophistication at the entrance to the house but we painted it gray to modernize it.'
7. Go for a maximalist wallpaper 
If your hallway is large enough, then embrace your love of wallpaper. If you are looking for inspiring hallway wallpaper ideas, illustrative designs are eye-catching and create a fabulous welcome for your visitors.
It can really frame an entrance to another room too which can look quite spectacular, it's worth using the same colors within the room you can see in this case so the look is cohesive, and consider using the same floor so there's flow from one space to the next.
To add interest to a long, narrow hallway, create a focal point at the far end with a panel of feature wallpaper or a statement artwork. 
'This will lead the eye down the length of the space and makes a confident statement,' says Claire Vallis.
In this scheme, we celebrate the resurgence of rich, bold prints by showing them off in a neutral, pared-back setting for an easy-to-live-with look. 
8. Decorate with your favorite color
Give this often-overlooked space a little bit of love with the addition color.
Here, saturated shades of cobalt, malachite and verdigris combine with botanical motifs to bring natural depth and earthiness to interiors. A low-hung pendant is a great way to add emphasis to the furniture below.
'When introducing color, it's best to avoid too many different shades; the choice of one hue for wall and floor treatments can be very effective,' advises interior designer, Tara Bernerd. 
9. Blend your hallway with the rooms beyond
When creating a scheme, view your hallway as an integral part of your home. 
Try to ensure the decoration is in harmony with any rooms leading off it, as well as with the stairway, balustrades and landing (if visible), and also that paint colors and wallpapers do not clash. 
10. Decorate with an accent color for impact
Entrance hall's needn't be dull, in fact, they can be quite the opposite. But that doesn't mean they need to be full of bright colors. We love the contrast between Little Greene's Dark Brunswick Green and the use of Portland Stone Light (walls) and Portland Stone on the dado rail, door and trim. The green is enough to create a statement but when balanced with the neutrals, including the terracotta tiles and coir runner, it works perfectly as a strong accent shade.
11. Decorate with a warm tone for a welcoming feel
Hallways need to feel welcoming – not just for visitors but for when you come home, too. So, using even a splash of a sunny shade can be vital for creating an inviting atmosphere, especially if your space is poorly lit by natural daylight or north-facing. 
A focal point in a hallway is always a win, too; here the central, circular table is purposefully dressed to attract attention. It will attract clutter, though, so be sure to provide a storage option within a table such as this, or nearby.
12. Go for a dazzling woodwork display
For sheer fun, match your skirtings to a color from your favorite wallpaper, and don't be afraid to go bright like this exquisite hallway from Little Greene. Featuring the striking Loriini Dorian wallpaper, the reasonably traditional design – albeit in bright colorways – contrasts against the ultra modern shade Trumpet (196).
It's not for the faint of heart admittedly, but if your hallway is light and bright it can take it. Keep the rest of the scheme lower key and let the walls and paintwork do the talking. 
13. Tone it down and opt for sophistication 
If you love idea of painting your woodwork in a color, just not bright yellow like above, you can opt for a darker shade like this navy, it still creates a bold design feature in your hall as Robert Walsh, Founder and Owner of Ted Todd Fine Wood Floors explains:
'Hallways should be just as beautiful as any other room and should take you on a journey through the home. To keep the hallway light and airy, choosing a paler wood floor will not only bring the great outdoors in, but will keep the space feeling bright. Introducing a pattern such as a chevron or herringbone will help to draw your eye through the space making it feel bigger, too. 
What's more, lighter floors offer a contemporary feel and will add a subtle statement allowing you to use bolder color elsewhere – why not opt for dark blue, gray or green for your doors, frames and other woodwork to add contrast and balance to the space?'
14. Introduce subtle pattern
Plain walls give you room to be creative, they're rather like a blank canvas on which you can stamp your mark. If you love white, one single color, or are looking for cottage hallway ideas then give your hallway a little extra interest with a spot of pattern, runners are excellent for this as Tasha Green, Director of Weaver Green explains:
'Runners allow you to instantly update and change the feel of a hallway. A statement runner can be the main design feature from which you complement other interior elements in your entrance. For example, a simple herringbone helps to create a classic timeless look from which you can add vibrant or strong patterns and prints with other accessories.'
15. Add a standout pattern for impact
Pack a punch with a well-chosen stair runner that reflects your personality. 
Areas of the home that that we pass through rather than live in, such as a  cloakroom or hallway, can be the perfect opportunity for the more tame among us to try out the trend. Setting a print carpet against a backdrop of low-key décor can also have a rather pretty, boho look, as seen here. 
Everything else in this hallway scheme has been left neutral so that the carpet is the focus as you walk into the house. This is a look that's effective, but simple to achieve, as it doesn't involve elaborate decorating everywhere else. 
It's worth noting that the stairs have been painted white, compared with the dark-wood floors, to let the pattern stand out.
16. Enhance storage potential 
It's the first place you – and visitors – see when they arrive at your home but it's also a magnet for everyone's 'stuff' – tidy it up with a few key buys and keep the  everyday essentials close at hand. 
Most hallways are narrow so keep all your storage along one run of wall. A high peg rail can be home to a variety of items, and keeps stuff off surfaces. Or, if space allow, a row of built-in cabinetry is a neat and tidy alternative. 
17. Lead the eye with a runner
Whatever the size of your entrance hall, there's a way to make an impact. 
Traditional hallways in period homes are often narrow, so look at ways of deceiving the eye. Consider using a floor runner to lead the eye towards a vista and try leaving internal doors leading off of the hall open to increase a sense of space. 
A hall also offers the opportunity to be brave with color, particularly with soft furnishings that can be easily changed. Here, an eye-catching runner and wall hanging lend vibrancy without overwhelming.
18. Use symmetry as a design feature
'A hallway is the first part of your home that anyone will see when they enter, so it's important to make sure it's a true reflection of your personality and style,' explains Emma Deterding, Founder and Creative Director of Kelling Designs.
'To keep a brighter feel, opt for neutral tones on the walls as they'll keep the hall fresh and use a large mirror to help reflect light whilst giving the illusion of space. A console table will not only allow you to display personal touches and prized possessions, but will also be practical to drop bags, keys and mail as you go in and out of the house. 
Here, a pair of matching table lamps will help create symmetry and balance and opting for lampshades and upholstery in bright colors and bold patterns will allow you to bring your personality into the space, whilst setting the mood for the rest of your home.'
19. Create interest with objects
Set the tone the moment you walk through the door with a strong  symmetrical arrangement, such as this collection of woven African baskets displayed on a French bistro table. 
The earthy colors of the baskets harmonize with the frames of the botanical print and the amber-colored walls; a fabulous chandelier completes the effect.
20. Create the right mood with lighting
Planning a scheme with no, or few, windows, hall lighting is critical. 
Try to include ambient or background lighting; tasking lighting for areas such as a post table; and accent lighting to pick out features, such as a mirror or doorway.
This hall includes LED spotlights, a table lamp and fireplace, for good measure. 
21. Create a focal point with antiques
If your entrance is on the larger side, it's a good idea to create a design statement so the space doesn't feel too cavernous. A beautiful antique table will do the trick, round is always best so you glide around it rather than getting caught on corners. Use it to display fresh blooms and groups of trinkets. 
The color you choose is also important as Henriette von Stockhausen, Creative Director at VSP Interiors says:
'I love how this color, Worsted by Farrow & Ball, together with the warm tones of the antiques and the beautiful damask print by Pierre Frey makes this room cozy and welcoming.'
22. Use architectural details to your advantage
When faced with interesting curves and beautiful detailing, it seems a shame not to make a feature of them. We love the way this hallway has been decorated with a deep turmeric color on the inside that gives it a cocoon like feel. The dark wood flooring contrasts with the color scheme whilst at the same time creates a continuity from the hallway to the living room. 
23. Choose a classic look that never dates
A classic that never dates, a monochromatic scheme is bold and beautiful. Irene Gunter, Founder of London based design studio, Gunter & Co explains her design choices with this hallway:
'In areas that tend to be dark, like a narrow hallway, a reflective floor combined with large wall mirrors will bounce the light around. A design in classic black and white marble is not only timeless but also makes the hallway feel less long and narrow. 
'A patterned floor, when designed carefully, is the best way of making a room seem bigger, and a good patterned floor doesn't show where each tile starts or stops, which gives a very homogenous effect, tricking the eye into making the space feel bigger.'
24. For dramatic effect choose two dark shades
If your hallway is large enough, you can get away with choosing a couple of dark and vibrant shades together. Olive green is on a roll currently, and Farrow & Ball's version Bancha No.298 looks rather fabulous with fresh white woodwork and their Studio Green painted on the panelling of the stairs.
The neutral runner up the stairs creates a striking contrast right in the middle of the two shades, an intentional feature that's worth copying. 
25. Never under-estimate the power of a mirror
The larger the mirror, the more light you can bounce about, and a floor standing design can easily be propped up against a wall. It will also be an impressive focal point. 
'Mirrors are interior designers' magic tool for creating captivating optical illusions,' says Lou Graham, Co-Founder of Graham & Green. 
'The illusion of more space, of brightening up dark corners, of bouncing color from one side of the room to the other. They can even imitate doorways, like portals into other worlds. Hallways can be elongated into endless pathways with elegant floor length mirrors, and blue skies can be brought indoors with window-like wall mirrors.'
What is the best color to paint a hallway?
Remember that lighter colors give the appearance of more space, while darker tones will bring the room in, resulting in a cozier, more intimate feeling. Similarly, a wallpaper with a large motif will introduce a sense of drama, while a smaller design will help to make the hallway appear more spacious.
With no, or few, windows, hall lighting is critical. As with most schemes, the key is to layer different sources. Try to include ambient or background lighting; task lighting for areas such as a post table; and accent lighting to pick out features, such as a mirror or doorway.
How do you make a hallway more interesting?
Whether it's the first space your guests see or a route between rooms, a hallway merits serious design attention.
Winning schemes pay attention to wall and floor treatments, mood and storage – whether concealed or statement, fit plenty to ensure that it doesn't become a glorified dumping ground.
The hallway is usually the first area of your home that visitors encounter and, as such, should be a reflection of your taste and personality. You can go flamboyant or pared back: nothing is off limits as long as the scheme is in tune with the rest of your home and not a one-off statement that competes with other rooms.
Jennifer is the Digital Editor at Homes & Gardens. Having worked in the interiors industry for a number of years, spanning many publications, she now hones her digital prowess on the 'best interiors website' in the world. Multi-skilled, Jennifer has worked in PR and marketing, and the occasional dabble in the social media, commercial and e-commerce space. 
Over the years, she has written about every area of the home, from compiling design houses from some of the best interior designers in the world to sourcing celebrity homes, reviewing appliances and even the odd news story or two.