Staging a hallway – top tips from real estate professionals
Staging a hallway correctly is crucial to selling a home successfully. Experienced realtors give their views on making hallways appealing to buyers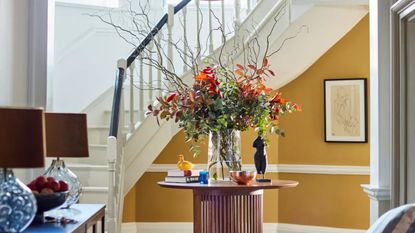 (Image credit: John Lewis & Partners)
Staging a hallway or entryway is not to be underestimated when preparing a home for sale. This space helps form the first impressions when a buyer enters a home, and first impressions often can make or break a sale. We know that buyers form opinions about properties quickly, so it's important to entice them early on.
Whether you are staging a house for the first time or the fifth, making the right decisions about the hallway or entryway is crucial to success. We've asked professional realtors and home stagers to identify the key areas to focus on when staging a hallway.
Staging a hallway
'The hallway can be a very important part of the storytelling journey', says Susan Bourassa, the owner and founder of Coast to Coast Interiors. These are the hallway ideas that make the real difference when selling.
1. Add artwork (strategically)
While leaving your walls blank may have been advised by realtors in the past, all of our real estate experts agreed that incorporating gallery wall ideas into a hallway makes it more appealing to buyers.
Susan points out that 'Adding a piece of artwork on a long hallway, stimulates the senses in buyers, telling them that there is more to see!' She recommends hanging something at the end of the hallway – 'whether you choose colorful artwork or a neutral architectural piece to a hallway, the result will add warmth to perhaps the most forgotten area of a house'.
Karen Michela Parziale, owner of The Staging Studio and home stager with 17 years of experience, also recommends filling the walls with artwork. Her personal preference is to 'place three in a row.' And 'if the hallway is narrow, it is really important that the art pieces are thin so it does not make the hallway even more narrow.'
2. Choose furniture carefully
Carefully chosen furniture can add a polished look to a hallway, but you'll have to think carefully about what's most appropriate for the specific space you've got.
Karen likes 'to place a small table with a mirror on top to make the space appear larger.'
Omar Barragan, a home sales strategist at Hudson Living NY, recommends getting creative with entry table decor ideas – 'I've seen trunks, benches, storage containers, and stacked books used as "consoles."'
Omar's preferred positioning of this type of furniture piece is against 'a blank wall where you've never had anything or one between bedrooms or living spaces. What matters is that the table serve a decorative and practical purpose.'
3. Replace outdated lighting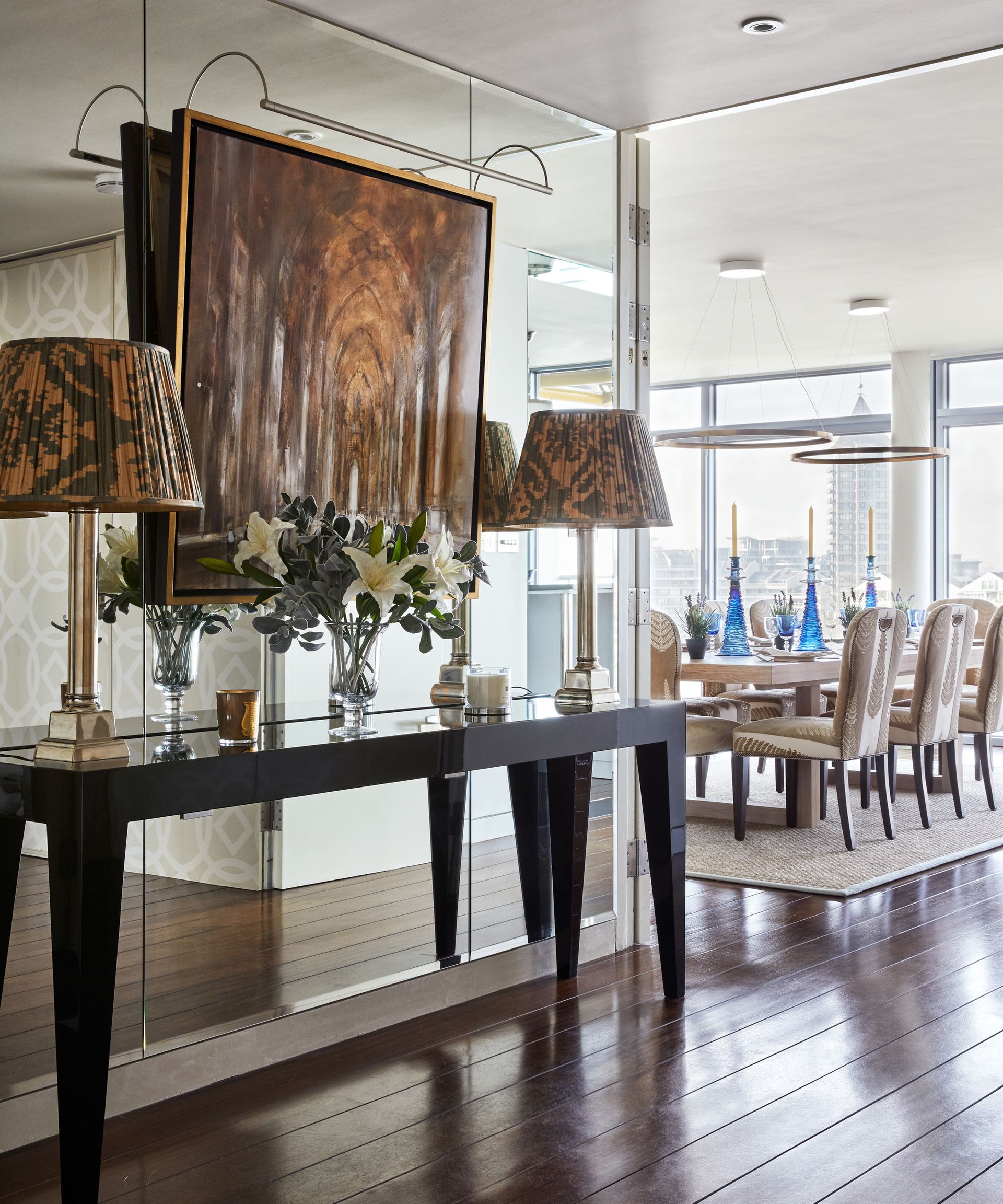 Karen's top tip is to replace 'an outdated light fixture with a new one that is more modern and dramatic.'
This should never be an afterthought because 'lighting is now really big in staging', and this especially applies to hallways, which can be dark and uninviting.
Don't shy away from bold hallway lighting ideas – a little over the top is better than an uninspiring old pendant.
4. Choose the right shape and orientation for your mirror
As the founder of Indiana-based real estate company House Buying Mamas, Jennifer Ward, points out, 'mirrors can even be a great addition to a hallway as they reflect light and make the space feel brighter.'
However, be fastidious with your choice of mirror and make sure it really enhances the space.
Decorating with mirrors is all about creating the right optics in a room. Karen's tip is to pick a horizontal mirror – 'especially if the hallway is really narrow'.
Omar adds that 'if you're using a mirror instead or in addition to artwork, use a mirror(s) with black, iron, brushed nickel, or brass frames. To play it safe, the art frame or mirror's shape should not overwhelm the width of the console table.'
5. Consider a floral centerpiece
Finally, you'll be surprised by just how big an impact a beautifully chosen bouquet of flowers can make on buyers. Omar advises starting with 'a neutral-colored flower bouquet or green plant arrangement, but you can also 'consider florals that complement the color of their surroundings.'
Karen also recommends placing 'fresh florals or silk flowers in a vase with small decorative items on the table.'
The idea is to include refined detail rather than just leaving the hallway looking unlived-in. A carefully curated, well-decorated look is the one that will sell your home.
Anna K. Cottrell is now a freelance writer, having previously been a Content Editor for Future's homes titles. She writes about interior design, property, and gardening. On H&G, she specialized in writing about property – buying, selling, renting – sustainability and eco issues.