Decorating with mirrors – interior designers' expert tricks
We show you how to use them to best advantage in every room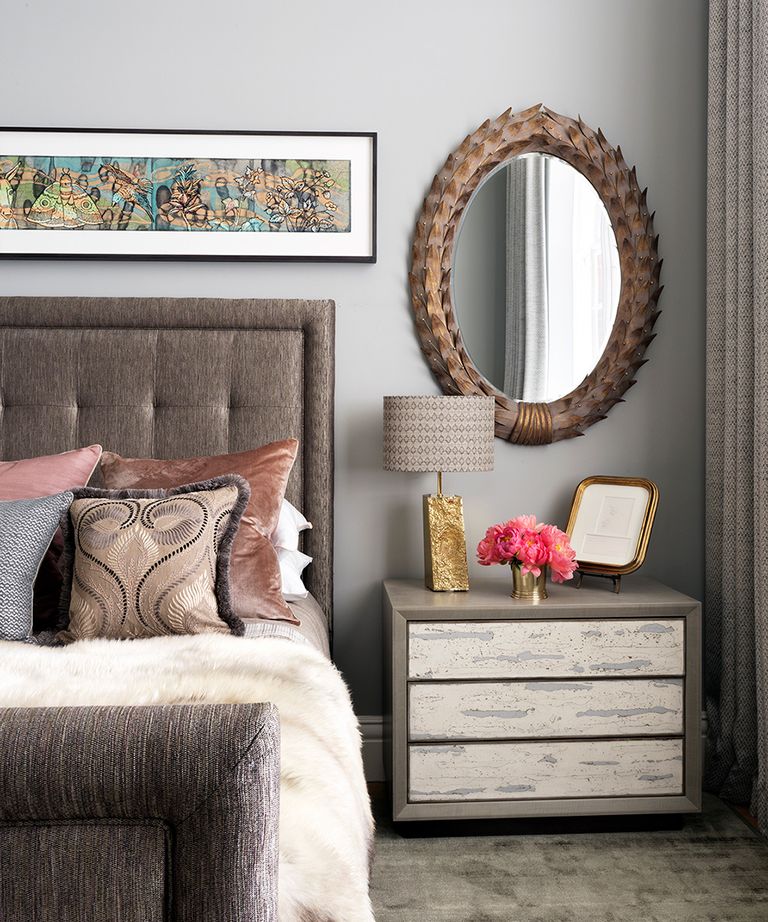 (Image credit: Natalia Miyar)
Mirrors are a wonderfully versatile design feature, adding instant glamor and interest, while maximising light and boosting the sense of space.
Decorating with mirrors is easy to master – but you can really only make the most of their effects if you know the tricks of the trade to position them correctly, choose the right weight of frame and frame design.
Here, we share some of our most-loved ways to decorate with mirrors. You can see more in our mirror ideas feature.
Decorating with mirrors: interior designers' tricks
Decorating with mirrors is more involved than you may think. Of course, some rooms offer an obvious choice of placement and some frame-styles are an easy choice... but embrace these interior design tips to make the most of your mirror decorating.
Ensure the mirror's reflection is worthy
'We always recommend going for the largest mirror you can afford to make the most of every ray of light from your mirror's reflection,' says Lucy St George of Rockett St George. 'Traditionally mirrors are often hung from the walls or placed on a mantlepiece to reflect your ceiling and opposite walls.
'So, make sure you consider what will be shown in the reflection and opt for a show-stopping chandelier or fabulous gallery wall of artwork to extend the wow factor. The clever trick of the reflection means you'll now have two of these features, so the bolder and more beautiful, the better.'
Dare to go for bigger mirror proportions
While a large picture might overpower a room – and particularly a small room – a large mirror will do the opposite. As long as the frame isn't too bulky (more on that below), a larger mirror will only serve to make a room feel bigger and brighter, so dare to pick a design that's on the larger side rather than one with more modest proportions. 
And if there's little wall space to hang a mirror, a floor-standing mirror is a great option.
Pick a frame style to suit your scheme
Frame weight is important when it comes to decorating with mirrors. Grand, sculpted, dense or dark-colored mirror frames are best suited to big mirrors in large, traditionally-styled rooms or to small mirrors that you've chosen to be a focal point (again, more on that below). 
In more contemporary spaces, mirrors with more subtle framing are a better choice. If your room is particularly small, frameless mirrors will enhance the space without impinging on it. 
Use mirrors as a focal point
Mirrors can be used like pictures and paintings – as a feature in themselves. So, if you have a space to fill in a room and have found a mirror with a beautiful frame, ensure it's displayed and positioned just like a picture would be – to be shown off.
Use a mirror to reflect light with clever positioning
If a mirror's main function is to reflect light, its best position is adjacent to a window rather than opposite it – that way it can boost the maximum amount of light.
If your room is really light-starved, placing a lamp or wall light adjacent to or in front of a mirror can double its light-boosting effect. 
Get the mirror's height right
When you hang a picture, you would usually place the mid-point of the art at eye-height – or around 5ft off the ground. Mirror placement is subtly different: it needs to be positioned to provide the best reflection. In a hallway, this might mean at eye-height so that you can check your reflection before you leave the house; in a living space, it may hang higher to show off that wonderful light fitting. 
Having a piece of furniture below where a mirror hangs will affect its height too. Ideally, hang the mirror so that the bottom of the frame is nearer to the furniture below it than to the ceiling above, so that the connection between the furniture and the mirror is clear. Hang a mirror too high and it will feel disconnected from the rest of the room.
Use mirrors to create a design surprise
Of course, mirrors aren't just items you can hang – mirror panels can adhere to walls just like tiles do, and it's this mirror type that can be used really successfully in spaces you might not normally consider, such as for kitchen backsplashes, for floor-to-ceiling treatments in bathrooms, and even on doors.
Consider mirror glass styles
Just as mirror framing styles can have an impact on a room, so can the mirror's glass. Plain mirror glass is the practical choice, but if you want to create a vintage feel to a room, adding antiqued glass in panels or within a frame, such as in the kitchen above, will create more of a decorative effect, adding texture to a plain space.
How do you decorate a room with a mirror?
To use a mirror decoratively, treat it like you would a piece of art, choosing a position for it that really shows it off to best effect. Unlike a picture, though, a mirror's reflection needs to be carefully considered – that reflection will, in effect become a piece of art in itself. So, if you can position your mirror to reflect a beautiful view, fabulous architecture or a wonderful light fitting, you have got it just right.
Are mirrors on walls outdated?
Quite the opposite – mirrors on walls are timeless pieces and important interior design elements that make small rooms in particular feel bigger and rooms starved of natural light feel brighter. We'd go so far as to say that no room should really be without a mirror. Pick on with an attractive frame and you have a decorative piece, too.