Decorating with mirrors – ideas and rules for how to use mirrors in your home
We show you how to use mirrors to best advantage in every room – and even outside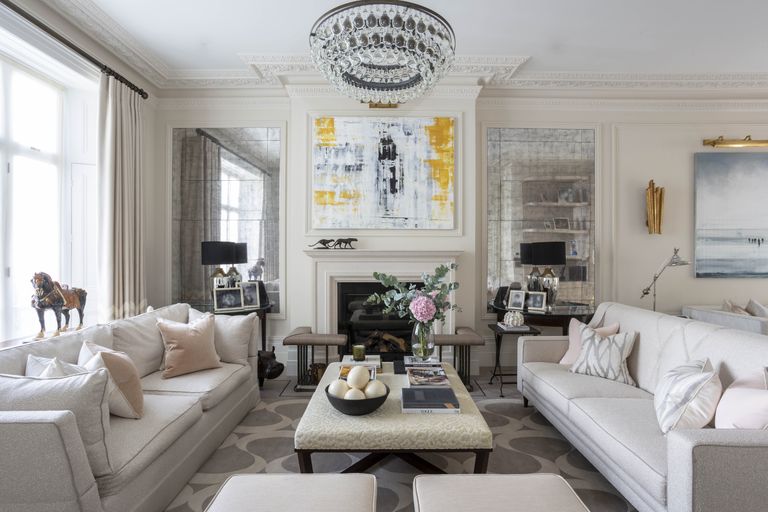 (Image credit: Henry Prideaux)
Decorating with mirrors is easy to master – but you can really only make the most of their effects if you know the tricks of the trade to position them correctly, choose the right weight of frame and frame design.
Mirrors are a wonderfully versatile design feature, adding instant glamor and interest, while maximizing light and boosting the sense of space.
We look at fabulous ways to use mirrors successfully to make your home feel brighter and bigger.
Decorating with mirrors: interior designers' tricks
Decorating with mirrors is more involved than you may think. Of course, some rooms offer an obvious choice of placement and some frame-styles are an easy choice... but embrace these interior design tips to make the most of your mirror decorating.
1. Ensure the mirror's reflection is worthy
'We always recommend going for the largest mirror you can afford to make the most of every ray of light from your mirror's reflection,' says Lucy St George of Rockett St George. 'Traditionally mirrors are often hung from the walls or placed on a mantlepiece to reflect your ceiling and opposite walls.
'So, make sure you consider what will be shown in the reflection and opt for a show-stopping chandelier or fabulous gallery wall of artwork to extend the wow factor. The clever trick of the reflection means you'll now have two of these features, so the bolder and more beautiful, the better.'
2. Invest in bespoke glass panels for alcoves
Alcoves are an extremely useful architectural space in a living room, they can be used for bookcases, displaying artwork, or, use them to brighten and reflect instead.
'Adding custom antiqued mirror wall panels in the recesses either side of the fireplace in a large living room creates a subtle reflective surface and a gentle, diffused light within the space,' shares London-based interior designer, Henry Prideaux. 'Using this verre églomisé technique is a lovely way of distracting the eye beyond the main elements and emphasising all the unexpected little vignettes within the room instead.'
3. Install a mirrored wall for impact
While a large picture might overpower a room – and particularly a small room – a large mirror will do the opposite. As long as the frame isn't too bulky (more on that below), a larger mirror will only serve to make a room feel bigger and brighter, so dare to pick a design that's on the larger side rather than one with more modest proportions.
And if there's little wall space to hang a mirror, a floor-standing mirror is a great option. However, if a dramatic impact is your goal, you can ask a specialist to fit an entire mirrored wall to double the size of your living room – visually, anyway. This clever design by VSP Interiors fits around the fire surround and the painting has been hung as if it's a normal wall, and the result is striking.
Also note the symmetry created by the two chandeliers and sofas, this gives a structure to the scheme, you don't want it to be too busy as it will reflect back in the mirrored wall.
4. Create a gallery wall of mirrors to create a vignette
Not only are mirrors great for reflecting light, they can also give you the opportunity to create a vignette, especially when hung as a gallery, creating a light-reflecting, space-enhancing focal point.
Round mirrors can also soften a space that's furnished with hard materials – and will be a better fit than square or rectangular pieces on an awkward-shaped wall.
5. Get the proportions of an overmantel mirror just right
Getting the size of your mirror right is vital – and going too small will be more of a design issue than choosing one that's too large for the space.
So, when it comes to choosing a mirror for a mantelpiece, ensure that it is the same width as the mantel or just a few inches smaller on each side. To make a ceiling feel higher, be generous with the height of your mirror, too – note how the perfectly proportioned mirror in this living room designed by Katie McCrum Interior Design reaches just above the top shelves of the alcoves.
6. Ensure mirror placement is maximized
'Strategically placing mirrors where the light naturally falls is one of the oldest but best tricks in the book, it enhances the natural light and makes the room appear much larger and brighter,' explains Jenna Choate, Co-Founder of interior design studio, Interior Fox.
'A carefully placed mirror that is across from a window will echo the natural light and greenery into a smaller room, helping to bring the outdoors in.'
It's also worth noting how a mirror can fit into a scheme – taking this image as an example, the slim black frame is followed through in the coffee table, window frames and artwork, creating a cohesive look that's stylish to boot.
7. Add a decorative touch between two windows
The beauty of mirrors is that they come in all shapes and sizes, minimalist and maximalist. We mention placement above, and it's not always about popping up a mirror in the obvious places like above the mantel, they can work fabulously well when placed in more obscure spots too.
This stunning vintage mirror with its ornate detailing perfectly reflects the rest of this living room scheme by interior designer Athena Calderone, tricking the eye into believing the space is larger than it is.
8. Pick a mirror design that looks like a window
The larger the mirror, the more light you can bounce about and reflect back – which is the perfect antidote to a space that's on the small side and lacking in light.
We don't just mean picking one that's a basic rectangle either, be inventive and choose a design that has a decorative appeal – a beautiful curved top that mimics an old Victorian window pane will totally enhance your space from both a practical and style point of view.
9. Pick a frame style to suit your scheme
Frame weight is important when it comes to decorating with mirrors. Grand, sculpted, dense or dark-colored mirror frames are best suited to big mirrors in large, traditionally-styled rooms or to small mirrors that you've chosen to be a focal point (again, more on that below).
In more contemporary spaces, mirrors with more subtle framing are a better choice. If your room is particularly small, frameless mirrors will enhance the space without impinging on it.
10. Choose mirrors as a decorative element
Mirrors can be used like pictures and paintings – as a feature in themselves. So, if you have a space to fill in a room and have found a mirror with a beautiful frame, ensure it's displayed and positioned just like a picture would be – to be shown off.
11. Use a mirror to reflect light with clever positioning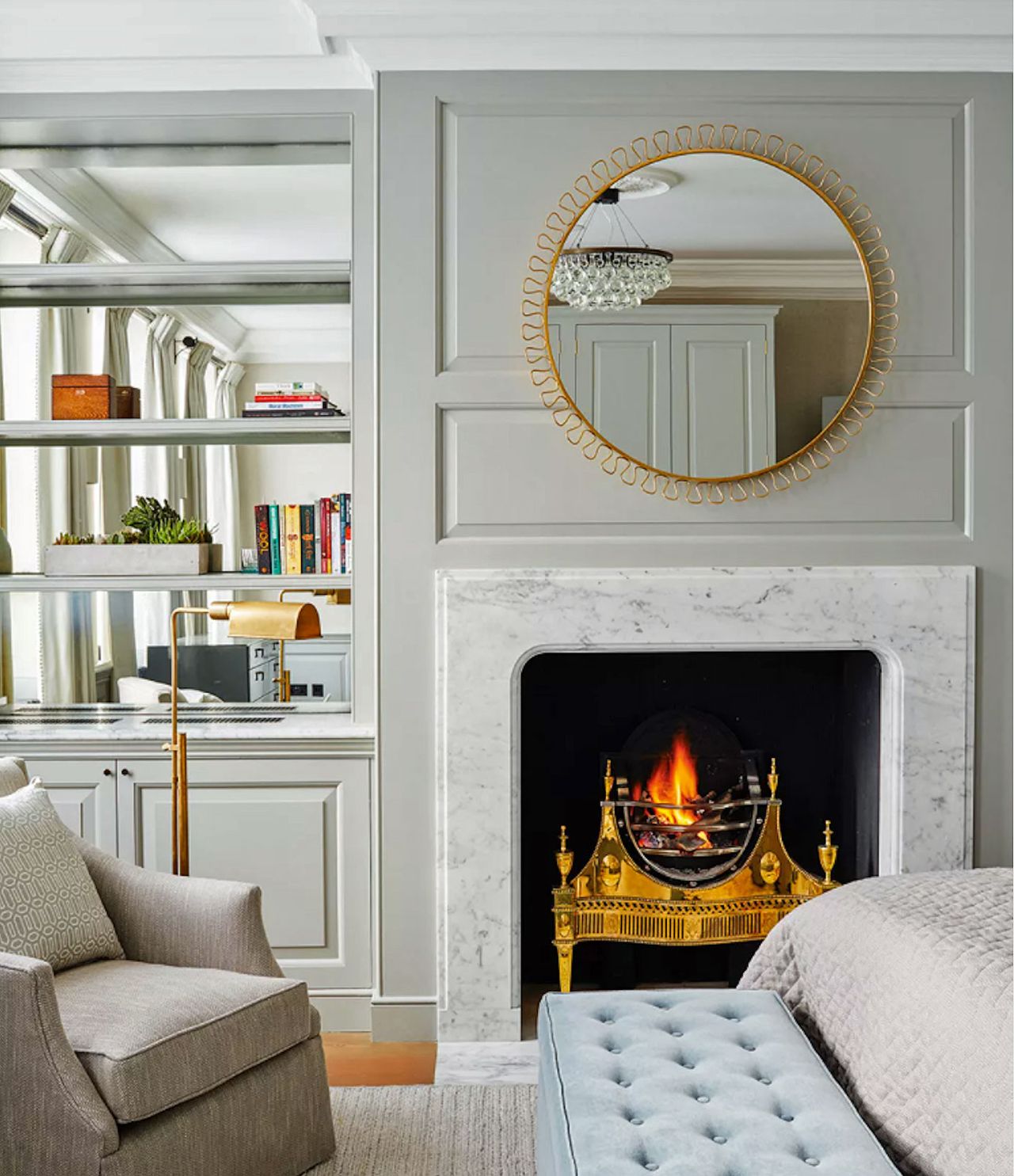 If a mirror's main function is to reflect light, its best position is adjacent to a window rather than opposite it – that way it can boost the maximum amount of light.
If your room is really light-starved, placing a lamp or wall light adjacent to or in front of a mirror can double its light-boosting effect.
12. Get the mirror's height right
When you hang a picture, you would usually place the mid-point of the art at eye-height – or around 5ft off the ground. Mirror placement is subtly different: it needs to be positioned to provide the best reflection. In a hallway, this might mean at eye-height so that you can check your reflection before you leave the house; in a living space, it may hang higher to show off that wonderful light fitting.
Having a piece of furniture below where a mirror hangs will affect its height too. Ideally, hang the mirror so that the bottom of the frame is nearer to the furniture below it than to the ceiling above, so that the connection between the furniture and the mirror is clear. Hang a mirror too high and it will feel disconnected from the rest of the room.
13. Set the tone of your scheme with a mirror
The overmantel mirror has long been favoured as a way to create a focal point. It is a wonderful way to reflect the items on the mantlepiece and other items in the room, such as a beautiful light fitting.
If you are choosing a mirror for a mantlepiece, its proportions are important – too small and it will look misplaced, so ensure it fills out at least two-thirds of the width of the mantelpiece.
'By reflecting all the beautiful design details around you, mirrors work perfectly with lighting to set the tone in your scheme. From the subtle ambiance of side lights to the shadows that bounce off the walls, a show-stopping mirror enhances natural light and projects glowing reflections all around the room.
'With so many styles and sizes available, there are myriad of options for introducing the magic of mirrors to your home,' says Lucy St George of Rockett St George.
14. Use mirrors to make a small space feel bigger and brighter
Alcove mirrors are less traditional than overmantel mirrors but they have a distinct advantage – or two. First, they offer double the wall space for mirrors, so a small, dark living room will feel twice as bright as with a single mirror – and particularly the corner furthest from the window.
Secondly, they offer the opportunity for table lamps to sit in front the mirrors on console tables, which means that when lit, artificial light has more of a brightening, space-enhancing effect, too.
15. Layer an ornate mirror over mirrored panelling
Artwork or even an ornate mirror looks fantastic on a mirrored wall. It's important to consider the weight of the piece – contacting your glazier for advice or help on drilling through glass is a wise option.
16. Make a low ceiling feel higher and a small room larger
A mirrored finish on storage pieces, such as a fitted wardrobe, minimizes its impact on the look and feel of a scheme. It helps to create the illusion of spaciousness and is a great way to cheat the narrowing effect
17. Make a tiny bathroom feel larger with mirrored walls
This room is a superb example of how antiqued mirror glass can bring drama and atmosphere to a scheme, with panels featuring lightly foxed edges for further authenticity.
The wall also makes this relatively small, low-ceilinged room feel much more spacious. 'Heavily antiqued mirror is currently on trend. It will utterly transform a room and bring real drama to any space,' says Rupert Bevan, managing director, Rupert Bevan.
18. Use mirrors to create a design surprise
Of course, mirrors aren't just items you can hang – mirror panels can adhere to walls just like tiles do, and it's this mirror type that can be used really successfully in spaces you might not normally consider, such as for kitchen backsplashes, for floor-to-ceiling treatments in bathrooms, and even on doors.
19. Use mirrors in the garden to cheat a small space
Introducing a mirror to your garden is also a wonderful way to embrace the beauty of nature. Through the reflection of your outdoor mirror, you can essentially double up your plants to create a gorgeous, outdoor oasis with a tropical feel that will whisk you far away.
'Vintage and Crittall-style mirrors are personal favourite for me,' says Lucy St George of Rockett St George. 'These beautiful designs add structure and character to any setting and blend in beautifully amongst the other textures of the garden. Whether nestled amongst foliage or displayed against a rustic brick wall, a fabulous mirror helps to create your very own secret garden for enjoying the long, lazy days of summer.'
'Mirrors are one of a few brilliant design tricks that we can steal from our interiors and introduce into the garden,' says Jane Rockett. 'In the same way as in the home, mirrors are perfect for creating additional space in smaller courtyards and patios by reflecting natural sunlight back into the garden.'
See: Small garden ideas – maximize a compact gardening space
Consider mirror glass styles
Just as mirror framing styles can have an impact on a room, so can the mirror's glass. Plain mirror glass is the practical choice, but if you want to create a vintage feel to a room, adding antiqued glass in panels or within a frame, such as in the kitchen above, will create more of a decorative effect, adding texture to a plain space.
How do you decorate a room with a mirror?
To use a mirror decoratively, treat it like you would a piece of art, choosing a position for it that really shows it off to best effect. Unlike a picture, though, a mirror's reflection needs to be carefully considered – that reflection will, in effect become a piece of art in itself. So, if you can position your mirror to reflect a beautiful view, fabulous architecture or a wonderful light fitting, you have got it just right.
Are mirrors on walls outdated?
Quite the opposite – mirrors on walls are timeless pieces and important interior design elements that make small rooms in particular feel bigger and rooms starved of natural light feel brighter. We'd go so far as to say that no room should really be without a mirror. Pick on with an attractive frame and you have a decorative piece, too.
Jennifer is the Digital Editor at Homes & Gardens. Having worked in the interiors industry for a number of years, spanning many publications, she now hones her digital prowess on the 'best interiors website' in the world. Multi-skilled, Jennifer has worked in PR and marketing, and the occasional dabble in the social media, commercial and e-commerce space.
Over the years, she has written about every area of the home, from compiling design houses from some of the best interior designers in the world to sourcing celebrity homes, reviewing appliances and even the odd news story or two.