Kitchen backsplash ideas – make your kitchen's vertical surfaces shine
Whether you're after modern marble or classic tiles, your choice of backsplash can add a real wow factor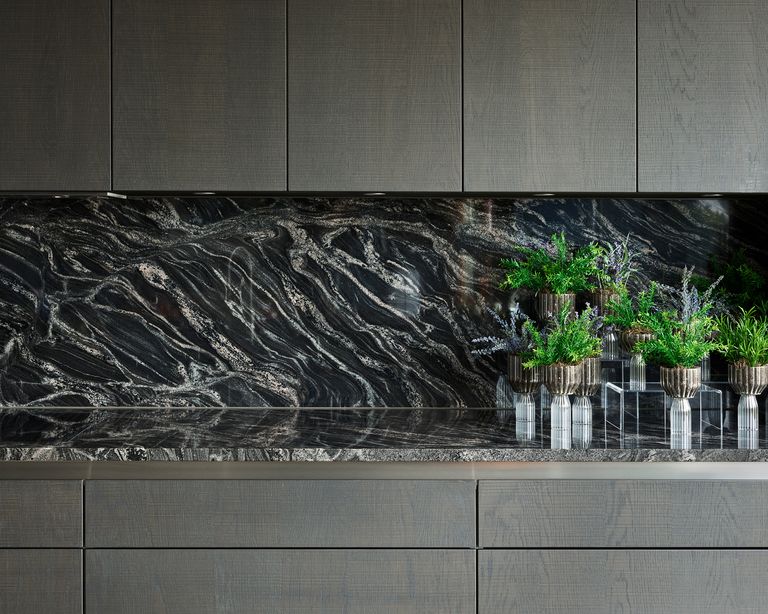 (Image credit: Future)
There's no greater example of how kitchen planning and interior design have  become intertwined than the backsplash. 
Elevated from a purely practical role, like cabinetry, it's taken on more of an architectural feel, with luxe materials and a new industrial aesthetic becoming the norm rather than the exception. Along with worktops, the backsplash is often the first element that's noticed when walking into a kitchen, so designers are keen to make it count.  
'A backsplash is a key decision in a project,' explains Alex Beaugeard, design director at McCarron & Co. 'As vertical surfaces, they carry significant design weight and there is a real appetite to experiment at the moment. I'm seeing artwork installed behind glass and resin bronze as well as wallpapers. Some materials, such as marble, are prone to discoloring but they're so beautiful we are prepared to forgive them.'
Here, we take you through the options for kitchen ideas – plus give you plenty of inspiration for choosing the right backsplash and look for you.
1. Opt for organic quartz
'The material you choose for your kitchen surfaces is pivotal to the functionality of the space,' says Mor Krisher, global head of design at Caesarstone. Tougher than most natural stones, man-made quartz comes in large slabs for virtually seamless installation. 
'Quartz is particularly great for a backsplash as it's resistant to cracks, scratches and, most importantly, staining,' adds Mor. 
Design-wise, recent improvements in quartz production techniques is introducing increasingly credible realism. The best designs eschew the uniformity of machine manufacture in favour of nature-inspired fluidity that brings surfaces to life.
2. Double the impact
If you're torn between the prettiness of tiles and the practicalities of quartz, take a dual approach and enjoy the best of both worlds. 
In this beautiful kitchen by Roundhouse, split surface backsplash marry texture, shine and color to make the most of the vertical space around hob and hood. 
'The glossy green tiles are a particular triumph as they reflect light from the sliding glass doors opposite,' says Oli Moss, designer at Roundhouse. 'It can be tricky to achieve a neat connection. Here, the quartz upstand has a rolled edge detail to create a smooth juncture between the two materials.'
3. Instil natural beauty
While natural stone like marble is comparatively delicate, used vertically it is less likely to come under fire from knives and pans. Splashes are the main threat, and a quick response with a damp cloth will go a long way to prevent stains. 
For many, the beauty on offer is well worth judicious cleaning. 'Natural materials have an incredible calming effect in a space,' says Alex Beaugeard, director of design at Lanserring. 
'The historical significance of using marble for backsplashes, along with the knowledge that every slab is completely unique, creates an emotional connection that will help your kitchen resonate with you.'
4. Set up a chef's kitchen with stainless steel
'Stainless steel is durable, low-maintenance and extremely hygienic, so it's the ideal backsplash material for our present times,' says Tom Edmonds, design director at Lewis Alderson. 
'It can be made into large complicated pieces with sinks and drainers welded in, virtually eliminating joints where bacteria and dirt could accumulate.' While it is more often associated with contemporary kitchens, stainless steel can prove a surprisingly good fit amid traditional cabinetry. 
'In a classic kitchen, stainless steel lends a modern edge and, in time, will gain small swirl marks, which will settle into a lovely mellow patina that requires little fuss,' adds Tom.
5. Make way for timber
Wood may seem an unusual choice for a backsplash but its natural depth will lend  richness and warmth at eye level. 
Here, Martin Moore used solid sculptured walnut with a special fire rated lacquer finish to make it wipe clean and practical. 
'Wood is currently enjoying a bit of a revival, particularly walnut,' says Richard Moore, design director at Martin Moore. 'We love how it  can be used to pick out warm tones in hand-painted cabinetry and rich metallic finishes like this rose copper tap.'
6. Play with 3D textures
Found on furniture, ceramics, glass and lighting, the graceful linearity of fluted design is now weaving its magic into the kitchen. 
In this project by Brian O'Tuama Architects, a fluted Calacatta marble backsplash was combined with natural wood cabinetry to provide a tactile treat hidden inside minimalist pocket doors. 'We wanted the fluted marble to add visual interest and surface texture in contrast to the flat, contemporary exteriors,' explains Brian O'Tuama. 
'The fluted surface creates areas  of light and shadow, highlighting the character of  the marble's coloration and veining, and bringing that little bit extra to an already beautiful stone.' 
7. Dial up the style with bespoke brass
Brass and copper are relative newcomers to the backsplash arena, but these age-old materials are fast gaining fans. 
Brass specialist and maker James Petre, managing director of Quirky Interiors, believes the beauty of warm metallic backsplashes lies in bespoke customisation. 'Brass can be pre-aged to varying degrees, according to preference,' he explains. 
'You do need to wipe up spills and should never scrub with abrasive cleaners, but with a little bit of Brasso and a dry cloth, a brass backsplash will just keep giving.' 
8. Add interest with wallpaper
Using a swatch of luxury wallpaper, fabric or a painted pattern is an easy way to inject color and pattern into a kitchen design. 
Cover with toughened glass, making sure it's low iron to avoid a greenish tinge, Perspex, or protective lacquer. It's a choice that can be just as practical and wipe clean as more traditional backsplashes. 
Alternatively, keep wallpaper completely moisture-free, and prevent it from coming away from the wall, by sandwiching between two sheets of glass.
9. Wow with wood
Timber comes in many varieties, from durable oak, to those that have natural oils that make them more water-resistant, such as iroko. 
A wood backsplash will need regular oiling or waxing to keep them protected against stains and it's best to avoid installing wood around hob areas as it can scorch. 
Hardwoods are especially resilient, water-resistant and hard-wearing but they'll need to be conditioned and acclimatised before fitting to prevent shrinkage and splitting. And, as timber can be cut on site, there's no need to wait for templating.
10. Incorporate a beautiful stone
Unsurprisingly, marble backsplashes have become the pinnacle of high-end luxury, and for good reason. This sumptuous stone is not only beautiful in design, but also incredibly hardwearing – making it a worthwhile investment. 
Stone will need sealing once it's installed, and regular resealing, especially if it has a honed or brushed finish, but is a great way to showcase beautiful vein patterns. 
Marble is practical as it's stain, heat and water resistant but will need specialist templating. This means that a template will be taken of the units once they're installed, taking into account cut-outs for sockets, which will additional time to the project depending on the complexity of the cutting required.
What is the most popular backsplash for a kitchen?
The most popular backplashes for a kitchen are often the most durable ones. Think marble, tiles and stainless steel. 
How the latest backsplash materials are incorporated is also a fundamental  consideration. Different surfaces can be used to define distinct areas of the kitchen for cooking, relaxing and dining, or create contrast with worktops.  
Pairing metallics, such as copper or gold, with crisp marble worksurfaces is proving popular, as is expanses of antiqued or smoked mirror to make even the most compact design seem lighter and more welcoming. 
Similarly, black and grey stone backsplashes, which are widespread on the continent, are becoming more prevalent in the US as they're the perfect partner for furniture  in pale grey or chalky white tones. 
No matter what material you choose, be sure to make the most of it visually. Maximize the area of wall space for your backsplash and add lighting to help highlight subtle sparkle, delicate veining or texture.
What kitchen backsplash is in style?
Marble is undoubtedly the material of the moment for your backsplash. 
If there's one thing that's storming the style charts and shaking up kitchen interiors, it's the return of marble. So if you're after a hot new look that's bang on trend, a splash of marble in the kitchen is the way to go.
Additional words / Linda Clayton