How to install a backsplash – top tips from the experts
A step-by-step guide on how to install a backsplash with everything you need to know, according to the experts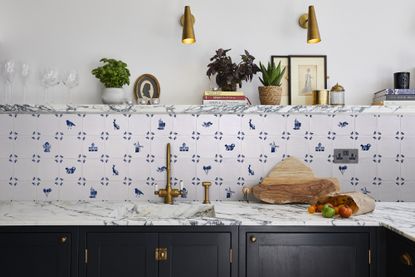 (Image credit: Artizans of Devizes)
If you are wondering how to install a backsplash yourself, you've come to the right place. Installing a kitchen backsplash is a quick and easy way to update and totally transform the look and feel of your space.
Whether you're looking to create a harmonious addition, a bright accent or a design-led statement, backsplash tiles are a stylish, hygienic and durable solution that also add color, pattern and texture to the space.
If you are looking for kitchen ideas, tiles are the least disruptive way to upgrade your kitchen backsplash over a complete renovation. A new backsplash is something that could be installed in a weekend, but gives your kitchen years of fresh new life.
How to install a kitchen backsplash
If you are considering installing a backsplash yourself, bear in mind that some kitchen tile ideas will be trickier to install than others.
The simplest are chequerboard square tiles, while herringbone patterns are more difficult to install at edges. Plus, if your space is awkward or includes lots of electrical sockets, you will find the installation more difficult.
That said, it is doable for even beginners to DIY with the right tools.
1. Have the correct materials
Kevin Lamming, Project Consultant at Artisans of Devizes, says installing backsplash ideas for kitchens is relatively straightforward, but you need to be prepared with the correct materials.
You will need:
Tiles
Adhesive
A notched trowel for applying the adhesive
Tile spacers
A pencil
A spirit level for straight lines
A clean damp cloth
Grout
A plastic trowel for applying the grout
Depending on the wall or surface, you may also need sandpaper, filler and primer.
2. Work out the tile layout
Kamila Chalfin, marketing and brand manager at Tile Giant, says: 'This is done to ensure that as many full tiles are laid as possible, with minimum cutting and waste of tiles.
'To do this, start by marking the center of the wall using your measuring tape and pencil. Using a vertical spirit level against this mark, make a line down the center of your wall. This is where you will start your tiling from.
'From this line, you can work out the best way to lay your tiles and how many you will need in a row.
'Hold a tile over the center line that you have just drawn. Hold a second tile next to this tile with a small space for grout. Continue this until you reach the end of your wall and count the number of tiles as you go.
'When you get to the edge of the wall, the cut tile you end up with should be the same that's needed at the other end of the wall.'
3. Seal the surface
'If you're tiling on to fresh plasterboard, make sure it is sealed with a primer following the manufacturer's instructions,' advises Damla Turgut, founder of Otto Tiles & Design
4. Clean and fill
If the wall already has a couple of coats of paint, this will act as a primer.
'Make sure the wall surface is clean of dust and loose debris,' says Damla. 'Fill in any cracks or holes and sand back for an even surface.'
5. Add adhesive
Damla says: 'Apply a high-quality adhesive to the wall starting at the bottom, nearest to your work surface. Make sure you add a generous and even layer of adhesive using a notched trowel.'
6. Start layering your tiles
Start to apply your first row of tiles using a moderate even pressure.
Damla's top tip? 'Work along in rows using tile spaces on all four sides of each tile to ensure gaps are uniform, and use a spirit level to make sure they're level.'
7. Use a tile cutter for wall edges
Where there is not enough room at wall edges, measure the size of the tile you need and, using a tile cutter, score a line along the tile and apply light pressure to break the tile along the score.
Don't forget to factor in the size of the tile spacer when taking your measurements.
8. Get rid of excess adhesive
Wipe off any excess adhesive before it dries with a clean, damp cloth.
9. Get the grout out
Once the adhesive has dried, you can grout between the tiles. Remove the spacers and apply/push the grout generously into the gaps between each tile, using a trowel. Ensure the grout lines are smooth and even. Before it dries, wipe excess with a clean damp cloth.
Work as fast as you can, as it tends to harden quickly.
When choosing a grout color, try to match it to the main color or background color of your chosen tiles for a seamless look – particularly important to maximize space in small kitchen ideas.
If you're looking for a contrast, you can always choose lighter or darker for a different finish, but bear in mind that lighter-colored grouts show dirt more easily.
Darker grouting, for example, can add a modern, industrial look to an otherwise plain white kitchen backsplash.
10. Clean up and finish off
As your grout dries you may notice a powdery finish across your tiles – this is just a film of dried grout. Once you are happy that the grout has completely dried, you can wipe down the tiles to reveal the shiny, end result.
Tile Giant's Kamila Chalfin says: 'Simply take a clean damp sponge at a 45 degree angle, and using big swiping motions, wipe away the residue. Keep cleaning your sponge in between removing the residue for the best results.
'You can then use a clean cloth to really complete the project and polish them up to a sparkling finish.'
11. Ask your retailer for specific installation advice
Always ask your retailer for advice on installation, as they will have installation packs for each type of tile. These include recommendations on how tiles should be laid.
Damla Turgut, founder of Otto Tiles & Design always recommend that their Zellige, Bejmat and Terrazzo tiles are installed with little-to-no gap in between for the best visual effect. They also include sealant and care instructions.
Is a backsplash easy to install?
A new backsplash is easy to install – as long as you have the right tools.
'Both bathroom and kitchen backsplashes are easy to install if you like DIY,' says Kamila Chalfin. 'Backsplashes tend to be a fairly small area, providing you with a cost effective option that can completely transform your space while minimizing kitchen tile costs, especially if you choose a bold pattern or shape.
'Always make sure you follow installation guides and have everything you need before starting – with tiling, it's important you have a plan right from the start.
'Remember to decide what laying pattern you want to include in your kitchen wall decor ideas – whether it's a straightforward brick design or something more interesting like a herringbone pattern – and select your grout color in advance, as this can completely transform the overall look. Contrasting grouts will make the tiles truly pop.
'The latest tile trend for hexagonal shapes makes it even easier to create a backsplash, as you can leave the top section open to really accentuate the hexagonal shape.'
Kevin Lamming says your laying pattern can determine whether it's an easy or slightly trickier job, and being prepared is essential. 'A backsplash is easy to install if properly prepared beforehand. This means selecting the correct cutting equipment based on the tile in question and having everything needed to hand.
'The format of your kitchen wall tile ideas makes a big difference – installing a herringbone backsplash is much harder than a brick bond format. The bulk of the install usually is reasonably easy, it's the edge and corner-cutting that may get slightly tricky.'
Can tiles be installed over a painted drywall?
It is not advisable to tile over painted drywall unless it has been thoroughly sanded or sealed.
'You can tile over sound existing tiles, painted or unpainted drywall, plaster and even textured walls, but it's always best to follow the manufacturer's guidelines regarding the preparation of various surfaces and the products/accessories you may need to complete your project,' Kamila Chalfin says.
Amanda Telford, marketing manager at CTD Tiles, suggests being thorough with preparation: 'Emulsion paint, lime-wash, distemper and similar finishes should be removed since they can possess poor adhesion to backing. Solvent-based adhesives should not be used.
'Before you begin tiling, it's important to ensure that all the paint has been removed from the dry lined plaster board surface. Once all of the paint has been removed, make sure that there is no debris on the surface by washing with a damp cloth, and allowing to dry.
'It is also strongly recommended to use a cement based adhesive on walls, however for smaller tiles in some cases a tubbed adhesive can be used, but it is imperative that all of the paint has been removed, one bit of paint which is left on the wall could cause a failure in that localized area.'
Kevin Lamming adds: 'You are able to install tiles over painted drywall, however this will required to be sealed with a primer. If you are installing in a heavy wet-use area,' – for example, when it comes to bathroom tile ideas, or a backsplash behind a busy sink – 'you will require a no-more-ply or similar board to be installed over the drywall, usually 12mm in thickness. Once the joints are sealed, you can tile straight onto this.'
Sign up to the Homes & Gardens newsletter
Decor Ideas. Project Inspiration. Expert Advice. Delivered to your inbox.
Ruth Doherty is an experienced digital writer and editor specializing in interiors, travel and lifestyle. With 20 years of writing for national sites under her belt, she's worked for the likes of Livingetc.com, Standard, Ideal Home, Stylist and Marie Claire as well as Homes & Gardens.