Wallpaper ideas – gorgeous decor and inspiration for every room
Find the perfect wallpaper ideas for every space in your home with these inspiring spaces and expert tips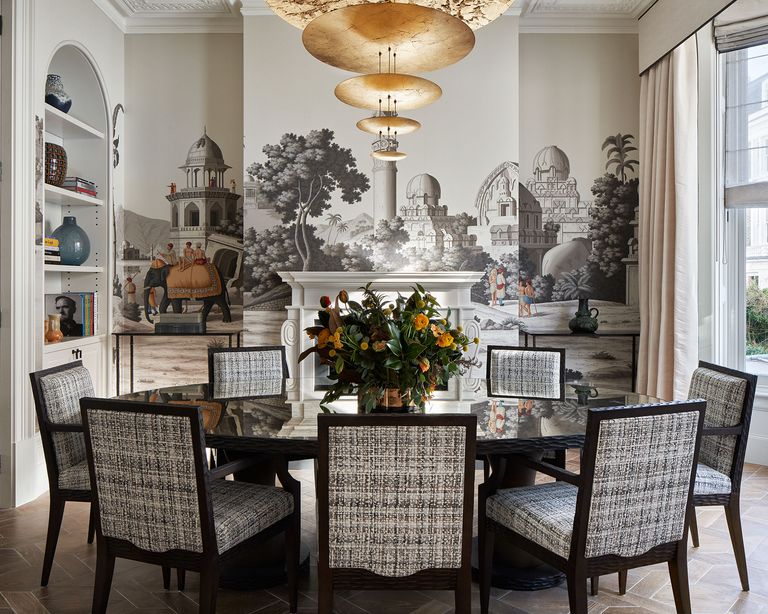 (Image credit: Future / Davide Lovatti)
Wallpaper ideas are a wonderful way to add color, pattern and interest to your interiors. Our collection of the best wallpaper ideas and inspiration for every room will ensure you can find the right look for any space.
Wallpaper is more commonly used to decorate bedrooms and living rooms than other spaces such as kitchens and bathrooms. However, technological advances mean that some wallpapers can endure the humid conditions in these rooms and – as a result – have recently become more fashionable for creating more decorative kitchens and bathrooms.
So, embrace new ways with wallpaper in your home to create a characterful look that you will love.
Wallpaper ideas – for every room
Let's take a tour around the house using our selection of curated wallpaper ideas...
1. Use wallpaper to give an entryway instant personality
The entrance hall is the first moment you have to set the style and tone of your house, so inject some personality into this space.
Hallway wallpaper ideas can be used to great success in areas such as these, creating a bold impression for your guests. It's not all too often that you will linger in an entryway, excepting extended hellos and goodbyes, meaning you can really go for it with your pattern choices.
Choose a dramatic print that you love but couldn't live with in somewhere like a living room.
It's also worth noting that, besides the front door, these spaces are often broken up with windows, mirrors and pictures, so stay away from oversized mural prints and select a smaller repeat so you can see more of the pattern.
2. Turn a powder room into a character-packed space with wallpaper
If you are wondering how to wallpaper a room, a downstairs cloakroom or toilet is the ideal place to get started and experiment. This is most likely to be used as a guest bathroom, so make your powder room wall decor fun and offer up that 'wow' moment.
Find that wallpaper you've always loved and go wild with it. As it's likely to be a small space it's also not the most expensive area to redecorate if your tastes change.
'A large scale print works beautifully in smaller rooms and occasional spaces such as bathrooms, where they can allow for bolder choices to be made to create great impact,' comments Ann Grafton, Creative and Managing Director of GP & J Baker.
3. Use wallpaper to make a mudroom feel loved
On the ground floor of your home you may have several smaller rooms, such as boot rooms, mudrooms and utility rooms. As well as being on the petite side, these areas are often working spaces which don't tend to see a lot of decorating love. Add some TLC to these spaces through your wallpaper ideas.
In terms of which patterns to look for, Joa Studholme, Color Curator at Farrow & Ball, advises that you should look at using 'wallpaper which some might feel would overwhelm in a larger space. Patterns like this (Tourbillon by Farrow & Ball) which are bursting with joyful movement feel calmer when the pattern and ground are close in colour and just serve to make the walls feel less flat and hard.'
The other consideration when decorating a mudroom, or any other busy, working area of the home, is how to take care of it.
'To protect wallpaper from the high traffic it is a good idea to use some panelling on the lower half of the room, which should be painted in the darker tone of the wallpaper,' suggests Joa.
'Alternatively, a dado rail can be used, with the wall below it again painted in the darkest tone of the wallpaper in our washable Modern Emulsion. Strongly colored wallpaper used on the interior of cupboards or dressers also adds a fantastic extra element in these spaces and will be more protected.'
4. Use wallpaper ideas to make a snug feel cozy
Whether you have a snug, or are looking for small living room ideas for a more compact or dark space, you can add serious impact with the right choice of wallpaper.
Snugs are, by their definition, where you want to snuggle up and be cozy, so they often have a fireplace or stove and the comfiest of furniture.
To match this feeling with your wallpaper ideas, look to deep, rich colorways and luxe or heritage style patterns, like this Herriot Way wallpaper by Anna French at Thibaut.
5. Pick a bold living room wallpaper
'From entertaining to relaxing, and quite possibly working in, the living room tends to be the most widely used space within the home,' notes Cole & Son's design director Carley Bean. 'It's therefore important to choose a design and color palette that creates an inviting, versatile space.'
When selecting living room wallpaper ideas, it's important to consider how often you will be in the space. You don't want a pattern that will overwhelm, or a color that you will get quickly tired of.
However, that's not to say that pattern is to be steered away from. Choose a medium sized repeat and shades which flow well with the furniture and key pieces in the space, like in this fresh green living room.
6. Pick a wallpaper with a textured look for a cozy living room
Wallpaper can be a great way to add further layering to a room and create cozy living room ideas that feel warm and welcoming.
Here, a wallpaper with a fabric-look creates a feeling of enclosed comfort that complements the fabrics within the upholstery.
7. Use wallpaper to create a calm home office scheme
As more and more of us are working from our houses, home offices are becoming much more prevalent. Whether you have a full-blown study at home or have adapted a nook in another room, there are options for decorating with wallpaper.
Home offices are somewhere where you need to concentrate, so busy, patterned wallpaper will be too distracting. Gentle, impressionist-style coverings will add a zen feeling to the space, while a mural or super-sized repeat will add interest when you glance up, but due to its size won't be distracting.
If you don't want wallpaper right in front of you, a great option (as pictured above) is painting behind the computer and wallpapering the room around you. A gently textured covering like this will add an extra dimension and interest to the room without catching the eye too much when focussing.
On the flip side, if your desk is against a wall in a living room, or even a hallway, wallpaper can be used to zone. Demarcate the area with a few strips of wallpaper and you'll have created an obvious work space.
In terms of which wallpaper colors to look at when planning your home office ideas, there are a few options. Blue is traditionally associated with home offices as according to color theory it aids in communication and the ability to focus while also lowering blood pressure – ideal for stressful meetings.
Green is another great wallpaper color for home offices as it boosts creativity and is grounding.
8. Give kitchens character with a pretty pattern
Wallpaper may not appear to be the most obvious choice when decorating a kitchen, but is definitely worth considering. Traditionally, homes were broken up into many separate rooms, but since now the norm is open-plan, 'zoning' your kitchen ideas with decorating is helpful.
Being the heart of the home, kitchens are busy, bustling areas. As a result, you can really have some fun with your wallpaper ideas, matching the energy levels with a fun print or pattern. Plus, a standout wallpaper creates a visual focal point in the room, steering the eye away from all the practical but not overly pretty gadgets on countertops.
Since kitchens can be messy, with food and oil splattering on a busy stove, so choose the type of wallpaper carefully. Vinyl wallpapers are one option, but now there are a plethora of waterproof and wipeable wallcoverings available too, from country wallpaper ideas for kitchens to more modern designs.
If you can't find the exact wallpaper you want in one of these styles, then behind a stove or sink you could also look at protecting the paper by sealing it behind glass or transparent acrylic.
9. Create a sense of occasion in a dining room
Dining rooms have boomed in popularity this year to embrace entertaining at home. Equally, for those with open plan homes, the dining table is seeing a lot more love. In either scenario – dressing a whole room or zoning an open plan space – wallpaper is ideal.
Most often used in the evenings, or in the darker days of winter, dining rooms have the ability to hold dark, dramatic colors and patterns.
Embrace bold, bright shades in your wallpaper ideas, which look wonderful by candlelight, but also experiment with dark grays, navys and emeralds in this space, and go as elaborate as you feel comfortable with the print.
Another great option for wallpapering a dining room is to choose a tapestry-like print for a dramatic, rich feel. Similarly, red is an exciting color choice here, as in color theory it is said to provoke conversation – perfect for long hours seated around a table.
10. Hang an innovative waterproof wallpaper in a bathroom
Contrary to popular belief, wallpaper and bathrooms do mix. Say goodbye to metro tiles on the wall and say hello to pattern.
Naturally, you do have to use a specific type of waterproof wallpaper to make this look work. While in a kitchen you can get away with wipeable coverings, when considering paper for your bathroom wall ideas you need specifics.
Louise Ashdown, head of design at West One Bathrooms, explains about Wall & Deco's bathroom wallpaper, WET SYSTEM. 'It can be installed absolutely anywhere in the bathroom: directly in the shower, in a steam room or behind the bath, on the floor or the ceiling,' notes Louise.
'It is a fully waterproof membrane, meaning it does not get damaged when in direct contact with water, as opposed to a normal wallpaper which will not suffice for the humidity you get from bathrooms. Because you can install it directly in the shower, it is the perfect option for making a statement – plus no grout lines and it is resistant to abrasive cleaning products, so easy to wipe clean!'
As a bonus, Louis points out that the wallpaper available at West One Bathrooms 'can be applied onto existing wall murals, so no need to remove existing paint, wallpaper or tiles – this can go straight over it. When ordering the wallpaper you get all the relevant glues and sealants to prep the wall - the wallpaper needs to be treated three times (primer, adhesive and then the protective finish).'
11. Pick pretty floral wallpaper ideas for bedrooms
Bedrooms and wallpaper are a classic pairing. Opt for neutral and pastel shades for the ultimate in relaxation.
One of the biggest current trends in bedrooms is the use of plantlife. Bring this onto your walls by embracing prints showing florals and foliage.
When planning bedroom wallpaper ideas, keep things as restful as possible, so don't choose too small of a repeat or it will be distracting. Similarly, steer away from enlivening colors like yellows and reds, as they will be too stimulating to allow for a good night's rest.
12. Choose textured wallpaper ideas to add interest to a bedroom
Adding a textured finish to your bedroom wall is easily achieved using wallpaper, and is a great choice for hiding imperfections on an existing surface due to the thicker nature of the paper.
Textured, or slightly raised, prints create an interesting focal point and can add a touch of luxury to any bedroom.
13. Get creative with bold wallpaper in a child's bedroom
Kids' rooms are somewhere you can have the ultimate in fun in decorating.
There are really no rules when it comes to kids' room ideas. However, it's recommended to steer away from decorating with stimulating colors, as children can be hard enough to put to bed as it is.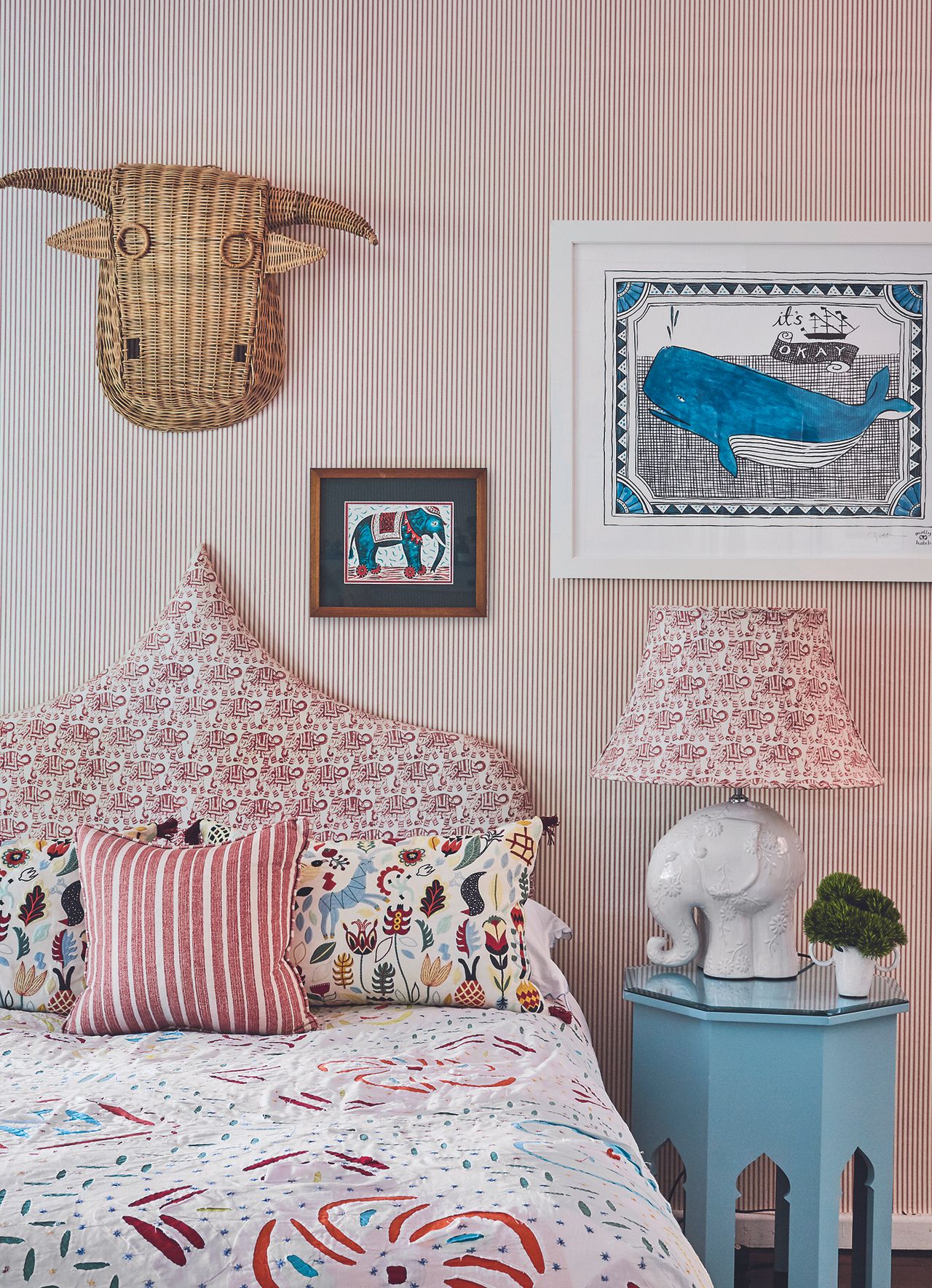 One children's bedroom wallpaper technique that works well is choosing a plain color wallcovering with one striking, mural-like image. As well as looking sweet, the benefit here is that, redecorating as they grow up and tastes change, it's easier to repaper or paint the wall bearing the image.