Wallpaper ideas – 45 ways to elevate the walls around the home
Be inspired by these wallpaper ideas and create color, pattern and texture in every room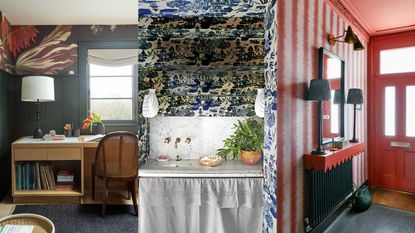 (Image credit: Future / Beata Heuman / Chris Snook)
Wallpaper ideas can elevate rooms around the home. The huge choice of pattern and color means there's a design to complement every room whatever its style and whatever your taste.
And while you might be looking for decorating ideas using wallpaper for living rooms and bedrooms, be aware that there are many options suitable for kitchens and even bathrooms as technological advances enable them to tolerate humid conditions, so these rooms, too, can be full of decorative interest.
Our ideas will provide the wallpaper inspiration you're looking for, and we've asked the experts to weigh in with their advice, too.
Wallpaper ideas – for every room
These are our favorite wallpaper ideas with the top design strategies and techniques, wallpaper trends, and wallpaper inspiration for every room, from the very best living room wallpaper ideas to kitchen wallpaper ideas and more.
1. Make an impact on entrance
'The easiest way to make an impression in this previously dingy or small hallway was to add bold wallpaper,' says interior decorator Laura Stephens. 'The cornice was very detailed and adding this flame red paint enhances it and works well with the stripe in the wallpaper.'
Interior designer Nina Campbell agrees: 'Decorating a hall is a lot of fun. It is a small space so you can be as wild as you like. I like to treat it like an exquisite jewelry box and paint the walls a wonderful color or put up a pretty hallway wallpaper.'
2. Curate a powder room with the perfect balance
Use textiles and wallpaper to bring coziness to a small powder room. In this comforting under-stairs space, designer Beata Heuman has gone all in with powder room wall decor and treads covered in her own design cotton linen, which is paper backed so that it can be applied like regular wallpaper. A crisp white vintage cotton curtain under the basin continues the textile journey and delivers a visual rest from the floor-to-ceiling pattern.
3. Invest in textural wall treatments as an alternative
'I'm always looking for ideas on how to make walls interesting when my clients don't have great art,' says designer Maria Speake. It's about creating lovely textured walls that bring calmness within the home. Tiles, timber, leather, and suede, for example – they add a kind of atmosphere. What is really lovely is when you don't need so many layers of decoration because the walls are providing it.'
'Suede and leather have become new favorites. We've used hides to make up panels, in hallways for example. Anyone could do it themselves. And because they are slightly soft and a bit padded they are brilliant acoustically.'
4. Wallpaper the fifth wall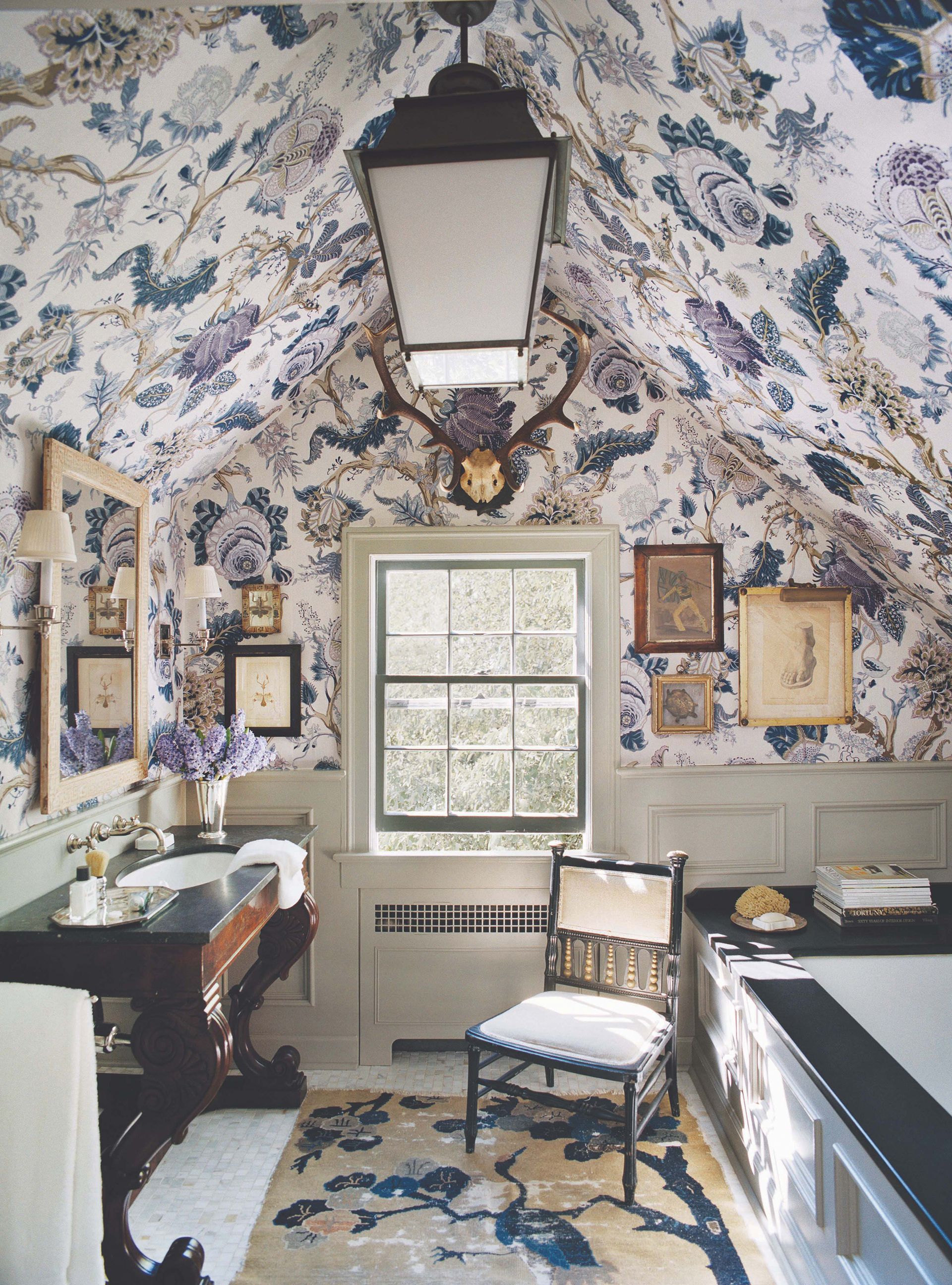 Ceiling wallpaper ideas can create a beautiful statement, especially when used on every wall in the space. The wall and ceiling here are adorned in Schumacher's Indian Arbre fabric, inspired by patterns in traditional palampore bed covers and based on a Twenties document in its archives. Using fabric and bathroom wallpaper this way transforms a space into a dreamy country bathroom retreat that feels rooted in history.
5. Enliven a dining room with stripes
Ceilings are an opportunity to take a bold wallpaper idea and supersize it. In this case, that means straight up the wall and right across the dining room ceiling with contrasting striped paper. To achieve this effect, it's worth using an experienced decorator to deliver the best outcome.
An elegant look for ceilings, decorating with stripes will create a structured, timeless effect for your ceiling ideas.
6. Add modernity with a stylized floral wallpaper
'Entryways can often be overlooked, seen as a space simply to pass through and yet it is the first space you encounter and provides the welcome to your home, so why not embrace color and pattern and bring a sense of warmth and joy?
'Here the fresh floral Hencroft design, which features a repeating pattern of stylized cowslips, creates a rhythmic motif that can elongate and widen the space by drawing the eye, perfect for those narrower spaces,' says Ruth Mottershead, creative director at Little Greene.
7. Use the same design in two different colors
'Use contrasting colors in the same print for added design detail and maximum wallpaper magic,' says Jamie Watkins, co-founder at Divine Savages. 'Here, Always Sunday founder Lexi Dart has expertly combined our Crane Fonda wallpapers in Soft Copper and Black Gold for an extra divine and savage twist in her bathroom.
'We love this design trick. It's at once playful and at the same time sophisticated – a different take on a classic monochrome scheme and rather than using a standard black and white wallpaper, this has a decadent edge to it. Also note the perfect pattern matching on the two halves… it's these small design details that count.'
8. Elongate and add height with a stripe
'Never underestimate the power of a good stripe; the linear quality of this design also adds character to this scheme,' says Jennifer Ebert, deputy editor digital, Homes & Gardens. 'Note how the alcoves are wallpapered, too – this is an excellent idea that helps this wall to flow perfectly.'
9. Match your woodwork color to your wallpaper
'If your chosen wallpaper is "busy", you can break it up and make it more cohesive by choosing to paint your woodwork in a color that's within the wallpaper design. Here, this pretty green shade really sets off the overall feel and the plain aspect creates balance,' says Lucy Searle, global editor in chief, Homes & Gardens.
10. Create a stripe effect with a geometric design
'The Sapowaydidi was inspired by an indigenous Kirdi glass beaded modesty apron,' says Amechi Mandi, founder of London based design brand, Amechi, for Dado. 'The pattern offers a striking geometric print, featured here in the joyful red and blue colorway. More interesting than a linear stripe, yet offering the same sense of rhythm, the geometric pattern runs horizontally creating the illusion of more space by seemingly stretching the walls allowing more space for color and pattern to sing.'
11. Go for glamor with a two tone paisley wallpaper
'Wallpaper is a great way to make a statement in a bedroom, either on a single feature wall or on all the walls for full-on drama,' says Tim Walters, managing director, George Spencer Designs. 'Highly decorative, our Charleston Paisley features a large scale print of a burgeoning hydrangea plant and the Midnight Blush colorway combines a dramatic dark brown with a dusky pink, perfect for creating a glamorous boudoir feel.'
12. Highlight furniture with a textured wallpaper
'Wallpaper has become such a unique way to add a big personality to a smaller vignette, such as an entryway. It allows for a focal point while also integrating additional textures, colors, and patterns into the space,' says Leslie Murphy, owner and creative director at Murphy Maude Interiors.
13. Make an office unique with wallpaper
'We absolutely love pattern at Designers Guild and playing with scale, texture, design and your color palette create personality and an individuality in your space,' says Tricia Guild, OBE, founder and creative director of Designers Guild. 'This season's Porcelaine de Chine wallpaper offers just this. Small scale, but full of detailed and intricate paintings of trailing flowers and birds to evoke the magic of fine porcelain, it's the perfect design to add interest to any space.'
14. Match wallpaper to the sanitary ware
'There's a lot going on in this bathroom visually, and the main link is the green tub and basin with the green shade of the stems within the wallpaper,' says Jennifer Ebert, deputy digital editor, Homes & Gardens. 'The marble creates extra pattern but the base shade is off white which matches the background of the wallpaper, and these elements are key to link it all together.'
15. Use the same print on your furniture
'We're all for a spot of cohesion in interior design, so this idea of having an armchair upholstered in the same print as the wallpaper is a winner in our eyes,' says Andrea Childs, editor, Country Homes & Interiors. 'Keep it simple with just one piece of furniture and use other tones from the design for your accessories.'
16. Use wallpaper ideas to play with scale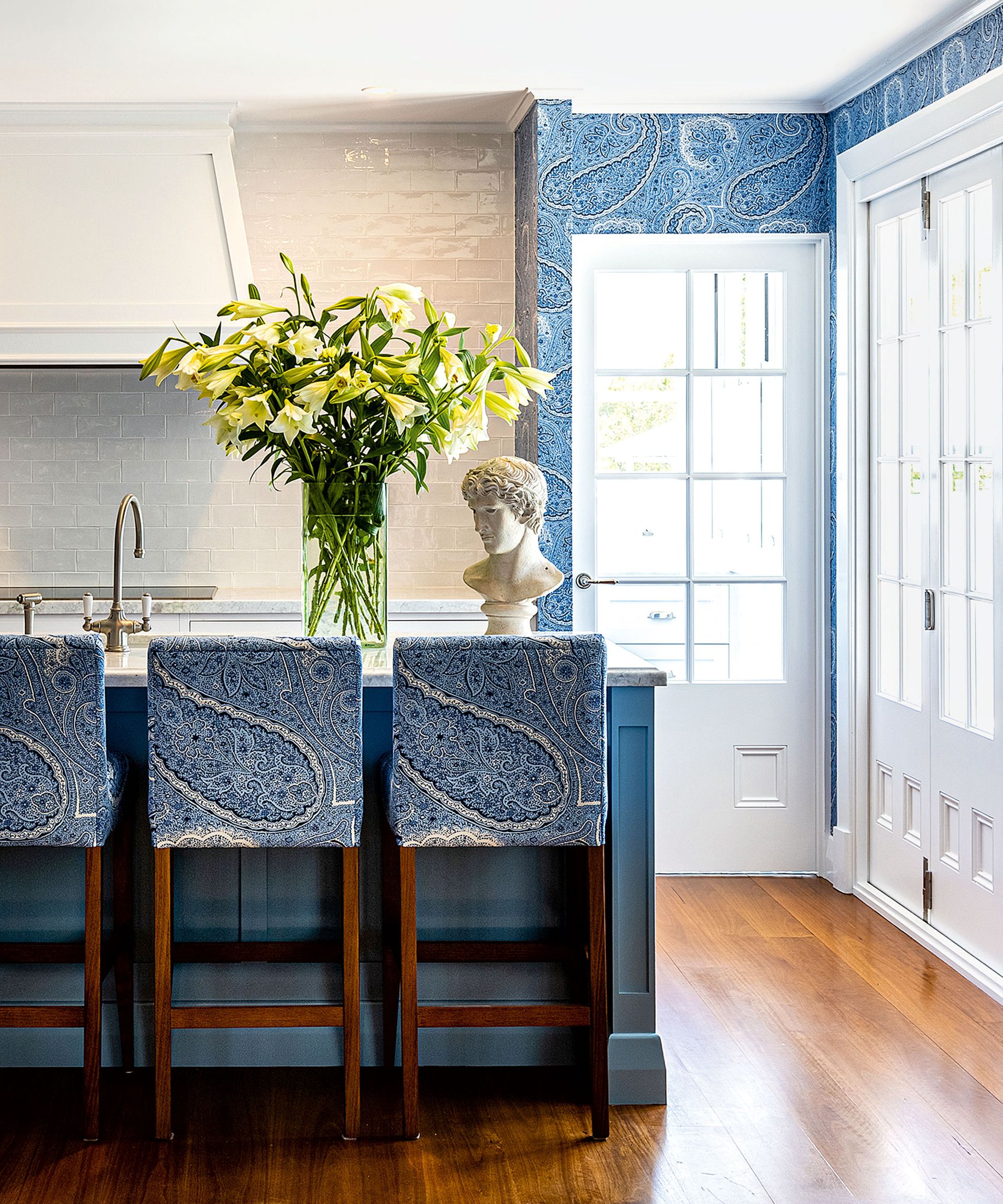 Kitchen wallpaper is officially on trend, with the advances in technology that allow the wallpaper to cope with damp conditions. Use it to work with scale to make pattern work on every surface. In this scheme by interior designer Anna Spiro, the same paisley print is used on the walls and the chairs to link the areas.
'When color and pattern are used well, they give an air of individuality and help create rooms that are full of energy,' says Anna Spiro.
By opting for a slightly larger scale on the upholstery, the repeat creates extra impact as the shape takes up the majority of the chair backs. With a larger surface area available on the walls, a smaller repeat allows the pattern to be seen in its entirety.
17. Use wallpaper to trick the eye
Small spaces are ideal for bold wallpaper and decorating choices. Strong prints and colors are often more effective in more petite rooms as you don't tire of them too quickly.
By utilizing a wallpaper with a trompe l'oeil effect, like this Terrarium design from Sanderson, the room can also appear larger than it is. A coordinating paint will double down on the effect. We love the moss-green tongue-and-groove panelling, shown here, painted in Hopper 297 from Little Greene.
18. Create impact with a matched scheme
Turn your cabinets into a style statement with clever use of wallpaper – and fabric.
Take inspiration from this smart project from Barlow and Barlow, where glass-fronted cabinets have been lined with fabric. Not only does this add interest, but by matching the wallpapered headboard space, the bed area appears much bigger and taller than it is as the eye follows the pattern. For a final finishing touch, even the closet handles integrate this pretty material.
'We love lining closets and particularly open dressing room joinery in fabric to add interest and softness to what can be a large mass of cabinetry,' says Nicholas Cox of Ham Interiors. We often go for a simple stripe or small scale simple pattern fabric in complementary tones to the rest of the bedroom scheme.'
19. Enhance ceiling heights with vertical stripes
Think outside of the box when considering wallpaper – it can be used to exaggerate ceiling height if hung vertically.
A strip of beautifully patterned paper – Carro Mosaic in Aegean from the Byzantium collection, Schumacher – can be applied to create a border. Here, this works to break up the space between the windows but could equally work to great effect is applied at the ceiling line.
When applying vertically, as here, mirror the line by incorporating linear curtain ties for a satisfyingly symmetrical finish. The blinds are backed and edged in Linara in Stucco from Romo. Blind ties from Houlès.
20. Hang a show-stopping mural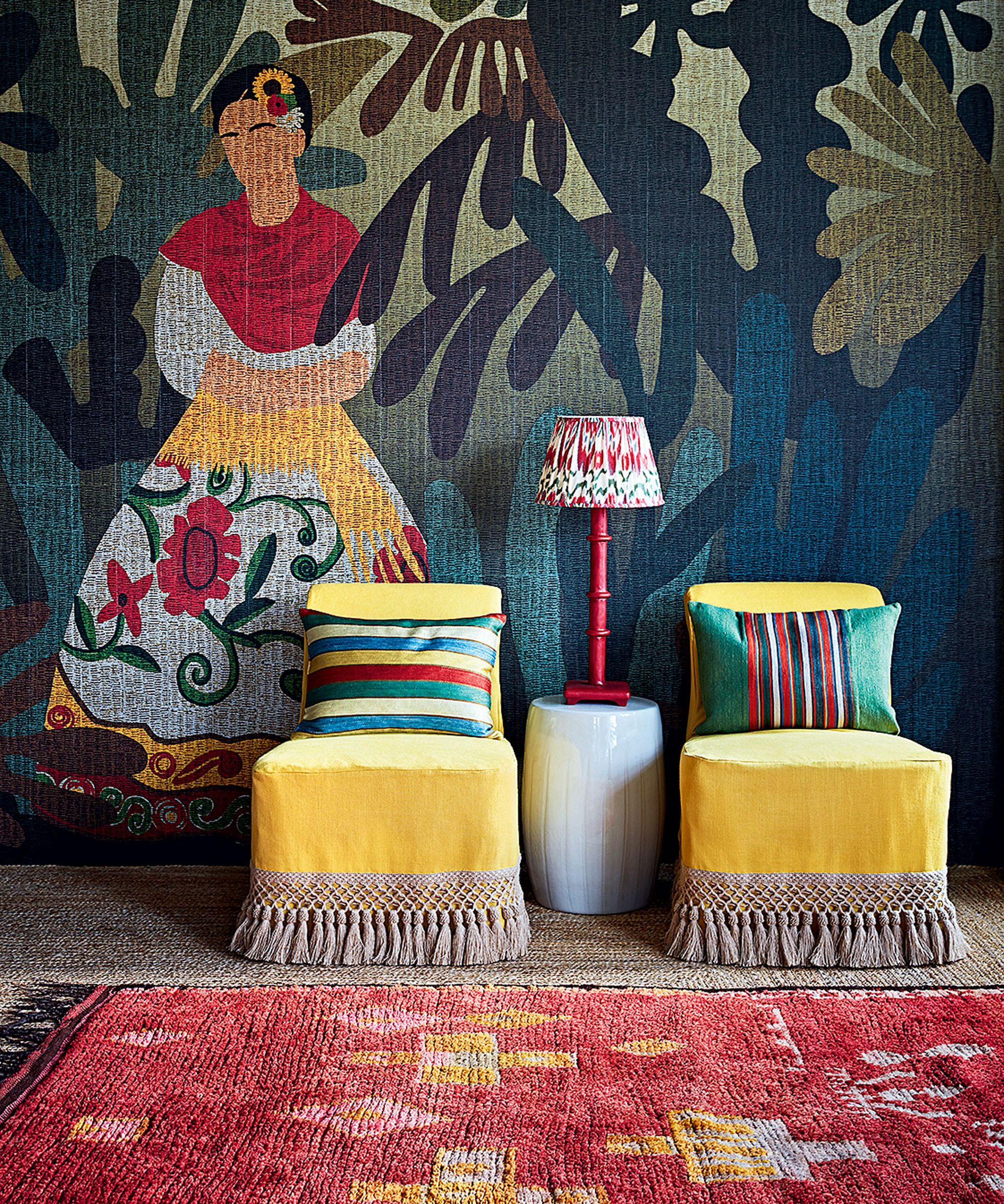 For a dramatic way to maximize your walls, think wall mural ideas. They are right on trend for the year ahead, look stunning, and some panels, such as those by de Gournay, can be removed to take with you when you move house.
When looking to add decorative elements into a room, remember that two is nearly always better than one. This scheme demonstrates how a pretty fringed, block-colored chair adds considerable extra interest when paired with a companion. Dressing each with a close to, but not quite, matching cushion keeps the space energetic. The Madeleine slipper chairs from Neptune are covered in Juno in Dandelion by Linwood and trimmed in Bali jute tassel skirt fringe from Samuel & Sons.
'Rugs are also a great way of layering pattern and it's easy to layer up a few smaller rugs and a tip is to have a common color thread in the pattern play to hold your scheme together,' says Lorna Haigh, creative and marketing director, Alternative Flooring.
21. Create clever contrast with opposing tones
Choosing wallpaper ideas as a contrasting backdrop is a clever way to allow for two stand-out design features to co-exist. Here, the bold orange pattern is the perfect partner for the all blue furniture.
Designed by Beata Heuman, it demonstrates how to use one color across three individual pieces in the room by using varying shades. This adds depth and energy, but has also been cleverly designed to create harmony with each piece speaking to another.
The duck egg of the ottoman is echoed in the cushion on the navy blue chair, which is then itself linked into the sofa with the deep blue trim on the beautiful, scalloped canopy in the same fabric as the mid blue seat beneath. The sofa canopy is, of course, a true statement piece, so the choice to stay restrained in color helps this bold choice feel like the natural one.
'We were creating a cozy place to watch telly, but we also wanted the scheme to have some theater, and so the idea of the canopy sofa was born,' says Beata. 'Being pretty over the top as an idea we kept the colors simple and calming. There is a small yellow contrast braid around the arm, but otherwise it's all different shades of blue, so it looks quite relaxed all things considered.'
22. Play with geometric pattern
'The easiest way to combine patterns is to work with a number of distinct and very different designs in complementary colors,' says Sarah MacGregor, Jane Churchill design director.
'Here three different geometric patterns create a bold scheme. The delicate star shape pattern, in soft pink, on the wall and blind adds a sense of scale, while the upholstery featuring a subtle zig zag design gives texture and the multi-colored cushion a splash of contrast.'
If you are looking for country wallpaper ideas with a contemporary twist like this, the wallpaper above is in Tassi, red/aqua; blind in Tassi, red/aqua; chair in Kip, soft red; cushion in Luna, multi; all Jane Churchill at Colefax and Fowler.
23. Cocoon a space with clever wallpaper ideas
For children's rooms and guest rooms alike, cabin beds are seeing a surge in popularity.
One trick for making them equally as visually appealing as they are in terms of comfort is to cocoon the space in pattern or color. This Studio Peake design pairs matching fabric and wallpaper on the walls, ceiling, headboard and blinds, a great look for ceilings.
'Pattern matching is always difficult between ceilings and walls so we used a braid to line the edges which mean you don't read if the pattern matching is slightly off,' says Sarah Peake, founder of Studio Peake. 'We used the same trick on the edge of the blind by using a green linen contrast border.'
24. Wallpaper a ceiling
Wallpapering the ceiling is an effective way to add drama, and works particularly well in rooms tucked up in the eaves.
'Don't just think of wallpaper for your four walls – have fun and think outside the box,' says Patrick O'Donnell, Brand Ambassador, Farrow & Ball. 'For a dramatic design statement, apply striped wallpaper to the ceiling as well as the walls.'
Ceiling wallpaper doesn't just work for airy rooms – see how pairing a decorative botanical print with smart panelling for a considered, crafted look can be successful in the room above. This is the Cote d'Azur wallpaper by Manuel Canovas at Colefax and Fowler.
25. Disguise closets with wallpaper
In a small room, closets can visually block off a lot of space, and make the room feel even smaller. Instead of a large closet being the focus, coat the doors with the same wallpaper as the walls, tricking the eye into making the closet disappear.
Take the time to carefully pattern match so the furniture blends seamlessly with the walls – the larger the repeat the easier this will be to achieve.
This wallpaper is Brocade with woodwork painted in Pointing no.2003, both Farrow & Ball.
26. Design a wallpaper headboard
Headboard ideas needn't be anything more than getting creative with offcuts of wallpaper. 'Don't waste a scrap – there are many uses you can consider for a half-roll currently lying redundant,' advises Patrick O'Donnell, Farrow & Ball Brand Ambassador.
'Use them to create a focal point behind your bed with a decorative faux headboard. Four widths of paper should be all you need for most beds, so get out your pencil and scissors and throw caution to the wind. Inside closets and interior doors is another great place to start your adventure into wallpaper and will add impact to rooms that require more detail.'
27. Use wallpaper to give an entryway instant personality
The entrance hall is the first moment you have to set the style and tone of your house, so inject some personality into this space.
Entryway wallpaper ideas can be used to great success in areas such as these, creating a bold impression for your guests. It's not all too often that you will linger in an entryway, excepting extended hellos and goodbyes, meaning you can really go for it with your pattern choices. Or you can keep the hallway plain and calm and experiment with color and pattern in your staircase wallpaper ideas.
Choose a dramatic print that you love but couldn't live within somewhere like a living room.
It's also worth noting that, besides the front door, these spaces are often broken up with windows, mirrors, and pictures, so stay away from oversized mural prints and select a smaller repeat so you can see more of the pattern.
28. Turn a powder room into a character-packed space with wallpaper
If you are wondering how to wallpaper a room, a downstairs cloakroom or toilet is the ideal place to get started and experiment. This is most likely to be used as a guest bathroom, so make your powder room wall decor fun and offer up that 'wow' moment.
Find that wallpaper you've always loved and go wild with it. As it's likely to be a small space it's also not the most expensive area to redecorate if your tastes change.
'A large scale print works beautifully in smaller rooms and occasional spaces such as bathrooms, where they can allow for bolder choices to be made to create great impact,' comments Ann Grafton, Creative and Managing Director of GP & J Baker.
29. Use wallpaper ideas to make a mudroom feel loved
On the ground floor of your home you may have several smaller rooms, such as boot rooms, mudrooms and utility rooms. As well as being on the petite side, these areas are often working spaces which don't tend to see a lot of decorating love. Add some TLC to these spaces through your wallpaper.
In terms of which patterns to look for, Joa Studholme, Color Curator at Farrow & Ball, advises that you should look at using 'wallpaper which some might feel would overwhelm in a larger space. Patterns like this (Tourbillon by Farrow & Ball) which are bursting with joyful movement feel calmer when the pattern and ground are close in colour and just serve to make the walls feel less flat and hard.'
The other consideration when decorating a mudroom, or any other busy, working area of the home, is how to take care of it.
'To protect wallpaper from the high traffic it is a good idea to use some panelling on the lower half of the room, which should be painted in the darker tone of the wallpaper,' suggests Joa.
'Alternatively, a dado rail can be used, with the wall below it again painted in the darkest tone of the wallpaper in our washable Modern Emulsion. Strongly colored wallpaper used on the interior of cupboards or dressers also adds a fantastic extra element in these spaces and will be more protected.'
30. Use wallpaper ideas to make a snug feel cozy
Whether you have a snug, or are looking for small living room ideas for a more compact or dark space, you can add serious impact with the right choice of wallpaper.
Snugs are, by their definition, where you want to snuggle up and be cozy, so they often have a fireplace or stove and the comfiest of furniture.
To match this feeling with your wallpaper, look to deep, rich colorways and luxe or heritage style patterns, like this Herriot Way wallpaper by Anna French at Thibaut.
31. Pick a bold living room wallpaper
'From entertaining to relaxing, and quite possibly working in, the living room tends to be the most widely used space within the home,' notes Cole & Son's design director Carley Bean. 'It's therefore important to choose a design and color palette that creates an inviting, versatile space.'
When selecting wallpaper for a living or family room, it's important to consider how often you will be in the space. You don't want a pattern that will overwhelm or a color that you will get quickly tired of.
However, that's not to say that pattern is to be steered away from. Choose a medium-sized repeat and shades which flow well with the furniture and key pieces in the space, like in this fresh green living room.
32. Pick a wallpaper with a textured look for a cozy living room
Wallpaper can be a great way to add further layering to a room and create cozy living room ideas that feel warm and welcoming.
Here, a wallpaper with a fabric-look creates a feeling of enclosed comfort that complements the fabrics within the upholstery.
33. Use wallpaper to create a calm home office scheme
As more and more of us are working from our houses, home offices are becoming much more prevalent. Whether you have a full-blown study at home or have adapted a nook in another room, there are options for decorating with wallpaper.
Home offices are somewhere where you need to concentrate, so busy, patterned wallpaper will be too distracting. Gentle, impressionist-style coverings will add a zen feeling to the space, while a mural or super-sized repeat will add interest when you glance up, but due to its size won't be distracting.
34. Match wallpaper with paint finishes to stretch space
If you don't want wallpaper right in front of you, a great option (as pictured above) is painting behind the computer and wallpapering the room around you. A gently textured covering like this will add an extra dimension and interest to the room without catching the eye too much when focussing.
On the flip side, if your desk is against a wall in a living room, or even a hallway, wallpaper can be used to zone. Demarcate the area with a few strips of wallpaper and you'll have created an obvious work space.
In terms of which wallpaper colors to look at when planning your home office ideas, there are a few options. Blue is traditionally associated with home offices as according to color theory it aids in communication and the ability to focus while also lowering blood pressure – ideal for stressful meetings.
Green is another great wallpaper color for home offices as it boosts creativity and is grounding.
35. Give kitchens character with a pretty pattern