Country wallpaper ideas for kitchens – cover your walls in delicious prints
These country wallpaper ideas for kitchens will bring playful patterns and design inspiration to add charm to your cook space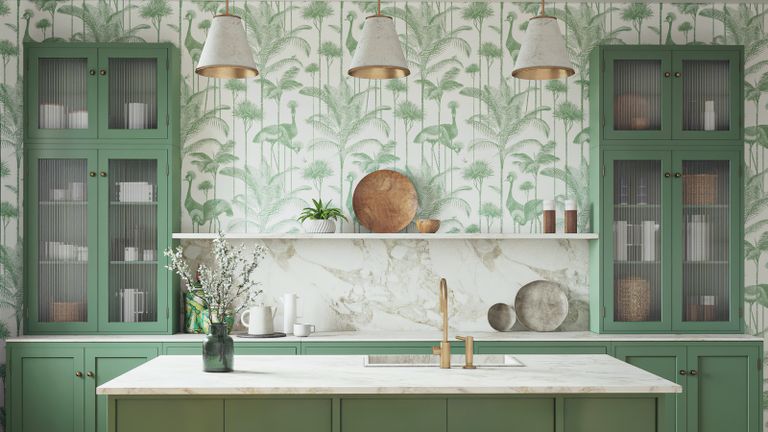 (Image credit: Divine Savages)
Looking to add something a little more interesting to your country kitchen design? Wallpaper may not be everyone's first port of call, but with such a wide array of designs available it could be just the ticket to sprucing up your space. 
In fact, with cabinetry taking up much of your walls, the kitchen can be a good opportunity to introduce colour and pattern into your home without having to invest in large quantities of rolls, and wallpaper is an easy element to replace as and when you need to. 
For a warm and welcoming scheme, country-style wallpapers featuring delicate florals and nods to nature are the ones you'll want to look for. 
Neutral and earthy tones suit large wall areas in rustic kitchen schemes, though brighter, bolder hues can add a contemporary edge and work well as a feature wall. 
Take a look at our favorite country wallpaper ideas for kitchens, below. 
See: Country wallpaper ideas – for beautiful period properties, cottages and more
1. Paint kitchen cabinets to complement country wallpaper 
Create a cohesive look by painting kitchen cabinetry in a shade that complements the rest of your scheme. Here, a sage green kitchen island picks up the foliage tones from this fantastic floral kitchen wallpaper. 
To recreate the look, shop the Poetry II collection from Tapetenfabrik Rasch.
See: Country decorating ideas – for bringing character- and color-filled country homes
2. Add country charm to a modern kitchen
Striking the balance between contemporary design and country appeal can be tricky. But this space proves that it can be done. 
Despite its streamlined cabinetry, this intricate Tudor Garden wallpaper from Lime Lace injects plenty of country charm. The design draws on Tudor knot gardens as a reference, bringing a touch of history to the contemporary scheme.
Head to our country kitchen ideas gallery for more expert design tips to help you decorate your space.
3. Keep things simple with a pretty repeat pattern
An interiors taste that is slightly more minimal doesn't mean missing out on wallpaper altogether. Instead, opt for a pretty repeat pattern in a neutral tone and pair it with a simple paint scheme. Here, paper and paint are used together to add interest without overwhelming the space.
'With much of the surface area in kitchens often taken up with cabinetry and worktops, small areas of kitchen walls are wonderful places to add pattern and texture with wallpaper,' suggests Andy Greenhall, Head of Design at Paint and Paper Library. 'Because these rooms are often visually cluttered, choose a simple pattern to maintain a sense of calm.'
'Our 'Honesty' design is an elegant all-over print, featuring a watercolor and crayon rendering of an honesty sprig. The motif is given plenty of space, allowing the ground to present its soft color – a gentle balance that is well-suited to busy spaces such as kitchens.'
4. Use your country wallpaper to create a focal point
Combining this vintage-inspired wallpaper with Shaker cabinetry in a matching tone creates a focal point in this country kitchen. This is further enhanced by the use of pendant lighting and a striking kitchen island.
Recreate the look with the Crane Fonda 'Palm Green' wallpaper from Divine Savages.
5. Use picture rails to increase the sense of height
Whether you are blessed with high ceilings or want to create the illusion of more head height, picture rails are your friend. Simply paper up to the proposed height and keep the rest of your scheme a pale colour. You will add character without allowing a bold print to overwhelm your space.
Find the Gibbons Carving wallpaper at Lime Lace.
6. Embrace original features when wallpapering
Some may look at a paneled room and assume that wallpaper will not work, but this sweet space proves that is not the case. A well-chosen wallpaper with a simple repeat pattern can add additional character to a room with plenty of period features. 
When choosing a country kitchen wallpaper, Elizabeth Ockford suggests that you bear in mind that the kitchen is the space 'where the outside and inside of the house meet – be that fruit and vegetables or flowers coming in from the garden, or where the family and pets gather to cozy up after a country walk or over a long lunch. And wallpaper in that room can reflect that, in color and subject matter.'
In Ockford's Cleo wallpaper, you get a large variety of common or garden bugs, delicately drawn onto clean-colored grounds.
7. Choose small patterns for a pretty country kitchen
This pretty blue pattern offers an abundance of country character without making the small space feel boxy.
'Small pattern wallpapers can look great in kitchens,' says Daniel Slowik, Associate Design Director for Sibyl Colefax & John Fowler. 'There are likely to be large areas of joinery where large patterns would be wasted. Small patterns in bright colors lift the space.'
Find this Windsong wallpaper at Jane Churchill.
8. Choose an Art Deco print for a country twist
Perfect for country homeowners whose tastes span both traditional and contemporary interior trends, this stunning Art Deco-inspired paper bridges the gap. It promises to add plenty of character, adding a contemporary feel to country schemes.
Find the aptly named Amazing wallpaper from Tapetenfabrik Rasch.
9. Create an immersive space
Wrapping the entire kitchen with wallpaper will create an immersive, embracing space. Feel free to play with expectations when it comes to patterns. Here, a Chinoiserie print matches beautifully with the pale blue of the range cooker, putting a fresh perspective on country wallpaper in the kitchen. 
'For country kitchens, I also generally try and choose smaller scale prints so it acts as a quiet backdrop,' shares Henriette Von Stockhausen, Creative Director of VSP Interiors. 
'I often use Howe Bourne Street's wallpapers as they have a real country feel without being too staid, and there are some great colorways! Together with curtains, art, and rugs, wallpaper helps to avoid the cold functional look that kitchens tend to have and transforms it into a more lived-in room.'
10. Play with an intricate but neutral pattern
An intricate pattern can add character to a kitchen wall, and the natural tone featured here prevents the wallpaper from overwhelming the space while complementing the rustic floorboards and cabinetry.
Photography Melsetter collection, Morris & Co
See: Wallpaper ideas for every room – decorate your walls with these designs
11. Channel the wildlife
Images of nature and birdlife instantly evoke a sense of the countryside, which is why they are so popular in country style wallpaper patterns. Check the pattern repeat before your buy, to minimise wastage when lining rolls up. 
For example, this particular design by Farrow & Ball has a pattern repeat every 61cm (or 24 inches). Fortunately, many wallpaper websites have specially designed calculators to help you work this out, or they also have in house experts on hand to advise. 
12. Head for the coast
'Neutral colors have often featured in kitchens,' says Fiona Howard, British textile designer. 'However, a wall in a tomato orange, a leaf green or a pretty sky blue can lift  the mood and character of the kitchen,' she adds. 
Fiona Howard's Harbour wallpaper comes in three colorways to suit different schemes – including this classic combination of blue and white. 
Better yet, all of her wallpapers are designed by hand and printed in the UK on FSC papers using environmentally friendly inks, and for every roll of wallpaper sold a tree is planted in conjunction with One Tree Planted.
13. Go back to nature
Many traditional fabric patterns have been redesigned to work for wallpapers too, so it is easier than ever to achieve a classic look. 
This whimsical Baroque design from Little Greene's was uncovered by the National Trust, hiding beneath wall-hung tapestries at Erddig in Wales, United Kingdom. It has now been reimagined into a classic-contemporary wallpaper design.
14. Be bold
If you want to make a real impact in your country kitchen, why not wallpaper a whole wall in a bold pattern? This design idea can help brighten up a cosy nook or small dining area in a corner. Just be sure to use colours featured elsewhere in the space for a cohesive look, rather than a clashing one. 
If you want to design a space for cooking and eating, we've plenty of stylish examples in our country kitchen diner ideas feature.
15. Look on the bright side
Fresh and fruity tones can brighten up even the darkest of kitchens – just be sure to choose a wallpaper with a wipe-down finish, or ask your decorator to apply Decorators Varnish for added protection. 
Most brands will highlight if their designs are suitable for use in a kitchen, so keep a look out for phrases such as 'wipe down', 'washable', and 'scrubbable' in your search. 
Pearl Lowe collection, Woodchip & Magnolia
16. Try a ditsy print
A mini or ditsy print will always create a feminine and country feel, especially a floral design.
It is best to avoid applying wallpaper directly behind a hob or a kettle, otherwise you may run the risk of it peeling prematurely. But to create a quaint and quintessential country kitchen, place your wallpaper behind shelves, or line the back of dressers.
 'A line of herbs looks wonderful placed in front of wallpaper, and I think pictures always look more interesting hung on wallpaper too,' says British textile designer Fiona Howard. 
Design by Sandberg 
17. Treat wallpaper as art
Who needs artwork with a wallpaper pattern like this? The large format design echoes the look of a gallery wall in this particular kitchen, and the tree design brings a sense of the outdoors inside. 
If possible, look out for wallpapers which are 'paste to wall', for easier application. 
Caspian collection, Sanderson 
18. Zone with a feature wall
'Wallpaper can be an unexpected design note in a kitchen adding interest and a certain softness against the hard surfaces,' says Patrick O'Donnell, Farrow & Ball Brand Ambassador. 
'Your design choice can be discreet and delicate, or more dramatic like the large scale Hegemone. You can even zone an area within your kitchens, such as the dining area illustrated with our rhythmic pastoral design Gable - perfect for more Rural kitchens as it echoes of farm and fields,' he adds. 
Room by Farrow & Ball
19. Pick an archive print
An archive print will convey a vintage look that's perfectly suited to a country setting. This Brooke House Cinder pattern from Little Greene has a classic design to complement the traditional style of the kitchen. 
Creating a feature wall around the mantlepiece helps to elevate the country feel even further. 
Room by Little Greene
What is the best wallpaper for a kitchen?
If you're unsure what the best wallpaper is for a kitchen, the good news is that most are suitable for the general areas of the space - but they should be sealed with polyurethane or Decorators Varnish if they do not come with a protective finish. 
'From a practicality side, our wallpapers are finished with a water base glaze so will tolerate some wear and tear in a busy kitchen environment,' explains Patrick O'Donnell, Farrow & Ball Brand Ambassador. 
'However, do take into account other elements such as ventilation and steam from cooking and err on the side of caution if you're thinking about applying a wallpaper behind your cooker – this is an area better suited to a tough paint finish such as a Modern Emulsion or a tile,' he adds. 
Is kitchen wallpaper in style? What country designs are on trend?
Wallpaper is a great way to add a splash of personality to your kitchen, but which country designs are on trend? 
Country-style designs will always be a classic choice, and with many of us spending more time at home these days, the idea of creating a warm and welcoming kitchen is more prevalent than ever. Look out for traditional patterns in alternative or bold colourways for a modern twist on a classic design. 
What are the best color schemes for country kitchen wallpaper?
See: Country curtain ideas for kitchens – dress your windows in beautiful and practical ways
Natural, earthy tones tend to be the best color schemes for country kitchen wallpaper - so bear this in mind when choosing a wallpaper design. Make sure at least one colour in the pattern matches or complements the tones in the rest of your kitchen to ensure it won't end up clashing with your scheme.