Country kitchen diner ideas – 28 ways to cook and dine in a stylish rustic space
A country kitchen diner is the perfect relaxing spot for enjoying breakfast for two, a family feast or dinner with friends – and these ideas will inspire yours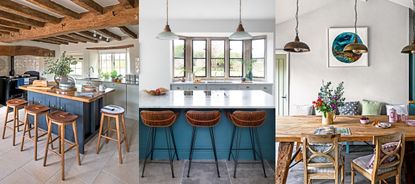 (Image credit: Future)
A quintessential country kitchen diner carries food and eating at its very heart, whether that's a large wooden table at its center, on which to both prepare food and dine, a smaller butcher's block, or an island with a place to perch for a casual family meal.
'The saying "the kitchen is the heart of the home" is never more relevant than in a country kitchen diner. We are often asked to create multiple dining zones within one kitchen, whether that be an island, banquette window seating or more traditional dining at a table,' reveals Rebecca Hughes at Rebecca Hughes Interiors.
If it's a cozy country feel you're after then a long planked kitchen table in oak or pine is a good choice. 'If room allows, including a traditional dining table will complete your country kitchen diner and enable the family to enjoy meals together in comfort,' says George Forsyth, director at Drew Forsyth & Co.
If space is at a premium and you are looking for clever kitchen ideas, consider placing a bench or banquette seating to one side, and add storage below for extra table settings.
Country kitchen diner ideas
For more modern country kitchen diner ideas, a smart expandable design, with elegant dining chairs will provide a chic but cozy place to sit, whether the party is big or small. Where possible, reclaimed pieces will give country kitchen ideas a more authentic feel.
1. Consider your color choices
A dining area brings an additional dimension to a kitchen, which makes your choice of color even more important. As well as being an attractive workspace, your country kitchen diner may be a place to entertain both during the day and at night.
If you love the thought of yellow kitchen ideas, but haven't had the courage to decorate in this sunny palette, this inspiring scheme may well convince you. Warm colors are having something of a revival, so perhaps now is the time to decorate 'sunny side up'.
These earth-centric hues bring a calming, serene feel to a kitchen-diner space. You can choose to paint an entire room or add splashes of earthy colors through textiles, furniture and soft furnishings.
2. Paint the ceiling a bold shade
Painting the ceiling in a bright shade – like this standout yellow – is a brilliant country kitchen diner idea, as it brings character and personality to the space.
Cover the entire ceiling area with your color of choice, bringing the paint shade down to the top of the wall to 'join' the surfaces.
If a strong color falls outside your comfort zone, consider introducing a softer or darker hue to your ceiling instead. A deep shade will make the ceiling appear lower, adding an intimacy to the space. Meanwhile, a warm pastel such as blush pink will reflect any natural light to cast a gentle glow.
3. Add a natural table setting
How you dress your kitchen-diner is key to making this a space you will want to stay to enjoy a meal. Soft lighting, considered tableware and linen all play their part in your kitchen styling ideas.
'Country kitchen diners are by their nature warm and comfortable. You can enhance the atmosphere by choosing accessories that give a nod to the rustic feel, such as reclaimed oak chopping boards and aged terracotta pots,' suggests designer Jojo Bradley, founder of Jojo Bradley Interior Design.
'For the table, add a soft linen runner and napkins in earthy tones.'
4. Include wooden furniture
If the appeal of a country-style home is its connection with nature, then it makes sense to establish this in your kitchen diner through your choice of surfaces and accessories – especially natural wood.
'Not only do natural materials in the home help reinforce our connection with nature, typically they last much longer than synthetic materials,' says Catherina Björkman from Contura. 'Consider a pre-owned wooden dining table – the visual wear and tear will only add to its charm and beauty. Replacing cupboard handles with wooden or metal alternatives, and introducing woven reed or rattan baskets, is another way to incorporate natural accents into your home.
Even without the typical kitchen table, wood can be the defining element of your scheme – as in this kitchen diner design from Casey H at Decorilla. The wooden cooker hood and wishbone bar stools naturally enhance the plank floor and architectural timber beam.
5. Paint a dark wall
Painting the wall behind your kitchen table or island is a great way to define the dining area in a multipurpose kitchen – even if it's a half wall or reverse of your cabinets, as in this design with banquette seating ideas.
'A good way to introduce a dark shade in your home is by painting just a section of a wall to create a zone within a room. This works very well in open concept living spaces, and it's perfect for a country kitchen-diner,' says Justyna Korczynska, Senior Designer at Crown. 'By painting just a smaller section of the room, you can go really brave or dark with your chosen color.'
6. Mix in vintage pieces
There's an easy elegance to country kitchen diner ideas that successfully mix the new and the old, or contrast grander items with more homely pieces.
'A great start for your country kitchen diner ideas are Shaker style cabinets in a neutral hue, with natural flooring and worktop materials,' says interior designer Jojo Bradley.
'And don't be afraid to repurpose or reclaim some pre-loved elements, such as a distressed wooden dining table and chairs, or a vintage chandelier above a table.'
7. Follow color trends
Keep your country kitchen diner ideas up to date by repainting walls or cabinetry for a seasonal or yearly refresh. Colors of nature, such as earthy beige, warm clay and all shades of green, are a firm favourite as nature has become even more important to us,' says Justyna Korczynska, Senior Designer at Crown. 'The outdoors has been an escape, and we now want to channel that feeling in our home too.
'Watery grays are airy and dreamy and will give a feeling of spaciousness,' continues Korczynska. 'Grays are hugely versatile – from cool off-white shades, through warmer neutral midtones, to the very deep and mysterious, which is why gray kitchen ideas are so popular.
'A monochrome scheme of black and white is more unforgiving than one of shades of slate and clay, which will change subtley with the light throughout the day, giving them personality and character.'
8. Combine multiple seating zones
A large kitchen diner gives you the opportunity to play with your seating ideas and really consider how, when and where you want to eat.
Bar seating at an island is the perfect pitstop for snacks and breakfast time, while cafe-style seating is idea for easy evening mealtimes when you don't want the formality of the traditional dining room.
By providing a mix of built-in seating, dining chairs and stools, you have all options covered.
9. Mix formal and informal seating
Created by Phoenix-based interior designer Dana Lyon of The Refined Group, this elegant country kitchen diner combines high-level bar seating for snacks and chatting with the chef, with a separate table for dinners.
'We are known for delivering polished, luxurious and liveable homes,' shares Lyon, and this space combines all of those qualities.
Creating a subtle shift in materials, between the natural wood of the table and the crisp white of the kitchen surfaces, helps to delineate the dining spaces.
10. Use tile to add interest
One of the joys of a country kitchen diner is its easy informality – after all, you're not retreating to a separate dining room to enjoy your mealtime.
Tile can be used to encode this laid-back approach, as seen in this image from The National Trust's new tile collection, produced in partnership with Ca'Pietra.
As well as a mix of subway and hexagonal tiles, the flooring actually comes in a range of random patterns to create a unique layout every time.
11. Add a shot of color
While your cabinetry may be monochrome, a dining area in your kitchen is an opportunity to introduce character and color to your space.
'Don't be afraid to mix in bold colors,' says Californian interior designer Alison Kandler, who created this cheerful breakfast area.
Take a tip from your favorite bistro or coffee shop and introduce café-style chairs to upgrade your morning caffeine spot.
12. Incorporate a china cabinet
Position a separate glazed unit for tableware, glasses and ceramics close to your dining area, keeping the main cabinetry for functional kitchenware and utensils. This will make your kitchen diner a more practical space – no more getting in the chef's way while trying to lay the table – but also help to zone the eating and cooking areas.
Kitchens are no longer hidden in the back of the house; they have become integrated with the rest of the home, and therefore must work aesthetically as well as practically,' agree Alon and Betsy Kasha from Kasha Paris.
'Attention to detail is key. Opt for handpainted cabinets with molding over the flat, factory-painted cabinets and invest in high-quality stone countertops that will elevate the kitchen diner from a functional room to the social center of your home.
'We also love to use traditional farm tables, as they accommodate a lot of guests, add a lot of charm, and act as extra counter space.'
13. Celebrate natural materials
When you're considering ideas for your country kitchen diner, think about integrating natural materials such as stone, granite and marble into your design – our farmhouse kitchen Island Ideas has more inspiration.
The best schemes will create a happy balance between functionality and beauty – the slab surface of an island, peninsular, or integrated table, for example, can showcase the veining and coloration of your chosen stone.
'A kitchen island is essential for a good kitchen diner, as it's the perfect design for open spaces. It brings family and friends together, allowing some to sit with a glass of wine at the island and others to cook but still feel present in the conversation.,' explains interior designer Stéphanie Coutas.
14. Maximize your living space
'A good kitchen diner is a real living room, where you can combine different layouts to include an old buffet, an inherited family table and collected antiques,' suggest Marc Hertrich and Nicolas Adnet from Studio MHNA. The result is a clever mix of tradition and modernity.
'If there isn't space for a full table, we will always have a shelf, a bar or a space where to perch on chairs or stools,' says Hertrich.
He also suggests making the most of all available space. 'Stack the pots and gather the utensils, double the wall shelves to exploit the smallest space with ingenuity and aesthetics,' he explains.
'It is also very important to use decorative lighting to make this place friendly and pleasant, whatever its size. It is attainable to create a delightful kitchen diner for family and friends in even compact spaces.'
15. Go low with lighting
Create the illusion of intimacy by dropping a pendant low above your dining area. When the time comes to eat, switch off task and other lighting, and instead use a dimmer to create an ambient glow above the table.
This will take the focus away from functional cabinets and appliances, and put the spotlight firmly on your companions the meal you are about to share.
16. Reinvent the kitchen island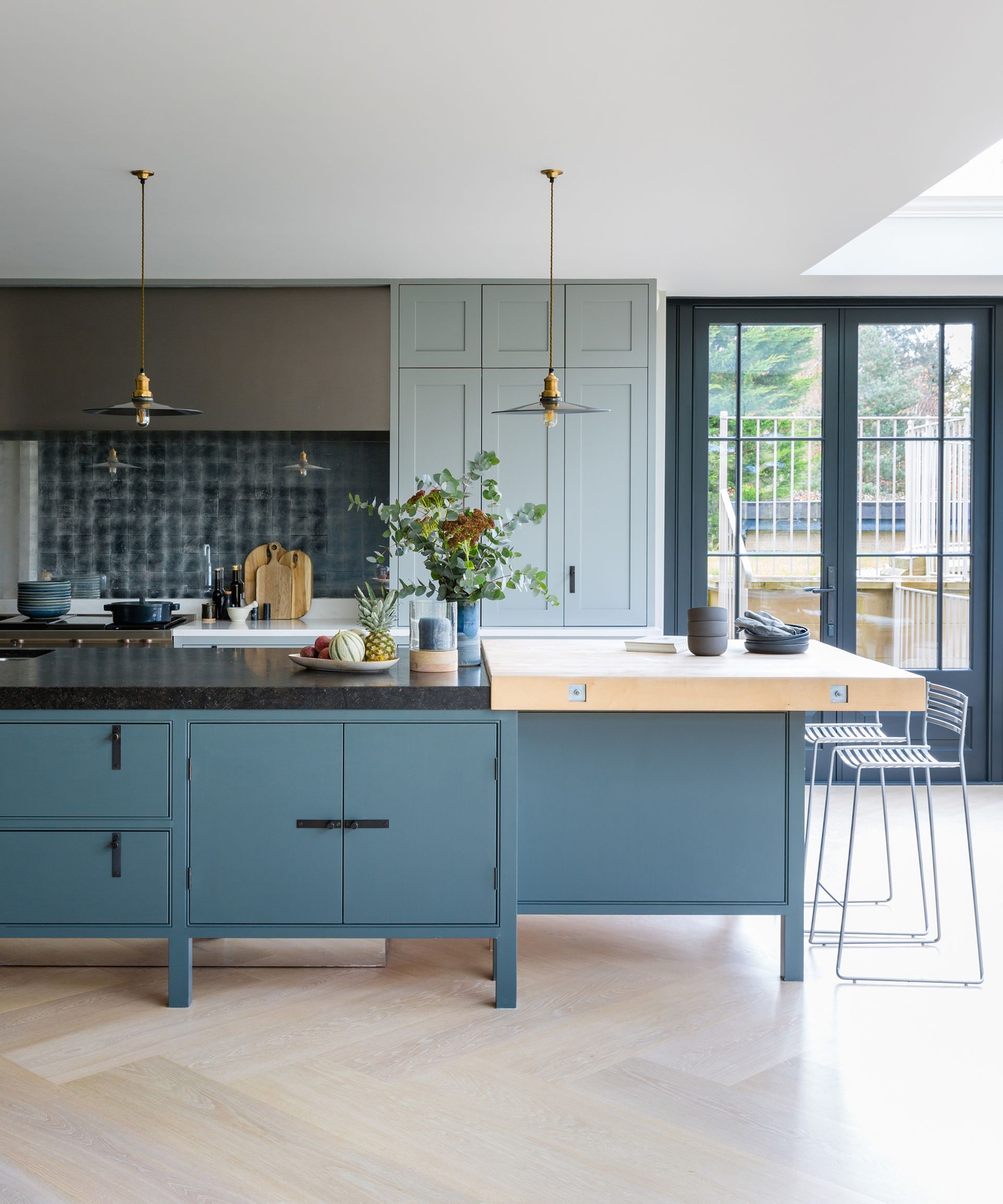 In a large room, a separate kitchen island and dining area can appear disconnected and mean the space lacks a focal point to gather around. Yet an oversized block in the center of the room can dominate the space.
In this kitchen, designed by Mowlem & Co, the solution is to create two-material island that encompasses a workspace, informal bar-stool dining, and a huge prep area.
Pendant lights define each side of the structure and add a decorative element to the space.
17. Separate the dining table
'A formal kitchen dining area usually includes a table with low-level seating,' suggests Graeme Smith, Head of Retail & Commercial Design at Life Kitchens. 'This is often best kept completely separate from the main kitchen area to give it its own environment and atmosphere.'
Depending on the size of your kitchen, you may choose to have a table in place of an island. But if you have a large, open space, it's often good to work with a 'broken plan' design to create a physical break between the kitchen preparation area and dining table. 'You could use a short peninsular or island to achieve this sense of separation,' says Smith.
In a country kitchen diner, a natural wood table will give a relaxed feel while retaining the formal dining room element.
18. Make the table the star
If the table is the heart of your country kitchen diner, it's a smart idea to make it the star of the show. Here, the U-shape of the cabinets frames the dining table, with low-slung pendant lights putting it firmly in the spotlight.
For a do-anything table like this, which functions as a work surface, dining area, desk and gathering space, it's essential to clear it of clutter between each task. Simply leave a basket or bowls of fruit and fresh flowers to bring the country look to your kitchen diner heartland.
19. Lower the dining surface
If an island is part of your kitchen planning but you don't want to perch on a high stool to eat, having a split-level surface is the answer. These particularly suit country kitchen diners, as they suit the informal, warm feel of country-style homes. Just be sure that your dining chairs don't block the thoroughfare around your space.
20. Introduce color and pattern
When you're looking for easy updates for your country kitchen diner ideas, color is your go-to. These cabinets have been repainted a warm yellow tone, complemented with a checked rug in country colors.
Wallpaper is another way to bring a bold design element to your kitchen.
You can find out the designer secrets to getting the look right with our country kitchen wallpaper ideas.
21. Build in a booth to save space
'Built-in seating is an informal style of dining that lends itself well to the relaxed nature of country kitchen diners,' says Graeme Smith at Life Kitchens. 'It can also be a good space-saving design feature.'
Whether it backs into a corner, island or peninsular, you are instantly saving on the space that you would usually need behind traditional chairs. 'Without designated seats, you can usually fit more people around the table too,' Smith says.
22. Create a conversation corner
Seating at a kitchen island can often mean lining up so you can't see the face of your dining companion. Placing stools around the top of the island instantly creates a more convivial atmosphere.
Keep the area beneath the worksurface free from cabinets and appliances, so that it acts almost as a raised table seamlessly extending from the working part of the island unit.
23. Soften sharp lines with curves
While painted Shaker or Edwardian-style cabinetry is often a key component of country kitchens, it can feel slightly linear.
In this all-white scheme by Neptune, a sense of softness has been achieved by incorporating a round dining table rather than an oblong one and adding softly sculpted dining chairs dressed with soft calico covers.
24. Make room for more
A small dining table with banquette seating serves two important functions, providing more seating space that takes up less room is of course the most important.
It can help with storage space, too by incorporating drawers beneath to store table linens, seating cushions and much more.
25. Pull up a seat
Bar seating at a country-style wooden topped island is the perfect casual eating alternative to a formal dining table.
While it won't accommodate all the family, bar stools can be used to give a central island an extra function and then be pushed neatly back under the worktop overhang to make space when they're not in use.
You can discover the elements every country kitchen diner should have in How to create a country kitchen.
26. Add a touch of French country chic
Situated in the centre of the room in place of a more modern choice of an island, this pale wood dining table with turned legs is the perfect look for a more formal French country kitchen. Paired with high-backed, upholstered chairs and cool grey cabinetry it exudes grand country house elegance.
27. Get the light right
The right kitchen lighting ideas can make all the difference to a workable kitchen design – both in terms of where you place it and what you use. This is particularly true when planning a dining space in a room where many functions are likely to be carried out.
In a country scheme, modern task lighting such as spots and LEDs in extractors should be teamed with more vintage style pendants over dining tables. Place them carefully to provide enough light, without impeding the diners' vision or freedom of movement.
28. Make it natural
Don't be afraid to mix it up when incorporating wood into a kitchen diner design.
A variety of timbers – including a dark oak plank table, original beams and pale wood worktops and bun handles – provide both warmth and interest to this country kitchen from Drew Forsyth & Co.
How do you zone a country kitchen diner?
To zone a country kitchen diner, you first need to look at the size of a space to see how it can be arranged into zones for food prep, cooking and eating.
Moving the table away from the cooking area will help to indicate purpose, as will placing beneath it a contrasting flooring to the working kitchen space.
Stone tiling works well to demarcate a preparation and cooking zone as it's easy to keep clean, while something softer and warmer to the eye and touch, such as original or engineered wood planks will sit well beneath a dining table. Using similar, coordinating tones and textures throughout an open-plan kitchen diner will help to unite the spaces while at the same time keeping their functions separate and clear.
What are on trend dining set ups for a country kitchen diner?
There are a number of on trend dining set ups for a country kitchen diner. For example, large wooden table (if there's room) sets the tone for a country kitchen diner perfectly.
'There's nothing better than having a multi-purpose surface that will accommodate family meals, baking projects and homework, too,' agrees Karen Read, kitchen designer at Neptune Weybridge. 'And as your kitchen table bears the brunt of family life, it will take on the unique character of a piece of furniture that is an integral part of your day-to-day. We always encourage extendable tables so you have that flexibility to entertain larger groups without the fear of where everyone will sit.'
Also, using mismatched ladder-backed or vintage church chairs, perhaps painted in a range of colours reflected in fabrics used elsewhere in the room, will keep the look relaxed, preventing it from feeling too formal. Mismatched china will give the space a 'grandma's kitchen' vibe, too.
Think Willow pattern blue and white partnered with lots of chintzy florals, or opt for modern china with wonderfully eclectic patters such as those from Emma Bridgewater, Sophie Allport or Burleigh.
What is a good color for a country kitchen diner?
If you're scouting for a good color for a country kitchen diner, there are no hard and fast rules. But bear in mind that pale colors, such as white, yellow, light green, light blue and neutrals will all create a country feel in your kitchen while also making the room feel as large and as bright as possible.
If yours is a modern country kitchen diner, you could look to bolder colors, such as deep red, dark blue or dark green – all these shades are on trend for the year ahead. However, our advice is to only pick these shades if your country kitchen has good natural daylight and good artificial lightings in the evening so that it feels bright for both aesthetic and practical reasons.
What is the best flooring for a country kitchen diner?
Now you've got your color sorted, it's time to think about the best kitchen flooring ideas for your space.
These kitchens are all about the celebration of natural materials. If you want a tiled stone floor throughout, opt for rich, traditional terracotta tiles or rough-hewn limestone flagstones. For a more modern approach, try composite large format tiles or porcelain to replicate natural materials without the cleaning and maintenance issues.
Contrary to popular belief, wood is a good choice for a kitchen diner as long as it's well sealed to fend off water ingress. It can particularly help to soften cabinetry painted in some of the darker shades popular right now.
'Country kitchens should be full of character and warmth. Engineered wood flooring is ideal for the kitchen environment too, as it can be used with underfloor heating and won't be affected by humidity,' advises Peter Keane, Director of The Natural Wood Floor Company.
Sign up to the Homes & Gardens newsletter
Decor Ideas. Project Inspiration. Expert Advice. Delivered to your inbox.
Andrea has been immersed in the world of homes, interiors and lifestyle since her first job in journalism, on Ideal Home. She went from women's magazine Options to Frank. From there it was on to the launch of Red magazine, where she stayed for 10 years and became Assistant Editor. She then shifted into freelancing, and spent 14 years writing for everyone from The Telegraph to The Sunday Times, Livingetc, Stylist and Woman & Home. She was then offered the job as Editor on Country Homes & Interiors, and now combines that role with writing for sister title homesandgardens.com.