Country kitchen diner ideas – cook and dine in a pretty, rustic space
A country kitchen diner is the perfect rustic, relaxing spot for enjoying breakfast for two, a family feast or dinner with friends – and these ideas will inspire yours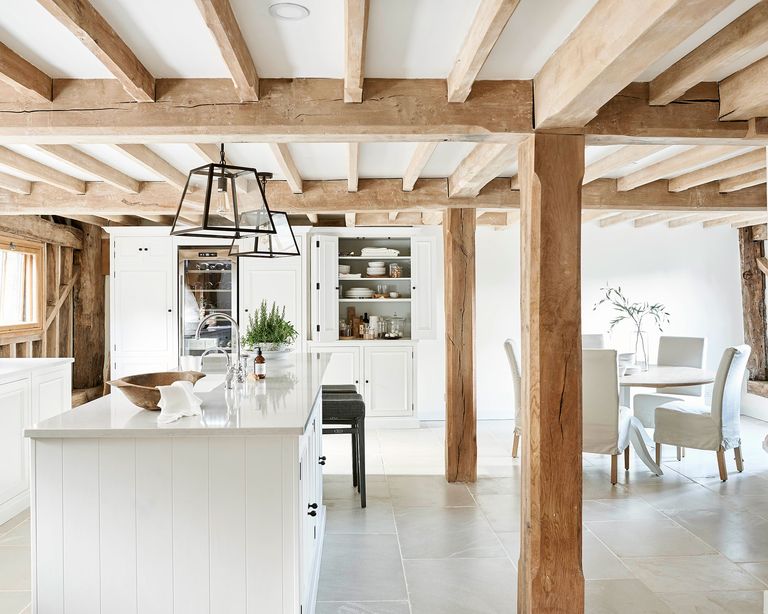 (Image credit: Neptune)
A quintessential country kitchen diner carries food and eating at its very heart, whether that's a large rustic table at its center, on which to both prepare food and dine, a smaller butcher's block, or an island with a place to perch for a casual family meal. 
'The saying "the kitchen is the heart of the home" is never more relevant than in a country kitchen diner. We are often asked to create multiple dining zones within one kitchen, whether that be an island, banquette window seating or more traditional dining at a table,' reveals Rebecca Hughes at Rebecca Hughes Interiors. 
If it's a cosy country feel you're after then a long planked kitchen table in oak or pine is a good choice. 'If room allows, including a traditional dining table will complete your country kitchen diner and enable the family to enjoy meals together in comfort,' says George Forsyth, director at Drew Forsyth & Co. 
If space is at a premium, consider placing a bench or banquette seating to one side, and add storage below for extra table settings. 
For more modern country kitchen diner ideas, a smart expandable design, with elegant dining chairs will provide a chic but cosy place to sit, whether the party is big or small.
See more kitchen ideas – decor ideas for all kitchen styles – in our main guide.
1. Reinvent the kitchen island
In a large room, a separate kitchen island and dining area can appear disconnected and mean the space lacks a focal point to gather around. Yet an oversized block in the center of the room can dominate the space.
In this kitchen, designed by Mowlem & Co, the solution is to create two-material island that encompasses a workspace, informal bar-stool dining, and a huge prep area.
Pendant lights define each side of the structure and add a decorative element to the space.
2. Separate the dining table
'A formal kitchen dining area usually includes a table with low-level seating,' suggests Graeme Smith, Head of Retail & Commercial Design at Life Kitchens. 'This is often best kept completely separate from the main kitchen area to give it its own environment and atmosphere.'
Depending on the size of your kitchen, you may choose to have a table in place of an island. But if you have a large, open space, it's often good to work with a 'broken plan' design to create a physical break between the kitchen preparation area and dining table. 'You could use a short peninsular or island to achieve this sense of separation,' says Smith.
In a rustic kitchen, a natural wood table will give a relaxed feel while retaining the formal dining room element. For more inspiration, take a look at our country kitchen ideas.
3. Add all the trimmings
Trims and edgings may be associated with formal dining areas and living rooms, but they make a great addition to a country kitchen diner, too.
'We have always challenged the idea that trimmings can only be used in classical interiors,' explains Marisa Gutmacher, Executive Design Director, Samuel & Sons. 'Using trim is such a simple, yet highly impactful way to enhance different features or areas in your kitchen or dining area without the need for lots of bold print and pattern.'
You could put a deep border down the leading edge or the hem of a curtain, a delicately embroidered border around a bench seat or a chair, or a contrasting fringe around your tablecloth. These are simple things that anyone can do at home with a sewing machine or some good quality fabric glue to add layers of textural detail, depth and interest to your design scheme, creating an interior that's really personal to you,' says Gutmacher. 
And don't worry about kitchen mess or children's sticky fingers. 'Our performance collections, such as Terrace, Regatta and Saisons, are fully washable and bleach cleanable, making them the perfect solution for a kitchen or dining room,' Gutmacher says.
Find more ways to use fabric in your rustic kitchen with our country curtain ideas.
4. Make the table the star
If the table is the heart of your country kitchen diner, it's a smart idea to make it the star of the show. Here, the U-shape of the cabinets frames the dining table, with low-slung pendant lights putting it firmly in the spotlight.
For a do-anything table like this, which functions as a work surface, dining area, desk and gathering space, it's essential to clear it of clutter between each task. Simply leave a basket or bowls of fruit and fresh flowers to bring the country look to your kitchen diner heartland.
5. Lower the dining surface
If an island is part of your kitchen planning but you don't want to perch on a high stool to eat, having a split-level surface is the answer. These particularly suit country kitchen diners, as they suit the informal, warm feel of rustic-style homes. Just be sure that your dining chairs don't block the thoroughfare around your space.
6. Add a shot of color
When you're looking for easy updates for your country kitchen diner ideas, color is your go-to. These cabinets have been repainted a fresh field green in Kitchen Cupboard Paint from Rust-Oleum.
Switching the chairs to a pale pink shade creates a standout combination that brings character and style to this country kitchen diner.
Wallpaper is another way to bring a bold design element to your kitchen. Find out the designer secrets to getting the look right with our country kitchen wallpaper ideas.
7. Build in a booth to save space
'Built-in seating is an informal style of dining that lends itself well to the relaxed nature of country kitchen diners,' says Graeme Smith at Life Kitchens. 'It can also be a good space-saving design feature.'
Whether it backs into a corner, island or peninsular, you are instantly saving on the space that you would usually need behind traditional chairs. 'Without designated seats, you can usually fit more people around the table too,' Smith says.
8. Create a conversation corner
Seating at a kitchen island can often mean lining up so you can't see the face of your dining companion. Placing stools around the top of the island instantly creates a more convivial atmosphere.
Keep the area beneath the worksurface free from cabinets and appliances, so that it acts almost as a raised table seamlessly extending from the working part of the island unit.
9. Soften sharp lines with curves
While painted Shaker or Edwardian-style cabinetry is often a key component of country kitchens, it can feel slightly linear. 
In this all-white scheme by Neptune, a sense of softness has been achieved by incorporating a round dining table rather than an oblong one and adding softly sculpted dining chairs dressed with soft calico covers. 
10. Make room for more
A small dining table with banquette seating serves two important functions, providing more seating space that takes up less room is of course the most important. 
It can help with storage space, too by incorporating drawers beneath to store table linens, seating cushions and much more. 
11. Pull up a seat
Bar seating at a country-style wooden topped island is the perfect casual eating alternative to a formal dining table. 
While it won't accommodate all the family, bar stools can be used to give a central island an extra function and then be pushed neatly back under the worktop overhang to make space when they're not in use. 
Discover the elements every rustic kitchen should have in How to create a country kitchen.
12. Use color as an anchor
Pair an angular, wooden dining table with rustic, curved-back farmhouse chairs painted in the same shade as a dresser to pull the various elements of a design together. 
Darker shades for the wall panelling, dresser and kitchen doors help to add depth, while paler tones employed on the flooring, worktops and walls and a tall cabinetry bank prevents the darker shades from becoming overbearing. 
13. All together now
Family gatherings are clearly at the centre of this design by DeVol for presenter Zoë Ball. The long built-in banquette that divides the room serves to both zone and bring together the scheme by using soft furnishings and a bold feature wallpaper in similar tones. 
Relaxed bench seating, rather than chairs, on the kitchen side of the table help to make things feel even more homely and is helpful where space is tighter.
14. French farmhouse chic
Situated in the centre of the room in place of a more modern choice of an island, this pale wood dining table with tuned legs is the perfect look for a more formal Gallic-inspired room. Paired with high-backed, upholstered chairs and cool grey cabinetry it exudes grand country house elegance. 
For more inspiration, see French country kitchen ideas.
15. Get the light right
Lighting can make all the difference to a workable kitchen design – both in terms of where you place it and what you use. This is particularly true when planning a dining space in a room where many functions are likely to be carried out. 
In a country scheme, modern task lighting such as spots and LEDs in extractors should be teamed with more vintage style pendants over dining tables. Place them carefully to provide enough light, without impeding the diners' vision or freedom of movement. 
16. Set a table for two
Demonstrating that even the most bijou of kitchens can incorporate a dining area, this design by British Standard features a flip-up table with just enough room for two place settings. 
To further reflect the country feel, the accompanying farmhouse chairs have been painted in colors that contrast with each other and with the rest of the room. 
17. Have it all
If both an island and a dining area are on the must-have list but room is at a premium, combining the two could be the answer. 
In this Artisan kitchen by John Lewis of Hungerford, one side of this kitchen centerpiece is a prep island, with incorporated sink, while the other accommodates a curved built-in seating and a neat, round dining table. 
18. Make it natural
Don't be afraid to mix it up when incorporating wood into a kitchen diner design. 
A variety of timbers – including a dark oak plank table, original beams and pale wood worktops and bun handles – provide both warmth and interest to this country kitchen from Drew Forsyth & Co.
How do you zone a country kitchen diner? 
To zone a country kitchen diner, you first need to look at the size of a space to see how it can be arranged into zones for food prep, cooking and eating. 
Moving the table away from the cooking area will help to indicate purpose, as will placing beneath it a contrasting flooring to the working kitchen space. 
Stone tiling works well to demarcate a preparation and cooking zone as it's easy to keep clean, while something softer and warmer to the eye and touch, such as original or engineered wood planks will sit well beneath a dining table. Using similar, coordinating tones and textures throughout an open-plan kitchen diner will help to unite the spaces while at the same time keeping their functions separate and clear.
What are on trend dining set ups for a country kitchen diner? 
There are a number of on trend dining set ups for a country kitchen diner. For example, large rustic table (if there's room) sets the tone for a country kitchen diner perfectly. 
'There's nothing better than having a multi-purpose surface that will accommodate family meals, baking projects and homework, too,' agrees Karen Read, kitchen designer at Neptune Weybridge. 'And as your kitchen table bears the brunt of family life, it will take on the unique character of a piece of furniture that is an integral part of your day-to-day. We always encourage extendable tables so you have that flexibility to entertain larger groups without the fear of where everyone will sit.' 
Also, using mismatched ladder-backed or vintage church chairs, perhaps painted in a range of colours reflected in fabrics used elsewhere in the room, will keep the look relaxed, preventing it from feeling too formal. Mismatched china will give the space a 'grandma's kitchen' vibe, too. 
Think Willow pattern blue and white partnered with lots of chintzy florals, or opt for modern china with wonderfully eclectic patters such as those from Emma Bridgewater, Sophie Allport or Burleigh.
What is a good color for a country kitchen diner?
If you're scouting for a good color for a country kitchen diner, there are no hard and fast rules. But bear in mind that pale colors, such as white, yellow, light green, light blue and neutrals will all create a country feel in your kitchen while also making the room feel as large and as bright as possible. 
If yours is a modern country kitchen diner, you could look to bolder colors, such as deep red, dark blue or dark green – all these shades are on trend for the year ahead. However, our advice is to only pick these shades if your country kitchen has good natural daylight and good artificial lightings in the evening so that it feels bright for both aesthetic and practical reasons. 
What is the best flooring for a country kitchen diner?
Now you've got your color sorted, it's time to think about the best flooring for your country kitchen diner.
These kitchens are all about the celebration of natural materials. If you want a tiled stone floor throughout, opt for rich, traditional terracotta tiles or rough-hewn limestone flagstones. For a more modern approach, try composite large format tiles or porcelain to replicate natural materials without the cleaning and maintenance issues. 
Contrary to popular belief, wood is a good choice for a kitchen diner as long as it's well sealed to fend off water ingress. It can particularly help to soften cabinetry painted in some of the darker shades popular right now. 
'Country kitchens should be full of character and warmth. Engineered wood flooring is ideal for the kitchen environment too, as it can be used with underfloor heating and won't be affected by humidity,' advises Peter Keane, Director of The Natural Wood Floor Company.