Banquette seating ideas – for a stylish and comfortable kitchen diner
These built-in banquette seating ideas are the smart way to create a versatile dining nook for any kitchen layout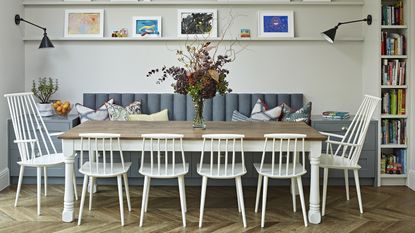 (Image credit: Nick Smith)
Banquette seating is one of the most stylish ways to create a dining nook regardless of your kitchen's style or size. It's a clever space-saver in a smaller rooms and can hold more people than the conventional dining table and chairs set-up. Not just that, you can incorporate storage into the design like a lift-up seat for like kids toys, or pull-out drawers for linen and crockery.
It is also a great way to add some color and texture to what can otherwise be a clinical space. Banquette seating can be built in a number areas, such as within an island, as a window seat or in the corner of a the room. And remember, it is not just about space for dining, the beauty of banquette seating is its versatility – it can be anything from a quiet reading area to your working-from-home spot.
Here are some banquette seating styles which you can include in your kitchen design…
These are our favorite banquette seating ideas – they've all transformed the kitchen they're in.
See: Kitchen ideas – decor and decorating ideas for all kitchens
1. Use banquette seating ideas to boost space
'It can be tricky to achieve sufficient cupboard space in the kitchen alone. Banquette seating offers a fantastic opportunity to relieve storage pressures,' says interior designer Clare Gaskin. 'Consider what you'd like to store and, most importantly, how often you need to access it.'
Here, drawers under the seat cater for rarely used kitchen gadgets and bulkier infrequently used toys. 'We're big fans of drawers, rather than lid-style lift up bench storage. Contents are more accessible, and there is no need to remove cushions to access,' adds Clare.
Drawer units frame the seating and deliver storage for items in frequent use.
2. Choose a bold color to highlight banquette seating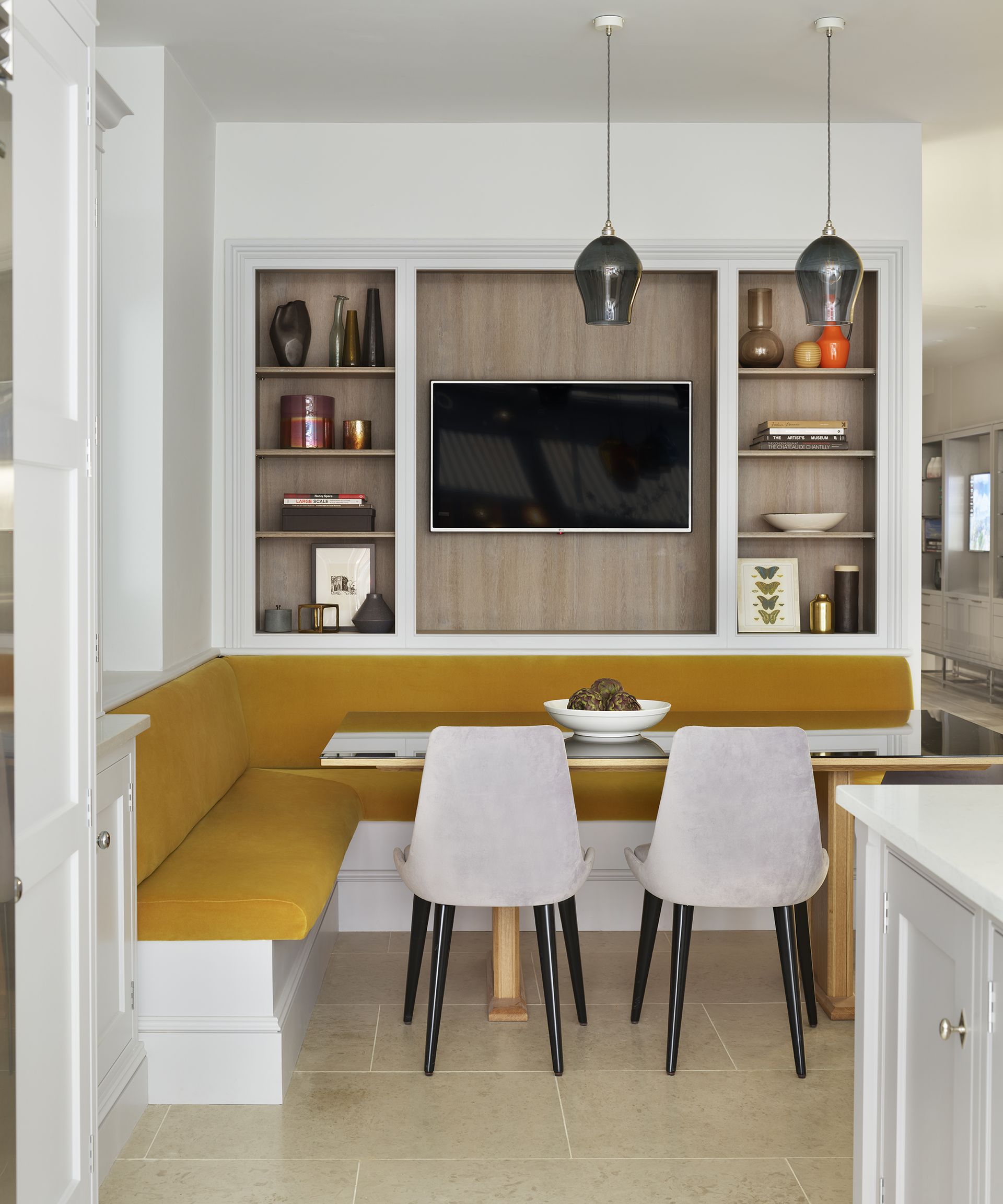 'Increasingly, clients are opting for bold, bright colors for their banquette seating, such as mustard yellow, electric blue and hot pink. This helps bring character and interest to the scheme, without overwhelming the space. Luxurious, soft fabrics such as velvet are also proving extremely popular,' says Richard Moore, design director, Martin Moore. 'We tend to do everything in-house and either supply the fabric or work with client's chosen fabric.'
For extra design definition consider fluted and button back designs and contrasting piping on curved arms and seat cushions. At floor level, plinths prevent dust traps, while legs can feel more elegant.
3. Integrate banquette seating into a kitchen island
'More formal than bar stools but less formal than a separate table, banquette seating on an island creates a hugely desirable spot for cozy, low-key dining,' says Louisa Eggleston, creative director, Humphrey Munson, who has three tips for success.
'Firstly, it's essential to ensure there's sufficient space to navigate around the island, including when any chairs are in use,' she says. 'Next, if a sink or hob is also on the island check there is adequate distance between the banquette for safety and cleanliness. Finally, choose materials carefully – any upholstery needs to be robust. We recommend leather or a solution dyed acrylic that is wipeable.'
See: Kitchen island seating ideas – ways to use bar stools and dining chairs
4. Introduce curved banquette seating for sociable dining
'Banquette seating can make your kitchen feel even more welcoming, especially when it incorporates cozy soft furnishings. The key to sizing up banquette seating in a smaller space is introducing curved shapes rather than seating that follows the width of the wall,' says Sophie Hartley, kitchen designer at Tom Howley.
'This will increase the amount of seating available and will also create a more "conversational" shape, meaning that people sitting around the table will be directed towards each other.
'This example also features some neat, narrow storage, tucked behind the curve of the banquette bench. When choosing a table, round shapes are best to echo the rounded seating.'
5. Layer banquette seating with complementary furnishings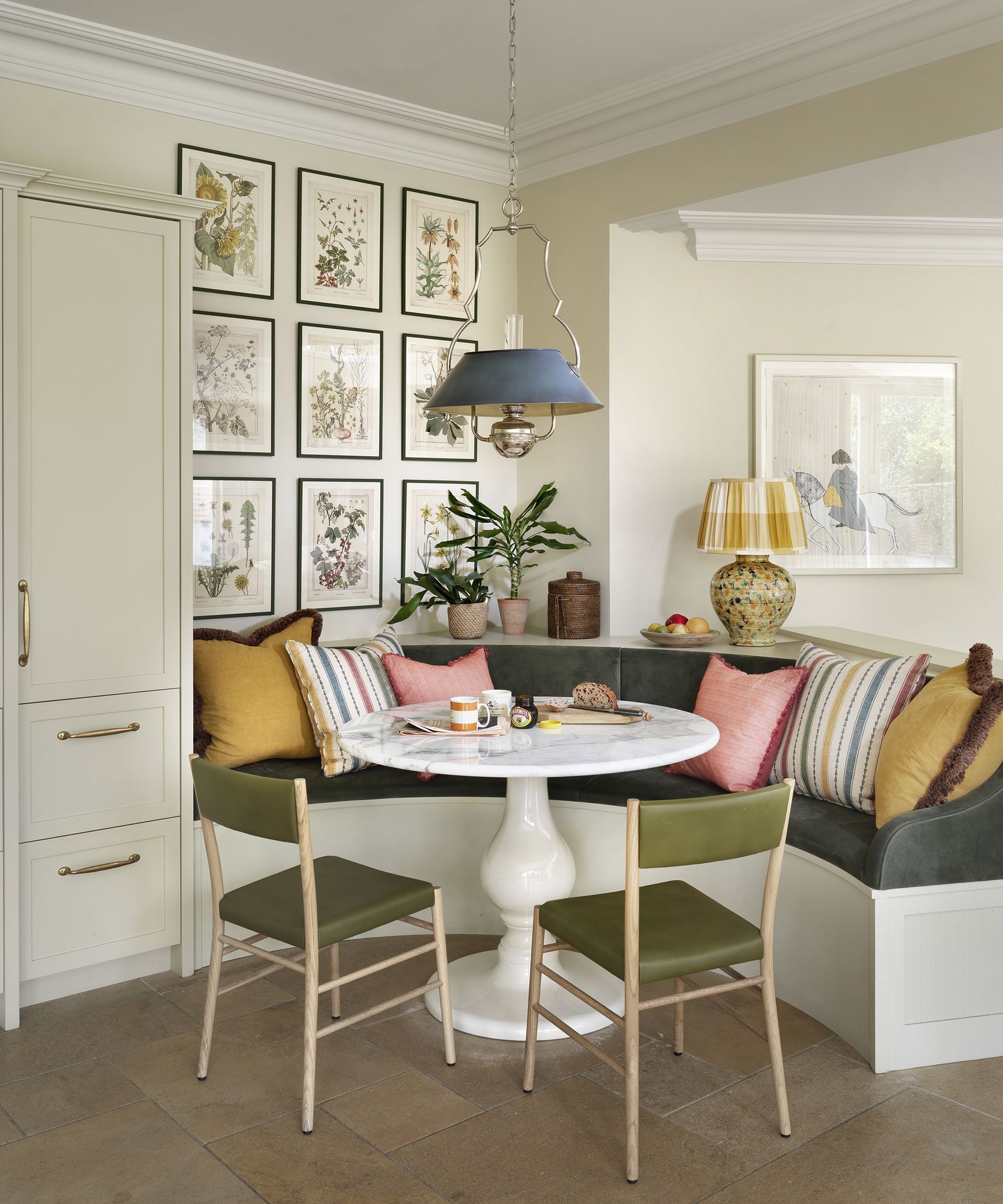 Designing a banquette isn't about furniture alone. Salvesen Graham has built up layers of texture and color in this compact corner banquette using art, accessories and low-slung lighting.
Allow between 70-80cm between table and pendant light to avoid obstructing sight lines. The comfy cushions with contrasting trims pick out colors from the prints above and coordinate with the kitchen. All these elements combine to make the space more inviting and feel like a cohesive part of the room.
'It has become a firm favorite for weekend breakfast with the newspapers and evening homework,' adds senior designer Nicole Salvesen.
6. Go for a simple, country style
Save the organization and expense of bespoke upholstery by opting for a simple painted banquette scattered with colorful cushions. Here, built-in seats are paired with a long, narrow table and a bench that can be tucked in tight to provide clear access to the garden.
'Tongue and groove panelling, in this instance with a capping strip, is a traditional technique for protecting the walls,' adds Merlin Wright, design director at Plain English. 'Painted in eggshell or gloss, this style of banquette is a practical and hardwearing solution, especially in a busy family kitchen with children jumping about.'
See: Country kitchen ideas – get the rustic look with our ultimate inspiration gallery
7. Maximize your dining space
When it comes to saving space and seating large numbers, banquette seating beat dining chairs hands down.
'The rule of thumb is to allow about 90cm between a chair and the next piece of furniture or wall, minimum, but with banquette seating you can reduce that down to as little as 30cm if the seat fits directly onto the wall,' says Jamie Blake, creative director, Blakes London.
'Not only do you save space, but you can also accommodate more people. Children can squish together and get much closer than they would on separate chairs – perfect for birthday parties and family gatherings.'
8. Choose outdoor fabrics that are practical too
This banquette is in a large kitchen diner and living space extension. The open-plan room itself has been kept very neutral, with white kitchen cabinetry and concrete floors – however, the banquette offers a ton of dining space and draws all the attention due to its bold upholstery, a clever technique for distracting from a kitchen's proportions, and for adding color.
'Upholstered banquette seating is a great way to add some texture and interest to a kitchen, where opportunities to use fabric can often be lacking,' says Katie Cox, interior designer at Ham Interiors. And, she says, don't forget about those sticky little fingers, adding: 'We also use outdoor fabrics for busy families to make them extra practical.'
9. Create a narrow – but fabulous – dining space
'Banquette seating is a really good idea,' says Emily Bizley, of Studio Bizley. 'Designed correctly, you can make use of a tight area without any space getting wasted behind chairs. A banquette is a really good opportunity to create something special in what otherwise might be a difficult space.'
This is perfectly demonstrated in the room above, where the only space for a dining area is a narrow gap between the doors and the far wall.
'To make banquettes successful, you need to have a nice firm upholstered seat and back, and then additional scatter cushions to give squish and comfort.
'The cushions also allow you to bring in some other colors, patterns or textures to help build the scheme – it might be that your main fabric is plain or a leather, and the scatter cushions then add interest. There's something really cosy and conspiratorial about a banquette – they encourage you to linger.'
She jokingly adds: 'They're also good if you don't like clearing the table, because you can sit in the middle and no one will ask you to do anything!'
10. Fill an awkward niche with banquette seating
When you make space for a dining table, you have to allow around 3ft/1m for the chairs to fit between the wall and table. However, if this will limit your table size too much to make it practical, a series of banquettes built into the space is a practical choice.
Note how here, the base of the seating is angled inwards to the floor – this makes seating more comfortable, plus it will be easier to navigate around the table with the extra floorspace.
11. Mix banquette seating with vintage furnishings for a high-end feel
This beautiful banquette seating area designed by Sophie Dries Architect sits in the Paris home of a street art collector. The kitchen banquette is paired with an octagonal Charlotte Perriand table from Les Arcs station and vintage Philippe Starck chair.
Sophie says: 'We often use banquettes at Sophie Dries, especially in the kitchen to create a small dining area, mainly for breakfast or a coffee break.
'They're a smart space-saver, but also very friendly with a holiday feeling. They are a nice alternative to the large empty dining table area when you just need to do a few emails with a cup of coffer or when children work after school while you're cooking.'
Speaking about the design of the banquette seating above, she says: 'The pearl grey velvet of the banquette is complementary to the orange tones of the cushions placed on it, and plays with alternations between colors. The walls, floors and ceiling are all a rich terracotta shade that creates a dynamic effect. Sophie Dries wanted to create a convivial space in this kitchen and not just functional. The custom made-to-measure bench creates a dining area around the famous octagonal table "Les Arcs" by Charlotte Perriand.
'Above the tailor-made bench hangs a watercolor by Giulia Andreani, and beside it sits a vintage stool by Philippe Starck in grey lacquered metal. The Haussmanien style was refined and pared down in order to introduce minimal lines better suited to the contemporary usage of this living space now occupied by a modern family.'
12. Choose a fluted banquette to add a sense of glamor
This ultra-chic banquette was created by Rosendale Designs, and pairs glamorous fluting with upscale materials like marble for an elevated finish.
Dale Atkinson, Founder of Rosendale Design, says: 'Banquette/ booth seating can really help to anchor the design as it not only provides the family with a communal space to dine at but they inevitably allow the kitchen to become the hub of the house. This is because banquettes are soft and comfortable. One can easily lounge and read a book or just relax.
'They give the kitchen an enhanced importance and improve family bonding times, in our experience, bringing people together, as opposed to just sitting on the sofa in the lounge or movie room watching the television, where perhaps there is far less interaction.'
When it comes to design, he says, using the right color can really bring the room to life, or it can be used to subtly complement or bring out another color used within the space, even if it is a different material.
Dale adds: 'The dining table of the booth seating can equally have a dramatic effect and we often use them to help reflect light into the space. We really like the effect of a honed white marble top as it can reflect the light softly and does not feel as visually cold as a polished table top. Of course, there are so may materials one can use, and various timber tops can provide a sense of warmth and and visual texture, too.'
13. Layering in muted tones creates a chic soft-focus banquette
We love how tranquil the above banquette by Jasmine Lam feels. Earthy tones are layered with textured cushions and soft stripes on the wallpaper, while the marble dining table adds glamour to the laidback-luxe look.
'We use banquette seating often especially in small dining areas,' says Jasmine. 'When you place the built-in seating at the wall, you actually GAIN space by eliminating the need to pull chairs in and out. They are comfortable and also can provide more seating at a table. I suggest choosing a fabric that is durable and easy to clean and/or treated with stain protection. You can play with color and textures in throw pillows or the back cushions.'
14. Go for bespoke banquette seating to max out space
In a small kitchen, a bespoke banquette designed to fit your room's proportions perfectly is a great way to ensure plenty of social seating. Often, the space under the window is perfect for banquette seating – and it's bright spot that's welcoming, too. In this kitchen, the banquette seats can be lifted to reveal storage, while open shelves at each end are perfect for recipe books.
See: Country kitchen diner ideas – cook and dine in a pretty, rustic space
What is banquette seating?
Banquette seating is a built-in seating unit usually placed against a wall. Also known as booth seating, a banquette is ideal for breathing life into a small kitchen. Once the domain of restaurants and cafes, its stylish look and excellent practicality credentials have seen its popularity rise in modern home decor, particularly in small kitchens where optimising space is necessary.
Sign up to the Homes & Gardens newsletter
Decor Ideas. Project Inspiration. Expert Advice. Delivered to your inbox.
As the Deputy Editor of Livingetc's print version, Busola Evans works across both the physical magazine and digital and specializes in kitchens, bathrooms and projects. She is an expert at explaining how to improve, extend and convert your home. Prior to her current role, she was Associate Editor on both Livingetc and Homes & Gardens, where she authored kitchen and bathroom articles. Busola has also written for The Guardian, The Sunday Times Magazine and Grazia, and was an interiors columnist for the London Evening Standard's ES Magazine.